The Best Waterproof Backpacks for Travel [2021]
Your backpack needs to be able to travel the world with you. To do this, it needs to be built to last, and depending on your travel style, it should be waterproof, too. A backpack that can handle adverse weather conditions, as well as the usual bumps and knocks of overseas adventures, is well worth its weight in gold.
Why Use a Waterproof Backpack?
Backpacks are a popular choice with the modern-day global explorer, and they offer a highly efficient way to carry your stuff while still being able to keep your hands free. Because you want to explore the world in the most hands-on way possible, you certainly won't want to be held back by luggage that under-performs when it really matters.
Protect your clothing, your electronics, your laptop, and your other valuables from water damage by choosing a backpack that guarantees protection against the dampest of conditions. From wet days in the city and quick trips on soggy beaches to adventures in mountain blizzards or tropical rain forests, your waterproof backpack will quickly become your new best friend.
Poor weather, accidents around water, or indulging in aquatic activities all come with a risk of a good soaking, for both you and your precious belongings.
An effective waterproof backpack will protect everything in it from water damage, leaks, and spillages. These types of backpacks will also usually be easier to wipe clean and are often made from fabrics that can repel moisture, including the sweat from our bodies, which can disintegrate and damage lesser bags eventually.
Bottom Line: Even if you are planning on staying on dry land in sunny conditions, you could still benefit from a waterproof backpack to protect both your bag and your belongings along the way.
Things To Consider With Waterproof Backpacks
Not all waterproof backpacks offer the same levels of protection. If you want to be certain that your belongings will be safe, consider the following before you commit:
Size and Capacity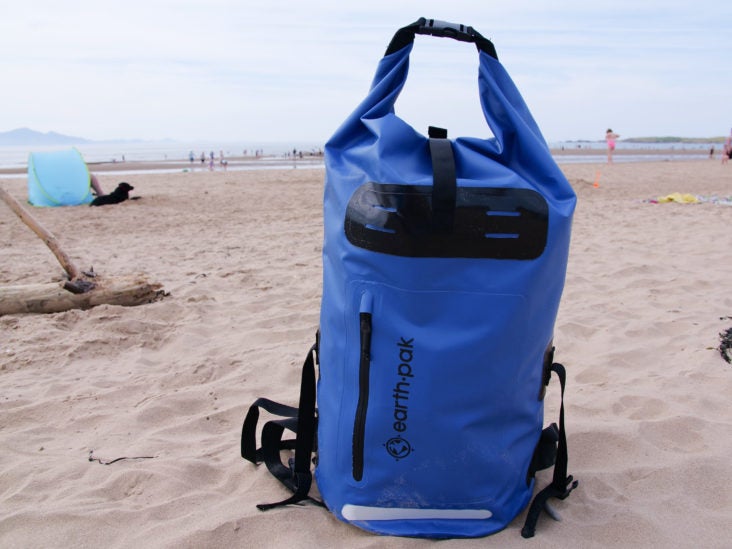 You will need a bag that is big enough to carry all of your stuff, yet small enough to remain lightweight and easy to take anywhere. Most backpacks come in a variety of sizes, and whether you choose a daypack, a weekend backpack, a multi-day backpack, or even a full-size expedition backpack, there are plenty of waterproof backpacks out there to suit your requirements.
As a basic guide, a waterproof backpack comes in the following sizes:
Daypacks usually range from 20- to 35-liter capacity and are designed to carry an extra layer of clothing, water, food, and essentials for days out both at home and away.
Weekend backpacks range from around 40- to 50-liter capacity and offer you much-needed extra space to stow sleeping bags, toiletries, and extra clothing. These are suitable for a few nights away, or as an addition to your daypack.
Multi-day backpacks offer 50- to 70-liters of backpack volume and come with harnesses to help carry the extra weight of enough gear to last you up to a week.
Expedition backpacks are heftier, heavier, and designed for full-on adventures. Offering 70- to 95-liter capacity, as well as lots of options for additional storage space, these are perfect for around the world adventures.
Bottom Line: Whatever size you choose to use, making sure your backpack is waterproof will protect all of your gear, no matter how much you take or how long you will be traveling. You also might want to take along a waterproof jacket, too.
Weight
Rule number 1 when it comes to using a backpack is to never make it too heavy. Lumbar supports, chest straps, and compression systems can help to take the strain off your back, but the heavier the backpack, the harder it is to carry.
You should be able to comfortably carry your bag on your shoulders for a decent amount of time if you want to be able to use it when traveling. Your fully-loaded backpack should not weigh more than about 20% of your body weight, while your day hiking pack should not weigh more than about 10% of your body weight.
Carry Options
There are lots of different ways to comfortably carry your backpack with you wherever you are headed. Larger backpacks usually offer a combination of ways to carry your gear with you, while smaller ones may only have simple shoulder straps to keep your stuff close on the go.
Backpack Straps — The most recognizable of all baggage handles, backpack straps sit across your shoulders and are simply designed to hold the pack against your body
Sternum Straps — Designed to help distribute the weight of the backpack and prevent the shoulder straps from sliding off of your arms when moving
Shoulder Straps — Not to be confused with backpack straps, despite them both being carried on the shoulder, this long, single strap is used to carry the backpack horizontally (think gym bags and shopping totes) and is useful for moving quickly
Carry Handles — Vital for quick grabs and careful throwing, when you may need to move your backpack quickly to get it out of the way, throw it into the trunk of a car, or pick it up from the luggage carousel
Waterproof vs. Water-Resistant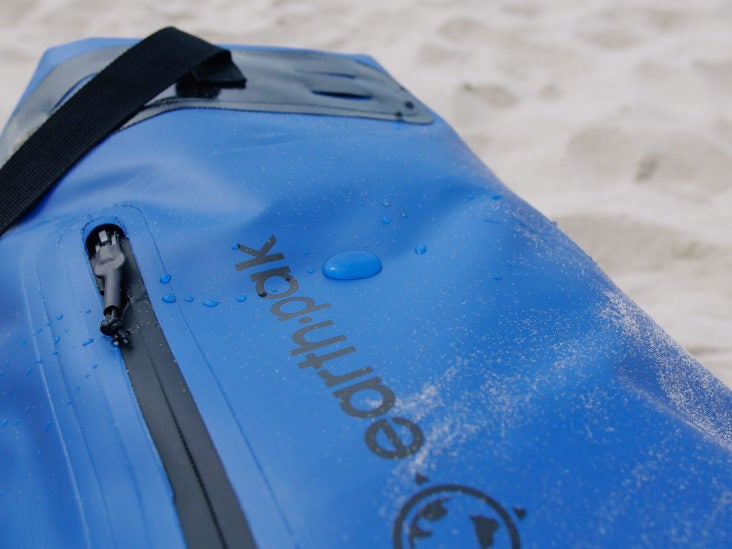 Many manufacturers may claim that their backpacks will survive the heaviest of downpours when in reality they are simply water-resistant and not fully waterproof. Take caution, as this could mean the difference between wet clothes and a waterlogged laptop, or not.
Waterproof backpacks are usually made of nylon and are coated in silicone, acrylic, or polyurethane to ensure that no water leaks through their layers. Once coated, these bags are designed to keep your gear safe, even when submerged.
Water-resistant backpacks, on the other hand, can offer varying degrees of resistance depending on the individual thread count. They may be able to deal with a bit of drizzle, but plain nylon will not be able to keep your possessions dry if you are caught in a storm or your bag falls into a river.
Bottom Line: Make sure that you choose a backpack that is fully waterproof rather than water-resistant. 
Material and Durability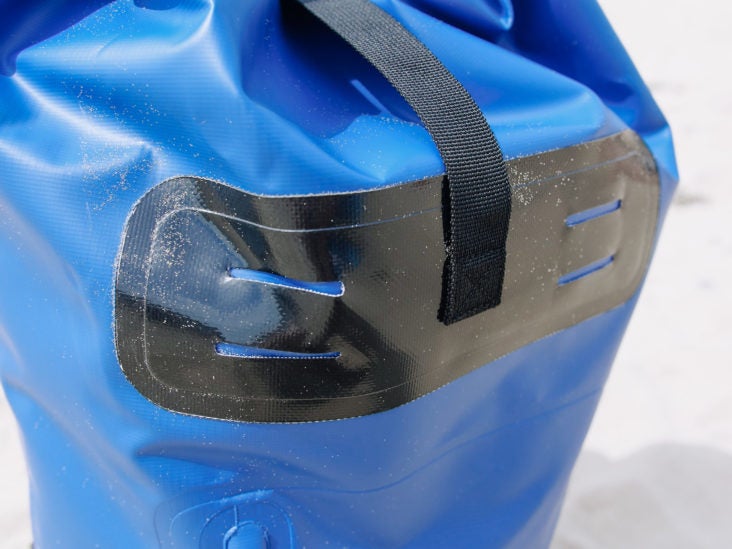 Waterproof bags can be made from a variety of different materials, but by far the most common is nylon. When nylon fabric has a high thread count, it can be impressively water-resistant on its own, but for guaranteed protection against wet conditions, an additional waterproof coating is often added.
Bags made from PVC vinyl, PVC, or rubber also offer excellent protection against water damage.
Comfort
Wearing your backpack for long periods can be uncomfortable. Most reputable backpack manufacturers provide various features to help alleviate discomfort for more extended periods of wear. These could include:
Adjustable shoulder straps to position the backpack high on your back for maximum comfort; these should also be padded to prevent them from digging into your delicate shoulder area
Waist straps or hip belts to distribute the weight load to the hips and help to relieve pressure on the shoulders; these should also be padded and adjustable to ensure the most comfortable fit possible
Torso measurements may affect fit more than your height; different makes and brands of backpacks come in various lengths, so have the length of your torso measured before you invest
Color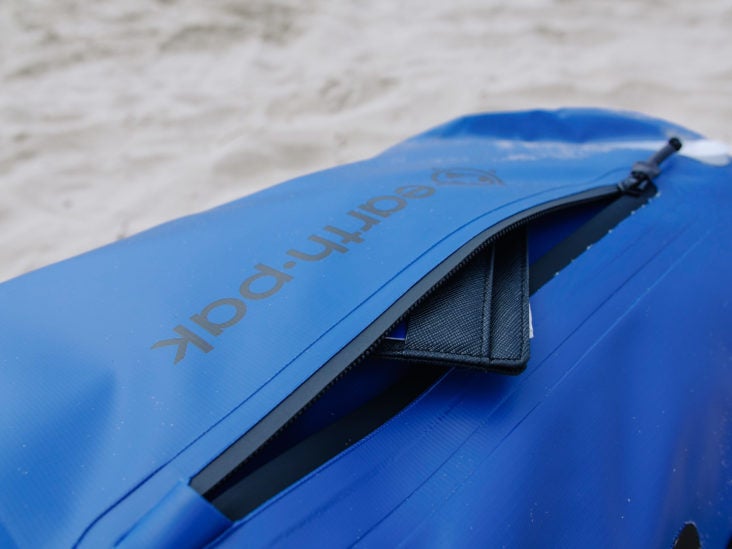 As waterproof backpacks are far more likely to take a plunge in a body of water than other types of bags would be, they must be easy to see and identify from a distance. While sleek black suitcases may be the trend for business travelers, bright colors are your friend when it comes to more outlandish adventures.
Bottom Line: Opt for greens, reds, yellows, and even neons to ensure that your backpack can always be spotted wherever you may take it. More traditional colors like gray and khaki are almost always available, too, should you wish to go for a more camouflaged appearance on the move.
Seams and Closures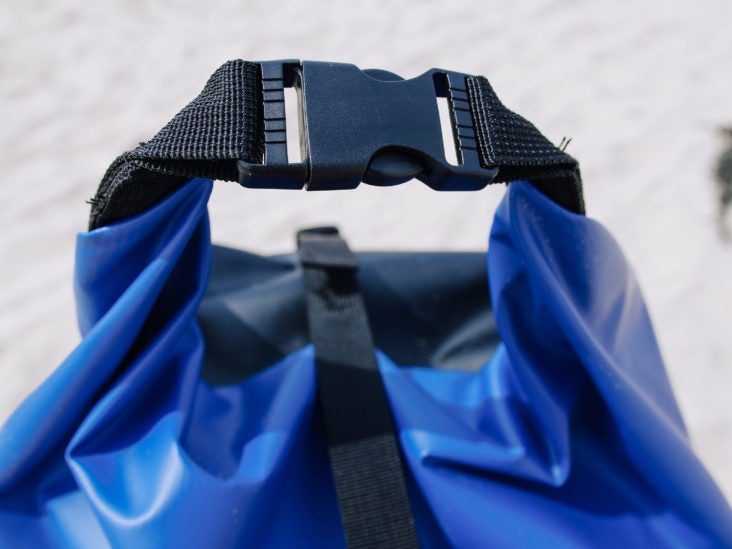 Seams and closures are particularly crucial on waterproof backpacks, as you don't want any water getting in. Most will either offer zipper closures or roll-down closures. Zips can be made watertight by being tucked beneath a waterproof covering, while roll-down closures can be latched and sealed using something like water-resistant Velcro.
Bottom Line: Take care to inspect your potential new rucksack for strong, oversewn seams before purchase. Just as with zips and fastenings, you do not want any water sneaking in through the seams on your next adventure.
The Best Waterproof Backpacks
A Rugged, Waterproof Backpack for the Wild
YETI Panga Airtight, Waterproof, and Submersible Bags
Designed for extended backcountry stays, water-based adventures, and long weeks in the wild, this backpack is absolutely waterproof and as tough as nails.
Airtight and waterproof, the ergonomic DryHaul Shoulder Straps offer extra carrying comfort, meaning that this is 1 backpack you really can carry for miles. A removable chest strap helps to evenly distribute the weight of your belongings, while the waist belt provides added stability and security on the move.
The thick skin shell is made from high-density nylon and thick TPU laminate, designed to be both puncture and abrasion-resistant. The specially designed Hydrolock zipper helps to keep the water well away from your precious belongings, no matter how ferocious the weather gets.
The straps and accompanying lash points make it easy to haul, and rugged construction makes it perfect for dragging and hauling on dry land, and even throwing overboard on wetter adventures. There are interior stowaway pockets and sleeves to keep your possessions safe and well-organized.
From the experts who brought you the best coolers on the market comes this rugged backpack, featuring a rigid base and ultra-tough fabrics.
What We Like
Has a removable chest strap for comfortable carrying
What We Don't Like
Could do with some more pockets internally
A Lightweight Daypack for Urban Adventures
The Friendly Swede Waterproof Backpack Dry Bag 15L
Whether you're hiking around a city or in the great outdoors, this is a great daypack that will keep all of your belongings dry, wherever you may be. Made from 500-denier PVC tarpaulin, The Friendly Swede 15L Dry Bag is ultra-tough and features waterproof additions like high-frequency glue-welded seams and first-class workmanship.
Ergonomic straps and a roll-top closure help to ensure that this backpack is comfortable and incredibly protective. Inside you'll find a 13-inch laptop pocket, main compartment, and 3 slim external pockets for stashing smaller items.
Perfect for those with a busy active lifestyle, the backpack is superlight at just 1.5 pounds and features shoulder straps that adjust for a custom fit and position. The roll-top closure keeps your contents safe and dry wherever you roam.
Good looking and almost a cool as the boxes they are so famous for, this is a great entry-level waterproof backpack for travelers that like big name brands.
What We Like
Has a padded 13-inch laptop compartment
What We Don't Like
Backpack straps could have more padding
A Brightly Colored, Funky Daypack for Water-Based Activities
Phantom Aquatics Walrus 25 Premium Waterproof Backpack Dry Bag
Made by a company that is better known for producing first-class water sport accessories, it is no surprise that this bag is incredibly adept at keeping your gear dry on the move. Made from high-quality waterproof fabric, this is an excellent bag for those visiting more extreme locations, as it promises to be dust-, sand-, and dirt-proof, too.
Comfortable shoulder straps with plenty of padding and a range of adjustable length settings help to make the backpack comfortable to wear. Mesh panels help the bag to breathe, and the sweatproof design will keep you comfy on dry land.
With a 25-liter capacity, this is a day backpack that can handle the wildest of wet days out and is perfect for adventurers looking to play water sports or explore the great outdoors in adverse weather conditions.
Available in a range of colors, the Walrus 25 has been cleverly designed to maximize the amount of usable space available, even in a daypack. Elastic pockets, a mesh bottle holder, and an additional strap for hanging jackets or bags make this so much more than just your average backpack.
Waterproof, roomy, and made of stern stuff, this is an excellent bag for days out and short journeys.
What We Like
Front webbing for stashing or attaching items to
What We Don't Like
Backpack Designed To Float on Water
Vitchelo 30L Waterproof Dry Bag Backpack
Offering an impressive level of waterproof protection for your gear, this 30-liter daypack is made from vinyl tarpaulin with a sturdy welded seam. It comes complete with a solid roll-top closure system that provides a watertight seal designed to keep your stuff drier for longer.
This smart little backpack is designed to float on the water without causing any damage to your belongings and is light enough to go the distance and compact enough to act as your carry-on bag on your flight. From grocery shopping to canoeing, fishing to paddle boarding, this is a versatile little bag that will stay dry.
With elasticated front webbing and mesh netting pockets on both sides for extra storage, you should easily be able to take everything with you for a day out. The reinforced 1-handed strap will take the weight off of your shoulders, and the padded chest and waist straps help to limit side-to-side movement on the go. The straps are also breathable to allow for better ventilation, preventing sweat from building up where the bag touches your body.
Surf, ski, and even sweat in style with this waterproof dry bag that really packs a punch.
What We Like
Has external water bottle pockets
What We Don't Like
Could do with some internal pockets
Minimalist Charm Paired With Impressive Waterproof Capabilities
Skog Å Kust BackSak Waterproof Backpacks
Available in a choice of 25- and 35-liter sizes, this sleek, minimalist dry bag is free from loud logos or tacky slogans, and the simple design is just one of its selling points. The BackSak is made from heavy-duty 500-denier PVC that completely repels the elements to keep your gear dry when enjoying outdoor activities.
To ensure that your backpack remains comfortable, no matter what you are doing, this bag comes complete with a sternum clip and padded back support to help relieve pressure on the muscles as you move. The thick, cushioned straps can be adjusted to find a custom fit, and the handy D-rings at the side of the bag hold water bottles and other gear that you need easy access to.
The spacious interior pockets are large enough to keep everything you need in 1 place and the design of the pockets will keep your electronics and other valuables separate from wet towels and swimsuits. There is also a splash-proof outer pocket that will keep your cash, keys, and ID safe and dry no matter what you do.
All in all, a chic-looking backpack that will keep your gear dry while looking sleek and simple.
What We Like
Padded back panel and sternum strap
What We Don't Like
A Compact Backpack That Offers Impressive Protection
Chaos Ready Waterproof Backpack
Small enough to be completely comfortable, yet big enough to handle everything you need for a day out, this waterproof day pack is an excellent choice for literally anyone who wants to keep their gear dry.
The main 22-liter compartment offers protection from a quick submersion, making it useful for water-based activities such as boating, kayaking, canoeing, and even water-skiing. The bag can also float on the surface of the water if you need it to. Be careful, though — while this bag offers a good level of protection, the front pocket is not 100% waterproof, so be wary of what you keep in there.
The heavy-duty tarpaulin construction makes it lightweight but incredibly watertight, while the tri-fold roll up buckle system stops water seeping in. 2 mesh pockets on the side of the backpack are just right for easy access to your water bottle, and the adjustable, padded shoulder straps help you to find the most comfortable way to carry your gear with you.
Waterproof, good-looking, and easy to carry, this is an excellent day pack with impressively watertight credentials.
What We Like
Good customer service if you experience an issue with the bag
What We Don't Like
Bottom of the bag needs some padding or reinforcement
Best for Those Looking To Keep Their Valuables on Dry Land
SealLine Skylake 18-Liter Minimalist Waterproof Dry Daypack
Made from waterproof PVC-free materials, this compact backpack is just as well suited to outdoor adventurers as it is to commuters living in a temperate climate. Transport your stuff in style and keep it dry while not looking out of place in any environment.
The simple, slimline design is based around a large interior compartment that can be used to carry clothes, food, drinks, and anything else you need to access on the move. There are no zippered compartments, though, so bear in mind that delicate electronics or valuable items could bounce around if stashed in the front mesh pocket.
The lightly padded straps make this backpack as comfortable to carry as possible and the sternum strap will help you to find the right setting to balance your load.
If you are looking to take your basic belongings out and about with you while you ride, walk, run, or hike, this is a great little daypack to consider. Laptop lovers and camera enthusiasts should probably look elsewhere, though, as the sack-like design is not secure.
What We Like
Rolls up small when not being used
What We Don't Like
No interior pockets to stay organized
Basic Dry Bags That Really Do the Job
Marchway Floating Waterproof Dry Bag
These fun, funky, and incredibly affordable dry bags are available in 5-, 10-, 20-, 30-, and 40-liter options in a vast variety of colors.
Made from lightweight, ripstop tarpaulin with welded seams, this is a surprisingly waterproof range of backpacks that will protect your belongings from water, snow, mud, and even sand.
Perfect for extreme adventures and water sports, these bags can float on top of the water and will protect your gear from torrential downpours and adverse weather conditions. Be aware, though — these bags are not designed to be watertight in situations where your belongings are fully submerged in the water.
The sack-style design makes these incredibly easy to fill and go. The roll-down top fastening can be rolled and plugged to seal the bag, and the adjustable and removable strap can be adjusted to sling across your body or wear on your shoulders more traditionally.
Midsized yet spacious, these are useful backpacks for almost any occasion.
What We Like
Available in a variety of vibrant colors
What We Don't Like
Rolling the top for waterproofing reduces the internal packing space
Eco-Friendly Credentials Wrapped up in an Impressive Backpack
FE Active – 30L Eco-Friendly Waterproof Dry Bag
This waterproof backpack claims to be one of the most environmentally friendly options on the market and is made from fully certified eco-friendly PVC. The marine-grade PVC tarpaulin has high-frequency welding that helps to create a watertight seal to keep the elements out and your belongings dry.
Perfect for even the most rugged of outdoor activities, the FE Active backpack weighs just under 2 pounds and has an impressive 30-liter capacity, making it a daypack with plenty of room for an extra day, too.
Padded shoulder straps allow the bag to sit comfortably on your shoulders, while the built-in mesh lining creates better airflow to help keep you feeling sweat-free and fresh on the move. On the inside, there is a pouch for your valuables, and on the outside, the mesh pockets will hold a water bottle upright. The external bungee webbing can be used to hold items like yoga mats, camping gear, or extra clothing, and all these extras are what make this bag one of the most impressive for the price.
Surfers, climbers, hikers, and outdoor enthusiasts of all kinds will love this practical, yet lightweight backpack that will keep your belongings dry in any conditions.
What We Like
Bungee webbing is useful to attach wet gear
What We Don't Like
Doesn't have a waist strap to improve comfort when carrying
An Excellent Choice for Anyone Indulging in Wet Activities
Earth Pak Waterproof Backpack
Available in a choice of 35- or 55-liter sizes, the East Pak Waterproof Backpack is bright, bold, and brilliant for anyone looking to enjoy real outdoor adventures. Made from 500D PVC, the huge main compartment, with its roll-top closure and single reinforced strip, is designed to protect your gear from getting wet on the go. Side-cinching straps make for a compact profile and the MOLLE system loops on the front of the bag provide anchor points to latch onto while boating, biking, or kayaking.
As well as offering an ergonomic padded back panel, contoured and padded shoulder straps, and a low profile sternum strap, this backpack also has a heavy-duty waist belt to help you support your load.
The splash-proof large zippered front pocket is perfect for quick and easy access to your most important belongings. The additional mesh pockets and zippered compartments mean you can keep everything organized on dry land or out on the water.
Offering lots of high-end features, this backpack also comes with a waterproof phone case that provides robust protection for large smartphones.
What We Like
Contoured shoulder straps, sternum, and waist strap
What We Don't Like
Front pocket is only splash-proof, not waterproof
Affordable Protection in a Great Looking Backpack
IDrybag Roll Top Dry Bag Backpack
The IDrybag is made from 500D outdoor waterproof fabric and offers guaranteed waterproof protection for your gear on the go. With a vinyl-coated woven polyester exterior and heavy-duty welded and watertight seams, this bag provides extreme durability and maximum protection anywhere you go.
The large main compartment is sealed using a roll-top seal with a woven tape, and a plug buckle to complete the seal. You can also compress the bag to make it smaller by using the strap. The splash-proof zip pocket offers a decent amount of protection for smaller items, but it is not watertight enough to hold anything valuable.
The dry bag can be carried by the handle or over the shoulders like a backpack. Hang it over your bike handles or sling it over your back for hands-free adventures — this little backpack is perfect for water sports and wet adventures.
What We Like
Lots of internal pockets to stash your valuables
What We Don't Like
No back padding for comfortable carrying
A Great Looking Backpack That Packs a Waterproof Punch
Sea to Summit Hydraulic Dry Pack
Available in 35-, 65-, 90-, and 120-liter capacities, this water-resistant backpack is an excellent choice for serious outdoor adventurers. Made from 600D, TPU laminated heavy duty waterproof fabric, this is one backpack that is not only waterproof but also looks really impressive. The clever combination of UV-resistant PVC-free fabric and advanced waterproofing also makes it suitable for withstanding frigid temperatures, too.
Designed to be comfortable for long periods, the waist belt supports even the heaviest of loads. For a perfect fit, the sternum straps are height adjustable. The removable harness is easy to get on and off and allows for the attachment of compatible Hydraulic Dry Bags to add even more stowable space.
No matter how hard you work, this waterproof backpack works harder. With an open construction of EVA foam and air mesh, this backpack allows for plenty of airflows and rapid drying even when wet. With a non-wicking TPU roll-top closure, water damage will be kept at bay no matter how hard it rains.
Minimalist looks with high-tech features, the Sea to Summit Hydraulic Dry Pack will keep your gear dry as a bone, everywhere you go.
What We Like
Removable harness for easy transportation in any situation
What We Don't Like
Travel Light With This Water-Resistant Daypack
Sea to Summit Ultra-Sil Dry Day Pack
Made from siliconized CORDURA fabric, this ultra-lightweight and foldable daypack is a real find for those who like to travel light. Fully water-resistant (note that it does not claim to be fully waterproof), it is a good option for rainy days and damp conditions. Complete with its very own tiny stuff sack and carabiner key ring attachment, the Sea to Summit Ultra-Sil Day Pack would make a useful addition to your main luggage on your next big adventure.
Double-stitched seams and a high-density PU seam help to keep the wet conditions at bay and the unique double Hypalon roll-top is non-wicking to create a good seal. At 22-liters, this is one of the smallest day packs on our list, but the compression lacing system on the front provides additional secure storage when you need it most.
Although this particular bag is not intended to be used in conditions where it is likely to be fully submerged in water, it is still an effective option for hikes, bike rides, and urban adventures in damp or sweaty conditions.
An ultra-lightweight dry bag that can handle rough weather and keep everything you need safe and dry.
What We Like
Folds up tiny so very easy to transport
What We Don't Like
Tricky to repack in its storage bag
One for the Cyclists
arteesol 20L Waterproof Cycling Backpack
Designed for cycling and other outdoor adventures, the arteesol Waterproof Cycling Backpack is lightweight, comfortable, and convenient. Providing 20-liters of storage in the main compartment, you can use this bag for your daily commute or take it off-road for water sports and other activities.
Cyclists know better than most just how vital a waterproof backpack can be when you are out and about in all conditions. This bag will keep your precious gear dry and the reflective strips on the backpack straps will make you more visible when cycling on the road.
The roll-down top handle can be used to grab this bag in a hurry, while the padded shoulder straps, sternum strap, and well-ventilated back panel help to keep you comfortable and sweat-free while you cycle, walk, or run.
Stash a water bottle or umbrella in the elasticated side pockets and your cell phone or wallet within the front zippered pocket, and you're good to go.
What We Like
Comfortable padded back panel and straps
What We Don't Like
No internal pockets for smaller items
Final Thoughts
Wet weather, accidental soakings, and even the occasion submersion need not be anything to worry about anymore. With modern-day synthetic materials offering excellent protection against water damage, both off and on land, your belongings will stay dryer for longer.
Rugged, durable, and extremely protective, a waterproof backpack can be relied upon across all manner of adventures, from canoeing to sailing, skiing to climbing, and just about everything in between.
Make sure you understand the difference between waterproof and water-resistant, though, to ensure that you avoid any nasty surprises.
Looking for even more options in travel backpacks? Check out this guide for the best travel backpacks for men and women.
We've got all sorts of reviews on related travel products if you're interested in perusing additional options!