The 10 Best eBags Luggage for Travelers [Backpacks, Hardside, Softside]
eBags offers a wide range of suitcases, travel bags, and other accessories at affordable prices. It is one of the largest online luggage retailers in the world, and any global adventurer would be hard-pressed to find as much choice anywhere else.
Why Buy eBags?
Back in 1998, 5 passionate guys decided to start a company using their combined experience and love of luggage and travel. From a tiny startup that sold just 7 different brands of luggage, eBags quickly grew into a huge international retailer.
So successful did it become, that in 2017 global giant Samsonite International acquired the company, allowing it to gather even more momentum and offer more choices to the modern-day traveler than ever before. From everyday backpacks for the daily commute to huge, spacious bags for round-the-world adventures, eBags has them all.
It's not just the sparkling constellation of brands that eBags offers that makes it so popular, either — it is the ease with which they can be purchased. At home on your laptop or out in the wilds using just your cell, you can order the luggage you need for super-fast delivery, almost anywhere in the world.
Extensive customer reviews help buyers to decide on their next purchase, while fast delivery and easy returns make it possible to purchase everything from a single bag through to an entire collection without any worries.
eBags offers a wide range of well-known makes and models, but it is also renowned for its branded collections that offer excellent quality pieces at affordable prices. Most pieces come with fixed-period guarantees that range from 5 years to a limited lifetime warranty, depending on the manufacturer.
Bottom Line: Whatever type of luggage you are looking for, eBags continues to offer gorgeous bags and stunning suitcases, all at very competitive prices.
The Best eBags Luggage
With literally hundreds of different bags and cases to choose from, you could be browsing for some time. To make the choice easier for you, here is some of the very best eBags luggage.
(Don't forget to check their current sales and clearance items, where products are often up to 70% off!)
Travel Bags
A Great Little Backpack for Everyday Use and Short Trips Away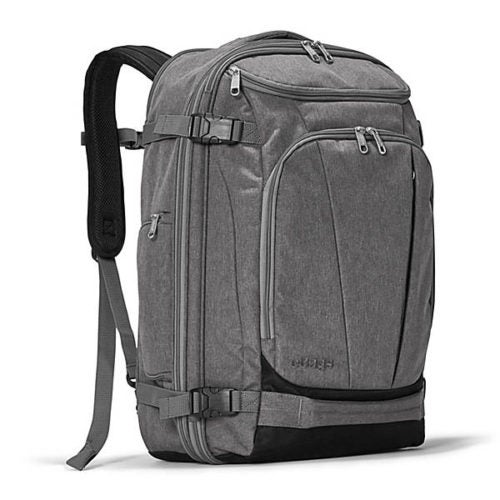 Dimensions: 22″ x 14″ x 10″
Weight: 3.15 pounds
This fabulous travel backpack offers plenty of space for short trips and days away. Made from high quality and incredibly durable polyester material, and available in a choice of 6 gorgeous colors, this is a great backpack that is chock full of clever storage solutions.
On the inside, the large main compartment is roomy enough to hold your clothing, while the compression straps and fold-down shelf will keep everything in place. The zip expansion system offers an extra 1.5″ worth of storage space for larger hauls, and the mesh panel pocket, side zip water pockets, and quick-grab pockets will keep your stuff well-organized at all times.
Offering a breathable back panel for sweat-free comfort, as well as an adjustable and removable sternum strap, it is easy to achieve a customized fit with this particular backpack. Exterior compression straps help to keep your gear tightly held in place, and the grab handle and stowable backpack straps offer total flexibility in the way you carry your gear on the go.
The "Mother" of All Carry-On Rolling Duffel Bags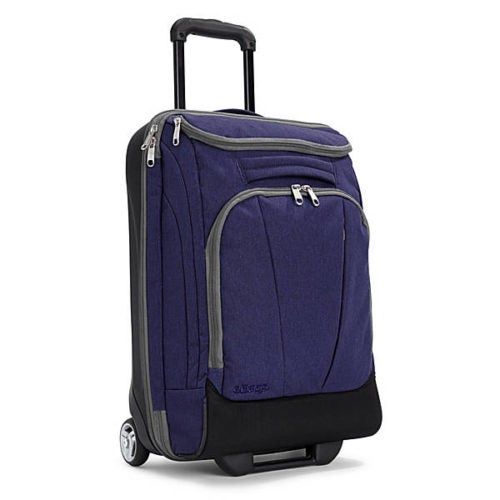 Dimensions: 21.5″ x 15″ x 9″
Weight: 8.11 pounds
When you really need to haul a heavier load, this wheeled duffel bag offers plenty of interior space, teamed with the capacity to be pulled along behind you. Made from high-grade twisted polyester and with a clever "tip-free" design, this is a great cabin-size bag for those who want to carry more.
The large main compartment has a wider opening to allow for easy packing and unpacking, and the mesh zip-around panel divides the space into 2 separate storage areas to help organize your belongings on the go.
The easy access front zip pocket is perfect for keeping your essential documents close at hand, and the cheeky little top pocket will keep your cell phone, wallet, sunglasses, or keys discreetly within reach.
With a 3-position telescopic handle and smooth-rolling wheels, this bag can glide along effortlessly behind you. Available in a choice of 6 bright colors and with a zip expansion that offers you a further 1.5″ of usable storage space, this duffel pushes your carry-on capacity to the max.
Compact Dimensions on the Outside, Maximum Storage Space on the Inside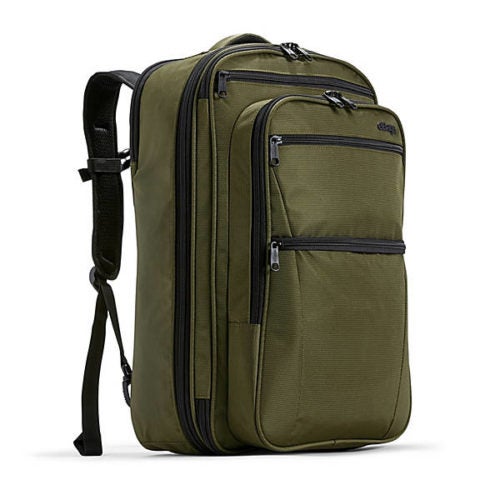 Dimensions: 21″ x 14″ x 8″
Weight: 3.9 pounds
This handsome-looking backpack has been cleverly designed to maximize internal storage space without compromising on exterior dimensions. Made from strong and durable polyester and being available in a choice of 5 muted colors, this backpack is a pretty safe choice for both work and leisure.
The spacious main compartment has a zip expansion that converts the storage space from 45 liters to an impressive 50 liters. There is also a padded laptop sleeve that has enough space to comfortably house a laptop up to 17″ in size, and the pass-through sleeve on the back lets you attach the backpack safely to your rolling suitcase.
With an organizational panel in the front for easy access to your essentials and 2 further zippered pockets, you will never be short of storage space with this sleek-looking backpack.
We all know that the perfect backpack needs to be comfortable to carry, and this one ticks all the right boxes. With a breathable, padded mesh back panel, adjustable and stowable backpack straps and top and carry side handles, you will be able to carry everything you need for a short trip with ease.
Maximize Your Storage Space With a Duffel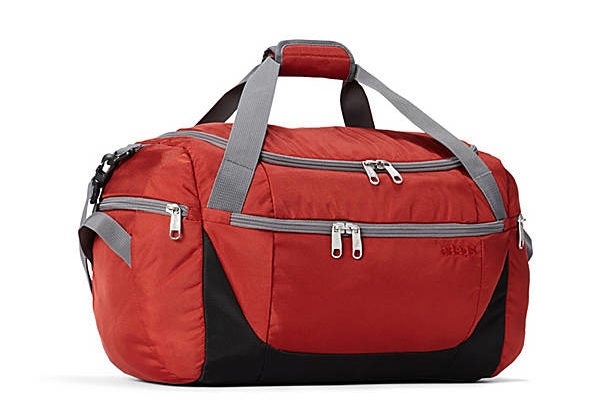 Dimensions: 19″ x 11″ x 11″
Weight: 1 pound
Available in a choice of 6 muted colors, this incredibly lightweight grab bag is perfect for trips to the gym, work, school, or college, or even for short trips away and overnight stays. Made from strong and durable twisted polyester, this bag can be used on its own or as an addition to your checked luggage.
The large main compartment is spacious and roomy, while the good size wet pocket will keep dirty gym gear or damp swimsuits separate from your clean clothing. The front exterior pocket is easy to access and has 2 further interior pockets, and the side zip pockets will hold snacks, drinks, and other small items close by.
The pass-through zip sleeve allows you to easily attach the bag to your suitcase handle or the tote handles, and the side grab handles and removable crossbody strap offer various options to haul your gear on the go. All in all, a very respectable receptacle!
Hot Tip: Looking for more duffle-style bags? Head over to our article on the best duffle bags for travelers.
A Seriously Sleek and Spacious Backpack for Stylish Travelers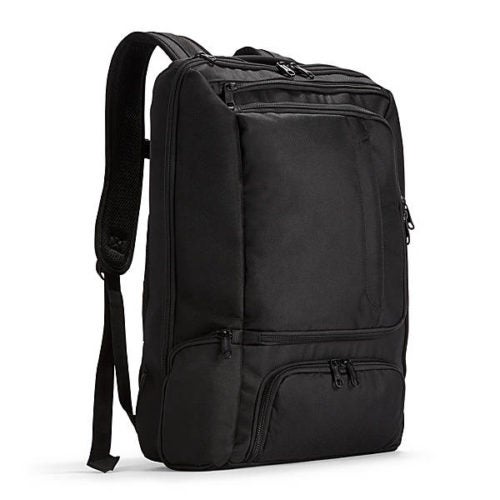 Dimensions: 21″ x 14″ x 8″
Weight: 3.7 pounds
Sleek and compact, this innovative backpack has been cleverly designed to offer a winning combination of storage space and organizational extras. Made from strong and durable polyester material, and available only in stylish black, this is a great backpack for business trips and short stays away.
On the inside, the main compartment has enough space to hold enough clothing to last you for 2 to 3 days, while the lay-flat laptop compartment can hold up to an 18-inch laptop while still offering easy access and a TSA-friendly design.
There is a further fleece-lined tablet pocket, front and back zippered pockets, a side zip water pocket, and a vertical exterior pocket — literally enough storage for everything!
For comfort, the breathable and well-padded air-mesh back panel will prevent the build-up of sweat, while the pass-through sleeve can be used to attach the backpack to your suitcase handle. Better still, this model comes complete with a removable sternum strap to help evenly distribute the weight of your backpack, even when it is full.
An Everyday Duffel With Benefits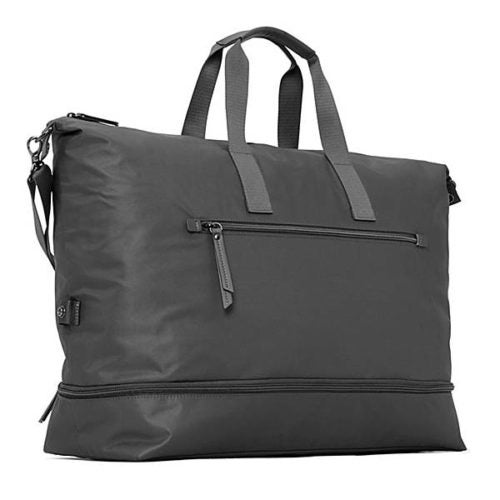 Dimensions: 19.29″ x 16.54″ x 7.48″
Weight: 2 pounds
This stunning duffel bag comes in sleek black or grey color options, and despite its capacious dimensions, it is compact enough to be used every day. Made from durable, water-resistant nylon, with vegan leather zipper pulls and external snap closures, this is the perfect bag for overnight stays.
The large main compartment offers a simple, spacious storage area, while the zip compartment on the bottom of the bag can be used to store dirty clothes or shoes away from the rest of your luggage. The front exterior zip pocket makes for easy access to essential items, and the internal zippered pocket will keep your valuables neatly tucked away.
For increased convenience when traveling, this little duffel can attach to your suitcase using the pass-through sleeve, while the side snaps let you configure the bag from a duffel to a crossbody bag in just seconds.
Hardside Suitcases
A Smart-Looking Luggage Set, Just Right for 2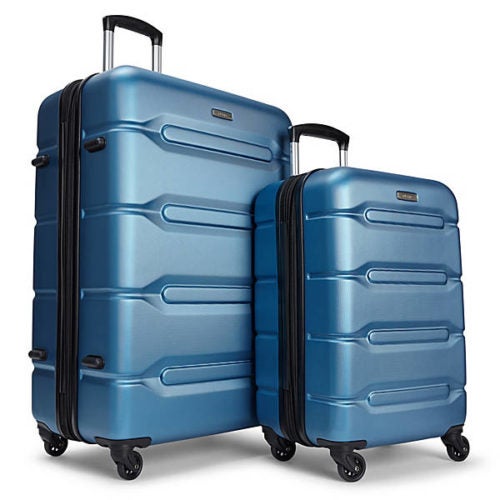 Dimensions:
Carry-On — 22″ x 14″ x 9″
Checked — 27″ x 19″ x 11″
Weight:
Carry-On — 6.5 pounds
Checked — 10.75 pounds
This 2-piece luggage set features a smart-looking carry-on case and a matching check-in case, making it the perfect combination for vacations and longer trips away with just the 2 of you. Made from super-durable yet incredibly lightweight ABS and polycarbonate, you can choose from stunning metallic black, blue, or silver colors to ensure you stay stylish wherever you are headed.
Both cases offer spacious interiors with a mesh zippered divider to help you organize your belongings better, while the useful little compression straps are on hand to keep everything in place during transit.
The expandable hardshell design can increase in depth by an impressive 1.5″, giving you even more packing space for those all-important extra items. Check the larger case in when you fly, and bring the smaller case into the cabin for the ultimate in savvy traveler convenience.
For even more carrying convenience, the 360-degree spinner wheels glide smoothly across the concourse floor, and the telescopic handles adjust to 3 separate heights, making it easy to find a comfortable pulling position to suit your requirements.
With a Built-In USB Port, This Is a Cool Little Carry-On for Tech-Loving Adventurers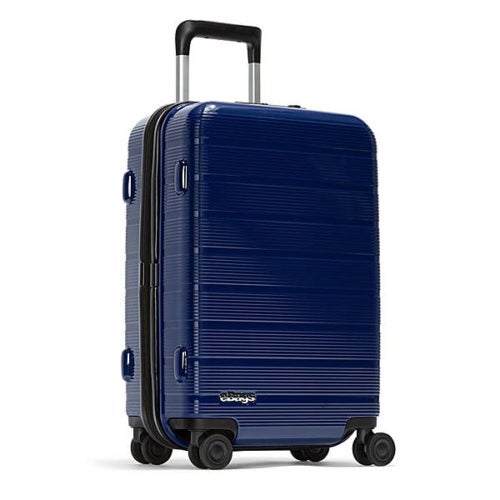 Dimensions: 22″ x 14″ x 9″
Weight: 7.12 pounds
Featuring a built-in external USB port and an interior portable battery pocket, this is the perfect carry-on case for travelers who love their tech. Made from Makrolon polycarbonate, it is also reassuringly durable and strong enough to handle the knocks and bumps of air travel while still being compact enough to fit in most overhead storage bins.
On the inside, the main storage space offers a mesh divider to help keep your belongings well-organized and neatly packed, while the small additional zipper pocket is just the right size to hold your portable battery. Being placed at the top of the case, it can also be accessed quickly for easy access when you need it.
The removable laundry bag keeps your dirty clothes separate from your clean ones, and the compression straps help to keep everything in place on the go.
For even more useful space, the hardshell expands by up to 1.5″, and the silent 360-degree Hinomoto spinner wheels move silently across the floor.
Bottom Line: With a 3-position telescopic handle and further top and side carry handles, this case is easy to haul, lift and pull, making it a great choice for urban adventurers.
Softside Suitcases
An Under-Seat Carrier That Will Keep You Connected on the Go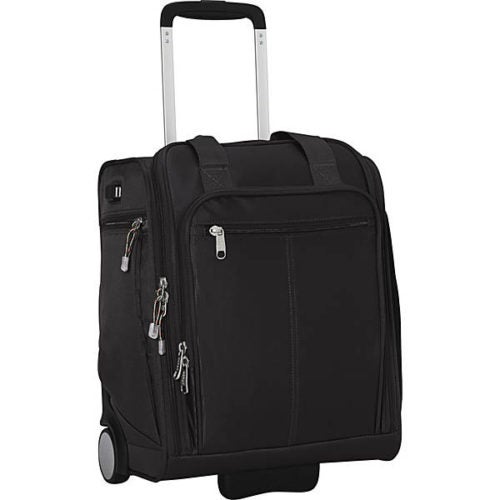 Dimensions: 17″ x 13.75″ x 9″
Weight: 5 pounds
Keep your most important items close by with this perfectly sized, under-seat carry-on. Made from high quality and incredibly durable polyester material, this bag comes in a sleek black color and is just right for business travelers and leisure lovers who like to travel light.
Bags like this help you to enjoy easy access to your gear mid-flight with front pockets designed to fit your smaller items, keys, snack, and cell phone, as well as letting you take advantage of the USB outlet to stay connected by using a spare power supply.
Magazines and documents can be kept in the front zip pocket, and the internal padded sleeve pocket will keep your 14-inch laptop safe in transit.
The large main compartment has plenty of space for your clothing and other gear, and the smooth-rolling wheels make it easy to tip the bag to pull behind you on the move.
Bottom Line: With a retractable handle and a pass-through sleeve to attach to a larger spinner suitcase, this bag is as versatile and practical as it is good-looking.
A Smart-Looking Soft-Sided Carry-On for Every Occasion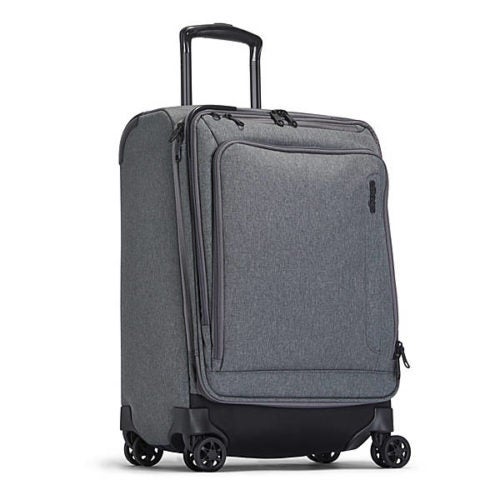 Dimensions: 22″ x 15″ x 9″
Weight: 7.6 pounds
This compact carry-on spinner case is made from attractive and hard-wearing twisted dobby fabric and has been perfectly designed to carry your clothing and keep your computer safe as you travel. If more really does mean more for your next trip, this case also expands to offer just under a further inch of storage space when you need it most.
The large main compartment will comfortably carry your clothing and personal belongings, while the small wet pocket will keep your dirty or damp clothing separate from your clean ones. The padded laptop sleeve can fit devices measuring up to 15.6″, and there is a fleece-lined pocket for keeping your tablet safe and scratch-free.
The easy access organizational panel has enough internal pockets to house your work or travel document and folios, and the front vertical exterior zippered pocket offers easy access to essentials.
Business trips are made easier with the easy-gliding dual 360-degree spinner wheels that offer a smooth ride, and the 3-position telescopic handle makes it super easy to find your perfect height.
Final Thoughts
Whether you are looking for a carry-on for a short trip away or a full-size, fully-portable duffel on wheels to take you around the world, eBags has them all.
The site is also great for searching for any brand of luggage. With in-depth descriptions, crystal clear images, extensive customer reviews, and hassle-free returns, it is no surprise that eBags continues to be one of the best-loved luggage retailers in the world today.
Looking for other great brands of luggage? Explore our guides on the best American Tourister, Travelpro, OGIO, Delsey, Osprey, Eagle Creek, Hartmann, Samsonite, and Briggs & Riley luggage.