The 15 Best Luggage Brands for Any Traveler [2021]
Whether you are the kind of traveler who lives their life out of a carry-on, or an over-packer who delights in squeezing your entire wardrobe into a super-size suitcase, there are tons of great luggage brands out there to help you find your perfect pieces.
From budget options that will see you right on your annual vacation to investment pieces that scream style and sophistication, here are some of the best luggage brands you can buy today.
The Best Luggage Brands
If you love luggage as much as we do, you may already know which brands are best to buy, but here is our rundown of the 15 best luggage brands in the world.
AmazonBasics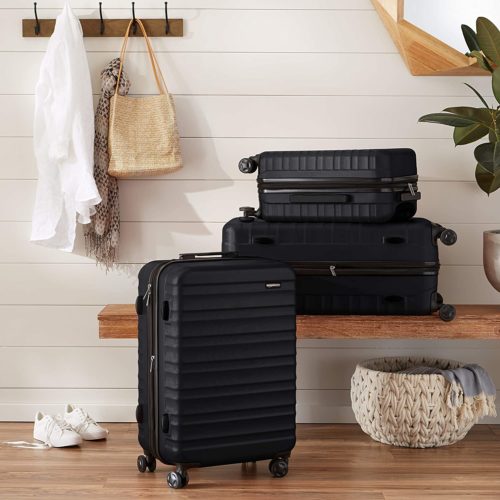 Amazon is the world's largest online retailer, providing customers with a huge array of products and services that are all delivered quickly to their front door or downloaded to their tablet, phone, or laptop. As you can buy pretty much anything on Amazon, it should come as no surprise that it offers its very own private label brand selling brilliant luggage basics — AmazonBasics.
As a label that focuses on offering "everyday items at affordable prices," AmazonBasics can sell you pretty much most of the practical travel items you will need for your next trip, with its suitcases, bags, and other travel accessories proving to be a big hit with savvy travelers.
While its luggage range may be somewhat limited in terms of collections, buyers can choose chooser from a variety of standard sizes in a choice of textured hardside spinner, shiny hardside spinner, or soft-sided suitcases, or you can add 2 or 3 pieces to make a useful matching set. There is also a cute under-seat carrier for easy access on the plane.
Available in a selection of colors, and with most pieces offering spinner wheels, telescopic handles, expansion zippers, and 2 good size packing compartments, the AmazonBasics brand really does offer a lot of baggage for your buck.
With a 3-year warranty on all suitcases and a 1-year warranty on the under-seat storage bag, AmazonBasics perfectly bridges the gap between expensive high-end luggage that will make a sharp dent in your wallet and bargain-basement cases that may not last the return journey.
Bottom Line: AmazonBasics offers brilliant basic luggage at an affordable price that will take you where you want to go.
American Tourister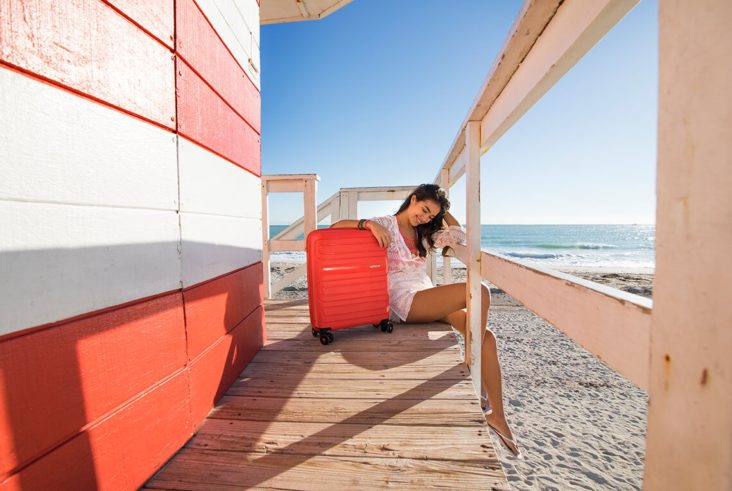 Owned by global luggage giant Samsonite, American Tourister offers a wide range of luggage that is designed to attract a younger, funkier global traveler. Offering suitcases, backpacks, and other luggage solutions in a selection of sizes, fashionable colors, and designs, American Tourister is a highly desirable brand that offers upscale features at affordable prices.
With very distinctive designs that include textured ABS hard-sided suitcases and the occasional celebrity collaboration, their unique looks and Instagrammable qualities make them a hit with modern-day globe trotters.
Cases are cleverly crafted to not only look awesome but also offer the same levels of practicality you would expect from a more traditional and expensive brand. They are also incredibly lightweight with innovative touches.
From brightly colored backpacks to retro-flavored rolling cases, there is a lot of luggage to choose from. Telescopic handles, spinner wheels, and TSA-approved locks add value, comfort, and convenience, while Disney designs and bold colors make it easy to identify your case on the carousel.
Thoroughly tested for strength and durability, American Tourister cases are much more than just great looking luggage. Most products come with a 10-year global limited warranty, and an American Tourister suitcase should see you through many years of adventures.
Bottom Line: This fun diffusion range offers funky textures, bold designs, and bright colors, all with affordable price tags for every kind of traveler.
Away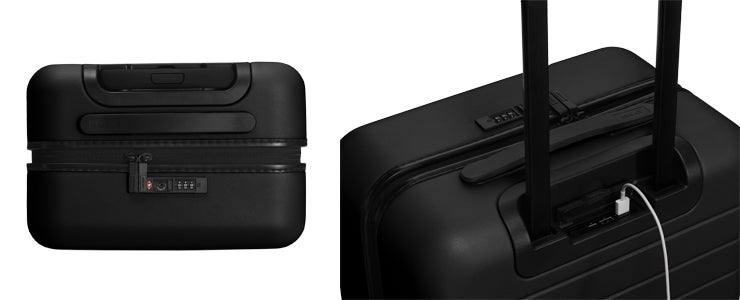 Sleek, stylish, and perfect for modern travelers, the Away brand brings you luggage collections that offer far more than just bags and cases. Carefully-crafted designs promise to provide your belongings with a home between homes, with the strength and durability to always last the journey and the innovation to keep you connected, even on the go.
By using celebrity collaborations to capture the attention of the Instagram generation, the Away brand has become lusted after by many a jet-setting millennial.
Its online cachet extends way beyond the hype, too, with every piece in its collection offering handsome looks, impressive durability, and thoughtful designs, all available for a moderate cost.
The brainchild of 2 former Warby Parker execs, Away has been supplying the cool and trendy with cases since 2015. Hardsided suitcases, rolling duffels, and occasional special celebrity editions add kudos and desirability, but it is its sought-after Smart Luggage that really sets Away apart from the competition.
Carry-on cases come with built-in batteries that can be used to charge your phone or other devices. Imagine the thrill of power on the go, simply by charging your suitcase overnight!
Better still, all batteries are TSA-compliant and can easily be removed upon request. With a lifetime guarantee on most pieces and a range of gorgeous colors to choose from, it's not hard to see why Away is one of the coolest brands out there.
Bottom Line: Uber-cool cases for the Instagram generation, Away's built-in batteries make them as practical as they are beautiful.
Briggs & Riley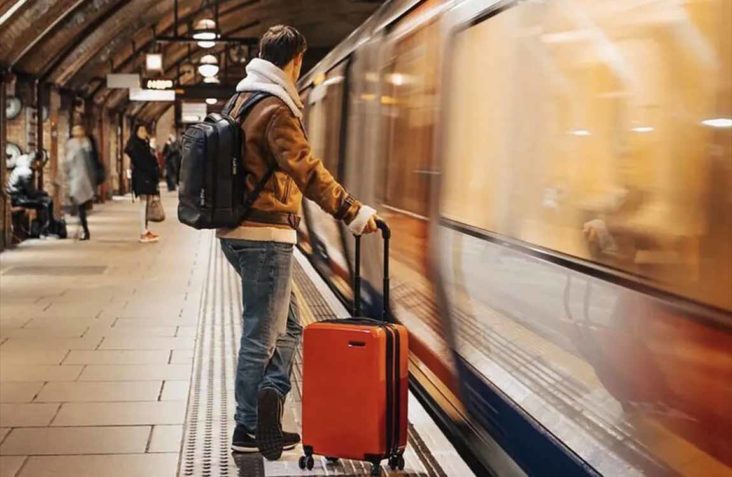 Founded in New York in 1993, Briggs & Riley claims that its luggage collections are "engineered for reality," and that it listens to the requirements of its loyal fanbase to truly understand exactly what the modern-day traveler needs when it comes to luggage.
By addressing the real-world wants and needs of its target market, it has created a range of luggage that offers more room and practical storage space, making Briggs & Riley an easy choice for frequent flyers.
Its expansion system adds even more extra inches of space when you need it the most, and the compression system holds your belongings firmly in place. Brigg & Riley also claim to have revolutionized the travel industry by being the first to offer a no questions asked, "Simple as That" lifetime warranty that even covers damage caused by the airline during transit.
Offering everything from backpacks to expandable travel trunks, each collection is available in a wide range of colors and sizes, with all pieces being manufactured using only the best, high-quality materials.
Featuring innovations such as trolley handles that don't take up any room inside the suitcase and check-point friendly laptop bags, its clever real-world designs and extensive testing results in practical pieces that are built to last.
With great looking bags and cases with lots of well thought out storage solutions, the price tags may initially make you balk, but with a lifetime warranty, incredible build quality, and sharp, upscale looks, you'll be glad you made the investment.
Bottom Line: Briggs & Riley offers practical statement pieces that have been engineered for the reality of air travel, attracting discerning travelers the world over.
Delsey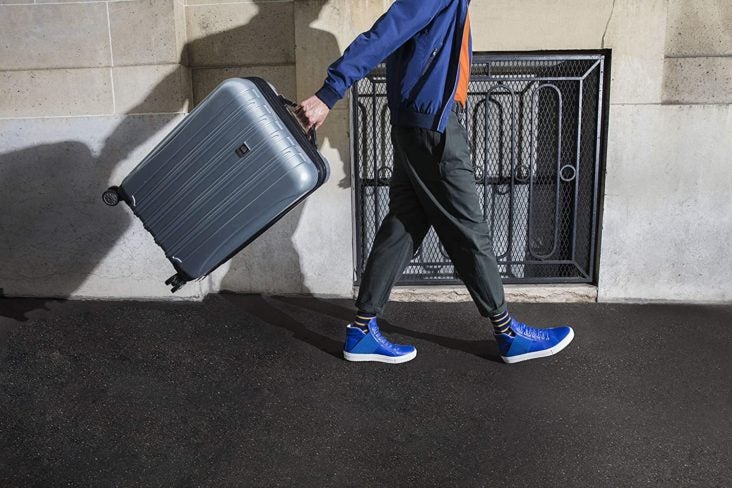 This French luggage brand offers premium collections designed with plenty of European flair for travelers who like their luggage to be as well dressed as they are.
From small beginnings as a company that specializes in leather camera cases and typewriter boxes, the brand is now one of the most instantly recognizable in the world, offering an array of suitcases, travel bags, and other accessories.
As one of the first companies to offer hard-shelled suitcases that could be pulled around on their own wheels, Delsey has always been at the forefront of innovation and design. With unmistakably French good looks and a certain je ne sais quoi, Delsey is also dedicated to offering innovative solutions using state-of-the-art technology to enhance the overall travel experience.
With many design awards under its belt, Delsey continues to push the boundaries of both form and function by offering such innovations as an easily removable wheel system, a fiberglass structure with shape memory, cases and bags that can charge your phone on the go, and security zippers that are 3 times more resistant to intrusion than regular ones.
Travelers can choose from wet bags and backpacks right up to extra large suitcases and everything in between, all available in a wide range of colors, materials, and designs. All pieces benefit from a warranty of 2, 3, 5, or 10 years depending on the individual components.
Bottom Line: Delsey is a premium French luggage brand offering European style and sophistication in every piece.
Eagle Creek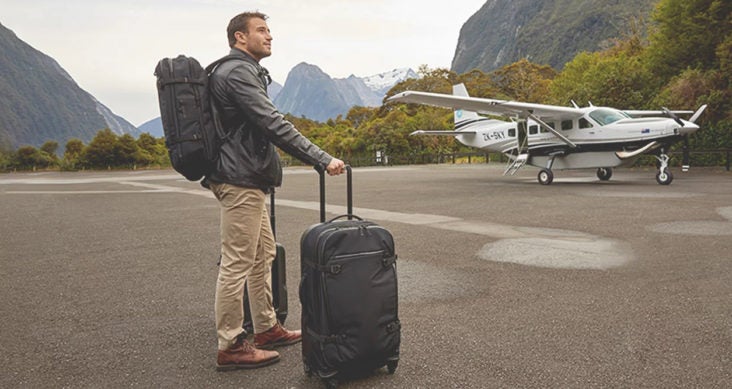 Eagle Creek began life as a small retail store in the San Jacinto Mountains, where Steve and Nona Barker sold custom mountain packs for trail trekking adventurers. In 1975 the couple opened a 1,500 square foot warehouse in Solana Beach, California, and Eagle Creek was born.
With innovation, durability, and craftsmanship at the forefront of the brands' identity since the beginning, it is no wonder that Eagle Creek is one of the most popular brands for outdoor adventurers in the U.S. today.
DISCOUNT: 10%
Offering a full spectrum of travel and luggage solutions, Eagle Creek can supply you with everything from a tiny money belt through to a giant wheeled duffel, ensuring that this brand absolutely has you covered on the go.
Ultralight daypacks will rest easy on your back as you take to 2 wheels, while compression sacks, packing cubes, and water-resistant wallets will keep your gear safe and organized on the go.
As you would expect from a brand that is all about the great outdoors, Eagle Creek luggage is made with environmental conditions in mind. The water-repellant RPVB coating on its premium Migrate and Wayfinder collections, for example, has been developed using windshield plastic from landfills in Asia.
Eagle Creek also promises that every item it produces is manufactured without toxic PVC plastics that contaminate the environment.
As one of the most ecologically thoughtful brands on the market, Eagle Creek is also ardently against increasing landfill. This is why its "No Matter What" warranty allows for the replacement or repair of its products in most situations. From wheeled duffels to gear bags, Eagle Creek has everything the outdoor adventurer could need.
Bottom Line: With superior organization and featherweight designs, bags from Eagle Creek are designed for you to grab your gear and get out there.
Hartmann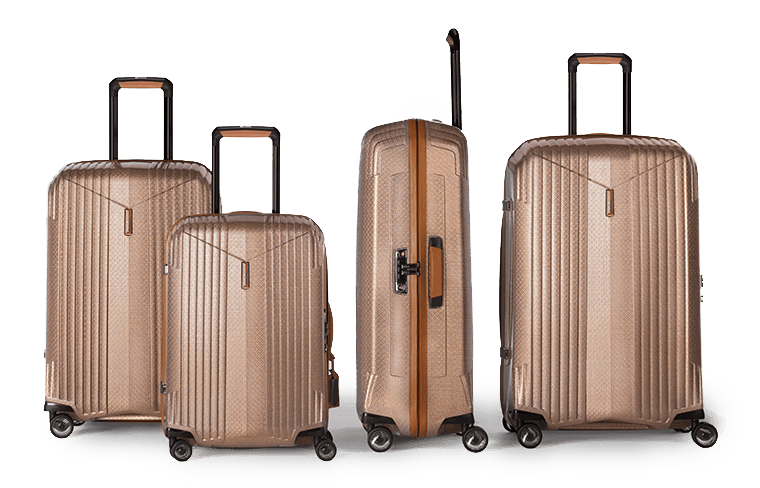 Famous for its distinctive looks and impressive durability, Hartmann has traditional All-American retro styling and offers exquisitely-crafted collections for affluent travelers.
Designing and manufacturing high-quality luggage for over 140 years, the Hartmann brand is synonymous with only offering the very highest levels of craftsmanship and bags and cases that really are designed to last a lifetime.
Initially specializing in sturdy trunks for upper-class travelers, the brand has managed to keep its authentic style while still being able to keep up with every kind of modern innovation.
With hard-sided suitcases made from ultra-light and protective titanium with metallic colorings and soft-sided travel bags woven in the finest tweed, there is an air of luxury and sophistication that permeates every piece in its collections.
DISCOUNT: 7%
With sumptuous leather handles and accents set against state of the art and intelligent functions such as the smooth-spinning wheel, retractable handles, and TSA-approved locks, Hartmann offers the perfect blend of classic good looks and modern practicality.
Not cheap to buy, but incredibly pleasing to own, Hartmann bags and cases are all rigorously tested to ensure that all of its travel products meet stringent standards. That said, should something happen to your beloved Hartmann pieces, they do also come with a 10-year limited warranty.
Bottom Line: Hartmann offers All-American style and quality for the affluent and the enlightened.
Kenneth Cole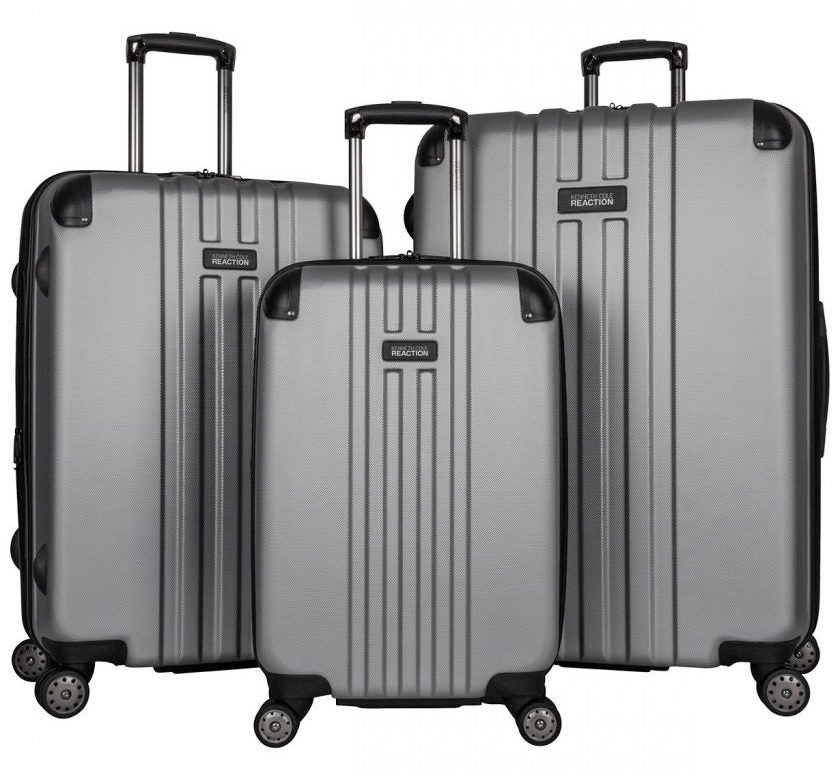 Kenneth Cole is a fashion designer from New York who began his career designing and making women's shoes. As his success grew, he turned his talents to creating bags, clothing, and accessories, and then the Kenneth Cole Reaction Line dedicated to creating fashion-conscious luggage and travel accessories.
Designed to capture the fast-paced spirit of modern city living, his luggage range has a playful urban aesthetic and a designer price tag to match.
Available in a range of practical sizes, beautiful colors, and uber-stylish exteriors, all Kenneth Cole cases and bags have been designed to feature practical and well-organized storage compartments, with every little detail considered in the final design.
The Reaction range is very well thought of by discerning travelers, and cases offer luxury styling and innovative touches, including 8-wheel construction and a molded, reinforced ABS hardside construction.
Designer looks aren't all that's on offer here either, as on the inside the fully lined interiors complete with garment restraints and hanger attachments add to the high-end feel, while the additional laptop or tablet holders in the sealed lid compartment make these cases as practical for business trips as they are on vacation.
With sleek designs, a trendy designer label, and lots of clever interior features, Kenneth Cole cases make a real statement at the airport terminal. Customers can also be reassured that their cases will last the journey with most pieces coming complete with a lifetime limited warranty.
Bottom Line: With designer looks and urban chic at every turn, cool people can't get enough of Kenneth Cole.
Osprey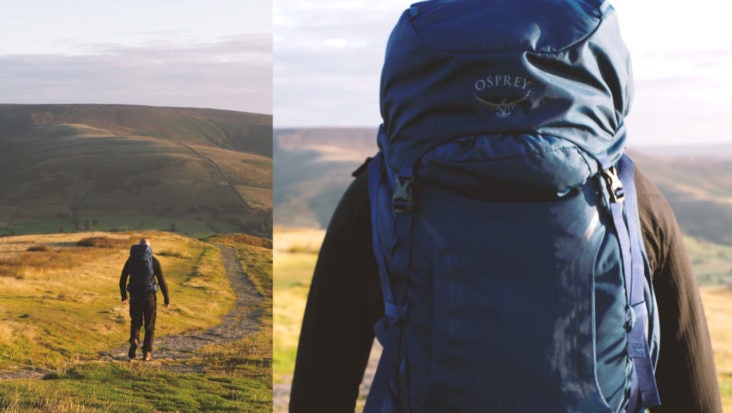 Osprey is dedicated to designing high-quality backpacks and gear haulers for adventurers who love to experience life in the great outdoors. The Californian brand has been creating innovative backpacks and rucksacks since 1974, and the cornerstone of the brand is that its high-quality products are built to last for a really long time.
From child carriers to wet bags, daypacks to hiking packs, Osprey offers everything you could need to carry your gear (and your infant too!). Available in a huge variety of sizes, styles, colors, and designs, every piece of Osprey luggage has been designed with practicality in mind.
DISCOUNT: 17%
Osprey also firmly believes in maintaining the lowest environmental impact in its products. Designed to last for many years, it uses high-quality materials in order to reduce wastage. It is solely driven by practicality and not the whims of disposable fashion.
Each Osprey bag, backpack, or rucksack comes with its impressive "All Mighty Guarantee" that promises to repair any defects in the materials or craftsmanship. As a brand, its mantra is very much to repair, not replace, in order to reduce waste. While Osprey is by no means the cheapest purveyor of outdoor gear on the market, it is most definitely one of the very best.
Bottom Line: Famous for super tough rucksacks and backpacks that will carry you across many miles of country terrain, Osprey continues to be the outdoor enthusiast's favorite.
Rimowa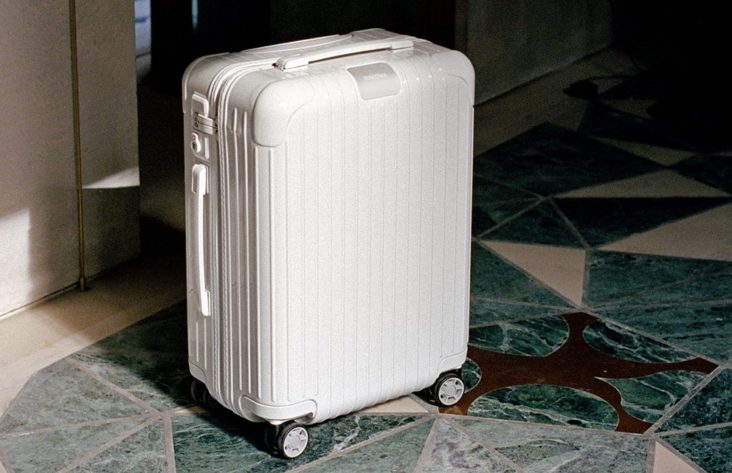 You can spot a Rimowa suitcase from a mile away with its distinctive parallel aluminum grooves that are inspired by the golden age of aviation. Upscale looks come with high-end price tags, though, but its loyal fanbase seems to think that they are worth every cent.
The German-born company has been making its signature aluminum cases for over 70 years now, but have kept up to date with all the latest innovations that modern-day travelers need.
Its most recent hybrid collection, for example, unites the resilience of its aluminum-magnesium alloy with the supremely lightweight quality of polycarbonate, creating German-engineered quality that is light to the touch.
Super-smooth spinner wheels, single grab handles, and integrated TSA-approved locks add practicality and sharp looks to its design format, and on the inside, lined pockets and deep storage spaces offer all the space you need to house your designer outfits.
Designed with the demands of the most discerning travelers in mind, Rimowa offers customized services, including hotel repairs should your suitcase suffer a mishap on the go — every piece also comes with a 5-year guarantee.
You may need deep pockets to travel the Rimowa way, but every admiring glance at the airport and the sheer joy of owning one will make it feel well worth the money.
Bottom Line: Rimowa's distinctive looks and German design attract first-class travelers who really like to travel in style.
Samsonite

Originally founded in Denver, Colorado, in 1910, Samsonite International S.A. is now one of the biggest luggage manufacturers in the world. Offering a huge selection of leisure luggage, business cases, handbags, travel accessories, and casual and outdoor bags, you would be hard pushed to find any luggage and leisure retailer who doesn't feature pieces from this leading brand.
With upmarket branding and superior quality ranges, Samsonite is best known for offering high-end luggage for business travelers and sophisticated adventurers, all of which come with a price tag to match. At the forefront of innovation, Samsonite continues to manufacture great-looking luggage that combines the very best quality materials with cleverly created design concepts.
The company is also known to invest extraordinary amounts of money into researching the materials it uses, meaning that everything from the exterior of the suitcase through to the handles, zippers, and even the wheels are able to outperform the competition for extended periods of time.
It was its vulcanized fiber cases of the 1940s that gained the attention of a small but upwardly mobile market of travelers, and to this day, it is both its hard and soft-sided suitcases that are the brand's most popular products. Trusted for its incredible durability and sleek designs, they are also incredibly lightweight and available in a range of standard sizes.
Samsonite is also keen to recognize its responsibility to operate efficiently as possible in order to produce products with a lower environmental impact. Low-impact designs feature highly in its most recent collections, and as you would expect from such an upscale brand, lifetime warranties come as standard across many of its ranges.
Bottom Line: The biggest and still the best, Samsonite continues to outsell the competition with clever designs and highly capable cases.
SWISSGEAR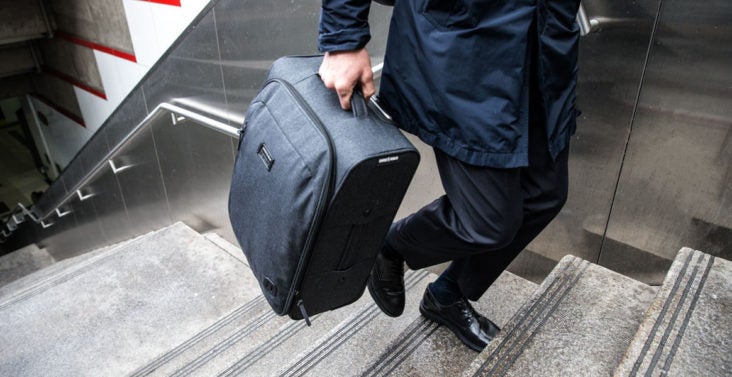 As another brand that is famous for creating high-quality army knives, you can be sure that SWISSGEAR luggage will always be finely-crafted and honed to perfection. Offering European good looks and incredible versatility, this Swiss brand offers a range of affordable suitcases, bags, and other travel accessories.
Travelers can choose from its budget-friendly entry-level collections for occasional travel or splash a bit more cash for its premium collections.
SWISSGEAR luggage products offer a range of innovative features, including integrated USB ports to keep your tech charged on the go, as well as ScanSmart technology that allows you to speed through security — your laptop will be protected from X-ray belts while still allowing transparency for TSA agents.
With sleek looks and sophisticated styling, every collection comes complete with cleverly thought out storage spaces that include additional pockets, retractable or adjustable handles, and suitcases with smooth-rolling spinner wheels.
There is a wide range of colors and sizes to choose from, and some cases offer extra inches of space using its straightforward expansion system. Hardside cases are rugged and capable, while its soft-sided counterparts are made from hard-wearing and durable materials.
Most SWISSGEAR cases, bags, and travel accessories come with a 5-year limited warranty.
Bottom Line: Swiss charm and ScanSmart technology make SWISSGEAR's style and innovation within the reach of everyone.
Travelpro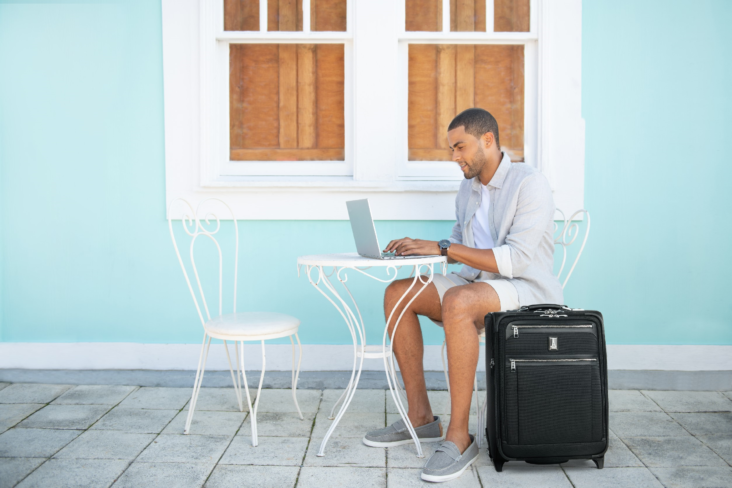 Founded in 1987 by a Northwest Airlines 747 pilot, Travelpro is the preferred brand for airline crew and frequent flyers who really want to maximize storage space on the go.
Offering a wide range of stylish wheeled luggage, Travelpro aficionados can invest in entire sets that work together seamlessly to adapt to your ever-changing travel needs. From business trips to family vacations, Travelpro offers everything from backpacks and garment carriers to super-sized rolling duffel bags and suitcases.
Because the range has been designed by people who truly understand the rigors of frequent flying, all of its collections are subjected to rigorous testing before they hit the market.
Suitcases are tested above the maximum weight for checked baggage, and every element of the case, including the fabrics, wheels, zippers, and handles, is put through its paces to ensure almost a lifetime of use.
Available in a wide range of colors, sizes, and styles, the Travelpro ranges are affordable enough to be attractive to vacationers and leisure travelers, while still offering the type of quality demanded by airline professionals. Well made, good looking, and incredibly durable, all Travelpro luggage also comes with either a 5- or 10-year warranty.
Bottom Line: The professional's choice finds its way into the mainstream, delighting frequent flyers and vacationers alike.
Tumi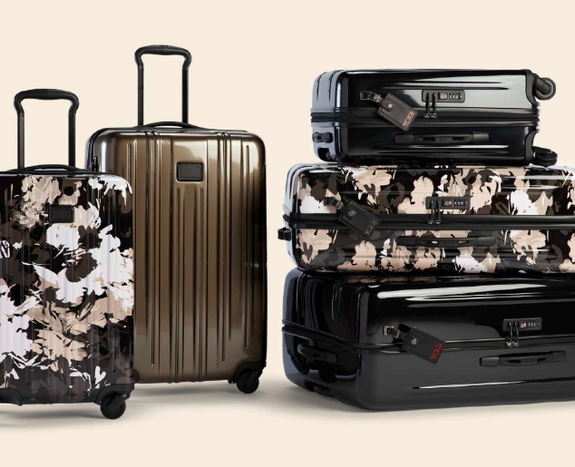 Founded in 1975, Tumi prides itself on offering upscale and innovative luggage to discerning travelers the world over. With a name taken from a Peruvian Peace Corp icon, it is no wonder that Tumi collections offer incredible versatility and extensive levels of durability.
Known in the 1980s for its signature black-on-black ballistic nylon styling, the brand has evolved to now offer an array of cases, bags, and travel accessories.
Claiming to be "obsessed" with offering superior quality and exquisite designs, the Tumi team believes in testing all of its pieces to the extreme. Each product is put through an impressive series of 30 individual tests before being released into the real world for performance testing.
This rigorous approach to testing, compared with unrivaled attention to detail, makes Tumi luggage well worth its high-end price tag.
Technical innovation is also one of the cornerstones of the brand, with most pieces being fitted with a world-beating tracking system, meaning you will know where your luggage is at even if you are unlucky enough to get separated from it.
Using state-of-the-art components, some Tumi collections also offer on-the-go charging and clever storage options for laptops, tablets, and other high-value tech.
Each piece it manufactures offers the brand's signature good looks and clever design features. Pushing standard size storage space to the max, travel solutions from Tumi are built to last. But just in case something goes wrong, it also offers between 2- to 5-year warranties on most of its collections.
Bottom Line: Collections by Tumi feature design excellence and technical innovation wrapped up in stunning suitcases that are kept close by your side using in-built tracking devices.
Victorinox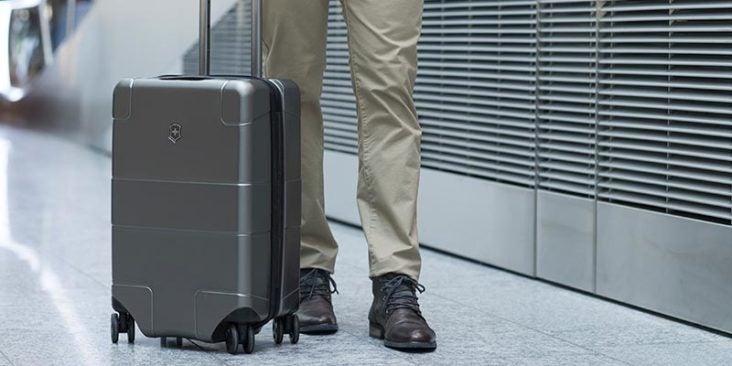 Best known as a Swiss knife manufacturer and luxury watchmaker, Victorinox brings its European class and style to the luggage business with a range of upscale bags and cases. With just a few select options to choose from, travelers who like sleek lines and practical design will love the simple yet finely crafted range on offer from Victorinox.
Using decades of engineering expertise, Victorinox combines cutting-edge, high-tech materials with forward-thinking designs to produce lightweight suitcases that are able to effortlessly maximize the storage space available. Only available in sleek black, travelers can choose from ultra-light shockproof polycarbonate hard-sided cases, or nylon soft-sided options.
With a simple choice of small, medium, large, or extra-large suitcases, you can easily accommodate everything you need for your next trip. Victorinox focuses on keeping its cases as light as possible in order to ensure that travelers can use those all-important extra ounces for their own belongings.
All Victorinox luggage comes with a lifetime warranty, and as a well-renowned brand famous for quality and style, its luggage should be just as popular as its world-famous army knives.
Bottom Line: Driven by design, Swiss brand Victorinox builds precision-engineered upscale suitcases, perfect for the minimalist in all of us.
Final Thoughts
From daypacks for bike rides to statement suitcases for the summer season, the luggage you choose needs to look not only good but also be practical enough to meet all your needs.
Smart technology, tracking devices, and TSA-approved additions make modern-day suitcases even more practical and desirable forever. Invest well, and you and your suitcase can spend many happy years traveling the world together.