The 18 Best Hiking and Backpacking Backpacks in 2021 [In-Depth Guide]
Whether you are heading out on a day hike or planning on spending weeks in the great outdoors, finding the right daypack or backpack can make all the difference to your hiking and backpacking experience.
From simple daypacks for keeping your essential items safe to supersized backpacks that can carry everything you need for a week in the backcountry, there are plenty of options.
Things To Consider When Buying a Hiking Backpack
Because not all hiking backpacks are equal, there are lots of things to consider before you buy. These include:
Capacity and Weight
First, you need to be confident that the backpack you buy has enough room to hold everything you will need during your trip. Both daypacks and hiking backpacks will offer information on the capacity they can hold, so it's super important to consider how much you are planning on taking with you before you buy. A backpack that is too small to hold your essentials will basically be useless.
As a very rough guide, daypacks for hiking will offer between 15 to 30 liters of space, which is enough for drinks, snacks, everyday essentials, and an extra layer of clothing. These will see you through from leaving home until your return and are good for a single-day trip or overnight stays. These kinds of packs usually weigh between 2 and 3 pounds.
Medium backpacks can hold between 30 to 50 liters of essential gear, which should be enough for a 3- to 4-day trip if you pack carefully. These kinds of backpacks can weigh between 3 to 5 pounds.
Large hiking backpacks can hold between an impressive 40 to 70 liters of usable storage space, which can see you right for weeks away. Of course, the bigger the backpack, the more specialized storage options they will usually offer, including dedicated spaces for sleeping bags, hiking poles, and other camping gear, and these can weigh over 5 pounds when empty.
Larger backpacks will obviously offer more space for your camping, hiking, and fishing gear, but they can feel pretty hefty even when empty. When you are doing your research, look for lightweight materials and frames made from aluminum to help lighten your load.
If you are planning on taking a lot of bulky items with you, look to find a backpack that can handle the load without ripping or splitting along the way.
Bottom Line: Daypacks are far more minimalist by design, and therefore only really suitable for carrying lightweight essentials. However, they will be incredibly easy to wear on your back and can keep your hands free so you can spend more time hiking, riding, or fishing.
Suspension, Padding, and Comfort
Comfort is key when you have to haul your belongings around on your back. Different types of backpacks offer various levels of comfort, but as a rule, you should look for one that has a built-in suspension system that alters the fit of the backpack while you are wearing it.
An effective suspension system will fully distribute your pack's weight evenly across your back and your hips. This prevents the load from disturbing your center of gravity and stops it from causing pain or sore spots.
It should also enable good air circulation between the pack and your back to stop you from feeling sweaty. Usually made from lightweight metal frames, a good suspension system is key for ongoing comfort.
The straps of your backpack should be well-padded and covered with a soft, breathable mesh material, as well as feature lightweight foam padding. Shoulder straps will need the most amount of padding as they are more likely to come into direct contact with your skin, but sternum straps should also be padded for additional comfort.
Look for a backpack that offers firm foam support rather than one that is too soft and squishy. This will prevent the backpack from slipping or slouching.
When it comes to finding the most comfortable backpack for your next adventure, much of this will depend not just on the padding and suspension, but also on the fit. A badly-fitting backpack will instantly feel uncomfortable and will feel even worse when it's heavy.
Hot Tip: There are a host of different backpacks made to fit both the male and female form, as well as those that offer adjustments to suit your height.
Features and Practicality
When you are carrying your possessions in 1 place, it is important that there are handy extra pockets and separate compartments to help keep your gear well-organized and easily accessible on the go.
Creative designs and modern materials now allow for extra storage options built into and outside of the main body of the backpack.
The main compartment should be easy to access, and most backpacks come with either top-loader style openings that roll or tie together, clamshell openings that open like a suitcase, or zippered openings that run the length of the backpack. Getting your gear in and out easily is a must-have with you are on the move, so choose your access point carefully.
Modern backpacks also come with a bunch of additional storage features, including mesh pockets, drink holders, hidden pockets for valuables, fleece-lined sunglasses pockets, lash points, sleeping bag dividers, and much more.
Hydration packs are also popular, and these types of backpacks offer a separate compartment that can hold a water reservoir, as well as a drinking tube that is conveniently placed up high on your shoulders.
Materials and Durability
Lightweight but durable materials are a must-have in a backpack, and while vintage canvas bags or stylish leather bags may be cool for school and college, they won't be practical for real-life, outdoor adventures. Most daypacks and backpacks are made from synthetic materials such as nylon or polyester. These types of materials are strong enough to carry numerous items and are easy to clean.
Because your backpack will be used outdoors, it is also important that it can offer some degree of protection against the elements. For that reason, most backpacks are coated with a silicone, acrylic, or polyurethane layer to ensure that the rain doesn't get in to soak your gear. Be aware, though, that different brands and models will offer different levels of water resistance.
Hot Tip: Most backpacks can resist the penetration of some water, but not entirely, while some specialist models are designed to be completely impervious to water, even when submerged. Check whether your backpack is waterproof or water-resistant.
Frame or Frameless
Ultimately the backpack you choose to buy needs to offer enough space to carry all your gear and feel comfortable when you are carrying it. The choice between framed and frameless therefore depends on your individual needs.
Frameless backpacks are more minimalist by design and incredibly lightweight. Such simple designs mean there are fewer fancy working parts to break or go wrong, and they are often cheaper to purchase than their heavier counterparts.
On the downside, though, frameless backpacks are generally not as strong as framed versions, and if you are considering carrying a load that weighs over 20 pounds, these types of daypacks and backpacks may not be suitable.
Backpacks with internal frames, on the other hand, are intrinsically stronger than frameless options and can hold their shape, no matter what you stash in them. Framed backpacks are also designed to better distribute the weight of your backpack, and are much better suited for loads of 20 pounds and over.
Bottom Line: Both the frame system and the additional support that comes with hip belts and other accessories will make heavier loads far easier to carry over long periods of time.
The Best Backpacks for Backpacking — Under $100
There are lots of excellent hiking backpacks out there, and whatever your budget, you should be able to find 1 to suit.
A Brilliant, Budget Backpack
AmazonBasics Internal Frame Hiking Backpack With Rainfly
With an internal frame to keep this backpack rigid and a 75-liter capacity, this is a brilliant option for backpackers on a budget. Also available in 55- and 65-liter options, this extra-large backpack can hold all the gear you need for your next hiking, fishing, or camping trip.
Made from heavy-duty, extremely durable polyester, the large main compartment comes with multi-directional compression straps to hold your gear securely in place. Multiple storage pockets, including side pockets, mesh bottle holders, and a large sleeping bag compartment, make it easy to store everything you need for your next adventure.
Adjustable and padded shoulder straps help make it easy to find the perfect fit for your body shape. The open-cell foam padding and molded channels offer lower-back support and complete breathability.
Suitable for use in all weathers, this backpack comes with a water-repellent exterior coating and integrated rainfly that will protect your gear from light rain and damp conditions, while the waterproof rain cover can cope with heavier showers. Complete with a 1-year guarantee, this backpack offers many of the features of more expensive models, just without the high price tag.
What We Like
Lots of pockets to stay organized
What We Don't Like
Straps can slip with a heavy load
A Lightweight Model With an Internal Frame
TETON Sports Explorer 4000 Internal Frame Backpack
Cleverly designed to offer a near-perfect blend of maximum storage space and incredible comfort, this internal frame backpack offers a customizable fit and is fully adjustable in the torso, waist, chest, and shoulders. Loaded with lots of great features, this is a great backpack for budget-conscious adventurers looking to spend time in the great outdoors.
With a large main compartment that offers plenty of space for all of your essentials, additional storage is found in the multiple sides and mesh storage pockets. There are also higher-end features, including pass-through side pockets for storing tent poles and longer items as well as multi-directional compression straps, gear ties, and a sleeping bag compartment.
For longer hikes and trips away, this backpack is also hydration-ready and can hold a 3-liter reservoir to keep you hydrated on the go. For added comfort, there is also a padded back panel that channels airflow to keep you cool and padded shoulder straps that are adjustable for your size and load.
All in all, the TETON Sports Explorer 4000 Internal Frame Backpack is a great-looking backpack that offers up to 65 liters of space for your gear, and all for less than $100.
What We Like
Dedicated pocket for up to a 3-liter hydration bladder
What We Don't Like
Torso adjustment can squeak with movement
Big on Space, Gentle on the Wallet
MOUNTAINTOP 70L to 75L Internal Frame Hiking Backpack
Offering enough capacity to hold up to 2 weeks of clothes, food, and other bits of gear, this supersized backpack is made from high quality and incredibly durable water-resistant nylon.
With a dedicated sleeping bag compartment at the bottom of the bag, you will be all set for sleeping under the stars. Alternatively, you can unzip the divider and transform your backpack into 1 large storage area.
The extension collar can expand to increase the capacity by a further 5 liters for even more useable space. A series of compression straps will prevent your belongings from moving around on the go, and help the backpack to maintain its shape.
For complete comfort on the go, this backpack also comes with a separate bladder sleeve in the main compartment that is large enough to hold a 3-liter reservoir. The tube is easily accessible through the D-loop on the shoulder strap, and it can easily be removed for cleaning.
Finally, the 8-height adjuster on the back of this pack can be adjusted to perfectly suit your height and torso length, offering a customizable fit on a budget.
What We Like
What We Don't Like
Could do with more external pockets
The Best Backpacks for Backpacking — From $100 to $250
Hydration Compatible Backpack With Plenty of Room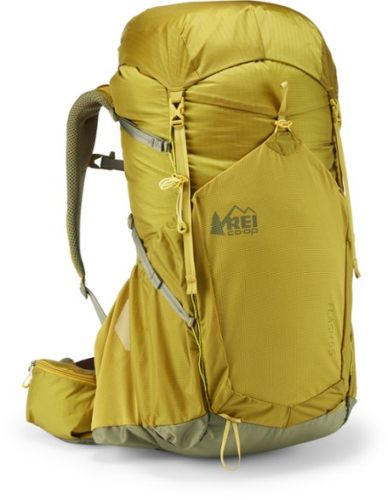 This hydration-compatible backpack offers a mid-range 55-liter capacity, but it is also available in 53- and 57-liter capacities. Designed to fit the contours of the male body perfectly, REI also makes a Flash backpack that is designed to be more comfortable for the female frame.
Featuring Packmod compressions straps, you can sculpt the shape of your load to make it more comfortable to carry. This backpack also comes with a 3D contoured hip belt and a ventilated back panel to keep it fresh and perfectly balanced for loads up to 30 pounds.
A large main compartment with a roll-top closure lets you easily pack and remove your belongings, while the side pockets, snap-closure water bottle pockets, and shoulder strap and hip belt pockets offer useful additional space for items you need to reach quickly.
This backpack can perform well, even when the weather doesn't. The seam-taped rain shield lining in the top lid will protect your gear against light rain and drizzle, and the attachment loops on the front are perfect for attaching ice axes and other tools. For additional convenience, the top lid is removable and offers a handy 5.75-liter storage pocket.
What We Like
Very lightweight for a hiking backpack
What We Don't Like
Waist belt can loosen easily when using
A Huge Amount of Space for Epic Adventures
Kelty Coyote 80 Backpack
Ideal for extended trips, this 80-liter load hauler offers an impressive amount of space for carrying your gear around with you. To help lighten the load on the go, the Dual LightBeam aluminum frame provides this pack with outstanding levels of support, even for heavy loads.
With a separate sleeping bag compartment and a top lid that converts into a sling pack, you can carry your bed with you, as well as a smaller bag for traveling light. The large front pocket is perfect for holding items that you need easy access to, and the side pockets also have space for sliding in trekking poles and other accessories.
The perfect fit suspension system is cleverly designed to offer plenty of versatility to help you find a customized fit. You can even make adjustments while the backpack is on your body. The HDPE frame sheet and waist belt will help to balance the load of this supersized backpack, and the mesh back panel offers excellent breathability to prevent sweat patches, no matter how hard you work it.
The patented Cloudlock II suspension also offers impressive levels of stability, even when the ground beneath your feet is anything but. This is a huge backpack from a big name brand and is a great choice for longer adventures.
For women that like to hike, Kelty also offers the Coyote range with size and weight alterations to suit the female frame.
What We Like
Comfortable waist strap with accessible pockets
What We Don't Like
Zipper pulls can detach easily
2 Packs in 1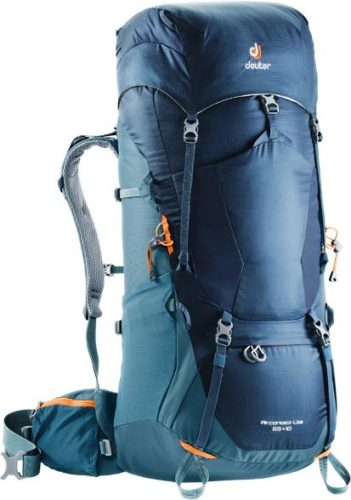 This strong and durable backpack is made from high-quality nylon and offers a combined capacity of 75 liters. The patented Aircontact Lite Backsystem uses open-cell foam to help increase ventilation, while the anatomic aluminum frame stays can move with you and distribute the weight of the backpack perfectly.
Designed to fit the male frame, the Vari-Quick system is adjustable to fit your torso. With a shoulder harness that has body-shaping padding and soft edges, you can easily adjust the straps to find the perfect fit for your body. The ergonomic comfort lock hip belt can also be adjusted to help even out the load of your gear on the go.
The impressive main compartment is complemented by a variety of further storage areas, including an external lid pocket, an interior lid pocket, stretch side pockets, a large front pocket, and stretch mesh zippered pockets on the hip belt. There is also a separate bottom compartment, an extendable 10-liter pack collar, and accessory loops for helmets, hiking poles, and other vital equipment.
One of the best features of this incredible backpack is the height-adjustable lid that easily transforms into a separate daypack. Hydration system-compatible, this is the ultimate 2-in-1 backpack for serious adventurers.
Deuter also makes Aircontact Lite backpacks that have been designed to fit the female frame.
What We Like
Very water-resistant if caught in the rain
What We Don't Like
Shoulder straps could be more padded
The Best Backpacks for Backpacking — From $250 to $400
Anti-Gravity Technology and Big Brand Benefits
Osprey Atmos AG 65 Pack — Men's
Designed specifically for men, this backpack uses patented anti-gravity technology to perfectly distribute the weight, letting you hike harder for longer. Made from high-quality nylon, the Atmos comes in 62- and 68-liter capacities.
Featuring a LightWire peripheral frame, this backpack has been designed to distribute the weight across the central core of the pack and the hip belt evenly. The anti-gravity ventilated mesh back panel contours the body perfectly to provide a customized fit, and the Fit-on-the-Fly hip belt can be fine-tuned to provide the ultimate in on-the-go comfort.
A large main compartment is perfect for carrying your clothes and other gear, while the removable floating top lid with 2 zippered pockets, a zippered sleeping bag compartment, front stretch mesh pockets, ice tool loops, and trekking pole attachments all offer extra storage space for use on long hikes and camping trips.
With an integrated water-resistant jacket to protect your belongings from bad weather, as well as a hydration sleeve that can hold reservoirs up to 3 liters in size, this backpack will see you right for many miles. Padded shoulder straps, compression straps, and a sternum strap with an integrated safety whistle make this a comfortable option for safety-conscious adventurers.
Never one to forget about its female customers, Osprey also makes the Aura backpack that offers the same great features but is designed to sit comfortably on the female form.
What We Like
Breathable back panel to allow air to circulate
What We Don't Like
Main compartment is only accessible from the top or bottom of the bag
Dynamic Support and a Customized Fit From This Supersized Backpack
Gregory Baltoro 75 Pack — Men's
Offering 75 liters of luggage space, this cleverly designed backpack is also available in 72- and 78-liter versions. This medium-sized pack has been designed to fit the male form perfectly and offers maximum comfort and haulage space. There is also a female-friendly Deva version on offer.
The responsive A3 suspension system offers dynamic support for a fully customized fit and feel. Both the harness and the hip belt move independently, allowing the backpack to move freely with you while you are on the go.
The structured foam back panel wicks away moisture to make for sweat-free hiking, and the high-strength aluminum frame channels the weight of the pack to stop it from swaying from side to side as you walk.
When it comes to storage, the U-Zip opening makes for easy access, while the hip belt pocket is perfect for storing smaller items.
A tuck-away bottle holster, stretch mesh side pockets, front zippered organizational pockets, and a sunglasses stow system offer plenty of useful extra storage space, while the custom-fitted rain cover will keep your gear dry in the rain. There is also a zippered bottom sleeping bag compartment.
Finally, the removable hydration sleeve quickly converts into a lightweight daypack with a front storage pocket, making this a great choice for adventurers who appreciate that sometimes less is more.
What We Like
U-shaped zipper for easy access to the main compartment
What We Don't Like
Hip belt pockets are a little small
Carry Heavy Loads for Longer With This Large, but Lightweight Backpack
Osprey Aether AG 70 Pack – Men's
Lightweight but incredibly durable, the Aether also comes in 60- and 73-liter capacities. This 70-liter option comes complete with a suspended-mesh panel that extends from the upper torso through to the lumbar area, offering superb comfort and incredible breathability.
With a heat-moldable hip belt and interchangeable harness, this backpack makes it easy to carry heavy loads for longer, and the multiple compression straps will help it keep its shape, no matter how much you fit in it.
With a large main compartment accessed via a J-zip on the front panel, you can pack and unpack your gear in an instant. The dual-access, stretch mesh side pockets, zippered hip belt pocket, and large front panel all offer useful space for smaller items, and the Stow-on-the-Go trekking pole attachment and dual ice-tool loops make this a great choice for serious hikers.
The zippered sleeping bag compartment will keep your bedding dry and easily accessible, and the internal hydration sleeve can hold enough liquid to keep you hydrated when you are away from home.
Osprey has also packed all of the Aether's best features into the Ariel version, which has been specifically designed to fit the female form.
What We Like
Multiple compartments and pockets to stay organized
What We Don't Like
Compression straps run across the side pockets, restricting use
The Best Backpacks for Day Hiking — Under $100
Stay Hydrated on the Go
TETON Sports Oasis 1100 Hydration Pack
Lightweight and comfortable, this daypack has been designed to offer enough storage space to hold all of your daily hiking essentials.
With fully adjustable chest, shoulder, and waist straps, men, women, and younger adventurers can find a fully customized fit with this unisex backpack. The notched foam stabilizer and mesh covering enable you to easily carry this daypack for hours at a time.
One of the major selling points of this particular version is the 2-liter hydration bladder that offers easy access to liquids on the go. The durable and kink-free sip tube comes with a push-lock cushioned bite valve for hands-free suction, and the bladder has a large 2-inch opening for popping ice in or easy cleaning.
With a rugged high-denier ripstop shell, this daypack is designed to last the distance. There is also bungee shock cord storage to keep your helmet or jacket attached on the go, and the reflective trim will help to ensure that you will be seen on the roads.
The large main pocket has plenty of space for extra layers of clothing, food, or other essentials, and the Sports Oasis 1100 comes in black, green, and blue colorways.
What We Like
Available in a variety of different colors
What We Don't Like
No protective cover on the hydration bite valve
Much More Than Just a Daypack
The North Face Borealis Pack — Men's
This 28-liter daypack comes complete with a FlexVent suspension system with a flexible yoke built from custom injection-molded shoulder straps, a padded mesh back panel, and a breathable lumbar panel.
Perfect for short camping or fishing trips, trail hikes, and even school, you can comfortably haul extra layers of clothing, books, and binders in this compact backpack. There is also a front compartment with an additional padded tablet sleeve, a protective laptop compartment, secure-zip pockets, and even an external fleece-lined pocket for your sunglasses, phone, or keys.
If you aren't in a position to consider traveling light, the removable hip belt and sternum strap will help you to evenly distribute heavier loads with ease. For additional safety, the reflective bike-light loop, water bottle tabs, and shoulder-strap webbing create 360 degrees of reflectivity, and the elastic bungee system provides external storage for smaller items.
The North Face also offers a female version of the Borealis pack that has been designed to suit the female frame better.
What We Like
Sternum and waist strap for extra support
What We Don't Like
No padded bottom in the laptop compartment
The Best Backpacks for Day Hiking — From $100 to $200
An Excellent Carry-All for All-Day Hikes
Osprey Talon 22 Pack — Men's
This durable daypack offers an excellent carry-all solution for day hikes, fishing, short trips, and trail biking. Incredibly lightweight, yet with a strong internal frame, this front panel daypack is just the right size for keeping your essentials safe with you on the go. Osprey also makes a female-friendly edition of the same backpack called the Tempest.
With dual-zippered panel access to the main compartment, you can easily pack and unpack up to 22 liters of gear to take with you. For even more compact carrying, there is a smaller 20-liter version available, too.
If you need to find more space to stash your stuff, there is a large stretch mesh front panel pocket, a top panel zippered stash pocket, side stretch mesh pockets, a stretch mesh harness stash pocket, and 2 zippered hip belt pockets to enjoy as well.
This daypack also offers an essential external hydration sleeve with hydration reservoirs available separately. There is a LidLock helmet attachment for when you dismount your bike, a Stow-on-the-Go trekking pole attachment for hardy hikes, and an ice-tool loop with bungee tie-offs.
Finally, the InsideOut compression straps allow you to create tension and easily secure your load in the dual stretch mesh pockets, ensuring a comfortable carry wherever you are headed.
What We Like
Osprey's lifetime warranty will replace any damaged bag
What We Don't Like
The hip strap is a bit short for those with larger hips
Compression Technology for the Perfect Form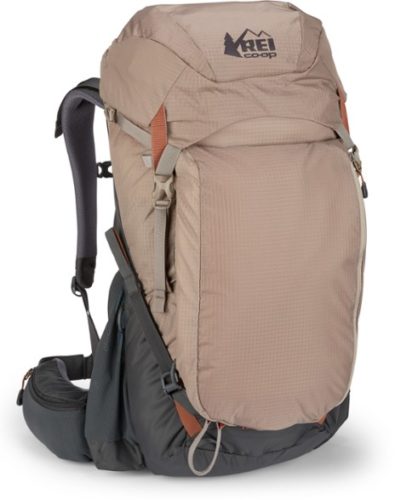 This compact daypack has enough carrying capacity for an overnight stay, and it promises to be lightweight, versatile, and durable. Offering 35 liters of storage space in this medium-size version, there is also the option of the larger 37-liter daypack should you require more space, and a women's version designed to fit the female form.
Designed to be a comfortable carry, the back panel offers lumbar support levels usually only found in bigger backpacks, along with an increased level of breathability. The 3D contoured hip belt comes complete with sculpted foam that offers the perfect body-hugging fit to suit your size and shape.
The patented REI UpLift Compression technology helps to position the backpack closer to your center of gravity to improve balance and stability. With a large main compartment to carry your gear with you, this daypack also offers a large front pocket and bottle pockets, and the integrated rain cover will keep your gear dry in wet weather.
For easy access to your most essential items, the hip belt pockets can fit a phone, camera, or food, and you can top up the hydration reservoir (sold separately) to turn this bag into a hydration backpack, complete with a tube holder on the shoulder strap.
What We Like
Large hip belt pockets for quick access storage
What We Don't Like
A bit heavy for a day pack
A Great Daypack for Days When the Weather Is Anything But
Osprey Hikelite 26 Pack
Streamlined, compact, and incredibly lightweight, this backpack is great for everyday use, and with an integrated rain cover, it is perfect for days when the weather is anything but.
Offering 26 liters of storage space, this backpack comes complete with an internal hydration sleeve that can accommodate a 3-liter reservoir to keep you refreshed. The ventilated AirSpeed back panel has been cleverly designed to prevent your back from sweating, no matter how hard you hit the hiking trail.
The good size main compartment has plenty of room to keep your day-to-day essentials, while the stretch mesh side pockets and scratch-resistant organizational pocket are perfect for storing sunglasses and other smaller items. You can also secure your trekking poles using the specially-designed tool loops.
The webbing hip belt is removable to help you reduce weight when you need to, and the sternum strap with a whistle is on hand should you get stuck. The integrated rain cover is another useful feature that will help to keep your gear dry when the weather turns.
What We Like
What We Don't Like
The stretch mesh side pockets are quite loose
Great Little Hydration Pack From the Experts at CamelBak
This 24-liter hydration daypack is a day hiking and a hydration pack that has enough space to carry your food, water, and even some extra layers of clothing. With an air support back panel that offers innovative air tunnels to maximize ventilation, this daypack can remain close to the body to ensure increased stability without the risk of getting hot and sweaty.
Dual-wing cargo compression helps your backpack retain its shape, making it more comfortable carrying long distances. For additional storage space, there is a stretch overflow pocket, 2 further zippered pockets, and loops for carrying your trekking poles.
Designed with modern adventurers in mind, the hip belt pocket is perfect for easy access to your smartphone or GPS on the go. Designed to hug your body to provide the ultimate in comfort and stability, this is an excellent hydration-ready backpack for serious adventurers on the go.
What We Like
Carrying loops for trekking poles
What We Don't Like
Shoulder straps could have more padding
The Best Hiking Backpacks for Kids
Hiking Backpack for Junior Adventurers
Osprey Jet 18 Kid's Hiking Backpack
This awesome kids' hiking backpack offers all the benefits of a full-size trail pack with perfectly formed pint-size dimensions. Made using GRS-certified recycled materials, this bucket-style backpack has a large opening making it perfect for easy access to your child's belongings on the go.
Offering 18 liters of storage space, this backpack features a spacious main compartment, a large front stretch mesh pocket, a smaller external zippered pocket, dual stretch mesh side pockets, and super-useful daisy chain attachment points for lugging extra gear. For adventurers aged 8 years and over, this backpack also has an external reservoir sleeve with enough space to carry a water bladder, if needed.
Available in a choice of unisex blue or red colorways, this trail-ready backpack comes with a cinch-top closure that opens wide for easy access to extra sweaters, snacks, and waterproof gear on the go, and with a DWR coating, it is suitable for use in every kind of weather.
What We Like
What We Don't Like
Hard to wear over heavy clothing
Hydration Backpack for Younger Cyclists and Hikers
CamelBak Mini M.U.L.E. Kids Hydration Backpack
An excellent choice for junior cyclists, this kids' hydration backpack is brought to you by the outdoor experts at CamelBak. Small enough to suit the younger frame, this backpack is incredibly lightweight while still being durable enough to last for many miles of adventure to come.
With a patented Crux reservoir that offers up to 20% more water per sip, this backpack will keep your kids well-hydrated while they ride. With enough capacity to carry up to 1.5 liters, it is suitable for longer rides and more adventurous terrain. In the spacious main compartment, there is plenty of room for everyday essentials, and with a dedicated bike tool organizer and a stretch overflow pocket, your young rider can be prepared for anything on the go.
Designed with safety in mind, this backpack also features safety strips for greater visibility in low lighting and a safety whistle to help draw attention on the trail. This incredible backpack also comes with a breathable mesh back panel for increased comfort.
What We Like
This backpack has lots of grown-up features
What We Don't Like
The bladder sleeve is quite difficult to access
Backpack for Tiny Travelers
Bseash Miniature Waterproof Sport Backpack
Cute and compact, this cool little backpack comes in a wide variety of bright colors and is just the right size for younger children to enjoy. Made from high-strength nylon material, this backpack has a waterproof coating and is resistant to tears and abrasions, and the lightweight design makes it comfy for your little one to carry, even when full.
Perfect for traveling, cycling, hiking, and days out on the trails, this beautiful little backpack is suitable for children between 3 to 6 years of age. With a generous main compartment and multiple extra pockets, your tiny traveler can keep all of their favorite belongings close at hand. With a front zippered pocket for easy access to snacks, and 2 mesh side bottles for their drinks, your little ones will love the independence this backpack brings them.
With a breathable back panel, your child won't work up a sweat while carrying this backpack, and the ultra-wide and well-padded shoulder straps allow for a customizable carry and fit.
What We Like
This backpack is affordable and fun for little ones
What We Don't Like
It's not as durable as more premium brands
Final Thoughts
Choosing the right hiking backpack or daypack to suit your needs will depend on many things. Whether you are looking to haul heavy loads, stash your sleeping bag, or even hydrate on the go, there is a wealth of excellent backpacks out there to suit all budgets.