The 10 Best Trekking and Hiking Poles in 2021 [In-Depth Buyer's Guide]
If you are heading out to walk your way through the great outdoors, hiking and trekking poles can help lighten the load of your own body weight and make it more comfortable to hike harder for longer. If you are looking for a way to enhance your experience, poles might just be the answer.
There are so many other benefits to hiking poles that we'll dive into. We'll also detail 10 of the very best hiking poles you can buy.
Why Buy Trekking and Hiking Poles?
Using trekking or hiking poles can make a big difference to your outdoor experience. They serve many purposes, but some of the most important reasons for investing in pair of poles include:
Reducing the amount of stress on your knees and ankles and absorbing the impact when traversing steep inclines
Increasing your walking speed, especially when going downhill
Improving your posture to help you walk in a more upright position to help prevent back pain and strengthen the muscles that support the spine
Burning more calories by providing an upper body workout, while also helping to increase muscle tone in your legs, arms, shoulders, and neck
Improving your balance, which is especially important for keeping you upright on rough or harsh terrain
Improving your endurance and helping to stave off fatigue for longer
Improving your performance and speed through soft snow
Helping to share the load of your weight, including your backpack, and allowing it to distribute more evenly across your body
Distributing the workload between your legs and arms making uphill treks easier and more enjoyable
Testing unstable terrain before stepping out on to it
Bottom Line: There are many advantages to taking a pair of poles with you on most types of excursions. Investing in the right type of poles to suit your needs can help you increase your speed, take the weight off your knees, and improve your performance overall. They are definitely essential to a great hiking trip!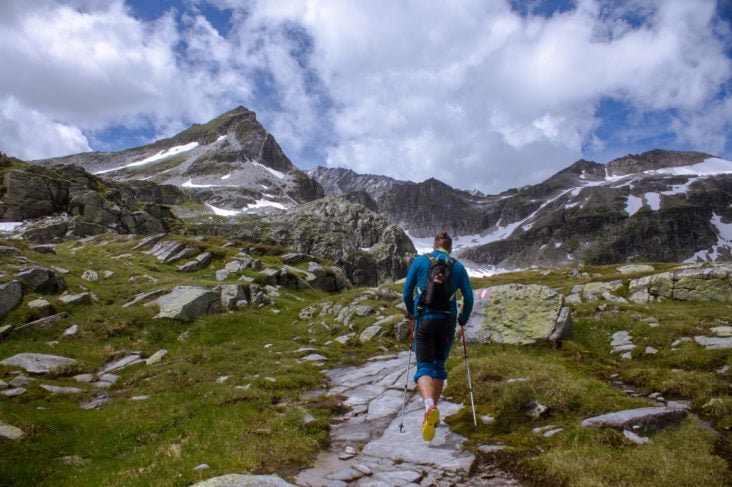 Things to Consider When Buying Trekking and Hiking Poles
While all poles basically offer the same types of advantages and assistance when you are out on the trail, there are certain things to consider before you buy.
Comfort
Your poles are there to enhance your walking experience, so they must be comfortable to use for the duration of your trip.
For this to be the case, you need to look for grips that are soft enough to hold, while still being able to stop your hands from getting too sweaty in order to prevent blisters. The poles also need to be the right length to prevent you from stooping or holding yourself badly when you walk.
They also need to come with baskets that are small enough to prevent them from getting caught between rocks and rubble, as well as shock-absorbing components that can help to prevent jarring in your back and elbows as you walk.
Weight
Generally, you will be using poles if you are planning on walking over longer distances, so with this in mind, your poles will need to be as lightweight as possible to ensure that they are comfortable enough to carry across the miles.
Poles made from carbon fiber, for example, are incredibly lightweight while still being strong enough to last the distance. Before committing to a new pole, be sure to try a few out in person.
While no one wants a super heavy pole holding them back, some may feel too light and not feel sturdy enough to hold your weight or feel stable enough in harsh conditions or rough terrain.
Size
Different makes and models of walking poles will usually provide their own guidelines for the right height to suit your frame. As a general rule, though, each pole you use should be the correct length to allow your hand to lightly grip the handle while your elbow remains at a 90-degree angle to the floor. The top of the handle of your pole should sit nicely at the waist or hip level.
Hot Tip: Some walkers find that the height of the pole should be adjusted to suit different terrains, and extendable poles may be a better option if you like to change your pole height as you go.
Durability
When it comes to your hiking poles, you want them to be strong enough to support your weight and hardy enough to keep you upright across the miles.
Generally speaking, a bigger diameter and thinner rod will be more durable and bend more under stress than its broader and thicker counterpart. The materials your poles are made of will also make a big difference in how well your poles will stand up to the test of time.
Materials
Aluminum poles generally cost less and are more likely to bend instead of snapping if they get caught under pressure, while carbon fiber poles cost more and could snap if bent the wrong way.
To ensure increased durability combined with featherweight dimensions, many manufacturers produce poles that are made with a combination of both materials to help prevent dents, cracks, and unwanted breakage while still offering you all the support you need out on the trails.
Design
Hikers and backpackers usually choose 3-piece poles or folding poles as they are easier to stow when not in use. While there are also 2-piece and fixed length trekking poles available, the poles you buy should be designed to not just support you when you are walking, but also be convenient enough to fold down small in transit and reassemble quickly when needed.
Locking System and Adjustments
Trekking poles usually offer the possibility of adjusting their length to make it easy to travel over different types of terrain. External lever locks use clamp-like mechanisms that are easy to adjust, even with gloves on, while push-button locks simply snap into place and come with a push-button release.
There is also the option of twist locks that use an expander and screw set up for extra durability and combination locks that can help achieve a balance of ongoing strength and ease of use.
Hot Tip: Whatever type you opt for, be aware that most poles will need to be readjusted over time.
The Best Trekking and Hiking Poles
There are poles available to suit all types of trekkers and hikers on any budget budgets. Before you commit, check out some of our favorites.
Super Strong Aluminum Poles for All Types of Terrain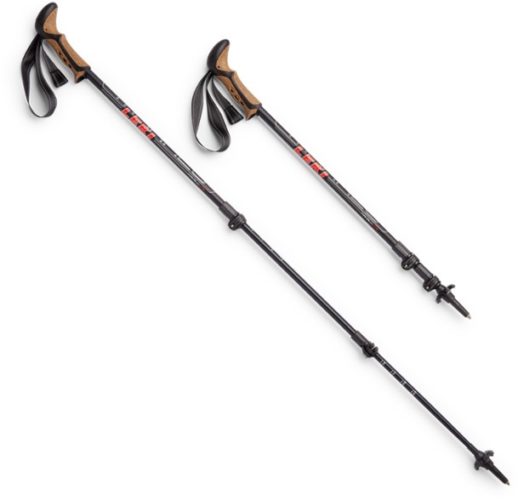 These 7075-series aluminum trekking poles are incredibly comfortable and strong enough to last for many adventures. Heat-treated to offer high tensile strength, these poles are more than able to stand up to the rigors put upon them by even the harshest of terrains.
The Aergon Cor-Tec grips are made of 80 percent natural ground cork material that has been designed to absorb sweat, while the positive 8-degree angle keeps wrists in a neutral position while walking. With bulk-free adjustable wrist straps that wick moisture and dry fast in the rain, it is incredibly easy to comfortably carry these poles on longer hikes and more extreme adventures.
For easy and reliable length adjustments on the go, the SpeedLock Plus locking system features raised speed dials that make it easy to make changes, even while you are wearing gloves, and the Carbide Flextips provide a stable hold on all types of terrain.
To ensure that these poles are suitable for use all year round, the interchangeable baskets are easily removable to ensure maximum grip and stability wherever you are headed.
Super-Strong Carbon Fiber Poles That Fold up Easily for Transportation

Made from the finest carbon fiber, these poles are perfect for hiking and trail running and will offer you the extra support you need across a wide range of different terrains. With an aluminum ring for extra protection, these are incredibly strong and durable and definitely built to last.
With an upgraded design, these poles are 30 percent stiffer than their predecessors, meaning that they now offer improved support for your joints while exploring the great outdoors. Available in 100-, 110-, 120-, and 130-centimeter lengths, it is easy to find the right length to suit your height, and the non-marking rubber and carbide tips are fully interchangeable.
Featuring lightweight, nonslip EVA foam grips with foam extensions, these poles offer exceeding good grip and handling, even on really steep inclines. For even more convenience out and about, these poles offer a 3-section foldable design that adjusts and locks super quickly.
A Great Choice for When You Need to Change Lengths on the Go

Featuring an aluminum shaft construction, these versatile and lightweight trekker poles are a great choice for day hikes, trail walks, and even more epic adventures. Perfect for uneven surfaces as well as steeper inclines, these poles offer a 15-degree corrective angle to ensure maximum grip position at all times.
With an ergonomic natural cork grip, these poles can wick away sweat in an instant and provide incredible comfort on the go. For increased security while you are out and about, the solution straps offer increased grip and better handling. If you need to change lengths, the Dual FlickLock system allows for super quick and totally secure changes, even on the move.
With interchangeable carbide Tech Tips and 38-millimeter low profile trekking baskets, these are a good choice for most types of terrain, and the ski-compatible ferrules will accept up to 100-millimeter powder baskets, transforming these poles into an excellent choice for deep snow conditions, all year round.
Compact Poles With a Moisture-Wicking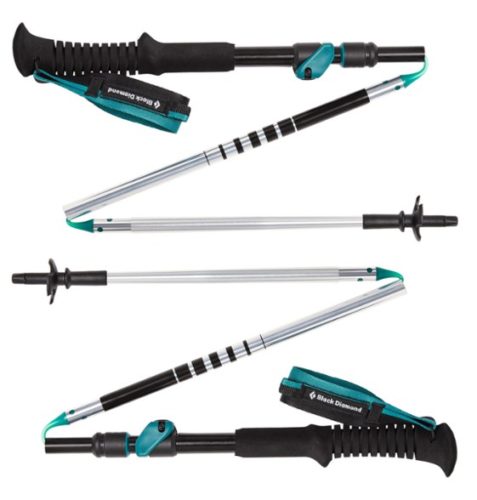 Perfect for trail running and hiking trips away, these FLZ trekking poles are incredibly compact when folded, making them an excellent choice for trips that involve long hikes and steep approaches. Made from 7075 aluminum shafts, these trekking poles optimize joint support and stiffness for increased durability.
Featuring soft to the touch EVA foam grips with nonslip foam mini-grip extensions, these poles are incredibly comfortable on longer hikes and are designed to help reduce callus-causing friction. With breathable, moisture-wicking hand straps, you can be sure that these little beauties will remain comfortable over many miles.
With interchangeable, non-scarring rubber and carbide tech tips designed to dig directly into the terrain, you can be sure of remaining stable regardless of the conditions. The stopper basket with shaft catcher can also be used to secure the folded sections, and compact dimensions make these poles easy to carry wherever you are headed.
Carbon Fiber Poles Strong Enough to Handle Almost Anything

These fabulous carbon fiber trekking poles are strong enough to cope with any type of terrain, while still being incredibly lightweight and supportive. The 3-section carbon-fiber shaft makes for quick length changes thanks to the dual FlickLock Pro adjustability system, and the Aluminum FlickLock Pro technology is light and easy to use.
Interchangeable carbide tech tips with a low profile and 38-millimeter trekking baskets help these poles keep you upright, while the ski-compatible ferrules will accept 100-millimeter powder baskets (sold separately) for deep snow and heavy winter conditions.
Bottom Line: For increased comfort out in the field, the premium cork grips have soft rubber extensions for the ultimate in soft yet stable support, while the solution straps offer even better handling and security in all weathers.
A Great Pair of Poles for Day Hikes

These lightweight carbon poles offer exceptional durability and adjustability. Because they don't fold up particularly small, though, they are best suited to through-hikers and trekkers who intend to hold the poles in their hands for the duration of their entire trip.
With a carbon fiber weave, these are highly versatile poles that come with small trekking baskets, and the adjustable wrist-strap helps to control your poles on any terrain. The 3-section design helps to minimize the trail weight without sacrificing sturdiness along the way, and the low-profile Powerlock 3.0 enables easy adjustments while out on the trail.
The light and breathable EVA foam grips have an ergonomic shape that remains comfortable across the miles, while the trekking baskets and durable tungsten carbide tips come complete with tip protectors to keep them safe in transit.
The Perfect Choice for Heavy Going Hiking and Deep Snow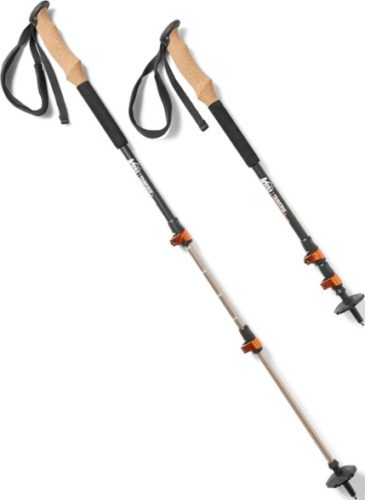 Made from 7075 aluminum, these poles are perfect for trekking and feature baskets that are suitable for both heavy-going hiking terrain and snow. The trail baskets are designed to reduce weight with their aluminum construction, and they are large enough to handle any type of snow.
Featuring the REI exclusive natural cork grips to ensure maximum comfort on the go, their ergonomic shape has been designed to comfortably accommodate a variety of hand sizes and positions. These poles also come with padded wrist straps for maximum wearability and enhanced comfort in all seasons.
Sturdy and versatile, these are some of the lightest telescoping poles available and offer many of the features of more expensive models at a more affordable price. The internal twist-lock mechanism keeps them feeling solid on the go, but it will need to be regularly tightened to ensure that it continues to offer support throughout your adventure.
Great Poles for Soft Soil and Snow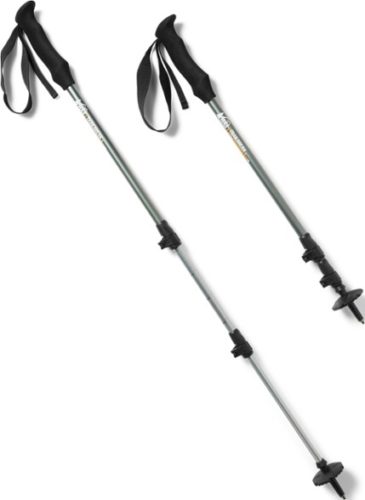 These 3-section hiking poles offer a ton of superior features for a very affordable price tag. With a quality aluminum shaft that is strong enough to cope with both quick day trips and multi-day adventures, these poles have been designed to take a beating.
With grips made of durable, long-lasting EVA molded into ergonomic shapes, these grips have been designed to suit various hand sizes and positions and promise to remain comfortable mile after mile. For increased convenience on the go, the adjustment locks have oversized levers for easy adjustments to help you adapt to sloping angles and rough terrain.
The trail baskets are a generous size to help with floatation in both soft soil and snow, and the lights and stretchy wrist straps keep these beauties close at hand. The external lever locks also make it easy to fold the poles when you reach your destination.
Super Lightweight Trekking Poles for Long-Distance Adventures
TrailBuddy Trekking Poles
Made from super-tough aluminum, these trekking poles can easily withstand the pressure and impact of rocky terrain and can support heavier loads effortlessly. Made from light aircraft-grade materials, these poles weigh 4 ounces less than most regular aluminum poles, making them perfect for epic adventures over longer distances.
Built-in lever locks make it super easy to adjust the height of the telescoping poles from 24.5 to 54 inches — even while wearing gloves — meaning you can be ready for changes of terrain in an instant.
With cork handles that can wick moisture away from your skin and a padded strap that helps avoid chafing, these poles are incredibly comfortable to use on the go, and the ergonomic grip shape has been designed to fit different sized hands and positions perfectly.
Available in a range of colors, the TrailBuddy Trekking Poles come complete with their very own carrying bag, 2 pairs of rubber tips, mud baskets, and snow baskets for year-round use.
Perfect for Year-Round Use in All Conditions
Cascade Mountain Tech Aluminum Adjustable Trekking Poles 
Built using aircraft-grade aluminum, these high-quality poles can provide hikers, walkers, backpacks, and other outdoor enthusiasts with the support they need on unstable terrain while being able to reduce pressure on the joints.
Weighing in at less than a pound, they are still able to offer an unbelievable amount of strength and durability on long hikes or daily walks.
When the terrain underfoot changes, these poles easily adjust from 26 inches up as far as 54 inches, and the quick-lock system is easy to use, even when wearing gloves in cold weather. For even greater control and stability, the cork grips provide exceptional comfort and can wick away sweat to keep your poles secure on the go, and the adjustable strap will keep them close to you.
For use across a wide range of outdoor adventures, these poles come complete with tungsten carbide tips, snow baskets, boots, and small rubber feet, making them perfect for use all year round.
Final Thoughts
If you are serious about taking on a variety of different terrains, a good pair of hiking poles can ensure that you can power on for longer, while helping to protect your legs from the pressure of uneven terrain, and keeping you in an upright position.
Inexpensive compared to some other pieces of your outdoor gear, poles are a must-have accessory for hikers, trekkers, and outdoor enthusiasts who want to maximize their performance on every outing.