The 26 Best Hiking Boots and Shoes for Men & Women [2021]
While you may think that your regular walking shoes or sneakers will be good enough to carry you over a variety of terrains or take you up and down hills, just a few hours outdoors in the wrong type of shoe will show you just how important the right hiking footwear can be.
Whether you choose a low profile shoe or a boot that reaches above your ankle, effective hiking footwear is designed to provide the right amount of support. They also offer protection from water and debris on rough terrain, keep your feet dry even when your surroundings are wet, and provide enough traction to keep you safe and upright at all times.
Things to Consider With Hiking Boots and Shoes
Because not all hiking boots are created equal, there are a few things to consider before you purchase.
Comfort
Boots that are too heavy, too hard, or just too darn uncomfortable will slow you down, give you blisters, and ultimately spoil your hiking experience. In order to feel like you are walking on air, whatever the terrain, your boots will need to feel as comfortable as your favorite slippers.
Synthetic materials mean there is no need for breaking in heavy leather boots, and there is a wide range of uppers to choose from that will feel comfortable from the outset. Modern-day materials also help to make your hiking boots breathable while still being waterproof, which helps prevent sweaty feet that can lead to blisters.
On the inside, additional features, such as cushioned midsoles, will help to keep your feet comfy while you walk. You must also ensure that your boots fit you perfectly.
Hot Tip: You should have just enough room to wiggle your toes, while the boot should still feel snug without ever feeling tight in any areas.
Stability
When the terrain underfoot is uneven, your boots need to be able to keep you upright and stable. The sole of your hiking boots and the support are important factors in keeping you safe while you walk.
As a general rule, thicker soles will provide better protection against rocks and sharp edges than those that have thinner soles. The ankle's height is also important as a boot that fits well around the ankle will help prevent the dreaded ankle roll — an ever-present risk for every hiker.
Traction
One of the very best reasons for not going hiking in your regular training shoes is the added traction that can be found in the soles of specialist hiking boots. Much like car tires, different types of soles offer differing levels of traction. Depending on where you are headed, you should consider which soles will best suit the terrain when you get there.
Soft rubber compounds are generally better for rocky terrains, while harder soles will resist wear and will cope with loose, edgy terrain more competently. A narrow sole that offers deeper, more closely spaced lugs will keep you upright on loose rubble, while a broader surface with shallower lugs will perform better on firmer trails and mountain roads.
Weight
The weight of your hiking boots should always be a factor in your final choice. While sturdy mountain boots that can handle pretty much anything might seem like a good investment, the sheer weight of them can slow you down and cause you discomfort.
Modern synthetic materials in both the uppers and the soles are designed to be more lightweight on the legs without losing support or traction. These boots are great for beginners and intermediate hikers who are not planning on carrying a heavy load. They can be used both on and off-road, making them an excellent choice for day hikes and camping trips.
On the other hand, heavier boots are advisable if you are considering hauling heavier loads even though they may not be quite as comfy on your feet for longer journeys. The weight does matter, but in some circumstances, a sturdier, weightier boot will be your safest option.
Water Resistance
While no hiking boot will ever be completely waterproof, some boots do offer substantially more resistance to wet conditions than others do. Cold, wet feet are uncomfortable and can cause nasty blisters, numb toes, and even frostbite.
To keep your feet as dry as possible, look for boots that offer a waterproof membrane, a nylon mesh in the outer, and a gusseted tongue to prevents water from seeping in. Most boots will offer protection from wet grass and bad weather but you should also consider how quickly your boots will dry out should you end up hiking through large puddles, streams, or other shallow water bodies.
Durability
Really good hiking boots are expensive to buy, so it seems fair enough to want them to last forever. In reality, all hiking boots will break down over time as synthetic fibers start to fray, soles begin to wear thin, and boots become softer and looser when regularly pushed to the extreme.
Boots with thick, durable leather outers will generally stand the test of time better than those with synthetic membranes, but these are often heavier to wear and less comfortable.
Bottom Line: Most hiking boots should be good for between 500 to 1,000 miles, which if you are a regular hiker, you should expect to replace them every 2.5 to 5 years.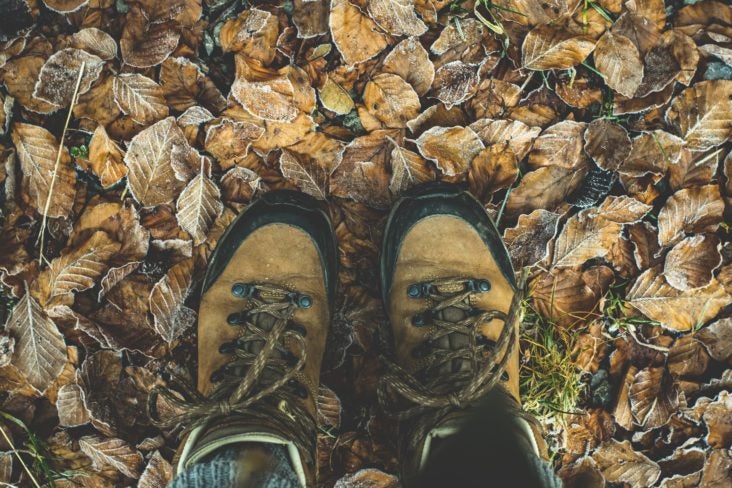 How to Fit Your Boots and Shoes
Hiking boots and shoes are not the same as your regular boots, sneakers, or training shoes, so try these top tips to ensure you get the fit exactly right.
Try Them on Later in the Day
After a day spent on your feet, they will have swollen and been at their biggest size. This is the best time to try boots on and will help to prevent you from purchasing a pair that will feel too tight when you take them hiking.
Wear Thick Socks
You wouldn't consider getting out in the open without a good thick pair of socks on, so be sure to take the same with you when trying them on. A thin pair of cotton socks will slip around inside the boot, and you may be tempted to size down when you really don't need to.
Measure Your Foot
Getting a good fit is not just about choosing your regular shoe size. To ensure the perfect fit, you should have your foot, width, and arch length measured by a specially calibrated device in a store that offers expert advice on hiking, if possible. The volume of your foot (the depth of your foot versus the depth of the boot) is also important as the boot should never be too shallow or too deep for the shape of your foot.
Hot Tip: You don't have to visit a store to try boots on. If you're an Amazon Prime member you can use Prime Wardrobe where you can have up to 8 items shipped to you to try on. You only pay for what you keep and the returns process is simple and free. 
Cut Your Toenails
Gross as that may sound, you need to ensure that you have a thumbs width of space between your longest toe and the end of the boot in order for them to be comfortable while you hike. Long, out of shape toenails won't help you get that measurement right, and they will dig in and hurt a lot when you try to walk with them.
Tap Your Toe
Before you tie your laces, stand in your boots and tap your toe on the ground a few times. When you have done this, feel behind your heel to make you fit 2 fingers comfortably between your heel and the boot's back.
Lace Them Firmly
You need to know that your boot does pinch or rub when they are fully laced up. To help prevent this, lace them up fully when trying them on to get a true measure of the fit across the top of your foot.
Also, keep in mind that how you lace your boots can change the way they feel, helping to relieve hot spots and pressure.
Take Your Orthotics With You
If you wear custom-made orthotics or insoles, it is important that you take these with you when trying on hiking boots. They may not fit well in every boot, and you might need to try on several to find a boot that can accommodate them.
Take Them for a Test Drive
Once your boots are properly laced and feel well-fitted on your feet, it's time to take them for a test drive. Stand up and wiggle your toes to ensure that they are not touching the front of the toe box. Use the old fashioned trick of placing your thumb at the boot's front to ensure that there is a full thumb's width between your foot and the boot itself.
Roll forward onto your toes and then back onto your heels to ensure that your heels aren't moving up and down inside the boot when you move. This will help you to rule out nasty blisters when you hit the hiking trails.
Walk uphill and downhill on a ramp, step, or other obstacles. If your heel moves when you walk uphill, or your toes slide forward on the downward slope, these are not the right-sized boots for you.
Go for a stroll around the store or around the house at varying speeds to see if you can identify any tight spots, pinching, or rubbing anywhere in the boot.
Finally, stand back and admire them. While your hiking boots need to fit you right, they must also be something that you are genuinely happy to wear. The perfect blend of form and function will ensure that you can't wait to get them on your feet and get out there.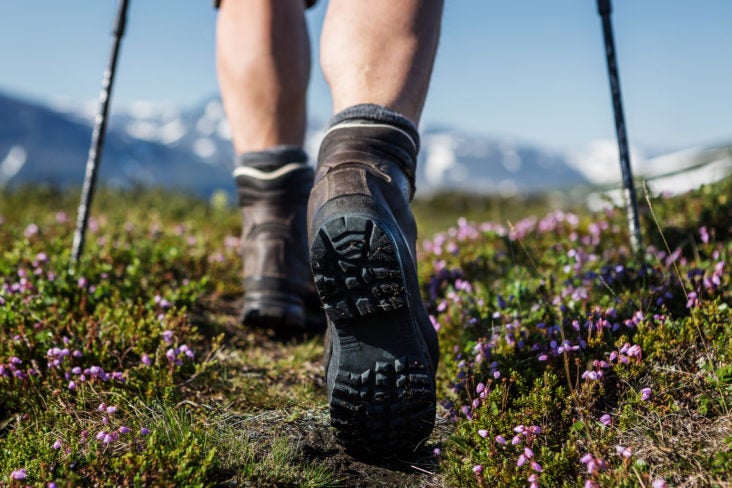 How to Clean and Care for Your Boots
Your hiking boots will invariably get dusty, muddy, and even wet on a regular basis. While they are designed to withstand a reasonable amount of wear and tear, it is important to know how to clean them properly in between outings.
Remove dried-on mud and chunks of dirt by gently banging your boot against a wall before using a small, stiff-bristled brush to get right into the seams and eyelets. Also, remember to take the laces out so that you can clean the tongue, and you can even handwash the laces to prevent them from becoming stiff with dirt and debris.
Remove the insoles and place paper towels or a hand towel rolled up inside your boots to help dry out any excess water while allowing them to retain their shape.
Gently rinse your boots using cool water from either a tap or a hose, being careful not to soak them completely. This will enable you to remove any ground-in dirt.
Let your clean boots dry naturally. Forcing heat onto them can damage them, so leave them in a warm, dry place for a couple of days until they are fully dry and ready to go again.
Condition them after cleaning. Most hiking boots and shoes come complete with specialty coatings to make them waterproof and protect them from the elements. After each clean, you should, at the very least, apply a thin layer of conditioner or waterproofing treatment. Depending on the type of boot you have, try waxes, leather rubs, or other agents recommended by the manufacturer to prevent splitting or water damage on future outings.
Here are some other useful tips for taking care of your boots and shoes.
Wear Them in Gradually
While many boots claim to be ready to roll straight-out-of-the-box, they will still take some time to mold to the shape of your foot and feel comfy. Give them time to bend and flex a little, sweat in them, and start with short hikes or walks to let them become soft and pliable for the perfect fit.
Avoid Saltwater
Saltwater is a killer of all things metal and can leave nasty stains. Too many dips in or near the ocean will start to see your eyelets rust and your suede discolor. If your boots or shoes do take a soaking in the sea, wash them off as soon as possible to remove any saltwater.
Take the Insoles Out
As most insoles are designed to wick away moisture as well as cushion your feet, you should definitely remove them after longer hikes to let them dry out properly. Wet insoles can become incredibly smelly over time, and the cushioning will start to become lumpy and hard if not properly dried out after use.
Hot Tip: Leaving your boots in direct sunlight is a great way to kill the bacteria that causes foul odors.
The Best Hiking Shoes and Boots for Women
Hiking Shoes
Exceptional Quality Hiking Shoes From a Brand Leader
Merrell Women's Moab 2 Waterproof Hiking Shoe
Merrell is one of the biggest names in outdoor adventure wear, and its Moab 2 waterproof hiking shoes are of the high quality you would expect from a brand leader. With a sturdy, yet lightweight rubber sole featuring the Vibram TC5+ outsole with a 5mm lug depth, these shoes will keep you stable on the roughest of terrain, without weighing you down.
On the outside, the M Select DRY technology keeps your feet dry, while the protective rubber toe cap helps to keep your feet safe from rocks and loose rubble. The mesh and suede uppers are hardwearing and designed to withstand many hundreds of miles of hiking, and the bellows tongue helps to keep debris out.
The M Select FIT.ECO+ blended EVA footbed features zonal arch and heel support to ensure a comfortable fit, and the Merrell air cushioning in the heel absorbs shock to keep your feet stable as you walk. The breathable mesh lining that runs the length of the shoe also helps to keep your feet sweat-free no matter how long and hard your hike is.
Lightweight and Low-Profile Excellence
Salomon Women's X Ultra 3 GTX Hiking Shoes
As one of Salomon's best-selling hiking shoes, the X Ultra 3 GTX is perfect for technical hikes and those that really like tough descents. Specifically designed for ladies who love to hike, these lightweight low-profile shoes promise to hold your foot in place even on the steepest of downhill or mountainside hikes, making them incredibly stable and safe to wear.
Featuring GORE-TEX technology and 100% synthetic uppers, these shoes will keep your feet dry, and the female-specific construction has been designed to address the foot shape and ergonomics of the female foot form.
The asymmetrical chassis offers maximum stability, while the cushioned interior will keep your feet comfortable and firmly held in place, whatever the conditions.
Contagrip TD blends 2 different types of rubber on the sole to ensure maximum traction while the deep lugs result in a safer, more stable grip. With a specially patterned area on the heel that grabs terrain even when you are moving swiftly, these are a lightweight yet effective pair of hiking shoes that will keep you moving over a wide variety of different terrains.
Extreme Comfort for Technical Terrains
Oboz Sawtooth II Low Women's Hiking Shoe
This rugged hiking shoe is contoured to fit a woman's foot while being burly enough to handle a wide variety of outdoor terrains. Designed to be worn without worrying about having to break them in, these are particularly well-suited to technical terrain and longer hiking adventures.
The Sawtooth II is a low profile shoe that comes higher up the foot, offering a better level of support than some similarly priced hiking shoes. With laces that can be tied high and a stiff, but comfortable, upper, these shoes are supportive, waterproof, and durable.
The lugs in the sole offer excellent traction, and they remain safe and well-balanced even when you are carrying a heavy load.
With cushioning at both the heel and the forefoot, these shoes are comfortable even on the steepest of inclines, and the padding throughout the length of the shoe helps to prevent sweating while keeping them feeling comfortable, however hard you are pushing them.
Best for Around Town and Hiking
Arc'teryx Aerios FL GTX Women's Hiking Shoe
This low-top hiking shoe is perfectly designed for those who like to travel fast and light, without the need for breaking them in. Agile and comfortable, these shoes keep their shape while still being able to flex and bend as the terrain changes underfoot.
Made with GORE-TEX technology, these shoes are able to adapt to wet-weather conditions and shallow water, offering waterproof and windproof protection wherever you are headed. The breathable material helps vapor to escape, preventing your feet from becoming too hot and sweaty while wicking away moisture that can make your feet slide around in your shoes.
The minimalist design and the sneaker-style silhouette make these a good choice for ladies who like to hike around town as well as across more adventurous terrain, and the shoe's grippy Vibram Megagrip sole offers great traction and stability whatever lies underfoot.
An Athletic Shoe Designed for Hiking
Adidas Outdoor Terrex Swift R2 Mid GTX Women's Hiking Shoe
These lightweight and breathable hiking shoes have been designed to feel like an athletic shoe while still offering all the extra support and stability you need on fast outdoor hiking experiences. With a breathable, ripstop mesh upper that also features TPU overlays, these boots offer exceptional durability and a high level of support.
The GORE-TEX lining helps to keep your feet dry in wet conditions, while also being able to wick away moisture to keep your feet sweat-free and comfortable. With a combi-lacing construction for a more secure closure, these shoes will prevent dirt and debris from getting past the outer layer. The lace bungee helps to avoid tangling and the hook eyelets make for a super snug fit.
To ensure support and stability over any terrain, the Terrex Swift hiking shoes also feature a molded TPU toe cap for protection, as well as a Traxion outsole made using Continental rubber for extraordinary grip even in wet conditions.
On the inside, there is a cushioned textile footbed for underfoot support and comfort, and a lightweight EVA midsole for super comfortable cushioning. A great hiking shoe for those who really want to shift along trails.
Hiking Boots
Advanced Technology for Even Greater Adventures
Salomon Women's Quest 4d 3 GTX W Backpacking Boot
Featuring Salomon's 4D Advanced Chassis system, the Quest 4d GTX is able to guide the foot to ensure a superior level of stability and comfort, even on the roughest of terrains. Offering a superb amount of forefoot flexibility, these backpacking and hiking boots will give you a smoother ride no matter what you are walking on.
The 4D Advanced Chassis has a unique dual midsole that provides enhanced foot control, while the molded OrthoLite insole has superior cushioning and breathability. On the outside, the GORE-TEX waterproof material remains unaffected by water even under pressure, and the stunning full-grain leather material looks awesome and will last for many years to come.
For increased interior comfort, the SensiFit system cradles your foot from the midsole to the lacing system, to ensure a secure, snug, and almost customized fit with every wear, and the gusseted tongue prevents debris from entering the shoe while you walk. These are a great all-round adventure shoe from the outdoor experts at Salomon.
Descent Control for Excellent Downhill Performance
Salomon Women's X Ultra 3 MID GTX W Hiking Boots
Featuring descent control and Contagrip TD lug patterns, the Ultra 3 MID GTX is a brilliant boot for women looking to enjoy technical hikes and adventures on uneven terrain.
Made from a protective polyurethane-coated leather, these boots not only look impressive, but they also remain unaffected by water, meaning they will prevent water from entering through the upper, keeping your feet dry whatever the weather.
On the inside, the OrthoLite insole molds to the contour of your foot, as well as offering excellent breathability to prevent sweaty, uncomfortable hikes with damp slippy feet. The SensiFit system cradles the foot from the midsole right up to the lacing system, providing a secure fit that makes the boots extremely easy to wear on both up and downhill hikes.
The Advanced Chassis can be found between the outsole and midsole and is designed to provide a stable yet responsive ride, while the Contagrip TD on the outer sole is made with a deep, aggressive lug pattern to help maximize traction and multi-directional grip. Stay upright in style with the Ultra 3 MID GTX.
Great Looks and Incredible Comfort
Vasque Women's St. Elias Fg GTX Full-Grain Leather GORE-TEX Waterproof Hiking Boot
Featuring a waterproof nubuck leather upper and a GORE-TEX membrane, these handsome-looking hiking boots are built to withstand the test of time. Perfect for backpacking trips and long-distance expeditions, these boots have been cleverly designed to offer athletic flexibility and foot comfort, even on the longest of hikes.
The GORE-TEX waterproof membrane has over 9 billion pores per square inch that will any prevent water from getting to your feet to ensure you stay dry on the go. This unique fabric system also allows sweat vapor to pass right through to keep your feet cool and fresh at all times.
The midsole features EVA cushioning pods and a thermoplastic shank while the Vasque Exclusive Vibram Frontier outsole with XSTrek Compound offers state-of-the-art rubber sole technology that will deftly deal with every type of terrain. Cute as heck to look at, yet sturdy, strong, and incredibly comfortable, these nappa leather hiking boots are brilliant!
Slip-Free Soles for Extreme Adventures
Merrell Women's Moab 2 Mid Waterproof Hiking Boot
The Moab 2 Mid Waterproof boot offers out-of-the-box comfort and a ton of features that make these some of the best women's boots on the market.
While the synthetic leather and mesh uppers offer striking good looks, the GORE-TEX waterproof membrane is there to ensure the ultimate in breathability and excellent waterproof performance, no matter how hard you hike in them.
The breathable mesh lining will stop your feet from sweating, while the specially patented Merrell M Select FIT.ECO+ blended EVA contoured footbed with added zonal arch and heel support will ensure supreme comfort and fit on even the longest of trails.
The molded nylon arch shank will keep your feet perfectly positioned, while the air cushion in the heel absorbs shock and adds stability while you walk.
Finally, the Vibram TC5+ sole with its 5mm lug depth offers superb traction for slip-free adventures, and the protective rubber toe cap will keep your feet protected from rocky terrain.
Techlite Midsoles Make for Longer-Lasting Comfort
Columbia Women's Newton Ridge Plus Waterproof Hiking Boot
Featuring advanced technology, the Newton Ridge Plus boots are lightweight, yet incredibly durable, and are designed for long-lasting comfort no matter what the road throws at you. The boots have handsome looking full-grain leather uppers with a mesh bootie as well as a durable mesh tongue to let your feet breathe when they need to.
Inspired by the look and strength of traditional hiking boots, these boots come complete with a Techlite lightweight midsole for long-lasting comfort, superior cushioning, and a high-energy return when it really matters. The hook and loop closure system combined with the waterproof seam-sealed construction will keep your feet snug and dry.
Omni-Grip non-marking traction rubber soles make for responsive and supportive hiking while the super-grippy rubber outsoles will keep you stable across miles of rocks, grass, and uneven gravel.
Best for Light Hikes and All-Day Warmer Climates
Mountain Warehouse Adventurer Women's Waterproof Hiking Boots
Perfect for outdoor adventures of all shapes and sizes, The Adventurer women's boots are both breathable and waterproof. The Isodry uppers feature a waterproof lining and membrane that keeps your feet protected from wet conditions, while also permitting perspiration t0 pass through the other side to stop your feet feeling sweaty.
Perfect for indoor and outdoor activity, especially in warmer climates, these boots are lined with loosely woven, lightweight fabric that offers excellent breathability.
The cushioned footbed molds to the foot to provide a custom-like fit, as well as offering increased comfort and support no matter where you are headed. This feature also offers additional comfort at the arch and the toe, perfect for both up and downhill hiking.
To keep you safe on any terrain, the high traction outsoles have deep lugs that offer extra grip when walking. Particularly suited to wet conditions, the heel and toe bumpers provide maximum protection, as well as the strength and durability to last across many hiking adventures.
Best for High-Intensity Mountain Training
Salewa Alpenrose Ultra Mid GORE-TEX Hiking Shoes for Women
Designed to be used for speed hiking and high-intensity mountain training, the Alpenrose Ultra Mid GTX is a women's waterproof, breathable mid-cut shoe that is tailor-made to offer excellent support and promote natural foot movement.
Built around a technical performance outsole by Michelin, developed exclusively with Salewa, the grooves and sculpture of the sole offer superior traction and a high level of stability even on the roughest of terrains.
These boots also feature a GORE-TEX construction that promises to keep your feet dry even in the wettest of conditions. The Ortholite footbed wicks away moisture on the inside, helping to keep your feet cool and comfortable no matter how hard you work them.
Featuring Salewa's patented 3F system, the instep connects perfectly with the sole and the heel to ensure incredible ankle support to prevent rolling, as well as a precise fit to keep blisters at bay. The mid-cut uppers offer excellent support and will keep your feet firmly fixed in the boot, even on difficult downhill sections.
Performs Well in Really Wet Conditions
KEEN Women's Targhee II Mid WP-W Hiking Boot
These waterproof boots have been designed to keep your feet dry in wet conditions while allowing them to breathe and stay cool no matter how hot it gets outside. Built for day-long comfort, the distinctive mid-cut design adds extra support to your ankles, while the aggressive outsole bites into even the toughest of terrain to keep you upright.
With nubuck leather uppers and a non-marking rubber outsole, these boots look as good as they feel. On the inside the KEEN.DRY proprietary waterproof and breathable membrane lets vapor out without letting water in, while the Cleansport NXT offers natural odor control using eco-friendly probiotic materials to keep those feet smelling fresh.
The torsion stability ESS shank is designed to keep you upright no matter what the terrain throws at you, and the 4mm multi-directional lugs and heel offer all the traction and non-slip reliability that you would expect from these good-looking, well-made hiking boots.
Hot Tip: Don't forget these other hiking essentials before setting out on your outdoor adventure.
The Best Hiking Shoes and Boots For Men
Hiking Shoes
Best for Speed and Agility
Salomon Men's Speedcross 4 Trail Running Shoes
Sporty and lightweight, this fourth-generation running shoe offers an incredible level of grip on soft trail conditions and is perfect for those who like to take their outdoor exercise to the extreme. Featuring the famous Salomon speed cross lug pattern, these shoes will devour the ground beneath you on soft, technical trails in no time at all.
A synthetic upper makes light work of dirty and damp conditions, while the SensiFit cradles the foot from the midsole all the way to the laces, giving you a snug, secure, and almost customized fit. For additional comfort, the OrthoLite insole provides super-soft cushioning, as well as being incredibly breathable, helping to keep your feet cool and comfy wherever you are headed.
Underfoot the Contagrip TA sole uses deep, sharp lugs that offer a high level of grip on rugged and uneven surfaces, as well as deep penetration and multi-directional grip, which helps to improve traction on soft surfaces like mud or loose dirt.
Superior Grip for Extreme Hiking
Salomon X Ultra 3 GORE-TEX Men's Hiking Shoes
These ultra-effective hiking shoes offer superior grip, foothold, stability, and cushioning, making them perfect for technical hikes and really tough descents, even in wet weather.
With an additional GORE-TEX membrane, your feet will be well protected against water coming in, while still allowing your feet to breathe no matter how hard your hike is.
On the inside, the SensiFit system cradles the foot to provide an almost customized fit, and the molded OrthoLite sock liner makes these a joy to wear even for long periods of time.
Underfoot, the lightweight advanced chassis that sits between the outsole has been carefully created in order to maximize motion control so that you can enjoy an efficient, stable, and increasingly responsive ride.
These shoes offer an exceptional amount of protection for outdoor adventurers, with mudguards around the base of the foot to ensure the safety of the lateral and medial sides.
The anti-debris mesh upper prevents debris from becoming trapped between your foot and the footbed thwarting painful blisters and hot spots. The descent control technology makes these a mean choice for hikers looking to travel downhill.
Comfort and Durability Comes Standard
Merrell Men's Moab 2 Vent Hiking Shoe
Offering out-of-the-box comfort from the get-go, these exceptionally comfortable hiking shoes are versatile enough to suit a wide range of hiking conditions and terrains. Ventilated for superior breathability, the suede leather and mesh upper contain a breathable mesh lining to keep the water out while still be able to wick away unwanted moisture from your feet.
The Merrell M Select FIT.ECO+ blended EVA contoured footbed with added zonal arch and heel support is there to offer enhanced impact control and help disperse energy as you walk, while the molded nylon arch shank keeps your feet comfortable on the go.
With an EVA midsole that helps the shoe to bend and flex on uneven terrain, these shoes are suitable for hill climbing, rocky trails, and uneven surfaces. With a Vibram TC5+ sole and a 5mm lug depth, you can be sure of awesome traction to keep you stable and upright whatever the conditions.
Best for Sports Performance
Adidas Performance Terrex AX3 Hiking Shoes
These lightweight shoes from Adidas are great for fast hikes across rugged terrain. Lightweight, flexible, and incredibly durable, they will keep you upright on both wet and dry surfaces. With a rubber sole that gives great grip, you can tackle any terrain at advanced speeds.
Offering the perfect balance of comfort and technical delivery, these shoes are incredibly lightweight and designed with breathability in mind. Synthetic mesh uppers will keep your feet protected from adverse conditions, while the molded TPU toe cap can handle the most extreme of trails.
The Continental rubber outsole offers extraordinary grip even in wet conditions, while the lightweight EVA midsole absorbs more of the step impact, making a more comfortable hike, every time.
Lightweight, Waterproof Shoes for Everyday Comfort
Columbia Men's Redmond Waterproof Low Hiking Shoe
This extremely durable hiking shoe offers exceptional waterproofing and incredible comfort. Perfect for outdoor enthusiasts or casual hikers, these good-looking and competent shoes are lightweight enough to be worn daily, while still being hardy enough to withstand tougher terrains.
Using advanced technology, the Redmond hiking shoe features a suede, leather, and mesh upper that helps to keep water out while still keeping your feet cool, and the lightweight Techlite midsole provides superior traction with non-marking capabilities. Cushioned insoles help to absorb impact, as well as keeping your feet comfortable over aggressive terrain.
The Omni-Grip traction system offers specially formulated compounds and treads, including a dual-zone winter tread pattern to ensure even footing on even the iciest of roads.
Hiking Boots
Reduce Fatigue With These Adapted Running Shoes
Salomon Men's Quest 4D 3 GTX Backpacking Boots
Designed to reduce fatigue and increase comfort, these light, and well-cushioned backpacking shoes are perfectly engineered to traverse a wide range of surfaces. With the adaptive speed and agility of a running shoe, combined with the durability to last for many hundreds of miles, these are a great buy for anyone who wants to enjoy walking, hiking, and other outdoor activities.
GORE-TEX technology helps to keeps your feet dry whatever the weather, while the mesh and textile lining is breathable enough to keep your feet sweat-free. The SensiFit system is designed to cradle the foot to provide a super-snug and secure, customized fit, while the molded OrthoLite insole offers superior cushioning.
The patented Contagrip TD offers a high level of traction on mixed terrain, and the deep, aggressive lug pattern will keep you upright on even the roughest of surfaces. With an advanced and stable chassis construction for enhanced foot control and a protective toe cap to protect you from rocks and loose debris, these are an awesome boot for more physical adventures.
A Best-Seller Offering an Exceptional Walk
Salomon Men's X Ultra 3 Mid GTX Hiking Boots
These best selling hiking boots offer descent control technology that efficiently tackles technical hikes and hilly conditions. Designed to offer a significantly improved and customized fit, your foot will remain comfortably in place, especially when heading downhill in wet conditions.
The waterproof PU-coated leather uppers that feature GORE-TEX technology will keep your feet dry even when it's wet underfoot, while the mesh and textile lining is soft and breathable to keep you comfortable on the go. The SensiFit system cradles the foot from the midsole to the lacing system to provide a secure and snug fit.
On the sole, the advanced chassis helps to optimize motion control, as well as evenly manage energy to make for a more efficient hike and responsive feel. For impressive traction on rough terrain, the Contagrip TD offers a deep, aggressive lug pattern, while the multi-directional heel grip helps to keep you upright and safe on softer surfaces.
Incredibly Comfortable to Wear and Award-Winning
KEEN Men's Targhee II Mid Waterproof Hiking Boot
This award-winning hiking boot has been designed to keep your feet dry while simultaneously letting them breathe. Incredibly comfortable to wear, the Targhee II Mid is a great choice for all-day hikes, long walks, and even camping trips.
The leather uppers have been treated with PFD-free water repellent to keep your feet dry no matter how wet it gets underfoot, and the breathable membrane helps to stop your feet from sweating when the weather warms up.
All-terrain rubber souls offer high-traction grip across all kinds of surfaces, and the non-marking rubber soles mean you can even take them inside without damaging your interior floors.
The mid-height cut of these boots offers additional ankle stability and a snug, comfortable fit. The contoured heel will help keep you upright no matter how undulating the ground becomes beneath you. The KEEN External Support Shank offers a high level of torsion stability, and the aggressive soles bite into rocky terrain to ensure safer hiking trips.
Best for Every Day Hikes on Hilly Terrains
Scarpa Men's Zodiac Plus Gtx Hiking Boot
These boots truly excel in mountainous terrain, and as a mid-weight, slim silhouette hiking boot, they have the stamina and durability to take you virtually anywhere.
Unlike some of their heavier contemporaries, they are also agile and flexible enough to remain comfortable on trail walks, camping trips and day hikes, making them a great choice for those who like to experience the very best the great outdoors has to offer.
With a Perwanger leather upper and soft, cushioned ankle collar, these boots help to deflect water and disperse debris while keeping your feet firm and snug on the inside. With a 3D EVA midsole and a firm but lightweight shank design, these boots are able to keep you stable while still offering enough forefront flex to handle even the rockiest of terrains.
The GORE-TEX lining helps your feet to breathe even when the weather gets warmer, and the combination of the PU and EVA midsole helps to absorb impact and reduce stiffness.
The Scarpa Sock-Fit technology molds the boot to your feet, giving a custom-made fit and feel, and the ACTIVimpact Technology in the sole offers incredible traction and stability combined with a damping effect to ensure that usable energy is increased as you hike.
Great for Day Hikers and Casual Walkers in Warm Climates
Merrell Men's Moab 2 Mid Waterproof Hiking Boot
With an increased ankle height, the Moab 2 Mid waterproof boot offers the rugged durability and lightweight practicality of the lower Moab 2 shoe. These GORE-TEX hiking boots offer out-of-the-box comfort that nearly 20 million people have already experienced worldwide.
The synthetic leather, mesh upper, and waterproof membrane provide exceptional breathability and waterproofing, while the bellows tongue helps to keep moisture out. For a more comfortable fit, the Merrell M Select FIT.ECO+ blended EVA contoured footbed with zonal arch and heel support helps to keep your feet free from blisters and hot spots, no matter how far you travel in them.
With an EVA midsole for improved stability and the Vibram TC5+ sole with a 5mm lug depth, you can be sure of superior traction on every type of surface. The protective rubber toe cap helps to keep your feet safe from falling debris and sharp rocks, while the M Select DRY seals lets moisture escape so that your feet stay sweat-free for the duration.
A Good Looking Boot for Multi-Terrain Adventures
Columbia Men's Newton Ridge Plus II Waterproof Hiking Boot
These rugged men's mountaineering boots offer classic good looks and a comfortable ride while being perfectly designed for technical hikes and long days on the trails. With a waterproof seam-sealed construction combined with PU-coated leather, suede, and mesh uppers, these boots remain flexible and comfy, while still offering a good level of resistance and breathability.
For extra comfort on the go, the Columbia TECHLITE lightweight midsole offers a really nice level of cushioning to keep your feet comfortable as well as helping to offer a higher level of energy return, even on uneven trails, rocks, or loose pavement.
For more extreme adventures, its patented multi-terrain Omni-Grip traction system is built using a combination of specially formulated compounds and treads to ensure that this boot holds the ground over a wide range of surfaces. The multi-zone tread pattern ensures that these boots are flexible enough to provide the right grip for every environment.
Best for Everyday Use, on and off the Trail
Skechers Men's Relment Pelmo Chukka Waterproof Boot
Perfect for use across a wide variety of surfaces, these waterproof hiking style boots are great for both work and leisure. The soft, durable uppers are designed to keep wet conditions at bay, and the higher laces provide some additional support to the ankles. These boots also feature a mesh fabric collar and lace area details to help to keep your feet cooler on the move.
The gusset tongue will keep bad weather, dirt, and debris away from your feet, while the soft fabric boot lining offers a sock-like feel to keep you comfortable no matter how long you wear them. The Relaxed Fit design maintains a medium width in the heel with a roomier toe box, and the full-length memory foam cushion comfort insole helps you to feel like you are walking on air.
These boots come complete with a shock-absorbing midsole that helps you traverse trickier terrain, and the flexible rubber high traction lug patterned outsole offers increased stability on the road. Good looks and comfort combine in these boots, but they are better suited to long walks and outdoor work than serious mountaineering.
Best for Those Who Work Outdoors
Timberland Men's White Ledge Mid Waterproof Ankle Boot
These comfortable and well-padded ankle boots from Timberland look great and offer a firm yet flexible ride across a wide range of terrain. With a snug fit and a waterproof liner, these boots offer a substantial level of breathability, considering that one of their most handsome features is their leather upper. A wide sole provides a stable base, and the padded ankle collar helps to stabilize the ankle.
While not the lightest boots on our list, they do feel light underfoot and are comfortable to wear straight out of the box. The leather is soft and flexible, and the 4 lower and 2 upper eyelets help you to achieve the perfect fit.
With a proprietary rubber Vibram sole with shallow lugs and additional protection across the toe, these boots may not be the best for steep climbs or extreme weather, but they are an affordable and practical choice for those who like to spend a lot of time outdoors and are a favorite with those who work in outside environments.
Final Thoughts
Whether you like to push yourself to the extreme or are just looking for a reliable and sturdy outdoor walking boot, footwear designed with hiking in mind will always offer more protection and comfort than training shoes alone.
With increased traction and grip, waterproofing, and ankle support, no self-respecting hiker would be seen out without a really good pair of boots or shoes. Keep your feet comfy and your weight upright, and invest in a decent pair of hiking boots in order to really enhance your outdoor experience.