Away Travel Carry-On Luggage Review [Worth Buying?]
Luggage these days is much more than just a way to carry your stuff from home to the hotel and back again. Rebooted and redesigned, suitcases are now more stylish than ever, with smart features and sleek upgrades that have made them Instagram-famous and utterly desirable.
Away Travel Luggage
American luggage brand Away has gone back to basics with bags and cases that are designed to work with you and offer creative solutions that help you enjoy your travel experience better.
Every piece in its collection has been thoughtfully designed to function perfectly and provide practical solutions to real-life travel problems.
From carry-ons to checked luggage and daypacks to a garment bag, every piece from Away has an attractive minimalist aesthetic on the outside, complemented by interiors that will transform the way you carry your belongings.
Bottom Line: With compression compartments to maximize your luggage load, hardshell exteriors that can be thrown around and still look super chic, and even a hidden battery to charge your devices on the go, the people at Away may just have created the ultimate suitcase.
Away Travel Carry-On Luggage Review
Style and Look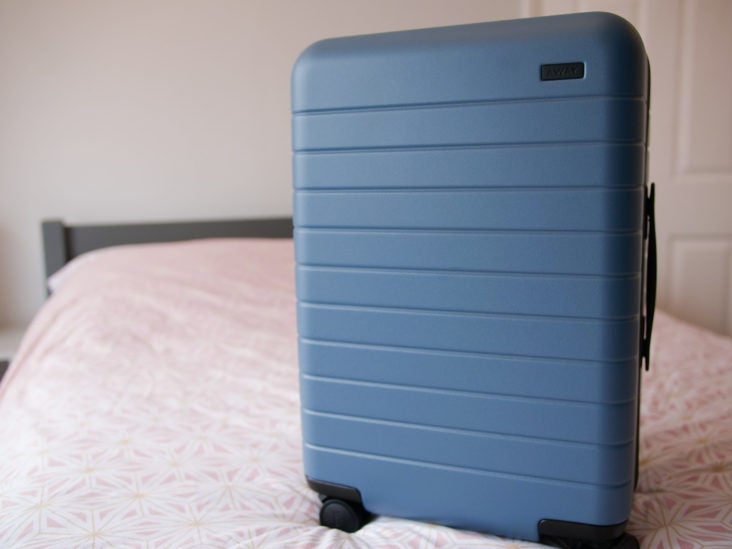 With a hard, impenetrable shell, The Carry-On looks sleek and minimalist, and will never be out of place being pulled through any cosmopolitan metropolis or high-tech airport.
Unlike most monotone hipster carry-alls, The Carry-On is available in a range of colors, including navy, coast grey, sky blue, green, asphalt, white, sand, blush, and violet. Finding the right color to suit your personality shouldn't be a problem.
Size and Compartments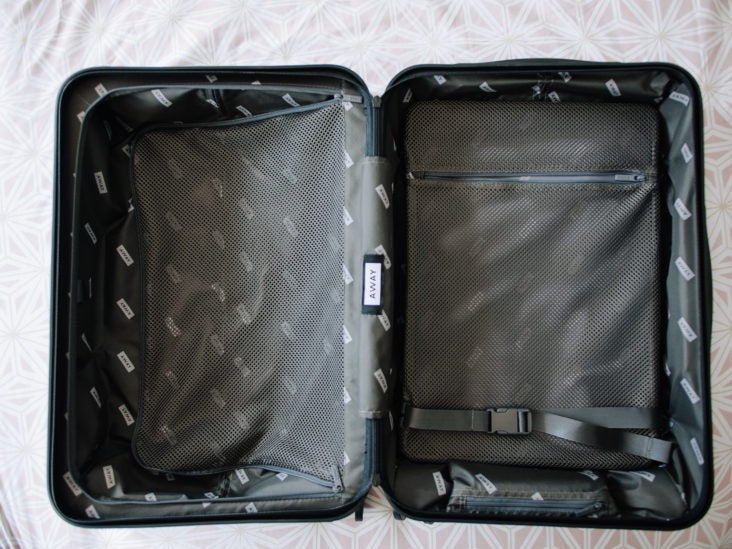 Sized to fit in the overhead luggage compartments of most major airlines, this is practically the perfect carry-on. Measuring 21.7 x 13.7 x 9 inches on the outside, you can stow above or below every time you fly.
On the inside, you'll find 2 separate compartments. A large zippered compartment to one side will deftly house your shoes, toiletries, and other hard objects. While to the other side, there is an impressively large open space for your clothing. The internal measurements are 20 x 13.5 inches with a total capacity of 39.8 liters.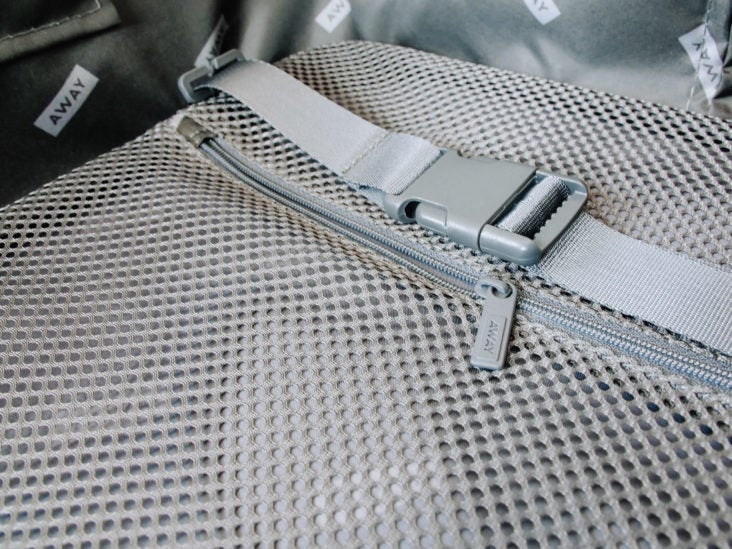 Want to fit more in? One of the absolute best bits of the Away brand cases is the unique interior compression system.
Much more than just a couple of straps to pull around a bulging clothes pile, this offers an entire semi-rigid panel on top that squashes down to give you those all-important extra inches of interior space when you need it.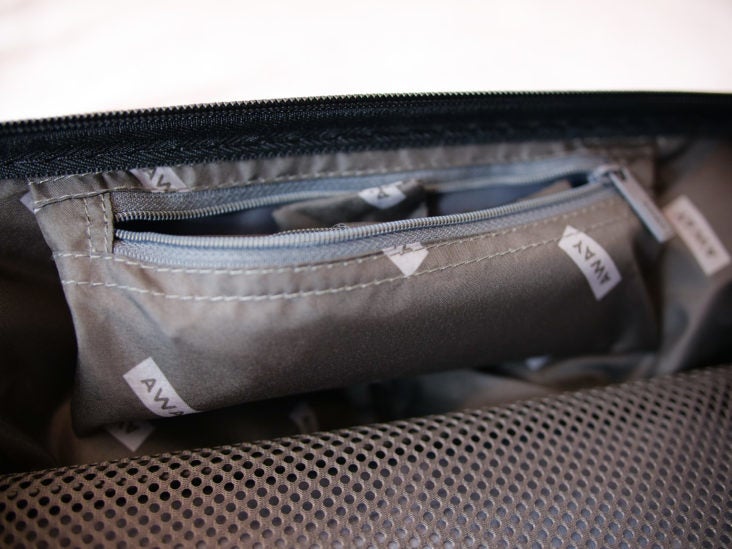 If that wasn't enough, the case also comes with a washable laundry bag that folds up when not in use. While the bag isn't huge, it's fine to keep dirty items separate over a long weekend.
Durability and Materials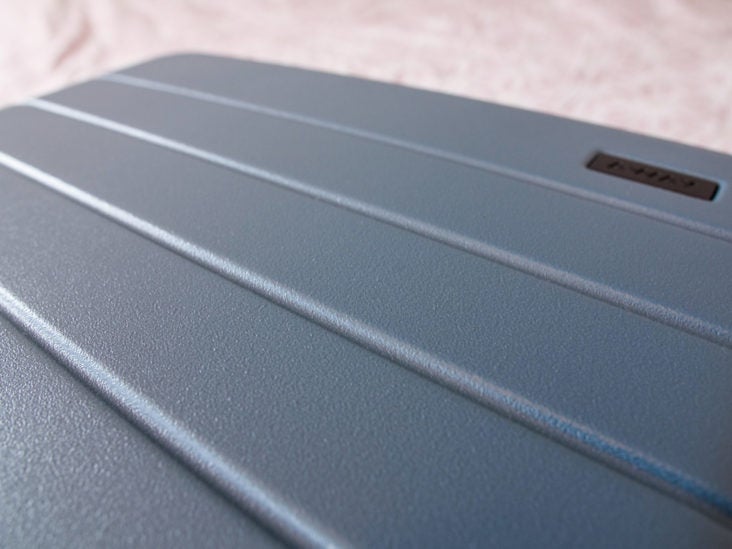 Made from an impenetrable shell that bends under pressure, but never breaks, The Carry-On offers first-class construction.
The sturdy, hard-wearing polycarbonate outer shell can take its fair share of knocks and bangs, while the softly lined interiors and genuine leather luggage tags and hinges give it a luxury feel that belies its functional form and price tag.
Bottom Line: By cleverly blurring the lines between a traditional hardshell suitcase and a flexible nylon/canvas one, The Carry-On offers rigid durability alongside complete adaptability.
Charging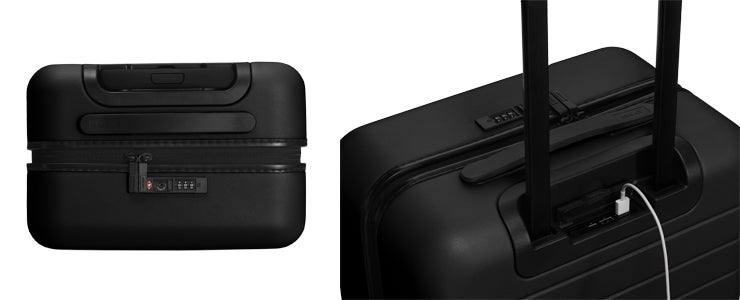 This smart little case can charge cell phones, tablets, e-readers, and anything else that's powered by a USB cord. With enough energy tucked away to fully charge your iPhone up to 4 times, The Carry-On is the ultimate companion for the tech-savvy traveler.
You can even fly with your electable suitcase battery as it's compliant with current airline policies, FAA, TSA, and DOT regulations and meets UN/DOT 38.3 requirements. When you reach your destination, plug it in and let it recharge before you set off once again.
Be aware that while it can be carried in the cabin, checked luggage cannot contain lithium batteries. The Carry-On battery can be removed in a matter of seconds and carried with you in the cabin.
These sorts of design features add value to you as the passenger and set the Away brand miles apart from the competition.
Hot Tip: If the charging capability isn't your thing or you already own a power bank, you can opt to purchase the case without a battery, which will make the case lighter and increase the interior space. Just know that if you opt for this you can't add a battery later on.
Wheels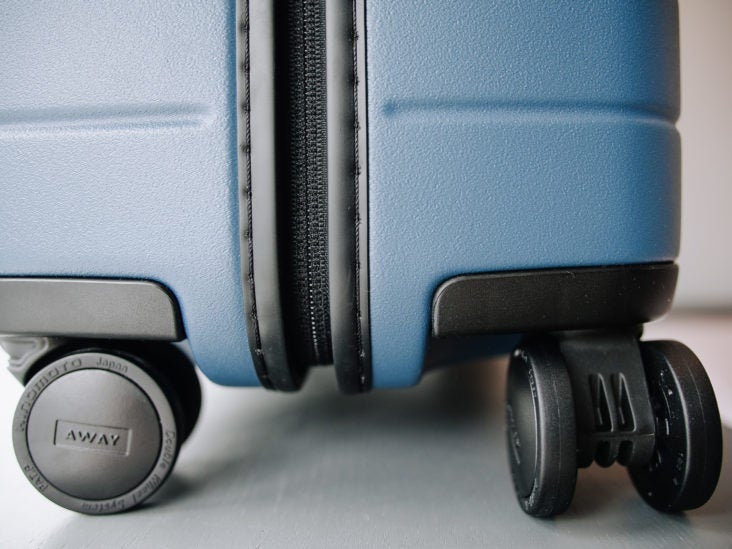 With 4 360-degree spinning Japanese Hinomoto wheels, The Carry-On makes light work of long runways and endless terminal buildings. Agile and incredibly easy to maneuver, you can guide the case with just a single fingertip should you need to.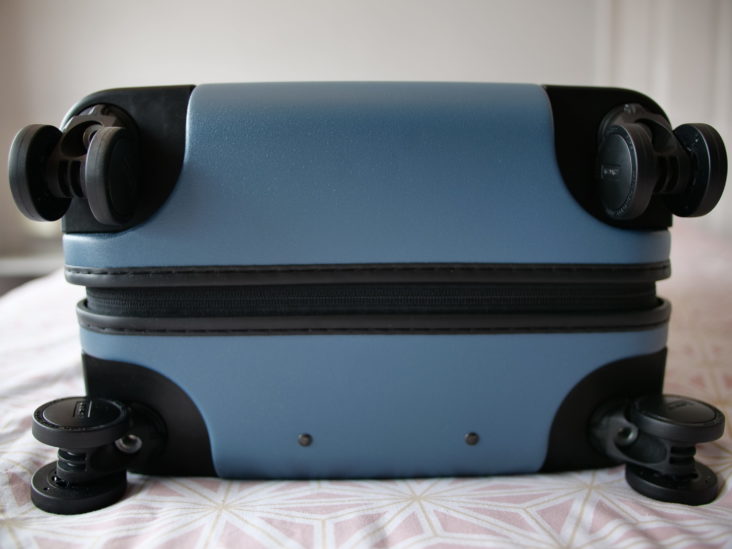 Handles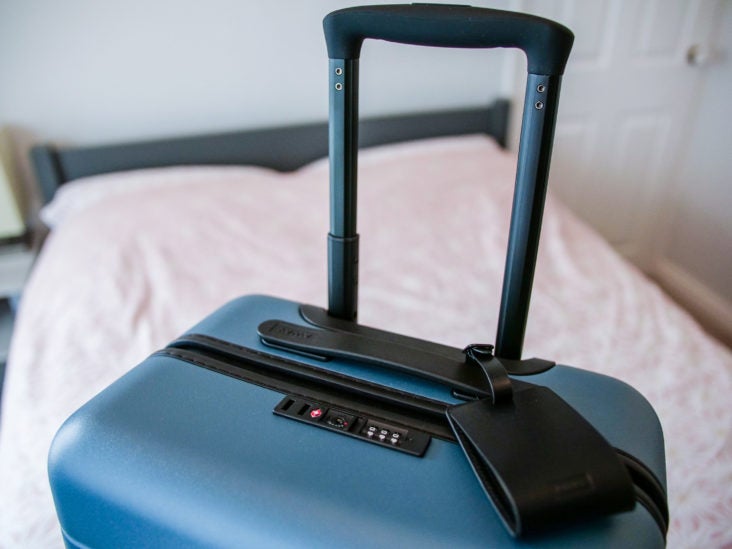 The pull-along handle is light and smooth and effortlessly extends or retracts to suit the height of the carrier. Made from superior materials, the telescopic handle is just like any other suitcase handle, only that bit better.
Lock and Zippers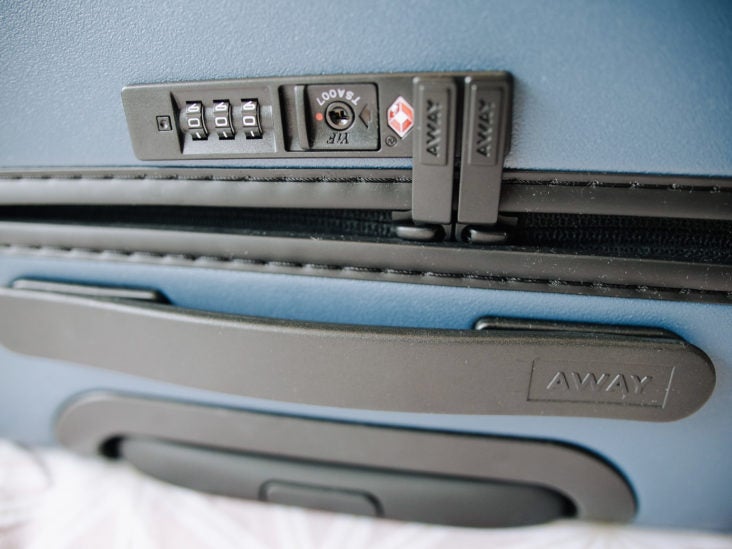 With not one, but 2 zippers for easy opening and closing, The Carry-On does away with the need for separate locks by offering an integrated combination lock. Just activate a 3-digit combination and the mechanism secures the zippers in seconds.
As the lock is part of the actual suitcase, you never run the risk of losing your travel lock again, and even more impressive, the lock is TSA-approved to allow agents access when they need it.
Warranty and Customer Service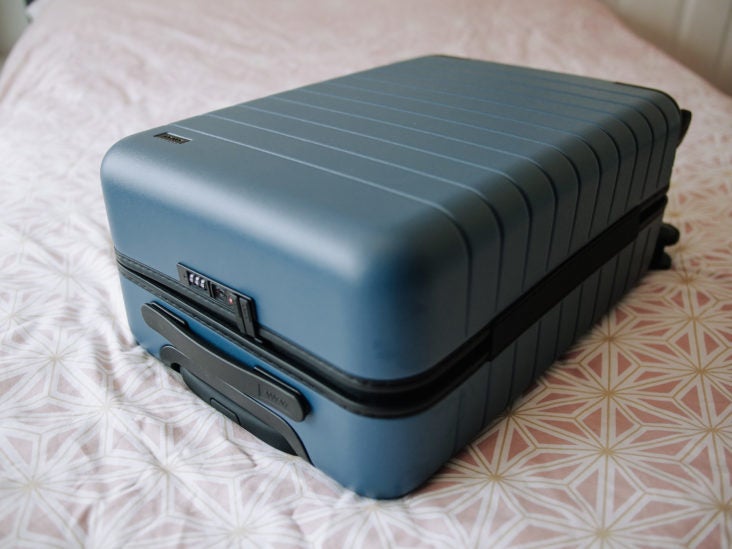 All Away Carry-On cases come complete with a limited lifetime warranty that covers any damage to the shell, wheels, handles, zippers, or anything else that functionally impairs the luggage.
The electronic components are guaranteed for 2 years. That said, the good folks at Away do offer replacement batteries should you experience any issues outside of this warranty period.
Drawbacks
Impressive credentials and an even more impressive Instagram campaign have made the Away cases some of the most sought-after in the travel sector. But, while they may be both pretty and practical, there are just a couple of really tiny downsides, too.
If you want to recharge your case to keep your phone topped up, you're realistically looking at an overnight charge in your hotel before it has enough power to start charging your devices again.
While these cases are incredibly durable and designed to last a long time, they're best suited to vacations and tourist travel. What is essentially a lifestyle brand with an excellent social media following, it attracts travelers who want to see the world without roughing it.
Globetrotting adventurers who plan to stray from the road less traveled may find a backpack or duffel bag more practical and hard-wearing.
Finally, the telescopic handles are a bit on the shaky side. While adept enough to wheel your case through the airport, you can still feel a slight tremor when you walk.
Bottom Line: All of these are minor gripes, and for the most part, The Carry-On from Away is an excellent suitcase that delights in providing both form and function to give you a good-looking case with on-trend extras.
Other Away Travel Luggage
Concerned that The Carry-On isn't right for you? Away offers a full collection of luggage essentials to suit every traveler and every journey.
Away Carry-On Alternative Sizes
Away Travel Luggage With a Pocket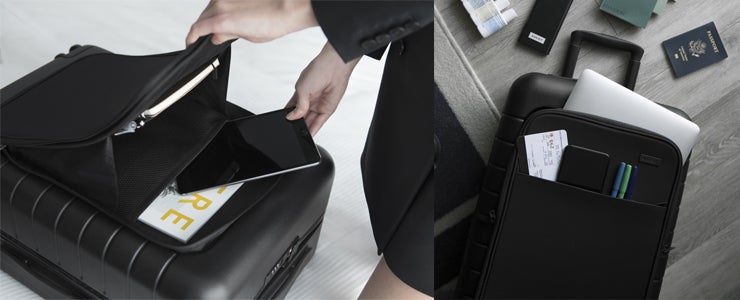 Kids' Carry-On
Make it a family affair with The Kids' Carry-On. Just like the regular version, your mini-me can enjoy a shell that never breaks, a battery that charges their phone or tablet, and a versatile interior with a compression system and separate laundry bag.
This is the very same as the grown-up version but is just a little bit smaller in size at 18 x 12 x 9 inches with a 31-liter capacity.
The Aluminum Range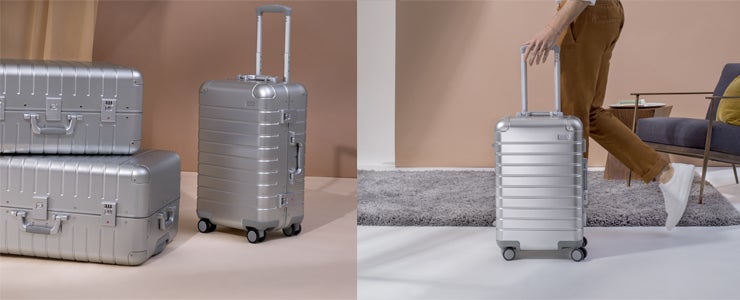 Final Thoughts
Modern-day luggage is fast becoming a reflection of the way we travel and indeed, where we travel to.
Away not only creates beautifully designed, cleverly crafted suitcases and bags that are more than fit for purpose, but it is also one of the few brands that take a holistic approach to modern-day travel. It offers practical solutions to the rigors of reaching your next destination with ease.
Hardshell exteriors, internal compression systems, and the ability to charge almost every kind of device on the go makes the Away cases some of the very best, and most thoughtful, on the market today.
For reviews on other types of luggage and travel bags, check out these pieces: