The 12 Best Travelpro Luggage for Travelers in 2021 [Sets, Carry-Ons, Backpacks]
Travelpro luggage is the preferred brand of pilots and cabin crew the world over. With clever design touches, practical storage spaces, and a reputation for durability, Travelpro is now also popular with frequent flyers looking for versatile, high-quality luggage that looks great and always performs.
Why Buy Travelpro Luggage?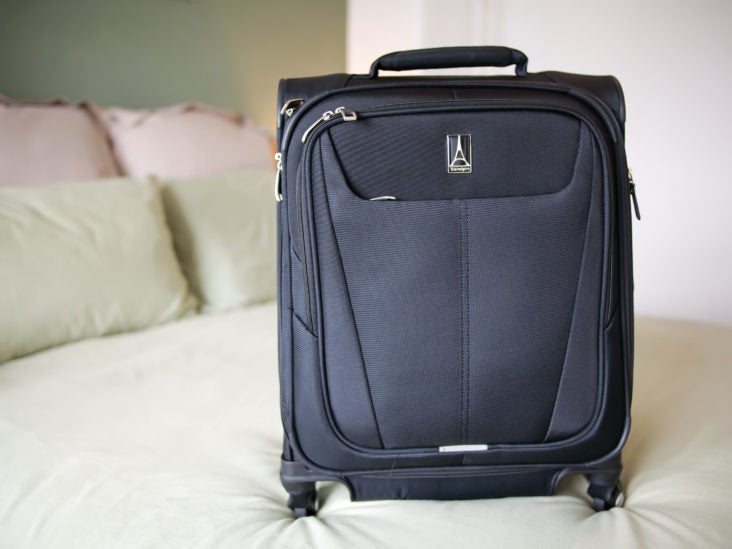 An airline pilot developed the Travelpro brand over 25 years ago. Offering durable construction and cleverly conceived collections that all work well together, Travelpro offers affordable solutions for savvy travelers.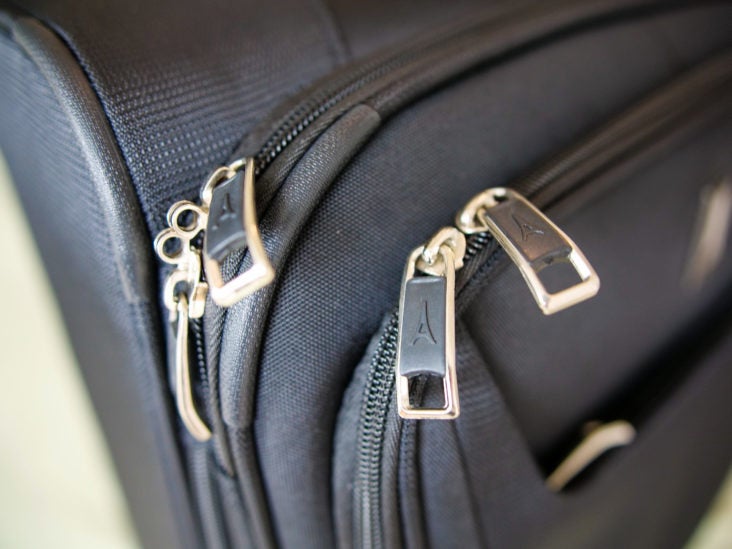 Premium fabrics coated in DuraGuard coverings offer protection against stains and damage, while the innovative designs and quality materials are designed to last for many years of travel adventures.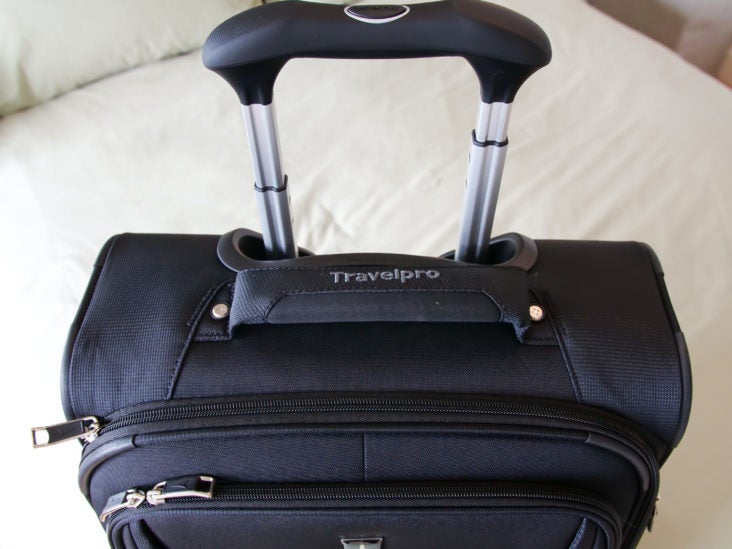 Travelpro is best known as the name behind the original Rollaboard suitcase, which went on to become one of the most popular styles of suitcases used by travelers the world over. These stylish, wheeled pieces make it easy to pull your belongings behind you, without the inconvenience of uncomfortable handles and unyielding luggage.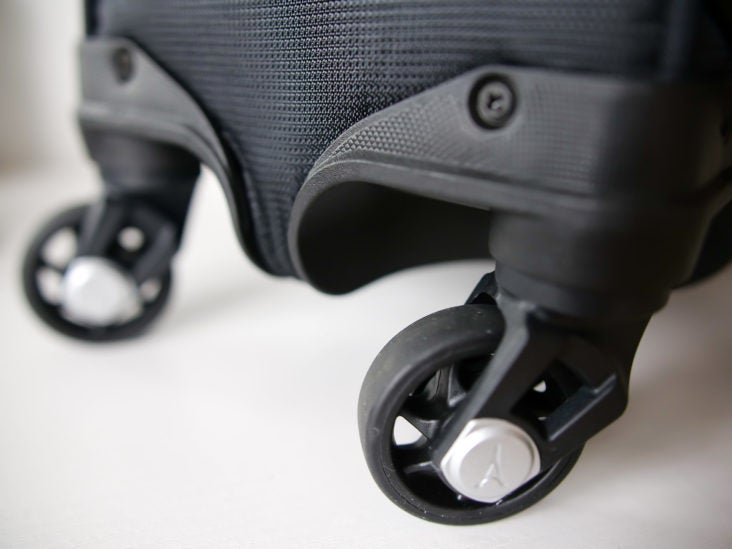 Offering a refined collection of garment bags, suitcases, executive briefcases, rolling travel duffel bags, totes, and backpacks, the Travelpro brand has pieces to suit every type of traveler.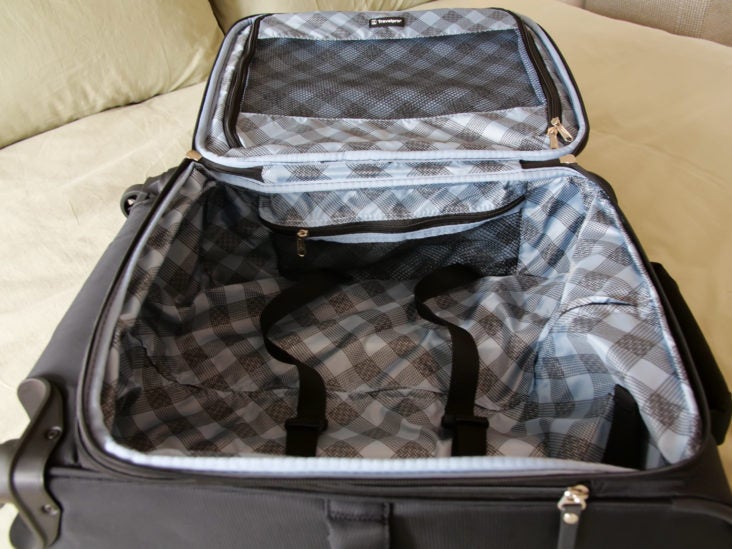 All of its luggage collections are put through more than 15 different trials. These include distance, durability, and temperature tests to make sure all fabrics, wheels, zippers, and handles are up to the rigors of travel. They also ensure that the overall bag design can easily cope with the wear and tear of frequent travel.
Hot Tip: Travelpro believes in only offering the highest standards of manufacturing and design, and most Travelpro luggage also proudly comes with a lifetime limited warranty.
The Best Travelpro Luggage
An Excellent Choice for Those Who Don't Like To Travel Light
BEST OVERALL: Travelpro Maxlite 5 Hardside Luggage
A polycarbonate hardshell with a practical, lightweight design with an integrated TSA-approved lock. It enhances the amount of packing space available with efficient organization. A great choice when traveling for a longer period.
Travelpro Maxlite 5-Hardside Spinner Wheel Luggage
Dimensions: 31 x 21 x 13 inches
Weight: 9.6 pounds
With a 100% polycarbonate shell that has been engineered to easily absorb the bumps and knocks of travel while still being incredibly lightweight and easy to carry, this hardside suitcase offers incredible strength and durability. Available in a choice of 7 different colors and 19-, 21-, and 25-inch versions, as well as this larger piece, the Maxlite 5 is a worthy choice for serious travelers.
On the inside, the large main luggage compartment has plenty of room to house your clothes, shoes, and toiletries effectively, while the interior divider helps to keep your belongings well-organized on the go. The hold-down straps will help you pack in that little bit more and will help to keep your contents crease-free in transit.
For greater ease of movement, the lightweight PowerScope Lite handle has 2 locking positions, and the 4 spinner wheels rotate 360 degrees to offer effortless maneuverability in any direction. This case also comes complete with an integrated TSA-approved lock that offers easy access for security agents should they need it. The Maxlite 5 is a great-looking, large-size suitcase for longer stays away.
What We Like
Rubberized handle for extra comfort rolling the case
What We Don't Like
Zippers can sometimes break
Maximum Storage Space in a Compact Carry-On
Travelpro Crew Versapack-Softside Expandable Spinner Wheel Luggage Carry-On
Dimensions: 23 x 15.5 x 10 inches
Weight: 7.99 pounds
Made from high-density ballistic nylon, this softside suitcase benefits from a DuraGuard coating to help resist stains and moisture, as well as corner armor and skid guards to protect high wear areas.
Available in a choice of black, blue, grey, and plum colorways, this range of cases also offers 20-, 25-, and 29-inch options if you are looking to invest in a full set. Perfect for tech-loving travelers, this clever case also features a built-in USB port and dedicated power back pocket to keep your devices charged on the go.
Offering the maximum amount of luggage space that you can store in over 80 percent of airline bins, the Versapack suitcase offers total flexibility when it comes to carrying your gear. Inside the lid, there is a removable zip-in garment organizer for keeping your clothes neatly folded, as well as a large main compartment and a zippered front pocket that is large enough to fit your laptop in.
There is also a complimentary TSA-compliant toiletry holder, and other accessories in the range — including packing cubes — can be purchased separately.
The 4-stop, height-adjustable PowerScope handle makes it easy to find the right handle position for your height, and the 8 ultra-durable, 360-degree MagnaTrac spinner wheels provide an effortless ride over all types of terrain.
Considered to be the civilian version of the luggage regularly used by aircraft crew, this Travelpro Crew Versapack suitcase is great for those who like to travel without the hassle of bag checks and carousels.
What We Like
Padded front pocket that fits a laptop up to 17 inches
What We Don't Like
Can be a little unstable when upright, especially with a tote on top
Upscale Looks for Style-Conscious Travelers
Travelpro Platinum Magna 2-Softside Expandable Luggage
A soft case made from ballistic nylon coated with DuraGuard to ensure its wear resistance. It uses wheel technology that keeps them running smooth and straight at all times. It has easy-grip handles and a PowerScope aluminum extension handle with 3 stops.
Travelpro Platinum Magna 2-Softside Expandable Spinner Wheel Luggage
Dimensions: 25 x 18 x 11.25 inches
Weight: 9.12 pounds
This upscale luxury luggage is large enough to carry everything you need for a short break away while still looking and feeling chic and slimline. Made from ultra-durable ballistic nylon fabric, and featuring DuraGuard coating that adds resistance to wet conditions and damage, this suitcase will keep your belongings well-protected in transit.
The fully-lined interior offers a practical storage space that includes a full-length lid pocket, mesh, wet side pockets, and a selection of accessory pockets. There is also a suiter included for wrinkle-free packing, and the tie-down system will prevent your belongings from moving around.
For super-smooth maneuverability, this case comes with MagnaTrac spinner wheels that will roll in any direction you want them to without drifting or pulling to 1 side, and the PowerScope extension handle offers adjustable height settings for greater control. Also available in 19-, 21-, and 29-inch options in black or olive colorways, this is a great case for those who really like to travel in style.
What We Like
Super smooth-rolling spinner wheels
What We Don't Like
Zipper pulls can sometimes detach
Great for Tech-Loving Travelers
DISCOUNT: 15%
Travelpro Maxlite 5 Lightweight Underseat Backpack
A practical solution for light travelers, this bag includes padded storage for electronics. It has multiple easy-access pockets used for organization, and it includes adjustable straps to fit comfortably on any trip.
Travelpro Maxlite 5-Lightweight Underseat Laptop Backpack
Dimensions: 17.5 x 15 x 8 inches
Weight: 2.11 pounds
Taking your tech away with you can be super easy with this specially designed Maxlite 5 laptop backpack that is big enough to hold all of your essentials while being compact enough to stow under your seat. Made from strong, durable, and breathable materials, the padded laptop pocket will keep your much-loved tech safe and well-protected while you travel.
Large enough to house laptops up to 15.6 inches in size in the dedicated front sleeve, the further main compartment offers a good size and versatile storage space. An array of organization pockets will keep your power cords, power banks, cell phone, chargers, and other essentials well-organized, while the exterior side pocket is perfect for keeping your water bottle close at hand.
To ensure your comfort on the go, the adjustable sternum straps help to evenly distribute the weight you are carrying, and the breathable, padded shoulder straps sit nice and lightly. If you want to combine your laptop backpack with other items of luggage, the rear strap slides neatly over the handle of your spinner suitcase for secure stacking and total hands-free mobility.
What We Like
Great for keeping your personal items close to you under your seat
What We Don't Like
Only 1 of the 3 compartments has 2-way zippers
Perfect on Its Own, or Used as Part of a Set
DISCOUNT: 18%
Travelpro Maxlite 5 Softside Underseat Tote Bag
A convenient ultralight piece made from stain-resistant polyester and DuraGuard coating. It has a spacious interior for storage needs and can be stacked with most other upright pieces of luggage.
Travelpro Maxlite 5-Softside Lightweight Underseat Rolling Tote Bag
Dimensions: 16.25 x 15.5 x 8.5 inches
Weight: 5.6 pounds
This ultra-lightweight rolling carry-on tote bag can be used on its own or stacked with a larger suitcase to provide a flexible luggage system. Made from highly durable polyester materials and featuring a stain- and water-resistant DuraGuard coating, this is a great addition to your luggage collection for both business trips and more leisurely adventures.
The sizable main compartment has enough room to carry clothes, toiletries, a change of shoes, and other essentials, while the built-in pockets add extra storage for smaller items. There is also a useful front flap pocket offering easy access to items you need on the go.
High-performance ball bearing wheels offering a smooth ride, and the PowerScope Lite handle reduces wobble and makes it easy to pull this compact case along behind you. Available in sleek black or a bold, bright blue, this is a great addition to the regular cases in the Travelpro Maxlite 5 collection.
What We Like
Can be easily stacked on your checked luggage
What We Don't Like
No padded protective pocket for a laptop
A Duffel Bag With a Difference
DISCOUNT: 15%
Travelpro Bold Drop Rolling Duffel Bag
A practical piece for the frequent traveler, this is made from durable materials like high-density polyester with a water- and stain-repellent coating. This is a resilient bag that's great for adventure travelers.
Travelpro Bold-Drop Bottom Wheeled Rolling Duffel Bag
Dimensions: 31 x 17 x 16.5 inches
Weight: 10.14 pounds
This tough, practical, and incredibly spacious duffel bag is made of highly durable polyester with a water- and stain-resistant coating. Offering an exceptional amount of space, this duffel bag is easy to take everywhere with you as it can be rolled instead of carried when it's fully loaded.
The large main compartment with a wide opening lid is easy to access for packing and unpacking, and the drop bottom expands to offer a separate, extra packing space when you need it most. On top of all of that, there is also an interior mesh pocket built into the lid and a large, exterior wet pocket that is perfect for keeping damp or dirty items separate from the rest of your belongings.
High-performance ball-bearing wheels make for a smooth ride across most surfaces, and the strong, aluminum handle stops at both 38- and 42-inch intervals, making it comfortable for users of all heights. Available in blue, grey, and olive colorways, this rolling duffel also has a selection of different handles to make it easy to keep by your side even when you don't need to roll it.
What We Like
Can be used with a separate bottom compartment or as 1 large compartment
What We Don't Like
Quite heavy for a duffel bag
High-Performance Luggage for Short Trips Away
DISCOUNT: 15%
Travelpro Platinum Elite Softside Expandable Luggage
An upright soft case built from premium materials and designed for the discerning traveler. Including an external USB port, the case features a roomy interior and integrated accessory pockets. The chrome zippers and leather accents add to the feeling of sophistication.
Travelpro Platinum Elite-Softside Expandable Upright Carry-On Luggage 
Dimensions: 23 x 14.5 x 9 inches
Weight: 7.11 pounds
This expandable Rollaboard suiter is perfect for those looking for high-performance luggage for short trips away. Also available in red, grey, and brown colorways, as well as additional 16- and 20-inch carry-on sizes, the Platinum Elite range has been designed with the discerning traveler in mind.
Made from premium fabrics with leather accents and chrome zippers, this is a high-quality suitcase throughout. On the inside, the main compartment has space to hold your clothing, as well as a clever tie-down system to keep your belongings from moving around in transit. There is also a large mesh divided area in the lid of the case, and the removable wet bag can also be used as a TSA-compliant toiletry bag.
The adjustable PowerScope extension handle reduces wobble while the Rollaboard wheels make for a smooth ride across the concourse. Compact enough to fit in the overhead bin space on most major U.S. airlines, this is a great case for those looking to travel light, while the addition of a built-in USB and power bank pocket makes it a serious contender for those who want to charge their tech on the go.
What We Like
Handy tie-down system with accessory pockets
What We Don't Like
Rollaboard wheels won't suit travelers that favor a spinner case
Perfect for the Daily Commute
DISCOUNT: 20%
Travelpro Crew Executive Choice Backpack
A premium bag that offers practicality and includes access to power bank pockets and a USB port. It features maximum convenience, and it is made from the highly resistant ballistic nylon coated with DuraGuard.
Travelpro Executive Choice 2 17 Inch Checkpoint Friendly Backpack With USB Port
Dimensions: 17 x 13 x 8 inches
Weight: 3.11 pounds
This compact backpack is deceptively spacious and has a range of travel uses. Made from high-grade DuraGuard ballistic nylon, it promises to remain strong and durable for many years to come.
The main storage area is deep enough to hold plenty of work gear, leisure items, or even your gym gear, while the padded pocket fits most standard-size laptops and opens fully for ease of use. There is also a separate padded tablet sleeve and a flip-down front pocket that is lined with RFID-blocking material to keep your personal details safe on the go.
The adjustable and well-padded shoulder straps help to keep the backpack feeling light — even when full — and the sternum straps will distribute the weight evenly for a more comfortable commute.
The Travelpro Executive Choice 2 backpack even has an external USB port and a dedicated pocket for holding the power bank to keep you connected wherever you are headed.
What We Like
Compartment with RFID-blocking material
What We Don't Like
Backpack straps could be longer
The Original, Expandable Rollaboard
Travelpro Maxlite 4-Softside Expandable Rollaboard
A soft case featuring a comfortable telescopic handle with 2 stops to adjust for height. The wheel system includes crash guards, and the lightweight aspect makes it even easier to handle. The convenient storage space is a bonus.
Travelpro Maxlite 4-Softside Expandable Rollaboard Upright Luggage
Dimensions: 23 x 15 x 9.5 inches
Weight: 6.12 pounds
The Maxlite 4 collection offers an impressive selection of spinners and Rollaboards that offers premium looks at affordable prices.
This particular 22-inch carry-on is the largest size compatible with most major airlines. Should this be too big, there is a smaller 19-inch version available, too. Choose from blue, black, or purple colorways, and enjoy the lightweight, upscale look and feel of this carry-on case on your next adventure.
On the inside, the main compartment has plenty of space to house your clothes, a spare pair of shoes, and your toiletries. There is a fully zippered, lidded compartment for keeping smaller items separate, and the zippered side and mesh pockets are useful for items that you need to reach quickly on the go.
To ensure that your clothes remain crinkle-free and all in 1 place, this case also offers adjustable hold-down straps with Duraflex anti-break buckles.
For ease of use, the high-performance ball-bearing in-line wheels offer a smooth ride, and the telescoping handle stops at 38 inches and an extra-tall 42.5 inches, making it easy to find your perfect pulling height.
What We Like
Lightweight and plenty of packing space
What We Don't Like
Can be unstable and tip over when packed full
A Stylish and Practical Briefcase for Working on the Go
DISCOUNT: 15%
Travelpro Platinum Elite Expandable Business Briefcase
A fashionable choice, suited for shorter business trips or to use in combination with other pieces. Made from high-density nylon and coated in DuraGuard, this briefcase provides enough storage. The rear strap will be easy to adjust for maximum comfort.
Travelpro Platinum Elite-16-Inch Expandable Business Briefcase
Dimensions: 16 x 13 x 8.25 inches
Weight: 3.1 pounds
Available in a choice of Vintage Grey or Shadow Black, this briefcase is perfect for business travelers who expect a little more. Made from high-density nylon fabric complete with a stain and abrasion DuraGuard coating, this is a durable briefcase with a unique expansion system for additional packing space when needed.
The large, padded compartment can safely house and protect a laptop up to 15.6 inches, and the separate tablet sleeve will protect your devices and e-readers. The main storage space has plenty of room and organizational pockets to store power cords, power banks, and other useful items, while the RFID-blocking pocket offers a safe space for your credit cards and passport.
Compact and lightweight enough to carry by hand, this briefcase also comes with a rear strap that fits neatly across the extension handle of your suitcase to create a secure stacking system for longer trips away.
What We Like
Padded laptop pocket and RFID-blocking pocket
What We Don't Like
1-way zipper on the front compartment rather than 2-way zippers
A Great Travel Set for Frequent Flyers
Travelpro TourGo Softside Set
A 2-piece collection made from polyester that remains a solid choice among travelers. In the set, there is a carry-on piece and a medium spinner. These will cover all packing needs while including a 2-stop adjustable handle for extra comfort.
Travelpro TourGo Softside Lightweight 2-Piece Luggage Set
Dimensions:
Small Case — 20.5 x 14 x 7.5 inches
Large Case — 25 x 18.75 x 9.5 inches
Weight:
Small Case — 6.5 pounds
Large Case — 7.7 pounds
This neat travel set is perfect for those looking for faraway adventures. Comprising both a small- and medium-sized case, this offers everything you need for a trip away. Made from smart, black polyester material that resists stains and abrasions, the molded wheel housings, skid guard, and corner guards protect against the regular wear and tear of frequent flying.
Both cases are incredibly lightweight, meaning you can fit more of your belongings in them without having to worry about excess baggage fees. They can also expand up to 2 inches, offering extra room when you need it the most.
Tie-down straps help to prevent your clothing from moving around during transit, and the additional mesh zippered storage area is perfect for keeping smaller items organized while you travel.
Make light work of traveling through the concourse with 4 supersmooth spinner wheels that rotate in all directions for easy maneuvering, while the push-button extension handle has 2 stops to maximize both comfort and control for users of different heights.
What We Like
Both cases expand 2-inches for extra packing space
What We Don't Like
Single spinner wheels are not as easy to maneuver as double-wheel spinners
Final Thoughts
Offering stylish and reliable luggage solutions for frequent flyers, business travelers, and daily commuters, Travelpro offers a varied range of bags and cases at affordable prices. Fuss-free and incredibly practical, you can't go far wrong with Travelpro.