The 10 Best Tumi Luggage for Travelers in 2021 [Hardside, Softside]
While Tumi luggage may be more expensive than some of the more mainstream luggage brands out there, it is the company's focus on design excellence, technical innovation, and functional superiority that keeps its customers coming back for more.
Is it time for you to invest in the best?
Why Buy Tumi Luggage?
Founded in 1975 by Charlie Clifford, Tumi is famous for its chic and stylish ballistic nylon, aluminum, and leather luggage ranges. Stocked all around the world, Tumi luggage pieces also feature a metal plate with a 20-digit ID number, meaning that if you and your luggage become separated, it can be traced using the innovative Tumi Tracer program.
The experts at Tumi believe in creating pieces that consistently exceed expectations. One of its biggest unique selling points is the stringent testing regime that its collections go through before hitting the shop floor.
Each piece of luggage is put through its paces to make sure it will continue to perform flawlessly and must pass at least 30 in-house tests before it is considered good enough for Tumi's discerning customers to buy.
Even its sizing is more upmarket than other brands, with cases being offered in a short trip, extended trip, international, and continental sizes that have been painstakingly perfected to meet with the maximum measurements for airline carriers the world over.
Tumi has thought of everything. Such innovative additions include TSA-approved T-Pass technology that allows you to leave your laptop in the bag as it passes through security, an Omega Closure System that is highly resistant to damage and break-ins, as well as Add-A-Bag stacking systems for when you have more bags than hands.
Bottom Line: Tumi luggage is well known in the travel world for its high price tags, but those who know the importance of high-quality pieces understand that you really do get what you pay for in this instance.
The Best Tumi Luggage
The Tumi luggage range is always expanding, with new launches happening regularly. Here are some of its very best available to purchase today.
Hardside Suitcases
The Perfect Carry-On for the Discerning Traveler
Tumi V4 — Continental Expandable 4 Wheeled Carry-On
Dimensions: 22 x 15.75 x 9 inches
Weight: 7.37 pounds
Shorter and wider than some of its carry-on counterparts, this deluxe looking hardside suitcase is also available in sleek black or sumptuous mink colors, and the Tumi V4 collection also comes in a variety of sizes. Effortlessly easy to maneuver and with sharp looks and stylish accents, this is the perfect carry-on case for the discerning traveler.
The beautifully lined interior comes complete with a large main compartment with compression straps, a zippered divider creating an additional storage space in the lid, and 2 additional zippered pockets that will keep your smaller items and valuables safe on the go.
This gorgeous suitcase also offers the ability to expand an extra 2 inches, giving you even more useful space for your belongings to maximize your storage space.
With a sturdy telescopic handle and 4 super-smooth recessed dual-spinner wheels, this case can be wheeled along beside you and maneuvered with ease over virtually any surface.
Super-Stylish Metallic Hardside Cases With a Retro Feel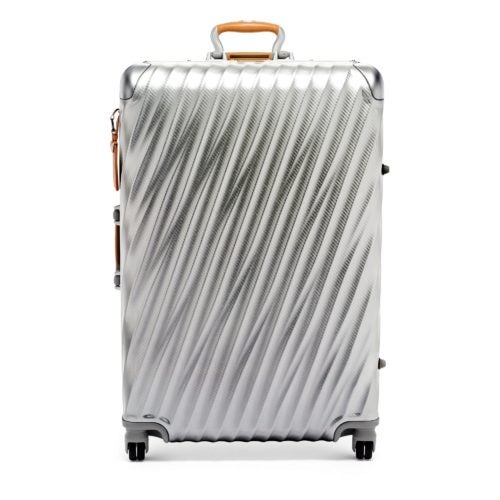 Dimensions: 30.5 x 20.5 x 11 inches
Weight: 15.94 pounds
As part of Tumi's 19 Degree range, this suitcase can be complemented by matching short trip, continental, and international-size suitcases, and a choice of gorgeous metallic colors. With a satin aluminum shell and a chunky, retro-looking design, this suitcase truly is a work of art.
The quality continues on the inside, too, with both halves of the clamshell suitcase featuring zippered dividers, as well as further mesh zippered pockets, compression straps, and a hanger bracket. There is also a set of vintage-inspired travel stickers included for you to decorate your case if you want to.
TSA-approved locks help to allow access without damage should a security agent need to open it, and the protective bumpers help prevent damage from the knocks and bumps of air travel. The 3-stage telescopic handle seamlessly rolls through its positions, and the 4 dual-spinning wheels glide effortlessly along the floor.
A Sleek and Uber-Stylish Suitcase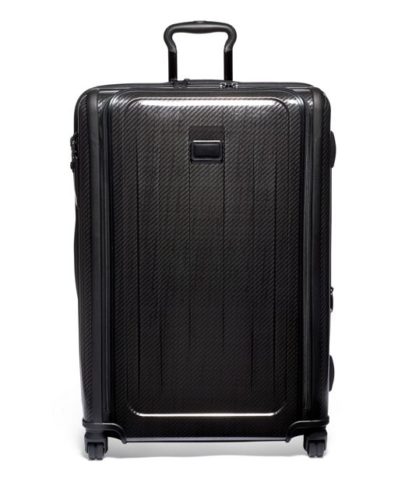 Dimensions: 29 x 20 x 12.5 inches
Weight: 14.56 pounds
Perfect for glamorous vacations or extended business trips, this large-size suitcase is part of the Tegra-Lite collection that also offers a short trip, international, and continental-size suitcases. Available in a choice of black or graphite colors, this is a sleek and uber-stylish suitcase range that offers impressive performance and incredible practicality.
On the inside, the roomy interior can comfortably carry all of your belongings. Should you need more space, the zipper expansion capacity offers an impressive 2 inches of additional storage space, making this a sizable suitcase that is perfect for extended trips away.
Interior pockets will keep your smaller items safe and well-organized, while the cross-compression straps will hold everything down. To help you look your freshest, even straight off the plane, there is also a removable garment sleeve to ensure that your favorite outfit is ready to wear.
The 4 dual-spinner wheels will roll quietly across the concourse, and the 3-position retractable handle is solid and sturdy, offering the ultimate in maneuverability.
A Heavy-Duty Hardsided Suitcase for Longer Stays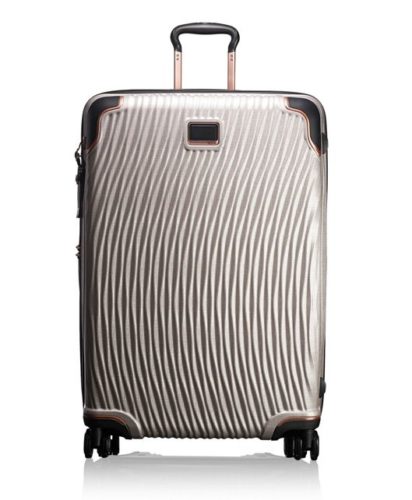 Dimensions: 30 x 20.5 x 11.75 inches
Weight: 9.26 pounds
Fresh from the Tumi Latitude collection, buyers can also add short tip, international, and continental-size suitcases to make a simply stunning luggage set. Also available in black, blue, silver, and graphite colors, this hardside case features woven SRPP ballistic material to offer the ultimate in strength and durability.
The streamlined design continues on the inside, with a lined main compartment that offers plenty of space for extended trips, and a separate divided area and further pockets. There is also a hanger bracket and mesh tie-down straps.
The low profile TSA lock protects this beautiful case from damage should a TSA agent need to check on your belongings, and the 3-position pull handle is sturdy enough to offer effortless maneuverability. 4 lightweight spinning wheels glide quietly across the floor, and the overall look and feel of this suitcase exudes quality.
Softside Suitcases
Luxury Leather Touches for Upscale Adventures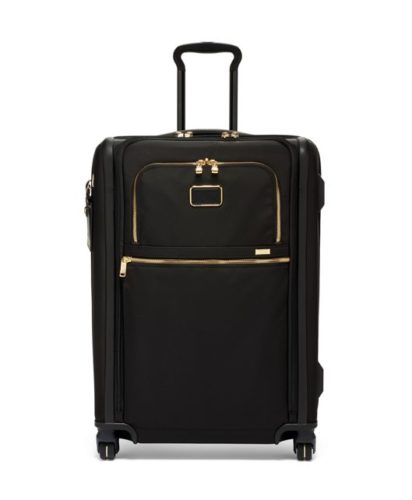 Dimensions: 26 x 19 x 13 inches
Weight: 15.43 pounds
Made from a sumptuous mix of ballistic nylon and cowhide leather, this upscale suitcase is incredibly stylish and endlessly practical. Ideal for short trips, it features Tumi's patented Lever Lock Expansion System that offers an extra 2 inches of all-important packing space, meaning you can squeeze a few more bits in when you really need to.
On the inside, the large main compartment comes complete with a handy zippered pocket for keeping your toiletries or smaller items safe, and the zippered divider in the lid also has a separate mesh compartment with valuables pocket.
As an added bonus, this case comes with a separate garment hanger, which will keep your fancy outfit or businesswear wrinkle-free and ready for your arrival. There is also a useful document pocket on the front of the case that keeps your essentials completely safe with an added security zipper.
Bottom Line: As you would expect from a suitcase of this quality, the Alpha 3's 3-stage telescopic handle effortlessly moves from 1 position to another, and the 4 dual-spinner wheels are as smooth as butter as they glide across the concourse floor.
A Stylish Continental Sized Carry-On for Business and Pleasure
Voyageur — Tres Léger Continental Carry-On
Dimensions: 22 x 16 x 9 inches
Weight: 8.16 pounds
Très stylish and packed full of continental charm, there is a range of document carriers, backpacks, cosmetic bags and pouches that match this carry-on, all designed with the needs of the business traveler in mind.
In the front lid of this soft-sided suitcase is a padded laptop pocket, as well a host of other useful compartments for stashing your cell phone, pens, cards, and all the other essential items that you need easy access to between meetings.
There is also a large main compartment with a zippered divider with plenty of room for your shoes and clothing and compression straps to keep everything flat and neat.
4 recessed wheels allow the case to glide effortlessly alongside you, and the telescopic handle makes for easy maneuverability with a choice of preset positions to perfectly suit your height.
Perfect for When You Need to Carry That Little Bit More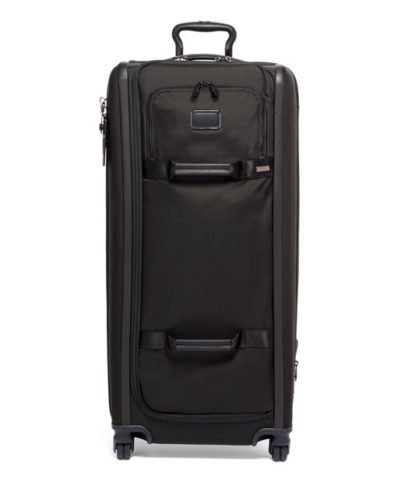 Dimensions: 34 x 16 x 13 inches
Weight: 16.17 pounds
Offering all the practicality of a duffel bag combined with the style and sophistication of a wheeled suitcase, this high-spec bag is perfect for travelers who are looking for extra space and versatility. As part of the Alpha 3 collection, there are a short trip, extended trip, continental, and international-size suitcases available to match.
The roomy interior can quickly be divided into 2 sections to offer increased practicality, and the 5 dividers in the back compartment can be used for shoes and other accessories. There is also a collection of additional pockets, both inside and out, that ensure that your smaller items stay well organized and within easy reach on the go.
Made from ultra-durable FXT ballistic nylon, this bag is built to last. It has an extendable handle made from tough, yet lightweight material and 4 spinner wheels that glide silently across the floor
Bottom Line: The Alpha 3 packing case is the perfect blend of innovative design and superior performance for use on extended trips and far away adventures.
Carry Your Clothing in Style
Alpha 3 — Extended Trip 4 Wheeled Garment Bag
Dimensions: 24 x 25.25 x 13 inches
Weight: 16.31 pounds
Perfectly designed to meet frequent travelers' needs, this carry-on garment bag has more than enough room to house everything you need for your next business trip or special occasion. The unique 4-wheel design turns on its side to allow you to glide down airplane aisles, and as part of the Alpha 3 collection, there are other sizes of suitcases available to match.
On the inside, the incredibly roomy interior offers enough space to hold 6 hangers, as well as a separate pocket that can hold up to 3 pairs of shoes. There is also a further compartment for housing the rest of your clothing and 2 removable zippered pouches that are perfect for your accessories.
A built-in TSA lock offers easy access for TSA agents, and the large front U-zip pocket with security zipper has been designed for keeping your essentials close at hand. The 3-stage telescopic handle makes it easy to find the right height pull position and the 4 spinner wheels glide effortlessly along next to you.
A Sizable Suitcase With Dual Access Options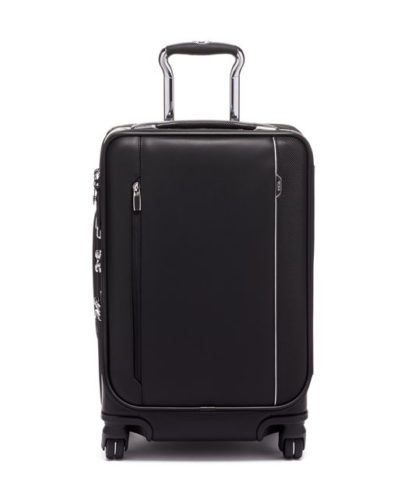 Dimensions: 22 x 14 x 9 inches
Weight: 14.56 pounds
Travel in style with the luxurious leather Arrivé collection that also offers a range of short-trip, extended trip, and continental cases, as well as briefs, duffels, and other bags.
Cleverly-conceived, taking cues from the automotive design, and featuring elegant curves, soft, smooth leather, and polished chrome pieces, this suitcase is hard to beat when it comes to pure class and sophistication.
The innovative dual-opening system means that you can access this case using the front zip or the wraparound zipper. On the inside, the flexibility continues with a divider that can be used as an extra pocket, a removable suiter as well as a hanger bracket, and a selection of additional mesh pockets to keep smaller items safe during transit.
Perhaps the most desirable feature of this suitcase is the built-in USB port that offers easy access to your power bank (not included), and the TSA locks that can easily be accessed by security agents to prevent damage to this beautiful case with expensive hardware.
For an easy roll on the go, the 4 spinner wheels and retractable handle make this case a breeze to maneuver wherever you are.
Made From Recycled Materials for the Eco-Conscious Traveler
Merge — Extended Trip Expandable 4 Wheeled Packing Case
Dimensions: 31 x 20 x 13.5 inches
Weight: 13.76 pounds
Also available as carry-on sized luggage, medium-checked cases, a tall duffel case, a wheeled brief, and a wheeled backpack, discerning travelers can choose 4 colors in this collection.
Made from a fabric engineered from post-consumer recycled bottles and nylon, this soft-sided suitcase looks amazing and is a huge hit with eco-conscious travelers.
On the inside, the large main compartment is complemented by a zippered divider, a vanity pocket, an additional zippered compartment, and a hanger bracket. It also offers zipper to zipper expansion for useful extra packing space.
With forward-thinking design and superior construction, it should come as no surprise that the 3-stage telescoping handle seamless glides through every position, and the 4 dual-spinner wheels glide smoothly and silently along next to you.
Final Thoughts
Tumi may produce luggage that is more expensive than most of its counterparts — and in some cases, heavier, too — but if you are truly looking for exquisite styling, innovative design, and incredible quality, it really does offer some of the best luggage collections available today.