The 14 Best Carry-on Travel Garment Bags in 2021 [Suits, Dresses, Shirts & More]
Garment bags are designed to keep your clothing crease-free and perfectly organized every time you travel.
Whether you're going away on business, traveling somewhere fancy, or like to always go out in style, invest in one of these useful bags to keep your clothes fresh and wrinkle-free every time.
The Benefits of Using a Travel Garment Bag
If you want your clothing to be ship-shape and ready-to-wear when you reach your destination, the very best way is to invest in a dedicated garment carrier.
A perfect garment bag will bridge the gap between a suitcase and a suit protector by offering useful pockets, compartments, and storage spaces that are designed to hold every bit of clothing safe and secure while you're in transit.
Garment bags offer many benefits over and above a regular duffel bag or suitcase. With a garment bag you can:
Hang your garments upright. Keep your clothes crease-free by hanging them in the car, on the bus, on the train, and in the hotel when you get there. The only place you can't hang them up is on the plane. But, there's a solution for that, too — merely lie them flat to keep your clothes wrinkle-free and ready to go.
Choose from a variety of transport options. You can have a rolling garment bag, a shoulder garment bag, or a garment duffel bag, depending on your needs and carrying preference when in transit. There are lots of different garment bags to choose from. There's no "one size fits all" solution when it comes to carrying your clothing, as every traveler will have different sized clothing to accommodate.
Fit in the overhead. Most garment bags are designed to be used as carry-on luggage and will meet the airline regulations when rolled or folded. No checked luggage means faster boarding and no luggage carousels.
Things To Consider With Travel Garment Bags
Before you rush out a buy a garment bag to keep your gear safe in transit, consider the following:
Size and Capacity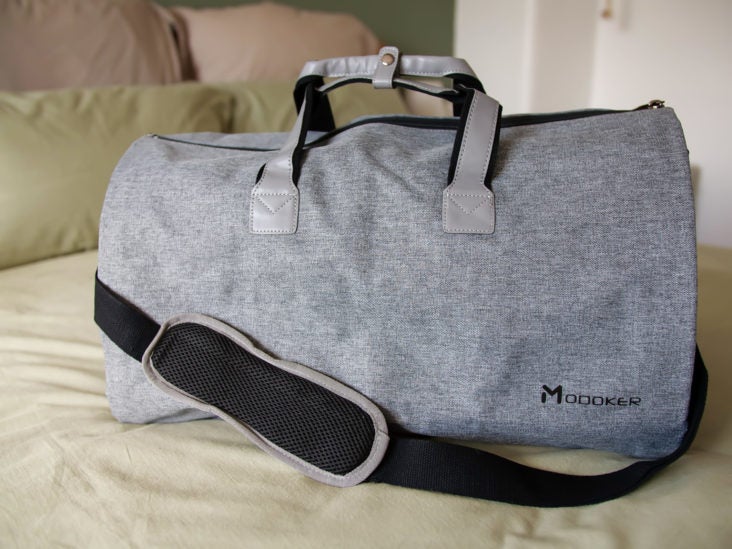 Deciding whether you want to check your garment bag or not will dictate the size of the bag that works best for you. For carry-on bags, the maximum measurements will usually be around 22 x 14 x 9 inches — so be sure to consider that before you buy.
When it comes to capacity, some bags will offer lots of room for added extras like shoes, wash bags, and casual clothing, while others will be designed to keep your suit crease-free and ready for the boardroom.
You may also want to consider the length of the carrier. If you're packing a ball gown, wedding dress, or another type of fancy outfit, you'll want to look for one that can fit full-length items without squishing them.
Compartments and Organization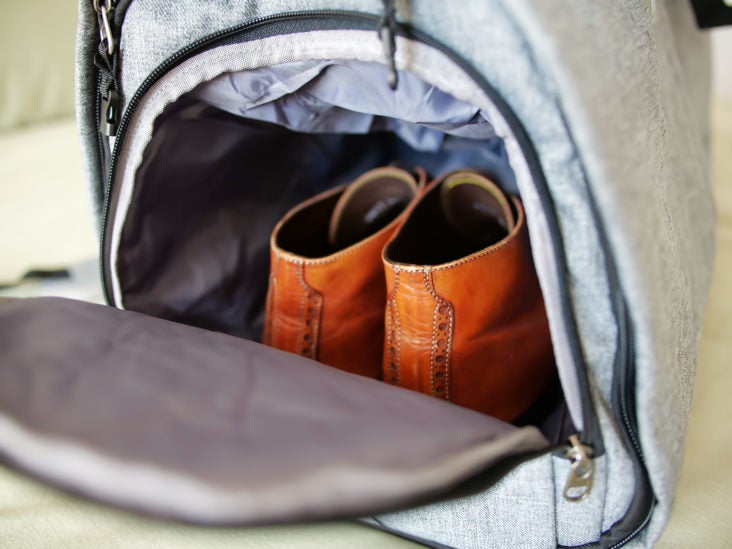 While your clothes will be kept neatly arranged and hanging nicely, you should also consider what extra storage spaces you'll need to carry all your belongings.
From basic suit covers, right through to collapsible wardrobe bags, there will be the right type of interior organization for you.
Dedicated spaces for shoes, ties, and underwear, for example, are useful for business travelers, while zippered compartments for smaller items, wet compartments for toiletries, and even external compartments that take the place of your handbag can be useful depending on your individual needs and preferences.
Material and Durability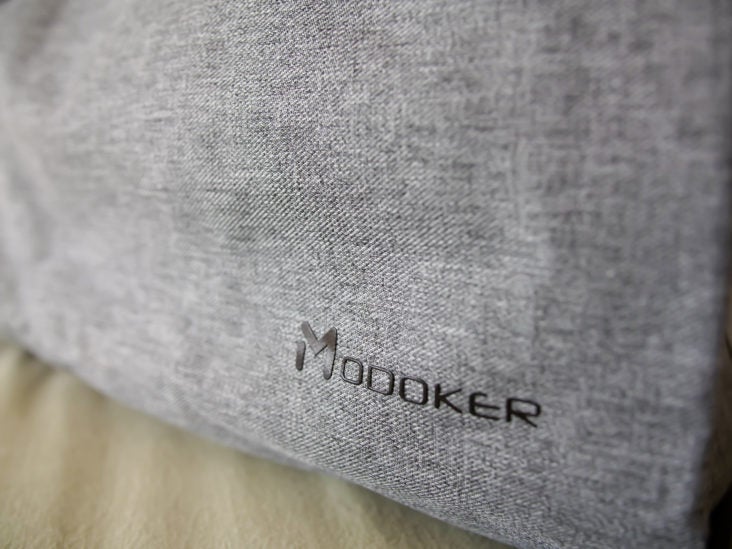 As with any luggage, you want a garment bag that will be lightweight enough to carry with you, yet strong enough to not rip or tear at the first sign of travel fatigue. These bags are also designed to fold, so the fabric will need to be flexible, yet strong enough to keep your clothing secure.
Most garment bags are made from the same type of tough nylon or synthetic material that laptop bags and travel duffels are made from, which may even offer some protection against wet weather. Be sure you know exactly what your garment bag can and can't do before you buy it.
Wheels vs. No Wheels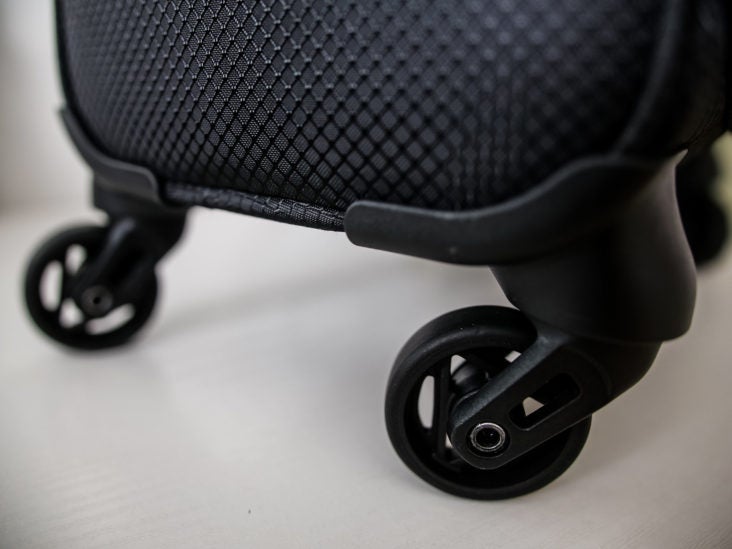 Wheeled garment bags are easy to pull behind you through the never-ending maze of an airport concourse and are perfect for urban adventures and public transport. They're not, however, quite so effective on rough terrain, unpaved roads, beaches, or open countryside.
Garment bags without wheels will need to be carried with a hand or shoulder strap, which can be tiresome over long distances. They are, however, usually a little lighter and easier to place in the overhead cabin.
Wheels or no wheels? It's really up to you as there are pros and cons to both.
Bag Types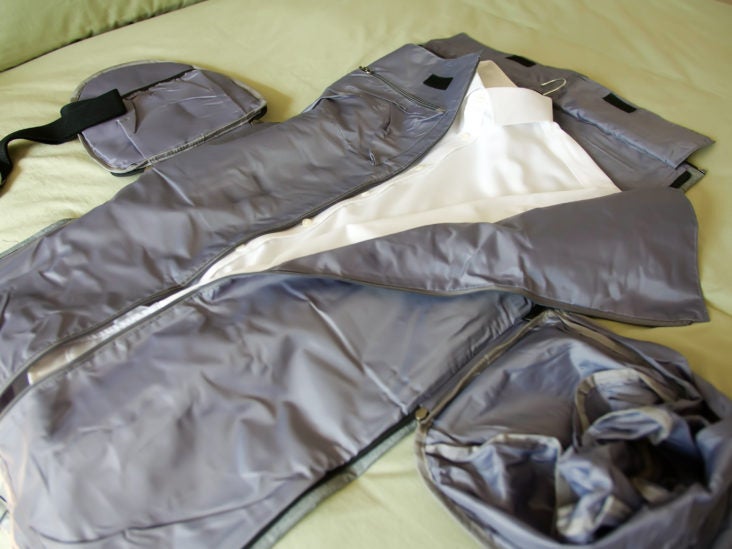 Simply put, there are 3 main types of garment bags to choose from. They include:
Bi-Fold Bags — This type of garment bag folds in the middle for compact carrying. When they fold up, the bottom will zip, tie, or attach to the top so it can be carried or hung as 1 piece. These types of garment carriers are the most commonly available and come in a variety of designs and materials to suit all budgets.
Tri-Fold Bags — Tri-fold bags are incredibly lightweight and so compact that they can be attached to the pullout handle of your suitcase. Typically small, this type of garment bag only holds enough to last you for a day or so, but they can be folded for transit and immediately hung up when you reach your destination.
Rolling Garment Bags — The clue is in the name with these types of bags, as not only do they fold, they also roll! With wheels and a handle, these bags are bigger and heavier than their bi- or tri-fold counterparts but can carry more for longer trips.
Handles and Zippers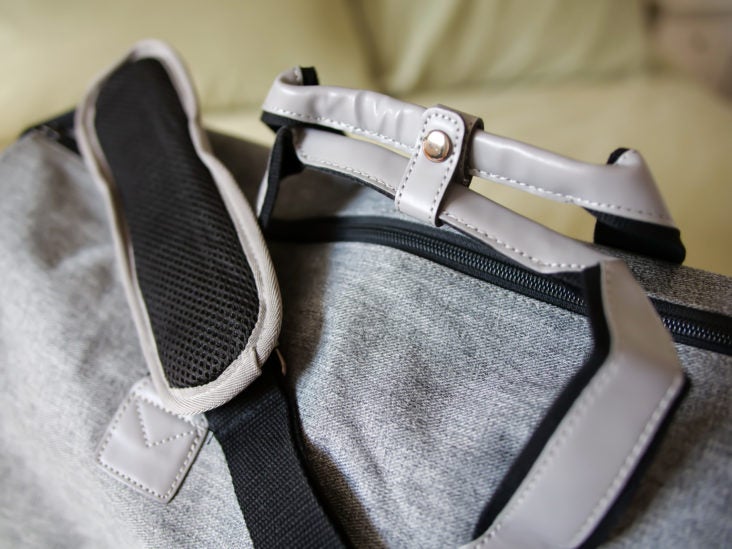 Whether you need a long handle to pull your bag behind you, oversized straps for carrying over your shoulder, or a grab handle for quick pick-ups; quality is key.
Sturdy metal handles, leather, or nylon straps, and durable designs are all vital to ensuring your handle stays intact as long as the bag is in use.
The same rules apply to zippers. You need high-quality zippers (and locks) that will keep your garments secure. Small zippers can break easily, so choose a garment bag with big, durable zippers and zipper pulls to keep your belongings safely tucked away.
Packing Tips for Traveling With a Garment Bag
Your garment bag has been designed to keep your clothing crease-free and perfectly organized in transit. If you aren't going to pack it correctly, you may as well throw all your gear in a backpack and be done with it.
Follow these top tips for perfect packing, every time:
Pack It Flat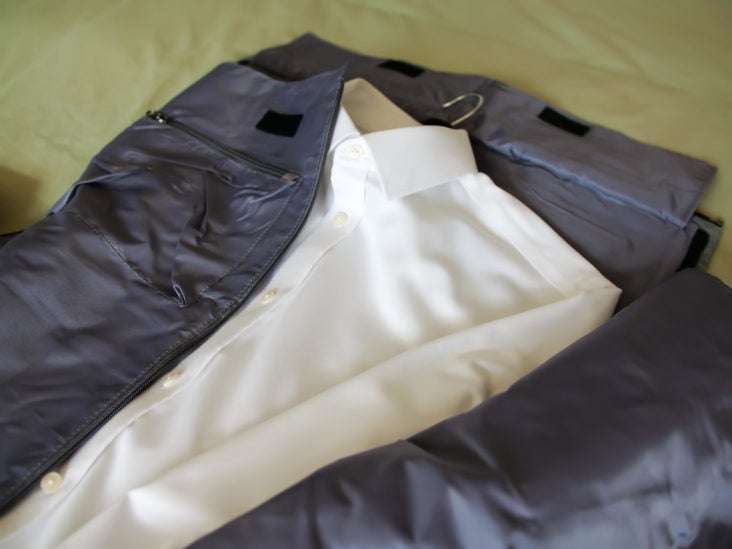 Lay your garment bag out on a flat surface before you start to fill it. You could use your bed, your floor, or even your kitchen table — where you pack it isn't important, but how you pack it is.
Work in Reverse
To ensure that your clothing is ready to wear the minute you reach your destination, pack it in the opposite order of how you would dress. For example, if you put your jacket on last, it should be the very first thing you pack. On top of your jacket, you'd pack your shirt, your pants, and so on.
Pack Facing the Back
Creases can happen, and to avoid them wrecking the look of your outfit, pack your clothing facing the back so that any creases only occur on the back of your clothing.
Follow the 1 to 6 Rule
This little rule is useful, and one used by professional packers all over the world. Pack the essentials in the following quantity: 1 hat, 2 pairs of shoes, 3 pairs of pants, 4 shirts, 5 pairs of socks, and 6 pairs of underwear. Scale this up or down to suit the length of your trip.
Tie it Down
If your garment bag has compression straps, use them to keep your clothing in place and laying flat while you travel. Don't tighten these too much as this might create the creases you're trying to avoid.
Pack Your Pockets Last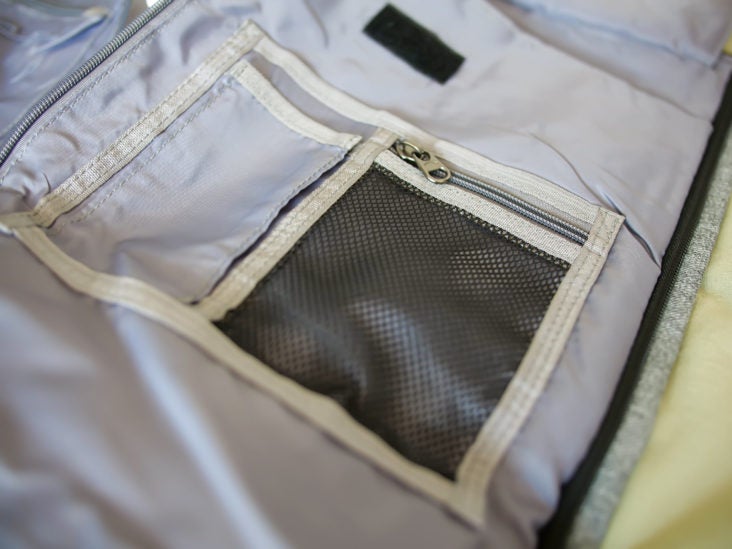 Those handy little pockets that are designed to hold ties, shoes, toiletries, and other accessories should be packed last after you have folded or rolled your garments.
The Best Non-Wheeled Carry-on Travel Garment Bags
The Convertible Hanging Suitcase
Modoker Carry-On Garment Bag
Weight: 2.45 pounds
Dimensions: 22.8 x 11 x 11.8 inches
This 2-in-1 garment carrier and duffel bag is an excellent option for a weekend away where you need to look your very best. With the ability to fold and be carried like a regular shoulder bag, as well as hang upright to keep your clothes crease-free, it offers a lot of bag for your money.
With a 45-liter capacity, there's plenty of room on the inside for all of your clothing. The left side pocket is big enough to house your shoes separately from your more delicate items, while the right side pocket is perfect for your keys, wallet, and other small items.
Just the right size to use as a carry-on, you won't need to worry about taking extra luggage with you. The smaller pocket can be used to keep your passport and boarding pass close at hand, and when folded, the bag will fit in the overhead locker or underneath your seat.
Made from high-quality polyester and jacquard, this bag is scratch-resistant and robust enough to withstand splashes of water and light rain.
With a detachable shoulder strap, this bag is easy to carry from 1 destination to another, and just as easy to hang when you get there.
What We Like
Separate shoe compartment to keep them away from clean clothes
What We Don't Like
Carrying handle is not the most comfortable
Take Your Tech With This Excellent Value Overnight Bag
ZEGUR Suit Carry-On Garment Bag
Weight: 3.4 pounds
Dimensions: 23 x 4 x 22 inches
Keep your clothing clean and wrinkle-free with this garment bag that's perfect for keeping your suits looking fresh. Made from rugged, fray-resistant 1800D polyester, with a waterproof exterior and sturdy metal zippers and clasps, this is an excellent-looking garment bag that's built to last.
On the inside, there's a dual buckle that holds your garments in place, ensuring that they won't get creased or wrinkled during travel. It also offers 4 inside pockets that are perfect for keeping your socks and shoes in 1 place while you travel, while the mesh pocket is just right for ties and scarves.
Designed with practicality in mind, 3 of the internal pockets zip completely shut to keep your belongings safe, while the fourth has a Velcro closure that offers plenty of space for larger items like shoes.
The main compartment has an all-important 3 loop holder at the top to keep your hangers in order, and 3 straps to secure your clothes and help reduce wrinkles when the bag is folded in half.
If you're taking your tech with you, this bag features a large outside pocket that will hold your tech, wallet, and travel documents.
Complete with a long shoulder strap, an identification tag, and a metal chain and hook for hanging, this is a great value garment bag that works well for overnight trips and very short stays.
What We Like
External pocket for travel documents, wallet, and devices
What We Don't Like
Shoulder strap is a little thin, so not comfortable carrying for long
Style and Sophistication for the Business Traveler
AmeriLeather Three-Suit Garment Bag in Leather
Weight: 5.55 pounds
Dimensions: 5 x 23 x 19 inches
Made from top-grain, genuine leather this swanky-looking garment bag won't look out of place in the first class lounge at an airport. With heavy-duty, copper-colored zippers and hardware, an adjustable shoulder strap, and a sturdy carry handle on top, it's a bag that's made to last.
Large enough to carry up to 3 business suits or similar size ensembles, this garment bag includes 2 garment hangers and a hook that can be used over the door of your hotel or tucked away in your wardrobe.
The book-opening design makes it easy for you to access your belongings either when they're laying flat or hanging in the wardrobe. This little beauty even folds up small enough to fit in the overhead bin which means no need to check baggage on your next journey.
The large zippered pocket on the outside is perfect for holding your passport, tickets, cell phone, wallet, and other small essentials, while the 2-side zip-up pockets extend into the main compartment to provide convenient and separated storage space for shoes.
Sophisticated, stylish, and incredibly spacious both inside and out, this bag may have a hefty price tag, but the look, feel, and practical design make it worth every cent.
What We Like
What We Don't Like
Internal hanger clip can sometimes open in transit
A Bargain Garment Carrier With Lots of Savvy Extras
AmazonBasics Premium Garment Bag
Weight: 3.94 pounds
Dimensions: 23 x 20 x 4 inches
This simple and affordable garment bag from the AmazonBasics series is a great little number for those not wanting to spend a lot to keep their clothing crease-free. With enough space to hold up to the 3 suits (or similar outfits), this is great for weekend breaks or formal occasions.
Made of high-quality, weather-resistant polyester, the internal space includes multiple zipper pockets, that provide extra space for belts, shoes, ties, and other accessories. Made out of mesh, the pockets allow air to flow freely, keeping fabric fresher longer.
Zipper closings will keep your stuff safe, while the 2 tie-down straps with buckle-style closures will stop your clothing from moving around and creasing while in transit.
The large organizer pockets in the front are good for stashing everyday items like pens, cell phones, chargers, and earbuds, as well as your passport, wallet, and other small items you need to keep close at hand.
A must-have for frequent travelers, this travel garment bag offers practical dimensions combined with plenty of travel-savvy packing spaces — all for a very affordable price.
What We Like
Carrying handle and detachable shoulder strap
What We Don't Like
A Thoughtfully Designed Garment Bag
Briggs & Riley Baseline-Compact Garment Bag
Weight: 6.6 pounds
Dimensions: 8.5 x 22 x 14 inches
With a thoughtful design, this premium garment bag from Briggs & Riley has so much to offer for the seasoned traveler. Packed full of useful compartments and made from high-quality materials, this bag was designed to deliver comfort, practicality, and style.
Made from durable 1680D ballistic nylon that's protected from water, dirt, and tears, this bag will fare well for many international adventures. Just the right size to fit in the overhead bin on an airplane, its compact features hide its spacious interiors.
The main compartment has a WalleyLock to hang a few suits and you'll be spoilt for choice when it comes to handy pockets and mesh compartments to store smaller items. The foam interior panels will secure your clothing in place to ensure they arrive at your destination wrinkle-free.
On the outside, there's a zippered pocket to quickly access your travel documents and the 4 adjustable clips allow you to increase or compress your packing space. The soft leather carrying handle and adjustable shoulder strap will help you to breeze through the airport with all your belongings safely by your side.
The Briggs & Riley Baseline-Compact Garment Bag is a high-quality, well-designed, and professional-looking garment carrier to suit both business and leisure travelers alike.
What We Like
Has a large waterproof pocket for shoes or dirty clothes
What We Don't Like
Quite heavy for a garment bag
A Firm Favorite for Simply Carrying Your Clothing
WallyBags Luggage 40″ Garment Bag
Weight: 2 pounds
Dimensions: 3 x 40 x 22 inches
WallyBags are a hugely popular way to carry your clothing around with you. Made from durable, polyester fabric that's water-repellent, these offer an easy-to-use, affordable way to keep your clothing wrinkle-free.
With a full-length center zipper that allows for easy access, you can use your own hangers in conjunction with the patented WallyLock hanger clamp to keep your clothing and hangers secure.
Take up to 6 garments with you at 1 time, and simply hang them straight up when you reach your destination.
The garment bag folds in half, and the handles fasten together to make it easier to carry with you, while the same handles can also wrap around your suitcase for easier transport in and around the airport.
When folded, this perfectly meets the airline regulation carry-on size, meaning you can stow and go.
What We Like
What We Don't Like
Doesn't come with a shoulder strap
Hot Tip: Know that your bag will fit before you show up at the airport — check our carry-on luggage size chart for major airlines to learn more about approved dimensions and sizes.
Great Duffel and Garment Bag Combo on a Budget
2-in-1 Convertible Travel Garment Bag
Weight: 3.5 pounds
Dimensions: 22 x 11 x 13 inches
By combing the convenience of a flat garment bag with the traditional storage capacity of a duffel bag, you can enjoy the best of both worlds when it comes to packing for your next trip. Made from 100% custom-made denim, this bag has an on-trend look, that sets it apart from many of the regular nylon-effect bags and cases that most travelers opt for.
Multiple compartments make it easy for you to store everything you need. The main storage area can easily fit suits or similar ensembles, while the 3 interior zipper pockets are perfect for ties, belts, socks, and underwear.
The 3 exterior front pockets are easy to access on the move, making them the smart storage space for your cell phone, passport, tickets, and wallet. This bag even offers 4 separate mesh storage spaces that can be used to hold water bottles or magazines while you're on the move.
To comfortably carry your duffel and garment bag combo, it comes complete with a detachable and adjustable shoulder strap that will allow you to take it anywhere.
With enough space to fit everything you need for a long weekend or short business trip, this is a great bag that offers flexible storage options.
What We Like
6 interior zippered pockets for staying organized
What We Don't Like
Zippers can get stuck easily
The Best Wheeled Travel Garment Bags
Wheeled Bag for Formal Events and Functions
London Fog Buckingham 44″ Wheeled Garment Bag
Weight: 11.2 pounds
Dimensions: 23 x 4 x 44 inches
Perfect for business travel, short breaks, and formal events, this wheeled garment bag allows you to pull your possessions behind you, anywhere you go.
Spacious, well-designed, and able to keep several outfits and accessories organized and together, this bag is larger than most garment carriers, meaning it will most likely need to be checked in.
This bag has some elegant features that you won't find in cheaper alternatives. Take, for example, the book-opening design. The spacious main compartment has multiple sections for hanging garments, undergarments, folded items, shoes, toiletries, and anything else you need with you.
It also benefits from dual hooks for super-easy hanging, while metal brackets ensure that your clothes stay neat and wrinkle-free. You can open the bag while it's hanging in the closet, and the fold-down extension means you can carry longer items like ball gowns and wedding dresses with ease.
These additional features make this an excellent choice for anyone attending a function or formal occasion where it's important that just a couple of outfits arrive in perfect condition.
What We Like
What We Don't Like
Won't be accepted as carry-on with some airlines
Rolling Garment Bag for the Business Traveler
Travel Select Amsterdam Rolling Garment Bag Wheeled Luggage Case
Weight: 11.25 pounds
Dimensions: 12 x 24 x 22 inches
A good-looking and super practical rolling garment bag that won't cost you a month's rent. Take your favorite outfits with you in this executive-style bag that offers enough space to fit all of your essentials.
Made from 1200D 2-tone polyester construction with an EVA reinforced front panel, and industrial quality hardware, this is a durable and sturdy wheeled garment bag that can handle the bumps and bruises of international travel.
The internal handle system and in-line skate wheel make for easy maneuverability, while the adjustable and detachable shoulder strap is there to take the slack when the wheels aren't able to roll.
Inside, the spacious main compartment has zippered mesh pockets and a number of gusseted outside pockets that are big enough to hold your passport, cell phone, keys, wallet, toiletries, and anything else you need on your trip. The convenient tie straps secure items while the fold-out design helps to reduce creases and wrinkles.
When you reach your destination, hang your bag to keep your clothing looking fresh and ready to wear.
What We Like
Roll as a suitcase or carry with the shoulder strap
What We Don't Like
Clothing hangs upside down
Reliable Rolling Garment Bag From the Experts at TravelPro
Travelpro Luggage Crew 11 Carry-On Rolling Garment Bag
Weight: 9.3 pounds
Dimensions: 14 x 22 x 9 inches
This wheeled garment bag is perfect for short breaks or business trips and is designed to be strong enough to cope with regular domestic and international travel. Made using high-quality ballistic nylon with a DuraGuard coating, the TravelPro garment bag promises to resist scratches and stains while in transit.
Roll smoothly around the airport, hotel, or city center with the ball-bearing, in-line wheels that can handle a wide variety of terrains, while the PowerScope extension handle will minimize wobbles and is sturdy enough to stay rigid and secure.
This Fit to Fly carry-on bag meets airline regulations for carry-on luggage when loaded, but it's worth mentioning that when fully expanded it may be slightly too large to fit in the overhead bins.
When it comes to packing, the internal space is well-proportioned with 2 roomy pockets for shoes and accessories, while the external pocket is perfect for keeping your cell phone, wallet, and passport close at hand.
This is a quality rolling garment bag from the trusted luggage manufacturers at TravelPro.
What We Like
Smooth-rolling wheels and a sturdy handle
What We Don't Like
Too wide to roll down the airplane aisle
A Brilliant Bag From a Big Name in the Luggage Game
Samsonite Luggage Liftwo Carry On Wheeled Garment Bag
Weight: 8.5 pounds
Dimensions: 23 x 10 x 17 inches
Made by one of the biggest and best-known luggage brands in the world, the Liftwo Carry-On Wheeled Garment Bag from Samsonite is a very, very good one. Fairly lightweight, and incredibly smooth-rolling, this garment bag does everything you need it to, effortlessly.
Made from polyethylene material, it's tough inside and out, and resistant to most of the rips and scuffs associated with traveling. You can use the beveled alloy telescopic handle to roll your belongings behind you or lift the bag in and out of the overhead compartment using the top and bottom carrying handles.
The main compartment is large enough to carry your clothing and keep it crease-free, while the large front pocket is perfect for keeping your essential items within easy reach at all times.
The innovative design means you can expand this bag to fit even more in there, and the handy interior pockets can securely hold smaller items so they don't crease your clothes. All this and the Liftwo is still compact enough to be considered a carry-on!
What We Like
Quick access front pocket to store your travel documents
What We Don't Like
2 wheels won't suit those that prefer 4 spinner wheels
Lightweight and Sturdy Garment Bag on 2 Wheels
Travelpro Luggage Maxlite 5 22″ Lightweight Carry-On Rolling Garment Bag
Weight: 8.3 pounds
Dimensions: 8.5 x 22 x 16 inches
This lightweight, rolling carry-on garment bag offers a handy lay-flat design that makes it incredibly easy to pack, while still keeping your clothing crease-free and fresh as a daisy. Made from polyester fabric with a stain-resistant, water-repellent DuraGuard coating, this garment carrier will keep the worst of the weather at bay.
Smooth, high-performance in-line skate wheels will allow you to transport your garment bag around the airport with ease, and the lightweight yet sturdy PowerScope Lite handle is height adjustable and will reduce wobble and tired hands.
Inside the bag, the padded straps are designed to carefully hold your clothing in place, while the built-in pockets keep your smaller items like ties, socks, and shoes organized and easily accessible.
It's the lightweight construction of this bag that really sells it, though. Even when full, you'd struggle to make it feel at all heavy.
With ergonomic, high-tensile-strength zipper pulls and crash-proof corner protection, it's also loaded with lovely little extras that you'd only expect to find on big brand luggage.
What We Like
Smooth telescopic handle with 2 adjustable heights
What We Don't Like
Suits and shirts for tall people would need folding at the bottom
Clever Travel Storage Solution for Your Clothing
Delsey Luggage Hyperglide Softside Spinner Garment Bag
Weight: 10.5 pounds
Dimensions:22.75 x 23.5 x 11.5 inches
This classy-looking garment bag from Delsey is a sophisticated piece that's worthy of its price tag. With lots of useful compartments to carry all of your belongings, this is an impressive bag that can carry everything you need for a few days away.
This bag is incredibly strong and durable, yet still manages to feel fairly lightweight. Easy to maneuver, the bag has dual-density, silent-core double spinner wheels that glide along airport floors and busy sidewalks.
There's a robust and adjustable handle for pulling your bag along with you that also has a non-slip grip. The bag opens like a book and has a clamping system that assures you that your garments won't move in transit. There are also 2 shoe pockets and an additional 2 corner pockets for smaller items.
For easy access to items you might need in a hurry, there's a separate front pocket that can carry your wallet, passport, cell phone, and other essentials. This is a great bag that offers smart storage solutions for your clothing.
What We Like
Spinner wheels are easy to maneuver
What We Don't Like
No bottom handle for easier lifting
Tough Garment Bag Designed for Frequent Flyers
Prottoni 44-Inch Garment Bag
Weight: 2.8 pounds
Dimensions: 22 x 22 x 3 inches
Designed with life on the road in mind, the Prottoni 44-inch garment bag is effectively a suit carrier with strengthened handles and sturdy hanger loops to handle big loads.
Made from heavy-duty 600D water-resistant polyester, this bag claims to be waterproof and weatherproof while also protecting your clothing from the rigors of frequent flying. Sturdy and durable, yet still extremely lightweight, this is a solid choice for anyone who often needs to travel for short periods.
The internal dimensions are impressive, and there a several extra deep zippered pockets that can be used for your laptop, tablet, paperwork, or other important documents, while the regular pockets are great for ties, socks, shoes, and underwear.
Hang your clothes using the reinforced loops and stop the hangers from slipping with the Velcro closures. The internal straps will keep your clothing secure, so it arrives as pristine as it was when you packed.
A great way to hang your clothing without unpacking, this is a great little garment bag that can be used on its own as carry-on luggage or be connected to your suitcase for easy transport around the airport.
What We Like
Has a padded laptop compartment
What We Don't Like
Not suitable for regular travel
Final Thoughts
Travel garments bags provide a simple solution to a big problem for frequent flyers. Investing in 1 of these can make a big difference to the impression you make at that big meeting or wedding.
Whether you invest in an executive-style rolling garment bag or a smart garment duffel with carry-on solutions, you're making a smart decision.
---
Enjoyed this article and looking for other types of travel bags as well? Check out some of our other reviews: