The 10 Best Modoker Luggage for Travelers in 2021 [Includes Travel Bags & Backpacks]
Modoker is a budget brand with big ideas that makes awesome but affordable bags and backpacks. Low prices don't have to mean low quality and you'll get stylish and practical luggage without the hefty price tag.
Why Buy Modoker Luggage?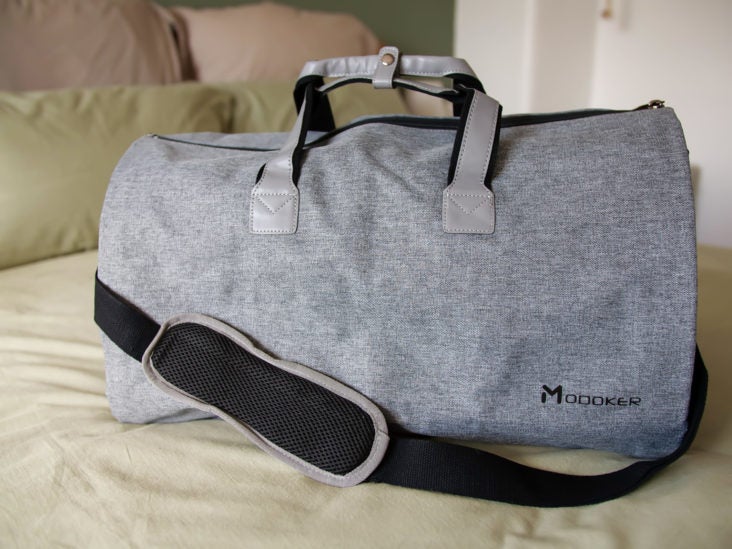 Originally founded in 1993, Modoker has been pushing the boundaries of budget baggage ever since. Dedicated to providing a heady blend of fashion-conscious luggage that features top-of-the-range technology, its range has something to suit every kind of traveler.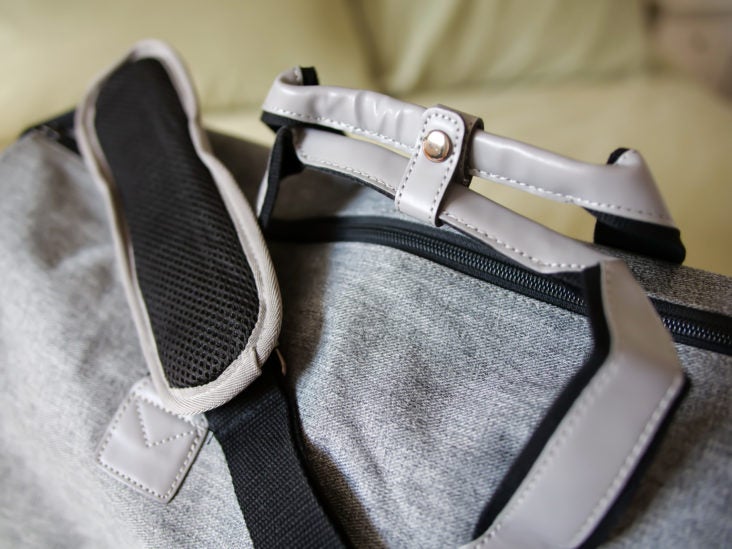 Each backpack and bag has been designed to perfectly combine convenience with style to offer unique-looking luggage that offers maximum performance and results. Made from highly durable materials such as nylon or canvas, and with versatile straps and different ways to carry, Modoker makes bags and backpacks that work well both for business and pleasure.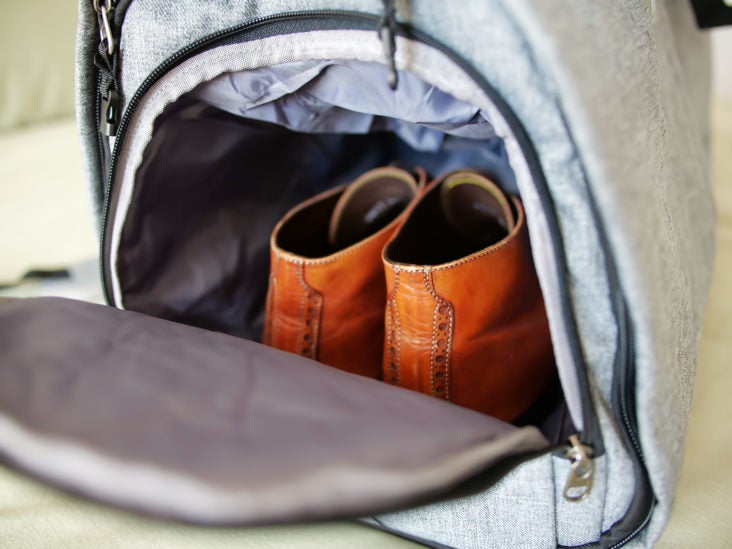 For keeping connected on the go, some Modoker backpacks feature an external USB charging port with inset charging cables, as well as space to house your power bank. This innovative feature allows you to charge your cell phone or other devices while you are waiting for your connecting flight or other transportation.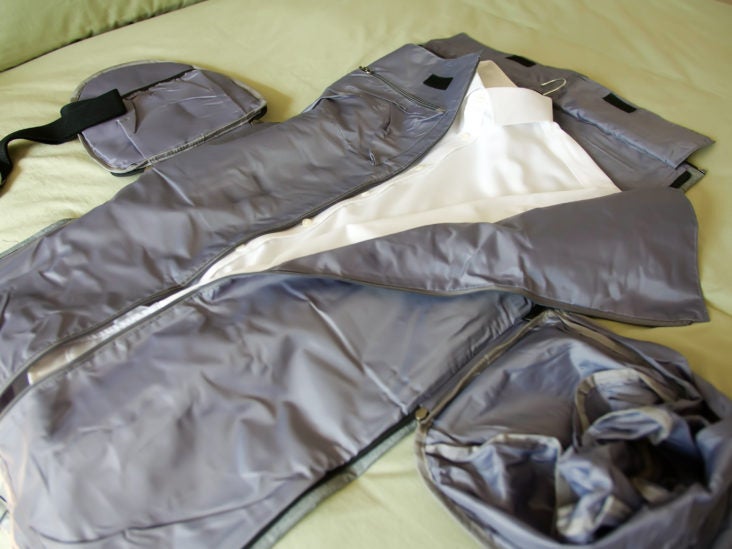 Modoker also makes awesome garment bags that lay flat for packing and unpacking, which then fold up to form compact carry-on bags that are perfect for all occasions. With enough space to carry your suits, shirts, or other clothing for anything from 2 or 3 days to a week, you can travel light with Modoker's dedicated duffel garment bags.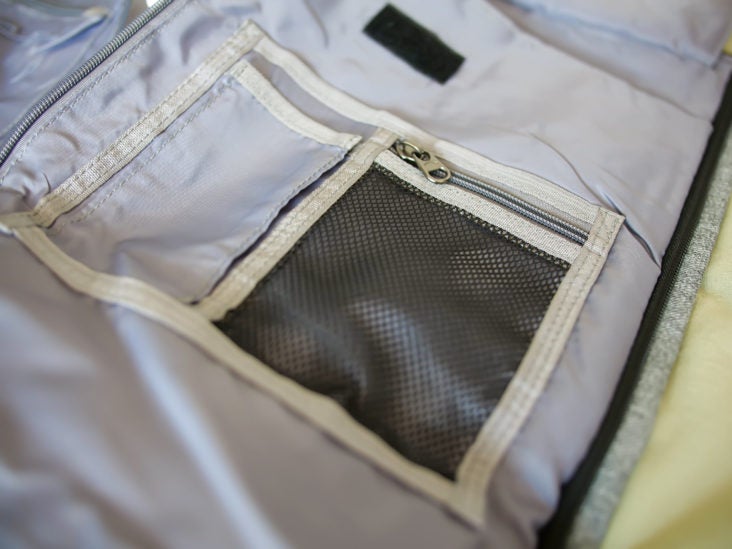 Bottom Line: Offering well-made, high-quality bags and backpacks with sleek looks and spacious dimensions, Modoker makes affordable pieces that work well across a wide range of applications.
The Best Modoker Travel Bags
A Retro Bag for Modern-Day Travelers
Navy Carry-On Business & Travel Duffel Bag
Dimensions: 22.8 x 11 x 11.8 inches
Weight: 3.4 pounds
With gorgeous retro styling and classic looks, this duffel bag is made from high quality, scratch- and splash-resistant nylon fabric, and offers enough space to make a highly capable weekender bag. Brown leather accents also add an air of sophistication to this particular travel duffel.
Offering 45 liters of storage space, this bag folds out flat to allow you to pack and hang your suits, shirts, or occasion wear in a separate zippered garment compartment. There are side pockets that can comfortably house your shoes or other accessories, as well as easy-access zippered pockets on the outside.
The full-length, adjustable shoulder strap offers enough scope to be worn across the body, while the grab handles are strengthened for carrying on longer distances. There is also a very useful slide-through strap on the back of the bag that can be used to slip the duffel over your suitcase handle when whizzing through the terminal.
What We Like
Comes with a matching toiletry bag
What We Don't Like
Shoe compartment takes up quite a bit of the internal space
A Great Garment Bag That Folds up Into a Duffel
Carry-On Garment Bag for Travel Wrinkle-Free Suits
Dimensions: 22.8 x 11 x 11.8 inches
Weight: 2.5 pounds
Made from high-quality nylon materials, this great-looking garment bag is lightweight, durable, and perfect for business trips.
On the inside, there is an impressive 45-liter capacity to hold your gear on the go. With enough room to comfortably carry 2 suits, as well as extra clothes, shoes, and personal possessions, this garment bag will do you well for a week or so.
With the clever, lie-flat design, you can safely slip your suits away into the zippered compartment, while the shoe bags and mesh pockets in the side compartments fold up and into the expansive garment bag that looks like a practical duffel bag on the outside.
The adjustable full-length strap can be worn on the shoulder or across the body, while the grab handles make for easy carrying when you need to.
Designed completely with practicality in mind, this bag is perfect for taking straight from the plane to the office.
What We Like
Can be carried as a shoulder bag or with the carrying handles
What We Don't Like
Shoulder bag strap clips are not the most durable
A Briefcase and Garment Bag in 1
Square Business Garment Travel Bag 2 in 1 Handing Luggage
Dimensions: 21.3 x 19 x 4.5 inches
Weight: 2.4 pounds
Made from rugged and durable 1800D polyester, and with a smart-looking nylon interior lining, this garment bag has enough room to easily carry 3 full suits, dresses, or special occasion outfits. Designed to offer lots of practical internal space, this little bag is like a virtual wardrobe on the go.
On the inside, the 4 interior zipper pockets are great for keeping your socks, belts, shirts, ties, blouses, shoes, and accessories neatly organized, while the front zipper pocket is the perfect place to store your cell phone, wallet, passport, and other essential items that require easy access.
This clever little garment carrier also lays flat so that you can protect your suits and smart clothing from wrinkles during packing, and the back folds up to transform into a flat and compact carry bag.
The lengthy adjustable strap gives you the option to carry the bag over your shoulder, and the padding keeps it feeling comfortable. There is also an additional grab handle for quick pick-ups and easy loading.
What We Like
Great size for a carry-on bag
What We Don't Like
Shoe pocket struggles to accommodate larger shoes
A Stylish Weekend Bag for Women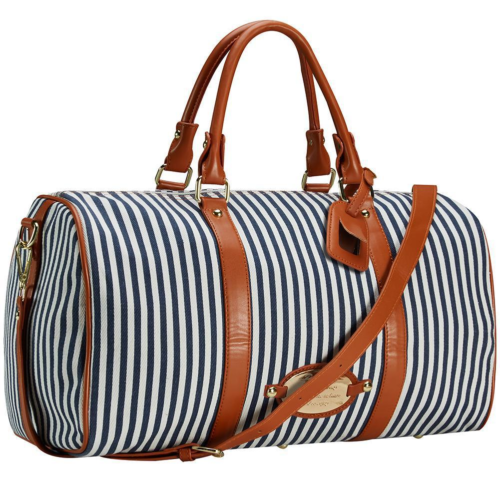 Dimensions: 17.7 x 10.6 x 8.3 inches
Weight: 2 pounds
This stylish overnight bag is made from durable and lightweight canvas with sleek-looking leather trim and high-quality metal hardware. Perfect for weekends away, overnight stays, and even short business trips, this beautiful bag with its classic nautical look will make a statement on any journey.
On the inside, the large main compartment is spacious enough to carry everything you need. Pack your clothes, toiletries, makeup, wallet, shoes, and travel essentials with ease using the wide-opening top-loading zipper that has been designed for quick and easy packing and unpacking on the go.
The removable shoulder strap can be lengthened up to 48 inches, making it comfortable to carry over your shoulder or sling across your body, and the leather grab handles are perfect for carrying and loading in and out of the trunk or packing in the overhead travel bin.
What We Like
Has an adjustable shoulder strap and a reinforced bottom
What We Don't Like
No external pockets for quick access
The Best Modoker Travel Backpacks
Keep Your Electronics Charged, Even on the Go
Modoker 15" Vintage Laptop Backpack With USB Charging Port
Dimensions: 30 x 17.3 x 40.1 inches
Weight: 1.4 pounds
This durable and highly practical backpack is made from high-quality polyester material and is just the right size for day-to-day use at school, work, or even for the gym. With a unique external USB charging port and in-set charging cable, this brilliant backpack will help to keep your electronics charged, even on the go.
With 6 separate pockets, there is plenty of space for all of your essentials. The laptop pocket will hold devices up to 15 inches, and the 25-liter capacity offers a roomy main compartment, a pencil case, and 2 side pockets for holding a small water bottle or umbrella. There is also a useful front zipper for storing items that you may need easy access to.
With a pair of adjustable and padded shoulder straps, this backpack is extremely comfortable to carry, even when it's fully loaded, and the unique vintage design with leather effect buckle straps gives it an air of sophistication.
What We Like
External USB port for charging on the go
What We Don't Like
Side pockets are too small for a large water bottle
Vintage Looks With Modern-Day Convenience
Modoker Canvas Vintage Backpack With USB Charging
Dimensions: 13.3 x 7.1 x 20.4 inches
Weight: 2.4 pounds
This stunning, authentic-looking canvas backpack offers vintage good looks with all of the modern conveniences you could need for work, school, or even when you travel. With enough space in the laptop compartment to safely house a 15.6-inch laptop and plenty of additional storage space, this is the perfect backpack for super-stylish urban explorers.
On the inside, the large main compartment has enough space to hold your folders, files, or even an extra item of clothing, and the internal stash pockets have been cleverly designed to hold your cell phone, charger, or other accessories. On the front of the backpack, there is a zippered pocket for valuables and a larger pocket with leather straps and buckles.
Adjustable canvas shoulder straps make this bag incredibly comfortable to carry, and the grab handle offers a convenient alternative when you need to grab and go.
What We Like
Great value and stylish backpack
What We Don't Like
Can be hot to wear with no ventilated back panel
Authentic Vintage Looks for Everyday Use
Canvas Leather Laptop Backpack With USB Charging Port
Dimensions: 16.1 x 12.2 x 6.3 inches
Weight: 2.09 pounds
Perfect for a variety of uses including hiking, camping, traveling, shopping, school, and even when working, this high-density canvas backpack offers chic vintage looks paired with state-of-the-art USB charging capabilities.
The large main compartment with its drawstring closure and foldover sleeve comes complete with a padded 15.6-inch laptop sleeve and a further 11-inch tablet sleeve. There is also a large compartment with a key fob and functional pockets, 2 front zipper pockets to keep your valuables secure, and side pockets for staying hydrated on the go.
With canvas shoulder straps that can be adjusted to suit your frame and vegan leather trims that offer fashionable accents, this is a good-sized backpack that is suitable for both men and women on the move.
What We Like
Lots of pockets to organize all your gear
What We Don't Like
Buckles are for aesthetic purposes only
Keep Your Gear Protected With an Anti-Theft Backpack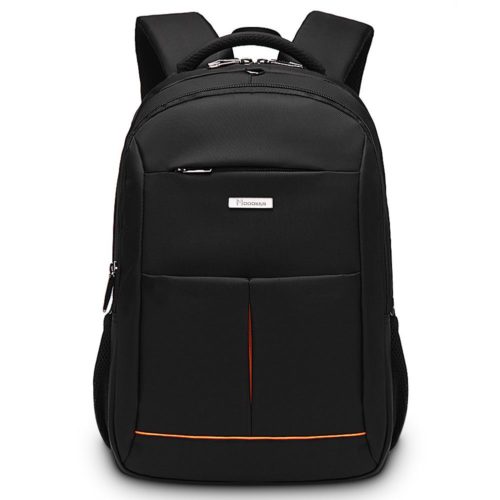 Dimensions: 13.3 x 7.1 x 20.4 inches
Weight: 1.5 pounds
Sleek and stylish, this travel backpack is perfect for business travelers and those who want to protect their personal belongings from thieves, pickpockets, and scammers. The back pocket has an anti-theft zipper to keep your wallet, cards, and cell phone protected, while the USB charging port comes with a built-in charging cable to keep you connected on the go.
Offering 30 liters of usable space, the large laptop pocket can comfortably house laptops up to 15.6 inches in size, and the spacious main compartment comes with a key fob hook and extra internal pockets. There are also 2 hidden front zipper pockets for keeping your valuables safe and secure when you are traveling.
The adjustable shoulder straps have foam padding for extra comfort, and there is even a separate luggage strap that can be used to slip over the handle of your spinner suitcase for even more convenience and comfort when you need it most.
What We Like
Compartments for a 15.6-inch laptop and a tablet
What We Don't Like
Single zippers on all of the front compartments
Hot Tip: For more options, check out these anti-theft backpacks for men and women.
A Stunning Leather Backpack That Offers Total Versatility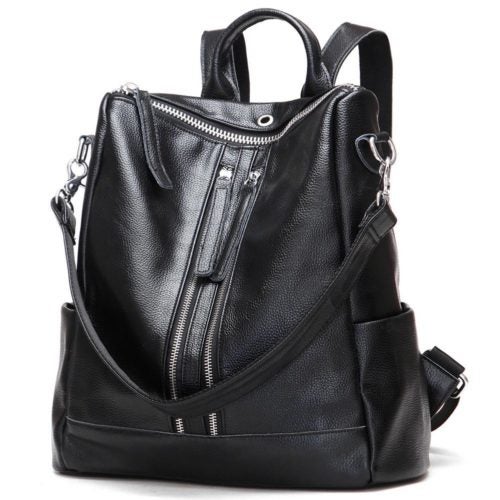 Dimensions: 12.6 x 12.5 x 6.6 inches
Weight: 2 pounds
This supersoft, über-stylish ladies backpack is constructed from genuine leather and is incredibly well-made. With a beautiful and flexible design, you can carry it 3 ways, and the bag offers enough space to hold all of your day-to-day essentials for work, school, or college.
Just large enough to carry a small laptop or notebook, as well as a tablet, this backpack also offers useful extra storage spaces. As well as the main compartment, there is a secondary compartment with a zipper, a front pocket for easy access, a safe and secure hidden back pocket, and 2 side pockets for water bottles, cups, and umbrellas.
With a flexible carry option, you can wear this backpack on your shoulder, sling it like a tote bag or carry it like a purse.
With stylish looks and a premium feel, this bargain backpack looks much more expensive than it actually is.
What We Like
Side pockets for a water bottle and umbrella
What We Don't Like
Backpack straps are not detachable
TSA-Friendly Backpack for Business and Travel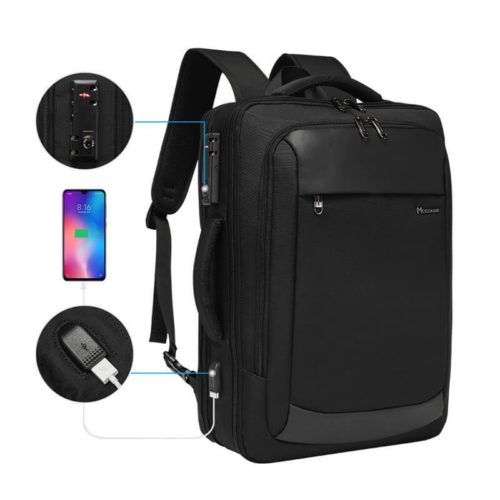 Dimensions: 19.6 x 13 x 7.8 inches
Weight: 2.5 pounds
Made from 600D nylon material, this super-clever carrier can be used as a backpack or a briefcase, making it perfect for business trips and your daily commute to and from the office. With a stylish, sleek look and a durable design, this offers practical storage space by the bucketload.
On the inside, the spacious main compartment comes complete with a key fob hook and functional pockets, while the padded laptop compartment can hold a 15.6-inch laptop.
There is also a separate pocket for tablets, as well as hidden front zipper pockets to keep your valuables safe on the go. With a further 2 elastic net pockets, you can also keep your drinks or umbrella close at hand when you need them.
Choose to use either the padded and adjustable shoulder straps, or tuck them into the back pockets to carry the bag like a briefcase using the strong grab handles. This brilliant backpack also features a unique lie-flat design for super-easy airport screening and a TSA-compliant lock.
What We Like
Built-in TSA locks for 2 compartments
What We Don't Like
Final Thoughts
If you are looking for fuss-free, versatile, and good-looking bags and backpacks, Modoker has everything you need. Offering upscale features such as USB charging and vegan leather for half the price of its competitors, Modoker is a great brand for those that like to travel on a budget.