The 12 Best Tumi Bags [Includes Briefcases, Duffels, Totes & More]
The Tumi brand is one of the most prestigious and highly respected names in the world of luggage today. Offering a heady mix of innovative design and incredible practicality, it is no wonder that its collections are the first choice of business travelers the world over.
While its price tags are on the high side, Tumi luggage is not something you purchase on a whim. For discerning business travelers or those who simply enjoy the finer things in life, the cost of each piece feels more palatable when you consider how much craftwork and testing goes into every single item.
Why Buy Tumi Bags?
Founded by craft-loving businessman Charlie Clifford in 1975, the company's unusual name comes from a Peruvian tumi ceremonial knife used for sacrifices that he witnessed during a stint in the Peace Corps.
His love of quality materials and attention to detail set Tumi's suitcases apart from the competition and turned the company into the iconic name that it is today.
As a brand, it is well-known for its obsession with perfection, and each piece it creates is rigorously tested time and time again until Tumi is sure that it will perform flawlessly.
It also believes that products that work well are the most beautiful, and this ethos is born out in the incredibly high-quality luggage and travel accessories that Tumi is so famous for.
Every item can be used as part of a collection or as a stand-alone piece depending on your needs. Tumi offers unique features, including the Tumi Tracer product recovery program that can identify and track your luggage should it go astray.
It also offers useful additions such as the Add-a-Bag option that allows you to slip smaller pieces over the suitcase handles.
Constructed from ultra-durable FXT ballistic nylon, super-tough aluminum, and ABS, or the finest butter-soft leather, each piece of Tumi luggage is a veritable work of art on its own merit. Simple, solid colors combined with high-class hardware combine to produce the designer look that you would expect from a brand of this caliber.
Bottom Line: Sold with either a 2-year or 5-year warranty depending on the item, buyers can expect to receive years of quality service, and enjoy easy repairs or replacement under the terms of its warranty.
The Best Tumi Bags
Every piece in the Tumi collection has been lovingly crafted and designed to impress. If you are planning on investing in a bag from this iconic, upmarket luggage brand, here are some of the very best you can buy.
Briefcases
Perfect for Business Travelers With Big Ideas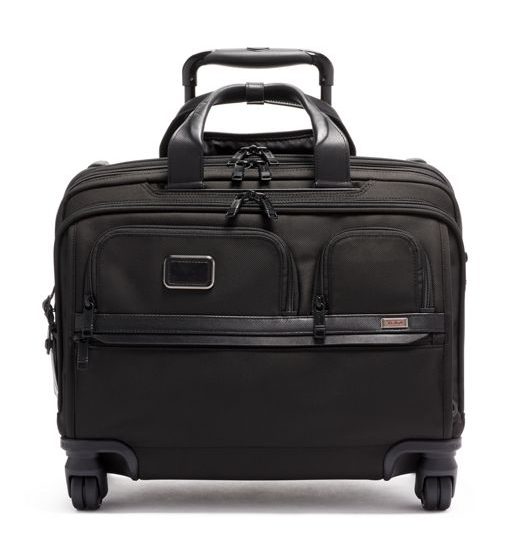 Dimensions: 15.5 x 17.5 x 10 inches
Weight: 11.88 pounds
Make business trips easier than ever with this versatile rolling laptop case that offers all the benefits of 2 briefs in one. Made from FXT ballistic nylon and featuring a ton of clever storage spaces, this is the perfect wheeled carry-all for business trips both at home and away.
The spacious and expandable interior offers useful file dividers as well as a removable laptop sleeve that can hold laptops measuring up to 17 inches. The laptop sleeve even has a detachable strap and carry handles, giving you an additional laptop bag to ensure that you are meeting-ready in an instant.
With further zip pockets and media holder and organizer pockets, plus a built-in USB port, this is the ultimate way to keep your business essentials organized and charged on the go.
With a 5-stage telescoping handle and 4 spinner wheels, this case can be effortlessly maneuvered alongside you through the terminal. As part of the Alpha 3 collection, you can be assured that it offers stylish good looks paired with innovative design and superior performance, making it one of the very best wheeled laptop bags available today.
Best for Commuters on the Go
Alpha Bravo Albany Slim Commuter Brief
Dimensions: 11 x 14.5 x 5 inches
Weight: 3.25 pounds
This well-organized commuter brief is part of the Bravo collection from Tumi that has been designed with the needs of the modern-day business traveler in mind. Perfect for trips to and from the office, as well as longer stays away, this brief bag has enough space to keep all of your essentials safely together on the go.
With a padded 14-inch laptop pocket and a zipper expansion in the main storage compartment, this bag is roomy, to say the least.
Featuring a large front U-zip pocket, 2 half front pockets, and a front quick-access pocket with a magnetic strap, this brief bag makes it easy to house and access all of your essentials. There is also a back zip pocket that offers additional security for your passport and other data-sensitive items.
Made from super-durable ballistic nylon and featuring an adjustable and removable shoulder strap and leather grab handles, this bag performs brilliantly.
For extra reassurance, this brief bag comes complete with the Tumi Tracer system and is a popular choice for business travelers.
Duffels and Satchels
The Ultimate Survival Bag for the Ultimate Journey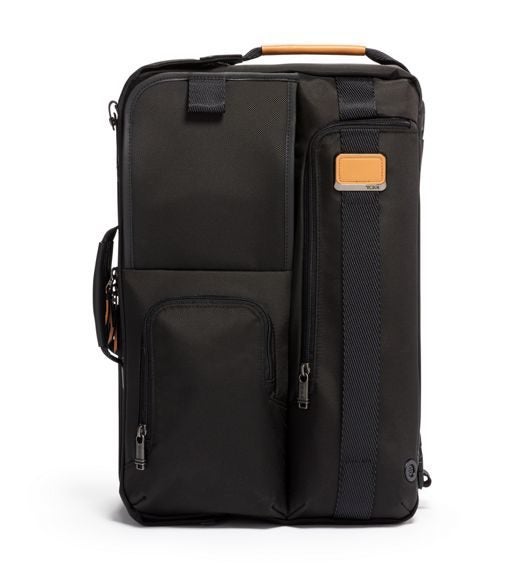 Dimensions: 18 x 12 x 6 inches
Weight: 3.6 pounds
Described as "the ultimate survival bag for the ultimate journey," this bag has been designed in collaboration with Healy Water Operations. With the option to carry it as a duffel, a backpack, or even a tote bag, this brilliant bag is incredibly versatile and offers an impressive amount of storage space.
Made from super-strong ballistic nylon, the Survival Duffel has a large zip and frame-style opening making it easy to pack and unpack on the hop. Full of innovative storage features, the large waterproof front pocket is perfect for keeping your essentials safe, while the various zip pockets and organizational compartments offer plenty of storage for smaller items.
With an extra-large wattle bottle/wet pocket, and a clear pocket for tickets or maps, it is super easy to keep your belongings safely stashed on the go.
However you choose to use this bag, it is quick and easy to change the carry options. With backpack straps that tuck away when not in use, sturdy grab handles, and an adjustable, padded shoulder strap, the choice is absolutely yours.
A Duffel That Is Dedicated to Whatever Life Throws at It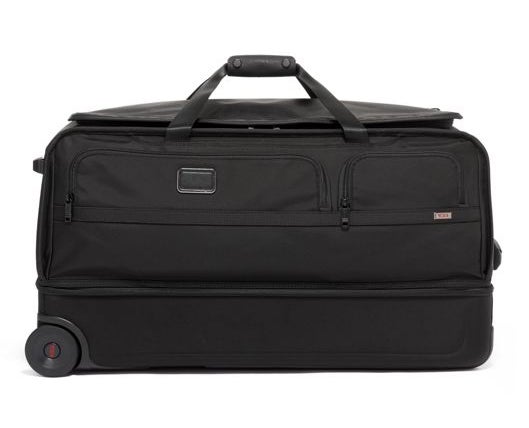 Dimensions: 16 x 30.25 x 14 inches
Weight: 10.95 pounds
As part of the Tumi's iconic Alpha 3 collection that includes different sized cases, carriers, backpacks, and duffels, this particular model brings together innovative design and superior performance throughout. Popular with both business and leisure travelers, this large size duffel bag has plenty of space for longer adventures.
With a roomy main compartment, it is easy to stay organized on the go. The useful zippered divider allows you to keep your belongings separated, while the smaller pockets keep your personal items safe and sound. With a further 2 front zip pockets, one of which is waterproof, you can also keep your travel documents, passport and other essentials close at hand.
With 2 super smooth-rolling wheels, you can tilt and pull the duffel behind you, while the 2-stage telescopic handle offers effortless maneuverability.
Bottom Line: Innovative styling combined with the Tumi Tracer system means that this great looking rolling duffel bag will never go on its own adventure without you.
Redefining the Satchel, This Is Perfect for Short Trips Away
Alpha 3 Double Expansion Travel Satchel
Dimensions: 11.5 x 18.5 x 9 inches
Weight: 3.55 pounds
Made from strong and ultra-durable FXT ballistic nylon, this travel satchel offers more than enough space for long weekends or short business trips. As part of the Alpha 3 collection, there are various matching cases, duffels, and backpacks.
This innovative piece offers an impressive 13 inches of depth for far greater capacity than a regular old duffel bag, and the zip entry offers easy access for packing and unpacking.
The front U-zip pocket is perfect for keeping your travel documents handy, while the front slip pocket with a magnetic clasp offers easy access at all times.
With an adjustable and padded shoulder strap, you can sling this duffel over your shoulder or across your body. If you would rather, you can remove the strap entirely and use the leather-wrapped carry handles instead.
Hot Tip: Do you prefer the duffel-style bag? Head over to our best duffel bags for travelers for even more options. 
Crossbody Bags and Waistpacks
Whether on the Hip or Across the Shoulder, This Little Bag Is the Best by Far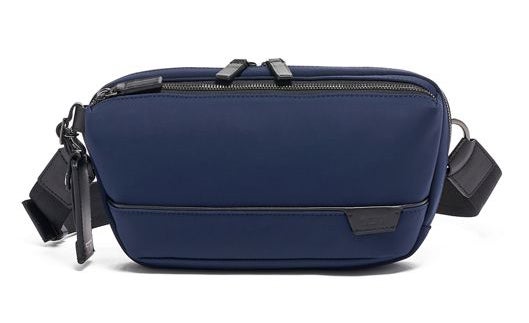 Dimensions: 5.75 x 11 x 2.5 inches
Weight: 1.16 pounds
Belt bags, fanny packs, utility pouches — call them whatever you want, but they have never really gone out of fashion. Offering exceptional versatility and allowing you to remain hands-free in transit, this smart little bag can also be worn as a crossbody bag.
Zip entry to the main compartment makes it super easy to access your most important belongings, and an additional front zip pocket offers useful extra storage space.
On the back, a hidden slip pocket helps to keep your most valuable items like your passport or credit cards safe and out of sight, and the additional key leash means you can leave your bulky key fob at home.
Made from stunning nylon tricot with contrasting piping, the adjustable strap — complete with a speed clip — can be worn either around the body or across the waist. Paired with Tumi's excellent Tumi Tracer system, this little pouch will help you stay organized.
A Pouch With Plenty of Space for All of Your Essentials
Alpha Bravo Campbell Utility Pouch
Dimensions: 5.75 x 10.5 x 2 inches
Weight: 0.98 pounds
Small but perfectly formed, this compact utility pouch offers plenty of space to carry all of your most essential items close to your person.
Whether you choose to wrap it around your waist, sling it across your body or carry it over your shoulder, this fashion-forward pouch offers sleek good looks and a spacious interior.
With a zipper opening to the main pouch, you can easily access your belongings on the go. The front U-zip pocket adds interest to the design and offers additional storage, while the back zip pocket keeps your valuable possessions safe from theft. With an additional open pocket and a key leash, this bag has been thoughtfully designed throughout.
Made from hardwearing ballistic nylon, and featuring a fully adjustable strap, you can depend on this pouch to offer additional space on top of your regular luggage.
Offering quick and easy access while leaving your hands free to carry your bags or cases, this piece is an awesome addition to your luggage collection.
A Hip Bag for Urbanite Hipsters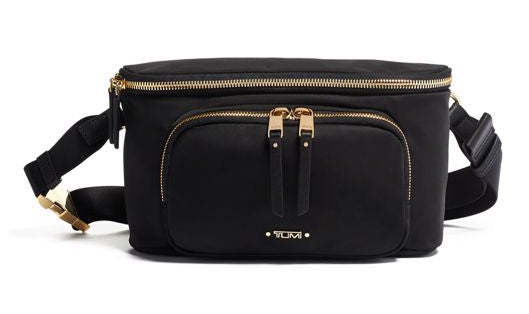 Dimensions: 6 x 9 x 2.5 inches
Weight: 0.75 pounds
Made from hardwearing nylon with premium gold-colored hardware, this gorgeous little hip bag is a practical and stylish accessory that works well with any outfit.
With a double zipper entry to the main compartment, you have easy access when stashing your belongings, and the back pocket with magnetic snaps keeps your most important essentials like your passport and tickets safely out of sight of prying eyes. There is also a key leash and credit card holder, allowing you to leave bulky wallets and key chains back at home.
The adjustable strap comes with a metal speed clip meaning you can easily find the right strap length to suit your size, and as part of the Tumi Tracer system, this little bag will never go astray.
Part of the Tumi Voyageur collection, there are also numerous matching cases and travel bags to match this incredible little hip bag should you wish to compile your very own luggage collection.
Totes
A Weekender That Works All Week Long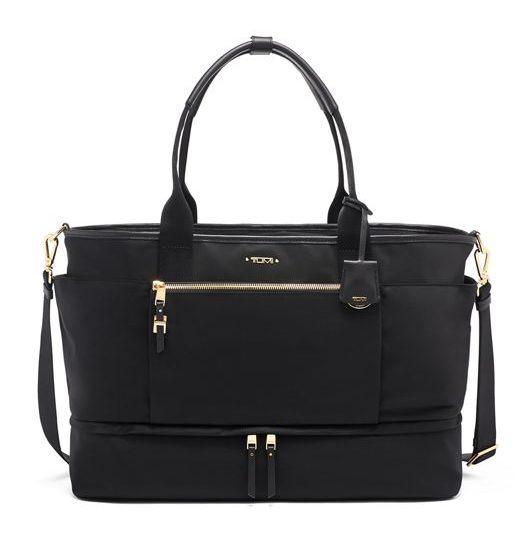 Dimensions: 12.5 x 17.25 x 7 inches
Weight: 2.45 pounds
Perfect for work, travel, or even just day-to-day use, this stunning weekender bag is made from high-quality nylon and features sophisticated gold hardware. Full of ingenious features, this stylish tote bag makes organizing your belongings super easy.
On the inside, the storage space can be divided into 2 sections to separate your stuff, and the padded laptop pocket with a leather snap tab can comfortably house up to a 13-inch laptop or tablet.
There is a front zip pocket with a locking zipper pull for keeping your essentials safe, as well as 2 open pockets, 3 media pockets, a card pocket, a pen pocket, and even a double-zip entry in the bottom compartment. Keeping your items safely separated and well-organized is easy with this great-looking weekender bag.
With an adjustable and removable shoulder strap and 2 leather look grab handles, this beautiful bag is effortlessly stylish and endlessly practical.
Carry Your Laptop in Style With This Awesome Looking Tote Bag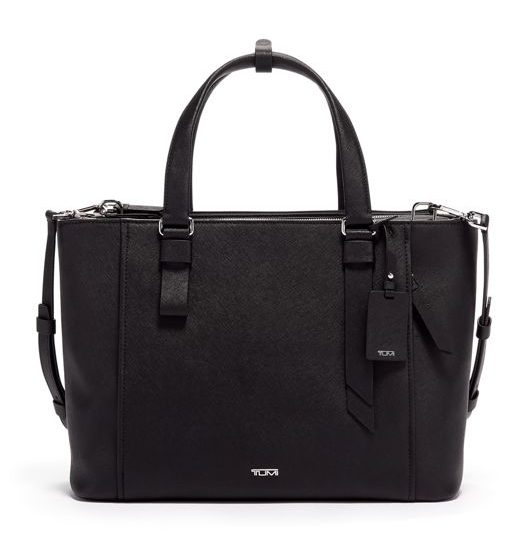 Dimensions: 10.75 x 14.25 x 5 inches
Weight: 3.41 pounds
Available in a choice of black, blush, navy, or the classy-looking "Spectator" colorways, this stylish tote bag is an everyday purse with a difference. With the structured style and looks of a designer day bag, this cleverly conceived tote bag also offers a variety of innovative features that make it perfect for both work and pleasure.
With a roomy interior and separate zip laptop pocket that can fit screens measuring up to 13 inches, this bag blurs the lines between function and fashion. With a vertical front zip pocket, a slip pocket with a magnetic snap, 3 media pockets, a card pocket, a pen pocket, and even a key leash, this bag offers the ultimate in everyday organization.
There is also a back pocket with magnetic snaps that converts to an Add-a-Bag sleeve for slinging over the handle of your spinner suitcase.
Constructed using high-quality leather, this on-trend travel bag can be used to accessorize any outfit. With matching leather grab handles and a detachable and adjustable leather shoulder strap, this tote bag will take you from daytime to night out effortlessly.
An Expandable Tote Bag to Tech-Heavy Travelers
Alpha 3 Organizer Travel Tote
Dimensions: 11.75 x 8.75 x 4.5 inches
Weight: 1.59 pounds
Made from Tumi's signature ultra-durable FXT ballistic nylon, this expandable tote bag is perfect for keeping your most important documents and belongings close at hand, either on the daily commute, trips around town or on longer journeys away from home.
With enough room for all of your essentials, the main compartment can expand by up to 2 inches, offering even more room for your passport, boarding pass, wallet, and other must-have items.
With a useful zip-around feature on the back of the bag, you can even keep your cell phone and other items close to you and away from bag thieves and other unwanted attention.
It even has enough room to hold your iPad or tablet, turning into a tech-friendly body bag for urban explorers.
Bottom Line: The adjustable shoulder strap allows you to sling this tote bag across your body, and as part of the iconic Alpha 3 collection, there are plenty of cases, carry bags, and backpacks available to match.
The Perfect Choice for Businesswomen on the Go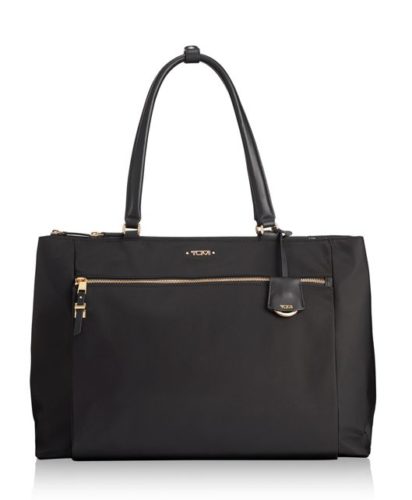 Dimensions: 28.5 x 17 x 42.5 inches
Weight: 2.1 pounds
This tote bag is the perfect business partner with plenty of room to hold all of your most important business essentials. Made from 100% high-grade nylon, it combines innovative design and incredible functionality perfectly.
With 3 easy-access main compartments, you can quickly separate important business briefs and documents, and the padded laptop compartment can hold up to a 14-inch laptop for working on the go.
With an additional tablet pocket, 3 media pockets, card pockets, and even a dedicated pen pocket, you will always be incredibly well-organized no matter what comes your way.
With leather grab handles and the option to monogram your bag for an extra fee, this smart and sophisticated business tote is the perfect choice for those who want to arrive in style. As part of the Voyageur collection, there are also matching backpacks, bags, and travel accessories for women available, too.
Hot Tip: If you're looking for other options, explore our guide to the best weekender bags for travelers. 
Final Thoughts
If you want your luggage to really reflect how well-organized and in control you are, then Tumi is head and shoulders above the competition. Arrive ready to do business — or start your vacation in style — with any of these beautifully made and cleverly conceived pieces.
Sure the price tag may be higher than some other brands, but the sheer practicality, awesome good looks, and incredible practicality will be worth every cent in the end.