The 13 Best Crossbody Bags and Purses for Travel [2021]
Traveling often involves switching up your regular bags and purses to lightweight, safer, and more protective vessels to keep your most prized possessions safely by your side.
Whether you are worried about pickpockets, concerned about skimmers, or simply want to keep your bag by your side while also keeping your hands free to explore, a travel crossbody bag offers the perfect blend of practical safety features and stylish good looks on the go.
Why Buy a Crossbody Bag?
When you are out and about, being able to keep your hands free is an absolute game-changer. No more having to place your bag on the counter or the floor while you pay for your goods, or worrying about your backpack being attacked from behind. Crossbody bags are stylish, comfortable to wear, and help to distribute the bulk evenly without weighing down 1 shoulder as a traditional tote bag can.
As an experienced traveler, one of the greatest benefits of using a crossbody bag is the feeling of security it affords you. You can swing the bag around to the front of your torso, making it very hard for would-be criminals to access or snatch along the way.
These types of bags are also lightweight and easy to access, making it super-convenient to reach inside and grab your wallet, room key, phone, and any other essentials while you are on the move. Perfect for days out in busy cities, they are also just as useful on your morning commute, while still being stylish enough to wear with your best dress on a night out.
If you find the right crossbody bag, you will quickly appreciate just how well it strikes a perfect balance between style and functionality.
Bottom Line: Whether you choose a super-fancy designer version or a cheap one from the internet, crossbody bags can see you through from day to night, without ever having to compromise on style or practicality.
Things To Consider With Crossbody Bags
Size and Capacity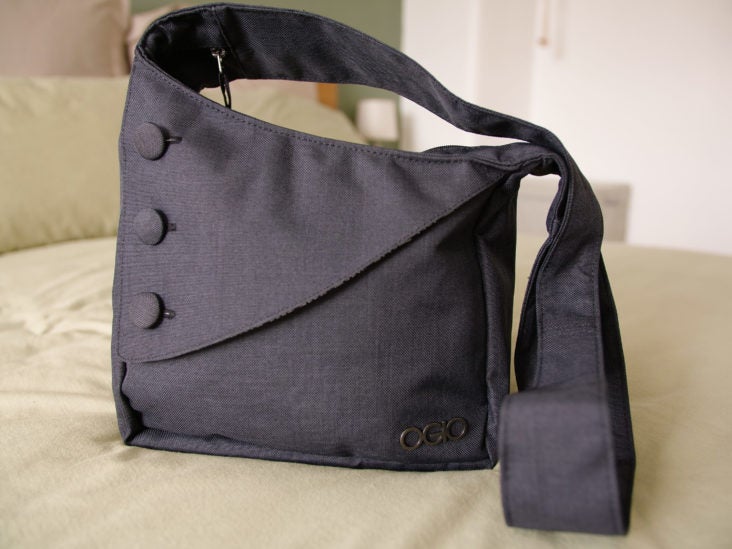 Your crossbody bag needs to be big enough to hold everything you need to take out with you, without being so big and bulky that it weighs you down.
Because you want to be able to wear your bag slung low across your hips, crossbody bags are generally smaller and more compact than tote bags, backpacks, shoulder bags, or even sling backpacks. With this in mind, keep a lookout for a crossbody that is compact but still has enough space to hold your tablet or e-reader, your wallet, cell phone, cards, passport, and any other day-to-day essentials.
Material and Durability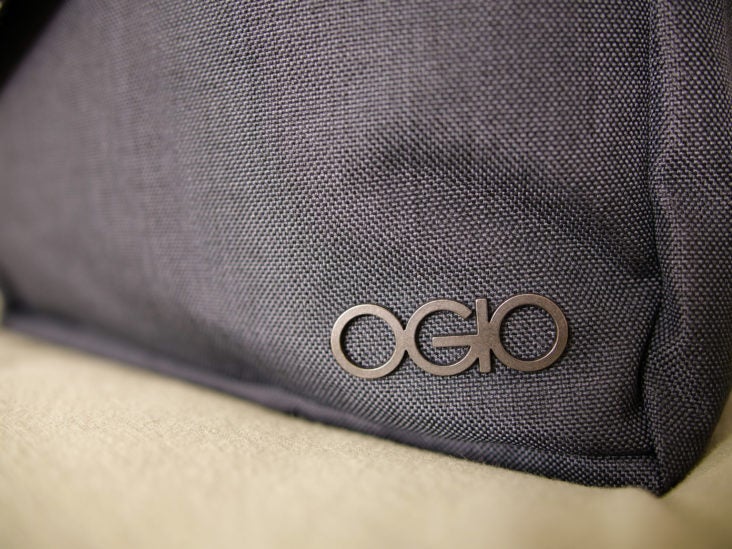 Most crossbody bags that are designed with travel in mind are often made of nylon. This is because nylon is strong, durable, and easy to keep clean. Really well-designed bags often have lighter-colored fabric on the inside, so it is easier to see what's inside the bag when you are fishing around for your purse, wallet, keys, or cell phone.
Many of the very best crossbody bags have extra components hidden behind the stylish exterior. These include slash-proof mesh hidden in the fabric or steel ribbons running through the straps and handles. This makes them slash-resistant and less attractive to thieves, and therefore more likely to last for a great many adventures than regular cotton, canvas, or even leather bags.
Comfort
If you are planning on carrying your crossbody around with you for longer periods of time, it will need to be super-comfy. As it is worn across 1 shoulder, the strap must be padded and soft enough to rest without digging in, no matter how heavy your bag gets, and the buckle should remain far away from your skin.
Hot Tip: It is also helpful if the bag has some padding to keep your belongings from bouncing off your hips as you walk.
Compartments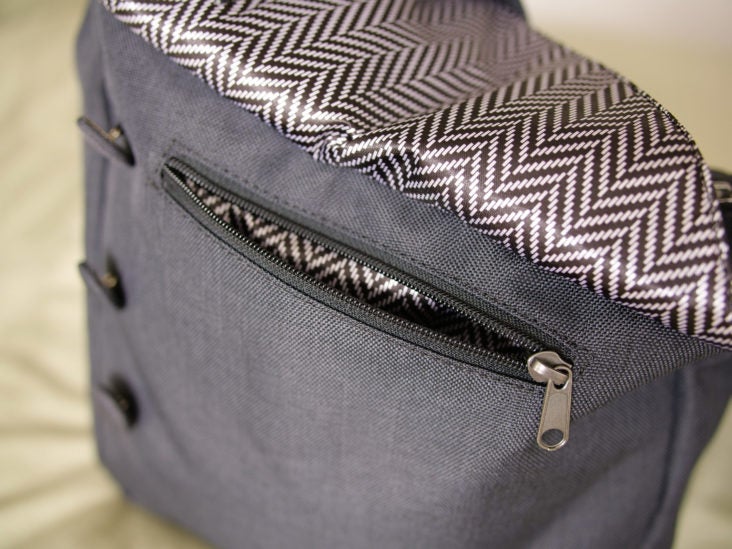 Because crossbody bags work better when they maintain a slim silhouette, you may expect them to have fewer compartments than your traditional backpack or tote bag. Expect to find at least 1 main internal compartment for keeping the majority of your belongings in, including your tablet or e-reader, and then additional sections for pens, phones, and other essentials.
You will most likely be able to utilize space on the outside of your crossbody bag by way of extra zippered pockets on the front of the back of the bag, as well as useful little side pockets for carrying water bottles and other essentials.
Security Features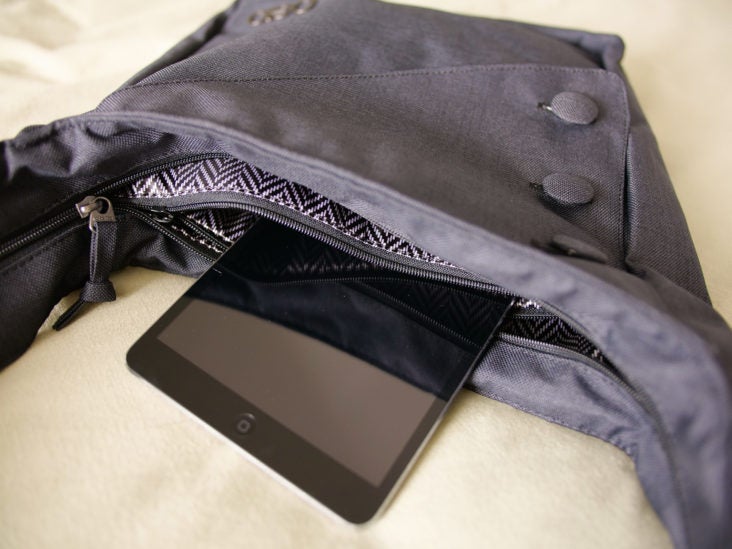 Many of the excellent crossbody bags in this list feature so much more than just good-sized compartments and great looks. Anti-theft mechanisms are an integral part of the success of travel bags, and the space where you keep your most prized possessions should be the safest of all.
You'll want to look for lockable zippers, slash-proof material strengthened with mesh, straps with stainless steel inner ribbons, and RFID technology to protect your cards and passports from scans and skimmers. All of these will help to protect your gear from would-be thieves and criminals.
Water Resistance
When you are out and about, it can be easy to get caught out by the weather. Water-resistant crossbody bags offer some protection against damp conditions and the occasional light splash, but they are not fully waterproof.
Hot Tip: If you feel you need a bag that offers complete protection against heavy rain or the risk of submergence in water, look into waterproof bags designed for outdoor activities instead.
The Best Crossbody Bags for Travel
Whatever your preference on color and design, and however much you are looking to spend, the perfect crossbody bag for your next adventure can be found right here.
The Best for RFID-Blocking
Travelon Anti-Theft Cross-Body Bucket Bag
Perfect for taking away with you, this crossbody bag offers protection against grab-n-go thieves, as well as offering lots of useful space to keep your belongings and fashionable looks.
Sizable enough to carry an iPad or tablet, as well as all of your usual essentials, including cell phone, wallet, coin purse, and more, the Travelon bag's focus on security is what sets it apart from the competition. Featuring a slash-resistant body panel with a stainless-steel mesh, as well as straps made to conceal stainless steel cables, this is 1 bag that will keep your belongings safe on the go.
Complete with RFID-blocking cards and passport slots to help protect against skimmers and identity theft, this is a super-stylish bag with hidden talents. Available in a choice of colors, and with an adjustable strap, this is a great choice for safety-conscious travelers who do not want to compromise on style.
What We Like
RFID-blocking pockets for identity protection
What We Don't Like
Shoulder strap is not fully removable
Slash-Proof Anti-Theft Protection
Travelon Luggage Anti-Theft Cross-Body Bag
Made from high-quality, heavy-duty, splash-proof material, this is another brilliant anti-theft crossbody bag from Travelon. Designed to be as pickpocket-proof as possible, the design of this bag is not only fabulous to look at, but also super secure to keep your valuables safe.
With a hidden slash-proof wire mesh and a cable-reinforced, cut-proof shoulder strap, this bag is about as secure as any handbag can ever be. The locking main compartment includes all the usual pockets and credit card slots you would expect from a travel purse, but with the added bonus of RFID-blocking technology to protect you against skimmers and scammers the world over.
The adjustable shoulder strap will help you to find the most comfortable placement, and the bag itself comes in a variety of colors. With sharp good looks and a unique asymmetric design, this crossbody bag is perfect for both day and night, at home and away.
What We Like
Available in a variety of colors and designs
What We Don't Like
Curved top zipper can be difficult to open or close 1-handed
Locking Compartments for Extra Peace of Mind
Travelon Anti-Theft Classic Mini Shoulder Bag
With a selection of locking straps and locking compartments, this crossbody bag will keep you safe from grab-n-dash thieves on the go. You can also "lock" your bag to stationary objects when you sit down to enjoy an alfresco lunch, and the lockable compartments protect against pickpockets looking to help themselves to your belongings.
Made of high-quality nylon fabric, this bag also offers a stainless steel mesh that lies between the outer fabric and the bag's lining, as well as stainless steel cables hidden within the straps. Internally, the RFID-blocking compartment protects your cards from scanners and electronic identity thieves.
As well as offering increased levels of security, the design of this crossbody bag adds style and panache to your outfit. With a delicate shoulder strap, slim profile, and smart front pocket, this is a bag that can be worn day or night without looking bulky or cumbersome, while still keeping your valuables within easy reach wherever you are headed.
What We Like
Shoulder strap can be attached to a chair leg
What We Don't Like
Perfect for Keeping Your Tablet Safe
DISCOUNT: 5%
OGIO Women's Brooklyn Tablet Purse
This unique-looking crossbody bag is practical, stylish, and designed with the needs of the traveler in mind. Featuring 2 large main compartments and a front flap that is designed to hide a zippered pocket in plain sight, your belongings will stay well-protected while still being close at hand.
This bag comes complete with a padded and fleece-lined zippered tablet or e-reader pocket that will keep your tech safe while you are out and about. The organizational panel will help to keep all of your everyday essentials in order, and the large interior zip pocket is perfect for securely storing your cell phone and other valuables.
Made from TC 900D polyester and available in a choice of on-trend colors, this bag comes with high visibility contrasting interior and a padded base to keep your belongings snug and safe. With an adjustable strap for comfort and custom metal trims to add an extra edge, this is a practical but super-stylish bag for the fashion-conscious traveler.
What We Like
Made from a lightweight and durable material
What We Don't Like
Shoulder strap is a little short
Classic Good Looks and Effortless Anti-Theft Protection
Travelon Anti-Theft Classic Essential Messenger Bag
With plenty of space for everything you could need on a day out, this anti-theft crossbody back is both stylish and practical in equal measures. As with all of the Travelon Anti-Theft range, the bag is made from high-quality fabric and components, offering you an extra layer of security on the go.
Locking straps allow you to lock your bag to a stationary object to protect against grab-and-go thieves, while the slash-resistant design features a stainless-steel mesh that lies under the outer fabric and between the lining.
The shoulder strap has a hidden stainless steel cable inside to protect against slash-n-grab thieves, and the interior compartments also have RFID-blocking technology to protect against scammers and skimming machines.
With a classic silhouette and a choice of colors, this is a good-looking crossbody bag that also offers an extra layer of protection for your belongings.
What We Like
Shoulder strap has an anti-slash steel cable inside
What We Don't Like
Zippers are a little fragile
Best Compact Crossbody Bag for Travel
NeatPack Crossbody Bag With Anti Theft RFID Pocket
This "neat" little crossbody bag is perfect for long trips away with plenty of zippered compartments and additional in-built security features. The well-designed interior will keep all of your belongings safe and well-organized with a good-sized main compartment, as well as a back pocket with Velcro closure, 3 front pockets, and a water bottle side pocket.
As well as being spacious and great looking, this bag also comes with an incredibly secure RFID pocket to help block your cards from the dangers of skimmers and identity theft while you are away. To keep your stuff super secure, it also features lockable zippers for additional peace of mind.
Designed to suit travelers of all kinds, the tough nylon fabric can repel moisture and is easy to wipe down when you need to. The padded strap is adjustable and comfy, and the high-quality zippers are built to last.
What We Like
Adjustable and padded shoulder strap
What We Don't Like
Water bottle pocket is a little small
Crossbody and Clutch Bag Combination for Both Night and Day
Baggallini Pocket Crossbody Bag With RFID-Protected Wristlet
Combining good looks with practicality, this combination of an everyday crossbody bag and smaller clutch purse makes this a great choice for both day and night. Made from high-quality nylon and available in a range of colors and patterns, there is no need to compromise on style with this combo.
With a selection of thoughtfully designed pockets and compartments to hold all of your essentials, your cell phone, credits cards, and other valuables can stay close by when you're on the go. The removable RFID-protected phone wristlet keeps your credit cards and ID from being scanned and stolen, and the zippers are lockable to keep your stuff extra secure.
Water-resistant and extremely durable, this bag has 3 exterior zip pockets — 1 in the back and 2 in the front — and features an adjustable shoulder strap to help you find the perfect length to suit your frame.
What We Like
Great interior organization with 5 credit card slots
What We Don't Like
Only the wristlet has RFID-blocking pockets
Protection Against Grab-and-Go Thieves
Travelon Anti-Theft Classic Slim Double Zip Crossbody Bag
Designed to protect against grab-and-go thieves, this great-looking crossbody bag comes complete with super useful straps that can be used to secure it to stationary objects. This means you can relax with a drink or enjoy a light lunch without worrying about where your bag is. The locking compartment and lockable zippers will also help to prevent you from losing your valuables to would-be pickpockets.
The main compartments of the bag have been strengthened with a slash-resistant mesh barrier on all 4 sides and the bottom panel, and the straps have a discreet stainless steel wire running through them. These extra security features help to protect you from slash-and-grab criminals who operate in busy cities.
Available in a selection of colors, this stylish and super trendy-looking crossbody bag also comes with secret RFID-blocking technology that makes the card slots and passport holder pocket secure against the threat of skimmers and potential identity fraud. There are also 2 front zippered pockets, a rear slip pocket, and a tethered key clip with a useful LED light.
What We Like
What We Don't Like
Interior lining can rip easily
A Hobo Bag With a Difference
Travelon Anti-Theft Heritage Hobo Bag
This attractive crossbody bag comes loaded with extra security features, yet still looks good enough to use every day. Sizable enough to hold everything you need on a day out, without being bulky or weighing you down, this is an excellent choice for anyone who doesn't want to compromise on style.
Featuring slash-resistant body panels made of stainless steel mesh, and slash-resistant shoulder straps that have superstrong stainless steel running through them, this bag will stay safe from would-be grabbers and slashers. The RFID-blocking card slots will keep your cards safe from skimming, and unlike some less attractive anti-theft travel bags, this 1 won't have the fashion police after your either.
Available in a range of colors, the soft canvas exterior belies the mighty strength of this bag, and the interior pockets have been carefully thought out to hold all of your everyday essentials. There is also a locking front zippered pocket for easy access to your stuff when you need it quickly.
What We Like
Detachable shoulder strap
What We Don't Like
Quite heavy for a crossbody bag
A Crossbody Bag With Room for Plenty More
Sherpani Soleil Anti Theft Crossbody Bag and Travel Backpack
This versatile bag can be worn across the body with the shoulder strap or as a backpack. Designed to comfortably carry a 14-inch laptop, it's lightweight and fashionable and won't look out of place on the trendiest of fashionistas. Made from a mix of melange and nylon threads and with vegan leather trims, this bag is built to look good and last you through many adventures.
The interior organizer has plenty of room to hold on to your tech, as well as enough extra space to safely store your pens, wallet, and cell phone, too. The top-loading zipper is easy to open while still being incredibly strong, and you can slip your essentials in and out on the go. There are also useful front zippered pockets for holding smaller items and a side pocket for your water bottle.
To keep your valuables secure, this bag is equipped with RFID-blocking protection, lockable zippers, a chair locking system, and a slash-proof strap and bottom.
What We Like
Can be carried as a crossbody bag or worn as a backpack
What We Don't Like
Interior compartment could be larger
Best for Tablets and Tech on the Go
Pacsafe Metrosafe Ls140 Anti-Theft Compact Shoulder Bag
With enough space to hold your 7-inch tablet, passport, phone, and many other essential items, this fabulous crossbody bag is lightweight yet durable and perfect for trips away. Made from water-resistant nylon and available in a selection of colors, this is a travel bag that looks great and performs even better.
Designed very much with safety in mind, this anti-theft bag has lockable zips and cut-resistant materials to help to protect your belongings against would-be thieves and criminals, and the cut-resistant anchor strap can be attached around a fixed object to protect your bag when you want to take five.
For added protection, this bag also comes complete with RFID-blocking pockets to protect your credit cards and passport against unwanted scans and skimmers, and the internal attachment points for your wallet and keys make it impossible for pickpockets to go unnoticed.
What We Like
What We Don't Like
Shoulder strap isn't fully detachable
3 Ways To Wear This Supersafe Travel Bag
Baggallini RFID Journey Crossbody 
Made from super lightweight material that won't weigh you down, this on-trend crossbody bag has been thoughtfully designed to hold all of your essentials out and about.
This versatile bag can be worn as a crossbody bag, a shoulder bag, or a waist pack, and is available in a selection of colors. The main interior compartment has plenty of space for your essentials, while the organizational pockets will keep everything in place. There is also a front and back zipper pocket, as well as a key leash, a super useful ID window, and 5 credit card slots.
The compact dimensions of this bag belie its ability to hold a lot more than you think it will. Chic to look at and made to last, this is a great bag to take with you on many adventures.
What We Like
Lots of pockets to locate small items quickly
What We Don't Like
Might be a little small for some needs
Good for Those That Travel Light
Mundi RFID Crossbody Bag
Made from high-quality faux leather, this crossbody bag is available in a selection of colors and designs, each as fashionable as the next. Cute and compact, this crossbody purse is perfect for a night out or for those that keep it light when exploring. 4 accordion pockets will keep your passport and credit cards safe and the in-built RFID technology will prevent your identity from being stolen by skimmers. There is also a separate back pocket to keep other valuables within easy reach.
The snap button closure will keep the bag flap securely in place and the shoulder strap is adjustable between 14 and 28 inches. If you want to use the bag as a simple clutch, you also have the option to remove the shoulder strap completely.
What We Like
Adjustable and removable shoulder strap
What We Don't Like
Difficult to snap the flap shut if the bag is full
Final Thoughts
Finding a bag that not only looks good but also performs well while you are away can have a huge effect on your experience. Stay safe and feel secure at all times with a crossbody bag that protects your personal belongings from would-be criminals, while still looking just as good as any designer purse or handbag.
For more travel products, see all of our reviews of our best travel products.