The 11 Best Beach Bags for Travel in 2021 [In-Depth Buyer Guide]
Modern beach bags offers so much more than just space to store your bathing suit, towel, and sunscreen. They are sand-resistant, waterproof, oversized vessels designed to look fabulous while carrying everything you could ever need.
The perfect beach bag is a must-have when checking off your beach vacation packing list, but how to find the right one? Here are some important qualities to consider along with the 11 best currently on the market.
Things To Consider in a Beach Bag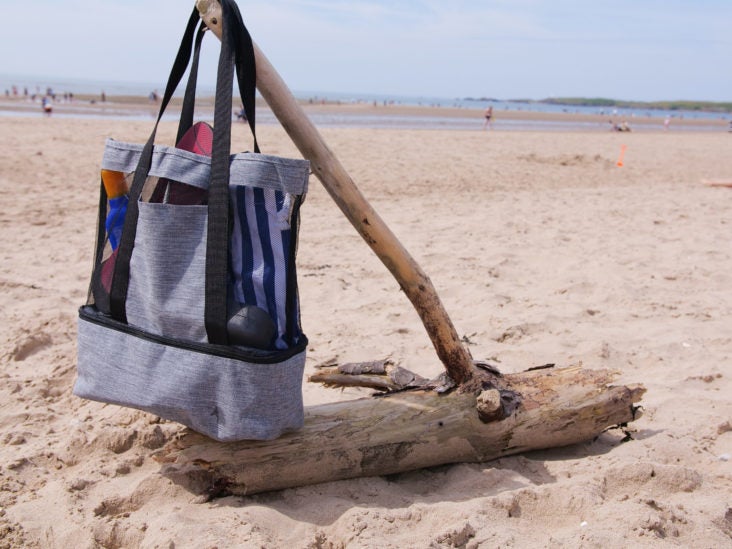 Because not all beach bags are created equal, consider the following before you buy:
Material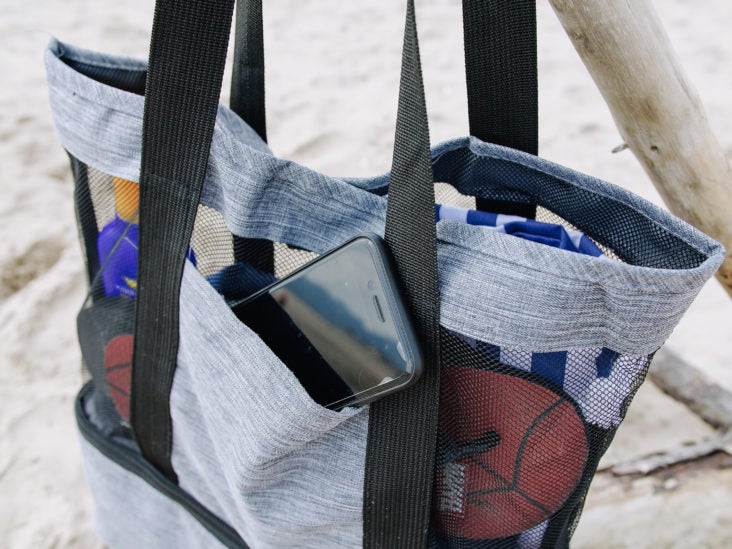 Depending on your preference, there are a number of materials that make the very best beach bags. These include:
Canvas
The most traditional of all beach bag materials, and still one of the very best, canvas bags are durable, good-looking, and easy to clean after a long sandy day on the beach.
Straw
Summing up the spirit of summer perfectly, straw bags are breathable, beautiful, and easy to clean and de-sand on the go. These may not offer much in the way of waterproofing, but they do look lovely.
Polyester or Nylon
Man-made materials like polyester are increasingly popular when it comes to beach bags. Water-resistant and fully able to withstand the sand and dirt you can accumulate by the ocean, polyester/nylon bags are lightweight, durable, and available in a wide range of colors and sizes.
Mesh or String
String bags are great for throwing your towel in, quite literally. Mesh bags will hold a few more useful essentials such as sunscreen and sunglasses. Both are easy to wipe down, waterproof, and washable. These are mostly useful as extra bags, though, and not something to keep your valuables in.
Size
Size is important when it comes to a beach bag. It needs to be big enough to carry all those towels and bathing suits needed for the beach, yet still lightweight enough to not tear at your shoulders on the way there. If you need to take lots of additional items with you such as snacks, drinks, and valuables, you may need to look for a bag with a large internal storage area and lots of extra pockets.
Straps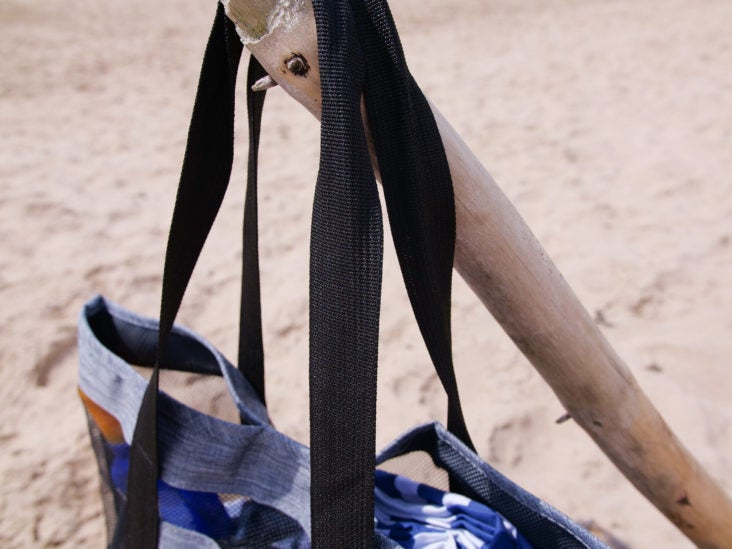 Because your beach bag needs to be swung over your shoulder, the size, length, and type of straps are incredibly important. A wider strap will sit more comfortably on your shoulder, and you will want them to be reinforced to ensure they can handle the weight of all your swimming essentials.
If looking cool is high up on your beachwear agenda, you may choose to carry a hand-held beach bag made of straw or string. These have their uses, too, but be sure that you don't overfill them or have far to walk as the handles can dig into your palms along the way.
Compartments and Organization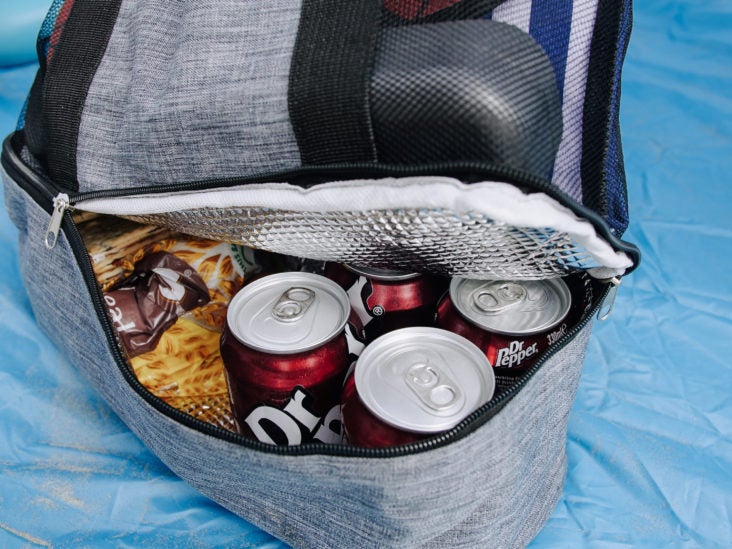 The large compartment is designed for towels and bathing suits, which is a given, but other zippered compartments and extra sections can be useful if you are planning to take other items with you. Slip your phone, portable speaker, tablet or e-reader into a padded, zippered pocket, and your travel wallet, keys, and sunglasses somewhere where they can easily be reached.
Hot Tip: If you want to keep your cold beverages cool, look for a bag that offers insulated pockets or a built-in cooler bag, too.
Extras
If you want a beach bag, that is in fact, more than a beach bag, investigate the extras it offers before you buy. Some bags, for example, come complete with a separate "wet bag" for keeping wet bathing suits in, while others fold down into tiny packages to be taken with you in your regular purse or suitcase.
Bottom Line: You should consider whether you want to have an edge-to-edge opening that you can stuff full or a zipper, snaps, or drawstring for extra security.
The Best Beach Bags for Travel
Big, Bright, and Absolutely Beach Ready
OdyseaCo Baja Beach Bag Waterproof Canvas Tote, Large
Brightly colored and easy to spot in a sea of beach bags, this boho-style bag is the perfect addition to your beach holiday wardrobe. Made from hard-wearing ripstop nylon, the Baja beach bag can easily withstand the beach life and is water-, tear-, and sand-resistant.
Roomy enough to hold your beachside essentials, the reinforced seams are strong enough to hold even the fluffiest of beach towels. With a waterproof lining, you can throw your swimsuit in at the end of a long day living the beach life before popping your bag in the washing machine, ready for your next adventure.
Measuring 16.5 x 14 x 7 inches, the Baja bag also features 2 generously sized external pockets and a zippered inside pocket to keep your keys, cell phone, and valuables safe on the move. The extra-thick, soft rope handles also make it incredibly comfortable to carry.
Colorful and spacious, the Baja is one of the best boho beach bags out there. This is a bold, bright, and beautiful beach bag.
What We Like
What We Don't Like
The main compartment doesn't have a zipper to close
A Perfectly Proportioned Family-Size Beach Bag
OdyseaCo Mesh Beach Tote Bag with Insulated Picnic Cooler
As a brand, OdyseaCo is famous for making one of the most impressive beach bags ever made. Bright colors, smart compartments, and durable materials are always on display, and the Aruba Mesh Beach Tote Bag certainly doesn't disappoint. Weighing in at just under 2 pounds, this bag is light as a feather and yet strong enough to hold everything you need.
Big enough to comfortably hold 4 large beach towels and associated swimwear, this is the perfect family bag for your next beach vacation. The zipper top keeps your belongings secure, while the in-built cooler feature keeps your beverages chilled on the go. Other exciting features include a bonus waterproof cell phone case and adjustable straps that are incredibly comfortable to carry.
Measuring an impressive 16 x 6 x 20 inches, this is a roomy bag from a manufacturer that has thought of everything.
Bright, bold, and beautiful, this 4-towel beach bag is really is a family-size beach bag for every occasion.
What We Like
Padded shoulder strap for comfortable carrying
What We Don't Like
Not sturdy enough to stand upright unsupported
Tons of Space for Those Who Don't Like To Travel Light
Dejaroo Mesh Beach Bag
This brightly colored bag has plenty of internal space and extra pockets to keep everything you need close at hand. In fact, the 8 additional pockets set this bag apart from the competition, and the secret internal pocket is perfect for hiding your wallet and car keys.
Made from a durable, high-quality, waterproof mesh material, this bag dries quickly when it gets wet and will allow the sand to sift back through to keep your belongings clean. The simple yet effective design means you can keep everything well-organized on the beach, and the longer handles make it easy to carry, no matter how much gear you take with you.
Available in a choice of colors, these mesh bags are an excellent choice for beach lovers everywhere. Like to take all your gear with you? Then this is the bag for you.
What We Like
Lots of pockets to store items separately
What We Don't Like
Bag material can smell initially and needs airing
Oversized Beach Bag With Lots of Pockets
F-Color Oversized Beach Bag
This simple, affordable, yet incredibly practical beach bag will make the perfect addition to the rest of your luggage. Stylish and minimalist, the F-Color Oversized Beach Bag is huge! Measuring 16.5 x 15 x 8.5 inches, this is perfect for days at the beach, picnics at the park, and many other everyday family excursions.
Available in a selection of muted colors, including white, grey, and black, the bag is made from durable, see-through nylon. It is plenty big enough to hold 4 to 6 beach towels and a selection of other oceanside essentials.
There are 8 mesh pockets to keep snacks, drinks, and other items within easy reach, while the internal zippered pouch is designed to conceal and keep safe your more valuable items.
When you are not using this big old beach bag, you can fold it up to store in your suitcase. Overall, this is a big bag with plenty of space for all of your beach-based belongings.
What We Like
Super lightweight for your suitcase, weighing less than a pound.
What We Don't Like
Mesh bottom won't suit everyone
Minimalist Chic With This Black Mesh Beach Bag
OdyseaCo – Oahu Mesh Beach Bag
This stylish and affordable lightweight beach bag is great for days by the water, picnics in the park, or even gym classes and family days out. Made from a combination of mesh and waterproof material, the sophisticated black color scheme will coordinate well with any outfit, wherever you are headed.
Large enough to carry a selection of your towels, bathing suits, and other essentials, this bag remains lightweight and also disperses heat to keep your stuff nice and cool on the go. It also features a waterproof base, meaning your gear stays dry even on wet days.
When it is not in use, this big beach bag can be rolled up and tucked into your suitcase, or you could even use it as a carry-on bag or for shopping. Padded handles make it easy to carry for more extended periods, and the large front pocket with an opaque cover is just right for keeping your phone and wallet close at hand.
Big and beautiful, this is a brilliant bag for the beach and other excursions. If Chanel made affordable beach bags,  this one could be it.
What We Like
Zippered closure to keep the contents secure
What We Don't Like
Can be uncomfortable to carry if packed full
Beach Ahoy! With This Nautical-Themed Beach Bag
Beach Bag By Pier 17
This stylish, traditional tote bag comes with nautical stripes and a selection of motifs including a pineapple, turtle, or anchor embroidered on the side. Cute and incredibly summery, this is a good size bag for those who want to take their belongings to the beach.
The white rope handles give this bag a traditional, beach look and the soft rope is designed to be comfortable on your shoulders or over your arm. Being made from straw, this bag is incredibly lightweight, yet it is spacious enough to hold everything you need for a day at the beach.
For the security of your belongings, and to help keep the sand out of your sandwiches, the tote also has a sturdy zipper. The 2 internal pockets offer a secure space in which to hold your purse, keys, wallet, or even cell phone, while the larger main compartment has a cotton lining and lots of room for your beach essentials.
Durable yet stylish, this is a super cute traditional beach bag with a nautical theme.
What We Like
Large, sturdy, and can hold up to 30 pounds
What We Don't Like
Colors can run into one another if the outside gets wet
Go From Day to Night With This Beach Bag
Bydenwely Women's Tote Bag
If you want a beach bag that doubles as a handbag, this is the perfect choice for you. Made from high-quality canvas, the Bydenwely women's tote bag has a stunning striped pattern that's available in black or navy. The bag comes with adjustable rope handles that are strong enough to hold your stuff, and the faux leather padding prevents the handle from digging into your hands or shoulders.
On the inside, there is plenty of room to pack your towels, your swimwear, your sunscreen, and other everyday essentials, while the separate zipper pocket will keep your most treasured items safe from sand and hidden from sight.
Available in small or medium, you can choose the perfect bag for your needs, and it's also pretty enough to be used as a handbag in the evening. It's a great-looking bag that works on every level.
What We Like
What We Don't Like
Straps could be a bit longer
A Nautical-Themed Beach Bag That's Big Enough for 2
Bag & Carry's Large Canvas Striped Beach Bag
This beach bag truly stands out from the crowd with its nautical stripes and soft rope handles. Made from high-quality canvas, you will instantly feel ready for the beach with this little beauty on your shoulder.
The main internal area is spacious enough to fit your towel, swimwear, and other beach essentials, and the zipper closure will keep your gear sand-free. The waterproof lining and 2 internal pockets will keep your cell phone and wallet safe and dry, while the cotton rope handles are comfortable to carry, even if the bag is packed full.
Perfect for beach days, picnics, and even camping, this is a bag that looks great and offers all the space you need for an outdoor adventure for 2.
What We Like
All compartments can be zipped closed
What We Don't Like
Handle knots can get in the way of the main zipper
Lots of Extra Features at a Great Price
Mesh Beach Tote Bag With Fold-Up Beach Blanket
Offering everything you need for a day at the beach, this clever little beach bag comes complete with its very own beach mat. Made from durable mesh material, it is also super easy to keep clean while keeping your belongings cool.
This bag also comes complete with a built-in cooler that is plenty big enough to hold your drinks and snacks on the go. There are zip pockets on the inside designed to keep your wallet, cell phone, and other valuables safe while you travel.
Lightweight and easy to carry, the long double shoulder straps keep the bag comfortable on your shoulder, no matter how much you are carrying, and the wipe-clean bottom keeps your belongings dry. The ground mat that is included folds up to fit perfectly in the bag and opens up wide enough for the whole family to sit on.
Full of added extras, such as the ground mat, this is an excellent bag for the price.
What We Like
Waterproof beach mat included
What We Don't Like
Difficult to access the cooler when the bag is full
Super-Sized and Super Awesome
SHYLERO XXL Waterproof Beach Bag 
This super-sized beach bag is perfect for days out on the beach, no matter how much gear you need to take with you. Made from highly durable waterproof synthetic material, with rip-proof stitching, and a water-repellent interior, this bag is one of the best on the market.
You can chuck your wet swimsuits, snorkels, or even scuba gear in this beach bag without having to worry about it getting a good soaking, and the added waterproof case is the perfect place to store your smartphone, keys, and cash on the go. With a side hook, you can easily attach your keys for added convenience. There is also a key holder that doubles as a bottle opener for lazy days relaxing with a cold beer or 2.
The 2 separate side pockets are designed to carry items like your water bottle or sunglasses separately from the main load, making them easy to reach when you need to.
A pair of high-quality rope handles will fit over your shoulder to carry the bag comfortably, and the magnetic clip secures the bag to keep your belongings all in 1 place. Durable and well-designed, this is a great beach bag.
What We Like
External pockets for quick access to items
What We Don't Like
Blue color can bleed into the white stripes
Beach Bag With a Detachable Cooler
FITFORT Mesh Beach Tote Bag
This mesh tote bag from FITFORT offers all the convenience of 2 bags in 1. With a soft cooler bag on the bottom and a waterproof beach bag on top, you can look as cool as your drinks are. Measuring in at 16 x 6 x 20 inches, this convenient blue bag detaches from the cooler compartment, so you can easily access your drinks and snacks, even when the bag is full.
With enough room to comfortably fit your towels, swimsuits, and other sunbathing necessities in the main mesh compartment, this bag won't look out of place at the beach, the park, or even around the pool. The breathable, roomy mesh main compartment makes it super easy to find what you are looking for when full, and easy to wipe down when empty.
With 2 further outside pockets that have a zipper closure and a waterproof lining, you can easily keep your car keys, cash, and cell phone all close at hand, and the 12-can capacity cooler bag will keep you refreshed whatever the weather.
What We Like
The detachable cooler makes accessing your drinks super easy
What We Don't Like
Items in the cooler can get squashed if the top compartment is heavy
Final Thoughts
The perfect beach bag should be big enough to hold everything you need for a day by the water. It is also beneficial if it is made from waterproof, wipeable material, and has a clasp or zipper of some kind to keep the sand on the beach and not in your belongings.
Additional extras like ground mats and drinks coolers are also super cool, but can take up much-needed space in the main compartment. When you need to take your towels, swimwear, and lotion to the ocean, any of the bags we have reviewed will do just nicely.
Lastly, don't forget to check out some other great beach vacation must-haves: