The 22 Best Travel Coolers and Ice Packs [Hard and Soft Options]
If you are heading out on a road trip, a travel cooler will keep your food and drinks chilled along the way. Whether you choose a basic model that will keep your lunch cool or a cooler that's big enough to get the party started, mobile refrigeration is the way forward for great days out and long nights spent under the stars.
Why Buy a Travel Cooler
Being able to keep your food cold, and therefore safe to eat, on the go is the biggest benefit to buying a travel cooler, but there are other great reasons to consider getting one, too:
Upgrading from a traditional insulated picnic basket or lunch pack will reduce the risk of you having to deal with messy containers, melted ice packs, and other inconveniences along the way.
Never buy ice again — simply make your own and take it with you instead. A good quality cooler will help you chill enough drinks and snacks to keep all the family well-fed and refreshed when the temperature rises.
Save money by stocking up on snacks when you leave home. This also helps with special dietary requirements, calorie counting, or other preferences you may have as you will know exactly what is in your food at all times.
As an additional bonus, your new travel cooler can also be used to keep medicines cool, meaning that your insulin or other temperature-controlled medication won't be at risk on the road.
Things To Consider With Travel Coolers
Capacity
The capacity of a cooler is often measured by the number of drink cans it can hold, as well as the extra ice needed to keep them cool. The internal capacity is, in many ways, much more important than the exterior dimensions, unless you have a very specific space to fill while transporting your cooler.
Smaller personal coolers may only have the capacity to hold between 6 to 8 cans, while huge great big party coolers can hold 50, 60, or sometimes more, plus ice. Keep in mind that the number of cans they can hold often relates to cans packed tightly together, and if you max out on beverages, you may not have the extra space needed to carry snacks or other essentials.
Hot Tip: Remember that the volume of the storage size can relate to both the insulated and non-insulated areas of the cooler, meaning that 50 quarts of storage may not mean that the entire internal space is available to be used for cooled items.
Insulation
Depending on your budget and individual requirements, there are different types of insulation that will keep your food and drinks cool on the go. The 2 main types are:
Polystyrene — The most effective insulation that money can buy, this cheap, plastic lightweight material is very bad at transferring heat, meaning that your gear stays cooler for longer. As a general rule of thumb, the thicker the walls of polystyrene are, the better the insulation will be. This kind of insulation can keep stuff cold for days on end, making high-end hard coolers more suitable for trips away and longer stays.
Foam — Usually found in soft-sided coolers, a foam lining can work well if you need to chill your items for just a few hours at a time. Perfect for lunch packs and days out, foam is effective for short-term chilling, but not as effective as the far superior polystyrene.
Portability
It goes without saying that hard coolers will be heavier to carry and bulkier to store than their soft-sided counterparts. Many of the larger coolers on the market will come with superstrong handles, often on both sides, making them easier to carry as a team effort.
With smaller coolers and soft-sided models, portability is easier as they come complete with shoulder straps, backpack straps, or grab handles, and their lightweight design means that they can be easily transported, even when full.
Materials and Durability
Rotomolded hard coolers are incredibly sought after by those who like to enjoy a bit of camping, fishing, and other outdoor pursuits. Made to be virtually indestructible, these types of coolers can last for many years and easily cope with the bumps and knocks of constant traveling.
Soft coolers, on the other hand, don't need to be quite as indestructible, but should still offer tear-proof, waterproof exteriors, as well as washable and leakproof interiors that feature FDA-approved lining material.
Features
Some of the coolers on our list come with delightfully useful additional features that you may never even know you needed. These could include clip-on tables that transform your cooler into an instant bar, handy little cup holders, lids that double up as seating areas, and even fish-measuring rulers for all you anglers out there.
Warranty
Some of the bigger travel cooler brands offer extended warranties with their coolers. Expensive to buy and often manufactured using the very best materials, it is a safe bet that these types of cooler will last many years if used respectfully. As a rough guide:
Coleman — 6 years from the date of purchase
Igloo — 1- to 5-year warranty depending on the exact model purchased
ORCA — 5 years from the date of purchase
RovR — 1- to 5-year warranty depending on the model purchased
YETI — 3- to 5-year warranty depending on the model purchased
With the soft alternatives, most will offer a warranty of around 12 months only.
Hot Tip: Ensure that your cooler purchase is protected from theft, damage, or accidental loss with coverage provided by the best credit cards for purchase protection. If getting the most out of your warranty is important to you, check out the best credit cards for extended warranty coverage.
Soft vs. Hard Coolers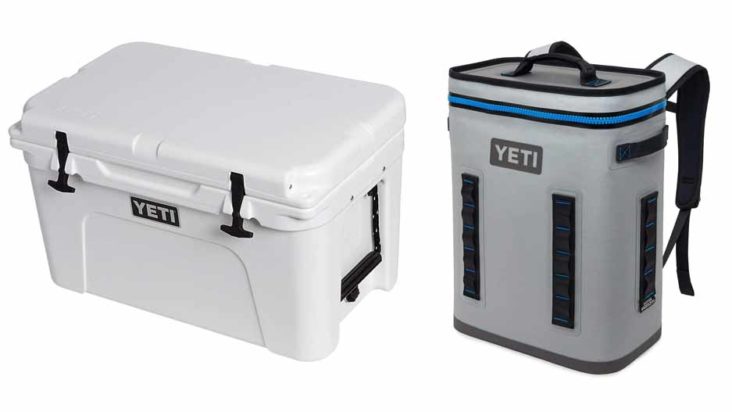 Soft Coolers
A soft-sided cooler is perfect for keeping your beverages chilled and will be able to hold enough for all of the family, without weighing you down. Unlike a regular soft-sided lunch bag, many modern-day coolers are "super" coolers with the ability to keep your food and drink much cooler for far longer.
Often insulated using high-density foam, soft-sided coolers are also incredibly portable and can be carried using a shoulder strap or even worn like a backpack. With a fabric or vinyl exterior and a lined interior, they are also easy to wipe clean or wash when needed. More expensive models come with thermally-efficient zippers to keep the cool in.
Although most soft-sided coolers may have a smaller capacity than their hard-sided counterparts, they are lightweight and easy to use daily.
Bottom Line: Soft-sided coolers can collapse down and fold up, making them easy to keep at home or in the car when not in use.
Hard Coolers
By contrast, hard-sided coolers have increased capacity and the ability to keep a wide range of food and drink cool and safely contained on the go. With additional features including freezer-grade lids, easy-to-clean interiors, and drains to quickly empty melted ice, these types of coolers are designed for more hardcore adventures and really thirsty adventurers.
Hard-sided coolers also offer better ice retention and are usually made from hard, rotomolded plastic, making them incredibly resistant to bumps and knocks along the way. While the increased capacity is also useful, the downside to these types of coolers is obviously the weight and restrictions in portability.
Bottom Line: You will need to carry your hard cooler in your car or another vehicle. If you are going all out for a group activity or celebration, you may need 2 people to carry it or even consider one that has its very own wheels.
How To Pack Your Cooler
To make the most of your new cooler, you will need to know how to load it properly. Here are some top tips to maximizing the efficiency of your cooler:
Pre-Cool Your Cooler
It goes without saying that a warm or room temperature cooler will be less efficient than a cold one. If you are using a hard cooler, fill it with ice the night before you plan to pack it.
Pre-Chill Your Contents
It is much more efficient to try and keep cold or frozen contents chilled than it is to cool room temperature ones. With this in mind, refrigerate or freeze your items before you pack them.
Add More Ice
The preferred ice-to-contents ratio is 2:1, so anticipate that you will need more ice than you originally thought you would. Sprinkling a bit of ice on the top of the cooler will not keep your items cold, so add more.
Also, not all ice is equal. The ice from your refrigerator, for example, is not as cold as ice from a commercial ice maker. Dry ice mixed with regular cubed ice is the very best combination if you can buy it.
Fill It Up
Avoid air gaps by filling your cooler to capacity where possible. If you run out of food and drink items, use more ice instead, or fill the space with towels or paper to prevent the melting process from speeding up.
The 10 Best Hard Travel Coolers
Whether you opt for a hard party cooler or a single soft lunch pack, there are really effective, affordable, and super "cool" travel coolers out there for you to choose from.
Great Storage Space Options and Hardwearing
Arctic Zone Titan Deep Freeze Zipperless Hardbody Cooler
Dimensions: 12.75 x 7.6 x 10.25 inches
Weight: 3.5 pounds
Large enough to hold 30 cans with ease, this incredibly useful travel cooler also comes in 9-, 16-, and 48-can capacities to suit every situation. Made from Rhino-Tech exterior material that is tough, water- and stain-resistant, and easy to wipe clean, this particular model is also designed to be abrasion- and puncture-resistant to withstand almost any adventure.
The interior will keep your beverages cool with deep-freeze high-performance insulation that features a radiant heat barrier and a removable HardBody liner with SmartShelf. The lining is waterproof and incredibly leakproof, and the patented "flip-open" zipperless lid makes it super easy to access your food and drinks at all times.
For added convenience, this little cooler also has a zippered accessory pocket that works well for keeping your napkins and cutlery or even your cell phone. It also has padded shoulder straps that make it comfy to carry over long distances.
Retro-Chic and Perfect Cooling, With an 85-Can Capacity
Coleman Cooler | Steel-Belted Cooler
Dimensions: 26 x 17 x 17 inches
Weight: 2.25 pounds
A modern take on a classic design, the Coleman 54-Quart Steel-Belted Cooler is as iconic now as when it was first released back in 1954. Offering an incredible 85-can capacity, this supercool cooler is also tall enough to hold a 2-liter bottle upright, making it much more spacious than many of its competitors.
Useful modern-day features include comfort-grip steel handles and a stainless steel latch. It also has a leak-resistant channel drain, which means you don't have to tilt the cooler to drain excess water.
Offering 4-day ice retention at temperatures up to 90 degrees Fahrenheit, as well as low CO₂ insulation for reduced carbon emissions from foam manufacturing, this is an intelligent choice for adventurers who want to keep their beverages cool while remaining eco-friendly.
Finally, the Have-A-Seat lid can hold up to 250 pounds of weight, making this an ideal cooler for campouts, picnics, tailgate parties, and so much more.
Best for "Xtreme" Adventures on Any Terrain
Coleman Rolling Cooler | 50 Quart Xtreme 5 Day Cooler
Dimensions: 23 x 18 x 18 inches
Weight: 13 pounds
This high-capacity cooler can hold up to 84 cans and keep them cool for a really long time. From beaches to ball games and everything in between, the Coleman Rolling Cooler comes complete with heavy-duty wheels that can handle almost any terrain, and the tall telescoping handle makes it easy to pull, even when it is completely full.
With a wipe-clean interior and an EZ-Clean lid, this cooler is incredibly hygienic, and the insulated lid and extra wall insulation can keep ice frozen for up to 5 days in temperatures as high as 90 degrees Fahrenheit. For impromptu parties or picnics on the go, the Have-a-Seat Lid can hold up to 250 pounds of weight, and there are even super-useful drink cup holders molded into the lid to prevent them from spilling.
Best for Big Parties or Large Families
Igloo Polar Cooler
Dimensions: 38.2 x 17.3 x 17.7 inches
Weight: 18 pounds
This monster of a travel cooler is one of the biggest and best on the market, with a whopping 188-can capacity. Perfect for use as an ice chest for parties, family gatherings, and other big occasions, the Igloo brand is known for its superior quality and incredible cooling capabilities.
Made with Ultratherm insulation, this model can keep ice frozen for up to 5 days, and the threaded drain plug enables an easy hose connection for draining. The 2 snap-fit latches keep the cooler box lid completely airtight and secure, and the lid can also be used as a seat.
While this baby is on the heavier side when it comes to carrying, it does have reinforced handles that you and a friend can use to lift, load, and carry.
Best for Anglers and Outdoor Enthusiasts
Igloo BMX 25 Quart Cooler with Cool Riser Technology
Dimensions: 19.6 x 15.7 x 13.2 inches
Weight: 11.5 pounds
If you are looking for a heavy-duty cool box, they don't come much heavier duty than this. Offering a whopping 49 liters of cool space, and looking awesome with reinforced blow-molded construction and steel kick plates, this cooler will see you through the toughest of environments.
With extra-thick Ultratherm insulated walls and Igloo CoolRiser technology, this beauty can retain ice for up to 5 days, and the superstrong blow-molded construction makes it a popular choice for outdoor adventurers, especially anglers and fishermen.
With rubber skid pads for extra shock resistance, durable T-latches, steel-enforced swing-up rubber grip handles, and even a fish-measuring ruler molded into the lid, this is a big cooler that is just right for taking with you for a few days away at the lake, by the ocean, or even out on a boat.
Best for Compact Cooling on the Go
YETI Roadie 20 Cooler
Dimensions: 19 x 14 x 15 inches
Weight: 15.98 pounds
The YETI Roadie is a compact but incredibly capable member of the YETI range. It can hold up to 14 cans and keep them ice-cold on the go. With 2 inches of legendary PermaFrost insulation, the ice stays cold, even in the hottest of weathers, and the extra-thick FatWall design will protect your snacks and beverages from hungry bears and anything else the outdoors throws at it.
The rotomolded construction gives the cooler its very own suit of armor. The additional features, such as the T-Rex Lid Latches that are made of heavy-duty rubber, ensure that this compact cooler is built to last you through many trips. Parties, picnics, campouts, boat trips, hunting, fishing, and a whole lot more will be even better with a YETI.
A Top Contender by Pelican
Pelican Elite 30 Quart Cooler
Dimensions: 25.3 x 19 x 18.5 inches
Weight: 26 pounds
Offering extreme ice retention, this 30-quart cooler can keep your food and drinks colder for longer. With 2 inches of polyurethane insulation and a 360-degree freezer-grade gasket, this cooler delivers on long journeys and raised temperatures.
With an over-molded carry handle, 3-inch locking latches, reinforced lockable clasp, stainless steel bottle opener, anti-shear hinge system, and molded-in tie-down slots, this cooler offers a lot of features for active adventurers.
The 4 self-draining cup holders keep it easy to clean, and the non-skid rubber feet mean you can take it virtually anywhere. With a 23-can capacity, you and your friends and family can stay hydrated and cool on any trip.
Best for Family Fun and Flexible Capacity
ORCA
BW0260ORCORCA
Cooler in White
Dimensions: 36 x 19 x 15 inches
Weight: 22 pounds
This is a great family-size cooler, perfect for road trips, campouts, and all kinds of outdoor adventures. Made from rotomolded materials, it is perfect for keeping your food and drink cold with ice for up to 10 days in a row. 
With integrated insulation and a wipe-clean interior, you can keep this durable ice trunk clean and hygienic on the move. The lid gasket ensures a perfect seal to prevent the chill from sneaking out, and the extendable flex-grip handles make it easy to carry with you to your picnic spot.
There is also a cargo net attachment for added storage and an easy-flow drainage spout to help drain away defrosted ice and water after use. This particular model is also available in 20-, 40-, 58-, 75-, and 140-quart capacity units, so you're covered for whatever size you need.
Best for Rolling Over Rough Terrain
RovR Wheeled Camping Rolling Cooler
Dimensions: 27 x 22 x 21 inches
Weight: 45 pounds
This heavy-duty rolling cool box is made from top-quality materials and offers an impressive 7- to 10-day cooling capacity. Designed to travel anywhere with you, you can pull your drinks behind you over almost any terrain on the high-performance, 9-inch, puncture-resistant tires.
The rotomolded, elevated body keeps cool with the help of the airtight gasket and thick foam insulation that comes as standard with this model. The removable Deepfreeze dry bin sits at the coolest part of the chest and is perfect for keeping meats, veggies, and large bottles separated and below FDA food-safe temperatures for as many as 10 days.
With more than enough space to hold up to 60 cans and 20 pounds of ice, the impressive cooling capabilities combined with excellent design features make this award-winning cooler one of the best for extreme adventurers a long way from home.
So Tough It's Even Bear-Resistant
The YETI Tundra 45
Dimensions: 26 x 15.5 x 16 inches
Weight: 18 pounds
Combining the versatility, durability, and delicious design that YETI is so famous for, the Tundra 45 is a rotomolded cooler that is infused with 2 inches of YETI's patented PermaFrost Insulation. This means that it will keep all the contents of your cooler ice-cold, even on the hottest of days.
With space for up to 26 cans, this is a manageable size cooler for taking out on the road with you. Marine-grade polyester rope handles with textured grips make it easy to carry, and the T-Rex heavy-duty rubber lid latches will keep your food protected from the elements while out on the road.
For super-exciting adventures, this cooler even has an extra thick FatWall design that makes it certified bear-resistant! Offering virtually indestructible cooling, the Tundra range from YETI comes in a variety of other sizes and capacities, too.
The 8 Best Soft Travel Coolers
Best for Carrying Extra Accessories With You
Coleman 16-Can Soft Cooler with Removable Liner
Dimensions: 11.8 x 11.8 x 6.7 inches
Weight: 1 pound
Perfect for taking with you to picnics, BBQs, campouts, sporting events, tailgates, and much more, this soft yet durable cooler can hold up to 16 cans for all to share. With extra storage space in the front zippered pocket, the side mesh pockets, and the separate mesh pocket in the lid, you can sneak in extra snacks, cups, and cutlery, too. There are even bungees on the lid for stowing even more extras!
The FDA-approved lining material is safe for food contact. This liner can be removed for easy cleaning in between uses and provides antimicrobial protection to resist odors, mold, and mildew. Lightweight and portable, this compact cooler is perfect for a large lunch for 2 or a round of drinks to share with friends.
Great Option for Beach Trips
CleverMade Collapsible Cooler Bag: Insulated Leakproof 50 Can 
Dimensions: 18.2 x 12.2 x 12 inches
Weight: 2 pounds
Offering better insulation and more snack space than the average lunch pack, this snap basket cooler can hold up to 50 drink cans and ice, too. Perfect for use on the beach, at a picnic, or even on a campout or sporting event, this is a good-sized, incredibly portable soft-sided cooler that is more stylish than the average ice pack.
With a patented snap hinge on both sides of the cooler, you are guaranteed structured support when the tote is open, yet still offered compact storage when you fold it flat.
Versatile and perfect for plenty of uses, including trips to the market to keep your groceries cool on the way home, this is a good-size cooler that won't eat into your trunk space. It looks stylish and a little bit different from the average cooler.
Looks Just Like a Regular Backpack
Coleman C003 Soft Backpack Cooler
Dimensions: 12.2 x 6.3 x 19.3 inches
Weight: 1.4 pounds
Offering a flexible plastic inner liner that has been treated with antimicrobials to prevent the forming of mold, mildew, and odors, this little backpack cooler will keep your food and drinks cool and hygienic on the go.
Spacious enough to hold up to 28 cans, this backpack has multiple pockets for you to stash your snacks and gear, as well as a bungee cord on the front that provides quick access to other items. In the main compartment, the BPA- and phthalate-free, heat-welded design makes this backpack perfect for using with ice on the go.
Easy to clean in between uses, this portable cooler has comfortable padded straps and can be worn just as easily as any other backpack, even when full.
Best for Commuters and Short Trips for 1
eBags Crew Cooler II Soft-Sided Insulated Lunch Box
Dimensions: 8.5 x 15 x 10.5 inches
Weight: 0.5 pounds
Compact, but incredibly useful, this soft-sided cooler is more spacious than a regular lunch box, with the added benefit of offering superior chilling capabilities. Head on out to the beach or join friends for a picnic with enough food and drink. Made from twisted poly fabric with a PVC-free PEVA liner, this is a great little bag for keeping your snacks and drinks cool.
The multi-compartment design has a removable shoulder strap and a rear pass-thru pocket. There is a dry top compartment that will keep your non-perishable items safe and dry, while the insulated bottom cooler compartment will keep your food and beverages completely cool. There is also an elasticized mesh pocket, 3 front zipper pockets, and drop-bottom water bottle carriers.
Best for Hiking and Backpacking
TOURIT Cooler 30 Can Backpack
Dimensions: 13 x 7.5 x 17.5 inches
Weight: 1.6 pounds
The perfect cooler to take on your next hiking trip, this sleek-looking backpack can keep up to 30 cans cool. Compact and discreet enough to be used as a lunch pack for your daily commute, while also being sizable enough to take on days out with friends and family, this is an affordable and practical alternative to a hard-sided travel cooler.
High-quality thickened PEVA hot-pressed material will keep your snacks and drinks cool for up to 16 hours (with freeze packs), while the inner insulation thickening foam and lining will prevent leaks and spillages.
The backpacks also come with ventilated material on the back to prevent your clothes from getting wet from condensation, and the padded, adjustable straps are comfortable to carry. As well as the good-size main compartment, there are also 2 front zippered pockets, 2 bottle holders, and a mesh pocket on the strap to keep your phone safe.
Best for Every Occasion
YETI Hopper Flip Portable Cooler
Dimensions: 15.8 x 10.2 x 12.6 inches
Weight: 2.8 pounds
The soft-sided personal cooler is brought to you by the experts at YETI and is built to its usual rigorous standards with the same keen design elements. With YETI's patented Dryhide Shell, the high-density fabric is waterproof and resistant to mildew, punctures, and UV rays. On the inside, the FDA-approved food-grade material will keep your food hygienic and safe.
The closed-cell rubber foam offers excellent cold-holding capabilities, and the Hydrolok zipper is one of the toughest leakproof cooler zippers in the world.
With a wide-mouth opening for easy loading and access, this compact cooler is far superior to a regular cool bag, and the Hopper is the perfect companion for going off-road, off-grid, and a million other places in between. Lightweight, portable, and with extreme insulation, this is a really impressive travel cooler.
Best for YETI Lovers Who Want to Try a Backpack
YETI Hopper Backflip 24 Soft-Sided Backpack Cooler
Dimensions: 13 × 19 × 8.5 inches
Weight: 5.3 pounds
Beautifully designed to function as both a personal cooler and a practical backpack, this cooler combines the very best elements of the very popular Hopper with convenient design traits.
Being taller and slightly wider than the square box version, the BackFlip has been carefully designed to efficiently distribute the weight of your wares on your back. It also comes with a removable chest strap and waist belt for additional comfort and a customized fit.
As with the rest of the Hopper range, this cooler offers superior cold-holding and comes complete with the patented Hydrolok leakproof zipper and the tough DryHide Shell. With more than enough space to fit a full day's worth of food and drinks for you and your crew, this bag is part cooler, part rucksack, and every bit as awesome as the rest of the YETI Hopper range.
Best for Parties on the Go
Personal Cooler with Speakers
Dimensions:12.2 x 13.8 x 15 inches
Weight: 1.7 pounds
Combine the very best of both worlds as you enjoy an ice-cold beverage while listening to your favorite tunes, even out on the road. Offering something a little different, this quirky cooler works on all devices, including iPhones, Android phones, iPads, and other tablets, and uses Bluetooth to connect with your media. However, there is an optional 3.5-millimeter jack included, too.
With a rechargeable speaker battery that lasts around 8 hours, you can enjoy cold food and drinks while turning up the tunes to get the party started. You can play music from your own playlist or through any radio station, and the speaker sound quality is pretty darn awesome.
When it comes to cooling, the water-resistant material and top-loading design make this a very practical, portable, and great fun alternative to traditional personal coolers.
Things To Consider With Cooler Ice Packs
Ice packs are lightweight, convenient, easy to use, and perfect for keeping your food and snacks cool.
While all ice packs are pretty much designed to do the same thing, there are a few differences in the way in which they keep your food cold.
Water-Based Ice Packs
Some icepacks contain water mixed with propylene glycol, thickening agents, silica gel, and a non-toxic coloring. This heady mix of liquids has been specially blended to allow for faster freezing and slower melting to keep your perishables icy cold for longer.
Gel-Based Ice Packs
Filled with easy-to-freeze gel, these types of cooling packs are covered in heavy-duty, puncture-proof plastic that won't leak, even in extreme temperatures.
Flexible and easy to mold to the shape of your lunch bag or backpack, these types of ice packs take up very little room in your freezer and can provide many hours of icy-cold freshness for your food and drinks.
Longevity
The very best icepacks are able to be used time and time again and can be wiped clean in between uses. Both hard, solid ice packs and flexible gel packs can be frozen and refrozen time and time again.
Freeze Time
Most ice packs will need between 2 to 6 hours to become fully frozen. If you pop your ice pack in the freezer overnight, it should be frozen solid for your daytime adventures. While certain types of ice packs may freeze quicker than others, your ice pack will need to be fully frozen in order to allow for a slower release to keep your perishables cold on the go.
Melt Time
The specially formulated fillings in both gel and water ice packs are both designed to stay colder for longer than regular ice would. Most packs are able to stay frozen for an impressive 24 to 36 hours in an insulated cooler container and work best when paired with thermally-insulated coolers.
Ice packs used in an environment that aren't fully sealed and insulated (like a lunch pack, for example) may only stay cold for between 6 to 8 hours, and ice packs left out in the open may only be effective for as little as 3 or 4 hours at a time.
The 4 Best Cooler Ice Packs
Long-Lasting Ice Packs for Everyday Use
Cooler Shock Reusable Ice Pack
These brilliant little ice packs are able to freeze to a super chilly 18 degrees Fahrenheit, and they have been designed to keep your drinks and snacks cool for up to 48 hours at a time. Easy to use, you only need to fill the pack with water, shake, and freeze until solid, then pack them in your lunch bag, cooler, or other type of food storage container.
The compact dimensions and slim design offer incredibly cooling without the need for bulky ice cubes and messy leaks. The flexible design of these super useful little ice packs means that they can even be used to help soothe pain from injury.
What We Like
The excellent value for money
What We Don't Like
They freeze into odd shapes
Hardshell Ice Pack for Use With Coolers
YETI ICE Refreezable Reusable Cooler Ice Pack
Keep your perishable items cooler for longer with this solid ice pack from the cooling giants at YETI. Made from the same puncture-resistant DryHide fabric as its famous Hopper cooler, this cooling pack is also resistant to breaks and falls along the way.
The custom shape helps to reduce freezing time, and with 2- and 4-pound sizes available, this excellent range of reusable ice packs can be used in everything from your Hopper Flip 12 to your Tundra 350.
Designed to be frozen at home before you leave, this brilliant solid ice pack has been designed to keep your food and drinks supercool for many hours at a time.
What We Like
Staying cold for up to 48 hours
What We Don't Like
They are bulkier than soft-sided gel packs
Slimline Coolers for Everyday Snack Packing
TOURIT Long Lasting Ice Packs
Available in a choice of 4-, 8-, or 12-packs in a selection of colors, these supercool slimline gel packs are designed to keep your cooler bag or backpack icy cold for longer.
The powerful freezing gel has been formulated to stay colder for far longer than regular water can, and once fully frozen, they will stay that way for many hours at a time. The long thin design can be neatly fitted into lunch backs and backpacks, and these super cute ice packs are perfect for use at home, school, in the office, and on days out, too.
What We Like
Easy to fit in any type of bag or cooler
What We Don't Like
They are a little more prone to leaks than we would like them to be
Super-Slim Little Ice Packs
Original Cool Packs
This set of 4 slim and reusable hard gel ice packs have been designed to keep your cool bag feeling colder for longer. Perfect for use in lunchboxes, breast milk containers, and regular coolers, these ice packs measure 7 x 4.7 x 0.5 inches, making them compact enough to take anywhere with you.
Despite their super small dimensions, they are still plenty powerful enough to keep your items cool, and made from 100% non-toxic and BPA-free materials, they are safe to use with your food.
These handy little ice packs are perfect for everyday use at home, at school, on vacation, and anywhere you want to keep your food and drinks cold away from home.
What We Like
What We Don't Like
They don't stay cold for longer than a couple of hours
Final Thoughts
Wherever you are headed, and however much food and drinks you need to take with you, there will be a travel cooler to suit. From oversized ice chests that can double up as a portable bar, to soft-sided coolers that will keep your lunch cool during your commute, modern-day coolers offer impressive cooling capabilities across the board.