Flying With Breast Milk — Everything You Need to Know [Detailed Guide]
We have addressed this many times here before, but traveling with kids can be stressful.
As prepared as you might be, there is always the chance of a delay, a tantrum, rude passengers, and more. Add in trying to transport liquid gold (breast milk) through TSA while simultaneously maintaining it at the right temperature and you may soon realize there is a whole new level of stress that you hadn't known before!
Unfortunately, we ever so regularly see a news report of a poor mother who was forced to throw away her breast milk due to a poorly informed TSA agent. If passengers (and TSA employees) were properly informed, we could all avoid these types of incidents.
Are you allowed to travel with breast milk? Does it have to be frozen? Does it have to be in liquid form? Does the child have to be flying with the parent? What about breast pumps?
Don't worry, we did all of the research for you and we have the answers to all of these questions below!
What Is Allowed on U.S. Flights?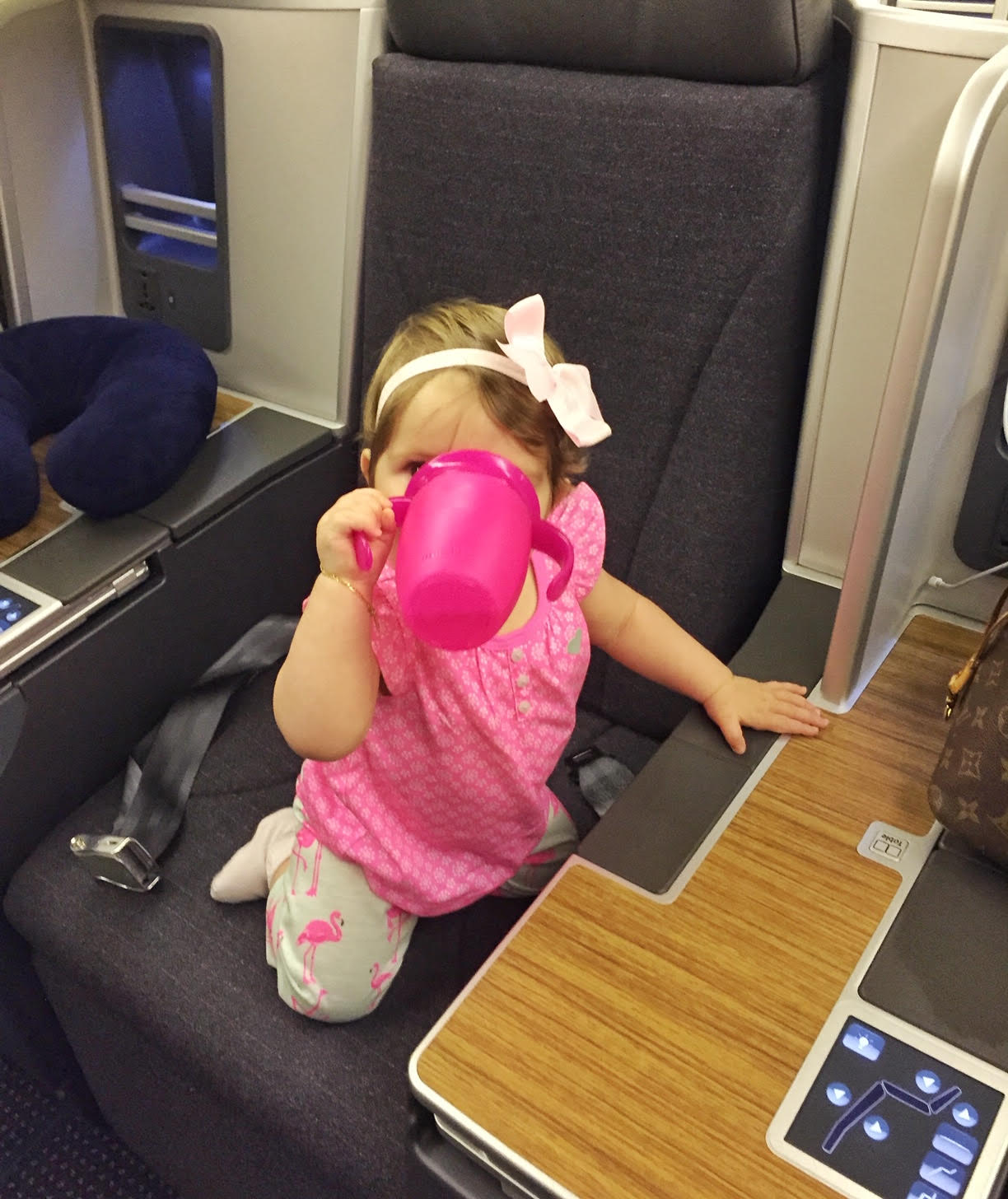 We have already laid out the best ways for families to speed through TSA airport security, but let's dig into the specifics of breast milk, baby formula, and juice (and even breast pumps) for you and your little one.
3-1-1 Restrictions
For "regular" travelers or travelers who don't have little ones in tow, they are subject to the 3-1-1 restrictions on liquids.
That means normally you can bring a quart-sized bag of liquids, aerosols, gels, creams, and pastes through a TSA checkpoint. These items are limited to 3.4 ounces (100 ml) each.
Breast Milk, Baby Formula, and Juice Restrictions
Parents who are flying with or without a child are allowed to bring breast milk in "reasonable quantities" in containers greater than the standard 3.4 ounces normally required by TSA.
Yes, you read that correctly — your child does not need to be with you if you are traveling with breast milk. It may be shocking to some, but breastfeeding mothers may at times need to travel for work or even pleasure without their child in tow.
In order to expedite your screening process, it is recommended that you notify the TSA agent in advance and place these items in a separate bin to be inspected.
It is possible that breast milk will only be tested by X-ray, but in our experience, a manual check for explosives is almost always conducted. This means swabbing the outside, and sometimes inside, of the container.
If you are adamant about TSA not opening the breast milk, there are alternative options for testing. However, that will lead to a longer and more comprehensive screening experience.
Ice packs, gel packs, and freezer packs are all allowed when being used to transport breast milk. However, if the ice packs become partially unfrozen or slushy, they also may be subject to additional screenings.
Hot Tip: If the breast milk is frozen, it will be faster and easier to pass the TSA checkpoint as opposed to fresh or partially thawed breast milk that will need special testing.

Tips for Making TSA Screenings Easier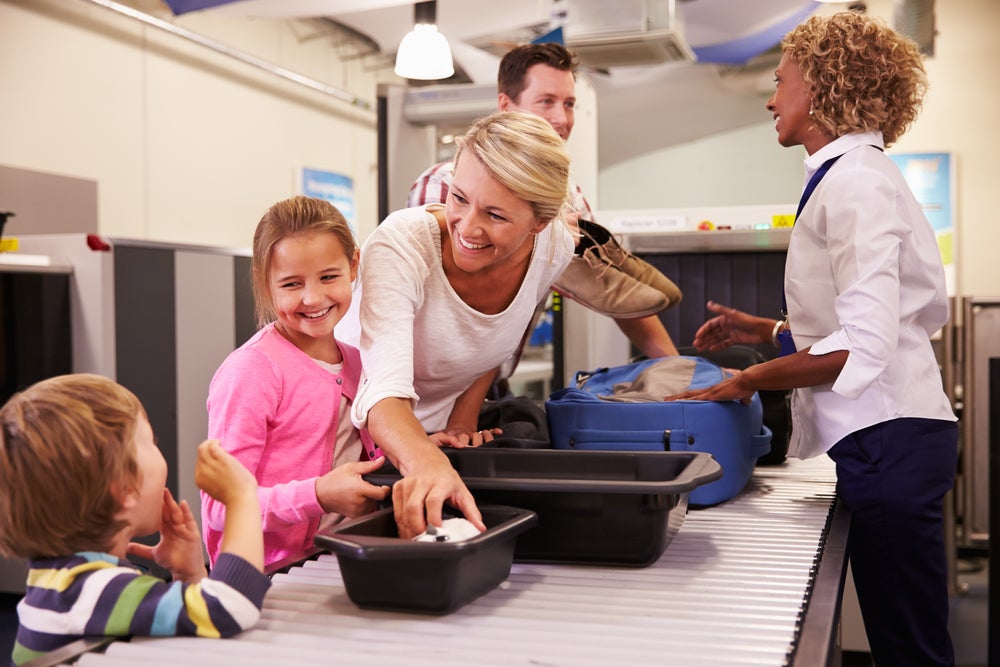 When traveling with breast milk there are a few steps that you can take to make your TSA screenings a little easier.
Separate your breast milk from your other liquids, gels, aerosols, etc. in your carry-on bag and place them in a separate bin at the TSA checkpoint.
Tell the TSA agent at the checkpoint that you have breast milk to be carried on to the plane and that you will need an additional inspection.

By telling the agents in advance (as opposed to just sending it through the x-ray), you will give them an opportunity to get the appropriate staff and equipment ready for when it is your turn, hopefully saving you and the rest of the line some valuable time.

As you reach the x-ray machine, have your breast milk out in a separate tray ready for inspection. We like to send anything that may need additional inspection through the x-ray first in an attempt to save time. Just note that the FDA has stated that sending food (or breast milk) through x-ray machines is not harmful. 
If your breast milk is frozen, it may pass with only a visual inspection. However, if the breast milk is fresh, has thawed a bit, or is slushy, it may be subject to further inspection. You may be asked to open the container so that it can be tested for explosives.
Be prepared to have any ice packs, freezer packs, or gel packs tested as well.
What Is Allowed in Other Countries
Just like the U.S. has its own rules, every other country has its own, too, when it comes to traveling with breast milk. And like most things in the travel world, it is subject to change at any time.
For example, in the U.K., you are also allowed to travel with fresh breast milk in your carry-on, but it is limited to 2000 ml (67.6 oz.) per container. But to be honest, traveling with multiple Coke bottles' worth of breast milk in your carry-on might not be very practical!
However, in the U.K., if the breast milk is frozen it will need to be placed in your checked bag. While this may not be so bad during the winter months, especially if packaged well, be careful if your bag may be subject to warm weather!
Other European countries have similar rules, but as always, it is best to research each country and airline specifically before you head to the airport.
Lactation Areas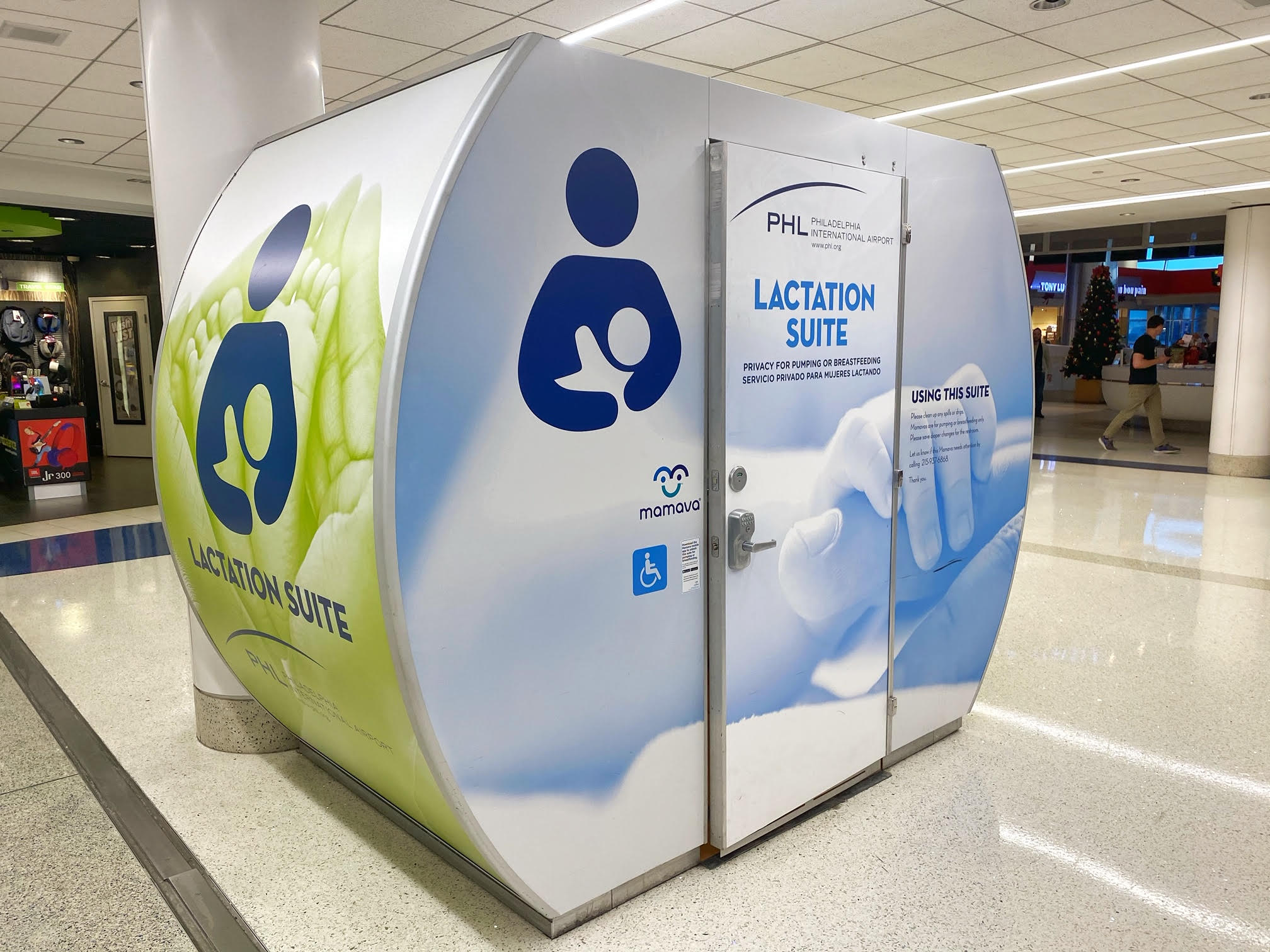 Once you have journeyed through security, you may find yourself needing to feed or pump and would probably enjoy some privacy while doing so.
Fortunately, thanks to the Friendly Airports for Mothers Act of 2017, large and medium hub airports are now required to provide a "lactation area" in each passenger terminal after security to support moms and their babies.
The bill defines a lactation area as a room or other area (like a pod) that:
Is shielded from view and free from intrusion from the public
Has a door that can be locked
Includes a place to sit, a table or other flat surface, and an electrical outlet
Is readily accessible to and usable by individuals with disabilities
Is not located in a restroom
While some airports have stepped up and created dedicated spaces like the Mothers Room at Chicago's O'Hare, you are most likely to see pods in your travels.
The most popular pod at the moment is the Mamava, which is actually a standalone suite available at over 50 airports (as well as at sports stadiums) in the U.S.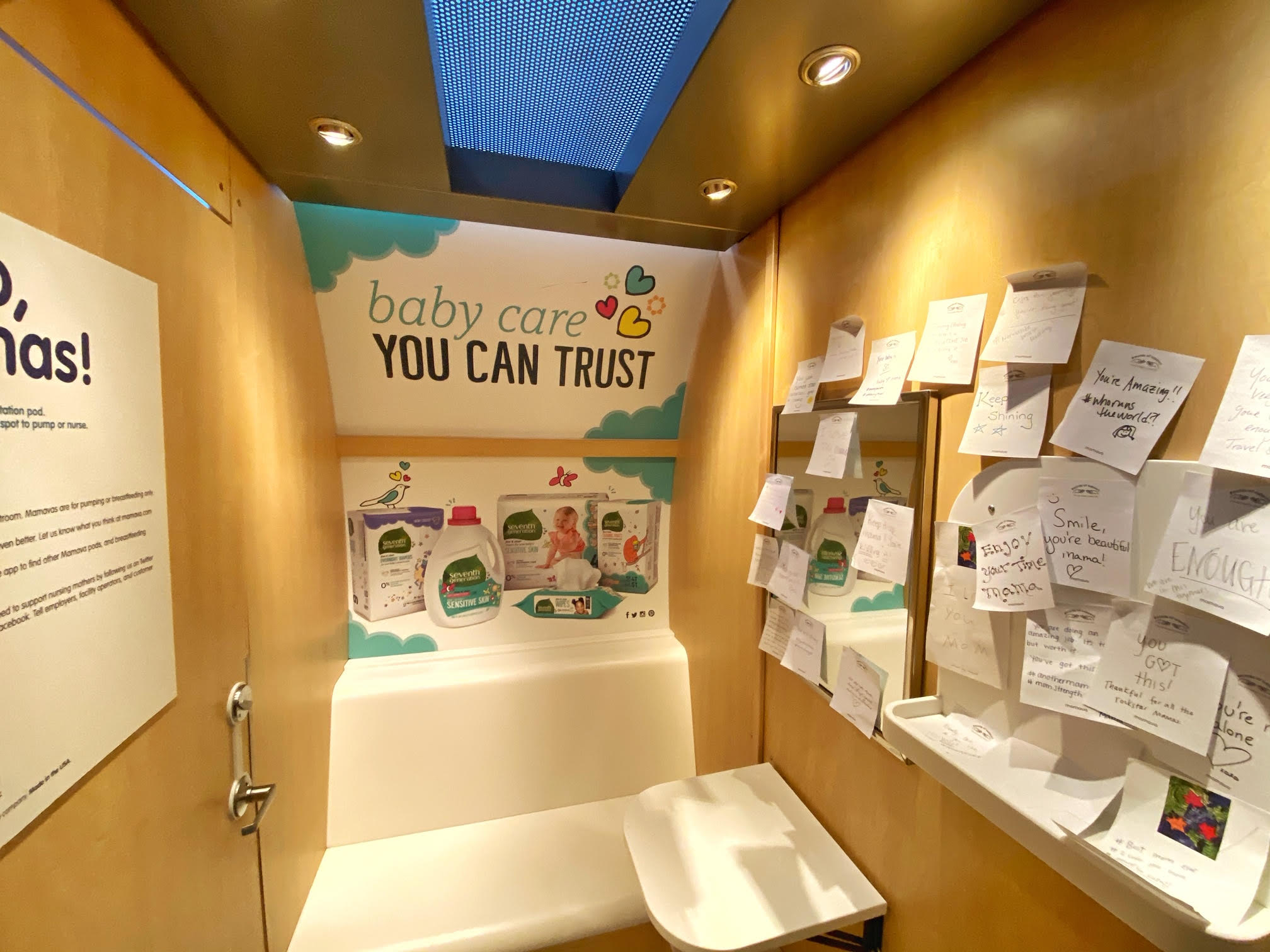 The suites offer a mini oasis from hectic terminals for mothers and their babies to have a moment together and get ready for their next flight.
The Mamava suites that we visited recently at BTV and PHL offered 2 bench seats, a changing table, a mirror, nice lighting — and the best part, a bunch of motivational notes left by other mothers!
Hot Tip: If you are traveling while breastfeeding or pumping and want to try a Mamava, they have a handy app that will help you find the closest lactation suite.
Larger Quantities of Breast Milk
If you are going on an extended trip and you are bringing what someone might consider a larger than normal amount of breast milk, you may run into some issues.
While the TSA website states that you can travel with "reasonable quantities" of breast milk, you are essentially leaving that interpretation up to the discretion of whatever TSA agent you get at check-in.
Depending on the age, stage, health, or any other variable your child may be, the "reasonable quantity" can vary a lot between families and the travel duration.
If you think that the amount of breast milk you want to travel with may be an issue, it is probably best to reach out directly to the airline you are traveling with to get some clear guidance (even better if you can get it in writing).
Hot Tip: If you don't want to deal with the potential hassle of traveling with breast milk, there are alternatives that include shipping the milk to your final destination!
Breast Milk Delivery Services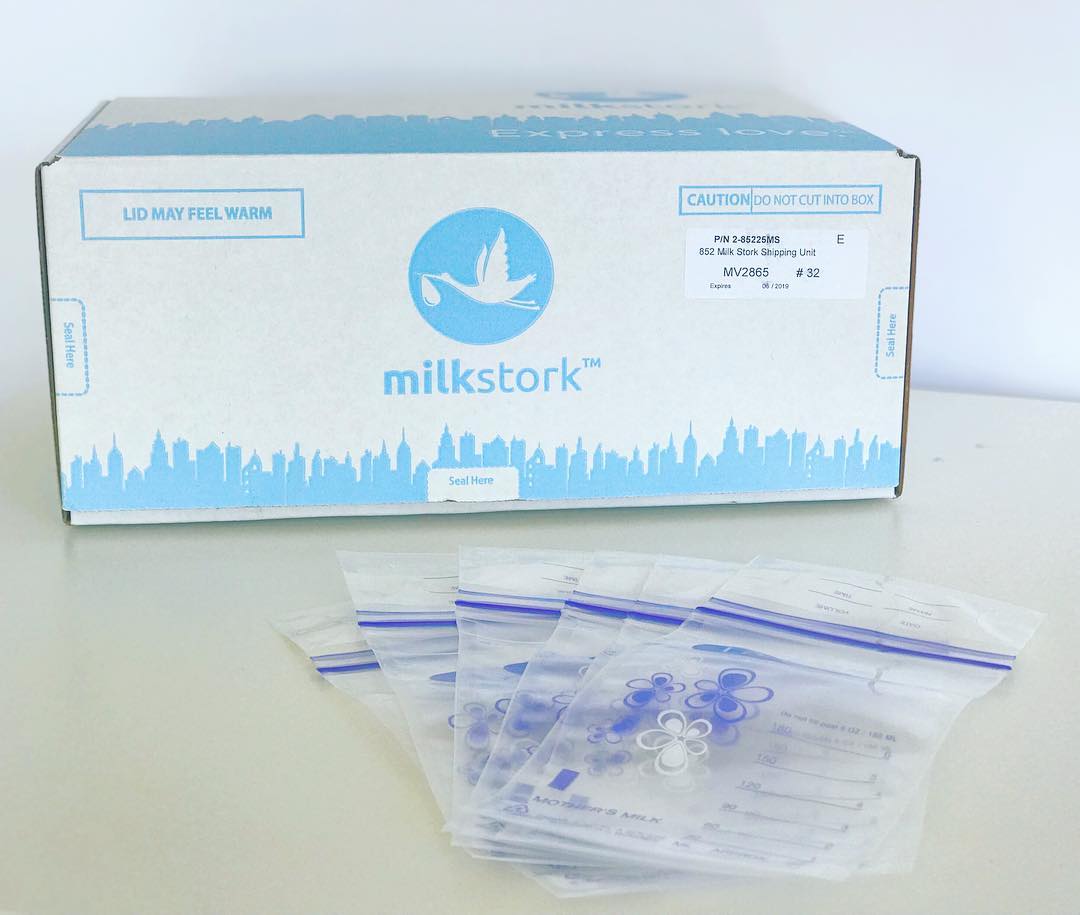 If you have read all of this and have decided that traveling with your little one AND navigating TSA checkpoints with breast milk is just not worth the hassle, we have found some alternatives for you.
Forget about trying to keep that liquid gold at the perfect temperature with rotating gel packs and free ice from the lounge — let a service like Milk Stork deal with it for you!
Milk Stork
Milk Stork is a company that specializes in shipping your breast milk in specialized coolers so that you can feed your little one anywhere in the world. They take care of all of the logistics so that you can focus on what is really important.
Milk Stork will ship you a custom-made cooler so that you can pump and store your breast milk at your convenience and then ship it to your final destination via the prepaid label and postage that came with the box.
At the moment, Milk Stork offers 4 solutions for traveling with breast milk:
Pump & Tote

This option is best when you want to carry your refrigerated milk home with you and you don't need to ship it (such as a carry-on, road trip, cruise, etc.).
Milk Stork will ship you a convenient carry-on tote bag that meets TSA regulations as well as cooling accessories for breast milk that provide up to 60 hours of refrigeration.
Pricing starts at $79 plus shipping and handling for the tote bag and supplies.

Pump & Ship

This option is best when you want to overnight ship your refrigerated milk while you are away.
Milk Stork will ship you everything you need to have your breast milk overnighted by FedEx with a minimum of 72 hours of refrigeration guaranteed.
Pricing starts at $139 for 34 ounces and $159 for 72 ounces plus shipping & handling to the final destination.

Pump & Check

This option is for those who are traveling internationally and want to take their refrigerated breast milk with them as a checked piece of luggage.
Milk Stork will ship you their custom 108-ounce cooler (which they say is the equivalent of a 3-5 day supply of breast milk for most moms) which will provide a minimum of 90 hours of refrigeration from activation. The exterior dimensions of the cooler are 12 x 8 x 10 inches and the cooler weighs 16 pounds when fully loaded.
The cooler kit includes:

25 breast milk storage bags
Circular seals to secure the exterior of the cooler, however, these may be broken if airport security feels the need to inspect the cooler
Tamper-proof stickers to secure each individual breast milk storage bag
Travel bag
Luggage tag

Pricing starts at $289.

Shipping Your Order to Your Final Destination

This door-to-door solution via FedEx is ideal for international travelers.
Simply log onto their website with at least 4 business days of lead time to set up your delivery. Just be aware that they cannot process rush orders and that Saturday delivery isn't available for international shipments.
Pricing, including shipping and handling, to the final destination, is as follows:

$289 — North America (Mexico, Canada, and the Caribbean)
$329 — Europe, Asia, and Australia
$399 — All other areas
Hot Tip: Call your airline to see if stored breast milk will qualify as child gear, as most airlines won't charge for extra checked luggage for items such as strollers and car seats. 
Maven Milk
Maven is a women's and family healthcare company that offers a wide range of services to families and mothers.
One of their services is Maven Milk, which was created to help new parents transition back to work and get breast milk back to their baby easily, safely, and reliably.
Similar to Milk Stork, Maven Milk offers easy to use, TSA-approved, and travel safe options for your breast milk.
They even have very similar names and packages, such as:
Pump + Post Kit

This option can domestically transport up to 36 ounces of breast milk and keep it refrigerated for up to 72 hours.
Included in the kit are:

6 tamper-proof breast milk bags
Medical-grade refrigerated shipping container
FedEx packing and shipping directions plus delivery alerts

Pump + Carry Packs

These foams packs are TSA-friendly, keep breast milk cold longer than gel or water ice packs, fit easily in most travel coolers, and are reusable.

Pump + Check Kit

This kit is designed to get you home from a trip abroad with your frozen breast milk (think working mom who is still pumping and had to leave her little one at home).
The reusable kit is designed to be filled up and checked inside of your luggage.

Packs up to 270 ounces of frozen milk (about 9 days worth)
Keeps milk frozen up to 24 hours
Durable Coleman cooler with antimicrobial liner
9 foam cooling packs
While these kits all sound great, at the moment Maven Milk is only available through employers, so ask your HR rep if your company offers this service.
FedEx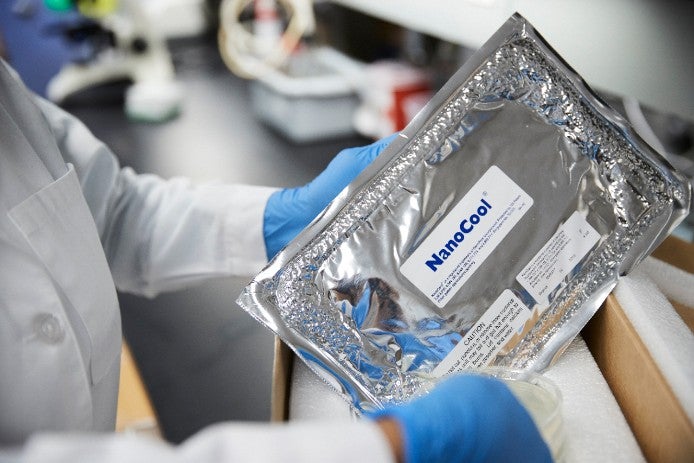 If you really don't want to deal with the hassle of breast milk at the airport but are still more of a do-it-yourselfer, you can always just ship your milk to your final destination on your own.
FedEx offers some great options for shipping items that need to stay cold in transit. Their Temp-Assure shipping packages come in 5 different options and can get keep your breast milk between 35.6°F-46.4°C for up to 48 or 96 hours.
The Temp-Assure technology can keep your breast milk cold without the weight, hassle, and expense of using gel packs or dry ice.
Each of the 5 cold shipping packages includes a chilling unit that is activated by the shipper (by the press of a button!) and placed in the box with the breast milk. The unit continuously evaporates small amounts of water at a low pressure keeping your package at a safe temperature.
Some of the packaging highlights include:
Constant Temperature: Your shipment will maintain a consistent temperate between 35.6°F and 46.4°F.
2 Cooling Duration Options Across 5 Box Sizes: Keep shipments cool up to 48 hours with the standard units available in 3 sizes, or up to 96 hours in the medium and large-sized boxes.
Lightweight: Compared to dry ice or gel packs, you will pay less to the ship the unit itself.
Hassle-Free Preparation: Simply press a button to start the unit before you pack it.
Replacement Cooling Engines: Easily replace an expired cooling engine on your cold shipping package. Engines are available in all 5 package sizes which are great for reusing on future trips.
Prices start at $46 for the small standard duration unit (48 hours) and jump to $155 for the large extended duration unit (96 hours). Replacement engines start at $59 for a pack of 2 for a small box and go up to $170 for a pack of 3 that can be used in the large boxes.
How to Set up Your FedEx Breast Milk Shipment
Once you have decided that you are going to ship with FedEx, you will need to order your boxes from orderboxesnow.com which will then be delivered to you by FedEx.
After receiving your boxes and cold packs ("engines"), you just pack up your breast milk, press the button on the cold pack and schedule a pickup and delivery with FedEx.
Bottom Line: Milk Stork is obviously catered towards mothers and breast milk delivery, which may help make the process feel easier. However, if you are looking at shipping from point A to point B, FedEx has some pretty compelling options as well. 
Traveling With a Breast Pump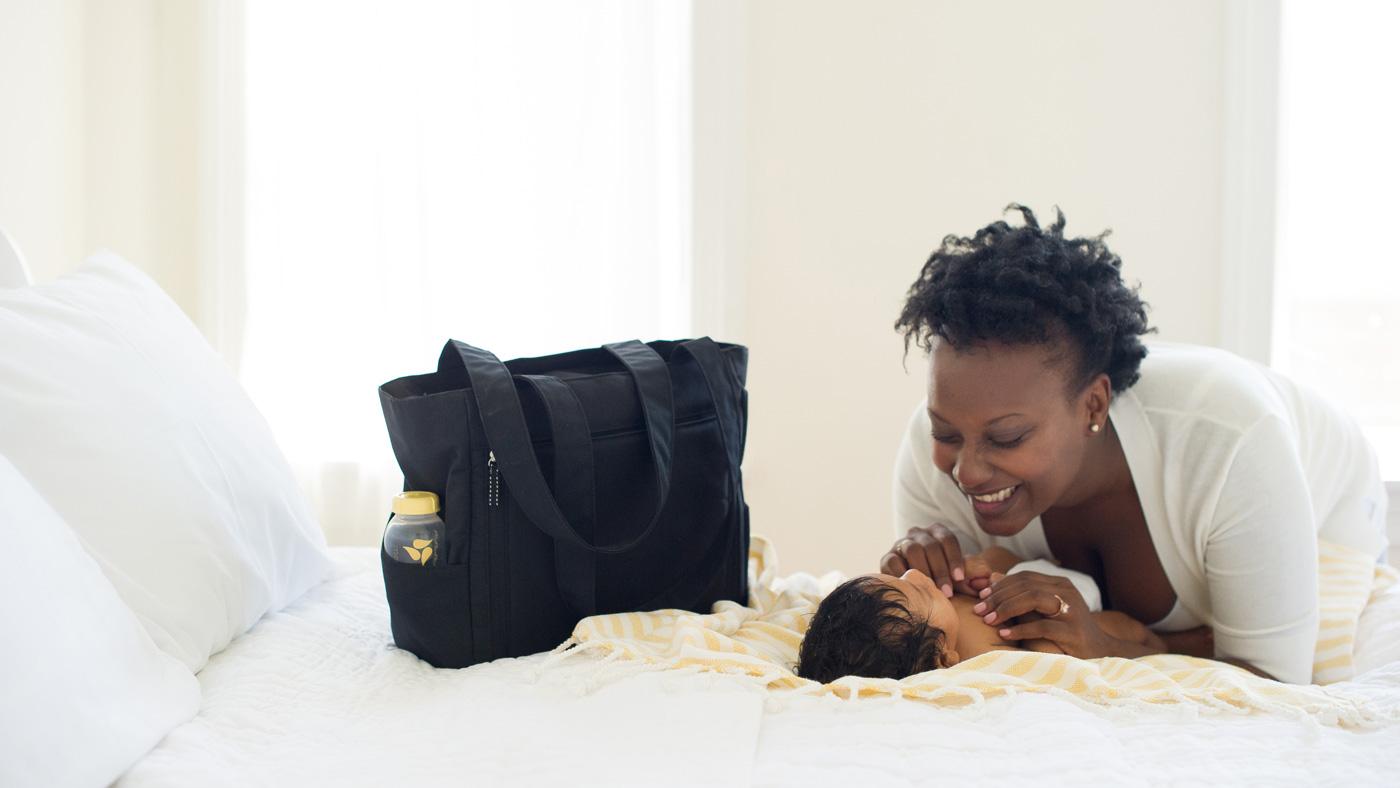 This may be one area where things get a little confusing for TSA staff, not only because there aren't any black and white rules regarding traveling with breast pumps, but also due to lack of personal familiarity.
While it is plausible that TSA agents without children may understand the need to travel with breast milk, it may not be as obvious why a mother (who may be without a child at the moment) may need to carry-on a breast pump.
As murky as the rules are for traveling with breast milk, at least they are laid out on the TSA website that you can bring up if needed. However, it is not as clear when it comes to breast pumps.
Is a Breast Pump a Medical Device?
The Food and Drug Administration (FDA) does consider breast pumps to be medical devices. That means that you can carry it on your flight and TSA should give you no trouble.
However, specific policies regarding the number of carry-on items are still left up to individual airlines.
Bottom Line: If you think you may be near your carry-on limit and are traveling with a breast pump, it may be a good idea to reach out to the airline directly to get clarification.
Final Thoughts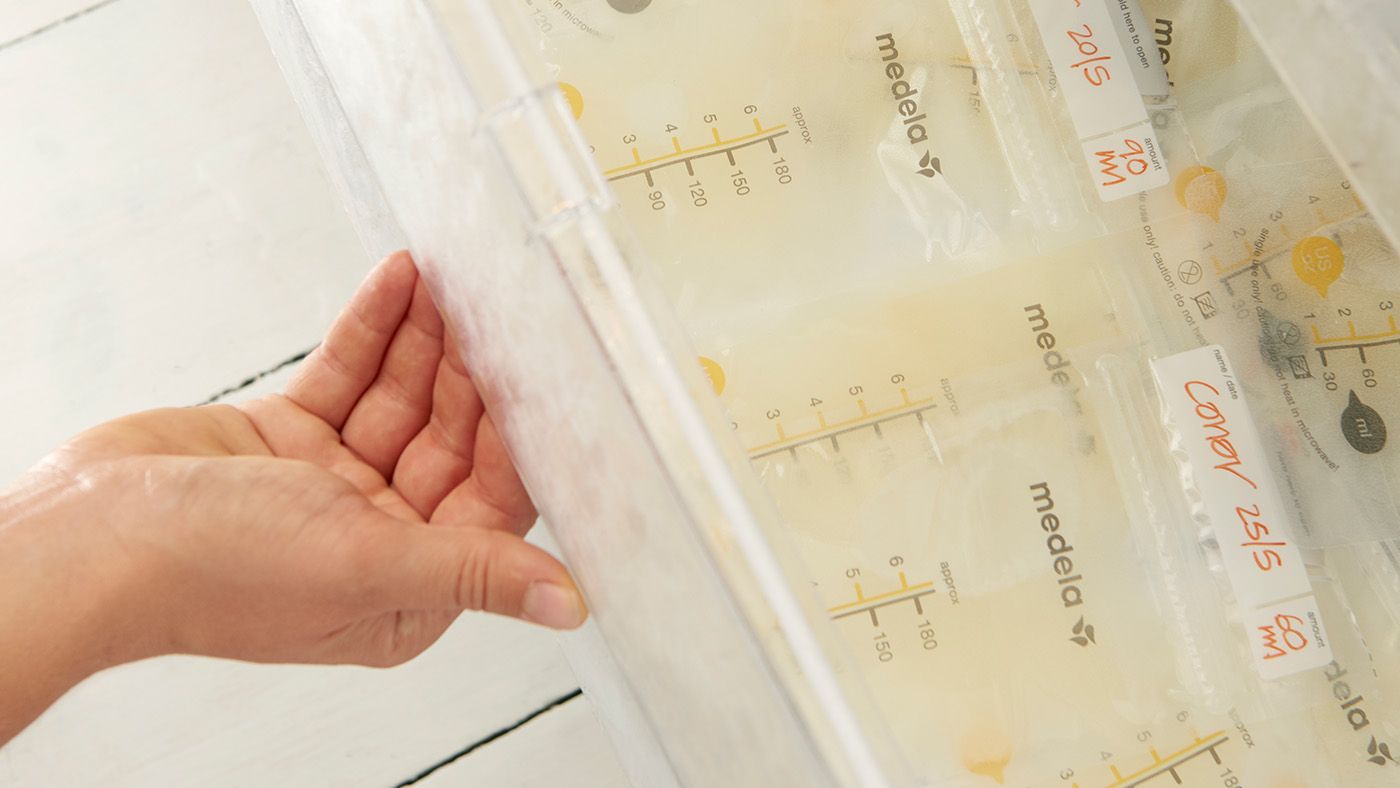 The most important take away is that you are allowed to bring breast milk above and beyond the standard 3-1-1 limits in your carry-on when traveling in the U.S.
On top of that, you are also allowed to bring baby formula and juice in quantities above the normal TSA limit of 3.4 ounces as well.
Just keep in mind that all of these items need to be separated from your other carry-on items to pass through the x-ray and will be subject to additional screening and explosive testing.
Additionally, if you are traveling with a large amount of breast milk that may be interpreted as more than a "reasonable quantity," you could also consider shipping the milk to your final destination and avoid the stress of airport security.
Companies like Milk Stork and FedEx offer practical solutions for maintaining breast milk at safe temperatures while also assisting with transportation logistics.
At the end of the day, whether you are traveling with your child or not, there are plenty of options for transporting breast milk on your next trip!
And if you want to make sure you have no issues at check-in, be sure of have a printout of this TSA webpage handy!
Want more tips and tricks on family travel? Explore our dedicated Family Travel section.