Hotels.com — The Complete Guide to Booking Travel and Saving Money
There are a ton of online travel agencies (OTAs) out there. Websites like Orbitz, Priceline, Amex Travel, and Costco Travel give you a ton of options to book flights, hotels, cruises, or vacation packages — the latter being one of the best ways to use an OTA to save money.
Hotels.com is one of the easier to use and more straightforward OTAs available. Hotels.com offers an extensive selection of hotels, with a search function and customization filters that can arguably be compared to the Google Flights search tool.
Additionally, Hotels.com offers discounted "secret prices" to members, plus an in-house loyalty program that goes a long way to make up for the fact that you can't collect a hotel's points or elite credits for nights booked through an OTA.
Let's take a look at how to best use this platform and how to get the most value from its offerings.
Why Book Through Hotels.com?
There are a few reasons to book through an online travel agency like Hotels.com. The first is customer service, although this can be a double-edged sword.
On one hand, in the event of an issue like an overbooked hotel or a maintenance emergency in your room, booking through Hotels.com means you can contact their customer support and have them advocate for you to try and find a solution. This can be easier than trying to deal with the hotel on your own.
On the other hand, it means that there's a middleman between you and the travel provider. This can actually make it harder for the hotel to re-accommodate you, and it could even mean that there's an extra step to go through when trying to work out a fix.
The second reason is to find a lower price on your hotel, or by booking a vacation package to try to save on both the hotel and flight.
Often, the price that OTAs offer for hotels is the same as what you can get from booking directly with the hotel, especially if the hotel offers price matching. In many cases, however, an OTA like Hotels.com might manage to snag an extra discount for its customers.
Hotels.com Rewards Program
The Hotels.com rewards program is both straightforward and easy to grasp. Other hotel programs like Hilton Honors and Marriott Bonvoy have complex award charts and point earnings are tied to your membership level.
Whereas with Hotels.com, when you stay 10 nights at any hotel booked through the website, you'll earn 1 free night. There are no blackout dates or properties, meaning you can use your free night anytime and anywhere. The only stipulation is that the value of the free night cannot exceed the average of your previous 10 nights you collect.
Put simply, if you stay 5 nights in a $200 hotel and 5 nights in a $400 hotel, you can use your free night in a hotel costing up to $300. This effectively earns you 10% back on all of your Hotel.com bookings.
However, if you want to use your free night for a hotel room that costs more than the maximum redemption value, you can just pay the difference in price. Still, that means you'll at least get a discount toward that night. You're also responsible for paying any taxes and fees.
As of  November 27, 2019, you have to pay a $5 redemption fee for every reward night you redeem. While that's not ideal, there is a way to avoid this fee. There will be no redemption fee applied when reward nights are redeemed using the Hotels.com app.
Secret Prices
Like Orbitz Insider Prices, Hotels.com offers "secret prices" to its rewards members. While these are usually modest discounts, they can theoretically be up to 50% off the otherwise advertised rate offered on other sites. In sample searches, we have found 5%-10% discounts.
Rewards Elite Tiers
For frequent travelers, Hotels.com actually offers its own version of elite status, though perks aren't as generous as what you can get with a hotel's in-house program. For example, even the Hotels.com top-tier Gold status doesn't include popular perks like late check-out or complimentary breakfast. That said, there are still some helpful benefits.
There are 2 tiers of elite membership: Silver and Gold. To qualify for Silver status, stay 10 nights within 1 calendar year; for Gold, stay 30 nights.
Both tiers include priority customer service, early access to some deals, and some more involved price guarantees than regular members can get. Gold members get exclusive access to a few extra deals and room upgrades.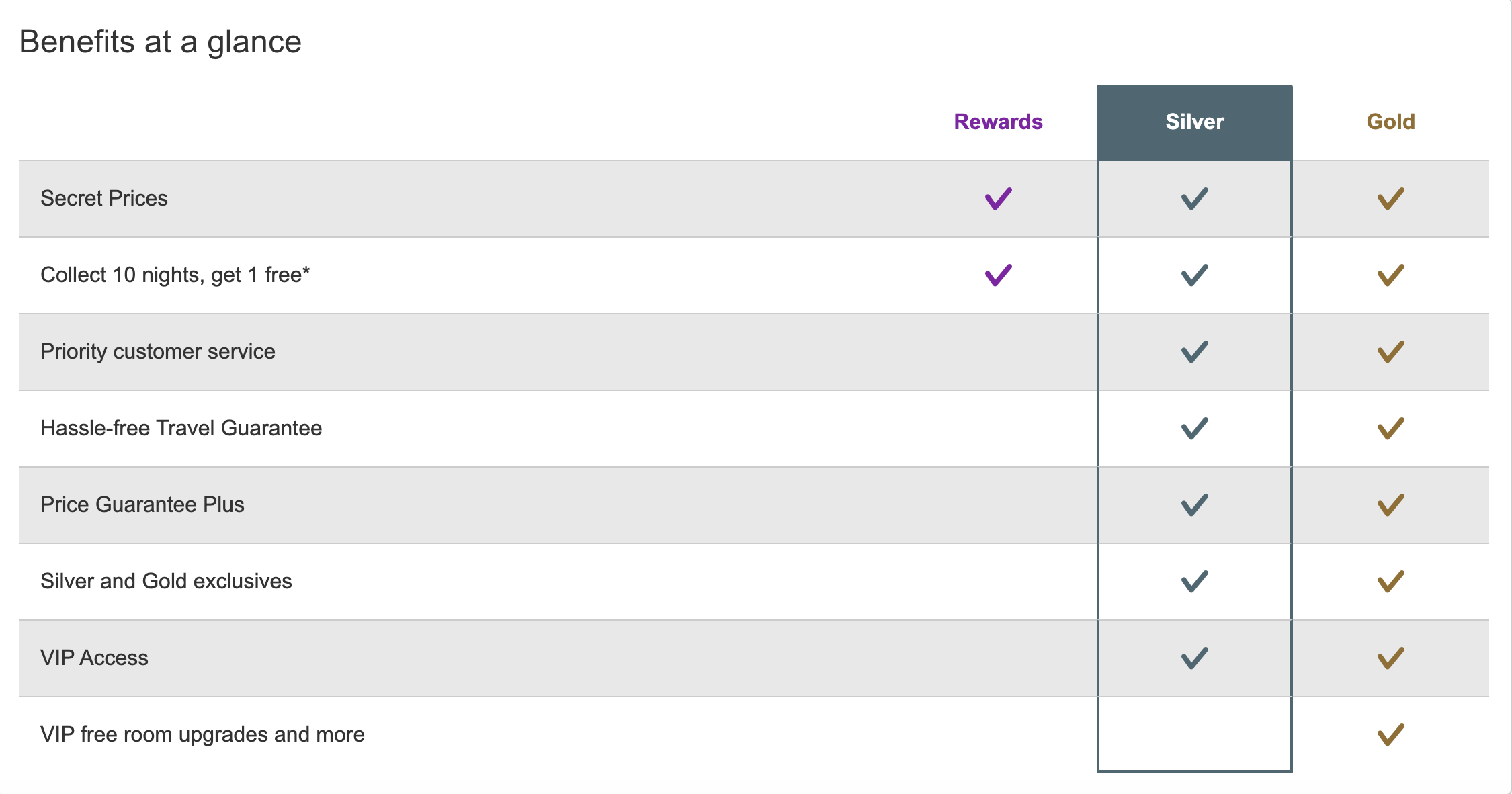 Booking Hotel Nights
Searching
To search for a hotel, first head to the homepage. There's a search window in the upper-left corner. Select your destination, check-in and check-out dates, number of guests, and number of rooms.
There's a drop-down menu to pick the number of rooms and guests — you may need to pick "more options" if you're looking to book for a large group. When you're ready, click "search."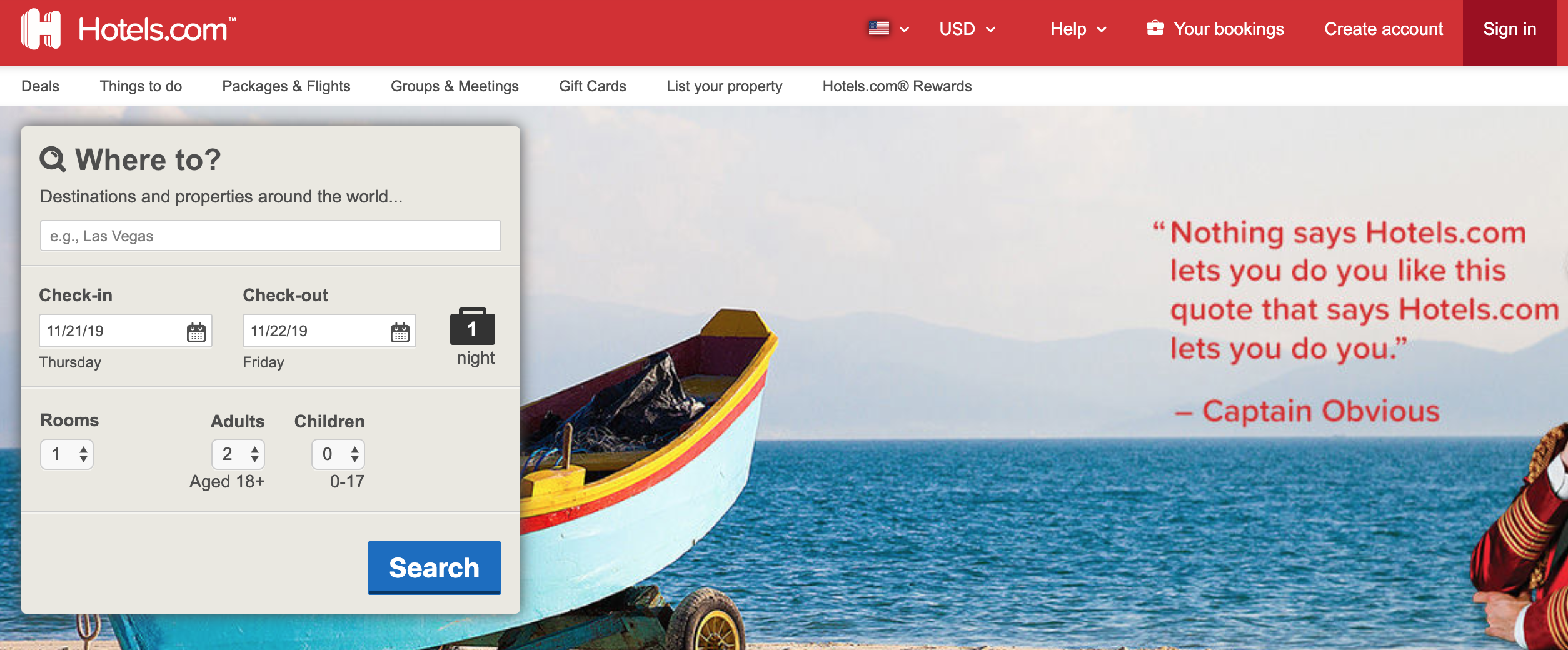 On the next page, you'll find the search results. By default, hotels are sorted by "Featured," which are determined based on an algorithm factoring in price, reviews, location, and more.
In general, unless you have a specific hotel property, price, or neighborhood in mind, you'll find the "Featured" list to be fairly reasonable. This makes it easier to sort through what can be dozens or even hundreds of options in a big city. Just be certain to do your research, as Hotels.com does receive compensation for hotels that appear higher up their search listing, though that is not the only factor.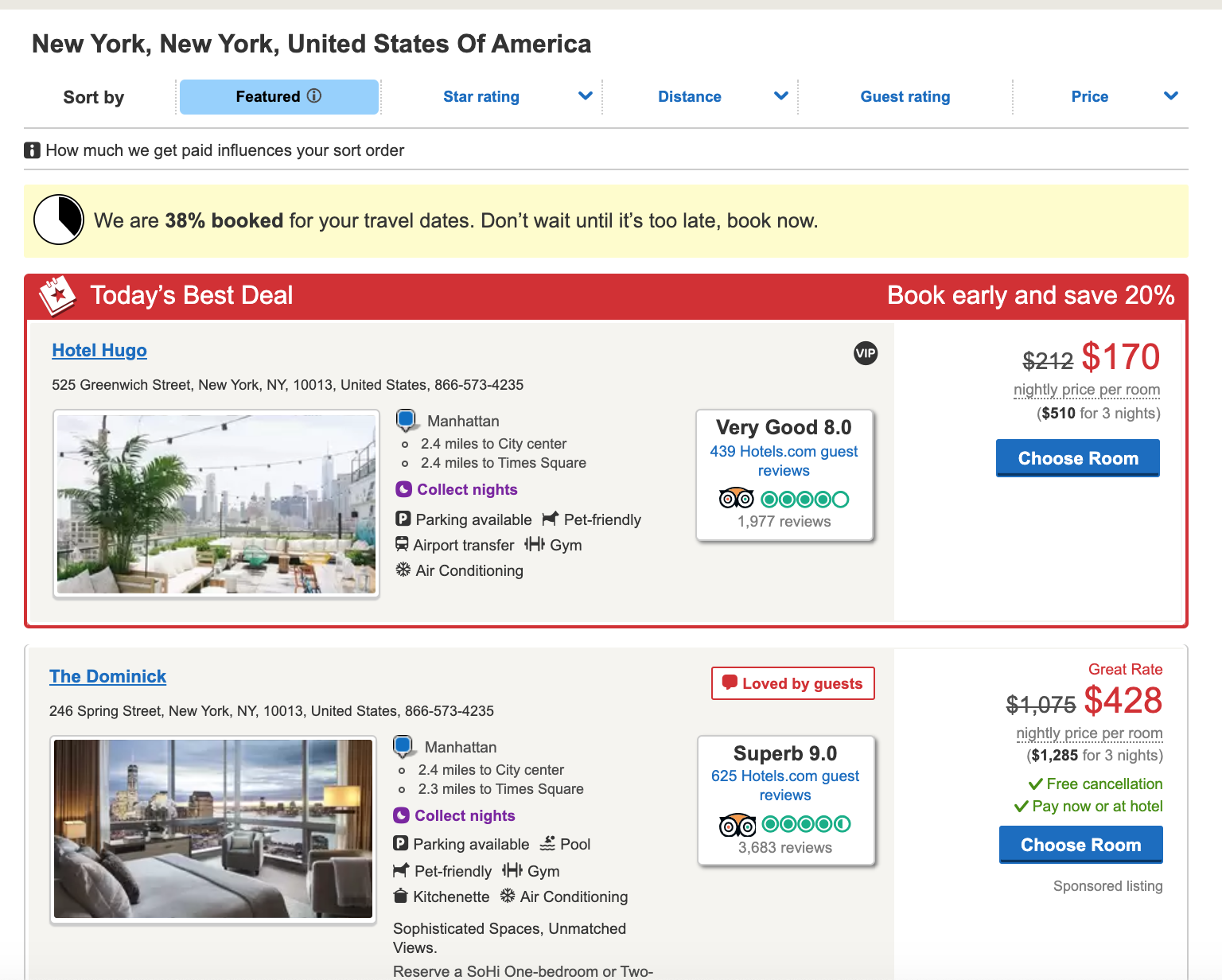 If you want to reorder the results, use the tools above the list of hotels. You can sort the results by price, star rating, or guest rating.
If you're staying in a big city, "Distance" sorting can be especially helpful, offering a large list of famous landmarks as well as "City center." If you don't really know where to stay and are unfamiliar with the city, this gives you some great location options.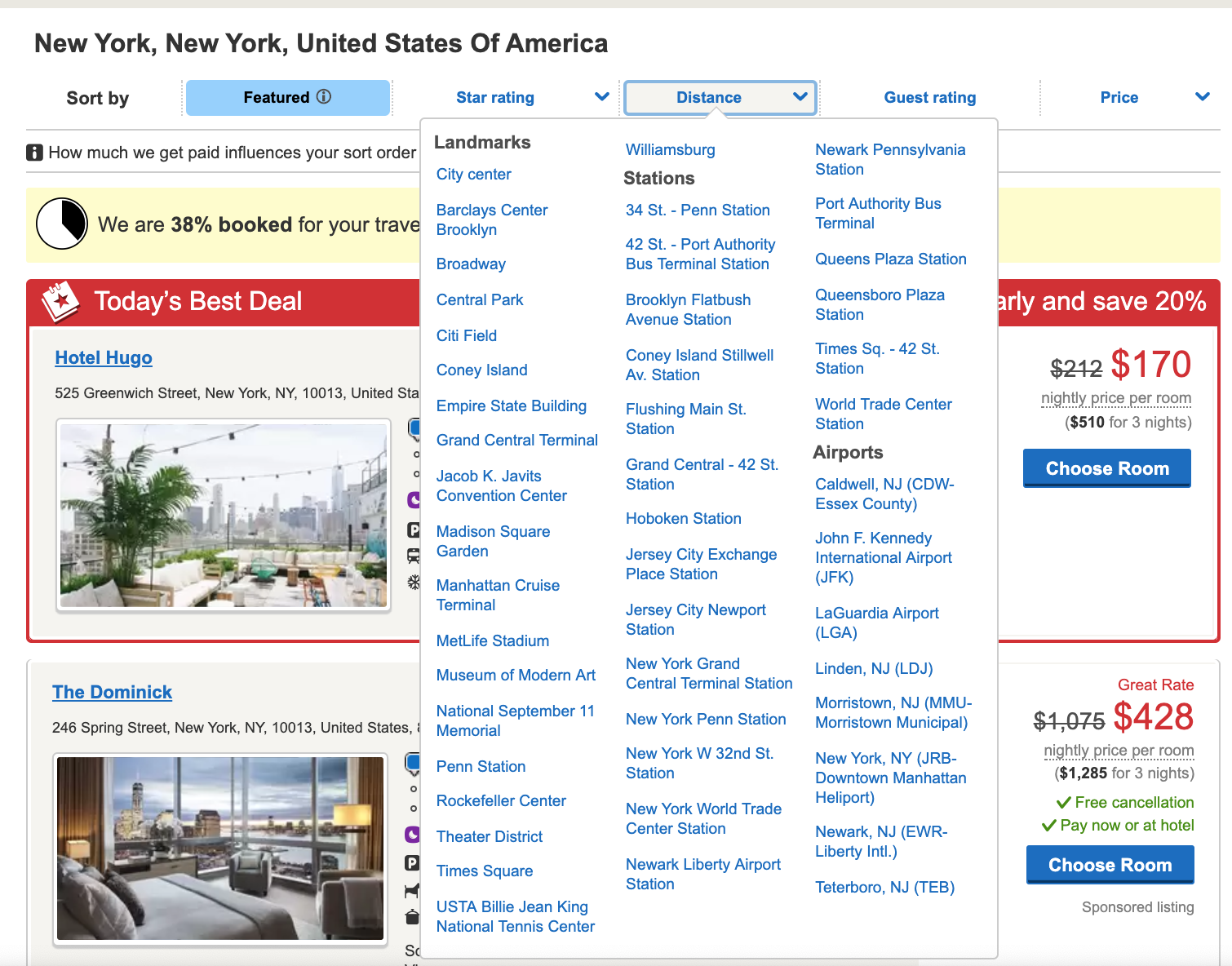 In addition to reordering results, you can filter using the options on the left side of the page. Popular filters include amenities like free breakfast, pool, and free parking.
When browsing through the results, pay attention to any terms under the listed price — if free cancellation or pay-at-check-in is available at that hotel, it lists that here.
Also, be sure to log in to your Hotels.com account or enter your e-mail address so that you'll see "secret prices." Hotels with that option will show a purple button above the listed price that reads "Your Secret Price." Click the button to see what's offered.

When comparing secret prices to prices offered to non-members, you typically find discounts of 5%-10% per night. Most of those hotels offered discounts to non-members, but those were smaller discounts than the secret prices.
Booking
As you browse the results, click the "Choose Room" button to see more information about the hotel or make a reservation. The next page offers a lot of details about the hotel listed under the photo slideshow.
Scroll down to view available room types. Make absolutely sure to read the information in the "Options" column — this includes the cancellation and prepayment policies. Click "Let's Book" next to the room and rate you choose.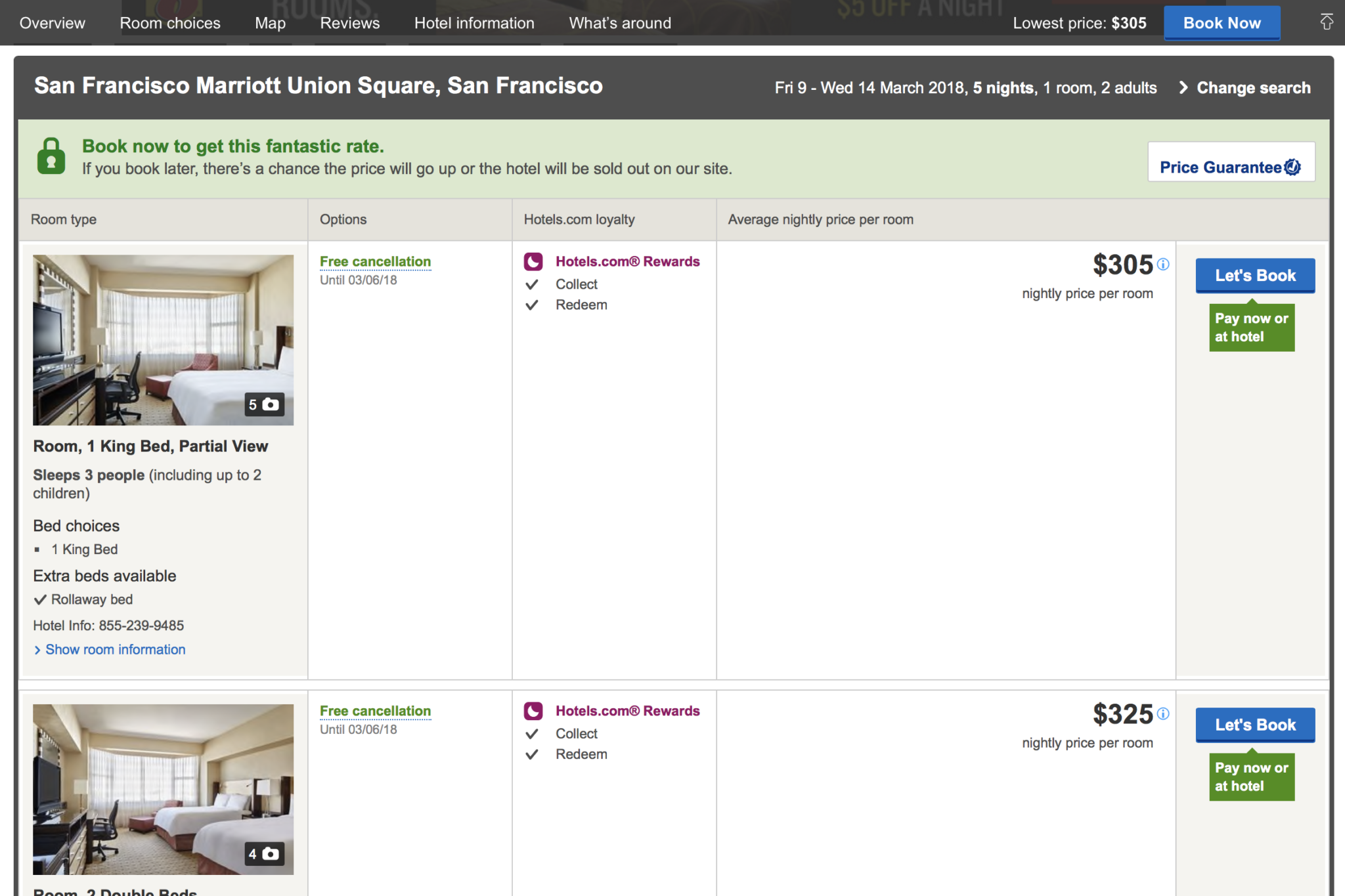 If prepayment isn't required, a window pops up comparing prepaid vs. pay-on-arrival rates. Choose which you'd prefer and click either "Pay Now" or "Pay at Hotel."
On the next page, fill in your personal details, enter payment information, and review the terms and conditions, which include specifics about the cancellation policy. When you're set, just click "Book."
Price Guarantee
Like many OTAs, Hotels.com offers a best price guarantee. If you find a cheaper, publicly available rate on another site after you've made your reservation, Hotels.com will refund the difference.
While many sites like Priceline require you to submit a price-match request within 24 hours of making the booking, Hotels.com will honor requests made until 11:59 pm the day before check-in.
Hot Tip: To submit a claim if you find the same room for a better price, call customer service at 800-246-8357.
Keep in mind that the price match only applies to rates that are available to the general public. This excludes loyalty members-only rates, AAA or AARP rates, and opaque booking rates (like what you could find from Priceline Express Deals).
Prices
While there is a best price guarantee, it's much easier to just pay the best rate from the beginning. So how do Hotels.com's rates compare to other sites?
To find out, we looked at a few different hotels and dates across several different services. For the sake of example, take a look at the below comparison for 5 nights at the San Francisco Marriott Union Square.
These include the best available cancellable rate but exclude estimated taxes and fees, price ascending:
| | |
| --- | --- |
| Site | Price |
| Priceline | $1,400.00 |
| Marriott.com | $1,525.00 |
| Orbitz | $1,525.32 |
| Hotels.com | $1,525.33 |
| Amex Travel | $1,525.33 |
In this case, Priceline offered the best rate by a significant amount. In fact, Hotels.com was more expensive than every other site (though only by a few cents in most cases).
However, it's likely that Priceline was offering a special rate or deal, as price discrepancies this large are not common. In other searches, Hotels.com will usually have similar or identical prices to other sites, and in some cases, the lowest rate.
Hot Tip: Regardless of which booking service you want to use, you should always compare prices between multiple sites to help find the lowest rate!
The lesson here is that each OTA offers different rates at different hotels based on deals, agreements, and more. If you have a specific property or area in mind, the best practice is to compare prices using a few different sites.
Flights, Vacation Packages, and Activities
Hotels.com's promotional tagline is "the obvious choice." Another thing that's obvious is that they're all about booking hotels. Unlike other OTAs, such as Priceline and Orbitz, the website doesn't offer rental cars, cruises, and so on.
However, despite its name, they do offer flights and vacation packages — with a package, you can save some money by booking a flight and a hotel together.
The hotel packages are less comprehensive than what Costco Travel offers, but they're still valuable. You can even find a limited number of activities in certain cities.
One caveat: package, flight, and activity bookings are not eligible for Hotels.com Rewards credits, even if you include a hotel. Because of that, there do not seem to be any advantages to booking through their site instead of directly with the airline.
Hot Tip: Even when you book a flight through their portal, you can still earn the airline's frequent flyer miles. Just be sure to enter your account number when making the reservation.
Vacation Packages
To search for vacation packages, click the "Menu" text in the upper-left corner of the homepage, then click on the link for packages and flights.
On the next page, click the "Flight + Hotel" button. Enter your origin and destination, departure and return dates, the number of people traveling, and the number of rooms. Next, click "Search."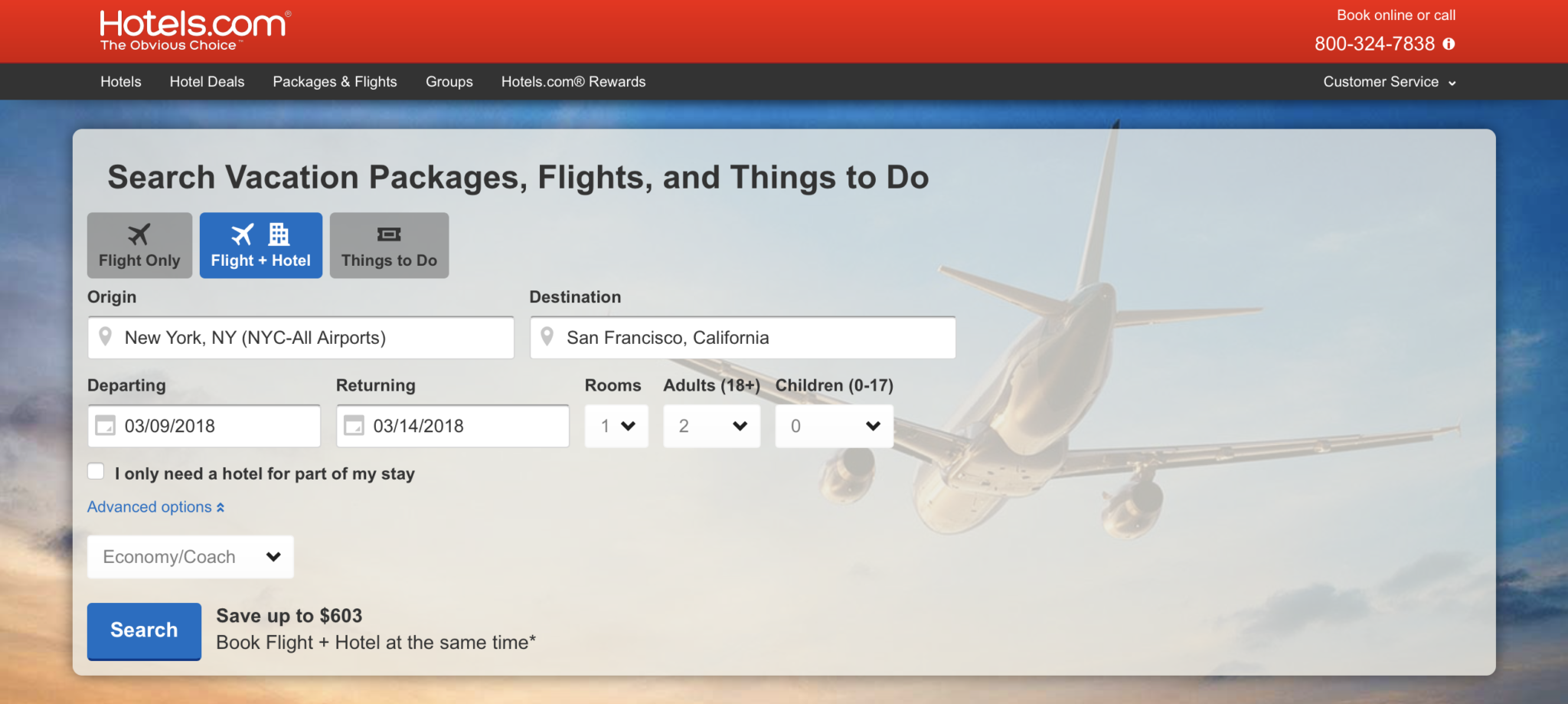 The results page starts with hotels, listing them in "Featured" order. You can also sort by price, guest rating, or distance from downtown.
Additionally, you can use tools on the left side to filter results by property name, star rating, neighborhood, amenities, property type, or popular locations.
Each result displays a price per person, which represents the cheapest available flight, the hotel's lowest rate, and all fees and taxes.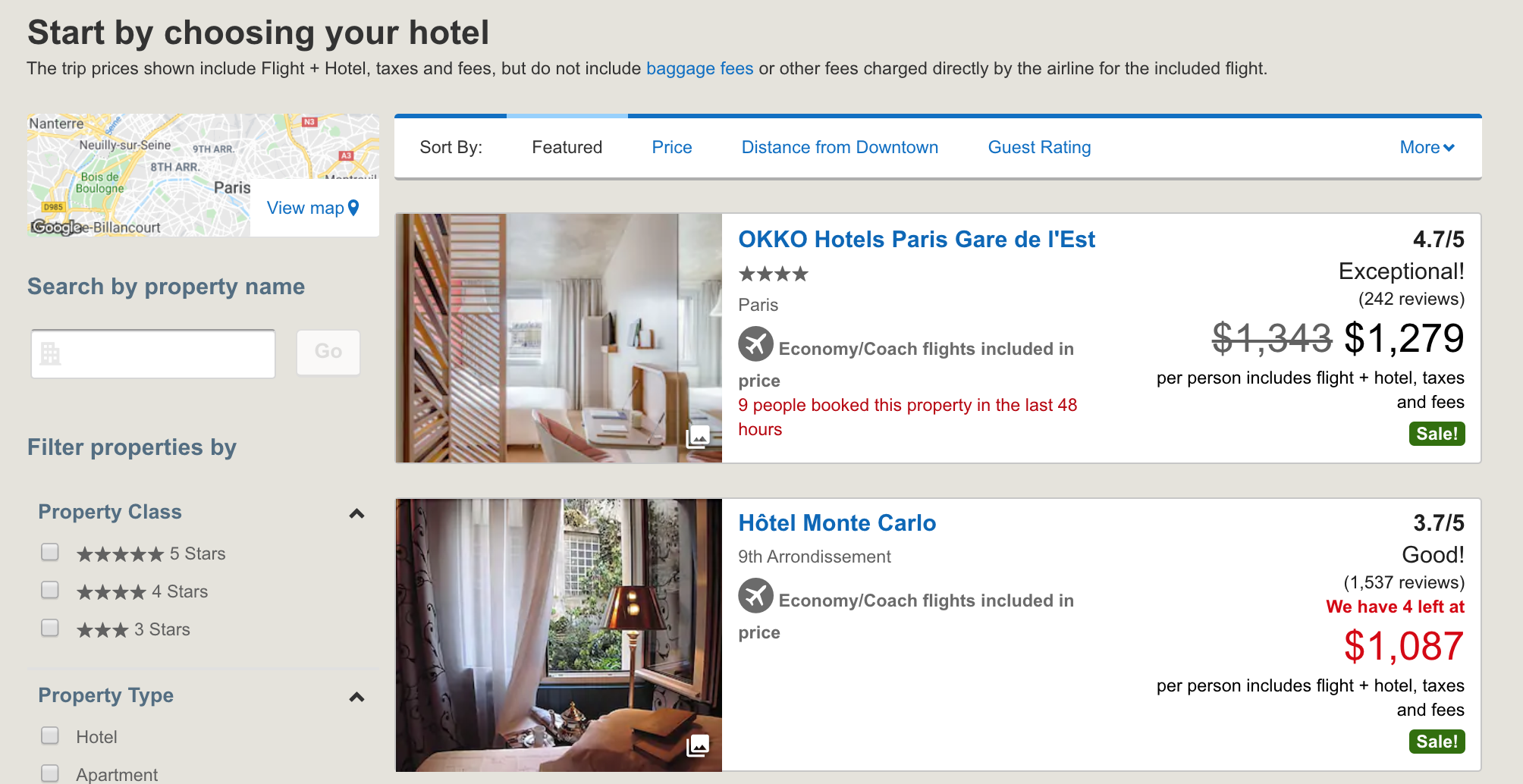 Click a result to see more details of the hotel. When you find one that you want to book, scroll down to find the available rooms. Some rooms may show an additional price per night on top of the rate shown on the results page, though there will be at least one "+ $0.00" option.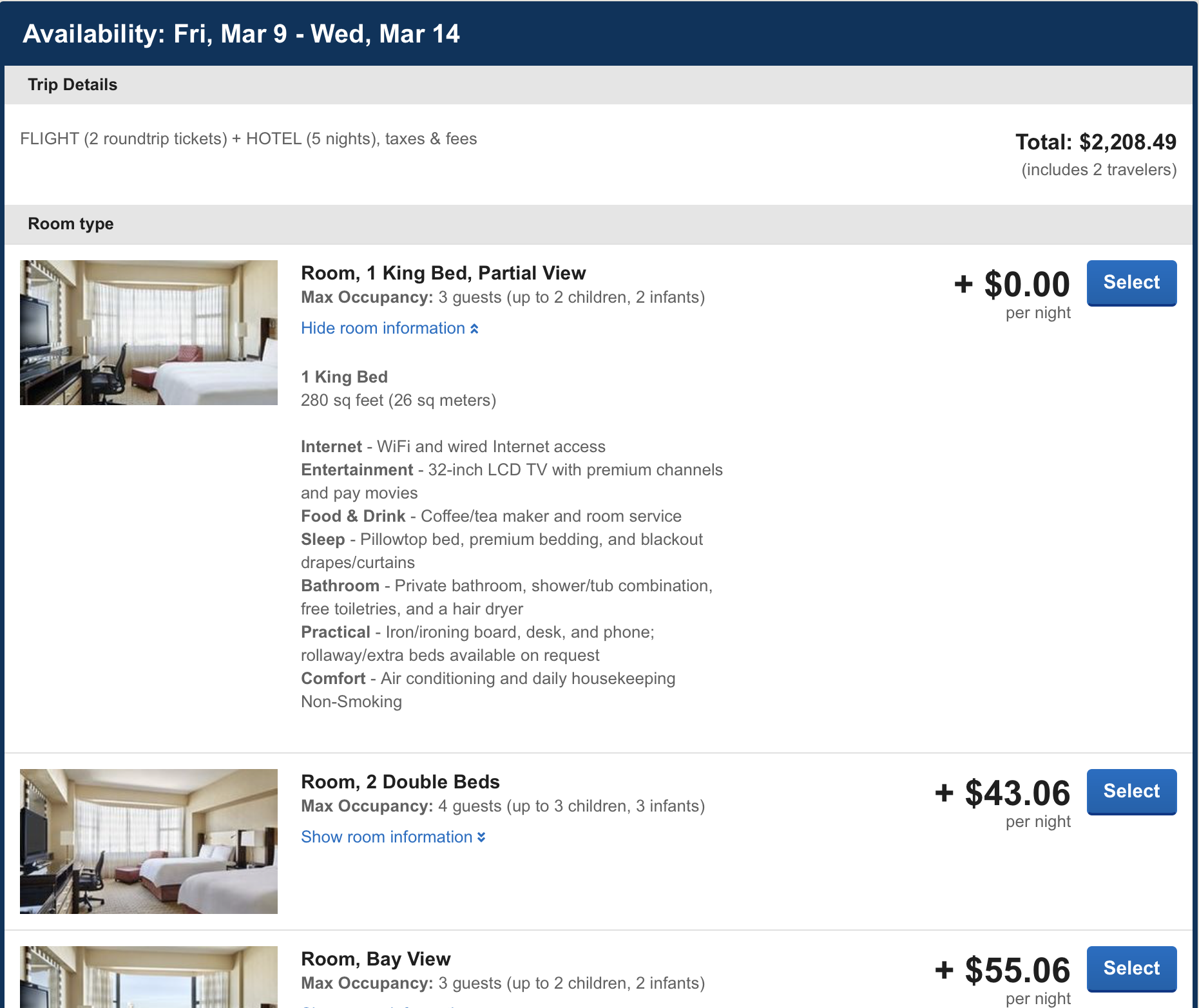 Next, pick your outbound flight, followed by the return. These are sorted by additional price — the top results are included in the quoted price, while any flights that have an additional cost will be lower down. When possible, they'll prioritize nonstops.
Review the details on the next page, then click "Book Now." Enter your details on the next page, followed by payment, and you're all set!
Bottom Line: Hotels.com offers a solid vacation package portal, though prices are similar to other OTAs and you can't collect their Rewards credits. Keep in mind that bundling, while more convenient, may not be the cheapest option. So always compare multiple websites before booking! 
Activities
Hotels.com offers a portal through which you can book things like tours or purchase admission tickets.
When comparing prices across a number of different products, they seemed to be the same as booking directly with the providers or with any other ticket seller.
If you're interested in looking through options, navigate to the "Flights and Packages" area, then click on "Activities."
Final Thoughts
Hotels.com offers a powerful hotel search tool, as well as a simple, easy-to-use rewards program. If you're looking to travel a few nights a year, it could be worth your while to book with Hotels.com.
If you're loyal to a certain hotel group or have elite status from a hotel credit card, you're likely better off booking directly with the hotel so that you can earn hotel loyalty points and increase your elite status.
As always, remember to compare prices before booking. Hotels.com offers a fantastic price guarantee and you're protected if you find a cheaper rate anywhere else up until the day before check-in.
---
Like this post? Pin it on Pinterest!