The 12 Best Cheap Beach Vacation Destinations in North America [2021]
Everyone deserves a beach vacation now and then, and it doesn't have to break the bank if you research the destination and take advantage of flight deals.
Even destinations that are not known for being wallet-friendly can be within your reach if you book budget accommodation, use public transport to explore, self-cater meals, or seek out restaurants away from the main tourist areas.
Some of our recommended beach destinations are tropical island escapes, where you can recharge your batteries relaxing on golden beaches, sipping rum cocktails, or splashing around in the surf. Others could be closer than you think, with some amazing coastal spots within the U.S. — perfect for a family road trip or romantic getaway.
1. Aruba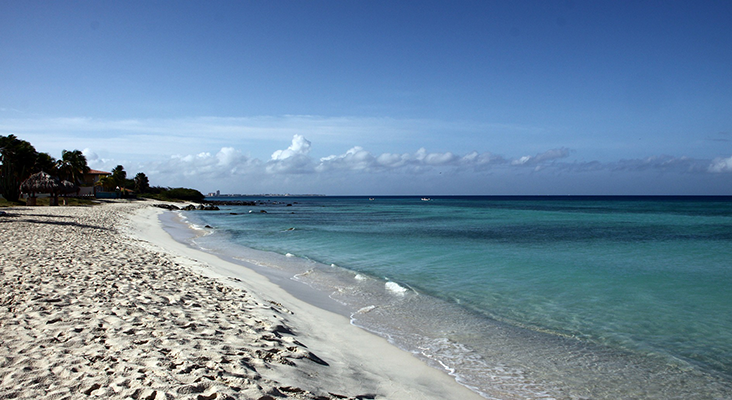 Aruba is 70 square miles of paradise, with silky sand beaches, turquoise waters, and incredible sunsets. With the slogan "One Happy Island," Aruba is known for its friendly and diverse multi-lingual locals that welcome visitors in 4 languages.
Located in the southern Caribbean, Aruba is away from the hurricane belt and has excellent year-round weather. There's no bad time to visit, so tourists can take advantage of flight and vacation deals at any time of the year.
Return flights to Aruba (AUA) from the East Coast can be as low as $360, and vacation packages with a hotel are around $500 when booked with Expedia. For that price, you're not going to be staying on the beachfront, but with a cheap local bus service, you can hop between the island's stunning beaches, including Eagle Beach, Palm Beach, or Malmok Beach.
Where to Stay
Hot Tip: High season in Aruba is January to March, so avoid traveling during this time if you're looking for the cheapest flight and accommodation deals. 
2. Bahamas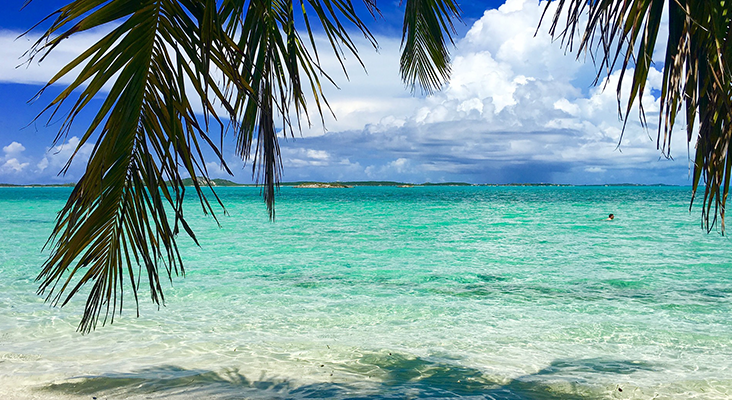 The beautiful Bahamas is made up of over 700 islands, with some visitors happy to relax and stay-put on 1 island for the duration of their trip and others that want to island-hop by plane or boat.
With its crystal clear waters, the Bahamas is a top diving spot for colorful reefs, blue holes, and guaranteed shark encounters at some sites. If you visit the islands of Exuma, you can choose to see some unlikely inhabitants of the Bahamas — the famous swimming pigs.
Flights from Florida to Nassau (NAS) start from around $200 return from the U.S.; however, the Bahamas is somewhere that you'll likely save money by booking a vacation package, especially if you're planning to visit the Out Islands.
Where to Stay
Hot Tip: Before booking your trip, check out our list of the best credit cards for vacation purchases.
3. California — Ventura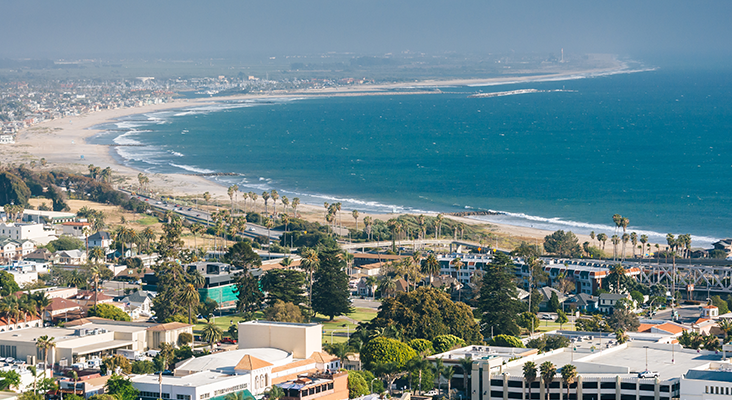 Ventura is located north of Los Angeles and is a small town offering many outdoor pursuits. Kayaking, surfing, hiking, and camping are popular activities with locals and visitors, and year-round whale-watching trips depart from Ventura Harbor.
Often referred to as "The Galapagos Islands of North America," some of the closest islands of the Channel Islands National Park are just an hour's boat ride away from Ventura. The islands and surrounding waters have an abundance of wildlife, including seals, dolphins, and the island fox.
Back on dry land, Ventura is home to award-winning wineries and independent restaurants, and it has a great music program during the summer. If you're vacationing from California or one of the nearby states, then rent a car to visit Ventura, or if you're flying in from elsewhere, Santa Barbara (SBA) is the closest airport — around a 40-minute drive away.
Where to Stay
4. Dominican Republic — Punta Cana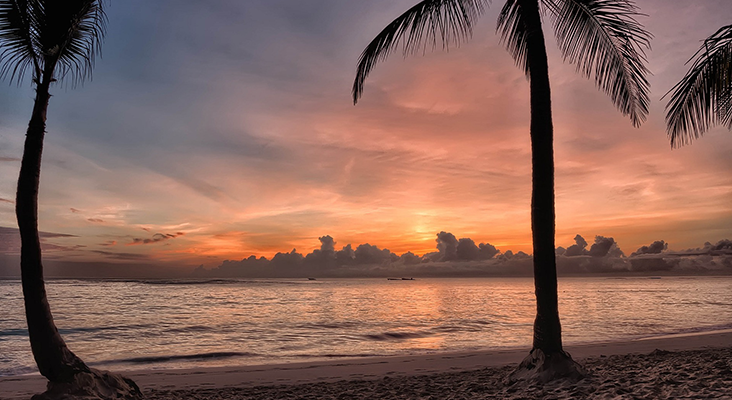 Punta Cana (PUJ) sits on the easterly tip of the Dominican Republic and has 30 miles of pristine, palm tree-fringed coastline. Family-friendly and couples-only resorts line the beaches, with fabulous all-inclusive dining and entertainment facilities.
As well as the usual beach activities, you can visit Scape Park — a natural theme park with hidden cenotes, caves, and zip-lining. Take a dip in the freshwater lagoons of the Indigenous Eyes Ecological Park or enjoy a round of golf at one of Punta Cana's many golf courses. 
Although there are not many budget accommodations in Punta Cana, the value for what you get is very good. Many visitors opt for an all-inclusive resort, which for a week-long holiday from the East or West Coast can start at $700.
Where to Stay
Hot Tip: If you would prefer to book your hotel and flights separately, check out our articles on the best ways to fly to the Caribbean with points and miles and the best Punta Cana hotels to book with points.
5. Florida — Daytona Beach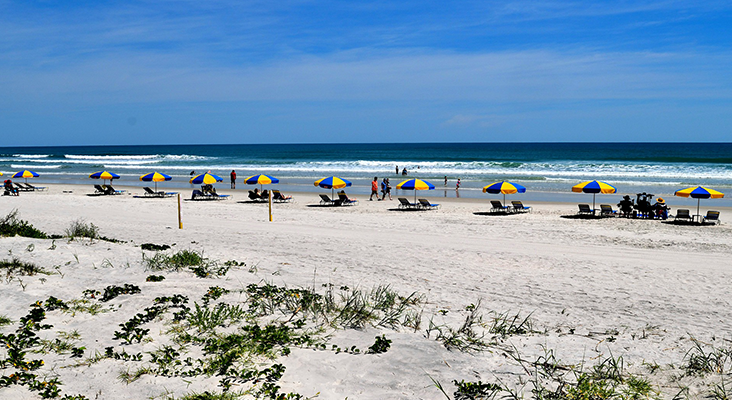 Daytona Beach is on Florida's east coast, around an hour's drive from Orlando. It's an action-packed, family-friendly vacation spot, offering much more than just white sandy beaches.
The boardwalk has a string of arcades, gift shops, restaurants, and amusement rides, and then there's the Daytona Lagoon waterpark to cool off in the Florida sunshine. Motorsport fans can visit the Daytona International Speedway to get behind the wheel of a NASCAR race car or to watch one of the many racing events.
Daytona Beach is a great stopover if you're self-driving the east Florida coastline, and there's enough entertainment for a week-long family holiday. Daytona Beach International Airport (DAB) is a stone's throw from the beach, with flights operated by Delta and American Airlines.
Where to Stay
6. Hawaii — O'ahu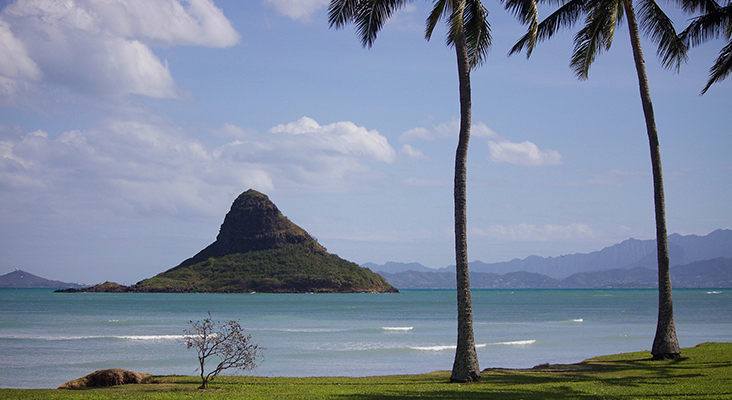 O'ahu is the third largest island in Hawaii and is the most developed, home to around two-thirds of the state's population. Hawaii's bustling capital Honolulu is on O'ahu's south shore, but there are plenty of quiet, unspoiled beaches and jungle to explore on the other sides of the island.
O'ahu is the most accessible and cheapest Hawaiian island to visit, with the best rates in spring or fall. There are plenty of free activities such as snorkeling at Hanauma Bay, surfing (or watching the pros), hiking the incredible landscape, or visiting historic Pearl Harbor.
Flights from Los Angeles to Honolulu (HNL) start at ~$300, and it's a good idea to book well in advance for the best prices.
Where to Stay
Hot Tip: With flights to Hawaii being one of the most expensive aspects of the vacation, you might be interested in the best ways to fly to Hawaii with points and miles.
7. Jamaica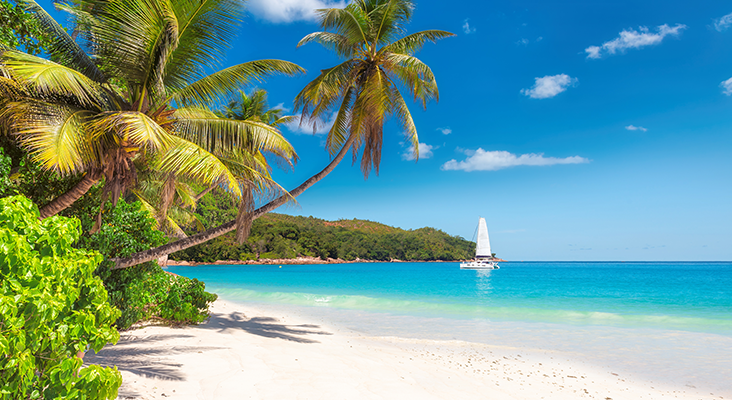 Jamaica was named the top Caribbean destination in 2019 by TripAdvisor, and it's easy to see why. Jamaica's incredible island beauty, friendly locals, and warm hospitality leave visitors with lasting memories.
Dance the night away reggae-style at Montego Bay's lively bars and nightclubs, or swim in the shallow, calm waters of Negril's Seven Mile Beach. Enjoy a glass-bottom boat tour and see colorful fish dance below you as you sip a rum punch, or swim in the glistening waters of a bioluminescent lagoon.
Many vacation offers to Jamaica are on an all-inclusive basis, so you won't need to worry about budgeting for food and drink once you're there. Jamaica is warm all-year-round but is wetter from September to December, so this time comes with the cheapest rates.
Flights to Montego Bay (MBJ) and a vacation rental start from around $500 for a week, whereas an all-inclusive beachfront resort is around $800-$900.
Where to Stay
8. Mexico — Riviera Maya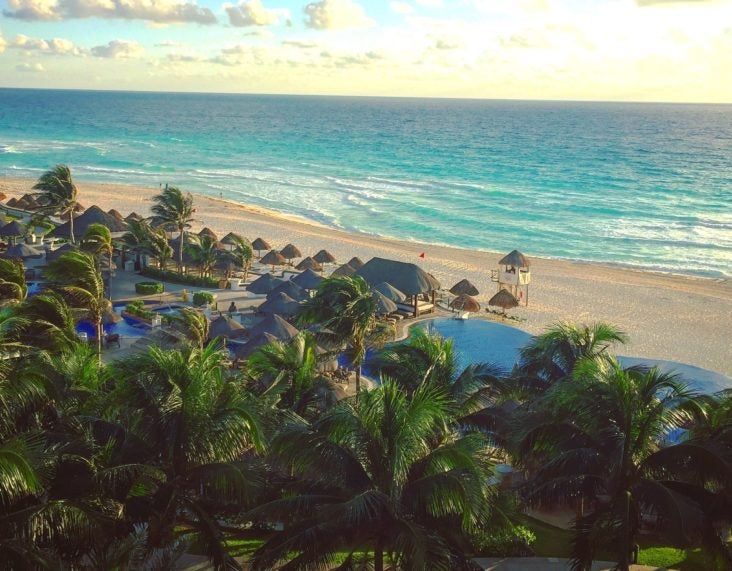 The Riviera Maya is the stretch of coastline running along the eastern side of the Yucatán Peninsula, consisting of the popular tourist areas of Cancún, Playa Del Carmen, and Tulum. Suitable for couples, groups, and families, this region has 150 miles of sandy beaches and a wide variety of hotels and resorts.
If you're looking for a great value all-inclusive deal departing from Miami, then head to Cancún where you can nab a 7-night vacation package, including flights, from $500. Further south, Playa Del Carmen has some cheap apartments with kitchen facilities to eat-in and cut down costs.
Cancún (CUN) has a frequent flight schedule from all over the U.S., with affordable rates from around $250 round trip. You can save even more by flying to Mexico using miles.
Where to Stay
9. Puerto Rico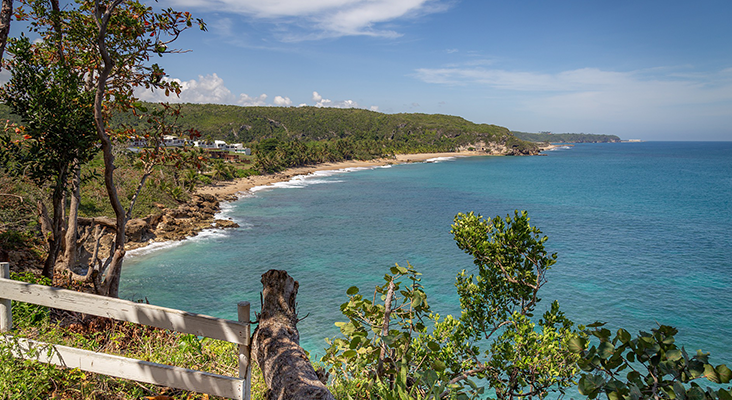 Whether you're looking for a relaxing beach break, an island adventure, or a bit of both, Puerto Rico has it all. Its lush central mountains offer up activities such as cave-tubing and zip-lining and are also home to many coffee haciendas available to visit.
With 300 miles of coastline, Puerto Rico's beaches vary from idyllic hidden coves to vibrant and family-friendly, offering a range of exciting activities. Take a water taxi out to the uninhabited island of Cayo Icacos and snorkel in crystal clear waters.
There are some excellent flight deals from all over the U.S. to San Juan (SJU), but accommodation, food, and drink are not the cheapest. Budgeting is possible by booking a vacation rental or doing some research to find local restaurants off the tourist strips.
Cheap apartments and guest houses can found around the capital, San Juan, for around $70 a night.
Where to Stay
Hot Tip: The low season in Puerto Rico is May through November, so plan your trip then to take advantage of the lower accommodation rates.
10. South Carolina — Myrtle Beach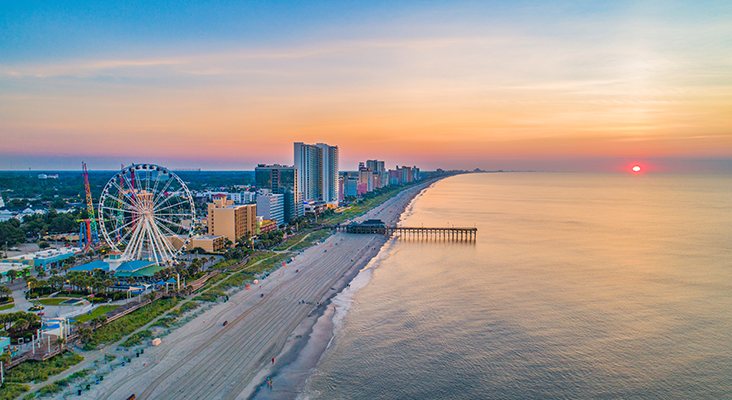 Situated along South Carolina's 60-mile Grand Strand Coast, Myrtle Beach has been popular for family beach vacations since the 1950s.
Wide, sandy beaches are well-patrolled with lifeguards, and the ocean is full of swimmers and boogie-boarders. Retreat from the beach and cycle along the boardwalk, play mini-golf, or ride a go-kart at the Broadway Grand Prix.
If you're self-driving or renting a car, Myrtle Beach is easy to reach from cities within the Carolinas, and you can also explore the full 60 mile Grand Strand Coast and surrounding attractions. Myrtle Beach has lots of vacation homes and apartments with self-catering facilities, perfect for a family stay.
Where to Stay
11. Texas — South Padre Island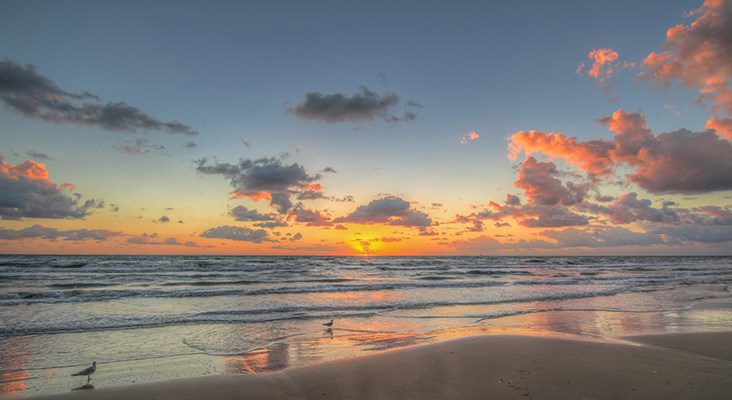 South Padre Island is a barrier island at the southern tip of Texas, surrounded by the calm waters of the Gulf of Mexico. This tropical island has 34 miles of white sandy beaches and is accessed by crossing the Queen Isabella Causeway.
Once a year, students flock to South Padre Island to celebrate spring break with beach parties and club nights. Families are also welcome with a range of fun activities, such as sandcastle building lessons, horse riding, mini-golf, and dolphin watching.
Less than a day's drive from Houston, Dallas, San Antonio, and Austin, South Padre Island draws in local Texans looking to escape the city. Visitors from beyond Texas can fly into Brownsville-SPI International Airport (BRO) — located 20 miles from the beach — on United or American Airlines.
Accommodations vary, from cheap and cheerful apartments to large beachfront resorts.
Where to Stay
Hot Tip: Check out South Padre Island's official website as it has a Deals and Packages page for current offers on accommodation.
12. Virginia — Virginia Beach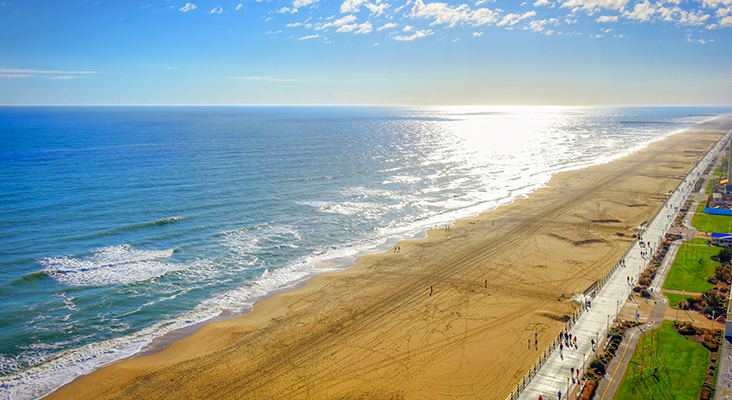 Virginia Beach is a great budget-friendly beach destination, especially if you're happy to stay inland, with cheap accommodation from around $40 per night.
The town center is the place to be for daytime and evening entertainment, with shopping malls, theatres, and a comedy club, but of course, the beach is the main attraction. The 3-mile boardwalk is packed full of street entertainers, snow cone vendors, and visitors roller-blading and cycling.
Driving in from North Carolina or Virginia, visitors can explore the surrounding attractions such as the Military Aviation Museum, Back Bay National Wildlife Refuge, or the farmlands of Pungo.
Where to Stay
Final Thoughts
There are various ways to bag yourself a bargain beach vacation. Booking last minute can offer up some substantial discounts for accommodation looking to fill their rooms — some hotels may even offer complimentary meal upgrades to incentivize bookings.
Flights tend to be cheaper in advance, and there are lots of websites that can help you find flights at the lowest prices by allowing you to see a calendar view of prices by month or by setting up alerts for your chosen destination.
If there's somewhere you've always dreamt of visiting, don't be put off by its pricey reputation. There are ways to travel on a budget, including booking a private room in an Airbnb, eating in, dining at local restaurants or markets, and seeking out free attractions.