The 25 Best Websites and Apps to Find Last-Minute Travel Deals [2021]
With so many travel websites out there, it's tough to know which ones are worth considering when searching for that last-minute travel deal. If you're looking for a beach vacation, some websites bundle flights, accommodations, and a rental car or transfer into a package deal that can be cheaper than booking the components individually.
Whether you're looking for a last-minute cruise that includes bonus onboard credit or a late availability small group tour with 20% off the standard price, you'll be sure to bag yourself a great deal using these recommended websites and apps.
Best for Last-Minute Vacation Deals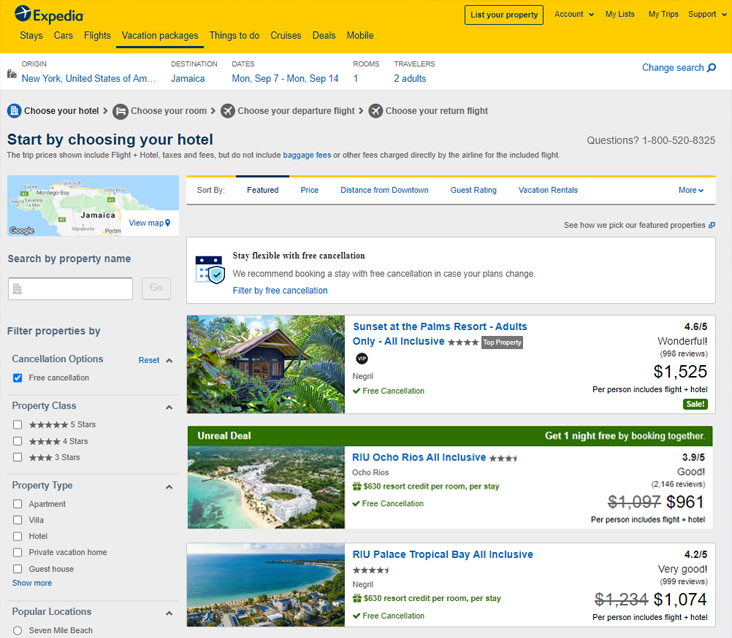 Customers can book just about anything on the Expedia platform and mobile app, including vacation packages, flights, hotels, car hire, cruises, and excursions.
Sign up to the Expedia Rewards Program to earn 2 points per dollar spent on everything apart from flights, which get you 1 point per $5 spent. Regular customers or high-spenders can move to Silver or Gold status to earn 10% or 30% more points respectively every time they book, and these points can be redeemed against free travel.
Search for your vacation package by defining the destination, departure airport, and trip duration. You can filter your results using a variety of options such as guest rating, hotel amenities, and distance from downtown. Expedia displays Unreal Deals in the search results that are combined package savings equivalent to 1 night's free accommodation.
Hot Tip: Customers can book via the Expedia app to receive double reward points!
Pros and Cons of Expedia
Pros:
Expedia Rewards Program
Book your vacation package, rental car, and excursions all in 1 place
Cons:
Change and cancellation policies differ for individual hotels and airlines; check your small print before booking
You might miss out on room upgrades by not booking directly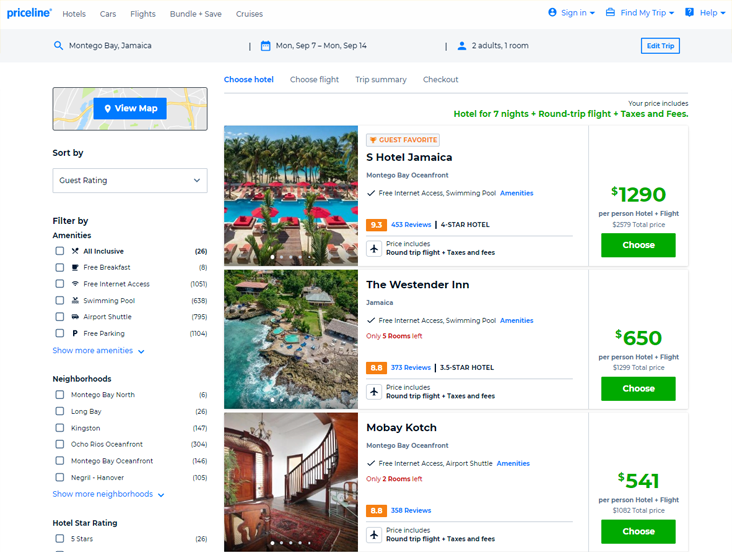 Hotel location is often one of the most important factors when booking a vacation, and Priceline has a great map to see where the accommodation is located, as well as a pop-up telling you the hotel star rating, price, and customer rating for quick browsing.
If hotel inventory is low for a particular property, Priceline displays when there is 1 room remaining, to ensure you don't miss out. You can stick with the lead-in package price if you're happy with the room type and flight times, or you can customize your package with changes/additions (usually at a cost).
Priceline has Express Deals on hotels with up to 60% off for flexible travelers. These opaque deals don't display the hotel brand until after you book, but you will know the star rating, guest rating, and the general area of the hotel.
Pros and Cons of Priceline
Pros:
Detailed map view for hotels
Express Deals with up to 60% off accommodation
Cons: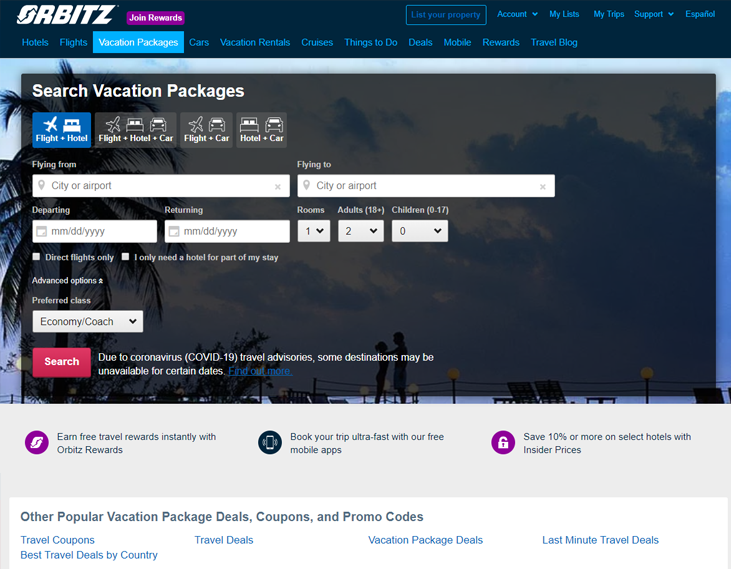 Orbitz has several search options for vacation bundles, including combinations of flights, hotels, and car rental. From the main search box, you can specify whether you're looking for direct flights or require accommodation for part of your trip.
Within your search results, you can filter by hotels that offer free cancellation, or by specific amenities such as a swimming pool or all-inclusive board. Register for Orbitz Rewards and you'll earn Orbucks to spend on hotel stays. 1 Orbuck can be redeemed for $1 and are earned on the following purchases:
1% on flights and packages
3% on hotels
5% on hotels booked via the Orbitz app
Pros and Cons of Orbitz
Pros:
Easy to book packages with or without car rental
Orbitz Rewards Program
Cons:
Orbitz Rewards Program is not as generous as Expedia's reward program for redemption value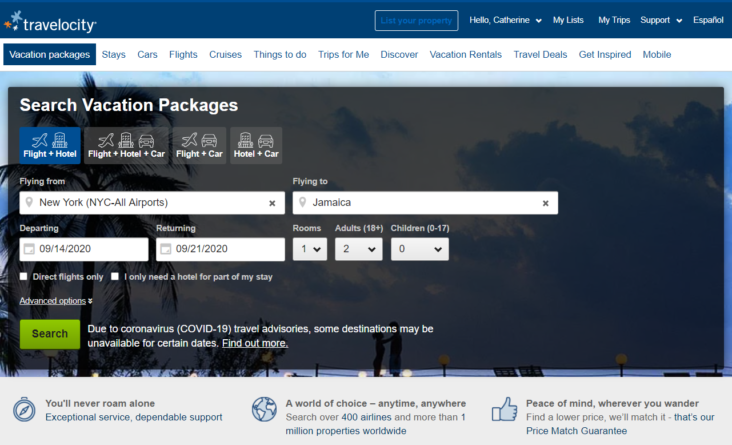 Travelocity is another site where you can book everything together, or add-on elements, such as excursions, after you've booked. Travelocity searches over 400 airlines and 1 million properties worldwide to display the best deals for your vacation.
It's quick and easy to register for a Travelocity account, and doing so will unlock an extra 10% off selected hotels. If you find a hotel, flight, cruise, or car rental at a lower price elsewhere, Travelocity will refund you the difference with its price match guarantee. This is up to 24 hours after you've booked for most travel components — for hotels, the price match is right up to the day before you're due to arrive.
Pros and Cons of Travelocity
Pros:
Book everything in 1 place
An extra 10% off hotels for Travelocity members
Price match guarantee
Cons: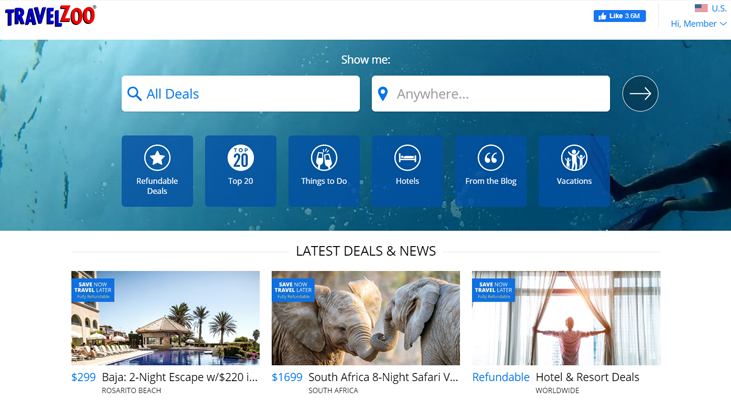 Travelzoo is a travel aggregator that rounds-up the best deals from multiple websites and links you through to the appropriate website to book. As Travelzoo has a huge database, these deals have been negotiated specifically to promote to members and are time-limited.
Although you can search for deals departing on specific dates with Travelzoo, it pays to be flexible and let the deal dictate your dates. Head over to the Top 20 Deals page that changes weekly to reflect the very best offers tested and verified by the Travelzoo team.
Pros and Cons of Travelzoo
Pros:
Exclusive offers negotiated specifically for Travelzoo members
Fully refundable deals available
Cons:
Limited-time offers and often only a set number available at the special deal price
Best for Last-Minute Flight Deals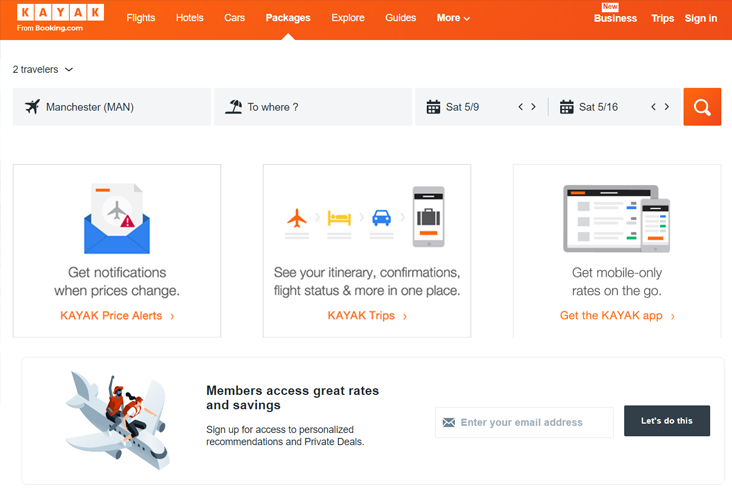 Kayak is a metasearch engine, finding and returning flights that match your search criteria, without actually booking with Kayak. The best thing about Kayak is how many filters you can use to narrow your search, saving you time trawling through irrelevant results. Filter by direct flights only, carry-on or checked luggage, take-off or landing times, airline alliances, and much more.
Sign-up for Kayak Price Alerts to receive email notifications when prices change based on your search criteria.
Pros and Cons of Kayak
Pros:
Lots of filters to refine your search
Booking direct with an airline so any frequent flyer points can be earned
Cons:
No loyalty program since bookings are not with Kayak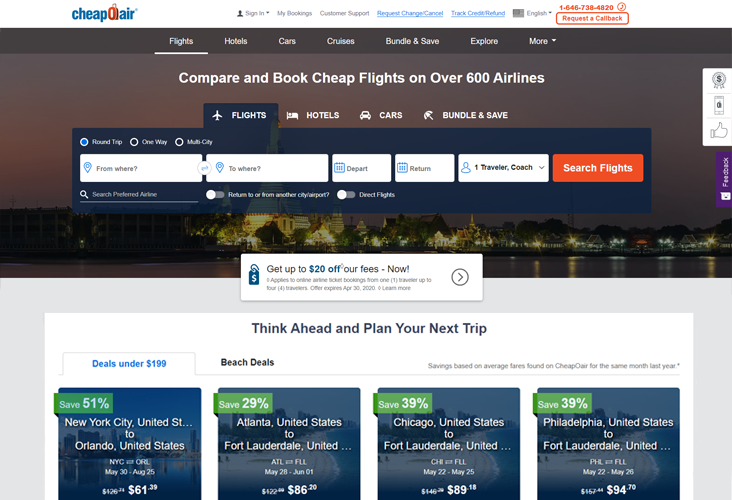 CheapOair is an online travel agent with bookings made directly with CheapOair. When searching for a flight, the results page tells you if a price is valid on a limited number of tickets to ensure you don't miss out on that price.
The CheapOair rewards program gives members up to 20% off flights and up to 55% off hotels. For signing up, members receive 500 points and a further 500 points for their first booking. After you've booked once or spent $1,000, you'll move to the Silver tier, where members earn 1 point per $1 spent. Gold and Platinum tiers provide higher point earnings. 1 point = 0.5 cents, so 200 points would be required to redeem $1 in travel credit.
Pros and Cons of CheapOair
Pros:
Rewards program with member discounts and reward point earnings
CheapOair credit card available with 7 points earned per $1 spent
Price match guarantee
Cons:
Charges a booking fee (although occasionally has money-off promo codes for the fee)
Hot Tip: Download the award-winning CheapOair app and receive 2 points per $1 spent when booking through the app.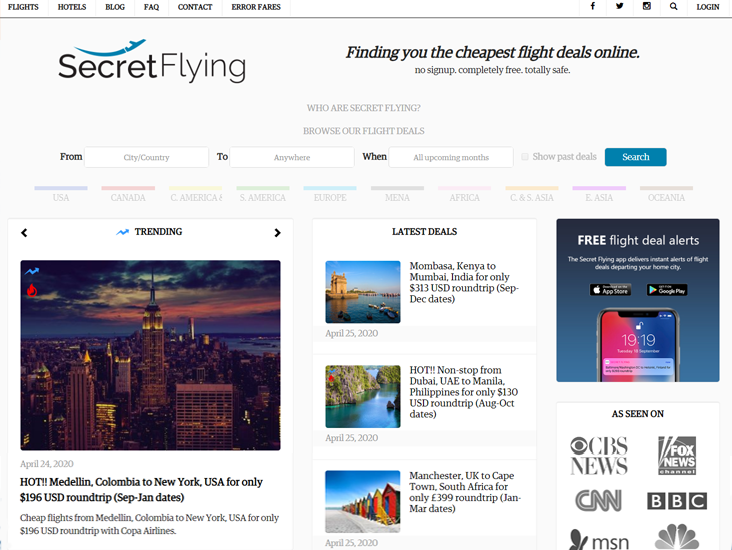 Secret Flying is constantly on the lookout for pricing errors and super cheap flash sales, which it says saves its customers, on average, 90% on flights. If you're flexible on dates and destinations, you're in for a treat, but you can also bag a bargain on a set destination. Download the Secret Flying app and receive notifications with flight deals to your chosen city, country, or region.
Pros and Cons of Secret Flying
Pros:
Cheap airline error fares that are often honored by the airlines
Push notifications with flights matching your criteria
Cons:
Deals aren't as helpful for travelers inflexible with destination or travel dates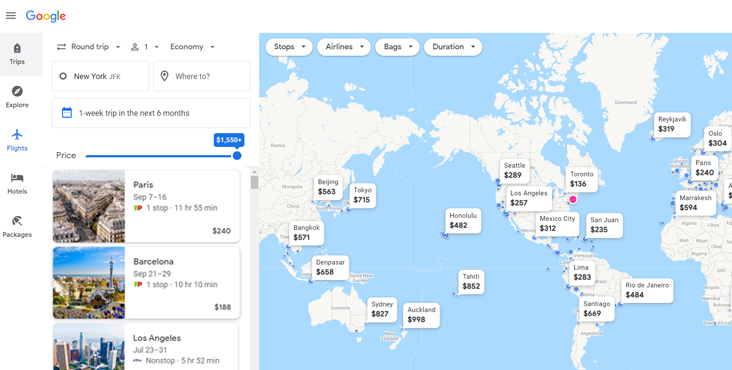 Google Flights has a clean, simple interface and some handy tools to find cheap flight deals. If you're flexible on destination and are just interested in the best deal, you can input your departure airport and use the map view to view prices around the world.
If you know your destination, but are flexible on the date you travel, take a look at Google's price graph that displays the cheapest and most expensive days to fly.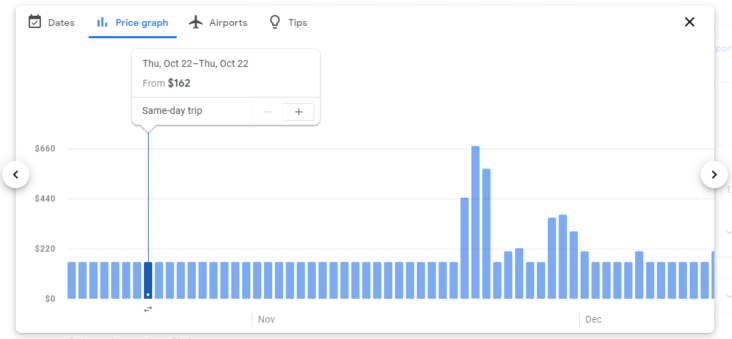 Pros and Cons of Google Flights
Pros:
Bookings are directed to the airline, so you can earn loyalty program points
Price graphs to identify the cheapest travel dates
Cons:
Doesn't always display the cheapest flights that might be available with a small online travel agent
Occasionally displays a price that no longer exists
Hot Tip: Check out our dedicated guide on how to use Google Flights to find cheap flight deals.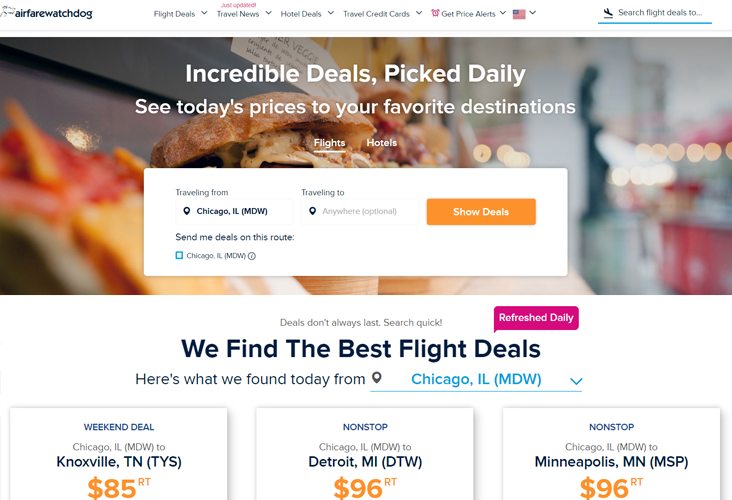 AirfareWatchdog employs real people to scour thousands of sites for the best flight deals, including error fares. If you're looking to jet off last minute, or are flexible with your date of travel, that's when you can really bag a deal with AirfareWatchdog. Prices are also tracked over time, so you can be confident when AirfareWatchdog flags a great deal as it knows the best time to book.
Sign-up for airfare alerts and you'll receive updates to your email inbox when flight prices increase or decrease.
Pros and Cons of AirfareWatchdog
Pros:
Real people search and flag the best flight deals
Price alerts that help you decide the best time to book
Cons:
Only compares flights and hotel prices, so you'll need to search elsewhere for car rental and excursions
Best for Last-Minute Accommodation Deals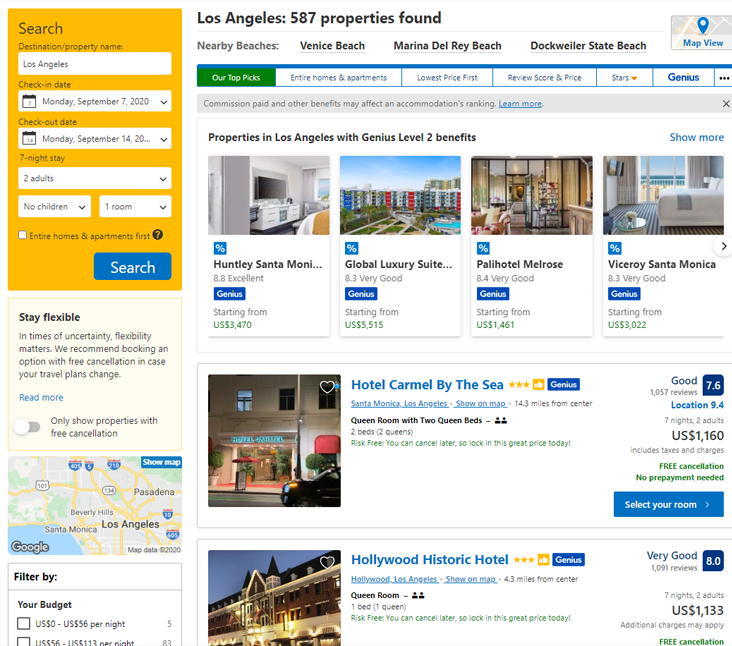 Booking.com is the go-to accommodation booking site for millions of travelers, providing a seamless search and booking experience. Travelers can browse hotels, apartments, and other unique properties all over the world, with many offering free cancellation.
When you complete 2 stays within 2 years, you'll automatically receive Genius level 1 status to benefit from 10% off selected properties. Members that complete 5 stays within 2 years will receive level 2 status, with up to 15% off, free breakfast, and free room upgrades with selected properties.
Pros and Cons of Booking.com
Pros:
Automatic enrollment in the Genius loyalty program
Free cancellation offered on many properties
Cons:
You won't earn hotel loyalty points because you are not booking directly with the hotel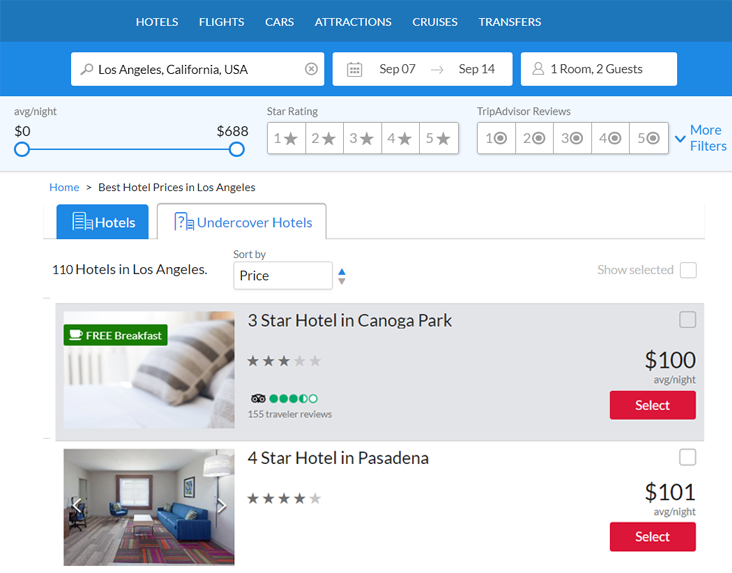 Last Minute Travel lives up to its name by providing excellent deals on last-minute hotels, flights, car rentals, cruises, and more. Flexible travelers will love the Undercover Hotels feature, where super low offers keep the hotel's identity a secret until the booking is completed. You'll know the hotel's general location, star rating, guest review score, and board basis to help make your decision.
Join the Last Minute Travel Club to benefit from exclusive member-only deals and to earn points towards free travel. Membership is $50 per year, and if you don't save the cost of your membership through your exclusive deals, you'll receive a voucher to cover the difference.
Pros and Cons of Last Minute Travel
Pros:
Undercover Hotels provide up to 65% off, revealing the hotel name after booking
Filter hotel results by Tripadvisor review scores
Cons:
$50 membership fee for the Last Minute Travel Club
No map to search for hotels in a particular area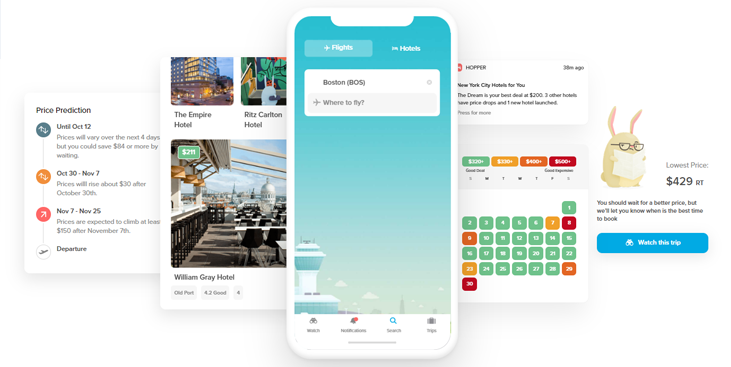 Hopper is a clever little app that predicts hotel and flight prices up to a year in advance with 95% accuracy. You could save up to 40% on your hotel by booking with the app. Hopper will send you push notifications about recent searches and alert you to price rises and increases for particular properties.
The color-coded calendar displays what dates have the cheapest rates using green, amber, and red highlighting. Once you've searched for a destination, you can choose to "watch" specific hotels to receive push notifications with hidden deals that can't be found anywhere else online.
Pros and Cons of Hopper App
Pros:
Intelligent predictions on the best time to book
Hidden deals that are not available anywhere else
Cons:
You can't contact Hopper's customer service team by telephone — this must be done through the app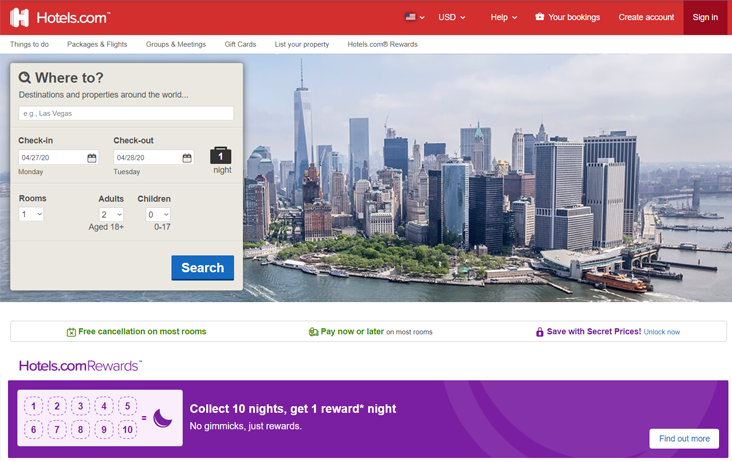 Hundreds of thousands of hotels, apartments, and holiday rentals are available to book on Hotels.com in over 200 countries and territories. You can book via its website or app and sign up to receive emails with secret prices for email subscribers only.
You can filter your search by the usual star rating, guest review rating, price, etc., but also by proximity to key landmarks or by accommodation theme, such as luxury, historic, and romantic.
Membership for Hotels.com Rewards is free, and once you've stayed 10 nights, you'll be rewarded with 1 free night.
Pros and Cons of Hotels.com
Pros:
Secret prices for email subscribers
Loyalty program rewarding 1 free night for every 10 nights
Cons:
You won't earn hotel loyalty points because you are not booking directly with the hotel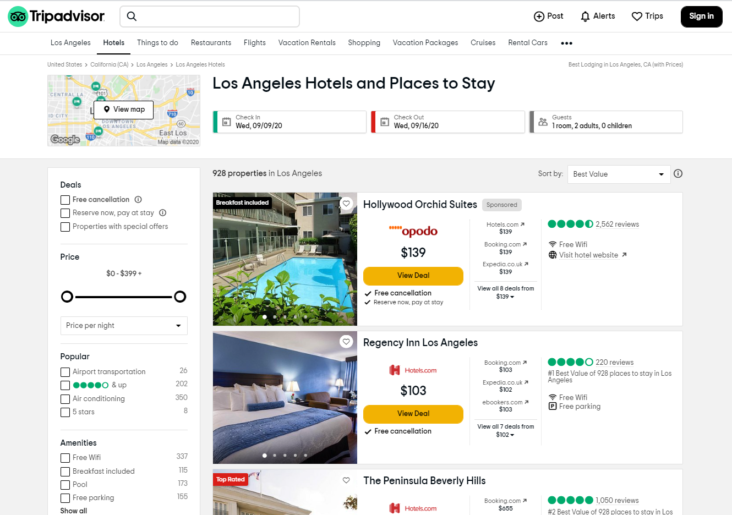 Tripadvisor might be your first port of call to check reviews for just about anything travel-related, but you can also search for hotel deals. When selecting your stay dates, Tripadvisor highlights the cheapest days in orange on the calendar, so you'll know what days to avoid. Your search results can be filtered by your minimum and maximum budget, amenities, and distance from popular landmarks, in addition to many other options.
Alerts tell you if the price is a certain percentage lower than usual, so you'll know whether you're getting a good deal. As bookings are not made with Tripadvisor, your search results will tell you which website the deal is available with and displays comparison pricing against alternative websites.
Pros and Cons of Tripadvisor
Pros:
Color-coded calendar reflecting cheapest dates
Alerts flagging if a specific price is cheaper than usual
Cons:
Prices displayed often don't include taxes and fees
Best for Last-Minute Cruise Deals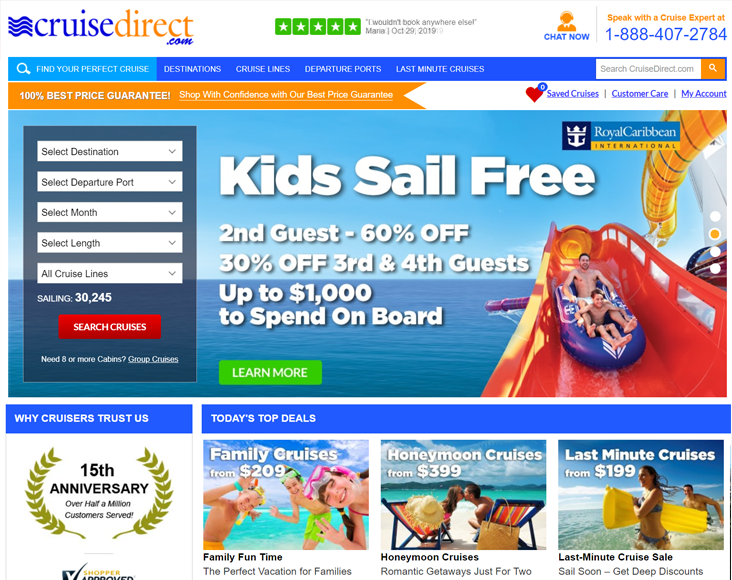 Keep an eye on last-minute offers with CruiseDirect.com, where a cancellation may mean you can get your hands on a prime stateroom at a fantastic price. Check back regularly as prices fluctuate depending on how long is left before a cruise departs. Bonus inclusions and offers are displayed with little icons indicating free onboard spending, discounted shore excursions, or low deposits.
There are no booking fees with CruiseDirect.com, and the company has a price match guarantee if you find the same offer elsewhere.
Pros and Cons of CruiseDirect.com
Pros:
Price match guarantee
No booking fees
Cons:
Offers are generally not exclusive, so you could book them with any other cruise provider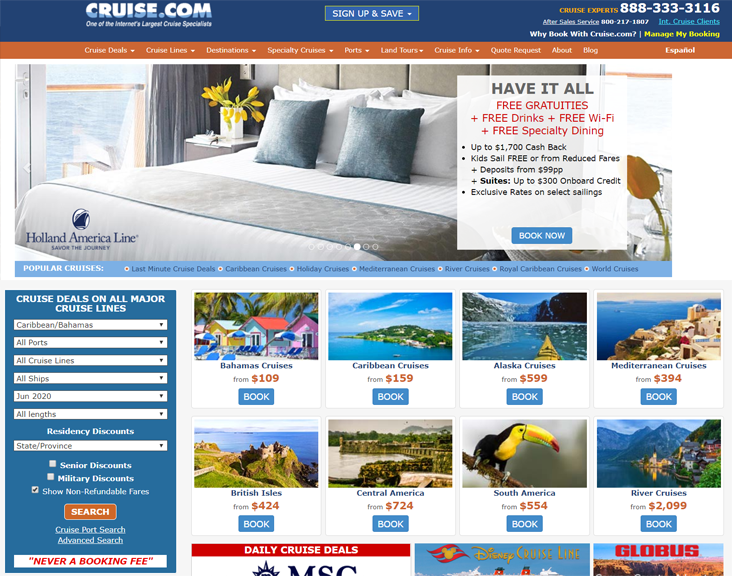 Cruise.com gives customers access to special pricing and extras that can't be booked anywhere else. Visit the Last Minute Cruises page and filter by cruise duration to see available deals, including cashback offers, onboard credit, and free gratuities.
If you know what cruise line you want to travel with, you can head straight to the individual deals page for the company, or if you know where you want to go or where you want to depart from, Cruise.com also features destination and port-specific deals pages. You can also register with Cruise.com to receive exclusive rates and discounts.
Pros and Cons of Cruise.com
Pros:
Dedicated last-minute cruise page with special offers
Register with Cruise.com to receive exclusive rates and discounts
Cons:
The website is very busy and cluttered.
No price guarantee is offered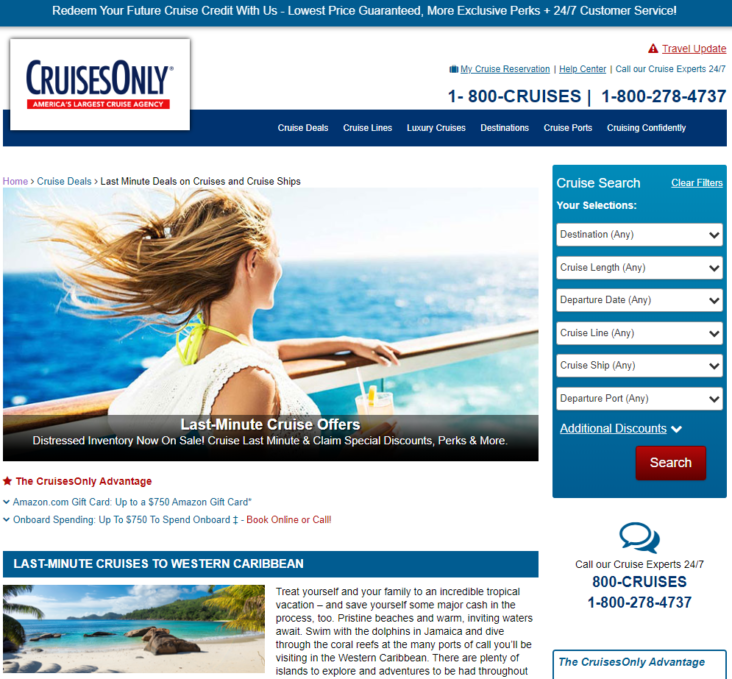 CruisesOnly prides itself on its industry-leading expertise, with all agents having been professionally certified by each of the cruise lines. So you can bag yourself a last-minute deal while speaking to a cruise expert that can tell you which cruise liner will best suit your needs.
CruisesOnly has a price match guarantee, where it will refund you 110% of the difference if you find the same offer on another website. After your second booking, you can join the CruisesOnly Loyalty Club to receive free onboard credit or an Amazon gift card.
Pros and Cons of CruisesOnly
Pros:
Price match guarantee refunding 110% of the difference
Loyalty program rewarding repeat customers
Cons:
The site can be very busy, making it hard to narrow down to the cruise you really want to take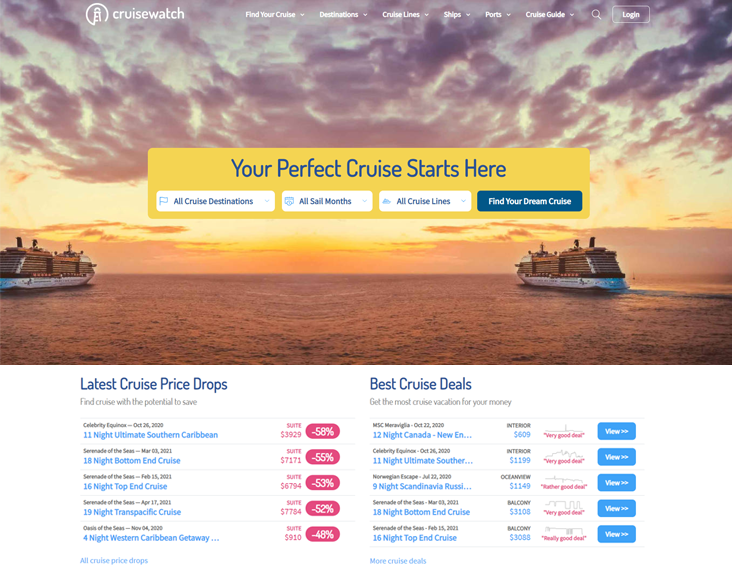 Cruisewatch is a metasearch site that monitors over 25,000 cruise deals and holds pricing data from the last 5 years to analyze when the best time is to book. Take a look at the Cruise Price Drops page to see how pricing has fluctuated over the last 90 days and to check predictions on when to expect the best price.
When you've found the perfect deal, you have several options for how to book. Either click Book Now and you'll be directed to a partner website to complete your booking, fill out the online booking form to be contacted by Cruisewatch, or call a customer service agent to book immediately.
Pros and Cons of Cruisewatch
Pros:
Analyzes historical pricing data to predict the best time to book
Price alerts to keep up to date with price changes
Cons:
Confusing booking process with multiple options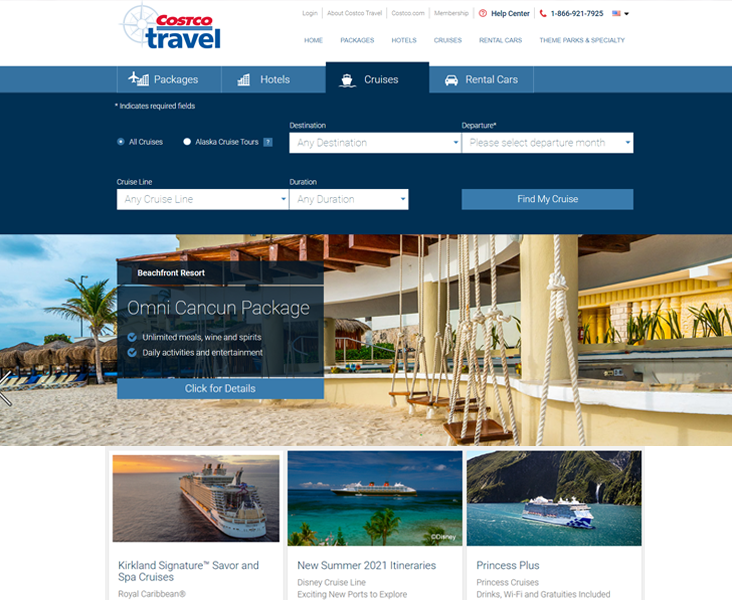 Costco Travel is available to Costco members only, with membership costing $60 or $120 depending on whether you go for Gold Star or Executive level. Like Costco's warehouse merchandise, only top quality cruises are promoted with Costco Travel, and Executive members benefit from an annual 2% reward with all travel purchases.
Some cruise offers include bonuses such as Costco Shop Cards or onboard credit.
Pros and Cons of Costco Travel
Pros:
Executive members benefit from a 2% annual reward on travel purchases
Some offers include Costco Shop Cards or onboard credit
Cons:
Offers are only available to Costco members
Hot Tip: To view more popular websites for booking cruises at the lowest price, check out our dedicated article.
Best for Last-Minute Tour Deals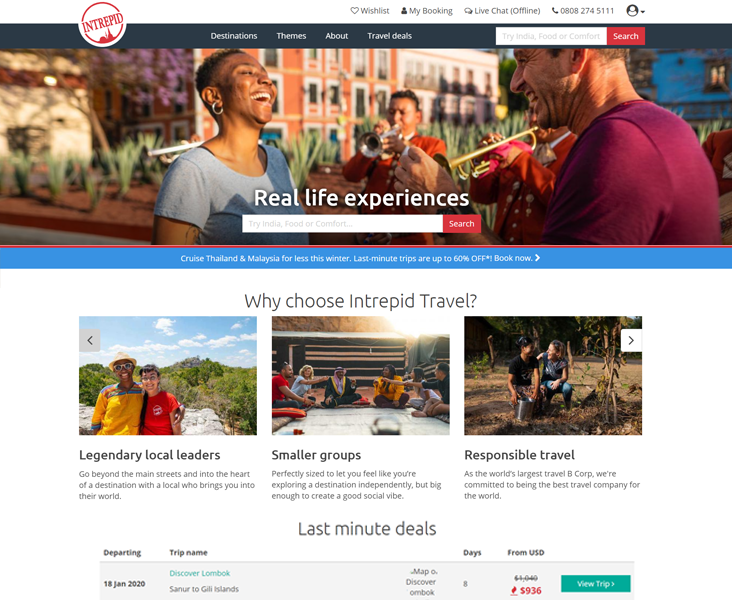 Intrepid is a B Corp accredited tour company that considers its corporate social responsibility as much as its bottom line. It runs sustainable small group tours all over the world and caters to solo travelers with shared rooms to avoid single supplements.
Whether you're traveling on a budget or looking to explore a new destination alongside your creature comforts, Intrepid has a tour to suit you. Itineraries and inclusions are clear on the tour page, and you can secure your place on the tour for 5 days until you're ready to pay your deposit. Check out the Travel Deals page for discounted and last-minute offers.
Pros and Cons of Intrepid
Pros:
Shared room options for solo travelers to avoid single supplements
Clear itineraries and inclusions with optional extras
Cons:
Some tours are combination trips, so your travel companions may change midway through a tour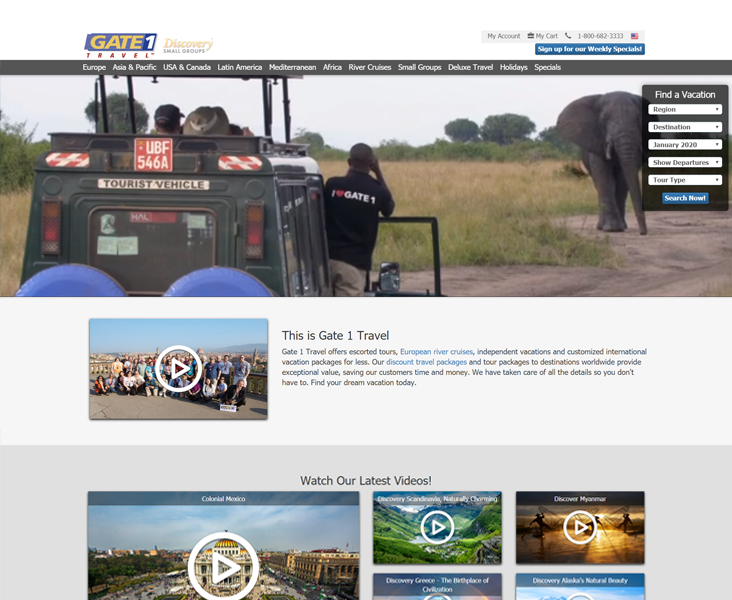 Gate 1 Travel provides small and large group escorted tours to all 7 continents. Visit the Special Offers page to see flash sales, last-minute deals, and featured destinations with extra savings. It's always fun sharing the experience with a friend, and existing Gate 1 Travel customers can refer a friend to both receive $50 off a future booking.
Tours come in a range of travel styles, including Value, Classic, Deluxe, and Express, so you can choose the tour that best suits your travel style.
Pros and Cons of Gate 1 Travel
Pros:
Dedicated page with flash sales and last-minute deals
Refer a friend program
Cons:
Supplement applies for solo travelers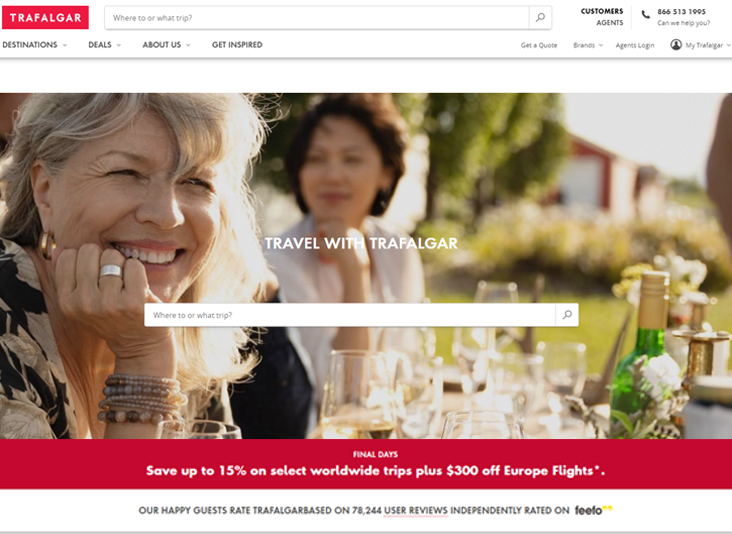 Trafalgar offers over 300 tours, ranging from sightseeing and safaris to family and solo travel. You could save up to 15% on last-minute trips or plan in advance for 10% off early bird bookings on selected trips. Tours are focused on seeing bucket list icons, connecting with locals, and staying in accommodation with local heritage.
Order a free brochure to start planning your trip or check out the great customer reviews.
Pros and Cons of Trafalgar
Pros:
Up to 15% off last-minute bookings
Wide range of tours and a great customer review rating
Cons:
Optional tour extras, such as excursions, can be pricey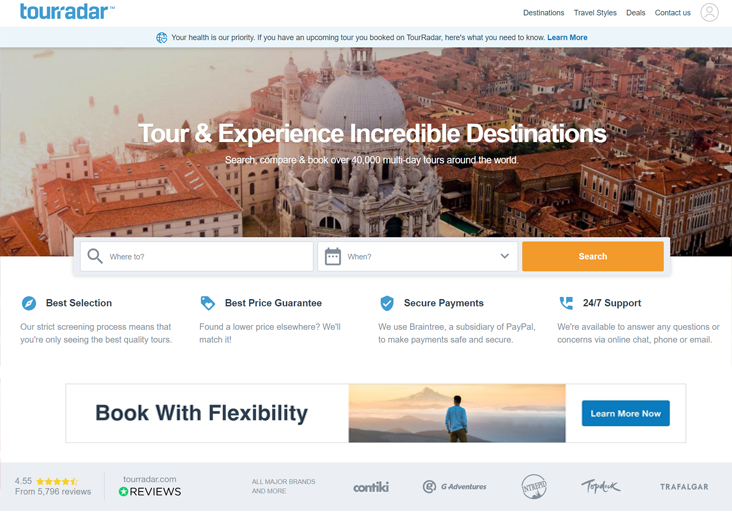 TourRadar is an online travel agent, so it's a great place to compare prices between a variety of tour operators. Over 40,000 tours are featured online, including large providers such as Intrepid, Trafalgar, and G Adventures. Bookings are made directly with TourRadar, who have a 24/7 support team via phone, email, or online chat.
TourRadar offers last-minute deals, early bird offers, and a selection of tours that are buy 1 get 1 free. It doesn't get much better than that!
Pros and Cons of TourRadar
Pros:
Price match guarantee
Last-minute deals and buy 1 get 1 free offers
Cons:
Bookings are not made directly with the tour operator, so you won't benefit from any repeat customer deals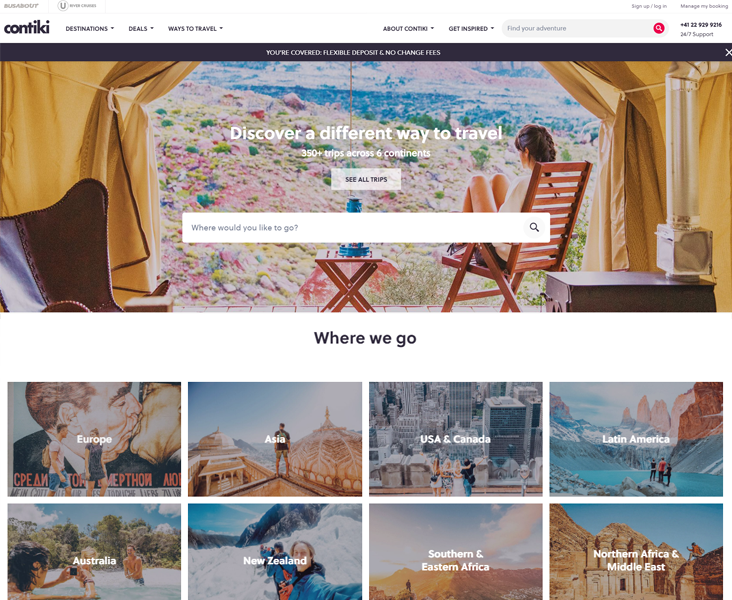 Contiki offers tours for travelers from 18 to 35 years old to 6 continents (just missing Antarctica to get the full house). Contiki strives to provide sustainable travel, protecting the local communities and wildlife that form part of its tours.
Discounted tours are featured on its deals page, and customers can be book confidently with the knowledge that they can change their booking up to 30 days before the departure and move their flexible deposit to another tour or date.
Pros and Cons of Contiki
Pros:
Free changes up until 30 days before your tour and a flexible deposit
Great for solo travelers with room sharing
Cons:
Free onboard Wi-Fi is limited
Final Thoughts
The key to bagging yourself a fantastic last-minute deal is flexibility. If you know the destination you want to travel to and the exact date you want to depart, chances are your choice will be limited. Opaque hotel deals can save you money on your accommodation if you can handle not knowing the hotel brand until after you've booked.
Many online travel agents have loyalty programs, so in addition to your great last-minute offer, you can collect points towards free future travel.