TourRadar Review – Specializing in Multi-Day Tours & Travel Packages [2021]
TourRadar is an online marketplace featuring more than 40,000 worldwide tours to over 160 countries. Tours are available with over 2,500 tour operators that have all been through a strict screening process to work in partnership with TourRadar. These include large operators such as Intrepid, G Adventures, and Contiki, as well as many smaller local operators.
TourRadar acts as an agent, selling the trip on behalf of the tour operator. For most tours, you can check availability and instantly book a space, with some tours requiring full payment at the point of booking and others requiring it a set time before the departure. There is a range of durations, from 3-day short breaks to tours lasting more than 40 days.
Who Are TourRadar Tours Good For?
With a wide range of destinations and travel styles, tours are suitable for lots of different types of travelers.
Solo Travelers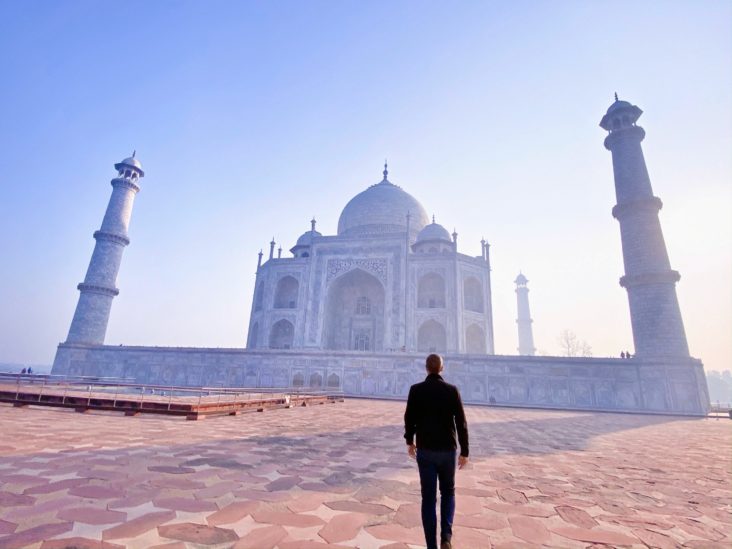 Group tours are perfect for solo travelers as there are plenty of new friends to buddy-up with and share experiences. Your free time is yours, so if you need a break from your group, you can use it to explore independently. With TourRadar, you can search for tours without single supplements — if you're on a budget — or you can opt for a private room if you prefer your own space.
Hot Tip: As you're constantly on the move with a group tour, it's usually best to take a backpack rather than a suitcase. Check out the travel backpacks we recommend.
Families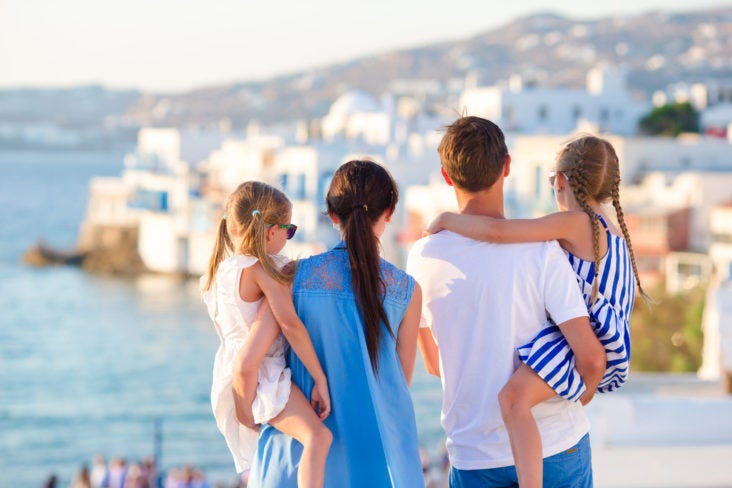 TourRadar has over 250 family tours, packed-full of kid-friendly activities and accommodations. Whether you want to give your kids an immersive history lesson about the Egyptian pyramids or for them to come up-close-and-personal with orangutans in Borneo, TourRadar has lots of tours your family will love.
Hot Tip: Children can feel grown-up when they're allowed to take their own luggage. Check out the best carry-on luggage for kids. 
Friends and Groups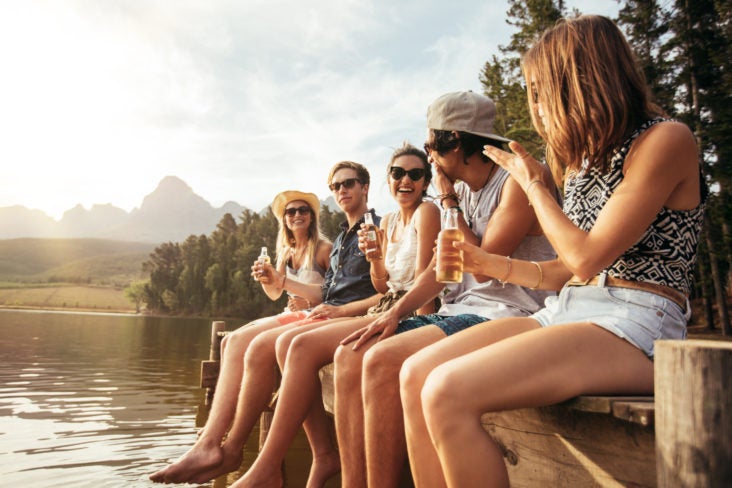 You may think it's just solo travelers that join group tours, but they are also very popular with friends or groups. Joining a prearranged tour with a set itinerary avoids any 1 person having to take charge of the arrangements and finances. This can avoid the friendship politics of asking to settle up with you later!
Young Travelers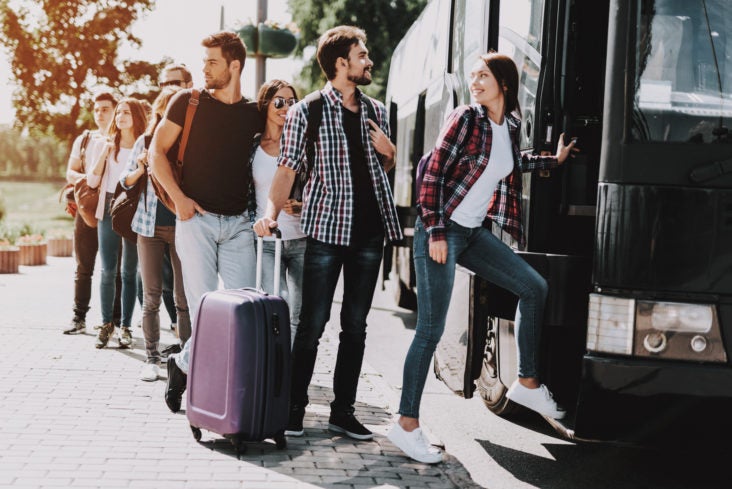 Group tours are popular with young travelers due to their social nature and the amount of distance you can cover. Touring often involves early mornings, long journeys, and single night hotel stays, which young travelers take in their stride to see more on their trip. Many tour companies, such as Intrepid and Contiki, offer tours for 18- to 30-year old travelers so that they can explore a destination with others of a similar age group.
Seniors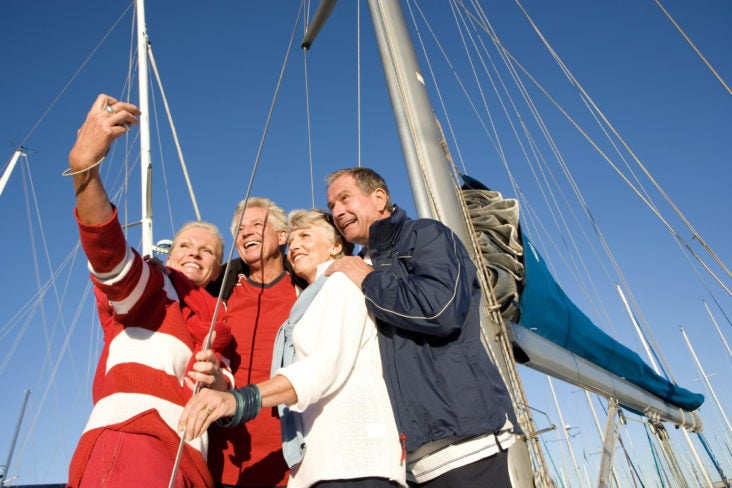 The world attracts explorers of any age, but as you get a bit older, your priorities may shift a little. You might want to swap that hostel for a boutique hotel or to ensure that no pub crawls feature on your chosen itinerary! TourRadar has hundreds of tours with no age restrictions, and some are for those over the age of 40, 50, or 60.
TourRadar Tour Types and Destinations
Adventure Tours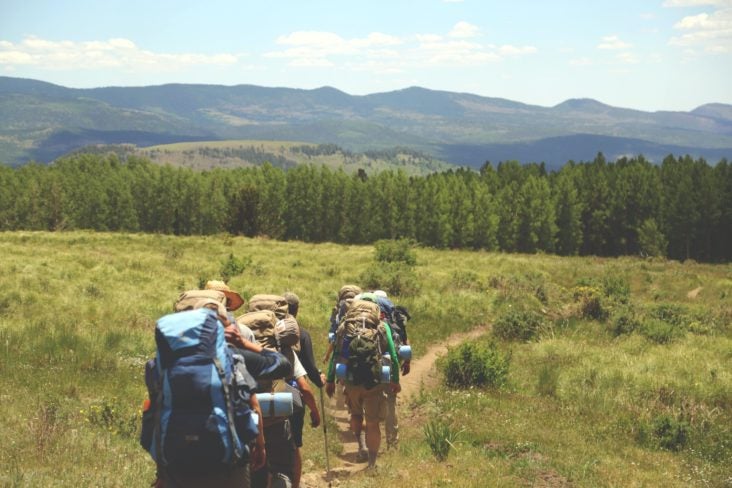 The Adventure category includes tours focused on hiking and trekking, kayaking, cycling, safari, diving, and other adventure activities. Not all tours feature a rating of how physically intense the activities are, so you may need to do a little research with TourRadar or with the tour operator directly before booking.
Cultural Tours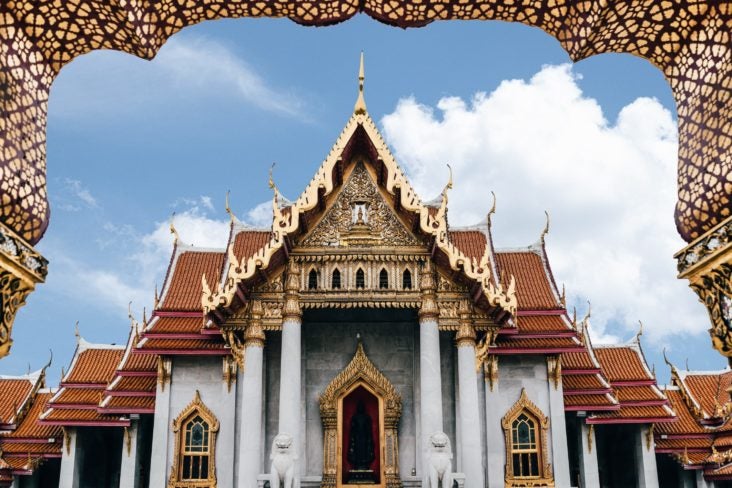 Cultural trips examine the history and traditions of a destination, whether that be visiting prominent landmarks, mingling with local communities, or discovering local cuisine. Some of the tour types that feature under the Culture category are historical tours, train and rail journeys, and local living.
Hot Tip: You can spend quite a bit of time in the coach traveling on a group tour, so be sure you've got your entertainment sorted with these podcasts and audiobooks for road trips.
Marine Tours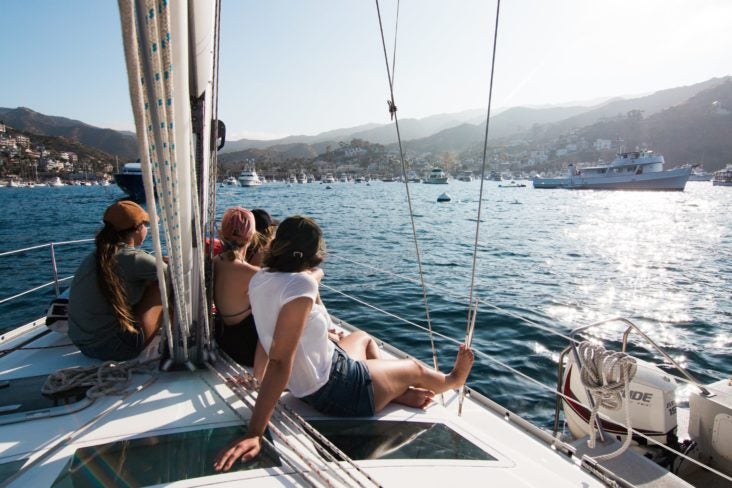 Marine tours include anything that involves water, from island-hopping to Antarctic cruises and riverboat tours to live-aboard dive trips. If you love being by the water, why not make it the main focus of your adventure? The scenery is epic, the wildlife encounters can be awesome, and the sunsets are unobstructed.
Festival and Events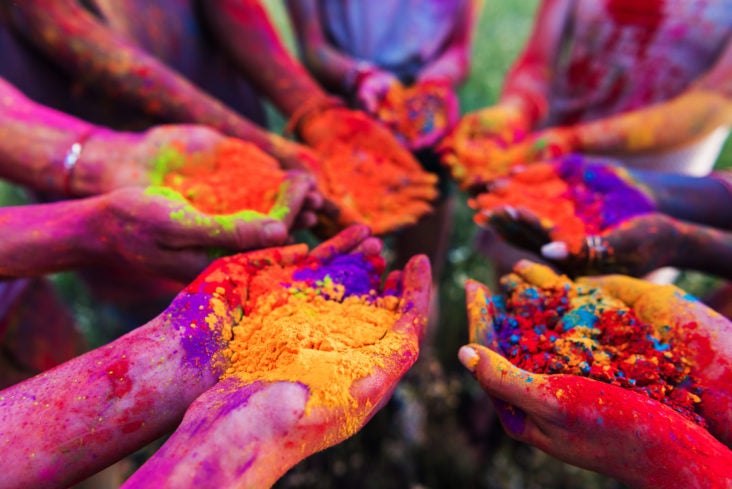 Countries celebrate public holidays and historical traditions in many different ways. You can take part in the celebrations if you choose a tour that falls under the Festivals and Events category. Maybe you've always wanted to samba at the Rio Carnival, or you're tempted by the festivities of a European Christmas market.
Hot Tip: Visiting during a festival or an event can be a busy time. Keep your money and documents safe with these crossbody bags and purses. 
Independent Tours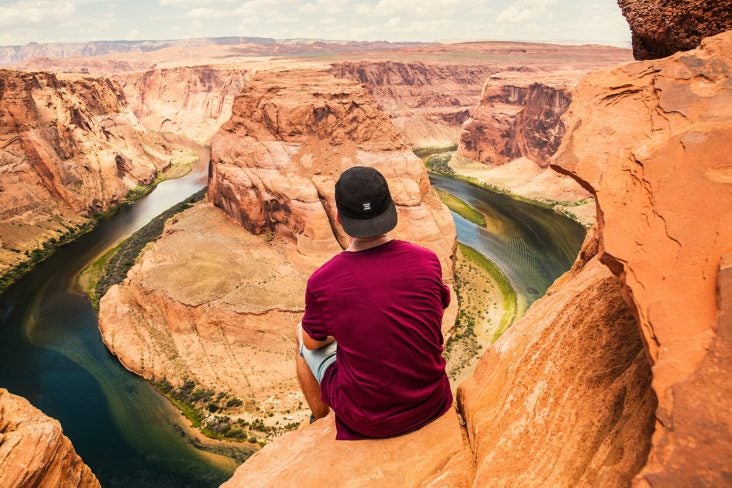 Independent tours don't have permanent tour leaders, and you're not with the same group throughout. Your travel, accommodation, and often excursions are prearranged, and local guides will meet you for these activities on the day. If you don't like traveling in a large group but still want an arranged itinerary, these independent tours might be for you.
Special Interest Tours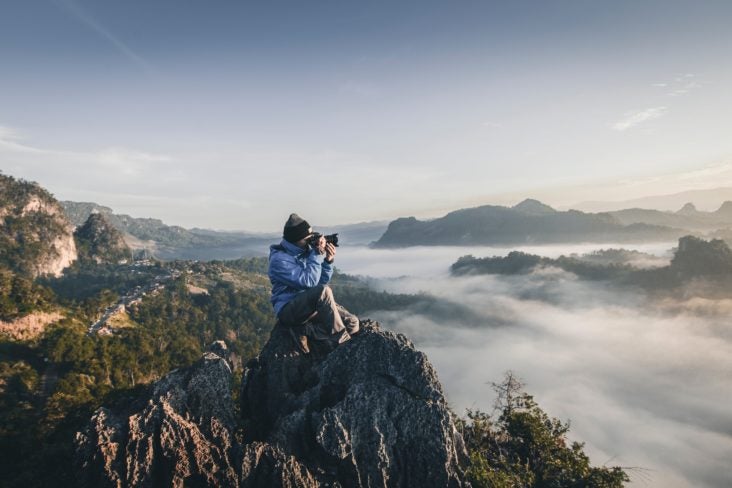 Specialist interest tours are trips that have a particular agenda, such as volunteering, photography tours, yoga retreats, or language courses. These tours allow travelers to discover a destination while learning a new skill or giving back to the local community.
Hot Tip: If you're looking to upgrade your camera before your trip, these are the best compact, mirrorless, and DSLR cameras for travel.
TourRadar Top Tours
TourRadar Iceland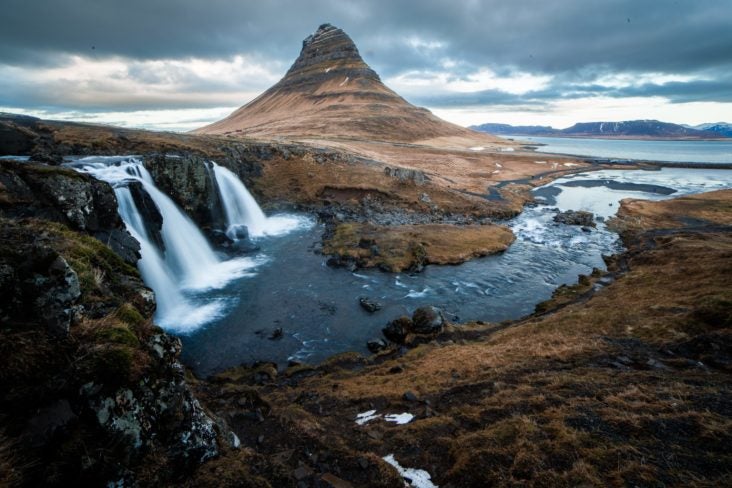 Iceland is a photographer's dream, with its dramatic landscapes, cascading waterfalls, and the opportunity to see the otherworldly Northern Lights. A summer tour can allow travelers to delve a little further into the remote areas not accessible in the winter months, and migrating whales can be seen in the shallow waters of the fjords. Winter can be brisk, but it offers up a host of exciting activities, such as dog sledding and ice-fishing, and you can always warm up in a hot spring afterward.
Hot Tip: It's worth investing in a lightweight and easy to carry day backpack when traveling abroad.
TourRadar India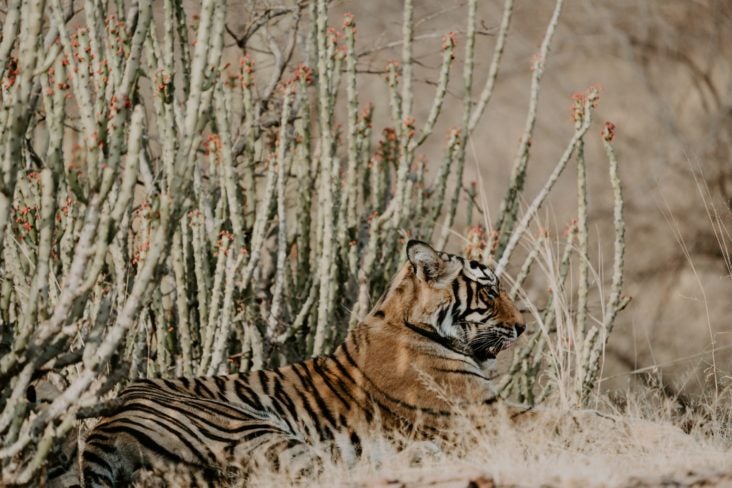 India is a diverse country of rugged mountains, archaeological wonders, exotic wildlife, and vast beaches. Stick to the famous Golden Triangle or ride the Konkan Railway along the coast from Mumbai to Goa. Booking a tour can be a less daunting way of exploring this often chaotic country with a structured itinerary and organized transport.
TourRadar Japan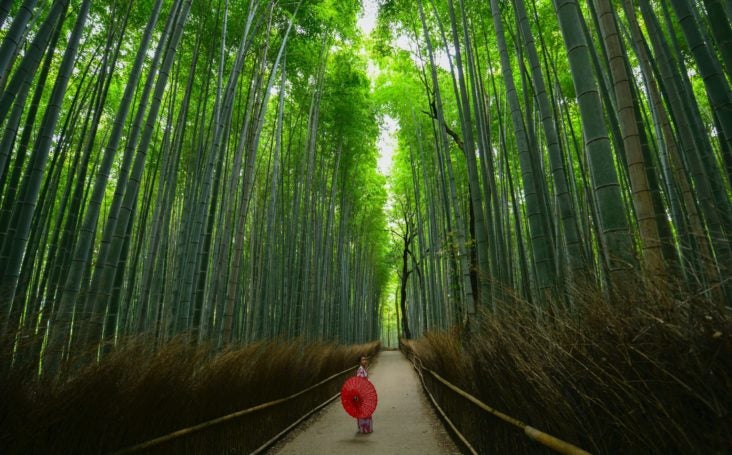 Japan has a fascinating fusion of ancient traditions and cutting-edge technology that exist harmoniously. Modern skyscrapers loom over Shinto shrines, and Buddhist temples and futuristic fashion is a stark contrast to the traditional kimono that can often be seen in Kyoto. Many tours utilize the Shinkansen bullet train as a quick and easy way of traveling around Japan.
Hot Tip: As flights are not included in the tour price, take a look at the best ways to fly to Japan with points and miles. 
TourRadar South America (Peru)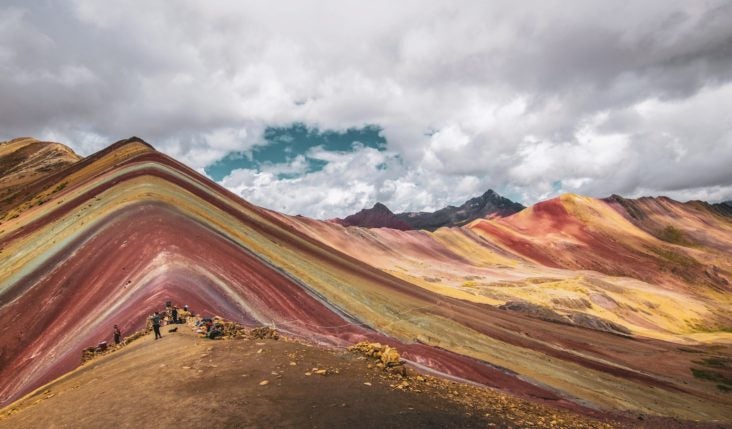 Follow in the footsteps of the ancient Incas and hike the famous trail to Machu Picchu. Visitors looking for a less strenuous approach can take the train through the Sacred Valley. Visit the desert oasis of Huacachina or spend the night with the Uros people on Lake Titicaca's floating islands. TourRadar features short trekking tours and longer, more in-depth discoveries of this incredible country.
Hot Tip: If you're looking to visit Peru, brush up on your Spanish with these websites, apps, and courses to learn Spanish online.
TourRadar Thailand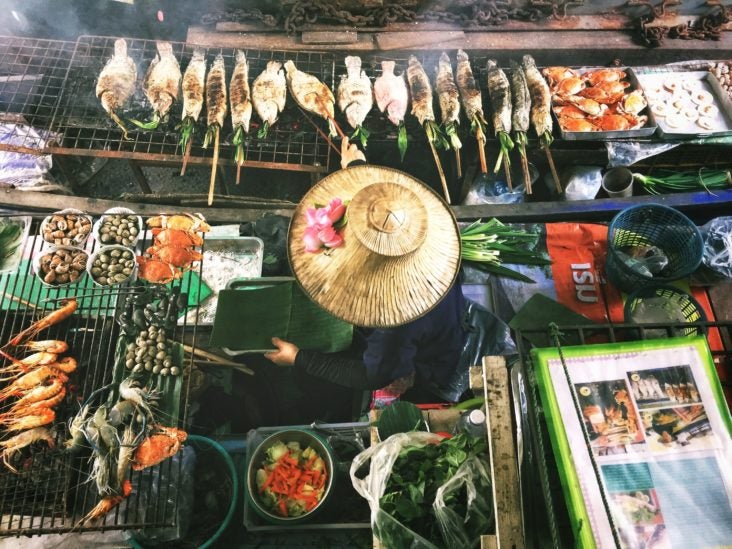 Tours almost always start in bustling Bangkok, where you can glide past riverside temples by boat and see the charming floating markets. Whether your tours head north or south, you're in for a treat. Overnight trains transport travelers to the mountainous regions around Chiang Mai and Pai, where the pace slows significantly, and the southern islands have some of the most beautiful beaches in the world.
TourRadar U.K.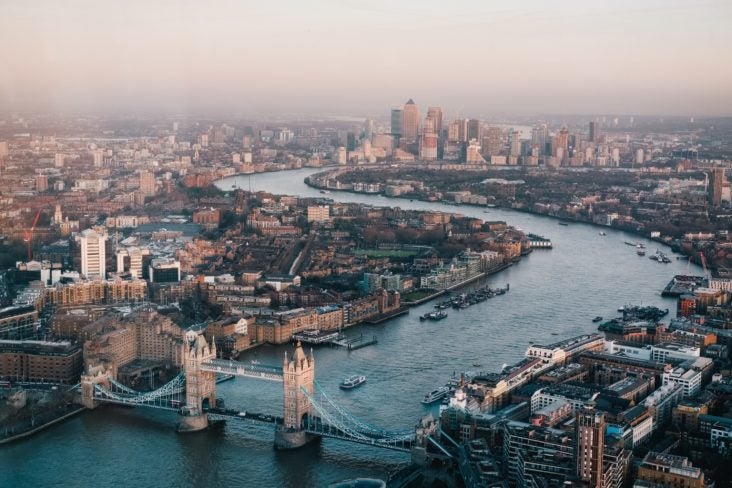 The U.K. has a fascinating heritage and unspoiled landscapes waiting to be explored. Of course, there are the iconic landmarks of London, but many tours head out to the picturesque Lake District for hiking and cycling, to the rocky mountains of North Wales, and the beautiful lochs of the Scottish highlands.
TourRadar Reviews
TourRadar has some excellent reviews across various review sites, with many customers referencing how easy the website is to use and how friendly and helpful the customer support team is.
TourRadar also provides a platform for customers to review individual tours.
Japan Express: Osaka to Tokyo
"One of the best trips I have done. Our tour guide, Hana, was exceptionally knowledgeable in local culture, places to eat, activities and optional activities, local transportation, etc. Her natural caring for people has shown throughout the trip. She always reassured each member of the group and that they are enjoying the time and don't feel left out. The tour was very well planned and I feel I have learned a lot more about the culture and people of this country. I would strongly suggest anyone to do this tour." — Miguel
India's Golden Triangle
"I've had such a super time. For me travel is all about the people and Gaurang, our leader, was absolutely fantastic. He looked after every member of our group so well and had the patience of a saint. We all loved his surprises and sense of humor. I've fallen head over heels in love with India!" — Anonymous

Corners of Cornwall (including Fowey)
"Absolutely fabulous. This holiday fulfilled my dreams of Cornwall. Romantic fishing villages with cobbled streets. Ate freshly shucked oysters. Cottages with English rose gardens. A fantastic view of Falmouth from our hotel window. In the early morning, it was just like a Turner painting. Rick Stein's restaurant was terrific. This tour was a true delight. We will book with Back Roads again." — Jeanette
Machu Picchu Adventure
"Really fun tour with a good mix of group activities and non-group activities. Elias, our tour guide, was amazing. Very knowledgable and passionate about the history of Peru. There was a great variety of activities available throughout the tour which took us in really beautiful places. I highly recommend booking this tour." — Julie
Thai Intro – 12 Day
"I honestly can't rate this company high enough, the tour was incredible! From the moment my group leader met me at the airport the whole itinerary was super slick and very well organized, we literally covered so many of Thailand's highlights and I've never laughed so much in my life. I was lucky enough to travel with a fantastic group of people who I'm sure I'll keep in contact with for years to come. My personal highlight of the tour was visiting Koh Sok national park. The scenery was breathtaking. Big shout out to all the local tour guides along the way who made this trip so memorable and funny." — Anne
Land of the Northern Lights – 5 days
"Had a great time on the tour, Iceland is a truly wonderful country. Our super guide, Thor, was very knowledgable about all the sites we visited and also the history of Iceland and its folklore. Was especially nice to stay in the Árhús Cabins, 100km from Reykjavik. I look forward to making a return trip to Iceland as soon as I can. Highly recommended." — Allan
TourRadar Deals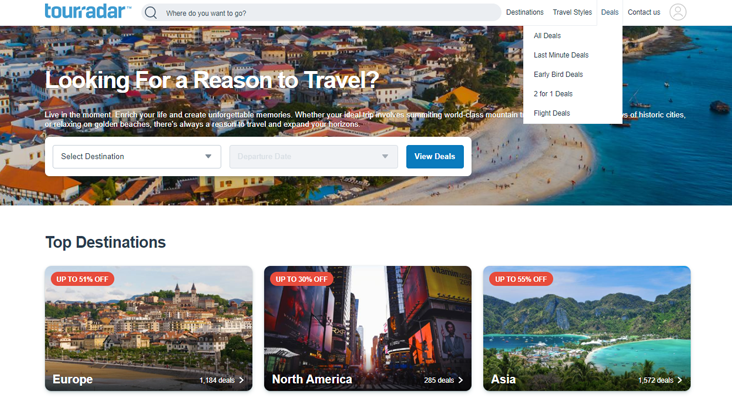 TourRadar has a Deals page that features regular offers for early bird and last-minute savings. You can also find 2-for-1 deals if you're planning to travel with your partner or friend.
TourRadar Price Match Guarantee
If you find a quote cheaper with another travel company, TourRadar offers a price match guarantee, provided all of the details, terms, and conditions are the same. To submit a price match query, email a screenshot of the offer to [email protected].
TourRadar Referral Program
Very few tour operators offer referral programs and loyalty programs, which can often give the benefit of booking direct. With TourRadar, you can earn unlimited travel credits to use toward future tours.
Sign up to TourRadar's referral program, and when your friends book using your referral link, they'll receive 5% off their purchase and you'll receive the same value in travel credits. The more friends you refer, the more credit you receive. You can use this immediately on your next booking, or let the credit accumulate for a more significant discount on a future booking.
TourRadar Student Discount
Students are eligible to receive 5% off bookings with Student Beans used to verify your student status.
TourRadar Promo Codes
Occasionally, you can find TourRadar promo codes available on websites such as RetailMeNot. These codes usually provide 5% off a booking, and you can input the code in the TourRadar Savings section when checking out.
TourRadar Travel Insurance
TourRadar doesn't provide travel insurance but recommends booking this with World Nomads.
Final Thoughts
TourRadar is a great platform for searching for what tours are available to a particular destination and comparing prices across various tour operators. Rather than just considering the big players such as Intrepid or Contiki, you also have visibility of smaller local operators that often come with lower prices.
Prices are set by the tour operator rather than TourRadar, but some of the tour pages lack information on the inclusions of an itinerary — it's worth visiting the tour operator's website directly to verify details before booking.
It's always nice to be rewarded for loyalty or friend referrals, and TourRadar has a generous referral program with unlimited potential to earn travel credits towards your bookings.