The 15 Best Carry-On Luggage for Kids [2021 Guide]
Good things often come in small packages, and when it comes to kids' luggage that sizes down the dimensions while ramping up the fun, this is certainly true. Keep your little ones on board and amused with their very own luggage for their next vacation, camping trip, or sleepover.
Things To Consider With Carry-On Luggage
Before you go ahead and buy a piece of luggage for your kids, there are a few things you should consider when making your decision.
Size and Weight
Children are smaller than most adults and therefore need cases and luggage with more compact dimensions for them to be usable. The average size of a carry-on case is about right for both younger and older children, but many cases designed exclusively for kids are just a little bit smaller. That said, there should be enough room in the case to house some clothes, toys, electronics, and any other essentials you need to take with you.
When it comes to the weight of your kid's case, lighter is definitely better. A 4-year-old will struggle to drag an overweight hardside case behind them, no matter how cute and kid-friendly it may appear at first glance.
Hot Tip: Too heavy and you will be forced to carry it around for them, which sort of defeats the purpose, so look for cases that weigh no more than 7.5 pounds ideally.
Material and Durability
Most kids' cases are either made from tough and durable ABS or polycarbonate hardshell components, or some type of wipeable vinyl or other soft, water-resistant materials.
Traditional softside cases and backpacks are often available in a wide range of cute designs featuring cuddly characters and bold designs, but these will not usually be as durable as their hard-sided counterparts. That said, softside luggage will be lighter, even when full, making them easier for little hands to pull or carry.
Hardside suitcases and backpacks, on the other hand, are a supercute child-size addition to full-size adult cases, and they will usually be more hard-wearing and durable. They may last you longer, but they may also be heavier, so consider the size and strength of your child before investing.
Wheels
Unlike adults who can carefully navigate the terrain around them, most kids are happy to drag and pull their cases over anything that gets in their way. With this in mind, most child-sized suitcases come complete with spinner or in-line skate-style wheels that are built to last.
They may be a little bit noisier than the sophisticated wheels found on high-end, full-size cases, but you may be thankful for chunky plastic coverings when your child tries to roll the case over your own feet, and those of everyone else waiting in line with you.
Compartments and Organization
Most children's cases do not have too many fussy compartments and pockets to worry about, but you should consider one that can separate certain items. Suitcases, for example, usually come with a zippered divider that you can use to keep clean and dirty clothing apart from each other, while some also offer a mesh pocket that is useful for toys, books, and other essentials.
With backpacks and carry bags, a front pocket makes light work of snacks and toys, while mesh pockets on the side will keep drink bottles and cups close at hand.
Kid-Friendly
Children are visual buyers and love anything that is covered in their favorite characters. Bright, colorful, and full of fun, Mickey Mouse, Cinderella, Star Wars, Paw Patrol, and many other branded cases are designed particularly to appeal to younger children. There are also plenty of animals, sports, or hobby-themed bags and cases that kids of all ages will love, too.
If you want to ramp up the fun, ride-ons offer a fun alternative to strollers for toddlers on longer journeys and can be pulled along by parents when you need to keep them close by.
Bottom Line: Give your kids the independence of packing their own bags, but keep it fun by letting them use luggage made just for children.
The Best Luggage for Kids
A Softside, Lightweight Suitcase That's Full of Fun
Skip Hop Kids Unicorn Luggage With Wheels
Dimensions: 12 x 5.5 x 16 inches
Weight: 2.12 pounds
This supercute unicorn suitcase is perfect for the little princess or prince in your life. Zoo-friendly fun helps your child to gain their own independence when it comes to packing and traveling — on vacation, sleepovers, or just for make-believe.
Made from sturdy poly-canvas fabric, the dimensions of this case are perfectly sized for little ones, while the retractable 13-inch handle is just long enough to make it easy to pull along behind them.
On the inside, the main compartment is spacious enough to carry their most important belongings with them, and the mesh pocket on the side will house their drink cup or bottle perfectly. There is also a handy front zip pocket with a divider to keep snacks and toys within easy reach while on the go.
Available in a choice of Unicorn, Bumble Bee, Cow, or Dog designs, Skip Hop also make matching accessories that your little will love, including lunch packs, straw bottles, snack pots, and safety harnesses.
What We Like
Material is easy to clean
What We Don't Like
No parent strap if the child gets tired of pulling the case
A Cute Little Suitcase for Disney Lovers of All Ages
American Tourister Disney Hardside Luggage With Spinner Wheels
Dimensions: 21 x 14.75 x 9.5 inches
Weight: 6.8 pounds
Available in 21- and 28-inch spinner body sizes, this fabulous collaboration between popular luggage brand American Tourister and iconic Disney characters, including Mickey, Minnie, and Cinderella, is a fantastic addition for kids of all ages.
Made from lightweight and durable ABS material, this sleek and sturdy suitcase will certainly last the distance. On the inside, the case features a spacious area for packing clothes, toys, and anything else your youngster will need.
Using the zip-around divider, you can separate the case into 2 separate compartments, making it easy to keep dirty and clean items apart on the way home or simply to help with organizing your packing better before you go away. There are also crisscross tie-down straps that will keep everything in place on the move.
For ease of use when traveling, this case features 4 multi-directional spinner wheels that allow it to roll upright on most surfaces. There is also a beveled push-button-locking retractable handle that can be adjusted to a height to suit you or your child, and the attractive designs are suitable for both boys and girls.
What We Like
Telescopic handle has different heights to suit your child
What We Don't Like
Handles can be a little fragile
A High-End Suitcase To Match the Adults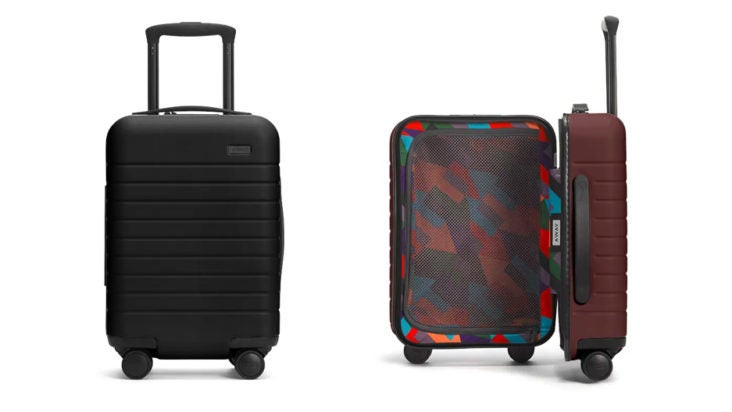 Dimensions: 18 x 12 x 9.5 inches
Weight: 6.6 pounds
Made by the luggage lovers at Away, The Kids Carry-On is designed to last them from childhood and beyond. Incredibly durable and designed to stand up to anything your kids can throw at it, this classic-looking hardshell case is lightweight enough for your little one to pull themselves, while still being spacious enough to hold all their gear.
The durable polycarbonate shell is extremely tough and resistant to the knocks and bumps of air travel. Unlike some other hardshell cases, it has also been designed to weigh as little as possible, making it perfect for little hands to open and shut. The TSA-approved combination lock will mean nothing to your children, but you will be thankful that the case can be easily accessed for security purposes while in transit.
The spacious internal dimensions are big enough to house everything your child could need for a vacation, and the interior compression system will help you to squish that little bit more in without running the risk of crinkles or creases. This particular model also comes with a hidden laundry bag to keep damp, dirty clothing separate from the clean items.
With 360-degree spinner wheels, this case offers supersmooth rolling capabilities, and the handle can be easily deployed and tucked away again as needed. As a bonus feature, this carry-on case comes complete with an ejectable battery that charges your phone on the go, perfect for keeping older kids and teenagers in touch and entertained.
What We Like
Removable battery for charging devices
What We Don't Like
Might be a little heavy for small children
Fun Animal Characters With Lots of Matching Accessories
Stephen Joseph Classic Rolling Luggage
Dimensions: 14.5 x 18 x 6.5 inches
Weight: 2.75 pounds
These fun and colorful character cases are an exciting way to offer your little one some independence while on vacation, on a camping trip, or even just on sleepovers. With a choice of Shark, Llama, Princess, Unicorn, Dinosaurs, and many more to choose from, you can even mix and match with other coordinating products from the Stephen Joseph kids' luggage range.
Made from strong and sturdy polyester, this case will last for many adventures, and it is easy to wipe down and keep clean between uses. Just the right size for kids, the pull handle is the perfect height for little travelers and it has a big main compartment and plenty of pockets to pack all their clothes and necessities in.
On the inside, there is plenty of space to fit all of their most treasured belongings and enough clothes for a few nights away, while the large front pocket and 2 side pockets are great for keeping drink cups, snacks, toys, and electronics close at hand.
With lots of awesome features that young kids will love, this is a great case for your little adventurers.
What We Like
Lots of small pockets for snacks and toys
What We Don't Like
Material could be more durable
An American Tourister for Your Youngest Adventurers
American Tourister Kids' Disney Softside Upright Luggage
Dimensions: 7 x 12 x 18 inches
Weight: 4.25 pounds
American Tourister makes cases for kids of all ages, and this cute little roller is perfect for the little princess in your life. Made from durable ABS material with a sleek hardside design, you can choose from a host of characters, including Mickey Mouse, Nemo, Frozen, and Paw Patrol, among others.
Perfectly sized for smaller travelers, the internal space has enough to keep them well-stocked on vacation or sleepovers and is fully lined and detailed with crisscrossed tie-down straps to keep their gear safe on the move.
The monotube pull handle is light enough to be operated by little hands, and the top grab handle is great for parents when loading the car. The single spinner wheels allow the case to roll effortlessly across the floor, while the compact dimensions make it just right for young travelers to pull and push across the concourse.
This case also comes with the signature American Tourister 10-Year Limited Warranty against defects in materials and workmanship, so this model should last your little one for many adventures to come.
What We Like
Variety of cute Disney character designs
What We Don't Like
Bright, Fun Backpack for Days Out and Much More
Stephen Joseph Quilted Backpack
Dimensions: 13 x 4.3 x 11.8 inches
Weight: 6.4 pounds
This insanely cute backpack is perfect for days out, trips to school, and even sleepovers, and can also be used as hand luggage for your little one on vacation. Let them keep their toys, electronics, snacks, and drinks close by, wherever you are headed.
Made from 100% cotton, this bright little backpack features colorful characters, and the dimensions are just the right size for your little ones to carry on their backs. You can even mix and match and coordinate with other Stephen Joseph kids' products, including suitcases, straw bottles, snack pots, and harnesses.
The adjustable button straps help you to ensure that the bags stay snugly on your child's shoulders and can grow with them as they get bigger. On the inside, there is plenty of space for everything your little one needs, either at nursery, daycare, school, or on the move. There is also a side pocket for easy access to drink cups or special toys, and the backpack can be machine washed when necessary.
Available in a huge selection of 30 designs, including Ladybug, Mermaid, Dinosaur, and many more, this little backpack is bound to be a firm favorite with both you and your child.
What We Like
Spacious backpack with comfortable straps
What We Don't Like
Could do with more internal pockets
A Suitcase and Backpack Combo for Cute Kids Everywhere
Goplus 2Pc Kid Luggage, 12 Inch and 16 Inch Kids Carry On Luggage Set
Dimensions: 18.8 x 12.5 x 9.2 inches
Weight: 6.13 pounds
Offering lots of luggage space across this suitcase and backpack combo, these are a gorgeous addition for any little one who likes to travel. Lightweight and perfect size for smaller hands to handle, this flexible combination can be used for vacations, sleepovers, and even just on playdates.
Made from durable polycarbonate, ABS, and nylon, these pieces can easily withstand the knocks and bumps of travel and daily usage. Easy for your child to open and carry or pull along behind them, both the suitcase and the backpack will help your child to enjoy a sense of independence as they get to pack their own belongings in their very own luggage.
Available in Lion, Owl, or Dinosaur designs, the coordinated sets will be the envy of all the other kids. While the suitcase can comfortably carry enough clothes and essentials for a few nights away, the backpack is perfect for packing toys, electronics, and other fun things that no little one would want to be without.
The multi-direction wheels on the suitcase support 360-degree rolling for super-easy movement, and the dual-tube adjustable pull handle will help your little helper to find the perfect height for them.
What We Like
Backpack can be worn or stacked on wheelie cases
What We Don't Like
Exterior can scratch easily
The Perfect Bag for Baby Ballerinas
Debbieicy Cute Ballet Dance Backpack Tutu Dress Dance Bag with Key Chain Girls
Dimensions: 9.5 x 6.7 x 13.4 inches
Weight: 1 pound
The gorgeous little ballet bag is perfect for your little prima ballerina, princess, or other tiny divas. Pretty pink material and a supercute ballet dance design make this an excellent choice for little ones who want to feel like a princess when they travel.
Short handles make this easy to carry, even for little fingers, and the adjustable shoulder strap can be used by parents and is designed to prevent your back and spine from pressure, even when the back is full.
Made from breathable, waterproof material that is lightweight and easy to clean, parents will love the practicality of this little bag as much as kids love the look of it. With a spacious main compartment and a double metal zipper, this is a safe and practical way to carry your little girl's belongings with you.
But wait — that's not all! This cute little bag with the ballet dance embroidery design also holds a little secret. Each bag comes with a necklace as a gift, which your little one will really love.
What We Like
Waterproof, lightweight, and easy to clean
What We Don't Like
A Luggage Set for Little People
Unicorn Kids Carry-On Luggage Set With Spinner Wheels
Dimensions:
Suitcase: 11 x 8 x 18 inches
Backpack: 13 x 10 x 4.5 inches
Weight: 7.25 pounds
This awesome unicorn luggage set comes complete with a kids' hardshell suitcase and a bonus backpack, perfect for taking on vacations, camping trips, and sleepovers, too. With playful designs and sized to suit younger children, this is a great little luggage combo for the little people in your life.
The suitcase is made from ABS plastic and designed to be lightweight yet still durable. On the inside, there is plenty of space for all your children's favorite things, and the zippered divider will help to create 2 different spaces to keep items well-organized.
There is a useful storage pocket to keep smaller items safe and compression straps to prevent contents from moving around in transit. 360-degree spinner wheels make it super easy to roll along beside your baby, and the telescopic handle makes finding the right height setting easy.
The bonus backpack is perfect for school or nursery, or even as a diaper bag for younger children. It has a good-size main compartment and a practical layout, making it perfect for keeping your kid's most treasured items close at hand.
Available in a pretty pink unicorn design, this is a great choice for little princesses everywhere.
What We Like
360-degree spinner wheels for easy rolling
What We Don't Like
Too small for more than a short trip or overnight stay
A 3-Dimensional Animal Case for Kids
Rockland Jr. Kids' My First Hardside Spinner Luggage
Dimensions: 11 x 13 x 17 inches
Weight: 5.5 pounds
This super-fun suitcase with 3-dimensional animal characters is made from a hard-sided, incredibly durable, polycarbonate shell, and is available in a range of animal themes. Your child can choose from Frog, Dinosaur, Ladybug, Monkey, Puppy, Shark, Turtle, and Owl designs to match their favorite creatures.
The perfect size to be handled by your little one, this case features 360-degree spinning wheels to make it easy for them to pull along behind them while in transit. It also has a telescopic handle that is designed to be just the right height for children.
On the inside, the case offers plenty of space to carry everything they need for shorts stays away. With a zippered divider to separate the space, and 2 compression straps to help keep clothes and belongings to stay in place on the go, this is a great case for the littlest adventurer in your life.
What We Like
Adjustable handle for kids and parents
What We Don't Like
Handle can sometimes come loose
A Hard Shell Suitcase for Kids, Complete With a Matching Backpack
Heys Kids' Travel Tots Suitcase
Dimensions: 18 x 13.5 x 9 inches
Weight: 3.1 pounds
This 2-piece travel combo is perfect for little ones and features a hardshell suitcase and a bonus backpack. Available in 13 different designs including Unicorn, Duck, Turtle, Blue Jay, Pineapple, Bee, Ladybug, Parrot, Penguin, Emperor Penguin, Panda, Elephant, and Owl, your little one will love going away with this supercute luggage set designed just for them.
With a shiny hardshell case, this suitcase has plenty of room to keep all your kid's favorite clothes, toys, and items close at hand. The zippered divider helps to separate items, while the compression straps help to keep items in place in transit.
Lightweight and easy to maneuver, children will love wheeling their case around behind them on the supersmooth in-line skate wheels. The extendable handle is also designed with kids in mind and has compact dimensions to meet the needs of little hands.
The bonus backpack can be used for travel or as a school bag, diaper bag, or even used for toy storage. With a beautifully lined interior, and enough space to carry books, toys, and electronics, this is a great addition that makes a fun and funky travel set for little people.
What We Like
In-line skate wheels for smooth rolling
What We Don't Like
A Case and Travel Bed All in 1
Jetkids by Stokke Kids Suitcase and Portable Bed
Dimensions: 18 x 14 x 8 inches
Weight: 7 pounds
This fantastic-looking state-of-the-art suitcase offers first-class luxury for your little ones. With just about enough space to hold your child's most essential items, this ride-on suitcase is designed to be used as an in-flight bed or leg rest.
Striking Scandinavian looks will appeal to stylish parents, while the ride-on feature will keep your kids amused in the airport. The seat extender is designed to fit most standard economy aircraft seats and will create a larger surface area for your child to rest in. The mattress and the soft side panels help to create a super comfy space for your young traveler, and you can still use your airplane seatbelt when sleeping.
Super easy to get around on, the shock-absorbing front swivel wheels allow for supersmooth travel across the concourse, while the adjustable strap makes it easy for your child to pull behind them. There is also a foot ledge for tired feet on long journeys.
Best suited to children between 2 and 7 years of age, this is an innovative and incredibly good case and travel bed that will keep your child comfy and well-rested on the move, with all of their favorite items close at hand.
What We Like
Fun for kids at the airport pulling or riding on the case
What We Don't Like
Bed mattresses could be thicker
The Original Ride-On for Fun on the Go
Trunki Original Kids Ride-On Suitcase and Carry-On Luggage
Dimensions: 17.4 x 8 x 11.2 inches
Weight: 3.44 pounds
Brightly colored and full of fun, these character cases are a firm favorite with kids all over the world. Perfect for vacation, sleepovers, and even for storage at home, this model offers plenty of room to keep your kids well-dressed and entertained. Whether they choose to pull it, ride on it, or carry it, these supercute cases are small enough to fit overhead lockers and light enough to be carried by your kids.
On the outside, the patented secure catch locks are easy enough for your toddler to open, while still being secure enough to keep their gear safe. When little legs grow tired, they can sit on the comfy saddle, and the horn grips can be used to steer the case through the airport.
When it comes to packing, the Trunki features an internal pocket for keeping the special treasure safe, as well as elastic straps for teddy bear seatbelts and a spacious 18-liter capacity to keep little items of clothing well-organized.
The ingenious Trunki strap doubles as a leash for kids to pull their own case along with them, and can also be used for parents to pull tired tots when it is time to ride. The strap can also be used as a shoulder strap by grown-ups looking to speed things up in transit.
What We Like
Multi-functional strap for parents
What We Don't Like
Hinge clips can pop open easily
Roll, Carry, or Wear on Your Back — a 3-in-1 for Little Ones
Yodo Zoo 3-Way Kids Rolling Luggage or Toddler Backpack with Wheels
Dimensions: 9.5 x 4.5 x 14.5 inches
Weight: 1.8 pounds
This cute little case can be wheeled as a roll-along, used as a carry bag, or worn as a rucksack. Perfect for you little adventurer, this colorful, character case has a 3-in-1 multi-functional design that can grow with your toddler. Perfect for use at school, nursery, or on playdates, this deceptively spacious bag can even be used for sleepovers.
Made from durable and easy to clean materials, this case features a large main compartment that allows for super quick access to your child's clothes, toys, books, blankets, electronics, and other belongings.
The double zips are also easy for little hands to get to grips with. The padded front pouch is perfect for keeping special items close at hand, and the mesh pockets at the sides can be used for keeping drink cups, bottles, and snacks within easy reach.
Let your child choose how to carry their gear. The additional thick padded panel at the back will hide the shoulder straps when your little one wants to use it like a suitcase, and these can be easily released to be carried or used as a backpack.
The gorgeous designs come in a range of colors and animals, including owls, sharks, and many more, while all of the cases feature cute little accessories such as animal feet and ears.
What We Like
Cute range of colors and animal designs
What We Don't Like
Quite a small bag for travel
A Grown-Up Case Designed Especially for Children
GURHODVO Kids Luggage 
Dimensions: 9 x 13.8 x 17.7 inches
Weight: 5.84 pounds
Let your little one travel like a grown-up with this lightweight but incredibly durable hardside suitcase. Perfect for trips away, summer vacations, and sleepovers, your child can carry their own belongings with them on the go. Made from high-quality ABS, this case is shock-resistant enough to withstand the knocks and bumps of air travel.
On the inside, the case has 2 separate and incredibly useful compartments, and there is a zippered mesh compartment that is useful for keeping hold of your child's favorite toys, books, and electronics. There is also an elastic crossbelt that keeps your kid's belongings in place in transit.
With child-friendly dimensions, this case can easily be wheeled alongside your little one, and the 8 wear-resistant wheels offer a smooth and quiet ride. The retractable telescopic handle with a push-button has 3 different height settings, and there is also a comfortable handle on the top for parents to use when lifting.
What We Like
Suitcase rolls smoothly pushing or pulling
What We Don't Like
Might be a little heavy for young toddlers
Final Thoughts
Whether you chose a smaller version of a grown-up suitcase, a character case, or a bag that suits your child's favorite hobbies, having their own luggage will help them to be more independent and feel involved in your travels. Whatever your little one loves, there will be a suitcase, travel bag, rucksack, or combo that they are going to love.