G Adventures Review – Adventure Travel Tours [Tour Styles, Destinations, Reviews]
Most of us have a travel bucket list, but there are some destinations that you may feel more confident exploring with a guided tour. Maybe you're concerned about language barriers, or you'd rather not have to worry about navigating public transport yourself. It's natural to feel both excited and apprehensive when visiting somewhere new, and booking an escorted tour can alleviate any concerns you may have, especially if you're traveling solo.
G Adventures has been providing small group tours for over 20 years and consistently listens to customer feedback to provide authentic and life-changing experiences. The G stands for "Good," which doesn't just refer to the good time that you'll have on a tour — it also applies to the impact G Adventures strives to have on the local communities that it encounters along the way.
All G Adventure tours have 100% guaranteed departures, which some operators can't provide. This avoids the disappointment of having to move to another date or destination just because the number of participants is not viable to run the tour.
Who Are G Adventures Tours Good For?
Solo Travelers
Group tours are perfect for those that are itching to get away but can't find a travel buddy. As tour prices are based on a solo rate, you needn't factor-in expensive single supplements, as you'll often have the option to upgrade to a private room if you choose. You'll find that adventure tours attract like-minded individuals, and many G Adventurers have made life-long friends on their trips.
Although socializing is not compulsory on a tour, it does help if you enjoy the company of others. You could be spending weeks with the same people on your tour bus, group trips, and activities, so if you hate being around strangers, then this type of tour probably isn't for you.
Hot Tip: If you're thinking about the iconic sights you might want to explore on a tour, check out these virtual tours of popular tourist attractions around the world, including Angkor Wat and the Great Wall of China. 
Friends or Groups
Friends often book onto tours as no 1 person needs to be responsible for arranging or coordinating the itinerary or managing payments. 1-on-1 travel can be an intense experience, especially if you're not used to spending that much time together, so joining a tour can alleviate the pressure.
Families
Just because you start a family, doesn't mean that you can't explore new and exotic destinations. If your children are 12 years or older, they are welcome on most standard tours when accompanied by an adult, and dedicated family tours are suitable for families with children aged 7-17. A family tour can broaden horizons for many children and educate them in different cultures and languages.
Touring Skeptics
You may have embarked on many solo trips and love the thrill of independent travel, but it doesn't necessarily mean that a small group tour isn't for you. There are a few destinations, such as some southern African countries, where public transport isn't the most reliable. The prospect of being driven the vast distances while getting some shut-eye along the way can be quite appealing.
With a small group tour, you'll have a permanent tour guide that will be an expert in the destination and will be able to answer any questions you have along the way. With tried and tested itineraries, you can rest assured that you're exploring the highlights of that destination and can often immerse yourself more in the local culture and communities due to the connections the tour company has established.
G Adventures Tour Types and Destinations
Tour Types
G Adventures recognizes that not everyone likes the same kind of travel, so it offers various styles of tours that cater to most.
These tours are a little larger in capacity (up to 22) to allow you to meet more people, and let's face it, if you're on an 18-to-Thirtysomethings Tour, you're likely open to the opportunity of meeting some new pals. Tours have a good balance of culture and free time, so you can be exploring temples by day and the local bars and restaurants by night.
Active Tours allow you to explore new destinations through hiking, biking, and other activity sports, such as kayaking and rafting. Each tour has an activity rating to let you know how physically demanding a tour is, and they have a maximum of 16 people (but an average of 10).
Hot Tip: G Adventures recommends bringing a backpack on your tour rather than a suitcase, as it's easier to transport than a suitcase. Check out the best hiking and backpacking backpacks for your trip and don't forget your other adventure travel essentials.
Classic Tours offer the perfect blend of cultural experiences, must-see highlights, and free time. If you discover something amazing and unscheduled along the way, the G Adventures Chief Experience Officers (CEOs) can adjust the itinerary accordingly to ensure you don't miss out on those spontaneous, once-in-a-lifetime experiences.
Organizing a family holiday can be stressful, but with a G Adventures Family Tour, you have the comfort and security of your knowledgeable guide, family-friendly accommodations, and specially-designed itineraries. Family tours usually include 3 or 4 families from all over the world with children around the same age. To ensure everyone has a great time, all family tours have a recommended age ranking indicating how suitable the activities are for children.
Hot Tip: Traveling with the kids can be a little overwhelming at times, especially to an unknown destination. Read these tips for amazing family travel with your kids.
If you're not a fan of moving from hotel to hotel on a busy tour, but you're keen to experience a local's way of life, then a Local Living Tour could be just the ticket. Most tours involve unpacking only once at your home-from-home, including a Tuscan farmhouse or remote village in the Amazon. Live like the locals and do as little or as much as you like with flexible itineraries.
From river cruises to ocean expeditions, traveling by water can provide a unique way of exploring some of the world's most magnificent aquatic destinations. Traveling onboard smaller ships than cruise liners allows you to get closer to extraordinary marine wildlife and enjoy more meaningful encounters with local people and communities.
National Geographic Journeys with G Adventures offers a range of unique tours that delve deeper into the communities and habitats than on a Classic Tour. Your CEO will have specialized National Geographic training for more in-depth, local knowledge on your destination, and tours feature more inclusions and hands-on exploration than standard tours.
It's as much about the journey as it is about the destination with a Rail Tour. Cruise through some of the world's most remote areas while enjoying a window view and a glass of wine. Not only is rail travel an authentic and exciting mode of transport, but it also leaves a smaller carbon footprint compared to coaches and airplanes, if responsible travel is important to you.
Hot Tip: There are many ways that you can become a greener traveler, from taking reusable water bottles to being selective with your toiletries. To do your bit for the environment, take a look at our green travel tips. 
With a G Adventures Wellness Tour, you've got the perfect combination of rejuvenating practices such as yoga or mediation and an incredible location. Experience ancient restorative practices and ceremonies and explore cultural sights and awe-inspiring scenery. Most tours include wellness moments such as a daily yoga session or spa treatment, and tours focus on healthy food experiences to nourish the mind and body.
Destinations
G Adventures operates tours to over 100 destinations across the following continents, countries, and areas:
Africa
Asia
Australia and New Zealand
Central America and the Caribbean
Europe
North Africa and the Middle East
North America
Polar regions
South America
G Adventures Top Tours
The Antarctic is a destination that many adventurers dream of visiting. Colossal icebergs, gigantic glaciers, and jagged mountains make up the beautiful but barren landscape, and it's a wonder how the brutally cold conditions create a home for such a variety of wildlife.
You'll be on board the G Expedition that can sleep up to 134 passengers and has many communal areas such as the Penguin Library and Polar Bear Pub. All rooms are en suite with either a porthole or a window view so that you can spot humpback and minke whales breaching in the surrounding waters.
11-day sailings from $5,775 per person 

Includes accommodation, most meals, Zodiac excursions, educational programs, waterproof boots, and parka
Hot Tip: There are a couple of optional extras available on the G Expedition that are worth considering. Sleep out under the stars with a camping experience or upgrade from the Zodiac excursions to kayaking to get the closest you can be to your surroundings.
Go beyond the beach with a G Adventures tour to Cuba. This vibrant Caribbean island has only recently opened up to non-traditional travel, so you can explore more than just the beautiful beaches. Stay in a local homestay for an immersive Cuban experience, tour a tobacco plantation, or see the sights of bustling Havana from the comfort of a classic car.
G Adventures offers Classic, Active, Marine, and 18-to-Thirtysomethings tours to Cuba.
6 days from $665 per person

Includes transfers, excursions, accommodation, and breakfast
Costa Rica is a tropical paradise with one of the highest densities of biodiversity of any country. Magnificent volcanoes emerge from the lush landscapes, and mysterious cloud forests are home to exotic flora and fauna, including the red-eyed tree frog and the white-faced Capuchin monkey. You'll need your camera on hand at every moment exploring Costa Rica's incredible scenery.
G Adventures offers Classic, Active, National Geographic Journeys, Family, Wellness, and 18-to-Thirtysomethings tours to Costa Rica.
Located 600 miles off the coast of Ecuador, the Galápagos Islands are accessible by flying in to either 2 of the larger islands of Santa Cruz or San Cristóbal. You'll then spend your trip sailing through the archipelago, spotting whales and dolphins, and snorkeling amongst sea lions. It's nature's paradise! You can choose between a small ship adventure where you'll sleep on board, or if you prefer to spend your nights on dry land, you can opt for a tour with land-based accommodation.
G Adventures offers Classic, Marine, Active, and 18-to-Thirtysomethings tours to Galápagos.
7 days from $1,255 per person

Includes basic accommodation, some meals, transportation, and some excursions
Hot Tip: If you combine a Peru tour with a Galápagos tour, G Adventures will pay for your flight between Peru and Ecuador. 
India can be chaotic, mesmerizing, and an intense sensory experience with so many colorful sights, sounds, and smells to absorb. Taking a tour with G Adventures can offer a more organized travel experience. You can spend more time savoring the sights without worrying about the sometimes confusing logistics of navigating this vibrant country. Marvel at the majestic Taj Mahal, cruise along the Kerala backwaters, or relax on the wild beaches of Goa.
G Adventures offers Classic, Wellness, Rail, National Geographic Journeys, and 18-to-Thirtysomethings tours to India.
7 days from $605 per person

Includes transportation, accommodation, excursions, and some meals
Japan is a captivating city with a charming blend of ancient traditions and cutting-edge technology. One minute you'll be wandering around a sacred Buddhist temple, and the next, whizzing between cities on the high-speed Shinkansen bullet train. Visit in spring to see the famous cherry blossom trees, relax in a traditional onsen, or learn about samurai culture. Nothing about Japan disappoints.
G Adventures offers Classic, Active, Rail, National Geographic Journeys, and 18-to-Thirtysomethings tours to Japan.
Hot Tip: For a limited stay trip, Americans do not currently need a visa to enter Japan, so that's 1 thing less to worry about. 
From stunning beaches to bustling cities and rolling sand dunes to mountainous Berber villages, if you're looking for a diverse destination, Morocco ticks all the boxes. If you're a little unsure about exploring the bustling medinas and labyrinthine alleyways independently, a G Adventures tour can give you confidence and security, while still allowing an authentic experience.
G Adventures offers Classic, Active, National Geographic Journeys, and 18-to-Thirtysomethings tours to Morocco.
5 days from $430 per person

Includes transportation, accommodation, excursions, and some meals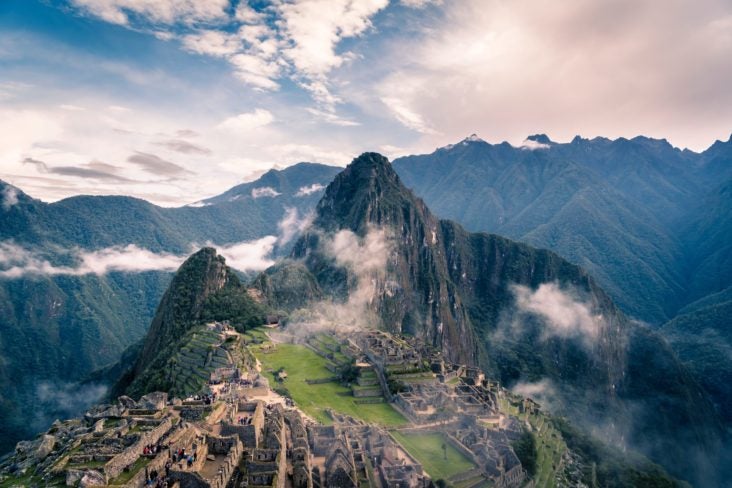 Peru is an active adventurer's paradise, with the wild and rugged landscapes providing endless hiking opportunities and enormous sand dunes begging to be boarded down. Many hike the famous Inca Trail to Machu Picchu, while others opt for a less strenuous journey to marvel at the magnificent ancient ruins. Kayak on Lake Titicaca or visit the floating island communities of Uros.
G Adventures offers Classic, Active, National Geographic Journeys, Marine, Wellness, and 18-to-Thirtysomethings tours to Peru.
6 days from $845 per person

Includes transportation, accommodation, excursions, and most meals
Foodies will love sampling the culinary delights of the charming market stalls and seafood beach shacks, while others will enjoy tasty home-cooked meals while spending the night with a hill tribe family. With scenery so spectacular, it's no wonder Thailand has featured in many blockbuster movies, with limestone rocks protruding from crystal-clear waters. Gleaming temples, a vibrant capital, and spectacular beaches make Thailand a well-rounded destination that offers something for everyone.
G Adventures offers Classic, Active, National Geographic Journeys, Marine, Family, and 18-to-Thirtysomethings tours to Thailand.
7 days from $580 per person

Includes transportation, accommodation, excursions, and breakfast
G Adventures Reviews
G Adventures is a highly reviewed tour company with the following overall ratings:
To give you a flavor of the feedback G Adventures receives, these are some testimonials from some of its most popular trips.
Antarctica Classic Tour
"This was the MOST amazing trip of my life (and I have traveled a lot). The experience of seeing this vastly untouched continent is something I won't ever forget. The penguins were adorable, and the staff was excellent in giving the passengers a full and knowledgeable trip. Highly recommended!" — Stacie C, United States
Cuba Libre Tour
"I had a fabulous time. I visited towns and sites that I would not have found on my own. I also enjoyed meeting other tour participants from various European countries who appreciate traveling just as much as I do." — Sondra W, Canada
Costa Rica Quest Tour
"Our guide was exceptional. Her knowledge of each area and unwavering commitment to ensure that we all had the most positive experience did not go unnoticed. This was the best trip I have ever taken, and I would not hesitate to travel with her again. There were plenty of activities to choose from, so we could take advantage of as little or as much as we liked. The drivers were friendly and accommodating." — P. Victoria Anne W, Canada
Comfort Galápagos 10 Day Tour
"I had an amazing experience like no other. Never have I been so much in contact with wildlife. The trip was very memorable and gave me a very good impression of the place and its people. I have to admire the people at G Adventures in Ecuador, in which they made my travel experience as smooth as possible without any hassle. My trip there was not a luxury trip, but I felt I was treated with first-class service. I was delighted and enjoyed myself a lot. Even though I traveled alone, I felt very comfortable and had one of the best times in travel adventures." —  Lemuel D, United States

Rajasthan Adventure
"This was an impressive tour. We saw a lot of sights and experienced a vast range of Indian cultures. Our tour guide, Narendra Pal Singh, was excellent. A great character to be around. Thank you. The accommodations were incredible; the most impressive for me was the hotel in Ranakpur, that was surrounded by lush vegetation." — Jamahl M, United Kingdom
Discover Japan Tour
"Where else in the world, except Japan, can you go to experience the traditional mixed with the modern, and while not speaking the language and still feel completely at home. Mix in a group of people with different backgrounds, traveling together to places they have never seen and who realize at the end they could not have imagined or understood these places without being there, and you receive 15 perceptions of a place which absorbs you. The tour brought you the opportunities to explore on your own and as a group and the confidence to step out of what you thought was your comfort zone. A great experience which went by way too fast, as they say, time flies when you're having fun." — Janelle A, Australia
Highlights of Morocco Tour
"This is my 2nd G Adventures tour, so I knew that everything would be well organized and planned. It really showed the diversity of Morocco from cities, mountains, and desert. The local guides were really informative. The level of accommodation was very good." — Janet C, Australia

Inca Empire Tour
"The G Adventures tour far exceeded my expectations, and I would recommend G Adventures to anyone when considering a tour group option. Everything was taken care of, and a special mention to our tour leader Caroline who did a tremendous job from chasing down lost luggage, to taking us to the best restaurants every night! The high point of the trip was when our group made it first to the Sun Gate at Machu Picchu and watched an awesome sunrise over the Inca City. A big mention also to G Adventures for outsourcing their treks to tremendous companies." — David T, Australia

Northern Thailand: Hilltribes & Villages
"The tour was excellent! I was a little apprehensive about embarking on a tour, but this type of tour enabled lots of freedom to do what I wanted, but with the convenience of a guide to helpfully offer advice and make arrangements." — Sandra F, Canada
G Adventures vs. Contiki
Contiki is a tour company that caters to travelers that are 18 to 35 years old only and quite often has larger group sizes than G Adventures. Some destinations can have up to 50 people — quite a lot compared to G Adventures' more intimate tour groups of up to 16. If you're looking to meet lots of people, then you might like the idea of a larger tour group. G Adventures offer young person tours with a permitted age bracket of 18 to 39 but also caters to families and travelers of any age.
Contiki's range of tour types offers volunteering trips, ski and snowboarding, and festivals, whereas G Adventures has a slightly more mature offering of local living, wellness, and rail tours. G Adventures offers a wider choice of destinations, while Contiki focuses on those typically popular with younger travelers. When it comes to cost, Contiki can be slightly cheaper than G Adventures, but this can depend on the accommodation included and the quality of excursions included in the tour.
G Adventures vs. Intrepid
G Adventures and Intrepid both offer the same levels of trip styles for their tours, including basic, standard, and comfort (upgraded), so you have the choice depending on your budget and requirements. The group sizes are also very similar for both companies, including 12-16 people on most tours. You won't be charged a single supplement with either company as you'll be paired up with a traveler of the same gender to room-share.
All G Adventures tours offer guaranteed departures, as do the majority of Intrepid tours, although these are marked with a "guaranteed departure" flag on the tour page so you can be sure. G Adventures offers around 700 itineraries, whereas Intrepid has over 1,000, so if you're looking for the company with the most variety, Intrepid could be your answer.
Final Thoughts
G Adventures provides responsible, sustainable tours and supports local communities, so you can take comfort knowing that you're giving back as much as you're taking away from the experience. Overall, its booking process and customer service are very good, but it's the ground CEOs (Chief Experience Officers) that are the shining stars. These passionate and knowledgeable guides are with you every step of the way and are there to introduce you to the amazing destination.
G Adventures has completely revolutionized group touring. Instead of following a standard itinerary, you can now choose how you want to discover a new destination, whether that's exploring by bicycle on an active tour or in the company of like-minded families.