Contiki Review – Travel Tours, Group Vacations & Adventure Holidays
Contiki provides travel tours for young adults. The tour company was incorporated in the mid-1960s after a group of friends posted a flyer on a noticeboard advertising space on their 12-seater minibus to travel around Europe. To this day, group travel is still immensely popular, as you not only get to explore a fantastic destination, but you get to make lots of friends in the process.
Contiki is one of the best European bus tour companies out there, but it also offers group tours all over the world. Many tours use coaches, and groups can be as large as 52 people. In some destinations such as Africa and Latin America, group sizes can be as small as 12 people up to a maximum of 30.
Each tour has a driver and a trip leader that will be with you for the entire journey, and local expert guides will also join you for specific activities. With your travel, accommodations, and itinerary arranged for you, all you need to worry about is having an incredible time.
Who Are Contiki Tours Good For?
Young Travelers
Contiki tours are exclusively for travelers from 18 to 35 years old so that you can experience a new destination with like-minded young vacationers. The tours are incredibly social and many travelers meet lifelong friends. Including a combination of scheduled activities and free time, the tours let you tick-off bucket list experiences and landmarks before enjoying a beer with your new pals.
Solo Travelers
Whether you're an experienced traveler or are embarking on your first solo trip, Contiki tours are perfect for single travelers. You'll experience the excitement of independent travel while having the logistics taken care of. Rather than having to approach a new friend in a hostel bar, you'll get to know your fellow travelers in a less daunting environment.
Tour prices are based on twin sharing with a fellow traveler of the same gender, but you can also upgrade to a private room for a fee.
Friends or Groups
It's not just solo travelers that choose Contiki tours. Groups of friends often join tours together as they love the idea of meeting more new people as well as getting to travel with their friends. You can all book your places and pay final balances independently, avoiding 1 person having to be responsible for everyone's finances.
Contiki Tour Types and Destinations
Tour Types
Everyone has different preferences when it comes to travel. To help travelers choose which tours might suit their travel style, Contiki has tagged its tours under various categories.
Contiki's Adventure tours include the usual transport and accommodation, but they also include unique travel experiences for adventurous types. You could be quad biking through the Cambodian countryside or soaring high above the Sonoran Desert in Arizona in a hot air balloon.
Hot Tip: Be sure to check out our adventure travel essentials before your next trip.
Africa's incredible landscapes are teeming with wildlife, large and small, from majestic elephants bathing in watering holes to color-changing desert chameleons. African Safari tours include plenty of wildlife encounters and other bucket-list experiences such as Victoria Falls, the Sossusvlei salt pans, and Table Mountain.
Contiki has picked some of the best beaches in the world to create tours with the perfect blend of sun, sea, adventure, and nightlife. Beach Trips tend to follow the coastline of a destination, so you can enjoy surf lessons to beach yoga and sunset cocktails to fresh seafood dining.
Hot Tip:  We take the pain out of packing for your beach vacation with this printable packing list.
Discoverer trips offer an excellent balance of culture, iconic sights, and adventure. You'll tick off lots of bucket list experiences as well as authentic local encounters, which are often the most memorable moments. These tours are generally longer than 9 days, so you'll get to immerse yourself in a destination.
Iconic Essentials tours cover comprehensive itineraries around Europe and include some excursions and lots of free time. This means that you can tailor-make your trip to only see the sights that are important to you. If you're used to traveling solo or are skeptical about touring, this tour type could be a good compromise — travel and accommodation are arranged but many of the excursions are optional.
Hot Tip: Check out the best compact, mirrorless, and DSLR cameras for travel so that you can capture iconic sights on your tour. 
In-Depth Explorer tours enable travelers to experience a destination like a local, with lots of authentic experiences to immerse yourself in the local culture. Accommodations include well-situated, independent hotels, so you'll enjoy the comfort and convenience while knowing you're supporting local communities.
Why stay on 1 island when you can experience them all? Island Hopping tours allow travelers the opportunity to experience the unique culture and quirks of island life while enjoying the journey in between. Relax on palm-fringed sandy beaches, sip a cocktail while watching an island sunset, or go in search of marine life with a snorkel or diving excursion.
Hot Tip: Make sure you're prepared for your beach tour with these recommendations for the best travel beach towels and blankets.
Sail between beautiful islands and buzzing port towns with a Sailing or Cruise tour. On some tours, your ship is your transport and your accommodation, so you'll only need to unpack once for your whole trip. When it comes to sightseeing, you'll get the best of both worlds, with regular stops for land-based exploration and plenty of incredible views of the coastline.
Short Trips and Festival tours are great for those who want to explore a city for a couple of days or combine their holidays with a festival or celebration. These include music festivals, New Year's Eve celebrations, or local public holidays, so you can celebrate in style while soaking up the local culture.
Hot Tip: If you're heading away on a short break, you might want to upgrade to one of these recommended carry-on bags, including wheeled cabin bags and backpacks.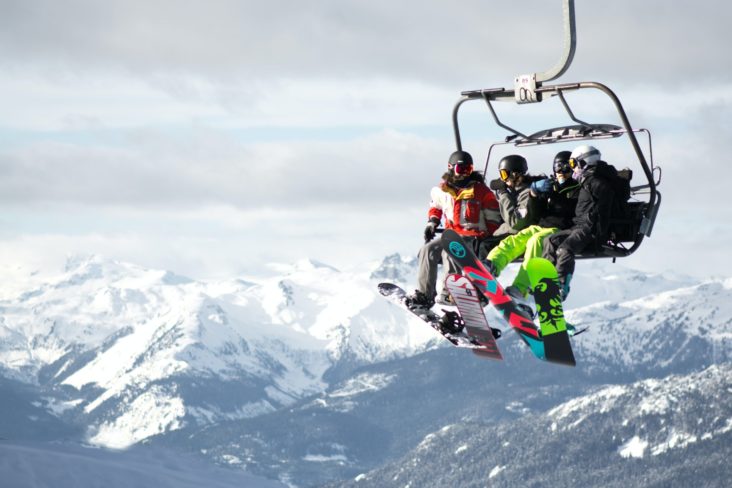 Ski and Snowboard tours offer the perfect solution if you're looking to explore a new destination while getting in some slope time. It doesn't matter if you're a seasoned pro or a complete beginner, you'll have the option to book lessons and chances are there will be someone on your tour of a similar standard. Enjoy the cool and crazy vibes of Tokyo before taking a train to one of the nearby ski resorts or hit the slopes in Lake Tahoe on a sightseeing trip through California, Arizona, and Nevada.
Some of Contiki's groups accommodate up to 50 people, which some travelers love, as it allows them to meet more people. If you prefer a smaller, more intimate travel experience, Contiki offers Small Group tours with tours averaging 12 to 24 people.
Contiki's Volunteering tours allow travelers to give back to the countries and communities they're exploring. Volunteer tours combine exploration with a service element, such as participating in sustainable development projects.
Other Tour Types
Contiki has a variety of other tour types:
Backpacking
Bus Tours
Christmas Tours
Group Travel
Guided Tours
Hiking and Trekking
New Year's Eve Tours
Road Trips
Sightseeing
Solo Travel
Winter Holidays
World Tours
Destinations
Contiki provides over 350 tours to 75 destinations within these countries, continents, and regions:
Africa
Asia
Australia
Europe
Latin America
Middle East
New Zealand
U.S. and Canada
Contiki Top Tours
Contiki Australia
Contiki offers itineraries of up to 22 days to explore this vast country. Many cover the popular east coast from Sydney to Cairns, while others venture into the remote outback to watch the sunset at Uluru. Sail around the Whitsundays, learn to surf at Byron Bay, or see where the rainforest meets the reef at Cape Tribulation.
5-day tours from $985 per person

Includes transport, accommodation, breakfast, and some activities
Hot Tip: As flights are not included in the tour price, you might be interested in the best ways to fly to Australia with points and miles. 
Contiki Europe
Contiki is well-known for its European bus tours, but some destinations utilize transportation by train or boat for coastal areas. It's usually unnecessary to fly between destinations as combination tours like European Discovery typically cover neighboring countries. Let's take a look at a sample of what's available.
Contiki Croatia
You can discover Croatia as a standalone tour or as part of a combination Balkans or European tour. With one of the longest coastlines in the Mediterranean, it's the perfect sailing destination, stopping at the historic coastal cities of Dubrovnik and Split and the beautiful islands of Korčula and Hvar.
5-day tours from $829 per person

Includes transport, accommodation, some meals, and activities
Contiki Greece
You can island-hop your way around Greece or visit as part of a wider European tour. With most tours starting in Athens, you can explore the iconic Acropolis and Olympic Stadium before sailing between the likes of Mykonos, Santorini, and Ios.
4-day tours from $1,075 per person

Includes transport, accommodation, some meals, and activities
Contiki Italy
Contiki runs a wide variety of trips to Italy, ranging from week-long tours visiting some of its most iconic cities and coastlines to 45-day European tours. From exploring Roman ruins and floating cities to sampling fresh pasta or delicious wine at a 16th-century Tuscan winery, you'll most definitely be living la dolce vita.
6-day tours from $1,345 per person

Includes transport, accommodation, some meals, and activities
Contiki Japan
Japan is an enchanting county of contrasts, from bustling cities to ornate temples and magnificent mountains to war memorials. With the high-speed bullet train, it's pretty easy to get around to Kyoto and Hiroshima, and some tours include a trip into the mountains for skiing or snowboarding.
8 days from $2,535 per person

Includes transport, accommodation, some meals, and activities
Hot Tip: If you're planning to visit Japan in Spring, take a look at our ultimate guide to the cherry blossom festivals.
Contiki New Zealand
Explore the North Island, South Island, or both with a Contiki New Zealand tour. Cruise across the Bay of Islands, go white water rafting down Kaituna River, or spend a night on the town in Wellington. Contiki tours range from 6 to 19 days.
6 days from $1,069 per person

Includes transport, accommodation, some meal, and activities
Hot Tip: If you're flying from the U.S. to New Zealand, find out which U.S. airports Air New Zealand flies direct from.
Contiki Thailand
Embark on the ultimate Thailand adventure and tour the northern jungles of Chang Mai and the exotic coastlines and islands of the south. If you're looking to visit more than 1 country, some tours combine Thailand with neighboring Cambodia or Malaysia.
8 days from $955 per person

Includes transport, accommodation, some meals, and activities
Contiki USA & Canada
If you're looking for a tour closer to home, Contiki offers trips throughout the U.S. and Canada. These range from 2-night city breaks exploring Los Angeles, Orlando, or New York, or trips up to 26 days covering most of the eastern and southern states.
8 days from $1,185 per person

Includes transport, accommodation, some meals, and activities
Hot Tip: If you decide that a group tour isn't for you, check out the best road trips in the U.S. that might inspire you for your next vacation.
My Contiki
My Contiki is a platform for you to manage your profile and bookings and view trip itineraries, including the details for your Trip Manager (the person responsible for running the trip day-to-day). If you want to chat beforehand with people that will be on your tour, you can do this in the Meet Up area and you can also access any social media groups that the Trip Manager or your fellow travelers might set up.
Contiki Reviews
Contiki is a well-reviewed tour company with the following overall ratings:
These are some recent reviews from some of Contiki's top tours. It's clear to see that the Trip Managers contribute hugely to the enjoyment of the tours. The majority of the negative reviews for Contiki center around the lively nature of the tours and a focus on drinking culture. While this may suit some young travelers, it's not everyone's cup of tea.
Australian Outback Adventure
"The trip itself was incredible, we had so many activities, most of them you had to pay for but it was defiantly money well spent, it was worth it!! There was a lot of travelling involved but it was all an amazing adventure, and we got to get to know everyone much better." — Emma Mccaw
Croatia Island Sail
"Dani was incredible, made it such a fun experience. She was so knowledgeable with history and local tips. Gave us plenty of down time and got the party started at the right times. It was a great week and would definitely recommend to friends" — Harriet Gilmour
Japan Winter Wonder
"The trip manager was absolutely brilliant. We visited amazing places and our accommodation was very good. We were well looked after and our trip manager always made sure we were enjoying ourselves. There was so much to do everywhere we went and there just weren't enough hours in the day to do them all but we always saw the highlights in every city." — Anonymous
New Zealand The Big Tiki
"Honestly can say one of the best trips I have been on! Amazingly well organised and the included activities were very good. A big thanks to Dan and Pat for organising it all so well and going above and beyond to make sure we made it to our activities!! The accommodation was very very good and I thought the itinerary covered everything key." — Anonymous

Spotlight on Greece
"The trip manager was really cool and took us to amazing local spots! The activities went from nature to museums to wine and dining! It was all a blast and I highly recommend for anyone who has only a week to get away! The locals are all so friendly and the food is amazing! Beautiful hotels and easy transportation included! A must see!!" — Melanie Button
Thai Island Hopper East
"Everything was great. Especially for the price of the trip. Trip manager was amazing and everything was set out for us. Best experiences with not a worry in the world." — Alexander Brighton

United States Grand Southern
"Trip is well thought out stopping at great spots around the U.S. The extra add ons were fantastic, a large variety of what you normally get on organised tours. The trip manager Hayley Jo was beyond amazing, she went above and beyond to make sure anything was possible on the trip! Would highly recommend the Hot air balloon and snowmobiles, was such a great day!" — Emma Walker

Contiki vs. Topdeck
Topdeck is another popular tour company covering many of the same destinations as Contiki, with both companies extremely popular for European bus tours. Both appeal to the same target market, however, Contiki does have a firm age limit of 35, and Topdeck caters to "18-30 somethings." The travel style is very similar across both operators with socializing at the core, and both offer small group tour alternatives for those looking for a less party vibe.
When it comes to cost, Topdeck comes in cheaper than Contiki on the overall tour price, but this is often because there are more entrance fees and excursions included with Contiki. Topdeck provides a lot more free time, so any activities would be additional.
Final Thoughts
Contiki is an extremely popular tour company for young people, but large group tours are not going to suit everyone's travel styles. Contiki tours are known for their lively, party atmosphere, which many travelers love. It's as much about meeting new people and socializing as it is about exploring a new destination for them.
Many travelers make lifelong friends within their tour group, and the company states that many people have even found love on a Contiki tour. Contiki recognizes that not everyone wants to travel in a large group and has created some tour categories that have a more in-depth focus on the destination or for traveling in smaller groups.
As with other group tour operators such as G Adventures and Intrepid Travel, Contiki is committed to sustainable travel by supporting local communities, ethical animal experiences, and planting 1 tree for every traveler that uses e-documents.