The 10 Best Travel Beach Towels and Blankets [2021]
If you are heading to the beach, traveling to watch an outdoor event, or simply meeting friends for a picnic in the park, taking something to sit on is a must! Beach towels offer somewhere soft to sit and a cozy hug when the weather turns cold. They make excellent play mats for your babies, festival groundsheets, towels, meeting places, and so much more.
When you take your beach towel traveling with you, not only does it meet all of the above needs, it also has to fold up small enough for you to stow away in your luggage.
Things To Consider With Beach Towels
Because not all beach towels and blankets are equal, here are some things to consider before you buy:
Size and Compactness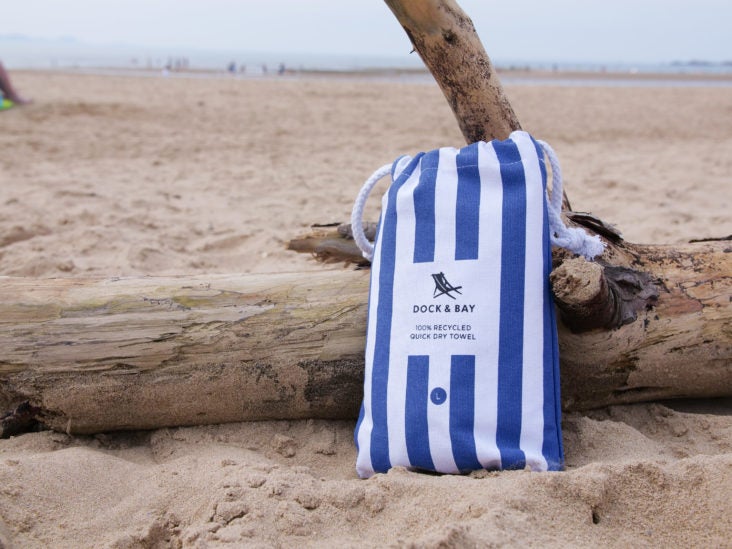 A great beach towel is one that is plenty big enough to envelop you completely when you are dripping wet on the beach and one that keeps your body comfortably separated from sand and grass when you are sunbathing. Your towel needs to be big enough to double as a picnic blanket and is even better if it is big enough for 2.
Regular bath sheets usually measure between 52 and 58 inches in length, but a beach towel shouldn't be any less than 70 inches in length.
Bottom Line: When it comes to picking your perfect beach towel, size will almost certainly always be a factor. The fluffier it is, the bulkier it will be to fold or roll. Consider precisely how much space you have in your case, bag, or backpack before you buy.
Material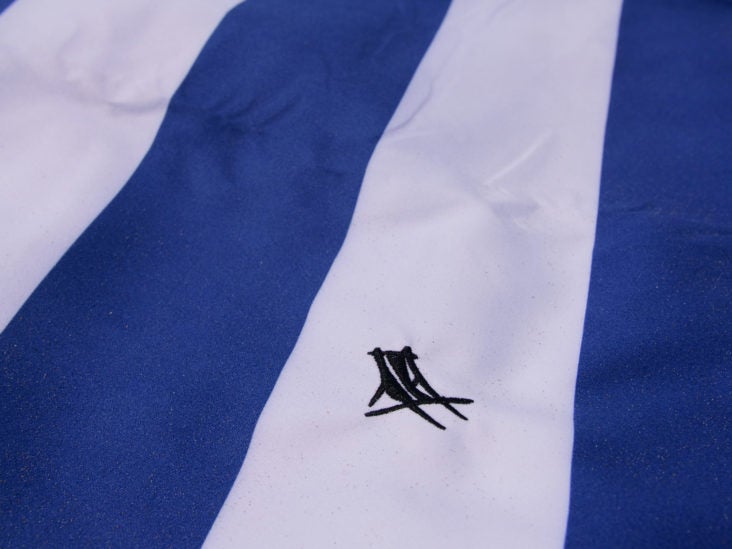 Cotton beach towels are usually the most popular — cotton is soft to the touch and can absorb moisture quickly. Cotton towels made of velour feel silky smooth on the skin and are easy to print on, making them a fashionable choice for the savvy traveler.
Towels made from microfiber are also a popular choice for anyone with limited packing space, as they can be folded flatter.
Many beach blankets are also easy to clean, sand-proof, and feature some kind of waterproof backing. These are a good choice if you are planning on using it as a groundsheet or picnic blanket, more than just a towel.
Hot Tip: Need ideas on what to pack for your next beach visit? We've created our own beach vacation packing list that you can print out!
Comfort and Thickness
It stands to reason that the thicker the towel, the more comfortable it will be. An excellent heavy cotton beach towel will protect your delicate skin from rocky shores and shingle beaches, but it will also take up a big part of your carry bag.
Bottom Line: If you only have a short stroll from your hotel to the beach, then you can afford to go big, but longer hikes are better suited to thinner towels that will protect you from the heat of the sand and dry you off when needed.
Water Resistance and Absorbency
If your towel had only 1 job, it would be to absorb all that excess water sitting on your skin. Some towels do this better than others, and a practical beach towel should be able to retain at least 3 times its weight in water. It should also be able to dispel excess moisture super quickly and wick away water from the top layer.
Microfiber towels are particularly adept at doing this and are the least likely to become a damp, wet ball of sand and seawater by the end of the day.
Cleaning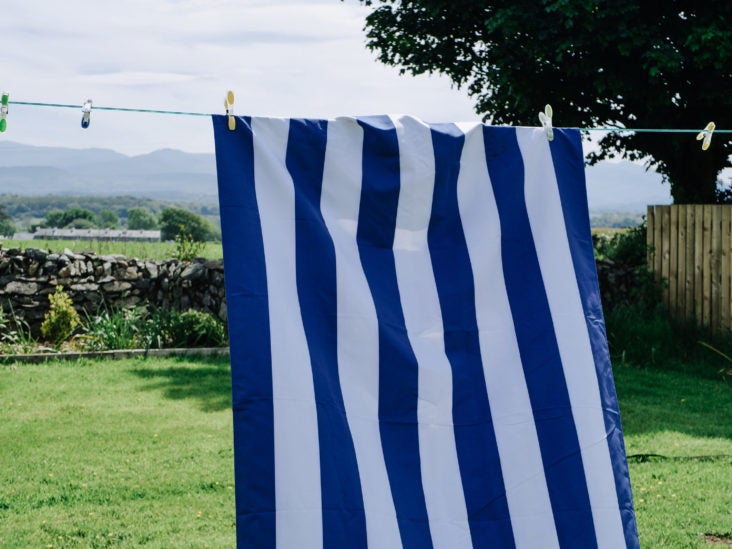 Your beach towel will be placed on the floor, around the pool, on the beach, and across numerous other public spaces. It will be doused with chlorinated water, covered in sand, and trampled on by many pairs of dirty wet feet. For all of these reasons and many more, your beach towel should be able to withstand a hot wash to kill any bacteria and tumble-dried to regain maximum fluffiness.
Style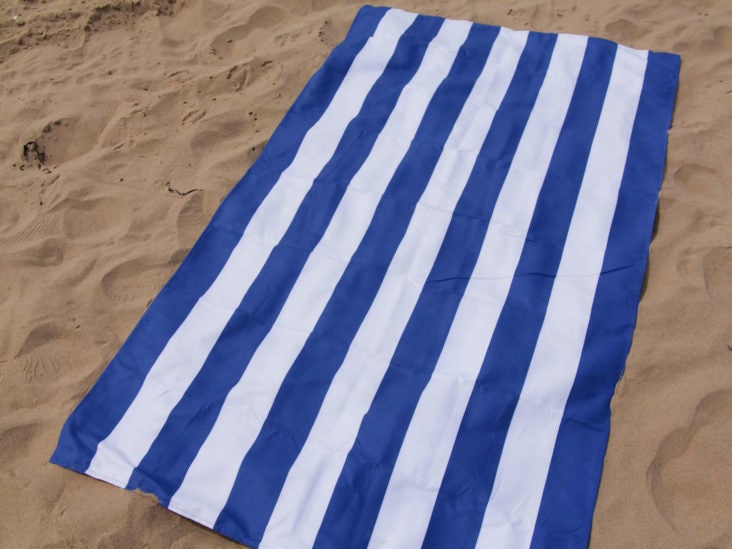 Beach towels come in a variety of shapes, styles, and sizes. Oversized, rectangular towels have always been popular, and right now, round towels are also having a moment. A round towel means that you can move around the blanket to follow the sun without ever having to reposition your towel — brilliant!
Bottom Line: In terms of color and design, there is an entire world of beach towel variations out there, just waiting for you.
The Best Beach Towels for Travel
Perfect for the Whole Family
WELLAX Sandfree Beach Blanket
This oversized beach towel measures an impressive 9 x 10 inches, making it plenty big enough for your whole family to share with you. Being up to 40% larger than most regular beach towels, it easily doubles up as a huge, soft blanket.
Made from strong, durable, and breathable 100% parachute nylon, the WellaX blanket has been cleverly crafted to offer many years of use. It is water-repellent to help dry wet skin, and the anti-heat material means your towel will remain cool no matter how hot it gets out there.
The rip-stop nylon fabric is also sand-repellent, meaning that you can simply brush off any unwanted bits from the beach before you leave. This beach towel also comes with 4 incorporated pockets that you can use to tie it down and a universal waterproof case for your personal belongings.
This massive towel folds up to a completely compact 4 x 8 inches, and it fits into its very own pouch, making it perfect for beach vacations.
What We Like
Huge towel with plenty of space for all the family
What We Don't Like
Sand must be brushed off rather than falling through the towel
Super Absorbent for Quick Drying
Dock and Bay Beach Towel
This compact and stylish towel is an excellent choice for anyone who wants to relax on the beach or around the swimming pool. Made from 100% recycled materials, it's great for the environment, and its compact size takes up very little room in your suitcase as you travel the world.
With a quick shake, sand slides right off the smooth microfiber material, so you can bask on the beach without getting covered in sand. After a swim, dry off quickly with your Dock and Bay beach towel, which also dries up to 3 times faster than cotton alternatives, so you won't find yourself on a damp, smelly towel for the rest of the day.
Choose from 5 sizes and an array of flat color or striped designs, including the classic Bondi Blue or more vibrant Unicorn Waves. The towel comes with a handy drawstring cotton pouch that can be used to store small items, such as your keys or sunscreen.
Whether you take this on vacation with you or keep it in the car for impromptu excursions, this beach towel is lightweight and portable enough to take on any trip.
What We Like
Dries 3 times quicker than cotton towels
What We Don't Like
An Authentic Taste of Mexico
Mexican Blanket
This beautiful, authentic Mexican blanket can be used both indoors and outdoors and is perfect as a throw blanket, a beach blanket, a picnic blanket, a yoga blanket, and even a twin bedspread. Incredibly soft and wonderfully woven, this Mexican blanket takes sunbathing on the beach to another level.
Measuring an impressive 6 x 40 inches, the authentic handwoven material looks stunning in a heady mix of bright blues and oranges that give this blanket the look and feel of an authentic tapestry. It's much more than just a stuffy old beach blanket.
Handwoven by Mexican artists on a traditional wooden loom from soft and durable materials, this blanket can be washed in cold water, and the sumptuous design means it will never look out of place on the beach, at the park, or even as a bedspread in your home.
What We Like
Supersoft with lots of different colors
What We Don't Like
Material is a little thin
A Waterproof, Lightweight, and Durable Beach Mat
ISOPHO Beach and Picnic Blanket, Extra Large
With sizes up to 95 × 108 inches, this outdoor beach mat can comfortably accommodate up to 7 people for lounging or picnicking. Windy conditions are no problem at all, as this mat comes with 4 ground pegs that easily anchor it to the ground or sand, keeping the material wrinkle-free.
Made from 210 T parachute nylon, this beach mat is resistant to water and sand and stays cool under the hot sun. The durable and easy-to-clean material is multifunctional, so it can double up as a rain shelter, camping ground sheet, or children's play mat.
Despite its size, it's incredibly lightweight at 0.77 pounds and can be folded up neatly inside its storage bag. For easy carrying, simply clip the storage bag to your backpack using the carabiner, and away you go. The best news is that this mat is machine washable, so you won't spend ages hand-washing it between uses.
The ISOPHO beach blanket comes in a useful collection of 3 colors and sizes, meaning that wherever you are going and whatever you plan to do when you get there, you will find the perfect mat to take with you.
What We Like
Waterproof for use on top of wet surfaces
What We Don't Like
It easily blows in the wind if you forget the ground pegs
Turn Heads With This Beautiful Beach Blanket
Angemay Outdoor & Picnic Blanket, Extra Large
With water-resistant backing and a gorgeous striped design, this oversized picnic blanket is perfect for alfresco dining on the beach, in the park, out in the backyard, and on a variety of other outdoor surfaces. The water-resistant backing will protect you from damp surfaces, and the thick, durable material will not rip or tear.
Measuring in at 60 x 78 inches, you and your family can sit together on this supersized beach blanket, and it also makes a great children's play mat as it's super easy to clean. When you're finished, the mat is quick to fold up with a Velcro lid and carry handle.
The Angemay Outdoor blanket is made from high-quality polyester and PVC that is durable and waterproof for use at any outdoor event or excursion.
What We Like
Folds up into a small tote for easy carrying
What We Don't Like
An Extra Large Beach Blanket for Every Occasion
ZOMAKE Picnic Blanket Waterproof Extra Large, Outdoor Blanket
This extra-large outdoor blanket works just as well around the pool or at the park as it does on the beach. Perfect for camping, festivals, outdoor concerts, and any other outdoor events, the sand- and waterproof blanket is large enough for your whole family to enjoy.
Made from sturdy and durable material, this blanket offers 3 layers of protection that include a waterproof surface, a sponge middle, and a PVC bottom to provide enhanced levels of comfort. Designed to protect you from damp floors and ground-level moisture, this blanket is also resistant to sand, making it super easy to keep clean on beach trips.
Measuring in at a sizable 79 x 59 inches, you and your friends can chill together on 1 blanket; when it is time to go, it folds up small enough to fit back into your beach bag until your next adventure.
What We Like
Stays dry when used on damp surfaces
What We Don't Like
Blanket blows up easily in the wind
A Big Blanket That Folds up Super Small
Golyte Beach Blanket/Picnic Blanket
If you need a really big blanket, this picnic blanket is over 20% bigger than most other blankets on the market, yet it is still compact enough to fold up and take anywhere with you. Made from 100% Aerocool Ripstop nylon, this blanket is designed to last. It will also stay cool to the touch even on the hottest of summer days, and it is super fast-drying even when soaking wet.
Perfect for the beach, this blanket is sand-resistant, and the 4 corner pockets can be filled with sand (or stones) to help keep it anchored even when the weather turns. With a brightly colored design, this blanket is easy to locate and can be used for days at the beach, picnics in the park, festivals, concerts, sporting events, and so much more.
At the end of the day, simply fold and pack the blanket away into the specially designed blanket bag before throwing it in your backpack for easy storage.
What We Like
The material stays cool on a hot day
What We Don't Like
Can be difficult to get back into the carry bag
An Upscale Beach Blanket for Luxury Lounging
Wild in Bloom, Beach Blanket
Made with exquisite attention to detail and featuring an upscale design worthy of a house in the Hamptons, this blanket is a luxurious alternative to traditional beach towels and blankets. Featuring tassel edging, black leather straps, and an elegant Salt emblem, this is a beach blanket for VIPs on the go.
With 3 layers of softness guaranteed, this blanket offers superior protection from sand, dirt, and dampness. The acrylic-wool blend surface is soft on the skin, while the waterproof backing stops any moisture from seeping through. Cozy and warm, this blanket is ideal for a festival, sporting events, beach outings, and picnics in the park, along with a host of other outdoor occasions.
Designed with travel in mind, this blanket folds into its own carry bag by using the leather straps for easy mobility and storage. The perfect beach blanket for wrapping up against the evening chill, this is a soft, warm, and cozy alternative to traditional nylon beach blankets and picnic mats.
What We Like
Luxurious feel with leather straps and buckles
What We Don't Like
Soft, Durable, and Incredibly Portable
Microfiber Beach Blanket/Outdoor Picnic Blankets
If you are short on space in your backpack or carry bag, these microfiber beach blankets fold up nice and small to make them easy to take with you. Perfect for using at the beach, around the pool, on a picnic outing, or even just when working out, these ultra-fast drying and incredibly compact blankets are incredibly useful.
Large enough to fully stretch out on, the soft, 100% microfiber fabric offers comfortable padding on hard floors, sandy beaches, and protection against damp conditions. These towels are so impressive, they have become the Official Towel of the Los Angeles County Lifeguard Association, and their sand-resistant properties are second to none.
In case the wind picks up, the corner pockets can be filled with stones, keys, or other weighty objects to keep your blanket from blowing away, and when you are done for the day, this lightweight little number folds small enough to fit in your beach bag or travel tote.
What We Like
Stuffable corner pockets to weigh down the blanket
What We Don't Like
Colors can run in the wash
A Round Beach Blanket With a Difference
Large Round Mandala Beach Towel
Made from lovely soft microfiber, this super-absorbent and fast-drying towel can absorb 7 to 9 times its own weight in water (much more than cotton). Its ultra-absorbent properties and super-quick drying times make this one of the very best travel beach towels on the market today.
The unusual round shape and extra-large dimensions make this is an excellent towel for sharing with your favorite beach partner, and the round shape means you never have to move the towel to stay in the sun. Measuring 59 inches in diameter, it is perfect for picnics in the park, days on the beach, poolside lounging, or even for yoga and meditation. It could also be used as a campsite blanket or as a beautiful throw or bohemian tapestry for indoors.
When it is time to pack up and go, this blanket folds up small to fit in your carry-on or travel tote, meaning you can enjoy its luxurious qualities everywhere you go.
What We Like
Has cute tassels for a boho style
What We Don't Like
Colors are not as vibrant as in the photos
Final Thoughts
Wherever you are headed, every outdoor adventure needs a beach blanket to make it better. From a day at the beach to a picnic in the park, your beach towel can keep you warm and dry and protect you from uncomfortable ground conditions. Buy a large, durable, and functional travel beach towel and you can take it everywhere with you.
Also — don't forget to bring along your favorite beach bag to help carry all your travel goodies!