The Ultimate Ski and Snowboard Trip Packing List and Best Tips [Printable]
Ski holidays can be many things, but most of all they can be very cold. Depending on where you are going, and the time of year you are visiting, you can expect to need to layer up before you hit the slopes. Sunny days on the side of a mountain can see you work you up a sweat, but you should always pack for freezing conditions, and be ready to strip a layer or 2 if the sun warms you as you ski.
---
📋 Click to View Our Printable Ski & Snowboard Trip Packing List >> 📋
Ski Trip Packing Tips and Advice
This guide will help you pack perfectly for the piste and give you complete peace of mind that you haven't forgotten anything. Consider the following when you are preparing for your trip.
Getting Started
Check the Weather
Not every day on the piste is freezing cold, and it can get very warm if you are sweating it up on the slopes. You should check the weather forecast before you head out and pack accordingly.
Heavy waterproof jackets are great for blizzard conditions and heavy snowfall, whereas a shell type jacket will more than suffice if the sun is shining. Buy smart and invest in a ski jacket that offers layers of protection so that you are always the right temperature on the slopes.
How Many Nights Are You Away?
Most dedicated skiers manage to get away for a week or so, once or twice a year, maybe longer if they are lucky. Of course, if you are going on a 3-day trip vs. a 10-day trip, there will be different considerations. Some items like your gloves and your ski jacket are required however long you may be away.
On the flip side, layers are key when you ski. You should make sure you pack enough underwear, socks, and base layer garments to change daily as skiing can be a sweaty business.
Packing vs. Renting – Which is Best?
If you are new to the slopes, you will probably want to rent your skis or snowboard when you reach your destination. While it may be tempting to borrow from a friend or grab some cheap gear before you leave, hiring your equipment is also a great way to get free advice from experienced skiers.
Rental places will also be able to fit you with the best boots, boards, and skis to suit both your size and ability, and they will show you how to put them on and take them off.
If you are a regular on the slopes, you may prefer to bring your own gear with you. You may have your favorite items that fit you like a glove and are set up just right for the way you board or ski. If you are happy to pay for any potential baggage surcharge fees for carrying your skis, taking your own can also be cheaper in the long run.
Finally, if you arrive at your resort ready to go, you can literally ski out the door and on to the mountain without waiting for a fitting in a busy rental shop.
Make a Packing List Early
Unlike other types of vacations, skiing involves a little bit more forward planning to ensure you have everything you need to hit the slopes smoothly.
Be sure you have the right kind of clothing for your destination, including ski-specific extras like thick socks, warm gloves, hats, mask, sunscreen and additional bits of gear or equipment that you will rely on when skiing. Get a packing list as early as possible so you have time to shop around if your gear needs an upgrade or if you're new and need to buy for the first time.
Choose the Right Luggage
The ideal carry bag for your ski or snowboard gear will be durable enough to hold all your stuff, while still being lightweight and easy to carry. The size, shape, and type of bag you use will vary depending on what you are taking with you and how you prefer to carry it.
Ski bags are long and thin, can carry 1 or 2 pairs of skis and poles and must be checked into the hold when you travel. A fully padded ski bag will offer the most amount of protection for your skis when they need it most. Wheeled ski bags add that extra convenience, although most bags will come with a carry handle, too.
Snowboard bags offer many of the same benefits as ski bags. Fully padded bags or even hardshell cases are best for all-round protection, and bags with wheels are much easier to transport around the airport.
Hot Tip: Even if you are transporting skis, it may be more cost-effective to travel with a snowboard bag that will be big enough to accommodate both your skis and your clothes rather than a ski bag and checked luggage. Depending on the airline, the former might be the cheaper option. 
Purchase Travel-Sized Items
A vacation on the slopes often doesn't require the same amount of lotions and potions as a beach vacation does. If you are planning on flying to your resort, you will need to consider what toiletries you take with you and travel-sized versions will save on room.
You will also want to take your own shower gel, shampoo, toothpaste, and other toiletries preferably in a toiletry bag or Dopp kit. A small tube of arnica for bumps and bruises and a gel to ease your aches and pains can also be useful.
Before you pack, be sure to familiarize yourself with any TSA regulations or other stipulations for air travel.
Hot Tip: You will still need a good quality, high SPF sunscreen to protect against the rays of the sun and the reflection from the snow.
What Electronics Should I Take?
While you may be planning to spend all of your time out on the slopes, you will still want to take some of your usual vacation electronics with you on your next ski or snowboard trip.
For the journey, you may want to bring your e-reader or tablet to keep you amused in transit. When you reach your resort, capture the stunning scenery on an inexpensive digital camera, or even film your downhill adventures on a handheld or head-mounted GoPro or alternative.
For a relaxing bit of après-ski with friends, Bluetooth speakers can be useful, too, as can a flashlight or headlamp for late-night arrivals. Finally, you will, of course, want your phone with you, so be sure to take your cell phone and charger in your carry-on luggage with you.
Whatever electronics you choose to use while you are away, be sure to keep them securely stored while you are out skiing, and safe in transit.
Travel Insurance
Every adventure has its own risks to consider, but when you are planning on being physically active for much of your stay, you can expect the risk of injury to yourself and others to be dramatically increased. This is why you must be sure to take out effective and comprehensive travel insurance before you leave.
You can shop around for the best policy to suit both your budget and your needs, but it really should include:
Coverage for medical treatment for both yourself and other skiers.
Repatriation home should you need it.
Extra protection for your ski equipment and valuable both on and off the slopes.
Hot Tip: You can also check your credit card to see if it comes with travel insurance.
Travel Admin
Every trip away calls for some forward planning and organization before you leave the house. Whether you are simply hopping in the car or taking a long-haul flight to reach your destination, you will need to make sure that you have all the paperwork you need before you head off.
The obvious documents you will need to take with you would include:
Valid ID, including driver's license, passport, student ID, etc.
Bus, train, or airplane tickets.
Insurance information.
Money and credit or debit cards.
Address of the hotel.
Any other relevant booking information or receipts you will need on arrival.
Because sometimes things can go astray and accidents happen, it is worth taking extra items just in case. These could include:
A laminated copy of your passport.
Extra passport photos in case you need ID cards when you get there.
Any relevant health information, including details of any allergies, medical conditions, prescription medications, and even dietary requirements.
Your home contact details, and next of kin, just in case of emergencies.
Keep Your Travel Documents Safe
Your boarding passes, tickets and other reservations will need to be either saved to your screen or printed before you leave. In fact, don't just rely on using your phone — be sure to have a hard copy printed out with you as well.
Cash and Credit Cards
While many of us prefer to rely on the security of using credit cards when we travel, it is a good idea to carry some cash in the currency of your chosen destination, too.
You should also be sure to read up on any restrictions placed on the amount of cash you can bring into the country, as well as be sure that you have a decent amount of money available on your cards in case of emergencies.
If you are planning on renting your equipment when you reach the resort or hiring a vehicle, you may also be asked to leave a large deposit that will be returned to you when you hand them back. Your credit card will be the best way of settling this.
Don't Forget Your Passport
You would be amazed at how many people turn up at airports without them! Check that your passport is valid as soon as you even start to think about booking your ski or snowboard trip to give you enough time to renew it if you need to. On the day of your departure, check, check, and check again.
Hot Tip: For extra security consider buy a passport cover or holder to ensure your passport stays in top condition.
Keep Your Personal Details Close for Emergencies
Don't just rely on the information on your phone if someone else needs to contact your loved ones on your behalf — carry printed information with you, too. Make a credit card-sized, laminated contact card that contains your home address, contact details, and any medical requirements, and keep it with you while you travel.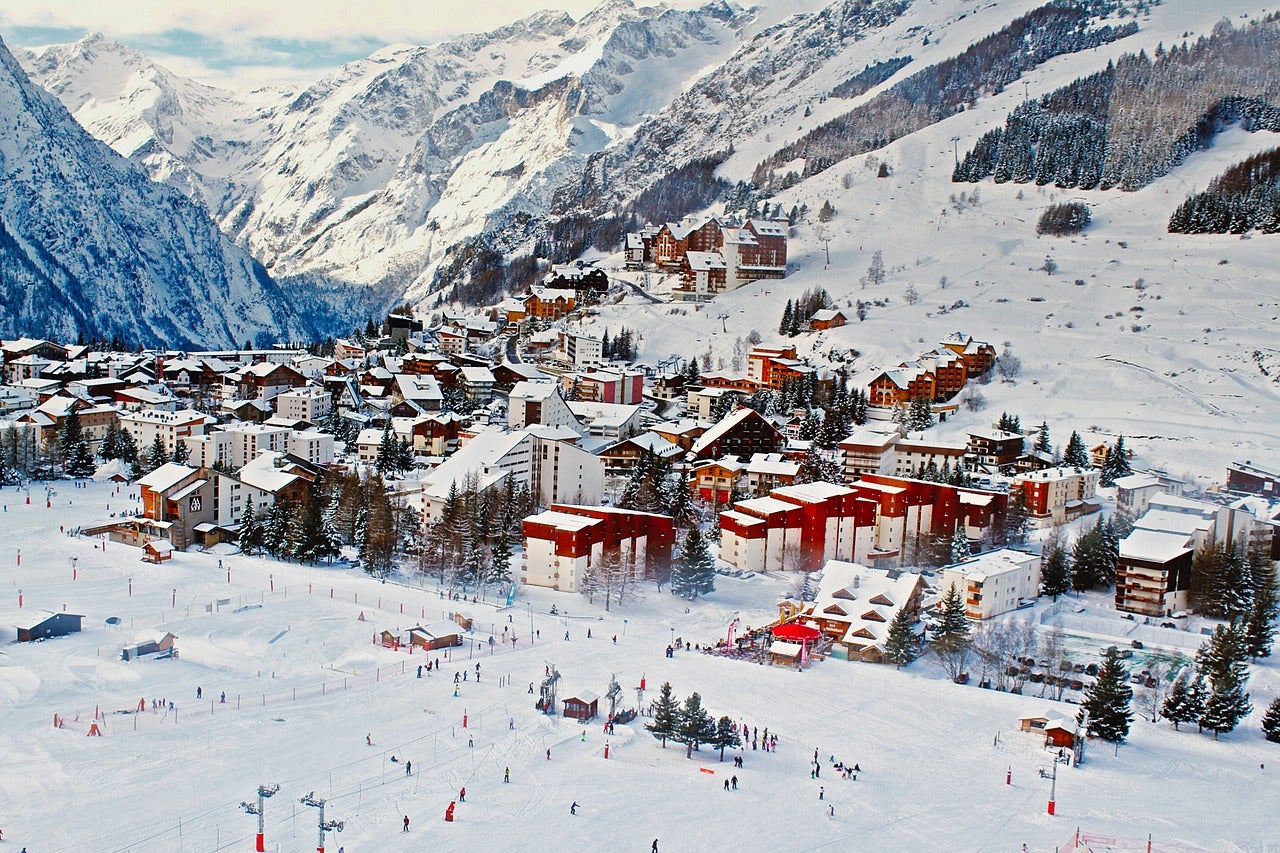 Packing Your Luggage
Getting packed is the exciting yet practical start to your ski trip. Get it right, and you can pack like a pro in a matter of minutes; get it wrong, and you'll be lugging an overstuffed backpack with you, or worse still, getting to your resort without half the things you need with you.
Following these top packing tips for an awesome ski trip:
Lay it All Out
Get everything you want to take and literally lay it all out in front of you. This acts as a visual aid to help you see the list of everything you need for your trip. Freshly laundered clothing, unopened toiletries, and neatly organized charger cables and other extras are easy to pack when they are within arms' reach. It is also easy to spot anything that is missing.
Get Ready for Après-Ski
Skiing isn't all about ski pants and goggles — as the sunlight fades, the bars come alive with dancing and drinking way into the small hours. You won't want to be getting on down in your salopettes so pack a couple of interchangeable basics to make a capsule après-ski wardrobe.
For the ladies, a black dress or smart leggings or skinny jeans and a turtleneck offers instant glamour, while the guys can throw in a couple of pairs of jeans, a shirt, and a sweater.
Hot Tip: Before you leave, check out the après-ski in the resort you are visiting. European resorts tend to be more about skiing off the slopes and up to the bar, while some American resorts prefer you to dress a bit smarter.
Take Out Anything Unnecessary
If you can't shut your suitcase, or you just know you are taking more than you need, throw it out. Don't overpack, and adopt a less is more approach for your next ski or snowboarding trip.
For a 7-day ski trip, here is a good guideline for how much you need to take (spoiler: it is less than you think):
1 pair of warm, waterproof and breathable salopettes
Waterproof and insulated gloves or mittens
Glove liners for extra warmth
Fleece or a high-quality warm scarf
A hat for keeping your head warm (can be waterproof or woolen)
5 pairs of warm ski socks
2 or 3 thermal tops/base layers
1 or 2 pairs of thermal leggings
1 or 2 fleeces for layering under your waterproof
Goggles (not always available to hire and can be expensive when you get there)
Add to this your après-ski capsule wardrobe, some snuggly sleepwear, and your toiletries and personal items and you should easily be able to travel light.
Bundle, Fold, Interfold or Roll – Which is best?
When it comes to packing for your ski or snowboard trip, you will essentially be trying to squeeze some quite bulky items into a very small space. So, which way should you do it?
Folding
While you may like to fold all of your fresh laundries at home neatly, we are going to go out on a limb and say that this is not necessarily the best method to compress large items of clothing. A great idea for socks and pants, but less so for thick heavy ski jackets.
Bundle
We don't just mean throwing everything into your suitcase in a completely chaotic way. Instead, bundling your luggage involves tightly folding or wrapping items around a softcore such as a toiletry bag, Dopp kit, or stack of underwear. This can work well with almost everything, but you may struggle with your big coat.
Interfolding
This intricate way of packing your case is a great way to take everything you need to hit the slopes running. Layer your clothes (bulky or otherwise) on top of each other in a top-to-bottom, bottom-to-top format, then interweave them as you fold them together. This makes for wrinkle-free clothing that compresses right down easily.
Rolling
Rolling is a very good way to maximize space and it can do a phenomenal job of reducing wrinkles. Try rolling your smaller, lightweight items if you wish, but you may find jackets become too bulky using this method.
Hot Tip: The simplest way to transport your bulky items like a ski jacket is to wear them! While it may be a little toasty wearing them through security, wearing them to the airport and storing them in the overhead compartment during your flight will save you lots of room in your luggage.
Use Packing Cubes
These little bags of wonder make it super easy to pack all of your different outfits into 1 suitcase. Use the packing cubes for underwear, après-ski outfits, gloves and ski socks, toiletries, base layers and just about anything else you can think of. Individual cubes help to keep everything neatly organized in transit, and they stack together neatly in your bag.
Secure Your Liquids
There is nothing worse than a leak in your case when traveling. Wet, sticky, and potentially stained clothing is never going to be your best look. If you are decanting full-sized products into travel-sized containers, check and double-check those lids before you pack. Likewise, even a full-sized product needs to be secure before you leave.
Stuff Your Boots and Helmet!
Even if you hire your ski or snowboard boots, you will still need sturdy footwear to use around the resort. Big, bulky boots can take up lots of room in your suitcase, so make the most of them by filling them with socks or even underwear to help them keep their shape and to avoid wasted capacity.
If you think your boots are bulky, you can guarantee you ski helmet will be just as bad. Again, make the most of the usable space inside the helmet by using it as a handy, protective shell to house your valuables while in transit.
Take a Wet Bag
Quite often your last day is a rush and more often than not some of your gear will still be a bit damp. You can buy dedicated wet bags, or just throw in a plastic bag to keep damp items in on the way home.
Airline Considerations
Your carrier should allow you to bring 1 cabin-sized bag or case with you, as well as a small purse or rucksack. Sizes vary slightly depending on who you chose to fly with, but as a rough guide luggage should be no larger than 22  x 18 x 10 inches. Anything larger than this will need to be checked into the hold.
Depending on the airline ticket you have purchased, you may also be able to check 1 or more additional pieces of luggage. Size and weight restrictions will vary depending on the carrier, and additional bags or luggage that is over the weight allowance will be subject to further charges.
When it comes to your skis or snowboard, you will need to check your equipment into the hold of the aircraft. Allowances and additional charges will vary depending on your carrier.
Follow the TSA 3-1-1 rule for liquids in carry-on baggage
The 3-1-1 rule is designed to be easy for passengers to remember, and much more convenient for TSA staff to check quickly and safely on every flight. Think of it like this:
3 – Liquids, aerosols, gels, creams must not weigh more than 3.4 ounces each.
1 – 1 clear plastic bag that is quart-sized.
1 – 1 bag only per passenger.
The clear bag will need to be removed from your carry-on luggage and screened separately.
Keep Your Essentials Close By
Be prepared for anything on your next ski or snowboarding trip by keeping all of your most important possessions close at hand. This should include your cash money, your passports, tickets, and even ski passes.
Pack these in your handbag, backpack, or carry-on luggage to ensure that you can access them easily while in transit. Keep your family heirlooms and expensive jewelry at home. You won't need any of those on the slopes.
Add Spare Clothes to Your Carry-On in Case of Delays
Sometimes travel plans can fall apart and there is nothing you can do to fix them. Other times, you arrive at your destination only to discover that your luggage is somewhere else entirely. To protect yourself from being marooned in the same outfit for days on end, pack a spare outfit in your carry-on, just in case!
Hot Tip: Lost, damaged, or delayed baggage coverage that comes with your travel rewards credit card can alleviate the pain of the experience. Check out our tips for The Best Credit Cards for Lost or Delayed Baggage Coverage.
Things to Take on the Slopes
When you head out for your first day on the piste, you will need to plan your day pack carefully. Heavy rucksacks and fancy handbags are a no-no on the slopes, and filling your pockets with day-to-day essentials is a sure-fire way to break or lose them.
Instead, invest in a day pack to carry your spare layers, snacks, and gadgets without weighing you down. Choose 1 that is made from a water-resistant material that is lightweight yet durable.
You may also want to opt for straps that are not only well padded by also able to fasten at the front to ensure that your day pack stays secure no matter how fast you are going. Finally, look for a day pack with a low profile that won't be bulky or prohibitive when getting on a ski lift.
When it comes to packing for the day ahead, there are only a few items that you really need to think about taking with you. These could include:
Cell phone for taking pictures or making contact in an emergency.
Credit card or cash in case you want to stop for something to drink or eat.
Hair ties to keep your hair out of your face.
Hand sanitizer.
ID in case of emergencies.
Lip balm to help protect them against chapping.
Medications you may need to take if you get stuck on the slopes.
Snack like a granola bar to save you from an energy crash mid-slope.
Spare soft gloves in case yours become too soaking wet to use.
Sunscreen to prevent sunburn on the slopes.
Tissues.
Just remember, don't take too much stuff out with you — chances are you won't need most of it anyway.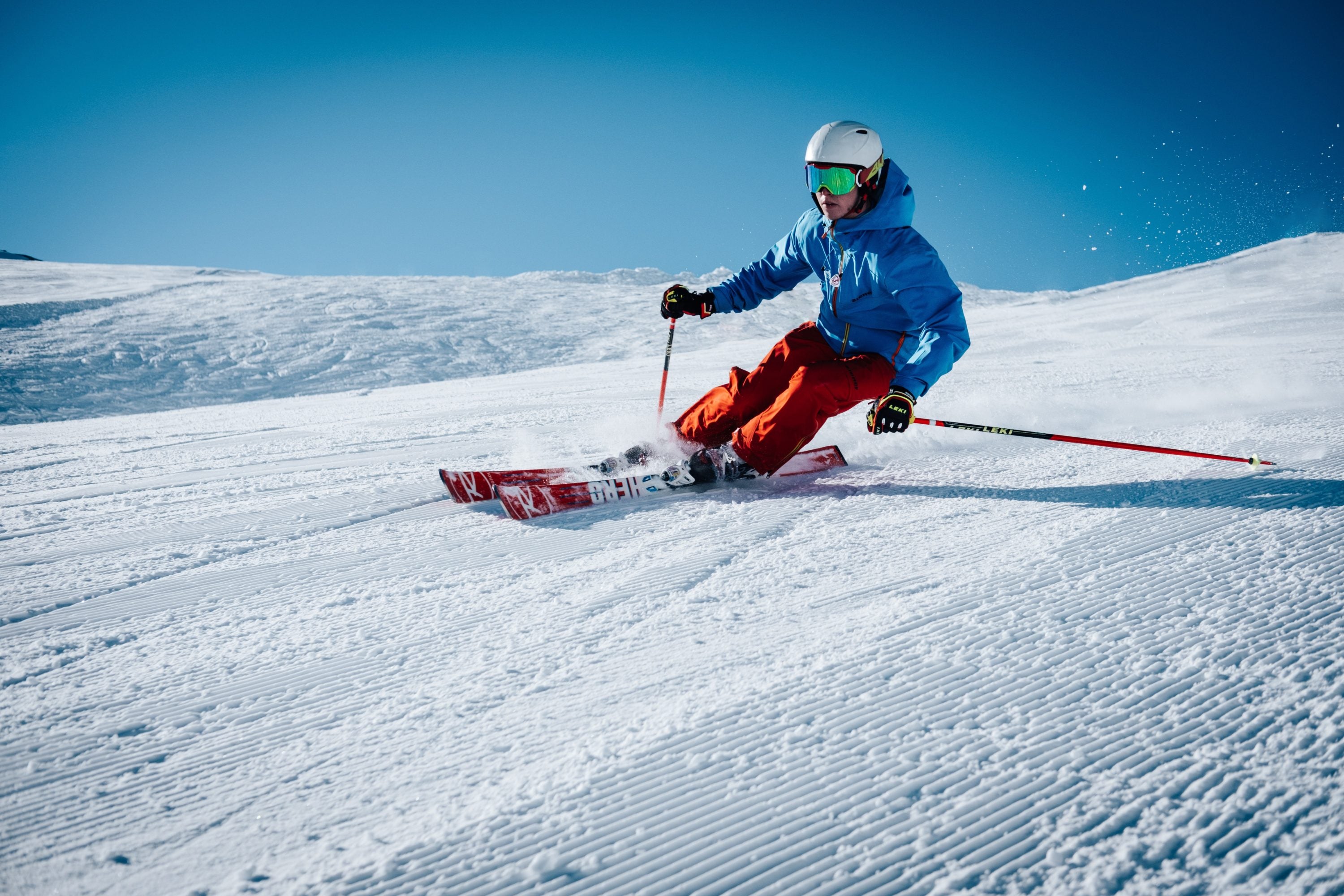 Apps for Packing
Because modern technology is amazing, you can download your very own app to help you pack and stay organized while you ski. Check out 5 of the very best packing apps for your next ski or snowboard adventure.
This great little app will help you to pack based on the length of your trip, the weather at your destination, and any sporting activities you have planned for when you get there. For lazy travelers or those who are new to the jet-setting lifestyle, this app will virtually sort everything for you, meaning you just have to throw and go.
This incredibly easy to use app will take you through every step of the packing process and pre-populate a useful packing list, even in the basic, free version. Upgrade to a paid subscription and you can share your list with fellow travelers and fully customize your packing requirements.
PackPoint is available on both Android and iOS.
Perfect for individuals, friends, and families on the move, the Packing Pro app allows the user to create lists using a huge catalog of over 800 items, or custom-build your own based on the age, gender, and the type of trip you are going on.
Optimized for iPad, iPhone & iPod touch, your lists will automatically be stored in the cloud and can be shared with fellow travelers — you can even add images, alerts, and sounds to remind you every step of the way.
Packing Pro is available on iOS.
This popular packing app helps you to get organized before you go. It can help you to configure your packing list based on your destination, the duration of your stay, and what you will be doing when you get there. Add and check items as you think of them and create multiple packing lists to use now and in the future.
If you subscribe to the premium subscription, more features for multiple lists will become available to you.
PackKing is available on iOS.
This app is well designed and easy to navigate and offers a calendar function for your to schedule in departure and return dates for multiple adventures. You can also create user lists, before-you-go reminders, and packing lists using a wealth of selected items.
You can also choose to categorize your lists and save them to use every time you go away. Each of your lists is fully customizable and can be synced via iCloud or even shared using your social media pages.
Travel List App is available on iOS.
This app offers lots of useful features for everyday use. It takes into account the number of people traveling with you, your destination, the weather when you get there and the purpose of your trip. It allows you to build packing lists using a catalog of over 600 items, or you can create your own with the app's completely customizable list building options. There are no in-app purchases and you can build as many lists as you need to.
Easy Pack is available on Android.
Apps for Ski Trip Travel
This ski-focused app provides you with daily analysis from local forecasters, as well as hourly forecasts for over 2,000 individual ski locations. You can also view ski cams, compare snowfall, and explore ski passes for various regions.
Plan ahead to find your next perfect powder day, and enjoy free forecasts and opinions from local weather specialists who are life-long skiers and riders.
OpenSnow is available on both iOS and Android.
Save yourself a fortune on lift passes with this handy app. Choose from hundreds of destinations and book your lift pass in advance at a discounted rate. You can also use the app to discover nearby resorts, the latest snow conditions, and ski reports. You can even use it to book lessons or brush up on your technique using local experts and ski instructors using your phones built-in GPS.
Liftopia is available on both iOS and Android.
Get in shape for your best ever season with the SkiFit program. The 8-week, video-based workout is suitable for all levels of skier and has been developed by clinical specialists from La Clinique du Sport in Chamonix. Designed to be used at home or in the gym, the workouts feature over 110 individual ski-specific exercises to improve your skiing performance.
SkiFit is available on iOS
Ski Tracks is one of the most popular ski based apps on the market and provides users with instant access to your ski stats. Analyze the time, distance, and speed of every run as well as comparing top speeds with your friends and fellow skiers. You can view your data on any device, including your smartwatch, and share your personal bests on social media.
Ski Tracks is available on both iOS and Android.
An app for anyone who enjoys being up high, PeakFinder allows you to enjoy the mountains more with detailed information about local peaks and a 360° panoramic display, available both on and offline. Press the GPS button to find your exact location, and the camera to overlay the landscape with a panorama drawing. This app is an easy to use addition for skiers and snowboarders, as well a those who enjoy hiking in the mountains.
PeakFinder AR is available on both iOS & Android.
Stay safe on the slopes with the Mammut Safety app that offers useful features to help you take better care both on and off the slopes. Avoid accidents and enable fast rescuing with the apps clinometer to estimate the slope angle, a compass to determine the slope exposition, and an altimeter. It also has an SOS function that can communicate your GPS signal to local rescue services should you need them.
Mammut Safety is available on both iOS and Android.
Build your perfect tour, earn trophies, and track your route using this one-of-a-kind ski and snowboard app. Using complex algorithms, terrain geo-data, and your user behavior, the app works offline to create accurate routes with crystal clear voice guidance, and fun and beguiling augmented reality to create a unique ski experience.
Skadi is available on both iOS and Android.
How to Prepare Your House Before You Leave
Before heading out to the slopes, get your own house in order to ensure that everything is ship-shape upon your return. Whether you are going for a week, a month or an entire season, pay attention to the following before you leave.
Empty Your Refrigerator — Nobody wants to come home to out-of-date food rotting away in the refrigerator. Check the dates and throw out perishable items before you go. The longer you are away for, the less you will want to leave in there.
Take the Trash Out — Again, don't leave your uneaten food rotting away inside your home. Take the trash out before you leave.
Turn Down the Heat — Skiing and snowboarding are winter sports, meaning it is more likely you are leaving your home with the heating on. Turn it down to help save money and energy, and you may even want to set it to come on for a short time only once a day to avoid any pipes bursting.
Switch Off at the Sockets — Prevent the risk of damage from power surges and reduce energy usage by switching all of your appliances off at the sockets or unplugging where applicable.
Leave Your Home Looking Lived In — If you are worried about your home being empty, even for a week or so, have a friend or neighbor pop by to pick up mail and set a couple of lights to come on using a timer.
Let Your Credit Card Company Know — This way they will be on standby to expect foreign transactions on your card which will help to avoid the embarrassment of your card being declined while you are away.
Final Thoughts
Ski and snowboard trips are fun, yet quite involved trips balancing both the physical activity and the nightlife. Travel light, and only take what you need to enjoy amazing skiing and snowboarding both at home and away.
Use our handy packing list to make sure you don't forget anything, download some great apps to make your trip a little more fun, and most of all, have a great time.