How to Take Your Own Passport Photo at Home [Detailed Guide]
Taking your own passport photo might not be something you've thought of in the past. But with all of the changes that COVID-19 has brought to our world, it's a skill that may come in handy.
Even once stay at home orders are lifted, you'll probably still want to cut down on unnecessary trips, so it's good to know that you can easily take your passport photo at home.
This guide will give you step-by-step instructions for taking your own passport photo, including photo requirements, so you'll be ready to go once we can travel again.
How to Take Your Own Passport Photo
Whether you're looking to apply for a new U.S. passport or renew your current U.S. passport by mail, it's good to know that you can take your own passport photo quickly and easily.
Step 1: Take Your Passport Photo
Stand in front of a white background. If you don't have any white walls, you can get a large sheet of white paper or poster board to tape up on the wall (make sure the edges of your paper and any tape you used are not visible in your photo). You can't digitally alter the background to make it white.
Stand near a window on a sunny day for the best light. Don't stand in direct sunlight, because you can't have any shadows in the photo. In any light, using a flash is a great way to avoid shadows behind your head.
Have a friend take a close-up photo of your head — selfies aren't acceptable.
Make sure your photo meets all of the requirements in regards to your expression, pose, hair, etc. (details below).
Step 2: Upload and Re-Size to Fit Requirements
Next, you'll need to upload your photo and make sure it's the correct size. There are many sites that you can upload your photo to that will help format it to the correct size of 2 x 2 inches (51 x 51 mm).
Whichever site you choose to use, follow their instructions to upload, size, and order your photos.
Step 3: Complete the Process
If you're renewing your passport by mail, you'll need to correctly attach your photo to your application. This is done with 4 staples vertically placed in the corners as close to the edge as possible. Your application will show marks exactly where the staples should go.
If you're applying for a new passport in person, you can take this photo and your application to an acceptance facility. Currently, many acceptance facilities are closed and you are encouraged to wait to apply until they are operational again to submit your application. Also, expedited service is not available at this time.
Hot Tip: Want to stay stylish? Take a look at these passport holders and covers.
Passport Photo Requirements With Photo Examples
Passport Photo Basics
All passport photos must adhere to a very specific set of standards.
Your photo must be submitted in color and should be no more than 6 months old. The background should be white or off-white and no filters can be used. You'll also need to have someone else take the photo as selfies are not acceptable for your passport.
Print Size and Quality
The photo must be high resolution and not pixelated, grainy, or blurry
The photo must be 2 x 2 inches (51 x 51 mm)
Head size must be 1-1 3/8 inches (25-35 mm) from the bottom of your chin to the top of your head
The photo must be printed on photo quality paper, either matte or glossy
No digital changes are allowed (including changing your background to white or removing red-eye)
Photo can't be damaged with holes, creases, or smudges
There shouldn't be any shadows
Both of these photos are examples of approved passport photos.

These 3 photos are examples of passport photos that are NOT acceptable.

Pose and Expression
Both eyes must be open
Your expression can be either neutral or with a natural smile
The photo must be a full-face view (side angles are not accepted)
Young children don't need to make eye contact with the camera
Babies can be lying on their backs on a white blanket (for more tips check out our step-by-step guide to getting a passport photo for your baby)
Both of these photos show examples of acceptable passport photo expressions.

The following 3 photos are examples of passport photo expressions and poses that are NOT acceptable.

Attire, Hats, Glasses, and Hair
Glasses should not be worn. If you can't remove your glasses for medical reasons, you'll need to include a signed note from your doctor with your application.
Clothing should be your everyday attire. Uniforms, anything that looks like a uniform, and camouflage can not be worn.
Hair should not be covering your face.
No hats or head coverings should be worn. Exceptions include religious and medical reasons.

If you wear a hat or head covering for religious reasons, you'll need to include a signed statement with your application that verifies your hat or head covering is worn continuously in public as part of your religion.
If you wear a hat or head covering for medical reasons, you'll need to include a signed statement from your doctor verifying that your hat or head covering is worn daily for medical purposes.
If you have a religious or medical exception, your hat or head covering must not obscure your hairline or cast shadows on your face. Your full face must be visible.

No headphones or wireless hands-free devices can be worn.
Jewelry and facial piercings can be worn as long as they don't cover your face.
Facial tattoos are acceptable.
Here is an acceptable way to wear a head covering in a passport photo.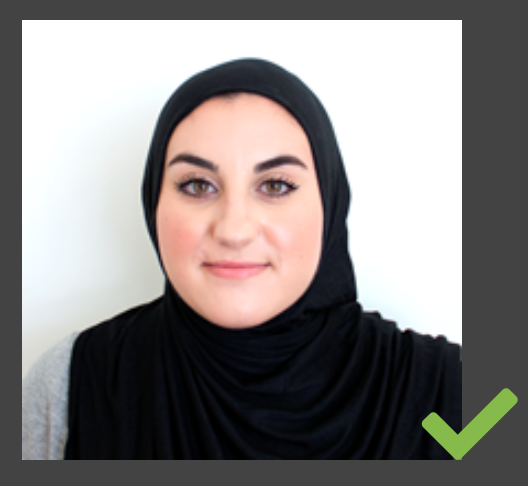 The 3 photos below are examples of passport photos with head coverings, accessories, and hair that are NOT acceptable.

Final Thoughts
Being able to take your own passport photo saves you time so you can get your passport application or renewal underway as quickly as possible. It's especially nice, during this time where we're all staying at home as much as possible, to know that you can renew your passport without leaving home. That way, it will be ready for you once travel gets the green light again.