The Best Guide to Mobile Passport: Breeze Through the Airport
If you've traveled internationally recently, you have probably seen signs for "Mobile Passport" when you were passing through U.S. Customs and Border Protection. But you probably didn't see a long line for that area.
What exactly is Mobile Passport?
Can you use that line instead of waiting in the ridiculously long one (with everyone else) to have your passport checked? The simple answer is yes — you just need to learn how!
Mobile Passport can be a great option when returning to the United States from another country — but many people have no idea what it is or how to use it. You are not alone in your confusion.
This complete guide to Mobile Passport will tell you everything you need to know and help you pass through U.S. Customs and Border Protection as quickly as you can.
We will explain what the program is, how you can use it, and even show you why it's a good idea even if you already have Global Entry.
What Is Mobile Passport?
Mobile Passport is a program authorized by U.S. Customs and Border Protection in conjunction with the Airports Council International of North America.
The program is designed to help travelers move more quickly through U.S. Customs and Border Protection checkpoints when they are returning to the United States from an international trip.
An iOS or Android mobile device is required to participate in Mobile Passport. The app can be downloaded for free on either operating system (iOS, Android).
Once downloaded, a traveler simply needs to have Wi-Fi or mobile data service at their participating place of entry into the U.S., and they will be able to take advantage of Mobile Passport.
The Mobile Passport app allows travelers to enter their passport and personal information securely. Upon arrival, travelers answer the required trip and declarations questions in their app and submit the information to U.S. Customs and Border Protection.
The information sent from the Mobile Passport app replaces the paper forms passengers typically have to fill out prior to arrival.
You no longer need to have a pen or fill out arrival forms on the plane or in line. Mobile Passport allows travelers to skip right to passport review and move through the U.S. Customs and Border Protection checkpoint with ease.
Formerly part of the free version, the ability to store passport and personal information securely and use the same information on multiple trips is now part of Mobile Passport plus that costs $14.99/year or $4.99/month.
Which Airports Use Mobile Passport?
Mobile Passport is currently available at 30 airports and 4 cruise ports around the country.
The current airport locations where you can use Mobile Passport are below:
Fort Lauderdale (PEV) – Port Everglades Cruise Port
Kansas City (MCI) – Kansas City International Airport
Miami (MSE) – Miami Seaport Cruise Port
Palm Beach Seaport
Pittsburgh (PIT) – Pittsburgh International Airport
Port Everglades Seaport
Salt Lake City (SLC) – Salt Lake City International Airport
San Juan (SJU) – Luis Muñoz Marín International Airport
San Juan (PUE) – Port of San Juan Cruise Port
How to Use the Mobile Passport App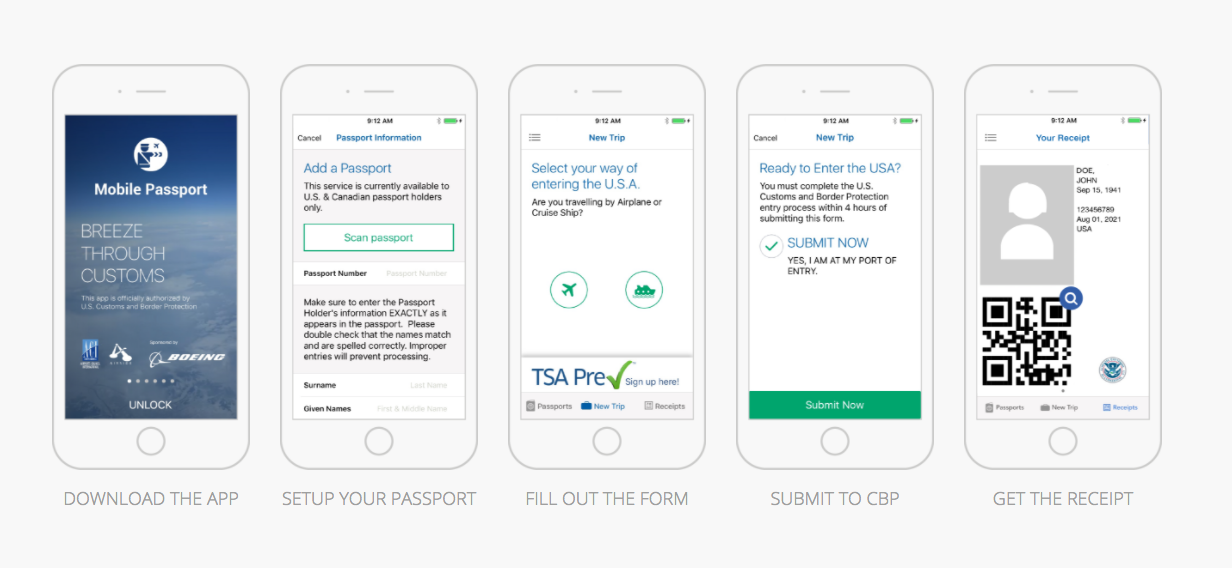 To get started with Mobile Passport, the first thing you need to do is download the Mobile Passport app (iOS or Android).
Once you have the Mobile Passport app, you can set up your profile. This includes adding your personal information and official information as it appears on your passport. Make sure your passport is valid for international travel.
You can set up a profile for each family member within a single app, which is especially nice for families with young children.
When you return to the United States at a participating Mobile Passport location, simply follow these steps:
Free version: open the app and re-enter all your passport information (paid version stores your passport info).
Answer 5 brief questions about your trip.
Review all of the information about your travel that is showing in the app. Be sure to check that everything is accurate.
Then, electronically submit your information to Customs and Border Protection.
After submitting your information, you will receive an electronic receipt that contains an encrypted barcode. This should take only a few seconds to get and will be valid for 4 hours.
Finally, follow the Mobile Passport Control signs, show your passport to the Customs and Border Protection officer, and scan the barcode on your receipt. Once this is complete, you should be good to go. It's as easy as that.
Hot Tip: Remember that when you submit information through the Mobile Passport app, you are certifying under penalty of law that the information is correct. This is the same as filling out a paper form or answering questions directly from a Border Control officer.
Mobile Passport vs Global Entry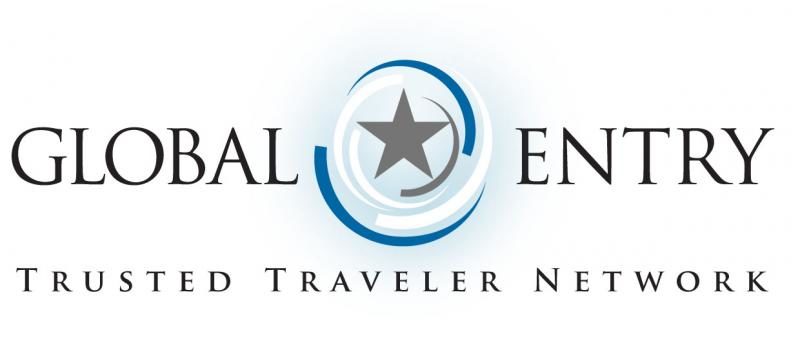 Mobile Passport is fairly new. Although it has some similar benefits to the Global Entry program, there are a few key features that make each desirable. You can almost think of Mobile Passport as a sort of "Global Entry Lite."
Rather than compare the programs to decide which you should use, let's take a look at why you would want to have both at your disposal. Then you can choose whichever has a shorter line when you arrive at the Customs and Border Protection checkpoint.
Global Entry is significantly more difficult to get approved for. It requires an extensive online application, a $100 application fee, background check, and an in-person interview. Once approved, you have to reapply and pay the fee every 5 years.
The extra hassle of signing up does get you a few more perks though. With Global Entry, you get the added benefit of TSA Pre-Check to help you breeze through security at the beginning of your trip.
Global Entry also uses a kiosk system that takes care of your declarations, identification match, and even your passport check without having to wait in line to talk to a person.
When there is no line for the kiosks, there is no faster way to get through the Customs and Border Protection checkpoint than with Global Entry. However, with many credit cards refunding the application fee and most international passengers traveling regularly and valuing the faster checkpoint experience, there are times when you may have to wait in line for a Global Entry kiosk.
In those times, or when you're traveling with family members who don't have Global Entry, Mobile Passport may be the way to go. Your trip through the checkpoint will still be significantly faster than going through the regular line, and having your family members pre-registered in your app can make things even quicker.
With the launch of Mobile Passport Plus at $14.99/year or $4.99/month, which comes to $74.95 for the 5 years comparable to Global Entry membership, you now need to pay nearly as much as Global Entry just to have the app store your passport information for each trip. The free Mobile Passport app now requires you to manually enter your information for each trip.
Note that Mobile Passport Plus lets family members travel on the same profile—up to 9 passengers on the Android app and 12 on the iPhone app. So if you're traveling as a family of 4, you're effectively paying $3.75 per person to use the service.
Hot Tip: Check out our answers to the top FAQ's for more info on Global Entry. 
Final Thoughts
As we have seen, Mobile Passport is a great program that can really shorten the time it takes you to clear Customs and Border Protection when returning to the United States. As long as you meet the basic requirements to sign up, getting started with Mobile Passport is quick and simple, with an easy-to-use app that lets you securely store information for your whole family.
If you don't want to spend the money or go through the extensive application process for Global Entry, Mobile Passport provides an excellent alternative that makes returning to the U.S. a bit more pleasant.
Even if you already have Global Entry, Mobile Passport is free, so there is no reason not to have it set up in case the line is shorter and it is the better option on arrival.
Joining Mobile Passport plus at $14.99 a year is a tougher call. You get the ability to store your passport and your family members so you don't need to enter each time or have multiple devices.
Download the app today and have Mobile Passport ready to go for your next international trip.
---
Like this Post? Pin it on Pinterest!