The Ultimate Guide to Flying With Allergies [Includes Nut Policies for 60 Airlines]
If you, or your children, suffer from severe and debilitating allergies, taking a trip away from the safety of your home environment can be challenging. Not knowing what you are eating, or how close you could be to allergens that could make you sick, can significantly impact your overall travel experience.
It can be especially worrying if you are boarding an airplane, as nobody wants to have a medical emergency in the air. Follow these tips and advice and you can make flying with an allergy a safer and more enjoyable experience.
As with any medical concern or diagnosis, please take every precaution before and during your flight and consult your physician to ensure the precautions are tailored to your medical needs.
Flying With Allergies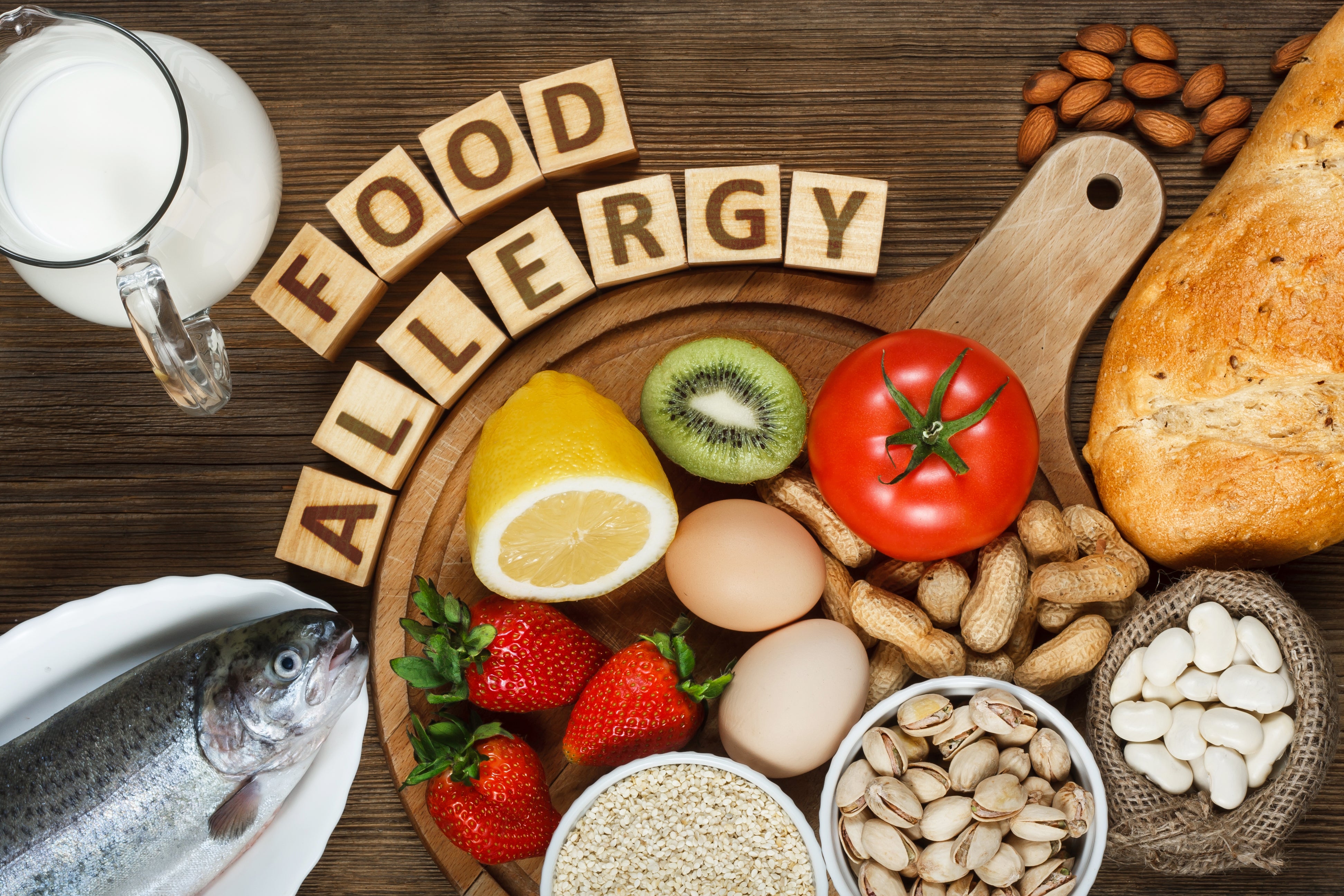 In America today, there are many different types of allergies that are recognized by airlines and other travel bodies as conditions that could cause serious harm to passengers who suffer from them. In fact, some allergies can be so physically and mentally debilitating that sufferers qualify for protection under the Americans with Disabilities Act of 1990 (ADA) and Section 504 of the Rehabilitation Act of 1973.
The 8 most commonly occurring allergens include milk, egg, peanut, tree nuts, wheat, soy, fish, and crustacean shellfish — with allergies to pet dander, tree, and grass pollen, and insect and spider bites also being common throughout the United States.
If you suffer from an intolerance or allergy, you are not alone. There are in excess of 32 million Americans that have recognized food allergies, including 5.6 million children under the age of 18. There are significantly more allergy sufferers across the country when you add to that number the individuals who are allergic to pet hair, pollen, and insect bites.
Bottom Line: The key to flying with an allergy is learning how to avoid triggers and alleviate the risk of coming into contact with allergens along the way.
Before You Board
Suffering from allergies should not prevent you from exploring the world. You just need to make sure you have your vital medication in hand should you need it. Here are some things you should consider and take care of before you board:
EpiPens — How to Take Them With You
TSA guidelines dictate that passengers are allowed to bring their EpiPens onboard any flight from the U.S., and you will want to keep it packed in your carry-on luggage to ensure that you have access to it at all times.
To make sure that you never run into any problems when keeping your vital allergy medication within easy reach, always adhere to the following:
There is a printed label that identifies your medication.
There is a prescription label printed by your pharmacy or hospital.
You have a note from your doctor that confirms the nature of your allergy and that you need to carry the medication with you at all times.
You should also be aware that your EpiPen will probably be screened by x-ray. This is highly unlikely to cause any damage or change the effectiveness of your medication.
While there are always concerns about the overall safety of x-ray machines, it is worth noting that the actual amount of radiation produced by an airport x-ray machine is similar to the amount of ambient radiation everyone experiences in a typical day on planet Earth.
You are not required to limit quantities to 3.4 ounces or put the EpiPen in a clear bag as you would with other liquids. However, you must inform a TSA officer that you have the medication and produce it for examination.
Hot Tip: Make sure to pack some antibacterial wipes to take with you. These can be used for wiping down armrests and surfaces to ensure that there are no nasty residues remaining on them that could trigger an allergic reaction.
Anaphylaxis Emergency Care Plan
These documents are vital for any passenger suffering from an allergy that requires immediate medication. You can download a template from the internet or write your own. Be sure that your Emergency Care Plan has all the information that an air steward or other passengers would need should the worst happen.
Your Anaphylaxis Emergency Care Plan should contain the following information, at the very least:
Information about potential allergens
Information about the symptoms you suffer from
Treatment instructions in an easy-to-follow format, as well as information about where to find your medication in transit
As obvious as it sounds, be sure to tell your partner or travel companions about how best they can help you if you have an attack and where to find your detailed Anaphylaxis Emergency Care Plan should they need it.
Be Prepared for Delays
Nobody likes to be stuck in an airport or on the runway for hours on end, but if you suffer from allergies and need medication, long delays can be potentially dangerous. To ensure that you are able to keep yourself healthy and combat allergy attacks, always take extra medication with you when you travel.
You may need to use rescue inhalers, antihistamines, and epinephrine auto-injectors, or other emergency medication should the worst happen, so keep an emergency dose of everything in your coat, pocket, or purse in case you are delayed.
Plan Your Airport Stay
Food allergies are better understood and more widely accepted now than ever before. This means that most restaurants will be able to offer menus to suit gluten, peanut, dairy, and other common intolerance, allowing allergy sufferers to eat just as well as those that do not have to think about what they are eating.
Most national and international airports are serviced by big brand cafes, coffee shops, burger joints, and full-service restaurants. These will all provide details of the specialist menus they are able to offer on their websites, which you can check before you leave.
Bottom Line: If you are in any doubt at all about what you put in your mouth, ask your server. If they are unsure, ask to speak to a manager — after all, better to stand your ground now than be unwell going forward.
Bring Your Own Food
Bringing your own food with you will not only guarantee your safety, but it also means you can choose exactly when you want to eat. Depending on the length of the flight, you may want to pack anything from a small snack to a 3-course dinner.
Alternatively, you can buy pre-packed food from one of the vendors at the airport that you know offers allergy-free food to enjoy during the flight.
Ask Your Airline
Some airlines have already stopped serving nuts on their flights altogether, helping customers who suffer from dreaded nut allergies.
Other airlines will refrain from serving nuts upon prior request, and others which have introduced a "buffer zone" meaning no peanuts will be served in certain areas of the plane.
While many airlines are trying to change the way they operate to accommodate passengers with life-threatening allergies, every policy is different. To ensure that your carrier is best able to accommodate your wishes, call them at least 48 hours in advance of your flight. Let them know you will be traveling with them and what allergies you suffer from.
While severe allergies are now considered a federally protected disability, don't just expect to turn up and be accommodated, especially if you have failed to give the airline any notice of your requirements.
Some airlines will even go so far as to prevent you from boarding the flight, as they may consider your allergy to be too much of a safety issue for them to deal with. Always be sure to communicate with them before you fly.
Peanut and Nut Policies of U.S. Airlines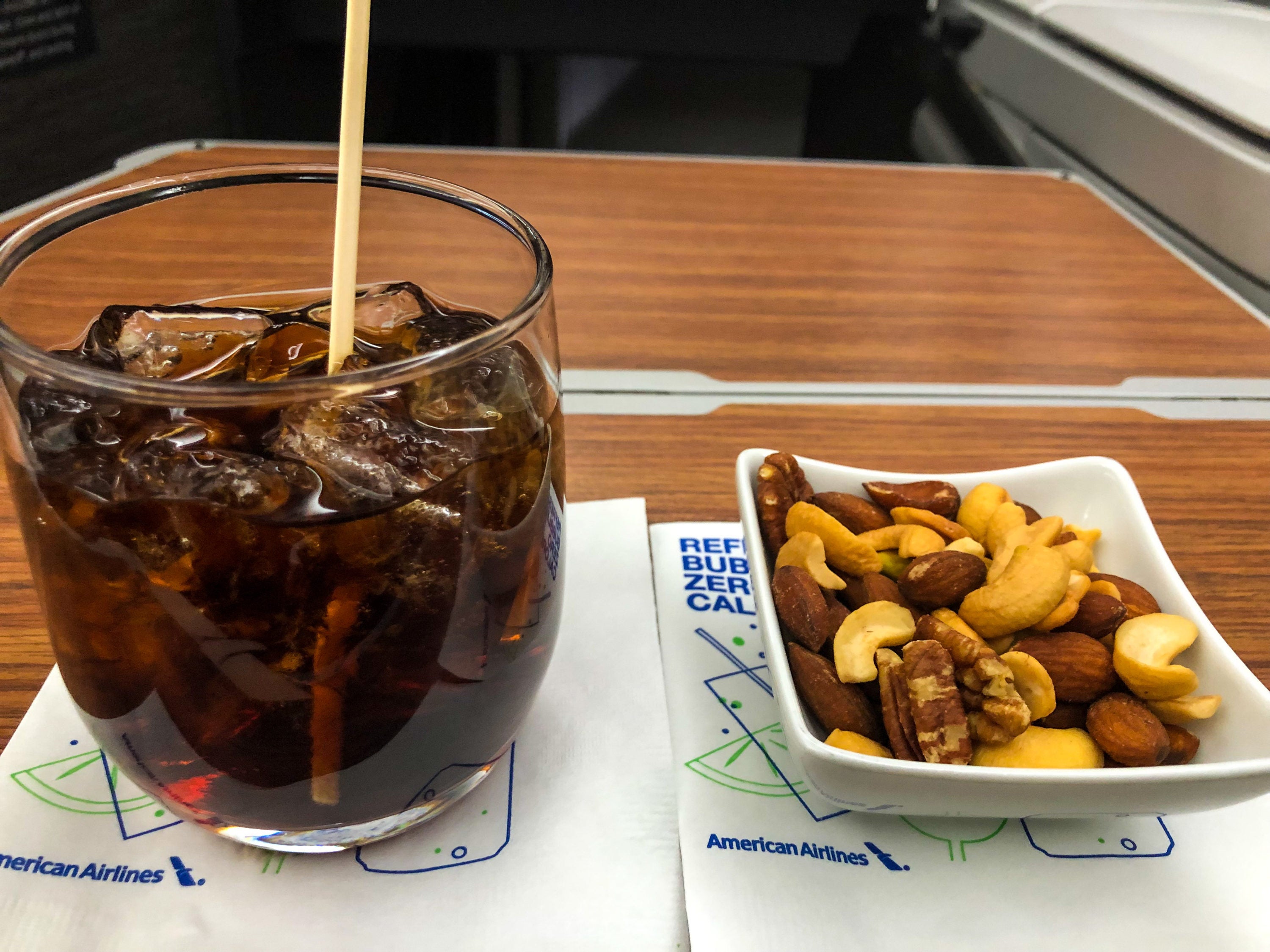 Below are the peanut policies for U.S. airlines. It must be stressed that for all of the airlines, regardless of whether they serve peanuts or nuts, there are no guarantees — another passenger may have brought nuts on themselves or inflight meals or snacks may contain or have been prepared in environments that have allergens.
| | |
| --- | --- |
| Airline | Policy |
| Alaska Airlines | They cannot guarantee a nut-free flight and some first class meals may contain nuts. |
| Allegiant | They cannot guarantee a nut-free flight and food offerings may contain traces of nuts. |
| American Airlines | Peanuts are not served on flights but other nuts are. Peanut oils may be in snacks and meals. They can't accommodate requests for buffer zones. |
| Delta Air Lines | If notified in advance of a peanut allergy they will serve an alternative; early boarding is available to clean your seat area. |
| Frontier Airlines | The airline may have traces of nut ingredients in snacks and they cannot stop passengers from bringing nut products onboard. |
| Hawaiian Airlines | The airline cannot create an allergen-free food or environment and does not serve special allergen-free items. |
| JetBlue Airways | Peanuts are not served on flights and a buffer zone may be requested. Tree nuts may still be served and peanut may be used in the manufacturing of other meals and snacks. |
| Southwest Airlines | Peanuts are no longer served on Southwest but there may be trace particles in some meals and snacks. |
| Spirit Airlines | Peanuts are sold onboard but with prior notice, the airline can create a buffer-zone where peanuts will not be sold. |
| United Airlines | Pre-packaged peanuts are not served on their flights but other meals and snacks may have been prepared in an environment with nuts or other allergens. Buffer zones are not offered. |
Peanut and Nut Policies of Non-U.S. Airlines
Below you can find the peanut and nut policies for other major airlines.
| | |
| --- | --- |
| Airline | Policy |
| Aegean Airlines | Peanuts and peanut products are not offered onboard. If you let the cabin crew know in advance, they will make an announcement to the adjacent rows not to consume nuts. |
| Aer Lingus | Peanuts are not served, but there may be trace elements in meals or snacks. Peanut or nut-free meals are also not available. |
| Air Canada | Peanuts have been phased out in all classes. A special nut-free meal is not available, and there may be traces of nuts or peanuts in meals and snacks. A buffer zone can be requested. |
| Air France | The airline does offer an allergen-free meal that does not contain peanuts and many other products. This must be requested at least 48 hours before your flight. |
| Air Malta | Nuts and peanuts may be present in food and snacks, but you are advised to let the crew know as they may be able to limit your risks. |
| Air New Zealand | Peanuts are not served onboard, but other passengers may bring them onboard. |
| Alitalia | Allergens, including peanuts, may be present in food and snacks served onboard. |
| ANA | Peanuts are in the process of being removed from flights, but other nuts may be present in food and snacks. You can order an allergen-free meal at least 48 hours before. You can also arrange a special seat cleaning service 96 hours before your flight. |
| Asiana Airlines | Peanut oil may be used in the making of meals and snacks served onboard. Other passengers may bring peanuts onboard. |
| British Airways | Peanuts are not served onboard but may be on offer in airport lounges. Meals and snacks are peanut-free but may have been produced in a facility that handles peanuts. Tree nuts may feature on the in-flight menu. |
| Brussels Airlines | Nuts are served onboard, and meals and snacks may contain trace elements. |
| Cathay Pacific Airways | Peanuts and tree nut snacks are offered in all classes and meals may contain peanuts. You can request priority boarding to allow time to wipe down your seat using your own cleaning supplies. Passengers are advised to submit a Physician's Statement. |
| China Airlines | The airline cannot guarantee a peanut-free environment and peanut oil is widely used in the production of meals and snacks. |
| Croatia Airlines | Peanuts are not served onboard but there may be peanut residue in meals and in the cabin. |
| easyJet | Nuts have been banned on flights, but they still cannot guarantee a nut-free flight. You are advised to add your allergy to your booking and let the cabin manager know on your flight so an announcement can be made. |
| Emirates | Nuts are served on all flights either as a snack or as an ingredient in meals. |
| Etihad Airways | Nuts may be present as an ingredient in meals or served as a snack. |
| EVA Air | Peanuts or nuts may be present in meals and snacks; no buffer zones are available for passengers. |
| Finnair | Business class passengers can request a nut-free meal, but it may have been made in a kitchen that has trace elements of peanuts. Cabin announcements will not be made. Passengers are asked to fill out a special request form at least 72 hours prior to departure. |
| Hainan Airlines | The airline cannot guarantee a nut-free flight and there may be nut or peanut oil used in the production of meals and snacks. |
| Hong Kong Airlines | Peanuts and nuts are offered as part of the in-flight snack and meals are commonly made using peanut or nut products and oils. |
| Iberia | Nuts are offered on flights as a snack and some meals may have been prepared at facilities that handle nut products. |
| Icelandair | Meals and snacks do not contain peanuts but may contain trace elements. Tree nuts are offered as snacks on some flights. For an allergy announcement, you must make a request at least 48 hours before your flight and submit a doctor's certificate. This is only available on weekdays. |
| Japan Airlines | Peanut and peanut oil have been removed from domestic and international flights, but there still may be trace elements from cross-contamination. You can request a special seat cleaning service at least 2 weeks prior to departure. |
| Jet2 | Nut-based products are no longer served onboard. Make cabin crew aware of your allergy before your flight, and an announcement can be made. |
| Jetstar Airways | There is no guarantee of an allergy-free environment and peanuts may be consumed onboard. |
| Kenya Airways | Nuts may be served as snacks or be used as an ingredient in meals served onboard. |
| KLM | Meals do not contain peanuts or peanut ingredients, but there are no guarantees of contamination during production. Nuts may be served in business class during intercontinental flights. |
| Korean Air | Peanuts and peanut products are not present in in-flight meals and snacks but may have been manufactured in facilities that handle them. |
| LATAM | Snacks and meals will contain peanuts or trace elements. The airline cannot guarantee an allergen-free flight. |
| Lufthansa | Generally, peanuts are not served onboard, but there may be trace elements in food and snacks provided. |
| Malaysia Airlines | Meals and snacks may contain peanuts or nuts. The airline will not create any buffer zones or make onboard announcements. |
| Norwegian Air | Inform the crew that you have a peanut or nut allergy. They will make an announcement that nuts will not be served and nut products should not be consumed. Meals and snacks still may contain nut elements. |
| Pegasus Airlines | Passengers are advised to let the cabin crew know so that they prevent the sale of peanuts on the flight. |
| Philippine Airlines | Passengers with peanut or tree nut allergies are advised to notify the airline at least 48 hours before and can also order a nut-free meal. Nut dust or traces still may be present in the cabin or in other meals and snacks onboard. |
| Qantas Airways | Peanuts have been removed from flights and lounges as a bar snack and the airline does provide nut-free meals. Peanuts may still be brought onboard and other nuts such as cashews, almonds, or macadamia nuts may be offered as snacks. |
| Qatar Airways | Nut-free meals are not offered and nuts will be present in both meals and snacks. Nuts will be served regardless of passengers with allergies and no announcements can be made. |
| Royal Brunei | The airline cannot offer allergen-free meals. Nuts are served onboard and meals can contain other allergens. |
| Ryanair | Let cabin crew know before you board and an announcement will be made informing passengers that nuts will not be sold and they are asked not to open any peanut products. There are still no guarantees of a nut-free flight. |
| SAS | Peanuts are not served as a snack or as an ingredient in meals, but other nuts may be present. Cabin crew are also able to make an announcement for peanut allergies only. |
| Singapore Airlines | You can request a peanut and tree nut-free meal at least 48 hours prior to departure. Peanuts are not served as snacks, but in classes premium economy and above, nuts are still served. |
| SWISS | Peanuts are not served onboard, but peanuts may be present in other food or brought onboard by other passengers. |
| TUI | Call the airline who will ensure nuts are not sold on your flight. An announcement can also be made informing other passengers not to consume nuts. |
| Turkish Airlines | Inform the airline at least 48 hours before and food with peanuts or hazelnuts will not be brought onboard. Passengers can still bring nut products onboard themselves. |
| Virgin Atlantic | Peanuts are not served onboard or included in meals. Food may not have been produced in a nut-free environment, however. Other nuts may be served to passengers as snacks. |
| Virgin Australia | There are no nut-free special meals available and nuts may be provided as snacks to passengers. |
| Vueling Airlines | The airline does not provide an allergen-free environment. Peanuts, nuts, and other allergens may be present in meals and snacks. |
| WestJet | Food served may include allergens, including nuts and peanuts. Inform a member of the flight crew who will request that passengers within 2 rows of you do not consume nut or peanut products. A cabin-wide announcement can also be made. |
At the Airport and Boarding
As the excitement mounts when you reach the terminal, don't forget to:
Let Your Crew Know
While there is no universal policy on how airlines should assist passengers with food allergies, they will all do their best to ensure your comfort and safety during the flight. You may well have already been in touch with the airline to square up any special arrangements, but you should also make yourself known to the staff and cabin crew as well.
The gate staff will be able to radio ahead to the crew onboard to advise them of your arrival and allocated seat number, and if necessary, re-seat you or create a "buffer zone." When onboard, the cabin crew will be on hand to serve you pre-arranged allergy-free snacks and meals and check you are comfortable during your flight.
Ask About Pre-Boarding
With food allergies being taken more seriously across the travel and hospitality industries, it comes as no surprise that some airlines offer those with peanut and tree nut allergies the opportunity to pre-board the aircraft. This is so that they have time to wipe down seats and surfaces to help remove the residue of any potentially dangerous allergens.
Allergy sufferers or parents of children with food allergies are used to traveling with antibacterial wipes to ensure that they never need to get too close to a dangerous residue.
If you are able to travel with a carrier that does allow pre-boarding, be sure to clean everything that can be touched close by, including tray tables, armrests, window shades, call buttons, and anything else situated close to the seated area.
Relax Around Your Fellow Passengers
Nut allergies are mostly misunderstood, with many people not being able to appreciate just how serious contamination can be. But on the other side of the coin, there are many sufferers who don't truly understand how allergens pass from 1 person to another.
When it comes to your fellow passengers, it is unlikely that you will get sick just by sitting next to someone who has eaten peanuts. If you can keep your own area clean, and refrain from touching fellow passengers, you should be able to travel safely.
Bottom Line: Well-intentioned sufferers who hand out notes or offer alternative snacks my feel better knowing that they have shared their allergy with the people around them, but in reality, you may not need to.
Bring Your Own Blanket
Eating nuts is a messy business, and you can guarantee that your nut-munching fellow passengers will have wiped their hands on the blanket or even the seat from time to time.
To keep safe from potential contamination, don't risk using the pillows or blankets that the cabin crew hand out during the flight. Instead, bring your own with you, and use your blanket to cover the seat, as well as yourself.
Keep Your Medication Out of the Overhead Bin
Most flights will allow you to take a carry on and a purse or handbag. While you may want to pack the majority of your belongings, toiletries, and medication in your carry on bag or case, you should keep back some of your allergy meds or EpiPen close to you throughout the flight.
Should you be unfortunate enough to need then, it will be difficult to locate your case if the contents of the overhead lockers have been moved around.
Every Type of Allergy is Important
Depending on your particular allergy, it can be almost impossible to guarantee a zero chance of coming into contact with your allergy nemesis.
The best way to ameliorate the risk is to ask the airline what they can do to help you before your flight, and keep your medications close at hand during the flight. Pet dander, for example, is hard to avoid, but wearing a mask could help to keep you breakout-free as you fly.
If you suffer from a perfume allergy, however, not even the airline can really help you there. For your own peace of mind, travel with a nasal filter. If that isn't helping, ask the cabin crew if you can move seats, especially if strong smells like perfume or tobacco could be a trigger for your allergy.
Allergy Discrimination
With food allergies now being recognized as a disability as per the Americans with Disabilities Act (ADA), a U.S. airline that fails to accommodate your individual allergy needs could find themselves on the wrong side of the Department of Transportation complaints department.
How to Make a Complaint If You Think You've Been Discriminated Against for Your Allergy
If you feel that you have been discriminated against as a direct result of your allergy, you should give the airline the chance to resolve it in the first instance. Customer service representatives at the airport may be able to help you, but if you feel that they cannot, file an official complaint with the airline.
The Department Of Transport requires airlines to acknowledge consumer complaints within 30 days of receiving them. They must also send written responses addressing these complaints within 60 days of receiving them.
If you are not still not satisfied with the response you receive from the airline, you can escalate your complaint further via The Federal Transit Administration Office of Civil Rights, who, in turn, will pass the matter on to their attorneys.
Useful Products for Traveling With Allergies
There are all sorts of gadgets and gizmos that you can buy to help keep you comfortable and safe on your next journey. Some are more worthwhile than others, though, and here are some of the best:
Frio Insulin Cooling Case Large Wallet
This brightly colored insulated wallet is perfect for keeping your all-important adrenaline auto-injector within safe temperatures while you travel. The wallet can keep your medicine cooled to between 64-79°F for a minimum of 45 hours. Easy to find in your carry bag, and designed to protect and cool your medications, this is an affordable buy that can come in really handy.
Nuts and Peanut Allergy Translation Card
Available in a choice of 67 languages, these cards can be used to advise shopkeepers, restaurant staff, and cabin crew that you suffer from certain allergies. The durable laminated credit card-sized card fits easily in your wallet or pocket, making it perfect for travel.
Medical Alert Wristbands
There are lots of these to choose from online, and while some are better made than others, the basic premise is that you wear them to alert people that you have an allergy. Choose from eggs, nuts, shellfish, gluten, milk, dairy, and many other types of allergies and wear your medical condition where everyone can see it straight away.
Protective Masks
Ideal for protecting you from pollen, pet dander, and other allergens, these masks are simple to use and can be used by both adults and children. Activated carbon filters help to protect your nose and throat from ingesting environmental nasties, and the elastic straps make the masks comfortable to wear.
Alcohol-Free Hand Sanitizer Wipes
Perfect for wiping down armrests, tray tables, buttons, and other surfaces when you pre-board your flight, these useful, travel pack size wipes can be used on both your own skin and your surroundings, ensuring that you eliminate the risk of any cross-contamination.
Final Thoughts
Allergies can have a severe impact on your health and can be especially worrying when you fly. But the truth is, having an allergy shouldn't prevent you from living your best life.
While every effort can be made by yourself and the airline to minimize the risk of flying with an allergy, no flight is ever 100% free from allergens. There may be a service animal onboard leaving pet dander, a passenger may bring peanuts onboard themselves, or the in-flight meal may have been prepared in an environment with allergens present.
Please take every precaution before and during and consult your physician if you have any concerns about flying with your allergy. Liaise with the airline and ensure you have everything you need close at hand, which will significantly reduce the risks of an attack and let you finally enjoy your flight.