The 17 Best Websites, Apps, and Courses to Learn Spanish Online
Spanish is one of the most commonly used languages in the world today. The official language of 21 countries across the globe, and spoken by over 500 million people, it is no wonder that there are so many great language learning websites, apps, classes and courses out there to suit every level of student.
Whether you just want to learn a few keywords and phrases for your next vacation, or you want to become fully fluent, these are some of the best Spanish language tools to have you speaking like a native in no time.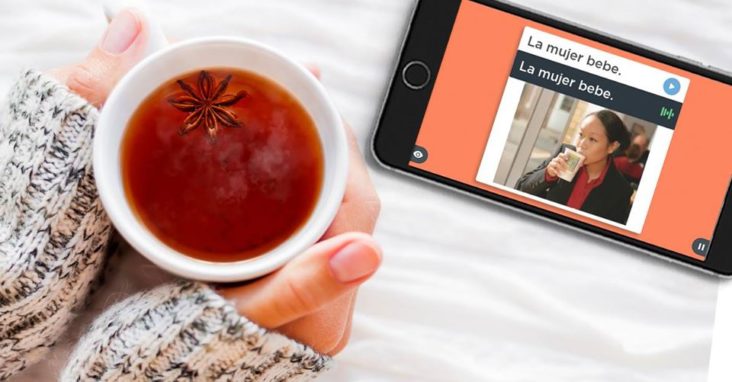 As one of the world's biggest providers of online language courses, Rosetta Stone claims that it is easy to learn Spanish using its award-winning, tried, and tested teaching methods. Having successfully taught a variety of languages to over 25 million learners for more than 25 years, Rosetta Stone is one of the go-to providers of online Spanish lessons anywhere in the world.
Available on Android, iOS, and web, you can keep up with your leaning wherever you may be. Using a fully immersive curriculum that is designed to stimulate the brain's natural language learning abilities, the bite-size lessons focus on real-life situations and every-day language skills.
When you subscribe to Rosetta Stone, you have access to some of the most comprehensive language-learning tools available, including multi-device capability, a phrasebook, an audio companion, live tutoring, and the TruACCENT pronunciation audio tool. Monthly subscriptions cost from $5.99 to $11.99 per month, depending on the length of time you wish to subscribe for.
Hot Tip: You can opt for the lifetime subscription package for a $299 1-time payment (but there's often a promotion running), giving you access to unlimited language instruction should you want to learn more than just Spanish.
This website offers a range of different Spanish courses designed to cover all levels and interests. Each course has a minimal, but professional, look and offers intuitive learning for students wanting to learn a new language or brush up their existing skills.
Using module-based learning, Babbel promises to get you speaking semi-fluently pretty quickly. It uses a combination of grammar, vocabulary, pronunciation, and advanced courses to cater to every level of learner, and both the website and the app are easy to use.
The speech recognition technology makes it easy to get your pronunciation spot on, and the vocab is diverse enough to go above and beyond the usual basics.
One of the very best features of Babbel is how it can teach words in a variety of contextual settings. It doesn't ask you to just repeat words and memorize them but instead wants you to fully understand how the language works in a more sophisticated way. Available on both Android and iOS, you can subscribe from as little as $12.95 per month or $85.99 per year.
Using a combination of interactive audio lessons, language and culture lessons, and survival kit lessons, Rocket Spanish aims to have you speaking fluently in just a few months. Offering 200 lessons across 3 different levels of competency, this is a comprehensive learning tool for those who want to learn Spanish.
The audio lessons will help you to learn the building blocks of the language through a series of 20-minute sessions, as well as discovering the finer points of Spanish grammar. The state-of-the-art voice recognition system will help you to perfect your pronunciation.
There are also plenty of opportunities to reinforce what you have learned using the online exercises, as well as incredibly useful flashcards for quick revision.
You can sign up for a free trial that offers around 6 hours of language lessons, or choose to purchase Level 1 (beginners) for $99.95, Level 2 (intermediate) for $249.90, or Level 3 (advanced) for $259.90. These are 1-time payments. If you want to pay monthly, the only option is purchasing all 3 levels for $47.00 per month. The Rocket Languages app is available on both Android and iOS.
If you want to learn Latin American Spanish, this could be the perfect way to do so. According to its website, Pimsleur uses a scientifically proven set of principles that lets the user get to the heart of the language. Its method involves a question and recall response technique that focuses on growing your vocabulary and contextual conversations.
Pimsleur is famed for its ability to really help students hone and perfect their speaking abilities across all levels. The course uses language that will work in a variety of settings, and classes are recorded using native voice actors to make the conversation sound as natural as possible.
There are also flashcards for vocabulary review, quick quizzes to help you visualize your new language, a role-play tool, and even a driving mode for learning as you commute.
You can learn on your desktop, tablet, or smartphone, and the course can be shared with up to 3 household members on unlimited devices. There is a 7-day free trial, or you can purchase the full course for $24.95 a month. The mobile app is available on both Android and iOS.
Using the concept of ICE (Intelligent Cumulative Exposure), Brainscape helps users to learn a new language by introducing new concepts incrementally, while gradually increasing the difficulty. The speed of the learning is controlled by the user, meaning that they can be sure that less familiar language is repeated more often, while better-known words won't be repeated quite so much.
With over 10,000 audio flashcards that cover the most common Spanish words, phrases, and sentences, the Spanish Sentence Builder helps users to slowly build up their vocabulary from individual words into phrases, and eventually fully-formed sentences.
For a more customized learning experience, you can also choose from a variety of topics, including business, food, medicine, transportation, or technology, among others.
Brainscape offers a sliding scale of subscription costs for its pro package that ranges from $4.99 per month for a 12-month subscription, $6.99 per month for a single semester, $9.99 for a single monthly subscription, or a 1-time lifetime payment of $129.99. Basic creating, sharing, and studying your own content is always free. Brainscape is available for both iOS and Android.
With hundreds of topics available online, Busuu allows users to create their very own study plan to enjoy at their own pace. Personalized and targeted instruction is designed to help you effectively master the Spanish language faster than traditional classroom-based learning.
With hundreds of topics to choose from, users can focus on culture, food, travel, or even history, as well as all of the basic language skills you would need to communicate with native speakers on your next trip. The online Vocabulary Trainer helps you easily learn new words and acts as a great revision tool to refresh your existing knowledge, while the fluency score helps you to track your progress.
Unlike some other language learning apps, Busuu doesn't rely just on repetition, but offers a wide range of reading, writing, listening, and speaking exercises instead. The app encourages you to set your own goals, and the speech recognition tool encourages users to practice the language out loud.
You can learn via the website or download the app for Android and iOS. There is a free version, or you can upgrade to the premium version that costs around $6 per month, paid annually, or the Premium Plus package for around $7 per month, also paid annually.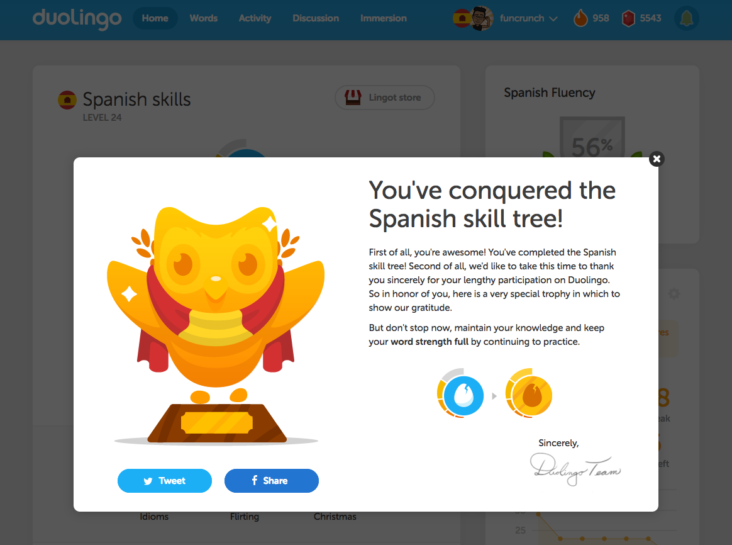 Duolingo claims that its program is scientifically proven to help you learn a language in just 5 minutes a day. Designed to improve both your grammar and your vocabulary, this is a fun and slightly addictive game-style app that is perfect for language students of all ages.
Using brightly colored images and clear and concise audio, the app has the feel of a memory game, but with the added bonus of helping reach the part of your brain that will help you to remember and recall new words. The app also offers a rewards program where you can earn virtual coins, unlock new levels, and watch your fluency score rise as you master your new language.
Available on both Android and iOS, the free version gives you lots of basic access points, but you will have to put up with advertisements. If you want to upgrade to the Duolingo Plus edition, it will cost you $9.99 per month, and you will be able to enjoy ad-free lessons and offline access.
As is pretty standard for many language learning apps, Fluent Forever uses a combination of flashcards and a spaced repetition algorithm to allow users to create meaningful connections with new words to help commit them to memory.
It flashes up the words or phrases you have problems with more often than those you don't, which will have a dramatic effect on your brain's ability to retain them over time. The methodology used is based on the ever-popular Gabrial Wyner book, Fluent Forever.
The Fluent Forever app is, however, designed to give you longer-term language skills, and doesn't just teach you quick words or phrases to use when you are away. Using visual connections, it aims to have you semi-fluent within 6 months, as long as you are willing to practice daily.
Grammar rules are taught using stories and mnemonics, and there is currently a speaking practice tool in development that aims to improve your pronunciation using native Spanish speakers.
The Fluent Forever app is available for both Android and iOS devices. There is a free trial version that lasts for 14 days when you sign up to learn a language, and if you don't want to cancel, you can choose the paid subscription which costs from $6.99 to $9.99 per month, depending on how long you sign up for.
This monthly subscription site offers a fully immersive Spanish language experience using native videos. From music videos to movie trailers, commercials to instructional videos, it helps users to learn Spanish words in a far more contextual way than many more traditional learning sites do.
Using fun and engaging video content, learners can dip in and out of the app as much, or as little, as they want to. There is no requirement to read or write in a new language, as this is purely a visual and audio tool that is actually pretty effective. Monthly subscriptions range from $8 to $18 per month, and you can even set up your own profile and enjoy a 14-day free trial.
Available on both Android and iOS, FluentU helps teach Spanish vocabulary without the need for a textbook. Using rich, engaging, and relevant video material, FluentU is probably better used as an adjunct to a more formal Spanish learning program.
Glossika offers convenient lessons in Spanish for Mexico and Spanish for Spain using its hands-free audio-based training sessions.
The premise behind Glossika is simple — listen and repeat! When you sign up, you can choose from a variety of topics including things like travel, social, or food, and Glossika will teach you 5 sentences a day to listen to and repeat.
You can add more sentences as and when you feel comfortable to do so, and you should be looking to build up to 30-minute study sessions a day to help you grow your vocabulary.
You can use the Full Practice mode to increase your memory by typing, listening, and speaking each sentence or use the Listen Only mode to review your previous learning.
A subscription to Glossika costs the equivalent of $24.99 per month if you pay annually or $30 if you chose to pay monthly, and the package includes native speaker recordings, unlimited practice, weekly progress and tracker, and personalized content.
Designed with children in mind, Learn Spanish by MindSnacks is firmly focused on learning through a variety of games. Kids can correct translations and save a cute little fish in the game Swell, or have long-tongued frog snatch correct answers in a word matching game. Kids can learn over 1,000 Spanish words, as well as verbs and conjugation while playing the 9 addictive and interactive games.
Most of the games require a fast response time, which is what makes them better for older children than younger kids. Funky graphics and hip tunes accompany a wide range of games and challenges, and as the user becomes more competent with their Spanish skills, the topics become more grown-up and comprehensive.
Easy to use navigation, and with lots of content, most kids will have no problem working their way through this app either on its own or as an extra tool for their school-based learning.
The app is available to download for iOS only. The app is free to download, but in-app purchases are available.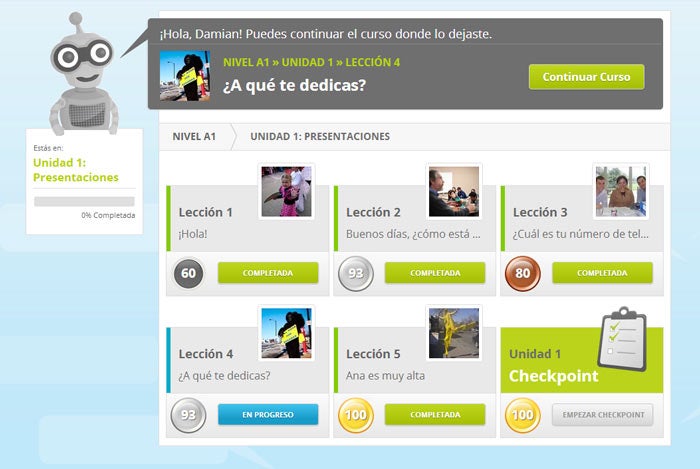 This language learning tool comes complete with a robot called Lingu to add a personalized feel to the program. Offering around 200 lessons and 8,000 audio clips, as well as a host of practical exercise, speaking practice, and flashcards, this is a course that is designed to keep you very well motivated as you learn.
Lingu is always on hand to monitor your progress and let you know how well you are doing. Exercises can be completed in real-time with genuine native-speakers, which makes it easy to receive authentic feedback on your grammar and pronunciation. You are also able to sync your lessons across all of your devices, which means that you can keep learning wherever you are.
Apart from the robot, Lingualia doesn't really offer anything very different from a lot of other apps out there, but having your AI friend on hand can help to keep you motivated for longer. There is only a free version available that does offer some in-app purchases if you feel you need more (iOS, Android).
Using a mixture of learning features, exercises, and personalized features, Mango helps users to learn and improve the 4 skills that they need to be fluent in another language — grammar, vocabulary, pronunciation, and culture. Mango offers a wide range of courses that cover different topics depending on the needs of the learner.
As well as the usual language skills, the business module covers presentations, meetings, and negotiations, while the legal module will help you to negotiate a divorce in Latin American Spanish.
There is also a medical module that will teach you the basics of discussing diabetes, medication and dosage, and a romance module that is perfect for dating. Along with Spanish for Librarians and Text Talk, this online learning tool goes way beyond the usual scope of conversational Spanish.
Subscribing for a single language will cost you $7.99 per month, but if you want to learn more than 1, you will be looking at a monthly cost of $17.99. If you want to customize your course to completely fit your needs, you can request custom pricing.
Hot Tip: Each subscription plan includes a 2-week free trial that can be canceled before the 2 weeks are up. Mango is available as an online app, as well as on Android and iOS platforms.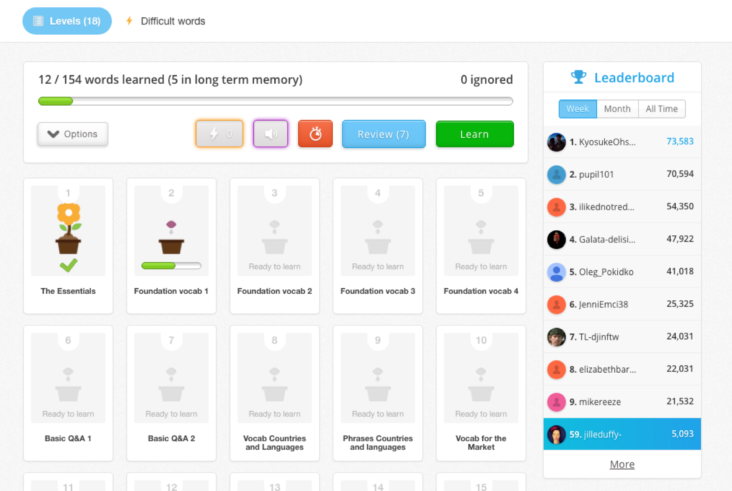 Memrise will help you to master a range of topics in Spanish and is suitable for everyone, from absolute beginners to more experienced linguists. It has been designed to help you memorize new words using characters and phrases. It uses real-life language and thousands of video clips of native speakers in a natural setting to help you authentically learn the language.
You can create your own course material, or use topics and content that has already been created by other users. Memrise claims to be "fast, fun, and mind-bogglingly effective," and the spaced repetition system on which its teaching is based has proven to be effective for learning a new language from scratch.
There is a vast amount of content available on the website, and the Android and iOS apps make it easy to learn on the go. The basic free account offers enough to get you access to lots of useful content, but for better learning tools and more advanced requirements, the Pro membership costs $9 per month, $59 per year, or $129.99 for a lifetime membership.
Offering podcast-style lessons, users can choose from informal "chit-chat" style lessons or more formal dialogues to learn Spanish at home or on the go. With fully downloadable content, this is a great option for those who want to learn while they are traveling.
Promising to deliver much more culturally relevant and interesting content than traditional "dry" textbooks, SpanishPod101 encourages learning through fun.
Each audio lesson has a clear structure, despite its informal tone, and comes with high-quality lesson notes that are easy to print and follow. There are a variety of levels from absolute beginner to advanced, and right from the start, it is an excellent learning tool for those who like to be led through every stage of its learning program. You can also join in with lively group lessons with your fellow learners.
There is a 7-day free trial option and a free lifetime basic subscription package, but the more advanced features and complex lessons are only available on a paid-for basis.
There are 3 paid-subscription options to choose from: Basic, Premium, and Premium Plus. These range in cost from $8 to $47 per month, with monthly fees decreasing the longer the duration of your subscription. You can learn using your laptop or computer, or download the Innovative Language 101 app that is available on both Android and iOS.
Using a technique it refers to as "guided imitation," StudySpanish aims to have you fluent in the basics of Spanish in around 3 months, provided you take regular classes.
Offering 1-to-1 lessons, users will learn small amounts of material at a time, then be encouraged to revise what you have learned until you can easily reproduce it. The company also promises to only teach authentic Spanish in the form of natural conversations.
Using both the companion website and the mobile app Camino, you can download audio classes as well as complete written transcripts of all 45-minute units, written in both English and Spanish. You can learn on the go, at home or even on vacation, then return to the desktop version to reinforce what you have been learning.
The course will help you to increase your confidence and pronunciation skills, extend your vocabulary, and hone your grammar. The Verb Drills on the app are also excellent for helping you to master the verb tenses, which can be the hardest part of learning the Spanish language.
You can try the conversation course free for 7 days and upgrade to the full premium subscription package with access to the mobile app for $9.99 per month. There is also the option to purchase the lifetime membership for $119. The Camino app is available to download on both Android and iOS.
This website offers students the opportunity to learn Spanish online in live group classes. Talented Spanish instructors host interactive lessons using 2-way video equipment, meaning that students can engage with both their instructor and their peers during the class.
There are a variety of 45-minute lessons to choose from that have all been designed to match different skill levels and personal interests. These are available at different times throughout the day and include such topics as essential vocabulary, phrases for food, talking with friends, and using directions, as well as tricks to memorize vocabulary and speaking practice.
The TakeLessons live instruction program aims to teach most students a basic level of Spanish fluency within 3-6 months. Costing as little as $11.99 per month, and with a free 14-day trial, this is a great website for camera-confident learners who are happy to join in with a group learning environment.
Final Thoughts
As one of the most commonly spoken languages in the world, Spanish is an incredibly useful language to learn. From adventures in mainland Spain to vacations in Mexico and beyond, there is a wealth of online learning support that will have you speaking your chosen dialect in no time at all.
While Spanish verbs and irregular conjugations may be some of the trickiest to learn, all of the above should have you speaking like a native if you are prepared to dedicate a little time to your chosen language.