How to Use the Qantas Shopping Online Portal to Earn More Miles
The Qantas Shopping online portal is a handy resource for earning extra Qantas Points for your Frequent Flyer account.
It's really simple to use — you just need to remember to click through from the shopping portal each time you shop. A small task with some potentially big gains!
This article will run you through how to find your way around the shopping portal and make the most of those bonus offers.
How to Log In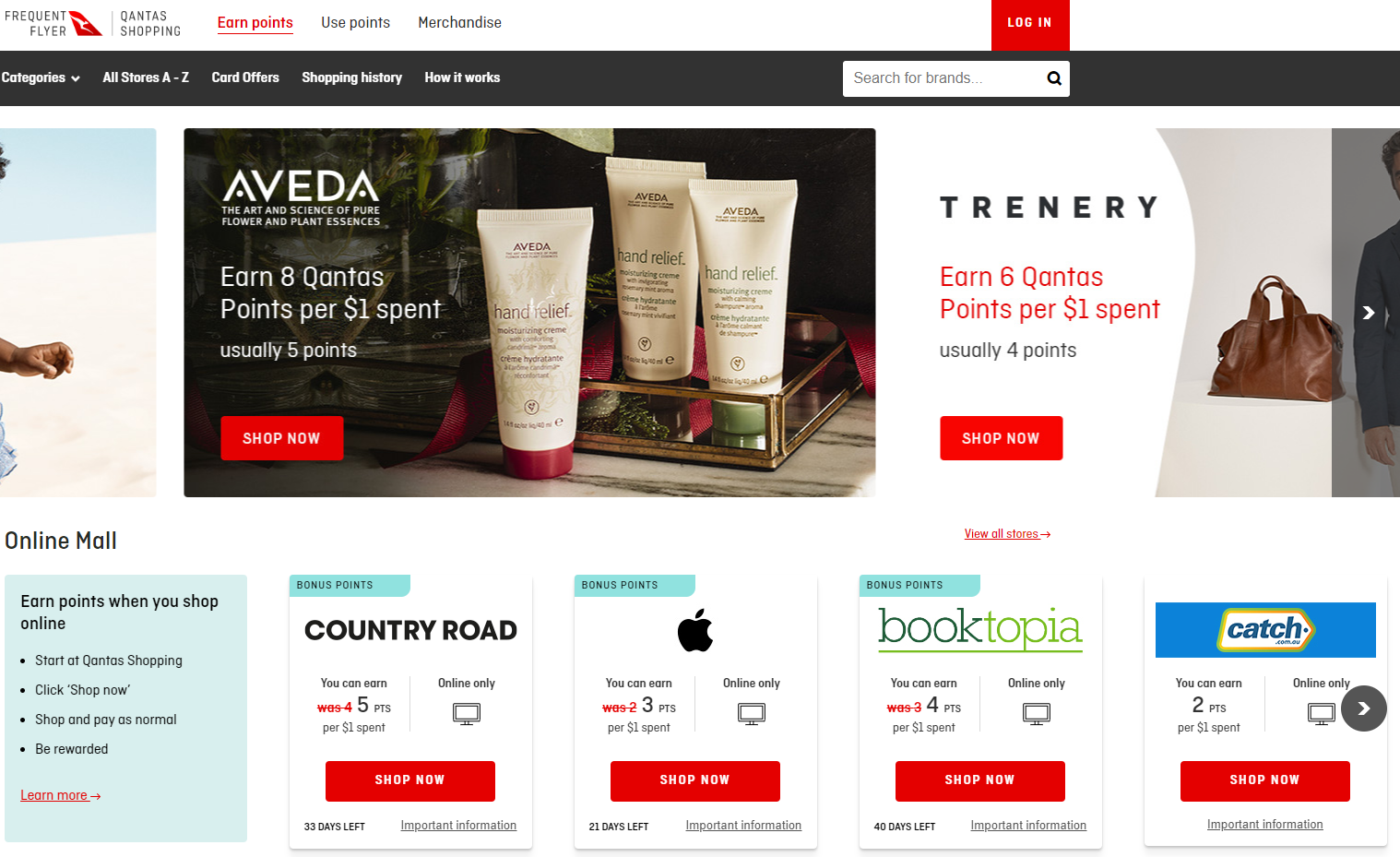 To benefit from the Qantas Shopping portal bonus points, you'll need to first log in to your account using your Frequent Flyer membership details. This is convenient, as you don't need 2 separate accounts; all of your bonus miles will accrue in your Frequent Flyer account.
If you're not a Qantas Frequent Flyer, then you will need to first create an account with your details and create a pin for access. It's free to do and doesn't take very long, so is well worth it if you fly regularly with Qantas (or would like to in the future).
Click the "Log in" button top right of the website and a pop-up will appear.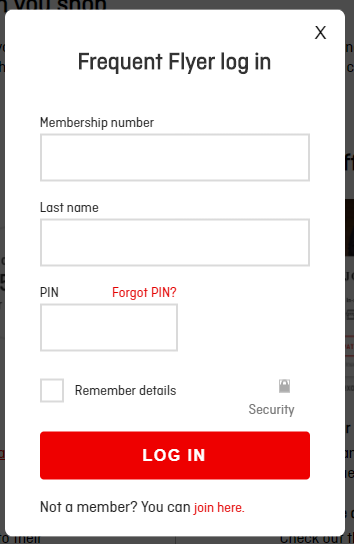 Basics of Using the Portal
The Qantas Shopping portal is an attractive website that makes it easy to navigate and locate bonus offers. You can browse all stores A-Z, or use the Categories tab to find specific retailers.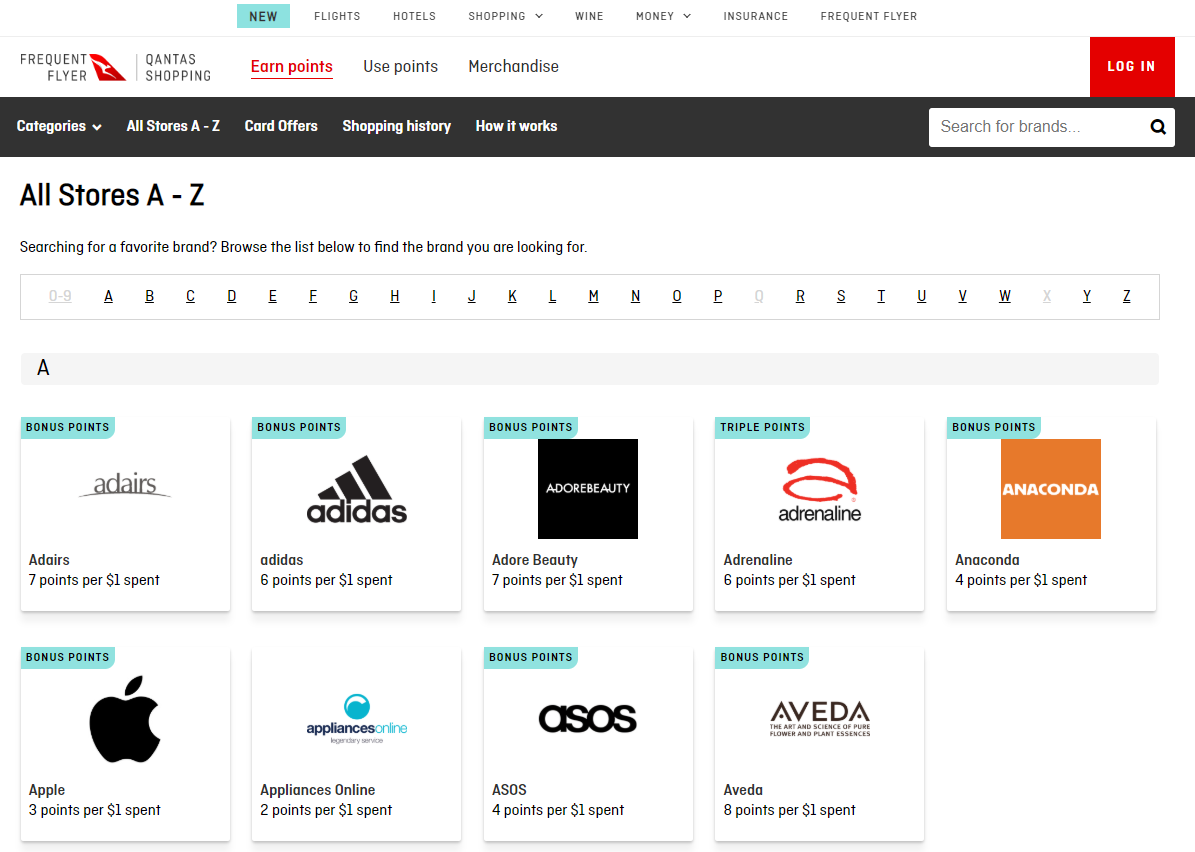 You can view how many miles per Australian dollar you can earn on the retailer tabs, and click through to their dedicated page for more information.
This will help clarify whether their current offer is a special bonus on top of their usual points offering, along with company information, promo codes, coupons, and terms.
If you want to shop with a particular retailer and receive your bonus points, click the red "Shop now" button, which will link you through to the retailer's website. Your visit will be tracked so you can be rewarded with bonus miles if you make any purchases when browsing.
Hot Tip: Any purchases will be tracked automatically through cookies, so be sure that they are activated on your browser!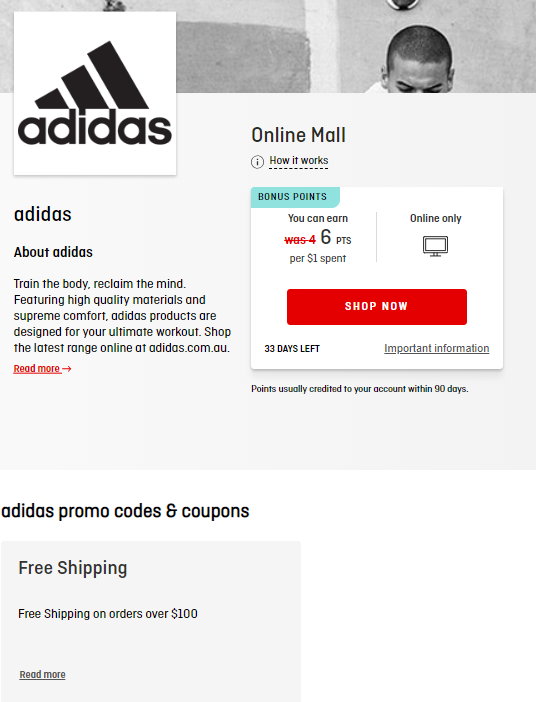 If you have clicked through from the portal and made a purchase, then the retailer needs to verify this, which can take up to 90 days (but is usually sooner). Your miles will then be credited to your Frequent Flyer account.
Hot Tip: You must click through from the portal to each retailer, otherwise the tracking won't be activated and you won't be eligible for the points.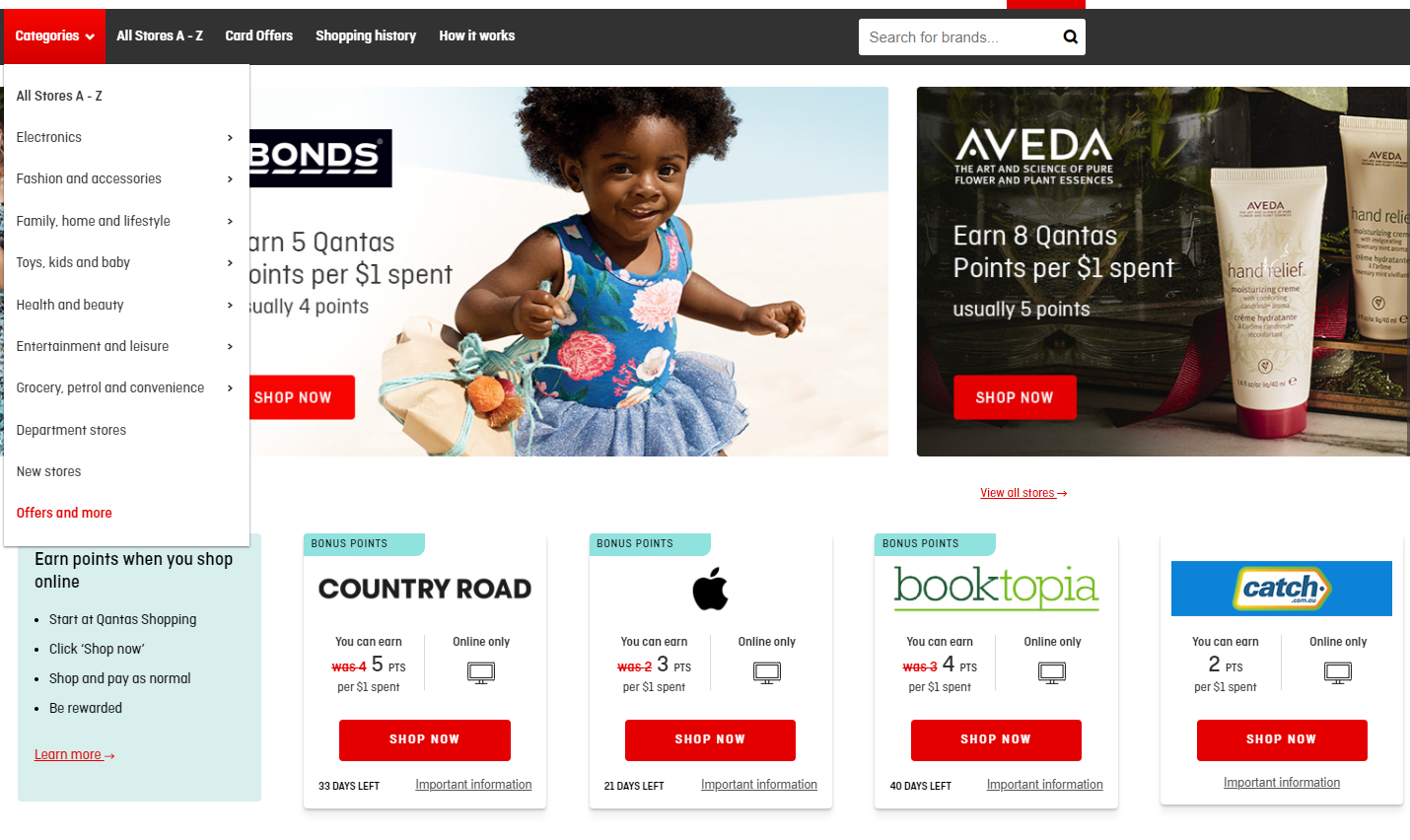 The homepage displays a whole host of bonus offers from featured retailers, so you can browse directly from here or click "View all stores" for a more comprehensive list.
Special Bonus Offers
Retailers will often have special bonus offers where you can earn extra points on top of the usual amount.
For example, at the time of publication, Bobbi Brown was offering double points (8 points per dollar spent instead of the standard 4 points per dollar).
You can find this section on the "Categories" drop-down under "Offers and more." So keep an eye out for special deals from your favorite stores!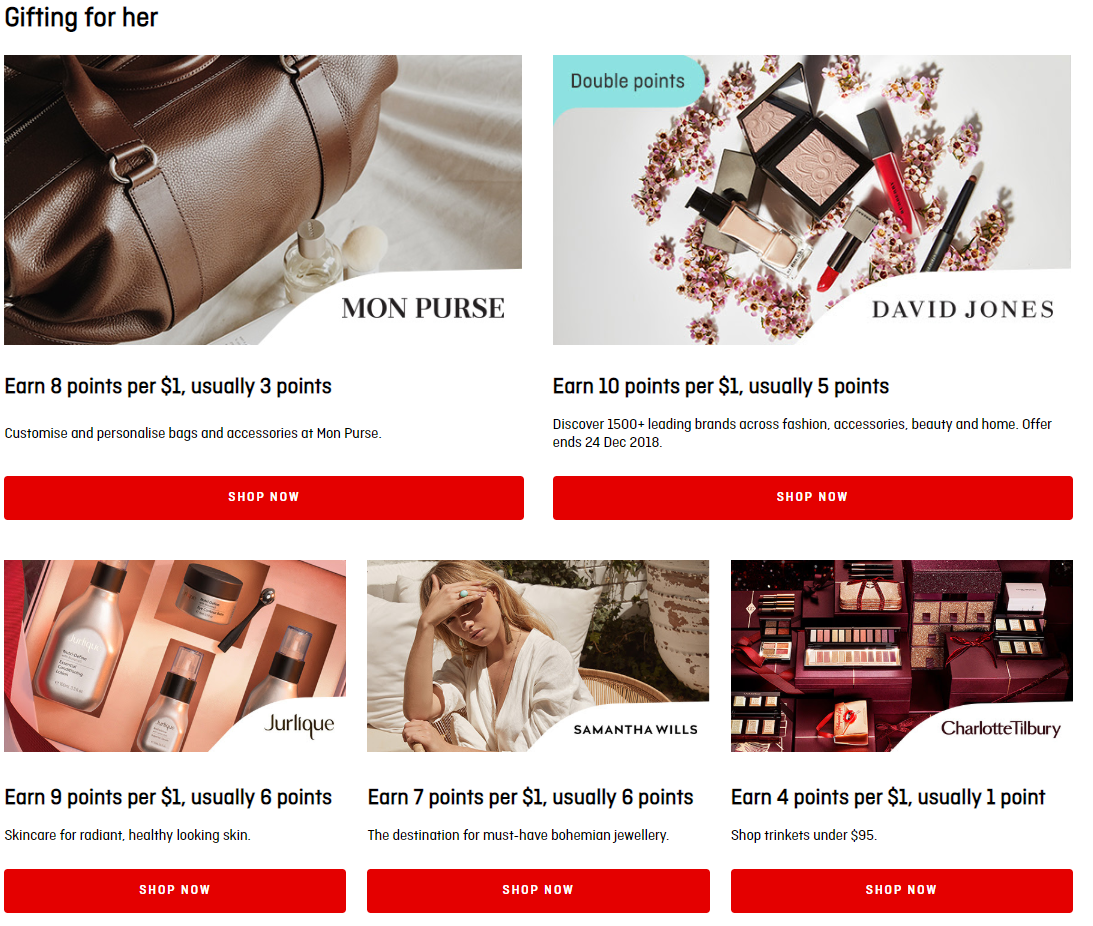 Example Retailers
There are currently over 170 global and Australian retailers to choose from when shopping through the Qantas Shopping Portal.
From comparing offers to other shopping portals, Qantas seems to be quite generous with higher point earnings, and point earnings are quoted in Australian dollars.
For example, purchases with Apple earn 3 points per Australian dollar, rather than just 1 or 2 points per U.S. dollar at other portals.
With approx 1.3 Australian dollars to the USD (exchange rate at the time of writing), that's basically 3 Apple points to 0.7 U.S. dollars.
At the time of writing, these were some of the better earning rates being offered:
Converse: 7X miles per $1
Lululemon: 6X miles per $1
Tiffany&Co: 4X miles per $1
Under Armour: 7X miles per $1
Microsoft: 4X miles per $1
… and much more!
Using Credit Cards to Earn Extra Points
There are a number of ways to earn Qantas points, one of the most popular is to accrue Citi ThankYou Points and then transfer them directly to Qantas as they are a transfer partner of Citi.
So, when making purchases on the shopping portal it would be best to use a Citi credit card if earning Qantas points is a priority!
Final Thoughts
In terms of interface, the Qantas Shopping portal is one of the nicest and easiest to navigate.
However, it is disappointing that you can't sort retailers by anything but alphabetical order.
There is a great selection of well-known global brands — so if you're looking for variety and want to maximize your Frequent Flyer miles, be sure to click through from the shopping portal each time you're online shopping.