How To Use Google Flights To Find Cheap Prices, Discover Destinations (& More)
Before the Google Flights platform launched in 2011, the process to search for all of your travel needs across a variety of websites was extremely cumbersome. Today, Google Flights has everything you need in 1 place to easily plan travel — it's a robust website that helps you evaluate all of your Trip, Flight, Hotel, and Travel Package options.
In true Google fashion, the Google Flights platform is once again pushing the envelope with its price guarantee function, which we dive into below. In addition to its price guarantee function, Google added a feature that allows you to see your travel itinerary/itineraries on google.com/travel when logged into your Google account. Additional features include hotels, restaurants, and things to do recommendations from Google based on your destination.
New Features for Google Flights
Track Travel Advisories and Restrictions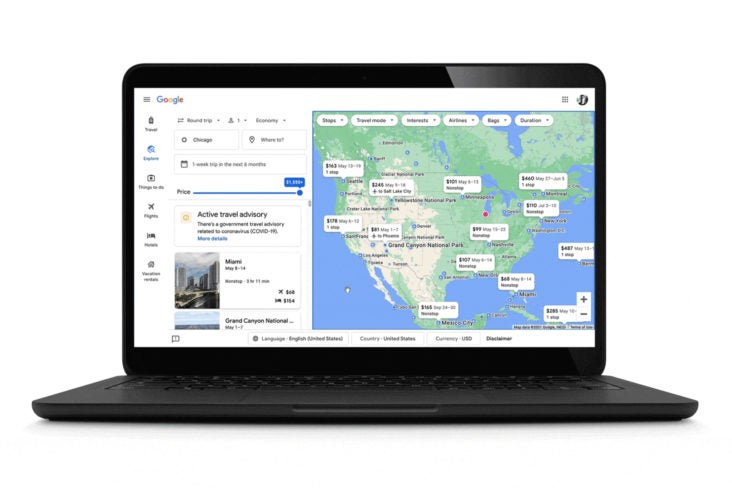 The newest feature of Google Flights that is especially helpful in today's climate is the ability to view and track any COVID-19 travel advisories or restrictions for the destination you're searching for. This will include details like whether you'll need to quarantine upon arrival or provide proof of test results or immunization records.
Better yet, you can also track these advisories and receive updates straight to your inbox. So if restrictions are added, lifted, or reduced, you will know about it right away and can make adjustments to your travels as necessary.
New and Improved Explore Feature
Those who have been using Google Flights for a while know that the Google Explore feature used to just show flight prices to a variety of major destinations from your home airport.
But now, you'll see significantly more destinations on the map, including smaller cities and national parks, hotel rates, info on tours, activities, and attractions. You can also filter destinations that appear based on your interests (outdoors, beaches, skiing), the duration of the trip, the airlines that fly there, and more.
How Google Flights Can Save You Money
The first thing you might notice is that Google Flights isn't quite as flashy as some of the online travel agencies like Expedia, Priceline, or Orbitz. Have no fear — it's still a powerful search engine with lots of options!
Search Multiple Cities

Start by entering your basic search criteria, just as you would on any other site. Google Flights allows you to do multiple searches at once — up to 7 departures and 7 destinations in the search box! — saving you tons of time when you are doing a flexible search.
As an example, let's say you want to fly from New York City to Europe but without a specific city in mind. In the departure box you can enter New York City, which will search all of the New York airports (LGA, JFK, EWR) — or you can select the airports individually, including other nearby airports like Islip, Long Island (ISP) or Philadelphia (PHL).
For your destination city, start typing in cities you are interested in visiting like Paris (CDG), Barcelona (BCN), Berlin (BER), etc. Google Flights will search for the best options all at once, instead of looking up the price of each route individually!
Your results list will display options including all of the cities added to your search. In the example below, we can see the cheapest flight is a nonstop flight from New York (JFK) to Paris (CDG).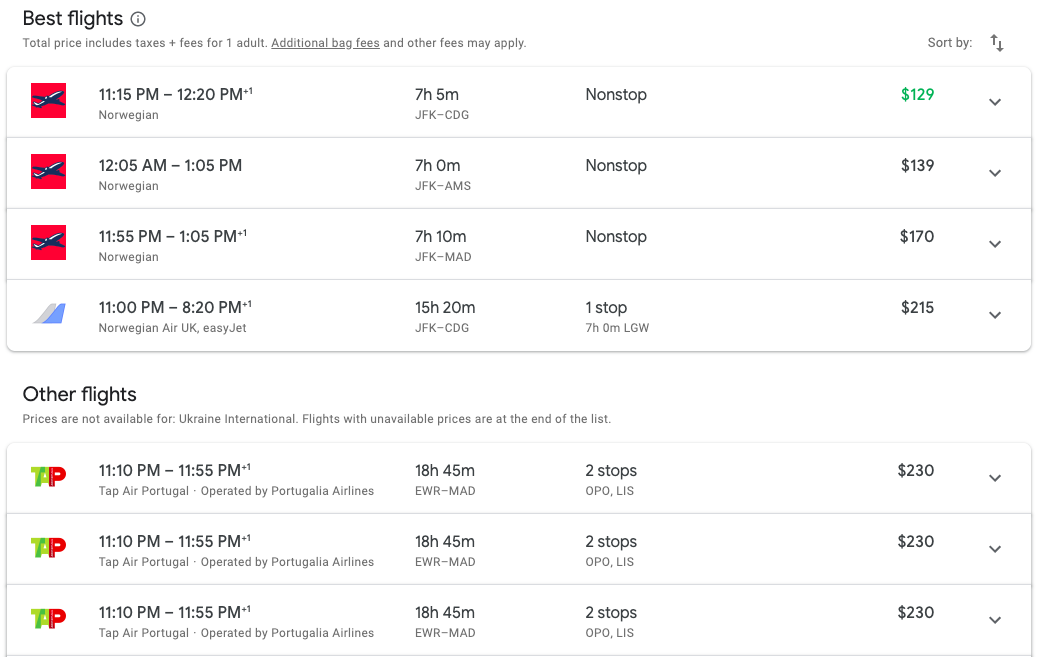 Bottom Line: If you have some flexibility in your travel plans or don't know exactly where you want to go, Google Flights can save tons of time by combining multiple searches into 1. You can input up to 7 departure cities and 7 destination cities all in 1 search to see, quickly and easily, what the cheapest option will be. 
Search Multiple Dates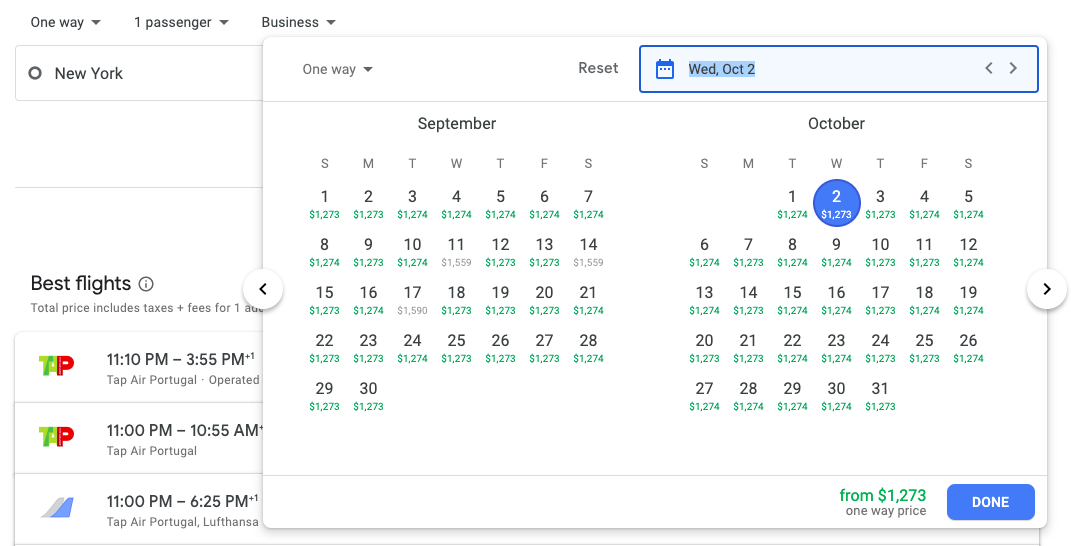 You now know you can search multiple departure and arrival cities, but how can you find out the cheapest dates to fly?
After inputting your departure and arrival cities, look at the dates to the right side of the search box. Clicking the calendar icon will display a calendar view showing prices for the whole month. Days that offer lower prices will be shown in green. As you can see, the majority of dates for this route in September and October have pricing for business class in green.
Hot Tip: You can adjust the duration of your trip by using the arrows at each side of the calendar box.
Flight Insights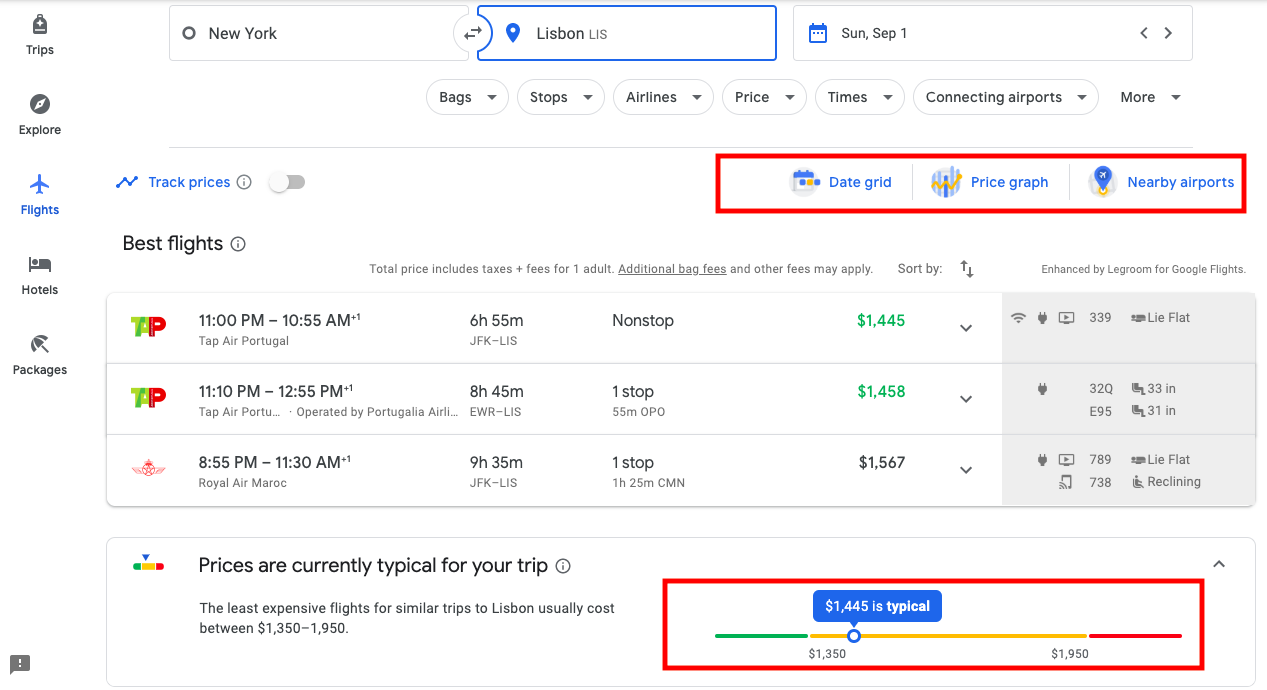 Google Flights has updated its Flight Insights section, found on the right side above your flight search results. A new Prices section is shown below your search results. With this new format, you'll only see the Prices section when searching between 2 city pairs and not when searching for multiple destinations.
Hot Tip: We always use a rewards card that earns bonus points on travel purchases. For example, the Chase Sapphire Preferred® Card earns you 2 points for every $1 that you spend with the card on travel or dining purchases. If you're a business owner, we'd strongly recommend using a rewarding business credit card (we recommend Chase business credit cards) when making a travel purchase, otherwise, you're missing out on points, miles, or cash-back!
Date Grid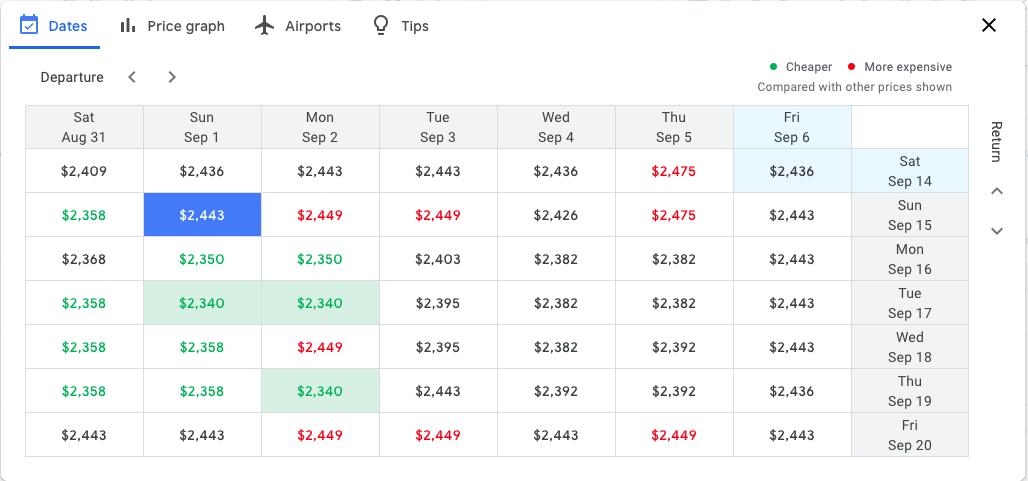 For deeper insight on the cheapest days to fly, click on the Date Grid. This will open up a grid showing the cheapest days to fly in green and the most expensive days to fly in red.
You can see even more pricing details by using the Departure and Return arrows on the top and right side of the Date Grid section respectively. For those with flexible travel dates, this can be a great way to save some cash!
Price Graph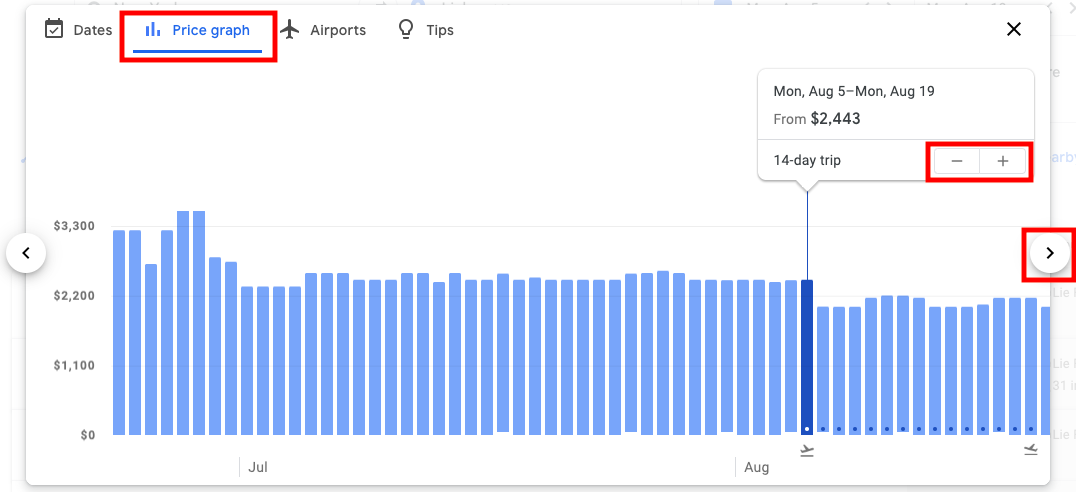 The Price graph shows 2 months' worth of prices in a visual graph form to easily see price trends by day. Scroll further in the future with the arrow to the right of the graph or change the duration of your trip using the -/+ buttons by your selected dates.
How To Use Google Flights
Although this tool lets you search for, compare, and purchase flights, it's not technically an online travel agency like Travelocity or Priceline. Rather, it's a highly effective metasearch engine that saves you the step of searching each airline and website individually.
How To Book a Flight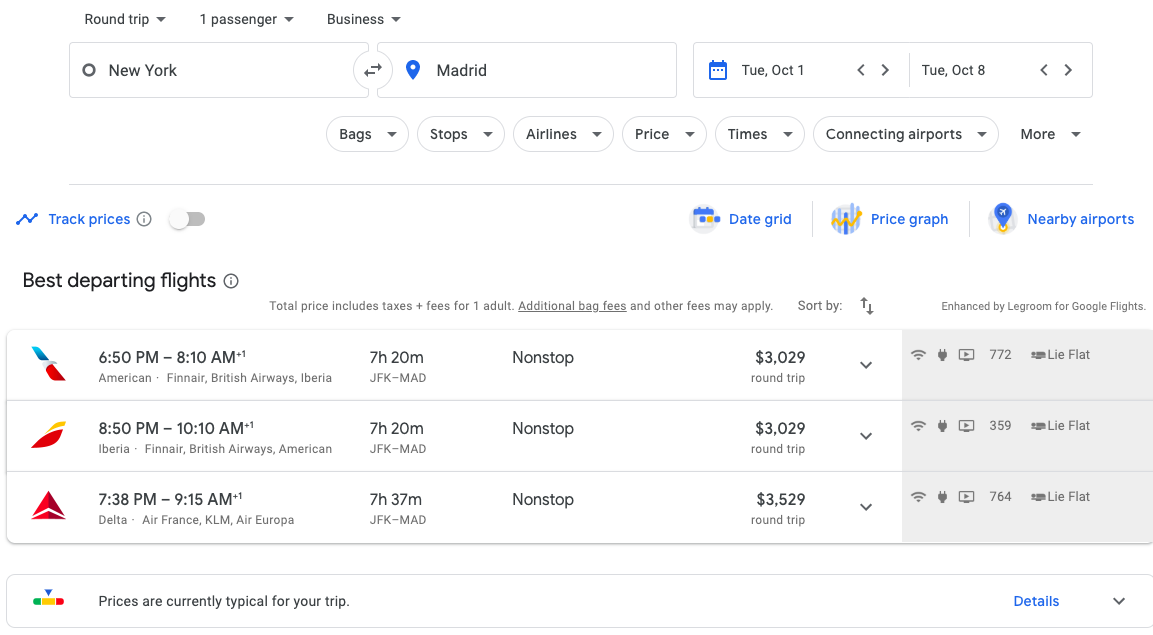 Scroll through the Best Departing Flights results and click on a flight that interests you. Flights listed in the Other Departing Flights section will typically be more expensive and/or include less than ideal layovers.
When you find the flight you want, you're prompted to choose your outbound flight first, followed by your return flight (assuming you're booking a round-trip flight). Keep in mind that the price shown on the initial results screen is the lowest possible price for that itinerary. The return flight you pick could alter the cost, so make sure to pay attention to the prices of each return flight.
When you've chosen your flights, Google offers a few options for booking — generally, these are the cheapest options it can find. You're given the option to book directly with the airline operating the flight (often cheapest), through the airline's partners, or with whichever online travel agencies offer the best deals.
Click the Select button next to the price of your flight and you'll be redirected to that website to book your flight. The travel details are already set, so all you need to do is confirm them, enter your personal information, and pay.
Bottom Line: While the other features that Google Flights offers are useful, its basic flight search functionality is the heart and soul of this tool. It's not quite perfect and doesn't have full access to every airline — for example, it can't access prices for Southwest Airlines — but otherwise, it's the best way there is to search for flights.
Tracking Prices


Google has a tool that lets you track flight prices — once set, you'll receive an email if prices increase or decrease. To set an alert, look above the booking sites after you've chosen an itinerary and click the Track Prices button. If you're logged in to Google, the alerts will be sent to your Gmail; otherwise, enter an email address.
You can access any flight price alert set by clicking on the 3-line menu icon in the upper-left corner of Google Flights and clicking Tracked Flight Prices. You can also see a graph with price changes from the day you set the price alert going forward.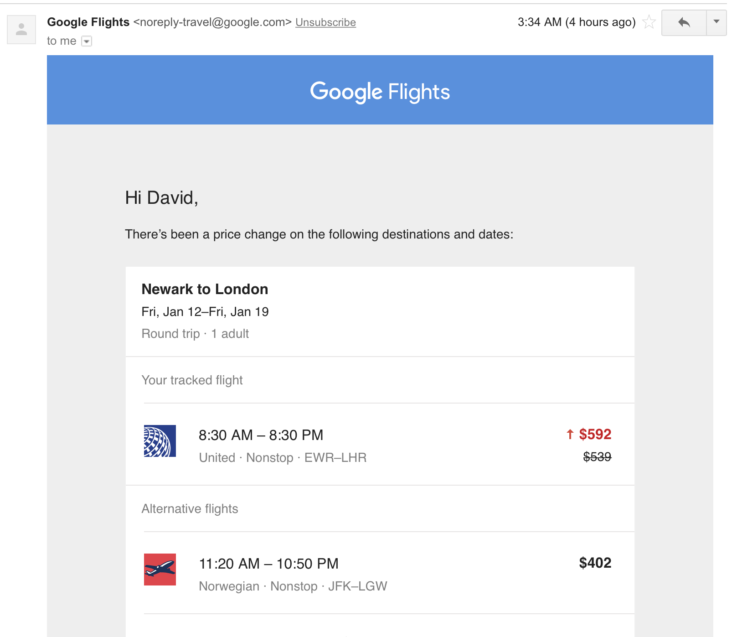 Sharing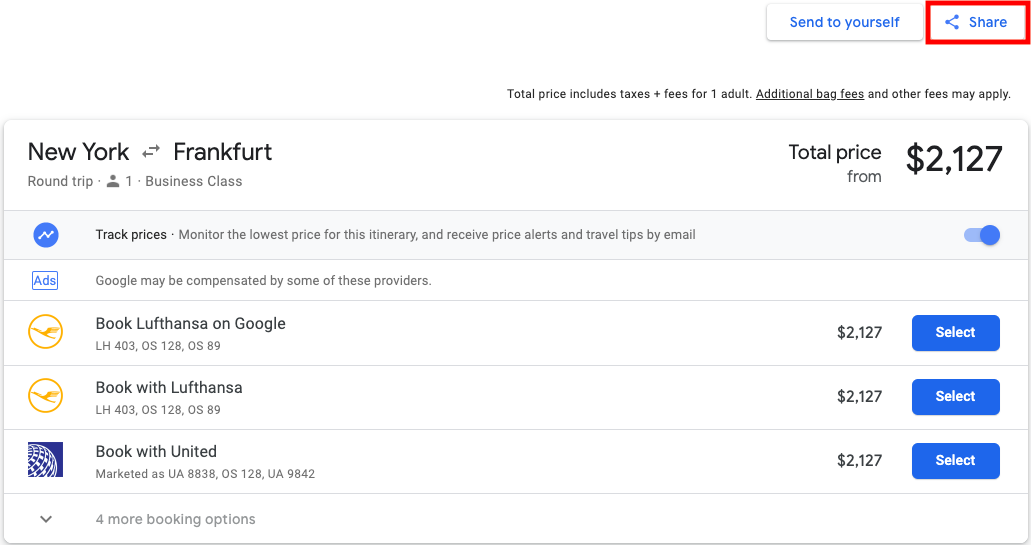 Google also has an option to share a chosen itinerary before actually booking the flight. This tool can be extremely helpful when searching for flights for someone else or making group travel plans.
The Share button is directly above the Total Price of your flight with 2 options for sharing — 1) email the itinerary to yourself, or 2) share the itinerary with another person.
To email the itinerary to yourself, click the Send To Yourself button on the left. Similar to the Track Prices feature, the itinerary will be sent to your Gmail if you're logged into your account, otherwise, you'll need to enter your email address for the itinerary to be emailed to you.
To share the itinerary with another person, click the Share button on the right. A window pops up with options to share via Email, Facebook, Twitter, or Copy Link.
Bottom Line: Google Flights is one of the most effective ways to search for flights. The platform has powerful tools to help make the flight search process easier than it otherwise would be. 
Explore Destinations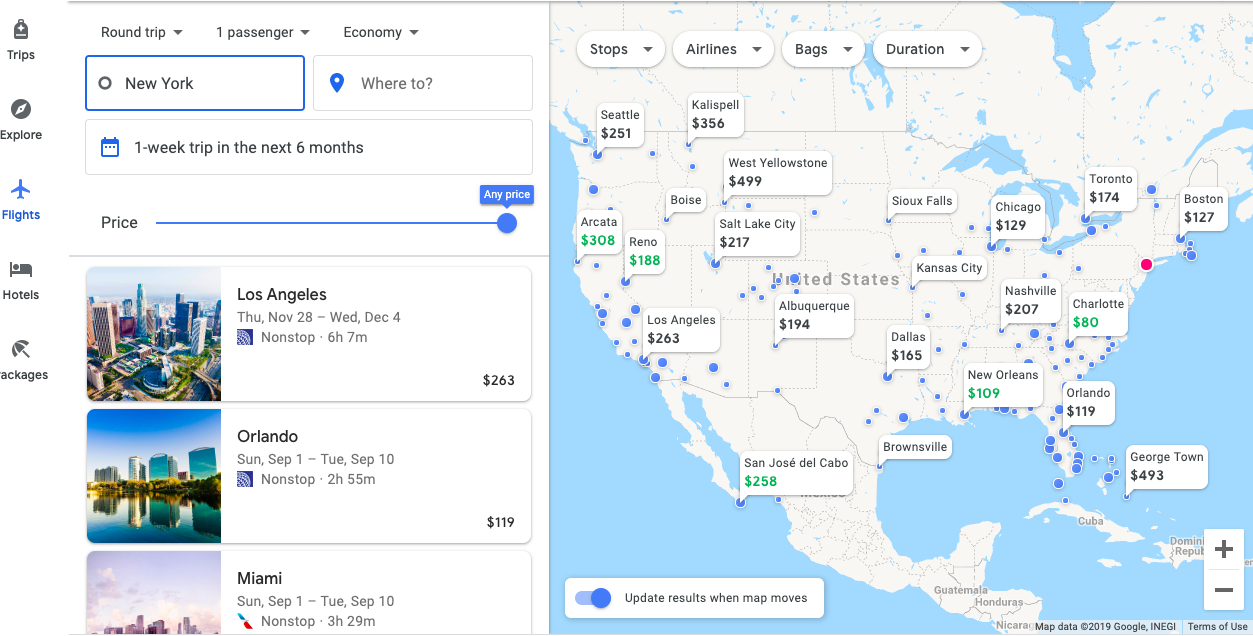 On the Google Flights homepage, you'll notice an Explore Destinations button directly below the area where you select the dates of your travel. This tool is very interesting because it's the perfect way to find some travel inspiration! There are 3 main ways you can search: Place, Date, and Price.
Explore Destinations With Places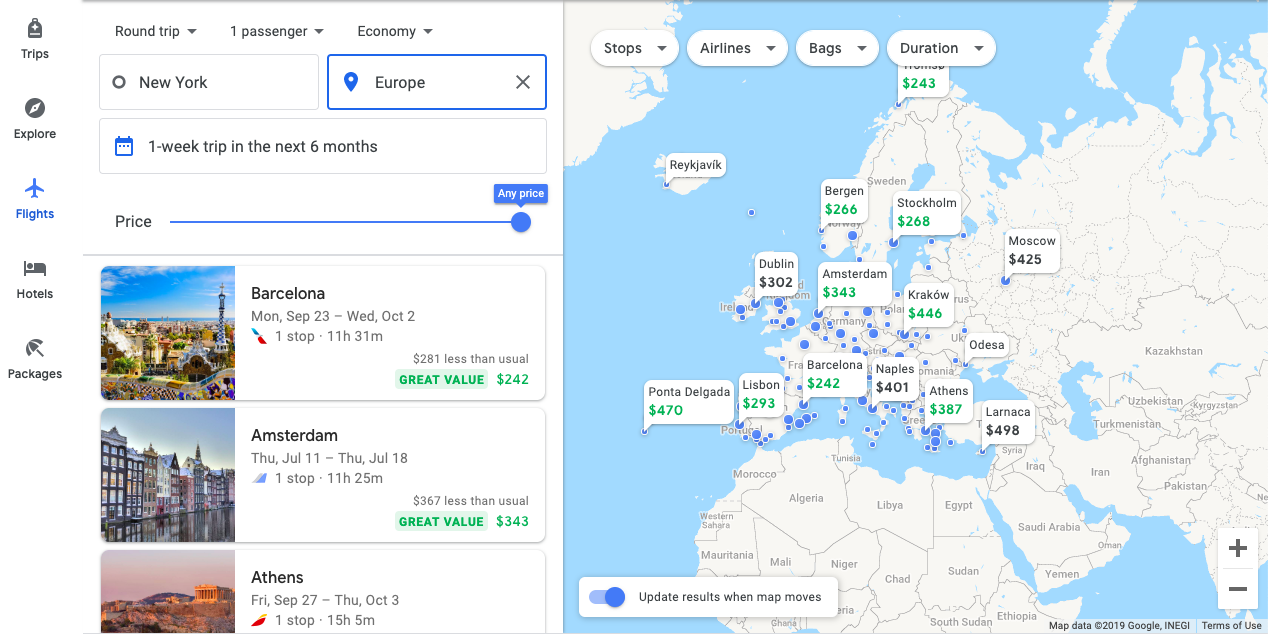 The Explore Destinations Places section lets you input a place that you'd like to travel, and then populates a map on the right side of the page with markers showing the different places that you can go. You can scroll through the search list under the Price section or search destinations directly on the map.
Explore Destinations With Dates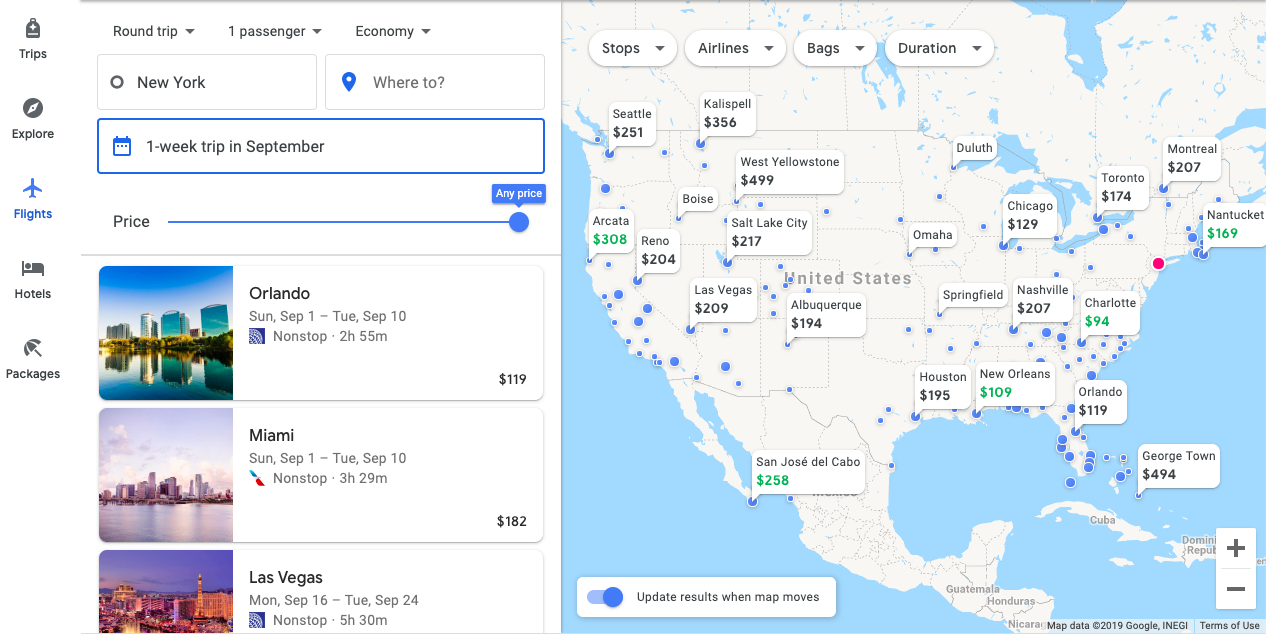 Another way that you can use Explore Destinations is to search for potential trips by Date. Enter Specific Dates or Flexible Dates and the Explore Destinations map will update the results based on these filters. Similar to Places, when the search results are populated, you can scroll through the list of destinations on the left side or click the destination directly on the map.
Explore Destinations With Price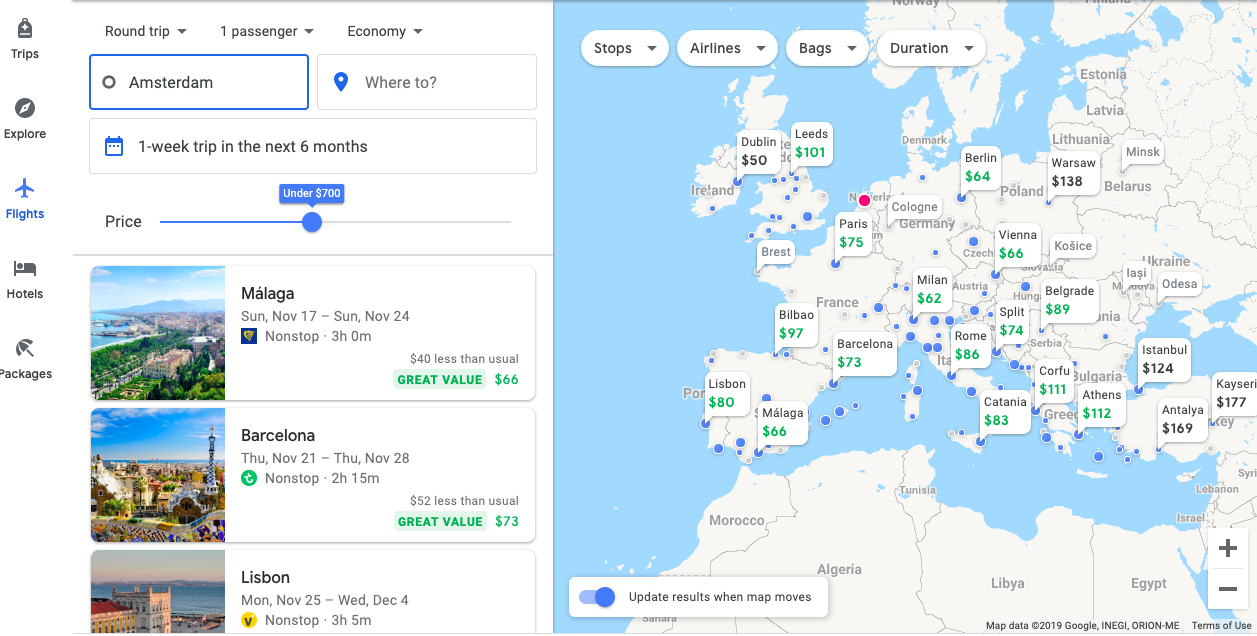 If Price is your filter of choice, slide the blue Price circle to the left or right to see what destinations populate based on your price parameters. Once you select the maximum price you are willing to pay, the map and list below the Price section will populate.
Selecting the Flight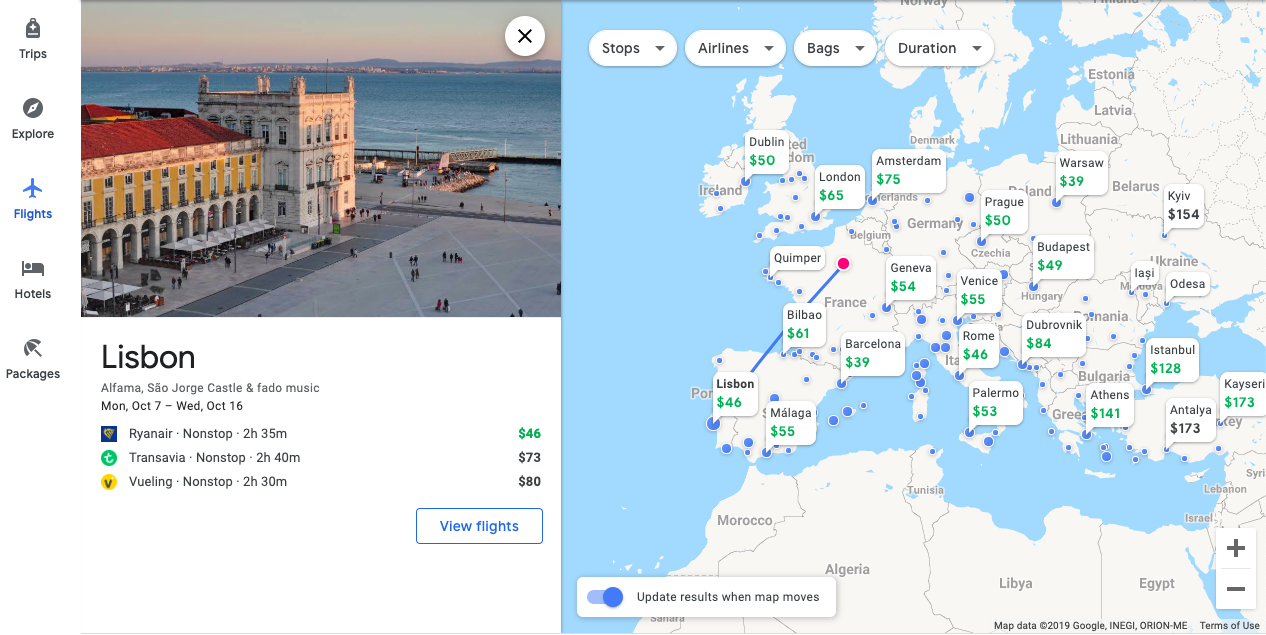 When you select the flight for your trip, a new section on the right side appears showing you the cost of your different flight options. By clicking View Flight, you will be directed back to the main Google Flights homepage where you can book the flight.
Best Ways To Use Explore Destinations
We have found that the best way to use the Explore Destinations tool is when you want to take a trip and have a general idea of when you can travel, but you don't know exactly where you want to go. In our experience, results have been more helpful when you keep the search criteria more general — for example, picking a month and duration rather than specific dates.
Explore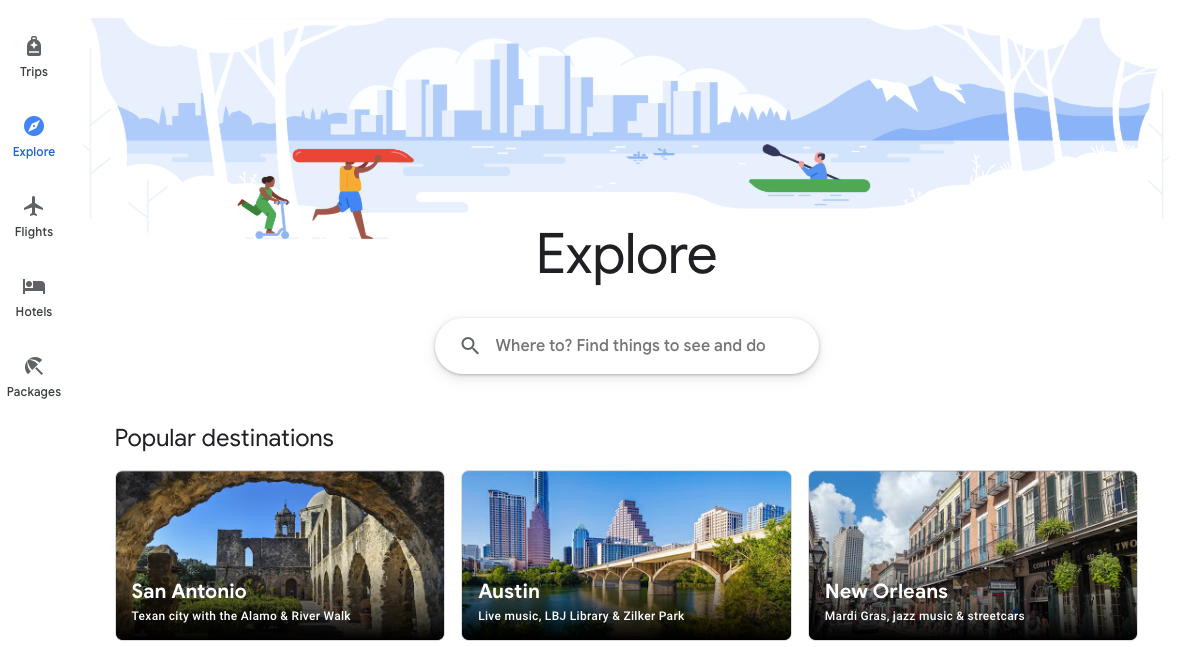 Not to be confused with Explore Destinations in the Flights section, Google Flights has a section titled Explore with recommendations of popular destinations. You can also enter a destination in the search tab directly below the word Explore.
When you click on a destination, Google Flights will take you to the travel guide for that city. For example, if you click Austin in the picture above, you will be directed to the Austin travel guide. Once here, you will find Things To Do, Suggested Day Plans, Plan A Trip, When To Visit, Travel Articles, Travel Videos, See More While You're There, and Other Places To Explore sections.
Travel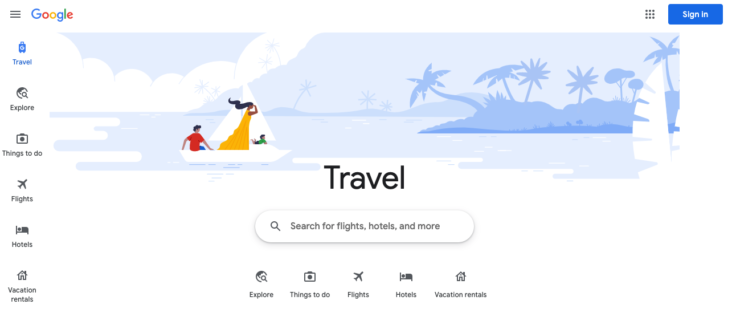 The Travel section of Google Flights is another interesting area to check out. When you enter a flight, hotel, or destination, Google Flights will direct you to the Explore, Flights, Hotels, or Packages section of the platform.
Directly below the search area of Travel, Google Flights lists your Upcoming Trips pulled from your Gmail, Potential Trips that you can take, Popular Destinations, and Past Trips that you've taken (also pulled from your Gmail).
Bottom Line: The Trips section helps to direct you to the area of Google Flights that fits your search criteria. 
Hotels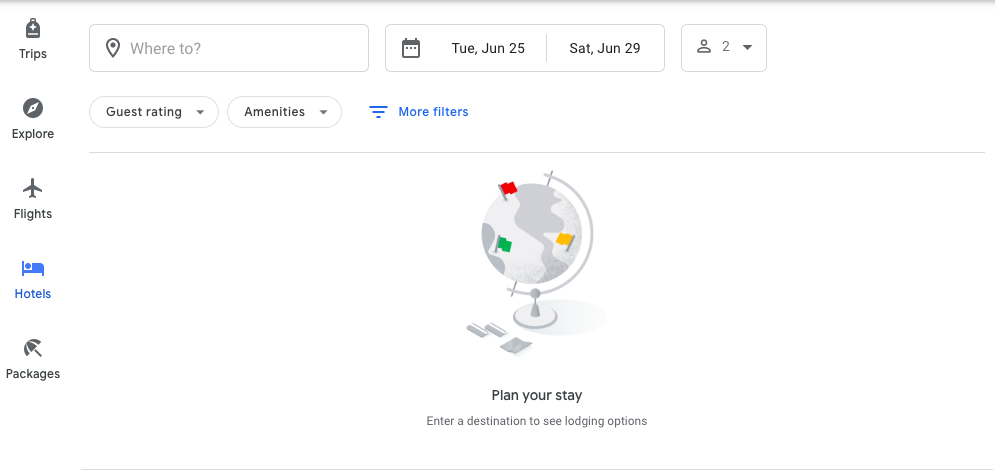 To book a hotel, start your search with the Hotels section of Google Flights. Simply enter your destination in the Where To? section and your dates in the dates section and you will see both a list and map of hotels for your destination. Narrow down your results using filters such as Number of Guests, Price, Hotel or Vacation Rental, Guest Rating, Amenities, and/or Brands.
Similar to Flights, you can set price alerts to track hotel prices. By setting an alert and entering your email, you will be sent price alerts and travel tips directly to your email.
Vacation Rentals
The Vacation Rentals feature is a great tool for those who want to book a vacation rental instead of a hotel, based on a few criteria, and want to view all of their options across multiple vacation rental platforms.
You can enter your Destination, Date, Budget, Rating, and/or Number of Travelers, and Google Flights will populate the top options based on the criteria entered.
Special Features
Google's been improving the Flights tool since it launched in 2011 by making it faster, adding new functionalities, and adding airlines and options. Price tracking is just one of those newer features.
Google Flights Price Guarantee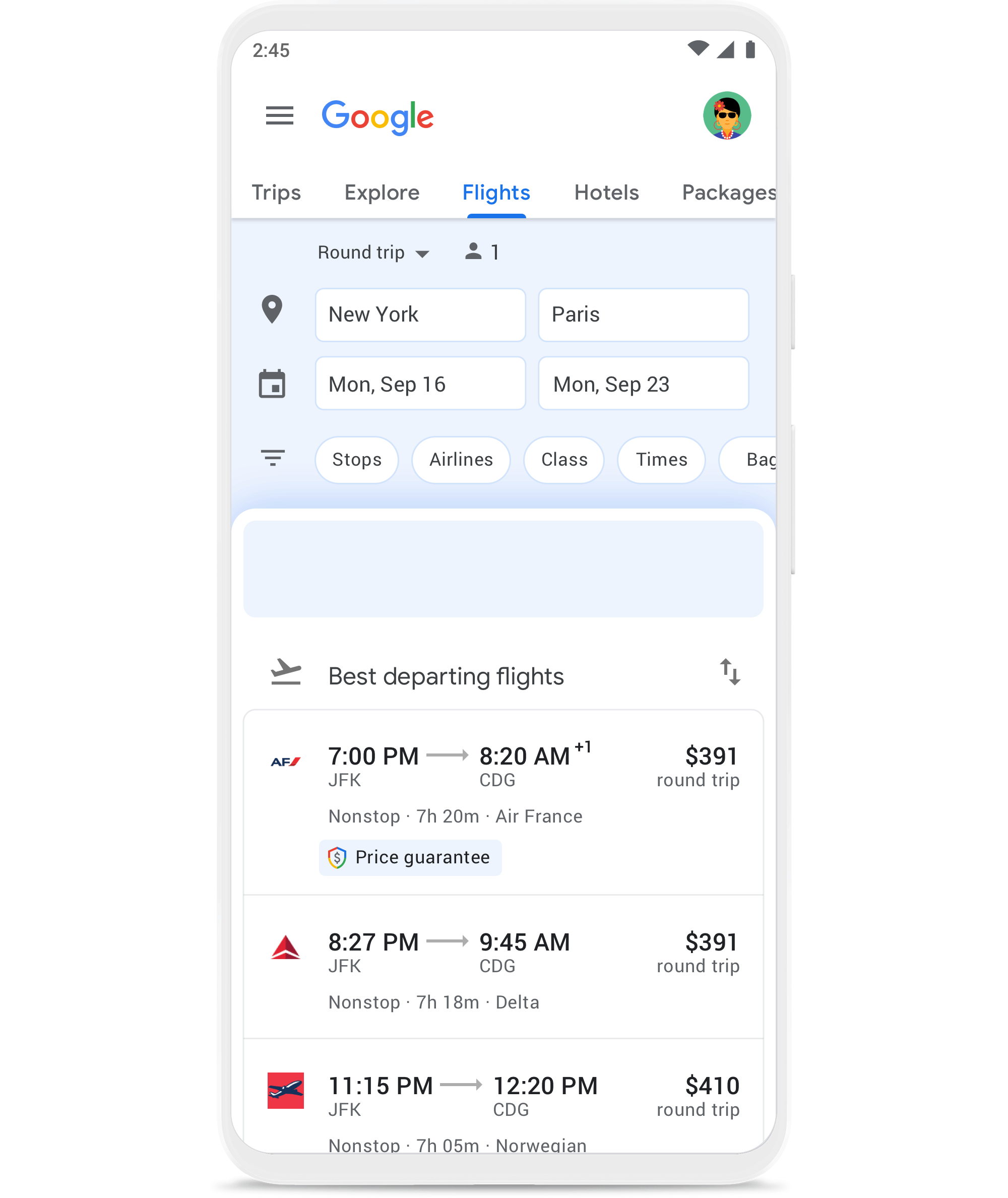 As we'll cover in more detail below, Google Flights will show you whether the price of the flight you're looking to book is high, low, or typical. This is extremely helpful to ensure that you get the best flight deal.
Google is testing this new feature with a trial period, which is only available on certain flights. You can search for flights on Google Flights to see if your route happens to be one of the routes Google is using during this trial period. As an example of how the new function works, if you book a flight during the trial period, Google will guarantee the price will not drop. If it does, Google pays you the difference. How could you not love that?
As mentioned, the price guarantee function is not fully rolled out just yet. During the roll-out phase, the feature is only available on select flights originating in the U.S.
Google Travel Itineraries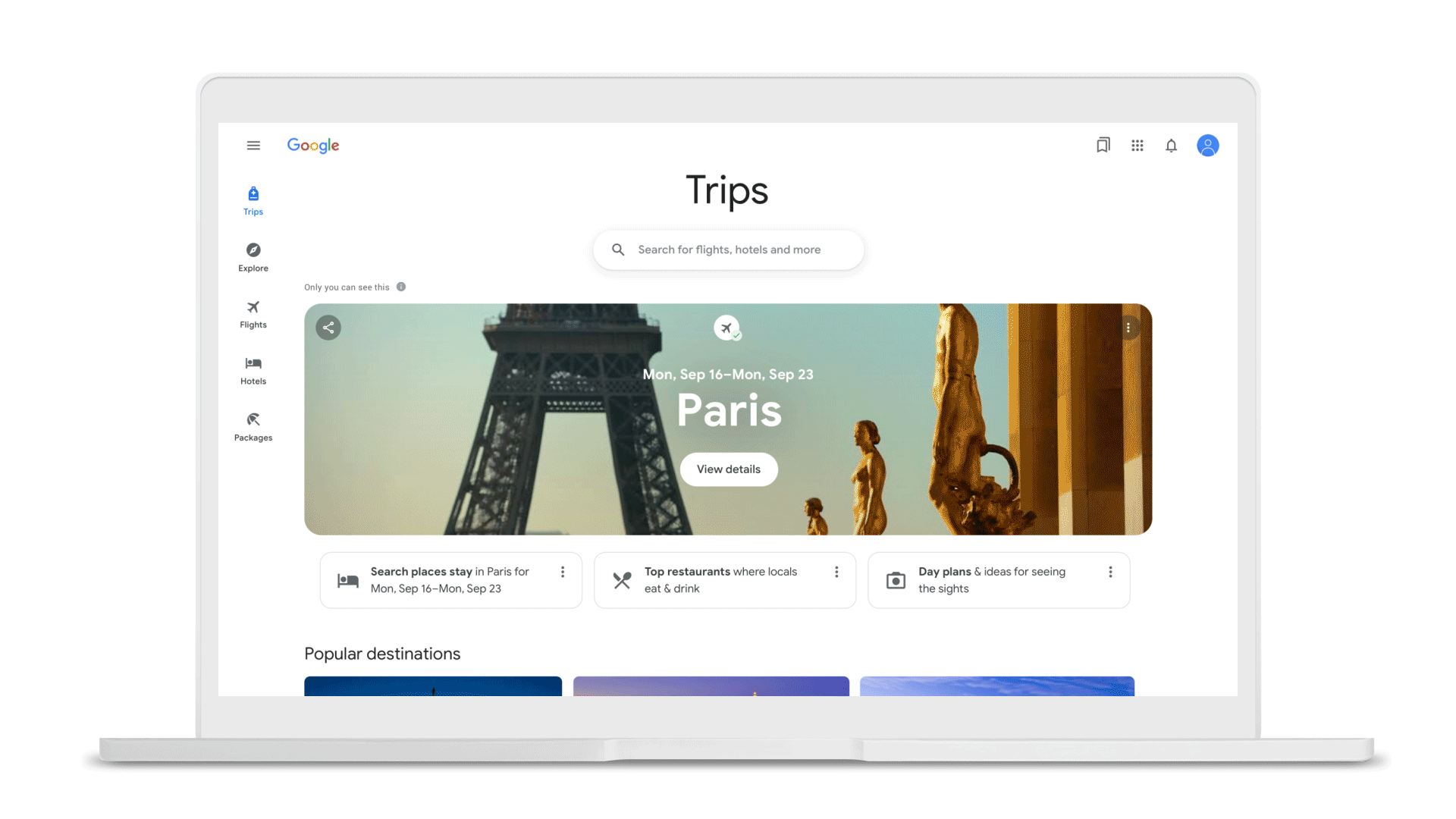 An additional feature Google Flights has added focuses on your trip itinerary. If your trip confirmation (i.e. flight) is delivered to your Gmail account, Google will show that trip itinerary in your google.com/travel list in a timeline format, similar to what you'll see with TripIt. It's an easy-to-read list that shows you everything that you have booked.
Google Travel Recommendations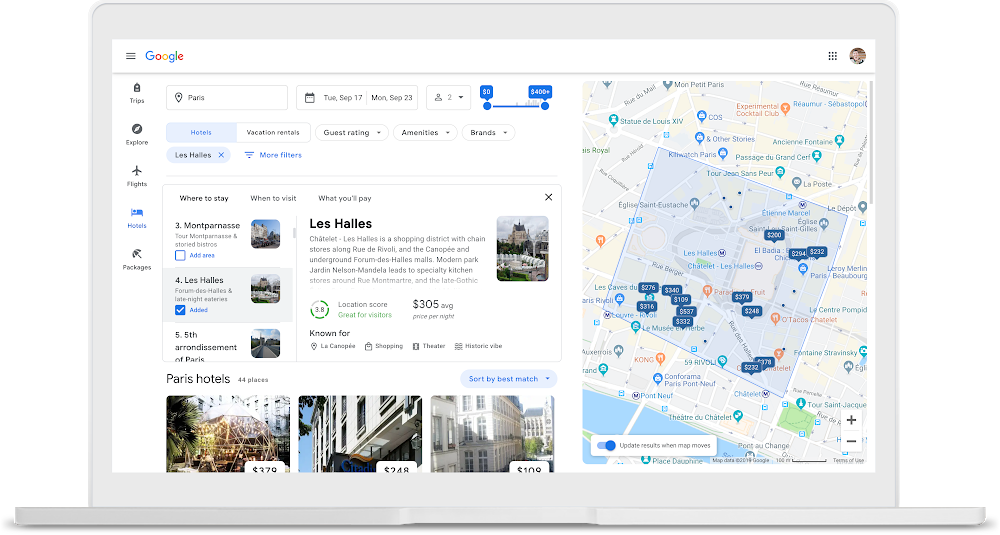 After your flight is booked, Google will help you with your next set of travel needs.
When you click on an itinerary shown in your Google Trip list, you'll see options for hotels, flights, restaurants, and things to do. For example, when you click on Search hotels in XX city for, Google will redirect you to its Google Hotels page. From there, everything you need to know to book a hotel will be at your fingertips.
With respect to restaurants, when you click the Top restaurants in XX city tab, Google will redirect you to Google Maps. On this page, you'll see the top-rated restaurants in that city.
But wait, there's more! When you click on a restaurant, the restaurant's Google Maps page pulls up. You'll then be able to click Reserve A Table to book a reservation. How could it get any easier?
Flight Delay Notification and Prediction
Google Flights will also predict delays to inform your purchase decision. In your search results, Google Flights will provide a note indicating flights that are often delayed.
Overhead Bin Access
Google Flights has a flight results filter to show which options include access to an overhead bin for a carry-on bag.
Enhanced by Legroom (Google Chrome Extension)
Google Flights has a free extension for the Google Chrome web browser that adds information about seats to your search results. When you search for an economy class ticket, you'll see the particular flight's pitch (distance from the back of one seat to the back of the next seat) on the right-hand side of each result.
Flights with a smaller pitch are highlighted in red, while flights with a more generous pitch are in green. If you search for a premium cabin, you'll see the type of seat on the flight — for example, a recliner, angled-flat, or lie-flat seat.
This is a fantastically helpful tool! As airlines are still working to make their fleets uniform following mergers over the past few years, it's helpful to know exactly what kind of seat you're paying for, especially since it can vary based on which plane is being flown on the route.
Bottom Line: New features continue to be brought into the software tool — whether officially through Google or through third parties.
ITA Matrix
Google Flights is built on software that Google acquired when it bought ITA Software in 2011. That software still powers Google Flights, and if you want complete control over your search — from routing and fare code to the tiniest detail — you can access this software's advanced interface.
ITA Matrix can be quite complicated, but the tradeoff is that you can search with much more control. If you're interested in learning more, check out this complete guide to ITA Matrix.
Final Thoughts
Google Flights is a first stop anytime when looking for flights. It includes most airlines, features great prices, and searches various online travel agencies and airline websites to save you time. Even if you plan to book through an online travel agency (OTA), you should always search Google Flights first.
There's just one catch to be aware of: Google doesn't have access to pricing for Southwest Airlines flights. Whenever Southwest operates a route, it'll appear at the bottom of the flight search results, but you'll have to click it to visit Southwest's site and see the price for yourself.
For additional information on other OTAs and metasearch engines, you can check out this article on which websites are best for booking flights at the cheapest prices.