Google ITA Matrix – The Ultimate Guide to Using This Tool
Many of you are probably wondering what is really the best way to search for low-priced airline tickets. Perhaps you've been burned in the past by finding a lower fare on another site AFTER you already booked your own, and you're just looking for a reliable deal.
In this case, it's safe to say that the Google ITA Matrix software search tool is the best search tool out there.
Actually, most other flight search engines are based on its technology. This article will tell you more about what the Matrix is (not the Neo one!) and how to use it.
Background
The ITA Software Matrix is a powerful tool built by MIT scientists in the 1990s to solve the problem of cheap flight tickets. Before this, no search engine could consistently return the lowest fares for travel. This original software was called QPX.
Orbitz became the first customer to use the software. Then in 2011, Google acquired the software and integrated it into its existing search engine to create Google Flight Search.
A much more detailed history exists, but essentially the software is now in use by most travel companies, including airlines, meta-search engines (such as Kayak and Orbitz), and others.
Currently, the company is in version 3.0 of the software as it has now integrated with Google. Details of the updates and the software can be found on the website.
Unfortunately for devoted users, the OnTheFly mobile app has been discontinued. Mobile users now must use a mobile browser to search ITA. There is no Google Flights mobile app, either.
Earn Maximum Points When Booking Travel
You'll want to make sure you're earning valuable rewards points when you're making a booking on this platform.
Hot Tip: The Chase Sapphire Preferred® Card earns you 2 points for every $1 you spend, and these points are very valuable. Don't miss out on these points by using a card that has few or no reward earning opportunities!
There are of course other travel rewards credit cards that can earn you a bonus when you spend money on travel purchases with them. These cards collect flexible points, which means you can transfer them to many different airline and hotel partners, making them very lucrative and valuable.
We've written articles on Chase's transfer partners as well as Amex's partners if you want more information.
How ITA Matrix Works & How to Use It
In a nutshell: It's magic, guys.
Ok not really, but just know there's some serious engineering behind the software that you don't want to worry about. The MIT scientists developed an algorithm that gives great results for plane tickets, and that's what matters.
From a user standpoint, it's a simple form where you input your desired flight details and get flight options in return. The details you input are:
Round-trip, One-way, or Multi-city
Departing from city
Destination city
Advanced routing codes (optional)
Dates (exact or calendar)
Outbound/Departure Date exact or flexible date options and preferred times)
Return/Arrival Date (exact or flexible date options and preferred times)
Number of adults (children or seniors optional)
Cabin type
Number of desired stops
Extra stops allowed
Other (airport changes, only flights with available seats)
Currency (optional, defaulted to currency of departure city)
Sales city (optional, defaulted to departure city)
(If you're already familiar with the basic tool, you may want to see our advanced guide.)
Now, we'll go over all the sections and describe the various data you put into all the fields to find your cheap plane tickets.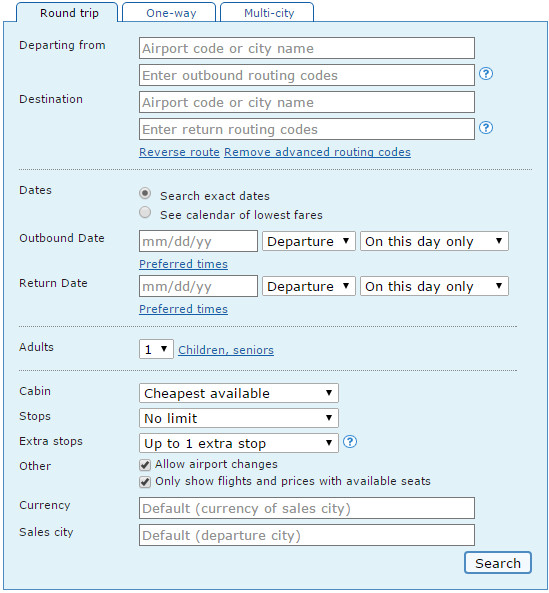 Round Trip, One-way, or Multi-city

First, select your type of trip. The difference between round-trip or one-way is that you won't be allowed to select return dates for the latter.
If you want more than just a "there-and-back" trip, selecting multi-city allows you to choose multiple different departure and destination cities.
Departing From City/Destination City
Type in the airport code (ORD, JFK, etc.) or city name and the Matrix will find the appropriate airport. You can also have it select all airports within an area if there are multiple.
Advanced Routing Codes (Optional)
Use these to choose or exclude specific airlines as well as many other options. These are discussed in detail in the advanced section.
Dates (Exact or Calendar)
This option allows you to choose by exact or flexible dates, or elect to see a calendar. If you stick with "exact dates" you'll get the next two options.
(The calendar option is also discussed in more detail in the advanced section.)
Outbound and Return Dates (Exact or Flexible Date Options and Preferred Times)
Put in the dates you need if your trip days are inflexible. Otherwise, use the options to make your departure and arrival time flexible up to +/- 2 days. You can also select preferred flight times if you want to restrict the search to a certain time of day.
Number of Adults (Children or Seniors Optional)
You're likely searching for flights for yourself or another adult as well, but you can also add children and seniors as needed.
Cabin Type (Class of Service)
Keep default selections to stay in economy ('cheapest available), or change to premium economy, business, or first.
Number of Desired Stops/Extra Stops Allowed
In this section, you can choose to look at only non-stop, one-stop, or two-stop flights. Then, you can also have the program search a range, such as 0-1 stop, 0-2 stops, etc.
Other (Airport Changes, Only Flights With Available Seats)
These two options can be used to ensure you make it back to the same airport you left from and don't have to swap between airports on multi-stop trips.
You can also search for airline tickets even if they don't have seats, in case you want to compare.
Currency and Sales City
These two advanced options will be discussed in the second part of this article.
A Search Example
In February, I took a flight from Austin to Seattle (ski season!). I knew I wanted to travel around February 23-29, but I was flexible up to a couple of days.
Here is what I input (note that we'll skip the advanced features for now):
I put in the information for the departing and arrival city, my preferred dates, my cabin, and the number of stops I wanted.
On this trip my schedule was flexible, so I allowed the dates to be "+/- 2 days." However, I didn't really care what time of day I left or returned, so I didn't use the Preferred Times.
I also hate multiple stopovers on trips like this, so I selected "nonstop" with up to one extra stop as my options there. I left everything else defaulted. Here are the results I got: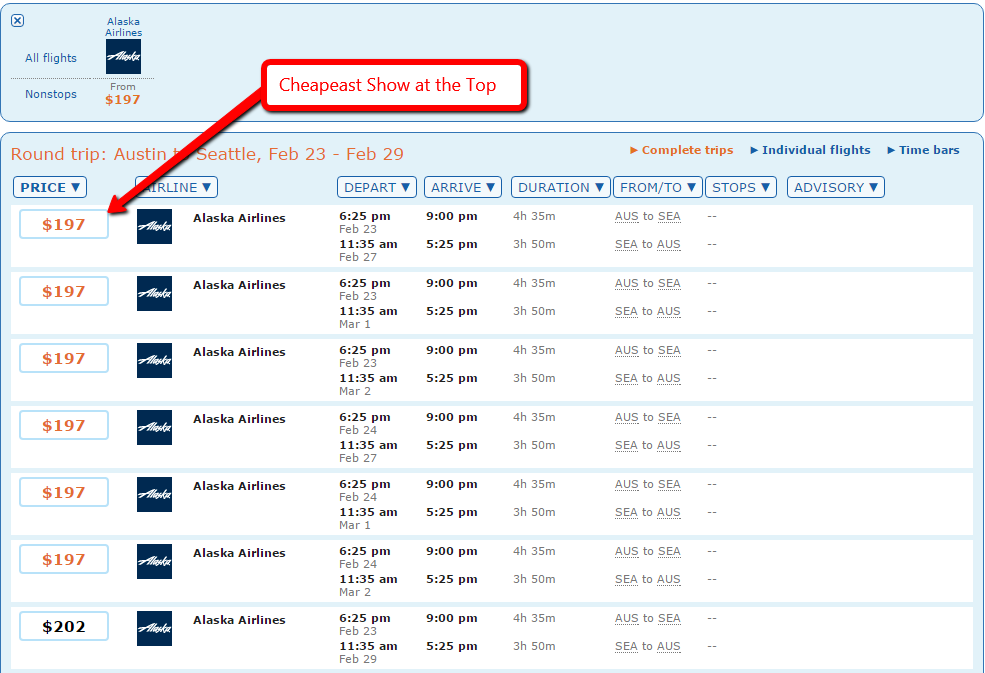 Bada bing, bada boom. You have results for plane tickets in mere seconds, arranged in a nice, easy to use table.
Now that you have your results, in the next section, we'll go over how to use and interpret them.
How to Use the ITA Software Matrix Results
First, it might be useful to prove that these are good prices. After all, the consumer's biggest fear about booking a ticket is not getting the best price.
To verify the Matrix results, I used the search features of a few different sites that all use the Matrix software, and I also checked prices on the individual airlines' websites.
Results of the Price Check Exercise
All the websites returned the same results, as expected (see results collage below). However, finding the same results on the airline websites isn't always as easy…we'll get to that in the Booking the Flight section.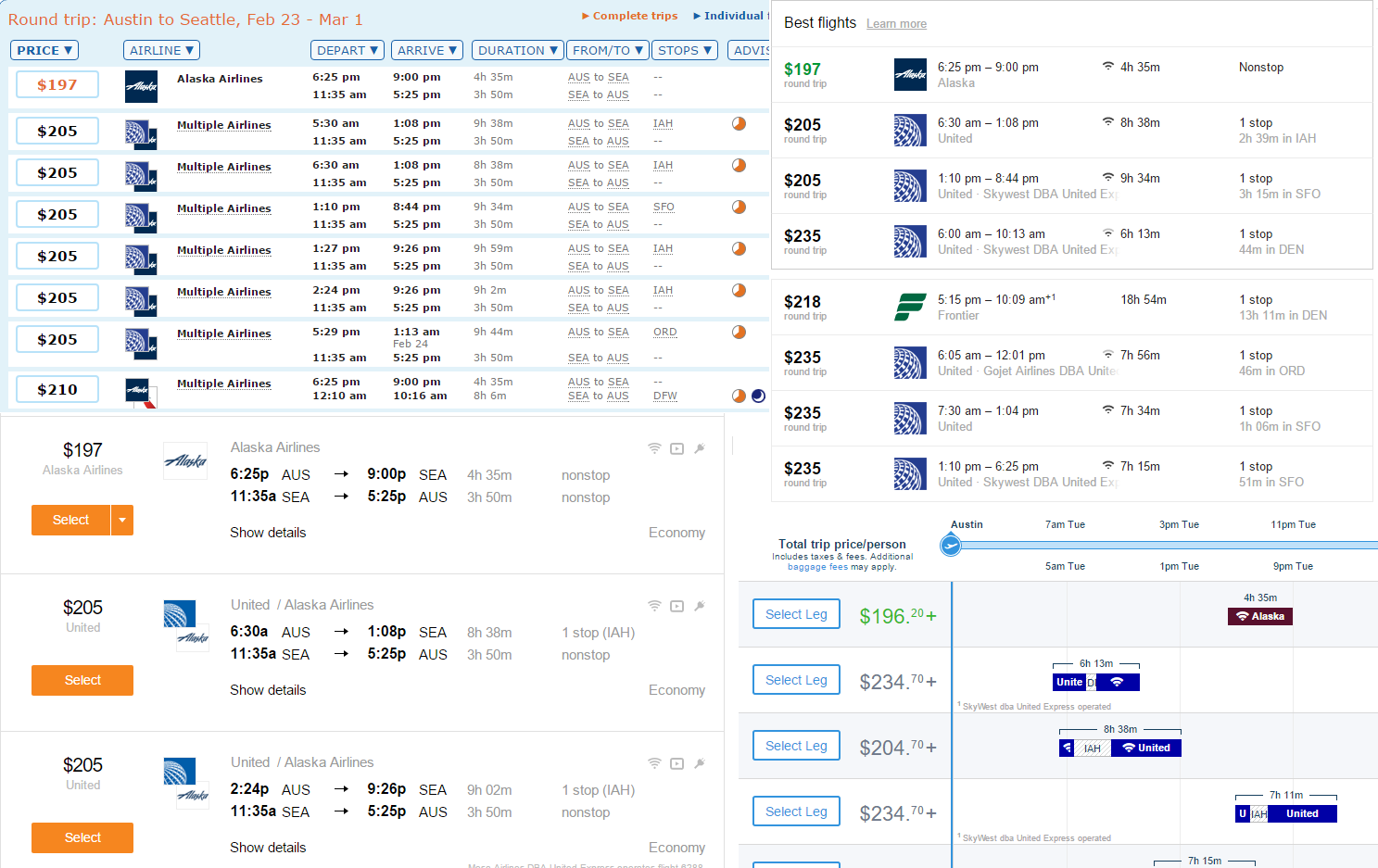 On the results screen I received from the Matrix, I thought the first flight sounded like a good deal. When I clicked on it, I got the following page of details about the chosen flights: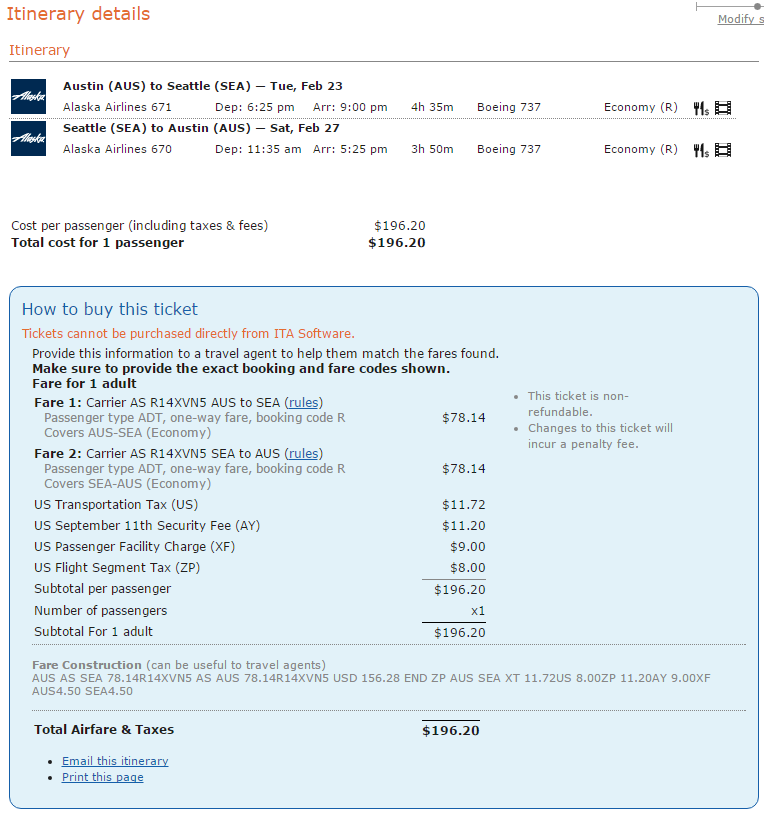 Checking Different Flight Options
Let's say that before booking, I wanted to check a few different flights. Sometimes it's good to have options!
To get back to the main results, we simply click the URL on the word "Flights" in the top right. From there, we can click on any other results.
Check out some other cool features of the program shown in the tan box on the right-hand side.
You can see total miles (for loyalty program members!), CO2 Emissions (for green-minded folk), and the airport information. Clicking on the airport name brings it up in Google Maps.

Some general results page information:
Now you understand the basic Results Page information. In our advanced section, you'll find some additional information on using the filters. Next, you need to book your flight!
Booking Flights
Of course, finding the flight is only half the battle. You do actually have to book it to travel (preferably using a miles card!).
Previously, you weren't able to do this directly through the ITA Matrix. However, a new site is now available that makes it as easy as can be: BookWithMatrix.com. These guys saw an opportunity and created a simple tool to book your flights. Now ITA Matrix is as good an online travel agency as any other!
Just copy and paste the itinerary from your results page on ITA into their tool, and they will give you options to book your flight with a number of online booking agents.
If you just want to do it yourself, there are a few different options for booking the flight (note that the BookWithMatrix.com site includes the first two):
What are the advantages of each? Well for the first one, you'd have the advantage of using your favorite credit card to earn points on your airline!
If you decide to book through a site or through a travel agent, there are multiple benefits including saved time, extra assistance, and even travel insurance.
The important thing is to ensure you have your loyalty account information and hopefully, a credit card that will offer you points to book it.
Remember that some credit cards only offer the extra points if you book directly with the airline, which can be a very good reason to choose that option. These include cards like the American Express® Gold Card.
Using the Matrix Results to Find the Best-Priced Ticket
Whichever method you prefer, you should be able to navigate there and take care of business. Your first step is to take a look at your flight details again and gather all the necessary information: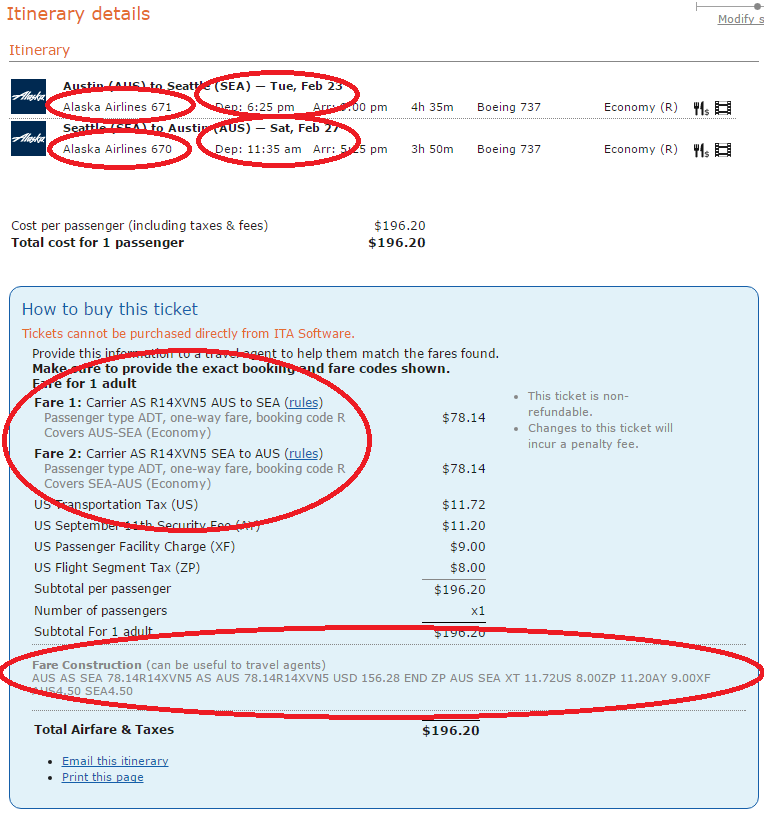 You may notice the highlighted "rules" button next to the fares in the middle of the screen. Those links have details about the rules behind the fares, which are typically used by travel agents and the airlines themselves.
Feel free to read them; they're long, but give the exact rules for booking that fare. These are the details you need if you can't find the same price when searching for your flight elsewhere.
Booking Directly With the Airline
First, I'll first show you how to book with the airline directly. Remember that in my example, I wanted this $196.20 fare from Alaska Airlines.
After searching the Alaska website, I found the same flights as in the example above (Flight 671 and 670 with the same departure times)…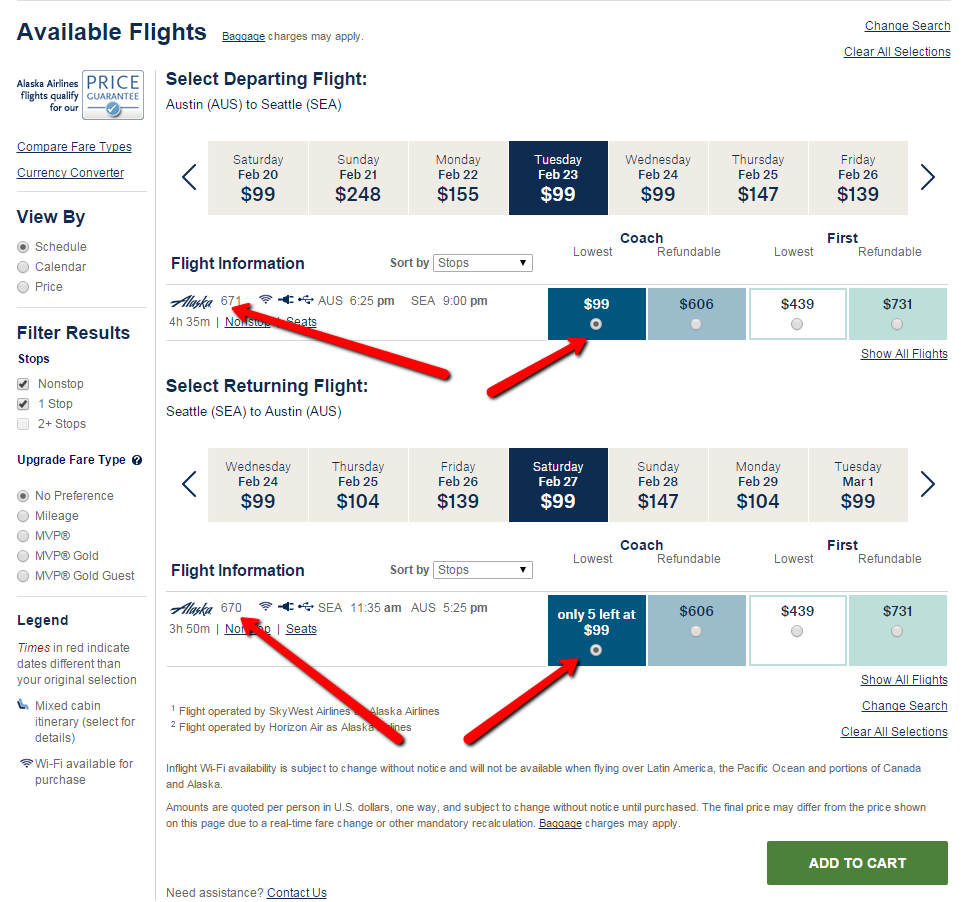 …and the total price that came up was indeed the lowest fare available at this time for those dates on the Alaska site!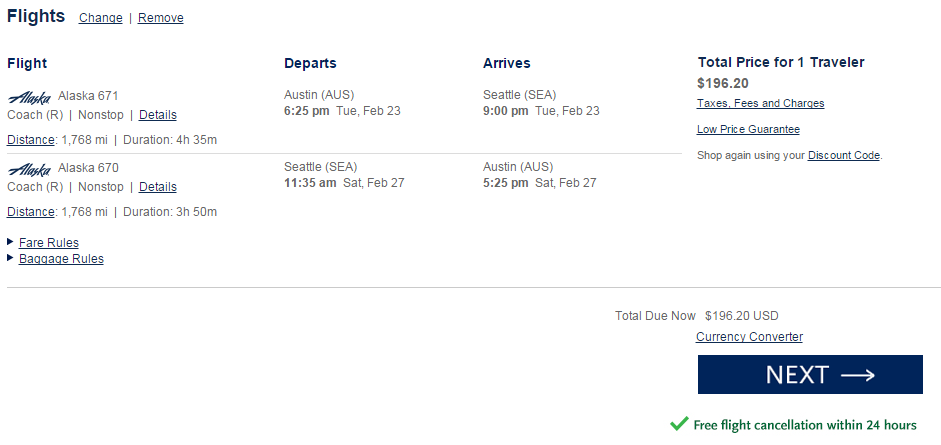 Hot Tip: I used my Chase Sapphire Preferred® Card to book the flight for 2x points, and used The Platinum Card® from American Express to get a $200 airline credit (which paid for a few drinks on the flights as well as my upgraded seat). I also used the Alaska lounge in Seattle on the way home using Priority Pass, which I got with the AMEX card.
Booking With Other Travel Agents
If you want to book the flight through one of the online booking agents, simply go perform the search on their site and make sure you find the same flight details.
You can book directly through these sites, and potentially get other bundled deals if you're interested in doing so.
Finally, if booking through a travel agent, you will want to provide them with all the flight details and Fare Construction information (as seen in the photo above) to help them book the fare.
With this method, it's important to note that some credit cards won't award you bonus points; on others, it will depend whether the business is categorized properly for the credit card processor.
Can't Find the Lowest Fare?
If you can't find the lowest fare, try searching around on different travel sites to see if it shows up. Eventually, you should be able to figure out where the fare is being pulled from.
You should also make sure all the fare information is exactly the same on the sites you're viewing as on the Matrix; remember to check the fare class and other details if necessary.
It's also possible that the fare you are looking for may no longer available, and in this case, you should just look for your next best option.
If you think you have an idea of a trip for the future, just start checking prices regularly. This way, you can track the changes and make sure you find the best flight tickets available over a period of time.
Bonus: Get Your Flight on BookWithMatrix.com
We also want to show you the quick process of booking using the new site BookWithMatrix.com. This tool is seamless! Check out their home page for a great, easy way to use their tool.
The first step is to simply find the flight you want, so use all the instructions above to get to the final results page with the desired flight. For a new example, I created a fake itinerary from Washington, D.C.'s Ronald Reagan (DCA) to London Heathrow (LHR).
On the results page, I simply pressed CTRL + A on my PC (CMD + A on Mac) to select all:
Once copied, go to the BookWithMatrix page and copy it into the line at the top to find your itinerary:

Then, paste your itinerary to have the tool spit out the options for booking: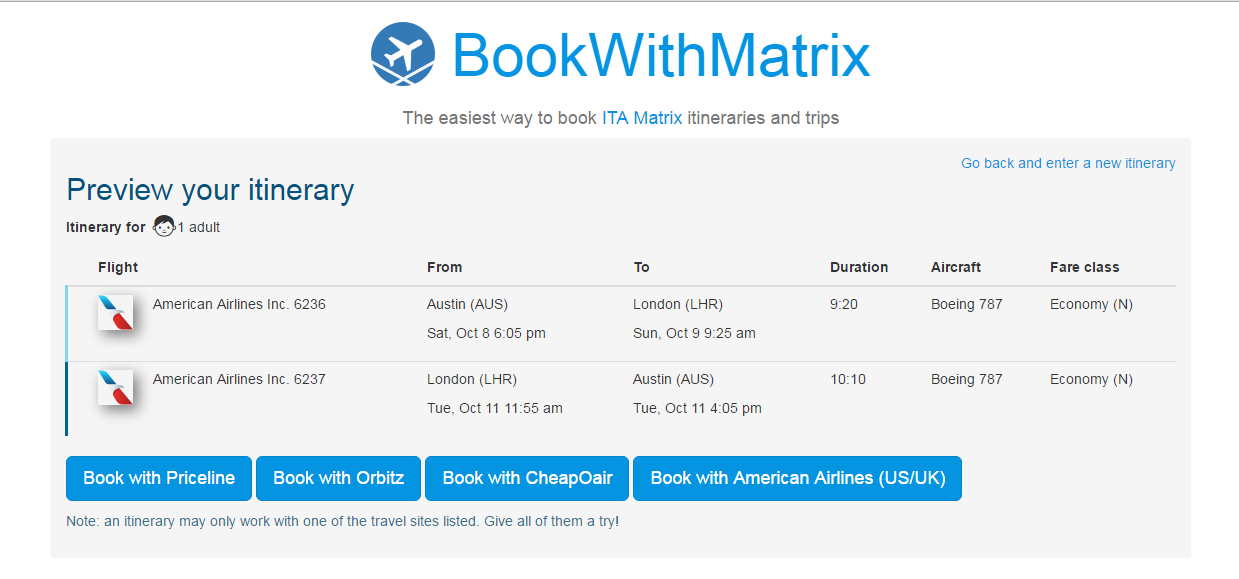 Final Thoughts and Part Two: The Advanced Guide
With that, you now know how to use all the basic features of the ITA Matrix! Hopefully, you learned something new and will be on your way to consistently find cheap plane tickets in the future.
Since we all know fares change frequently, you should still check back often and shop around to find the best prices. Eventually, you'll get a more intuitive feel for what a good price is on different flights.
As always, make sure to maximize the fares you pay by utilizing the appropriate cards to gain miles and points for your purchases. If you can't find your preferred airline, you should book on airlines that have loyalty program partnerships.
If you're still interested in learning more, move on to the Advanced Features section, coming up next.