The Ultimate Guide to Renting Cheap Campers and RVs [2021]
Renting a camper or RV gives you the freedom to explore multiple destinations on your vacation and to travel at a pace that suits you. Scenic lookouts and al fresco dining make for a romantic couple's vacation. At the same time, families love exploring the great outdoors and spending quality time together around a campfire or BBQ.
There are lots of ways that you can find cheap campers and RVs to rent, from taking advantage of rental companies looking to relocate their vehicles to booking through peer-to-peer websites where private owners can rent their campers directly.
Why Rent a Camper or RV for Your Vacation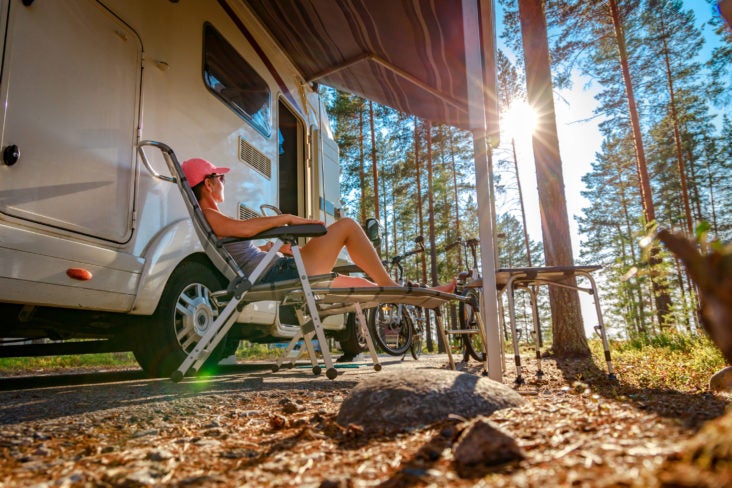 Freedom to Explore More
Campers are usually small enough to travel down almost every road and don't require much space when parked. RVs are usually larger, so you won't have quite as much freedom to take the path less traveled, but you'll enjoy the luxury of space and home comforts.
With a motorized camper, when you travel, your bed goes with you, so there's no need to back-track to your accommodation after exploring. You can always move forward without having to worry about booking ahead for your next overnight stay.
Many campers and RVs include mini-kitchens and refrigerators, so you can be as flexible as you like when it comes to eating in or out, and you don't need to worry about arriving so late that they've stopped serving dinner.
More Affordable Than Staying in Hotels
Campers and RVs are hotel rooms on wheels, where you're in charge of the star rating of your surroundings. Although the initial outlay on the rental cost may seem expensive, consider how much you'll save on nightly hotel fees, especially if you're planning to travel in high season when accommodation costs can rocket.
Even at $20-$30 per night, campsite fees are still significantly cheaper than bedding down in a hotel room. But if you do your research, there are plenty of areas across the U.S. where you can park your camper for free.
Commonly referred to as "dispersed camping", places such as national forests and grasslands and BLM (Bureau of Land Management) land allow free camping unless otherwise stated. Sure, you're not going to get the facilities that you would find at an established campsite, such as restrooms or showers, but getting a little grubby is all part of the experience!
Hot Tip: The 62 national parks throughout the U.S. are some of the most iconic places you will ever see. Our ultimate guide covers how to visit each and every one. If you're planning your next road trip, we've also put together an exhaustive list of the most famous and beautiful national parks that offer free virtual tours.
What to Consider When Renting a Camper or RV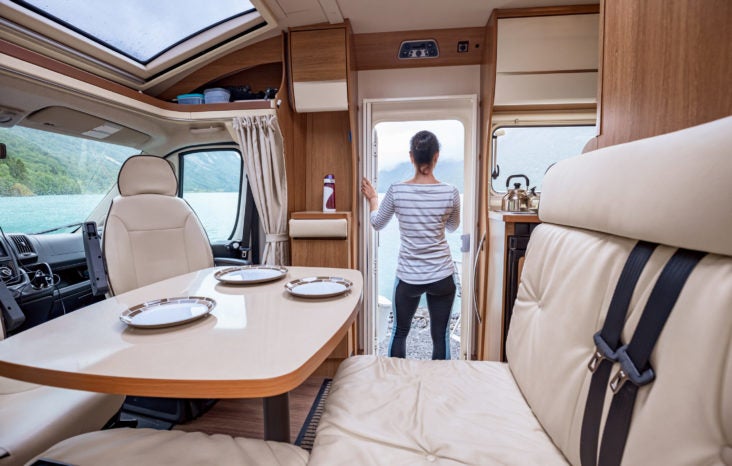 There are so many different types of campers and RVs available to rent, from luxury vans with state-of-the-art fixtures and fittings to budget rentals where your living and sleeping areas are combined.
Consider your budget and your needs, what you're willing to compromise on, and which luxuries you couldn't travel without.
These are some of the aspects you should consider:
Vehicle
4-wheel drive vehicles or availability of snow chains
Age of vehicle
Electrical hookup
Generator
Manual or automatic transmission
Size of the vehicle
Rental Policies
Ability to rent extras such as a GPS or bike rack
Additional driver policy
Availability and fees for one-way hire
Booking deposit and security deposit
Cancellation fees
Capped/unlimited mileage
Early/late return fees
Insurances
Minimum or maximum rental duration
Office rental locations
Pet policy
Roadside assistance policy
Tolls policy
Facilities
Bedding
Kitchen facilities
Number of beds and bed configurations
Shower or toilet facilities
Storage
Types of Campers and RVs
Campers and RVs come in all shapes and sizes. Some have engines, and some are towed behind your car. Large RVs provide vast amounts of space, permanent sleeping areas, and separate bathrooms, while pop-up trailers are easy to pull and give you the freedom to detach your car to explore.
These are some of the most popular types of campers and RVs:
Pop-Up Trailers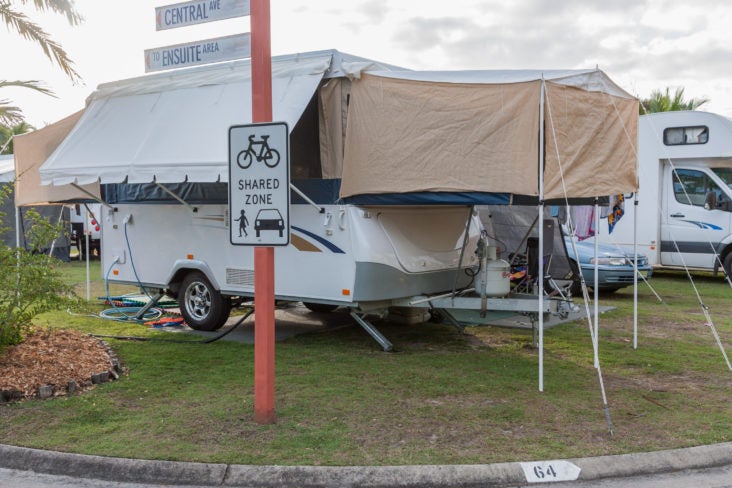 Pop-up trailers are lightweight and are easy to tow by almost any vehicle. Soft-sided trailers are compact to store and can expand to sleep up to 6 people. They give you that feeling of sleeping under a tent and allow you to detach your vehicle to explore your destination. The downside is that they can take a bit of time to setup.
Tiny Trailers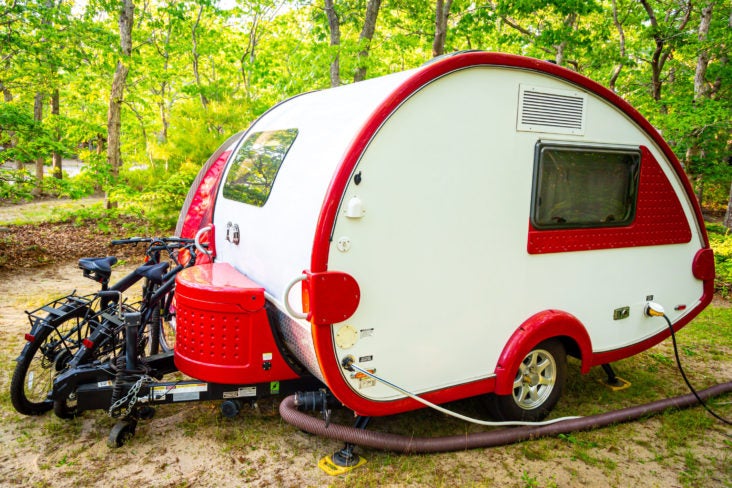 Tiny trailers are hard-side campers that usually feature a small kitchen and bathroom as well as a sleeping/living area. Its tiny size means that it's lightweight enough to be towed by many vehicles, but you are compromising on space for convenience.
Most kitchens are outside of the main section, so tiny trailers are not that practical in poor weather conditions.
Travel Trailer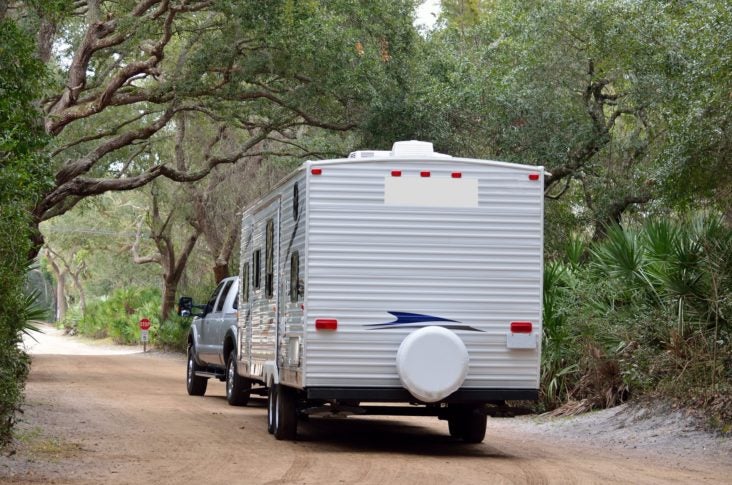 Travel trailers come in a variety of sizes and floor plans and feature kitchens, bathrooms, and often separate sleeping and living areas. As most components are static, they don't require much setup on arrival, as you'll find with a pop-up trailer.
Depending on the trailer's size, they usually require a small to medium-sized SUV or truck to tow, which gives you the freedom to use your vehicle once you've arrived at your campsite.
Toy Hauler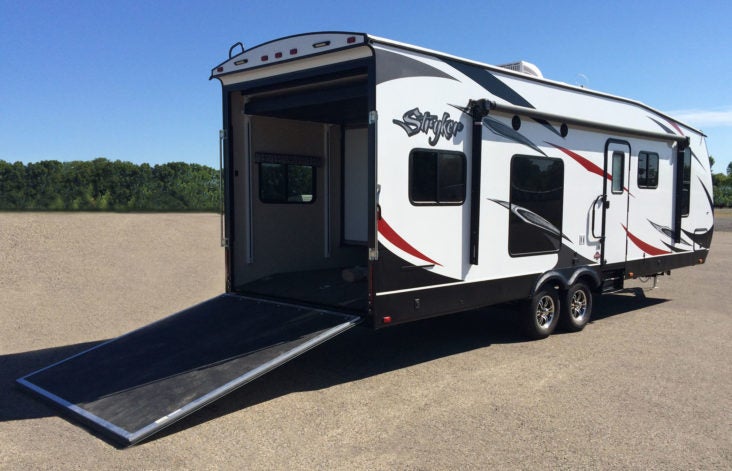 Toy haulers provide a garage area at the back for bringing along your motorcycle, golf cart, or other small vehicles. Available as a motorized RV or as a trailer, toy haulers vary in size and weight, and will typically require a large SUV or truck for the towable model.
The garage area usually converts into your living area, so toy haulers can take a little setup time on arrival once your cargo has disembarked.
Fifth Wheel Campers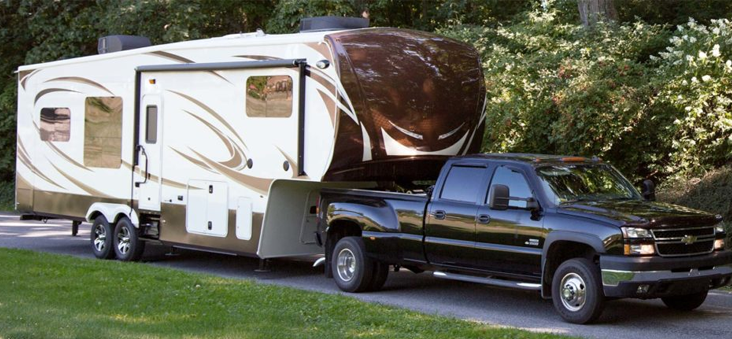 Fifth wheel campers are the largest towable RVs, with heaps of space and tons of facilities creating a luxurious home-away-from-home. They usually have a raised section at the front where the fifth wheel hitch is situated, so it must be towed by a large pick-up truck.
Some fifth wheel campers have slide-out sections, creating even more space once you've parked, and you've got the convenience of detaching your truck on arrival.
Class A Motorhome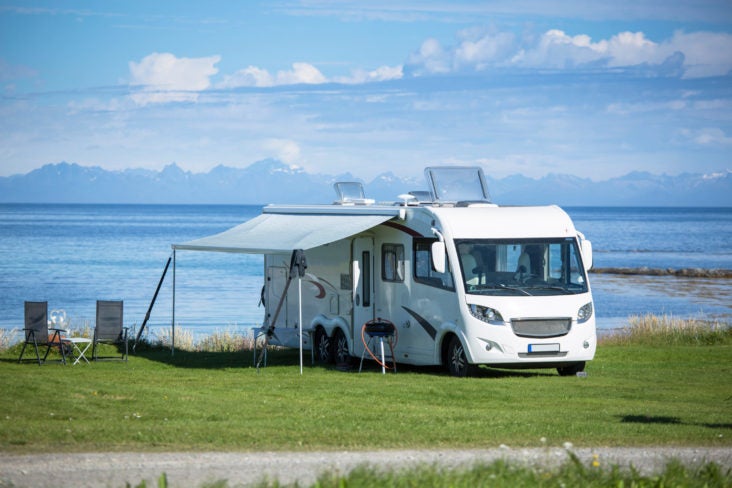 Class A motorhomes are the largest motorized RVs and come in diesel or gas varieties.
Diesel motorhomes are the most luxurious on the market, equipped with large living and sleeping areas, and full kitchens with washer-dryers and dishwashers. With the engine located in the rear, they run more quietly than gas motorhomes and provide greater pull when towing a car.
Gas motorhomes are spacious and come equipped with all of your home comforts. The vehicle resembles a bus with a large vertical windscreen that provides unrestricted views of your surroundings. These motorhomes come with tons of storage with side hatches that runs along the full length of the vehicle.
Class B Motorhome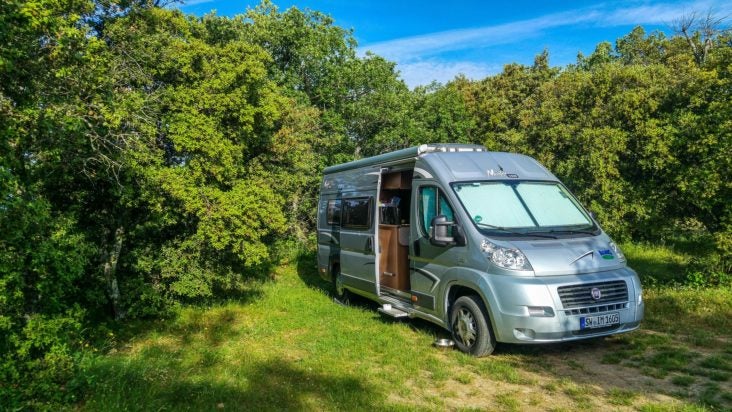 Class B motorhomes are smaller and more streamlined than Class A motorhomes and are more fuel-efficient. Typically they're built using a van chassis, so they have the freedom to explore smaller roads and campsites that larger vehicles might struggle to access.
Also known as camper vans, these vehicles may be compact, but they feature smart designs to offer comfortable amenities such as swiveling toilets, king-size beds, and innovative kitchen solutions.
Class C Motorhome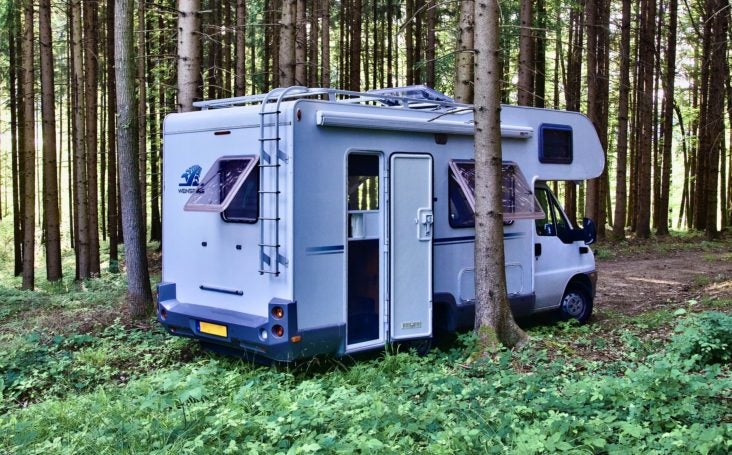 Class C motorhomes provide many of the same facilities as a Class A motorhome but on a smaller scale. Built using a truck chassis, they are easy enough to drive with the power to pull a car. Vehicles come in a variety of lengths and have a distinctive profile, with a section overhanging the cab that provides space for a bed or additional storage.
Providing more sleeping space than a Class B motorhome, Class C is suitable for families looking for a little more space, but still want the freedom and accessibility from their RV.
5 Best Websites To Rent Cheap Campers or RVs
There are a variety of companies that offer cheap rentals for campers and RVs. Some own the vehicles themselves and have office locations throughout the U.S. should you need to pop in on your journey, while others are peer-to-peer platforms for RV owners to advertise their privately-owned vehicles.
These are the top 5 websites for finding cheap campers and RVs.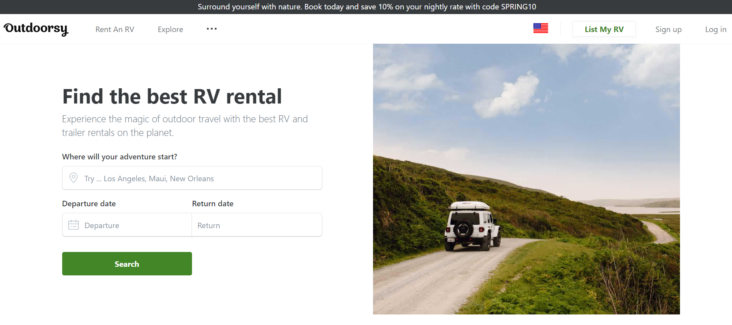 Outdoorsy is often referred to as the "Airbnb of RVs" as it provides a platform for owners to advertise their vehicles independently to outdoor travelers. When they're not being rented, most owners use the vehicles themselves, so they are often well-maintained and in tip-top condition.
When renting from a standard rental company, your choice is usually restricted to what vehicles are available at your closest branch, but with Outdoorsy, you can rent from someone local that might just be a couple of blocks away. Some owners even offer delivery of the vehicle within a certain radius.

Although there are plenty of RVs on offer, the site also has just about everything on wheels, from pop-up trailers to vintage Airstreams and rooftop tent boxes to fifth wheels.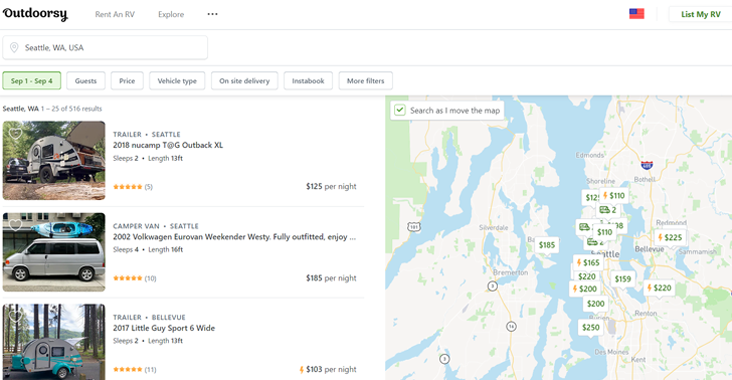 To search for availability, input your location and rental dates into the search box and you'll be presented with a list and map view of available campers and RVs. Like Airbnb, you can filter the results to include specific requirements, such as the number of beds, amenities, vehicle type, or price.
You can narrow your criteria even further by specifying if you're only interested in campers with kitchen facilities, such as a sink or an oven, or those that permit pets or smoking.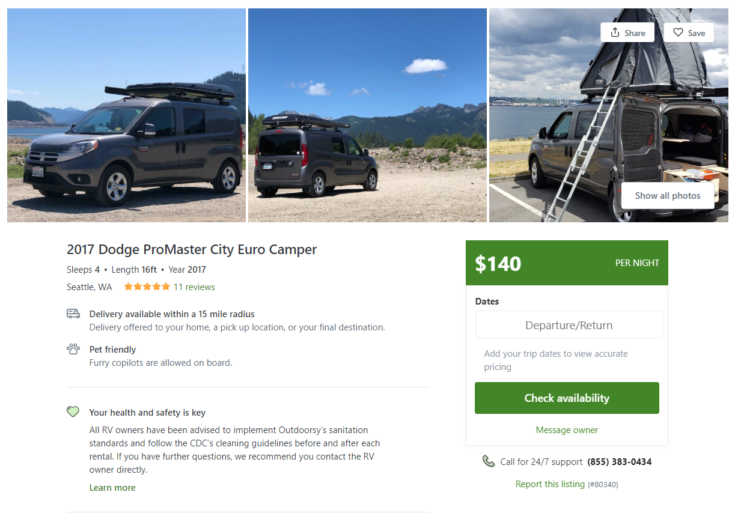 Once you've narrowed down your search, you can take a deep dive into each vehicle by viewing its product page. Browse photos, discover cancellation policies, and check customer reviews to see if you're happy with the full package.
Hot Tip: Outdoorsy vehicles may have a maximum daily mileage included in the rental, so be sure to check the details in the policy section.
Similar to Outdoorsy, RV Share is a peer-to-peer platform that allows private RV owners to advertise their vehicles for rent. In addition to same-location pick-up and drop-off rentals, RV Share also provides a one-way rental service and provides 24/7 roadside assistance.
RV Share also has a loyalty program that gives customers 5% cashback on their next rental.

Once you input your basic search details, your results will be displayed with a list and map view. Refine your results using a huge list of options, including the type of RV, kitchen facilities, age and length of the vehicle, or what type of cancellation policy you require.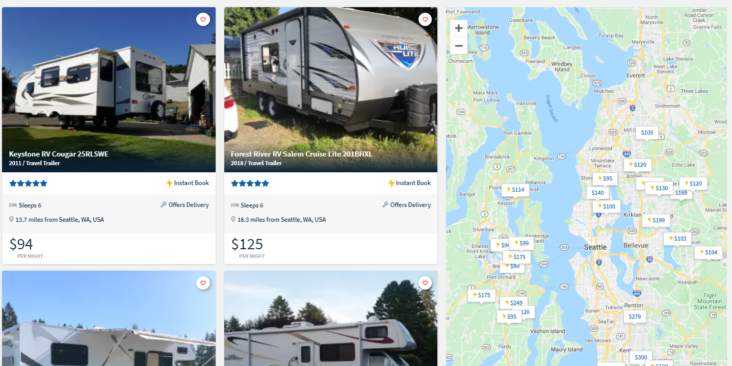 Browse the listings that match your refined search criteria and use the map to find renters that are close to your location. Click the map markers to see a picture of the vehicle, make/model, and whether it's available to book instantly.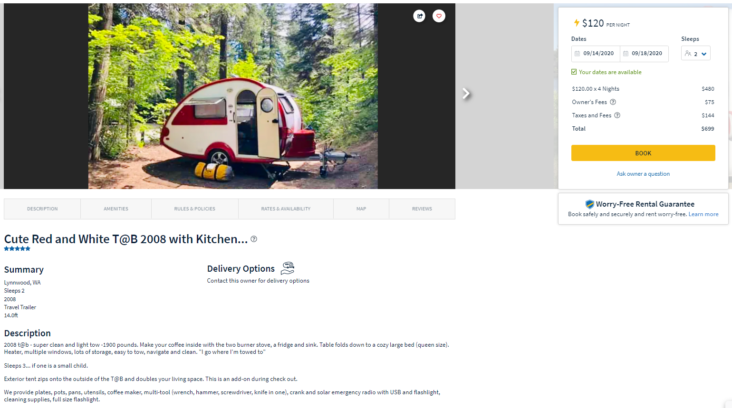 To view the vehicle in more detail, click the map thumbnail and you'll be taken to the product page for the camper or RV. Here you can browse photos, see all the amenities, and check reviews from previous renters. Some campers are available to book instantly, whereas others will require a request to be approved by the owner.
For more information, check out our full review of RVshare.
Hot Tip: RV Share allows you to save your favorite campers to a wish list so that you can compare features and decide later which is the perfect vehicle for your trip.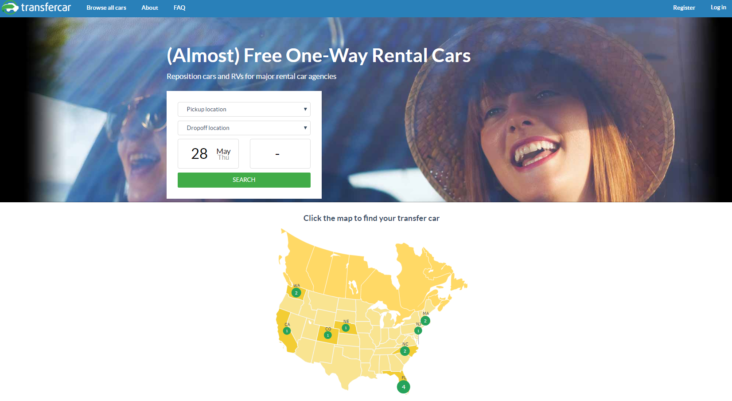 Transfercar is a convenient service that helps rental companies transfer their vehicles between offices, without the need to use a truck for transportation or to send a driver to collect the vehicle. Savvy travelers can take advantage of this service by booking the vehicle that needs transporting from point to point for free or next to nothing. Win-win all round.
Depending on the length of the journey, there will be a specific number of days that come free (or for a low price) with the rental, and customers have the opportunity to extend their rental period for a daily fee. As the rental is one-way, you'll have to arrange your own return transportation.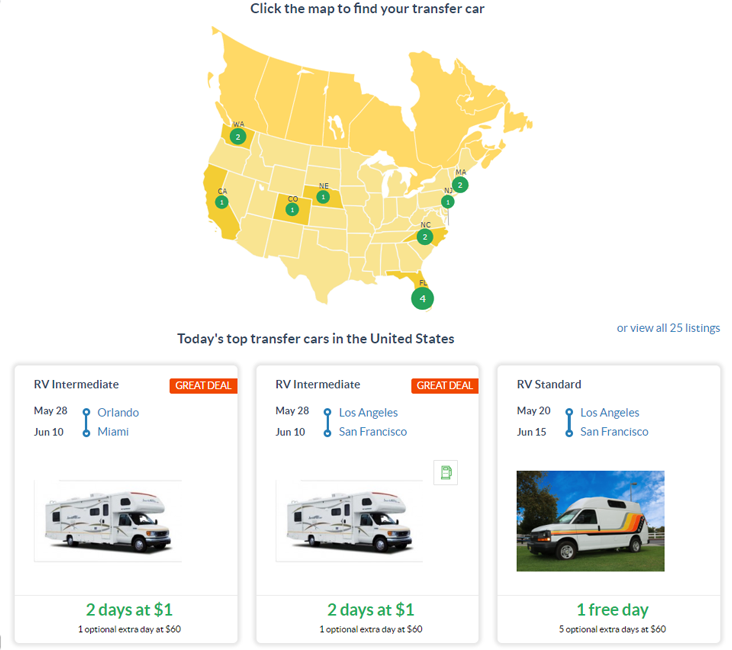 You can search for available campers and RVs by clicking a location on the home page map. The map will then show you the available route from that destination, and you can click through to check the available vehicles.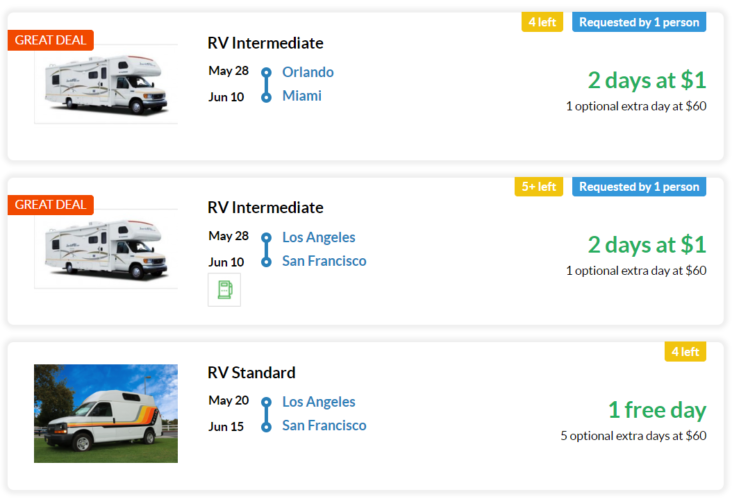 The list of vehicles shows you how many campers or RVs there are, the date they are available from, and the date that they need to reach their destination by. The list also tells you how many free or low-priced rental days you get, as well as the day rate to extend your journey.
Hot Tip: Some Transfercar vehicles come with a gasoline allowance, so you would only be responsible for any additional fuel that exceeds this allowance.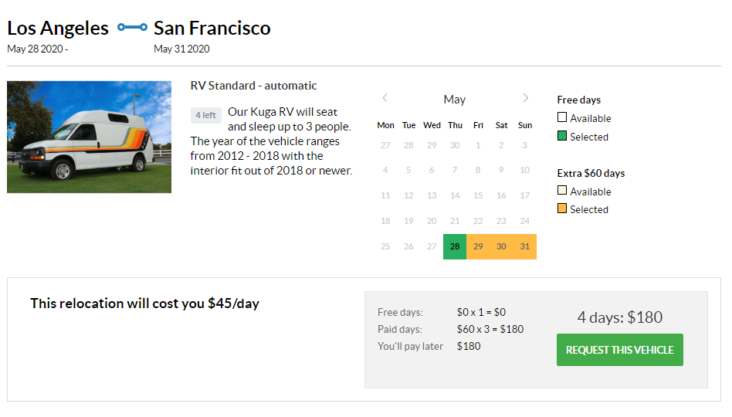 The calendar page is color-coded to show exactly which days are booked as "free days" and which are booked at the additional daily rate. You'll also see how much your relocation fee averages out to per day. For the same search criteria, a Kuga RV was around $90 per day when booked through Outdoorsy, or double the price compared to Transfercar.
You must be over 21 to rent a vehicle with Transfercar, and rentals will have a maximum mileage for free and additional days. Road tolls and other expenses are not included in the rental, and a bond may be required (depending on the vehicle). Standard insurance is included, and it's often possible to purchase extended coverage if you choose. Cancellation fees vary depending on the rental agency.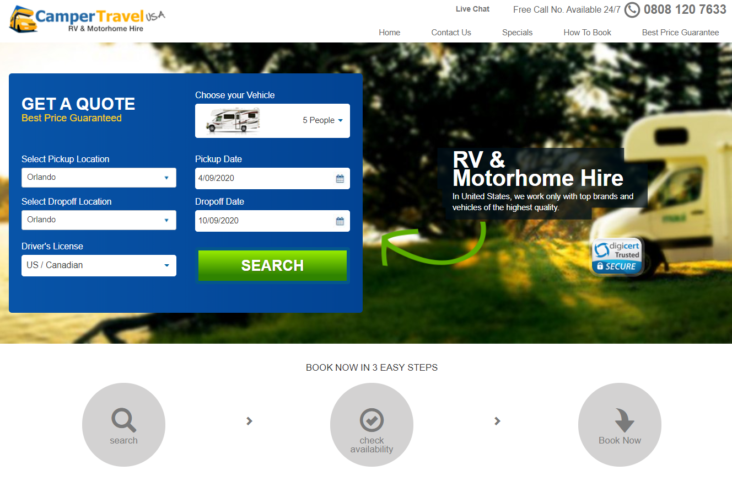 Camper Travel Bookings is an online platform that connects customers with excellent deals for camper and RV rentals. Camper Travel Bookings does not own the vehicles themselves, but the site is useful for obtaining quotes from several rental companies.
As well as searching online for quotes, you can also speak to a customer service agent who will listen to your requirements and help find you the best deal. Once you've booked, you'll deal with the rental company directly, so Camper Travel Bookings is all about taking the hassle out of searching for the perfect camper.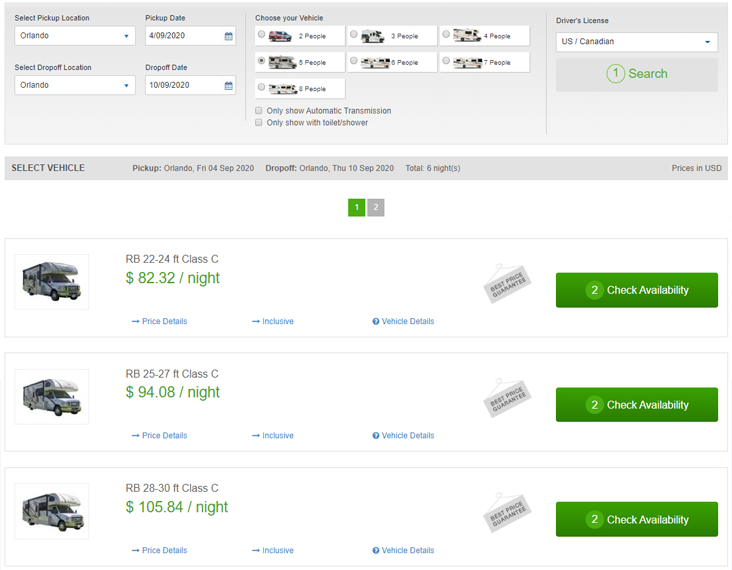 The online search functionality doesn't allow many options for refining your search — only the number of passengers, type of vehicle transmission, and whether it has a toilet/shower — so you're better off calling to chat with a customer service representative.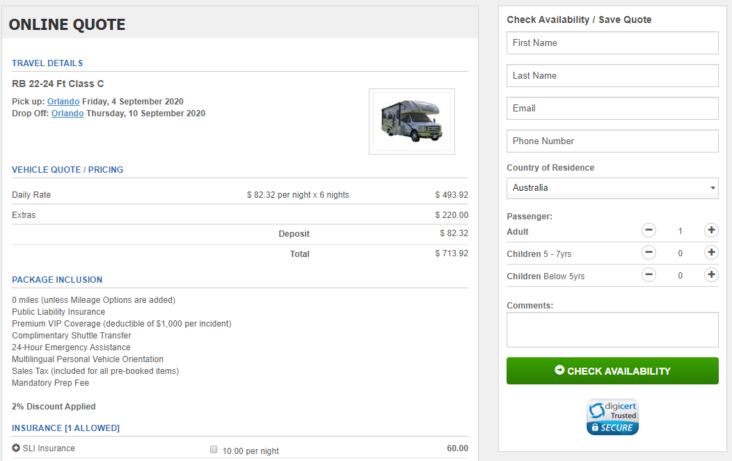 To check availability for a quote, you need to provide your contact details and a customer service agent will be in touch once the availability has been verified.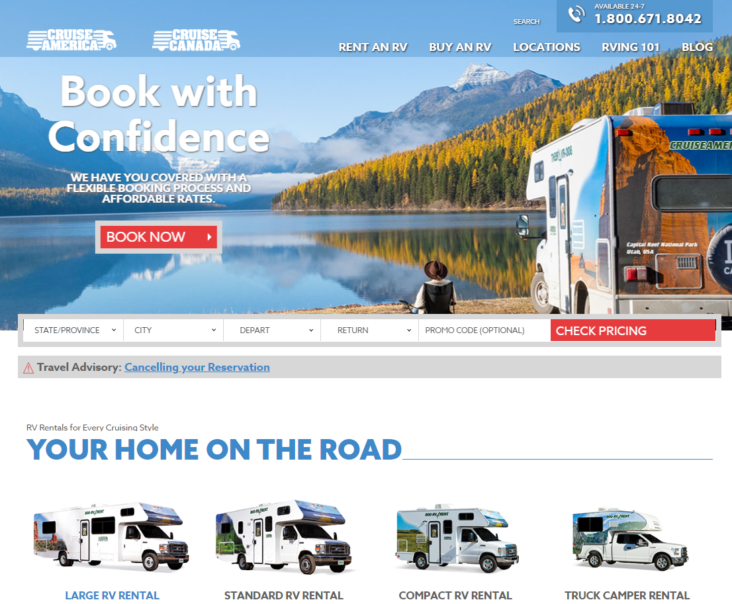 Cruise America is a more traditional rental agency where customers can rent directly from one of its 128 offices located across the U.S. and Canada. Customers can choose from 4 vehicle sizes ranging from a truck camper to a large RV accommodating up to 7 people.
Reservations can be made online with a $300 deposit, and the final payment is due when picking up the vehicle.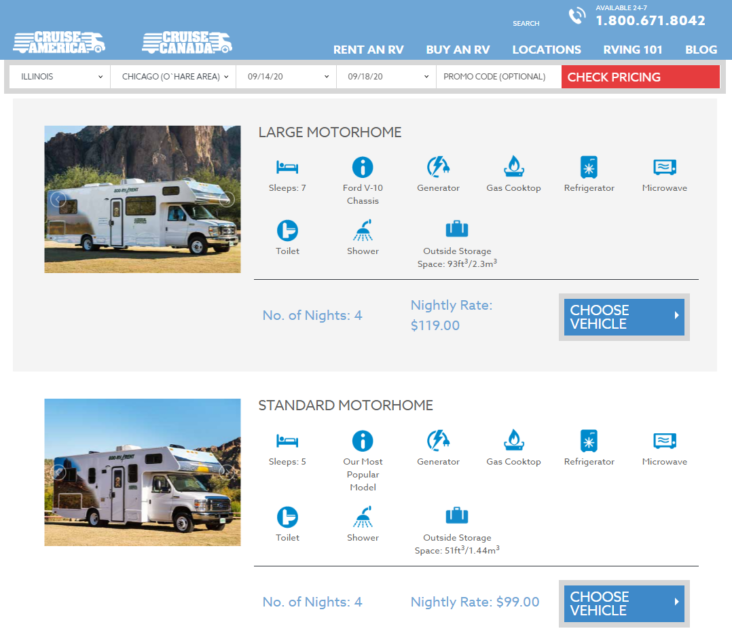 As there are only 4 options to choose from, it's not possible to refine your search, however, the specification and amenities are very clear within the search results. Details such as the number of passengers, toilet/shower facilities, and outside storage space are included with each listing.
Once you choose your vehicle, you'll need to input some further information such as the estimated mileage you intend to drive, and whether you would like to purchase additional extras, including kitchen equipment and bedding.
You can complete your booking online, and if you need to cancel, there's no penalty if you cancel 7 or more days in advance of your departure date. If you cancel within 7 days of your departure date then you would lose your $300 deposit.
Hot Tip: Read the small print in your Cruise America rental terms to avoid any nasty surprises when it comes to additional fees. If you exceed your estimated mileage, you'll be charged a per-mile fee as well as hourly charges to use the generator. 
Final Thoughts
A motorhome vacation can be a bucket list experience for many, but if you don't know what to look for, you might end up being stung by expensive rental fees and hidden extras. Consider the type of camper that would suit your individual needs, budget, and journey — for example, a large RV is not going to give you the same access to remote areas as a smaller camper.
Rent from a private owner via a peer-to-peer website such as Outdoorsy and treat your rental with the same love and care that the owner would. It's highly likely the owner will have driven your intended route, so be sure to glean various hints and tips from them about your journey.