The Ultimate Guide to RVshare in 2021 [How to Rent, RV Types]
Getting out on the open road is a fantastic way to explore the country. But while the idea of taking an RV (recreational vehicle) on vacation might be dreamy, purchasing an RV for a single trip is less than ideal.
That's where RVshare comes in. This website connects RV owners with RV renters so that you can enjoy a vacation on the road without having to own an RV.
In today's world, with everyone a little on edge about traveling, camping and RVing are great ways to vacation while maintaining social distancing. RV vacations are especially popular for those wanting to hike, camp, or explore U.S. national parks.
In this post, we'll show you everything you need to know to use RVshare to rent or list your RV.
RVshare is a website designed to help you find and rent an RV — it's kind of like Airbnb for RVs! This peer-to-peer site helps private RV owners connect with those that want to rent an RV.
It all started with a cross-country trip. The founders of RVshare bought an RV for their honeymoon trip and quickly realized that afterward, their RV sat unused most of the time. They decided to rent it out to help cover the costs of ownership, but there wasn't a platform in place to help them do that. So, they created their own, and RVshare was born.
Today, RVshare serves more than 60,000 RV owners across the U.S., connecting them to eager RV renters. Whether you're looking for a pop-up camper for a romantic getaway or a luxurious Class A motorhome for the whole family, you can find it on RVshare.
Here's a step-by-step guide to help you rent an RV using RVshare.
1. On the RVshare homepage, enter your location, pick-up and drop-off dates, and the number of people you'll need to accommodate. Then click Search.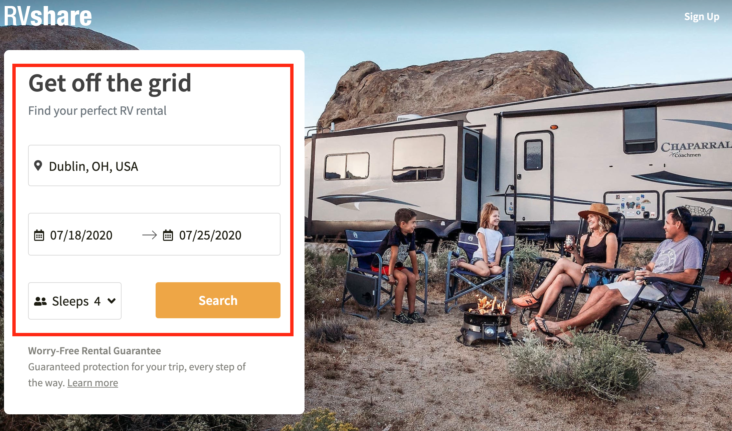 2. You'll be able to filter your search results by a number of criteria so that you can find the best RV for your needs including:
Price
Drivable RV (Class A, B, or C)
Towable RV (Fifth Wheel, Travel Trailer, Toy Hauler, or Pop-Up)
Instant book
Keyword (make, model, special features, etc.)
Cancellation type
Rental options and rules
Kitchen and bathroom amenities
Entertainment amenities
Temperature (air conditioning or hot water)
Vehicle details including length and model year
3. After filtering your search results, you'll be able to sort your list by relevance, distance, price, and size. Each result will tell you some basic information about the rental, including price, distance, and whether or not the RV is deliverable or if it's an instant book.
A Deliverable RV is one that can be delivered to your location.
An Instant Book RV is one that you can book without waiting for the owner to respond to your inquiry.
4. After selecting your RV, you'll be able to see all of the rental details, including fees, cancellation policy, rules, amenities, and reviews. When you're ready to proceed, just click Book.
5. Finally, you'll be prompted to add some information about your trip and complete payment. You'll notice that standard insurance is included in your cost (under taxes and fees), but you'll be able to upgrade your insurance plan at this time if you wish.
Occasionally, RVShare can earn you cash-back or Membership Rewards points through Rakuten. So not only do you get to rent an RV, but you earn cash-back or points.
Hot Tip: Want to dive deeper into earning cash-back with Rakuten? Explore our in-depth guide to earning cash-back with Rakuten.
You're required to purchase insurance with each rental on RVshare.
RVshare offers 3 levels of insurance coverage. Standard RVshare Rental Insurance will be included in your rental cost (in the taxes and fees section), however, you can add additional insurance if you'd like.
| | | | |
| --- | --- | --- | --- |
| Insurance Features | Standard  | Enhanced | Premier |
| Cost | $36/day | $56/day | $72/day |
| Deductible | $1,500 | $1,000 | $500 |
| Liability coverage | State minimum up to $100,000 | State minimum up to $100,000 | Up to $300,000 |
| Fire, lightning, or explosion | X | X | X |
| Theft or larceny | X | X | X |
| Windstorm, hail, or earthquake | X | X | X |
| Flood or water damage | X | X | X |
| Mischief or vandalism | X | X | X |
| Snow or ice | X | X | X |
| Missiles or falling objects | | X | X |
| Riot or civil commotion | | X | X |
| Contact with a bird or animal | | X | X |
| Breakage of glass, except as a result of a collision | | X | X |
| Power surge as a result of lightning | | X | X |
Hot Tip: Unfortunately, most credit cards that offer great rental car insurance, like the Chase Sapphire Reserve® card and The Platinum Card® from American Express, exclude RVs from their policies. 
When renting with RVshare, be sure to use a great travel rewards credit card so you make the most of each dollar you spend.
Look for a credit card that offers bonus points on the broad category of travel including:
Worry-Free Rental Guarantee
RVshare's Worry-Free Rental Guarantee is designed to give you peace of mind when renting an RV. This guarantee covers you from the minute you book until after your vacation is complete.
Payment Protection and Fraud Screenings: You'll be protected against fraud and will be able to get a refund if anything goes wrong with your payment.
Dedicated Support Team: You'll have access to the RVshare support team via phone, email, and 24/7 chat.
Rebooking Assistance: If an owner makes a last-minute cancellation, RVshare will assist you in finding a similar RV.
Rental Replacements: If you can't reach the owner when your trip is ready to begin, or your RV was misrepresented, RVshare will help you find a new RV when you contact them within the first 12 hours.
Damage Deposit Protection: RVshare will mediate a dispute between you and the RV owner if you feel the owner has wrongly withheld your damage deposit.
Roadside Assistance
Each and every rental made through RVshare comes with 24/7 roadside assistance through Nation Safe Drivers. Through RVshare's Roadside Assistance Program, you'll receive the following benefits:
Towing service (to the nearest service station or your home within 100 miles)
Tire service
Battery service
Lockout service
Extraction and winching
Supply delivery (gas, oil, water, etc.)
Travel, theme park, and automotive discounts
As an RVshare renter, you'll earn rewards each time you rent an RV. You'll get 5% back from each rental to put towards your next rental with RVshare. Your reward is equal to 5% of the base rate and owner's fees.
RVshare also rewards owners. When you sign up to be an RVshare ambassador, you'll get a unique referral link that you can share with friends and family via text, email, or social media.
When someone signs up through your link, you'll both earn a reward once they have a completed booking. The reward is currently a virtual Visa gift card but is subject to change.
Hot Tip: RVshare is one of the websites we recommend for finding cheap camper and RV rentals.
Types of RVs
You'll find lots of different types of RVs for rent on RVshare. Here's a quick rundown of the types of RVs out there so that you can make an informed decision about which type is right for you.
There are main 2 categories of RVs that you can choose from — the kind you tow or the kind you drive.
Towable RVs
Towable RVs offer more flexibility since you'll have access to a secondary car that you can drive to activities or attractions that won't accommodate an RV.
Fifth Wheel
Fifth Wheels are the largest type of towable RV and often come with amenities like a full-size kitchen and master bedroom. They can be towed with a full-size pickup truck.
Travel Trailer
Travel Trailers are smaller and can be towed with any pickup truck or SUV. These RVs come in many sizes and have a wide variety of amenities.
Toy Hauler
A Toy Hauler is a type of RV that comes with a garage space in the back that can accommodate a wide range of "toys" like bikes, motorcycles, or ATVs. Toy Haulers can be towed by many types of pickups and SUVs.
Pop-Up Camper
A Pop-Up Camper is smaller and can be towed by a regular-sized car.
Drivable RVs
Drivable RVs don't get hooked up to a secondary vehicle.
Class A Motorhome
Class A Motorhomes are the most luxurious and largest of all drivable RVs. They can come with lots of amenities including full-size kitchens, bedrooms, and bathrooms, and even secondary sleeping spaces. In order to rent a Class A Motorhome, you should be comfortable driving something as large as a bus since these vehicles can range from 21 to 41 or more feet in length.
Class B Motorhome
Class B Motorhomes are smaller and more streamlined than Class A Motorhomes, but can still feature plenty of amenities. Driving a Class B Motorhome is similar to operating an oversized van.
Class C Motorhome
A Class C Motorhomes are generally smaller than Class A Motorhomes, coming in around 20 to 38 feet long. While some luxury amenities are still available in Class C Motorhomes, the price tends to be lower than Class A vehicles. Class C Motorhomes are good for beginning RV drivers.
List Your RV for Rent
If you own an RV, chances are it sits unused for a large portion of the year. With RVshare, you can rent out your RV when you're not using it to make some extra income.
RVshare is free to join and you'll be connected with eager renters in your area. RVshare also provides 1-on-1 rental coaching to help you through the process.
It handles all of the payment processing and provides insurance coverages, as well as 24/7 roadside assistance.
For more information about listing your RV for rent with RVshare, call a rental coach at 888-482-0234 or fill out the form online.
Final Thoughts
Renting an RV for your next vacation is a great way to explore the country without having to endure the hassle and cost of RV ownership.
RVshare connects RV renters with RV owners. The site's search functionality will help you find the perfect RV to suit your exact needs. Whether you're looking to save some money or just want the freedom that comes with an RV vacation, you'll find lots of options with RVshare.