The Ultimate Guide to Outdoorsy RV Rental Marketplace [for Renters and Owners]
Outdoorsy is a popular website to rent campers and RVs from local owners. A wide variety of vehicles and non-motorized options are available, from travel trailers to campers and Airstreams to fifth wheels. Renting an RV for your vacation enables you to explore new destinations at your own pace, and enjoy many of your home comforts in the great outdoors.
Outdoorsy states that embarking on an RV vacation can be 60% cheaper than a standard vacation, with free "dispersed camping" available in many national forests and grasslands and the flexibility to cook your own meals. It's an accessible vacation, with most RVs and campers requiring only a standard driving license, provided the vehicle is under 26,000 pounds.
How Does Outdoorsy Work?
Outdoorsy allows RV owners to list their vehicles for the general public to rent, similar to Airbnb, but on wheels. Renters can view RVs local to them or available at a specific location, so you can rent and drive directly from home or fly to a new destination and pick up your RV on arrival. Some RV owners even offer delivery if you're looking for the most convenient option.
All rentals include insurance and roadside assistance, so renters can enjoy peace of mind without worrying about the additional expense should they encounter an issue.
Outdoorsy for Renters
Rental Fees at a Glance
Renters Deposit: 25% or 50%, depending on the cancellation policy
Renters Service Fee: Up to 20% of the booking (but we found consistent service fees of 9% to 10%)
Hot Tip: If you're looking for inspiration on where to explore with your RV, take a look at our guide to the best road trips in the United States.
How to Rent an RV With Outdoorsy
The Outdoorsy website is straightforward to use. From the home page, you can search for RVs by inserting your pick up location and the dates you want the rental for. If you know the type of camper you're after, you can select it from the categories featured beneath the search area, and Outdoorsy will use your location to display nearby vehicles.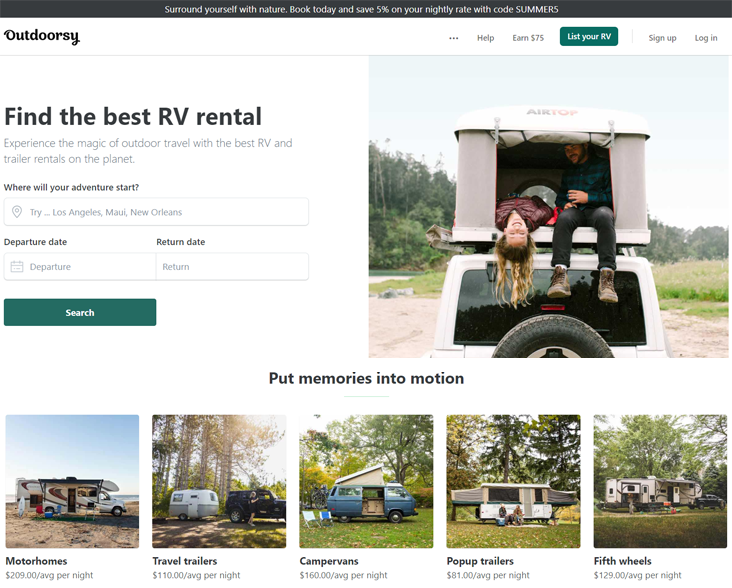 The search results are displayed in a split list and map format, with the map pinpointing the location of the rental and displaying the nightly rate. You can use the filters to refine your search by:
Vehicle type
Number of guests
Price range
Available for delivery
Available for Instabook
Amenities
Rules (pet-friendly, smoking-friendly)
Star rating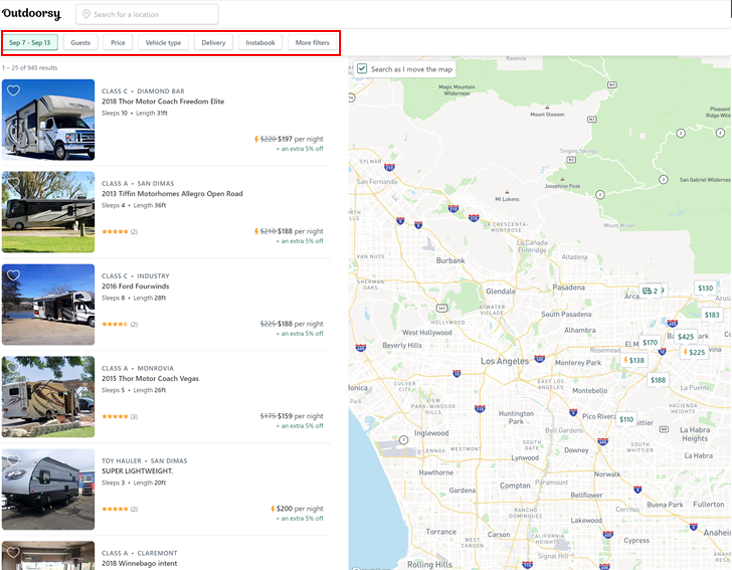 You can select an RV from the list of results to view an in-depth product page, including an image gallery at the top displaying a range of exterior and interior photos. The product page also includes the following information:
Number of guests
Length
Year
General description
Transmission
Tank sizes for fuel, water, sewage, and gas
Amenities
Rules (pet-friendly, smoking-friendly)
Cancellation policy
Rates, minimum night stay, and security deposit
Optional add-ons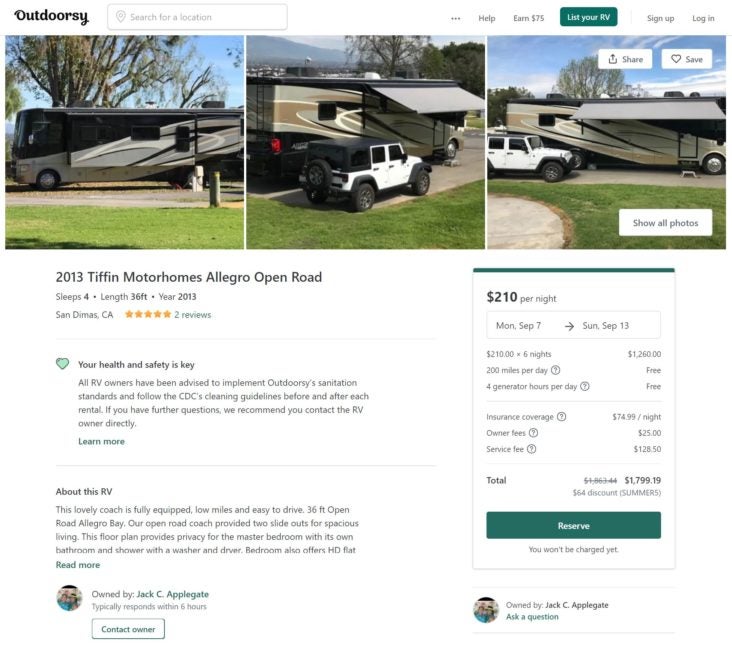 From this product page, you can contact the RV owner directly if you have any questions you would like answering.
Hot Tip: Check out our ultimate guide to renting cheap campers and RVs for other useful websites and an overview of the different types of motorized and towable RVs.
Reserving Your RV
To make a reservation, you need to complete your details and you have the option to share any information you would like with the RV owner. As insurance is mandatory, you'll need to select the level of insurance you want to include (detailed below) and complete your payment information.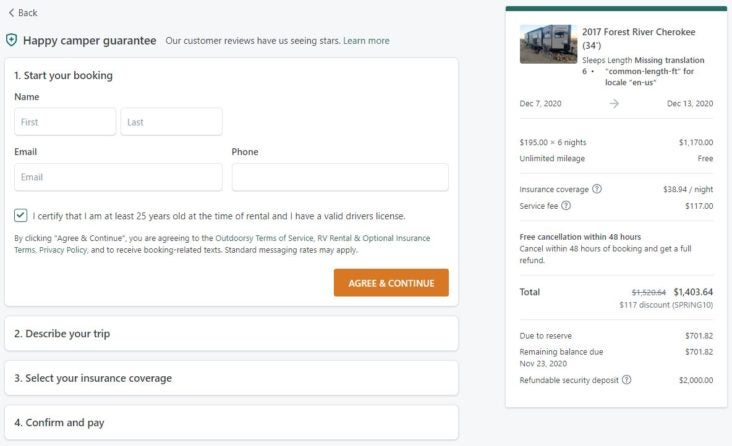 The fees section includes the nightly rental cost and whether the rental includes unlimited or restricted daily mileage or use of a generator. For those rentals with restricted daily mileage or generator use, you can hover over the question mark to see what the cost is per mile for additional mileage or the price per extra hour used for the generator. The cost varies depending on the type of RV.
The reservation deposit amount depends on the cancellation policy, which is usually 25% (but can be 50% in some cases), with the remaining balance due 14 days before the start of the rental.
All renters are charged a renter's service fee that is 20% of the total rental cost.
Insurance With Outdoorsy
Outdoorsy requires all renters to purchase collision and damage insurance, and the daily insurance rate is displayed in the fees section. This includes up to $1 million physical damage protection and 24/7 roadside assistance and telephone support. If an incident should occur, the deductible rate payable by the renter is also displayed on this page and varies depending on the RV.
When renting, you can choose from 3 levels of insurance. Standard level insurance carries a higher deductible than the mid-range insurance. The most comprehensive insurance has a lower deductible, windshield repair coverage, accident interruption protection, and $1 million in liability coverage.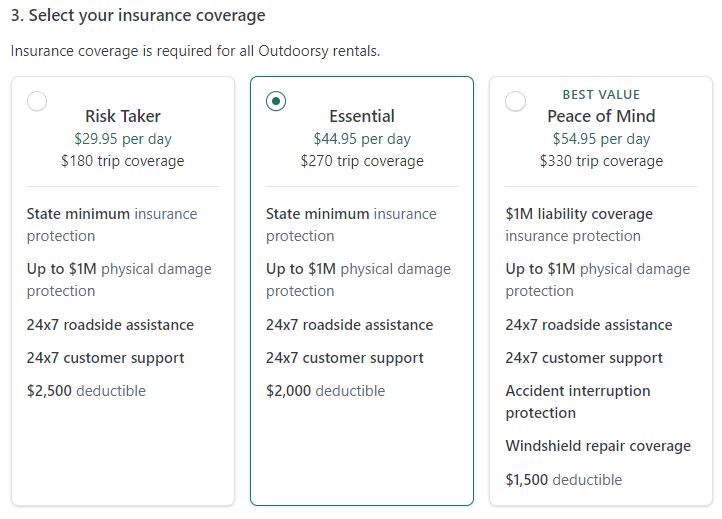 All levels of insurance cover the following:
Back-up accidents
Vandalism
Fires
Stolen RVs
Power surge
Earthquakes
Fallen trees
Windstorms
Hailstorms
Animal impact
Hot Tip: As well as your RV insurance, it's wise to make sure you've got general travel insurance, should you encounter any issues along the way. 
Outdoorsy Roadside Assistance
Renters have access to 24/7 technical and roadside assistance by calling 877-250-6731. Outdoorsy has access to over 40,000 roadside assistance providers and mobile mechanics.
Outdoorsy Cancellation Policy
If the booking if more than 14 days away, Outdoorsy allows a 48-hour grace period where renters can cancel free of charge.
After this time, the following cancellation policies apply:
Flexible: Deposit (25%) is refundable if the rental is canceled at least 5 days before the start of the rental. Service fees are non-refundable.
Moderate: Deposit (25%) is non-refundable. If the renter has paid in full and is canceling 7 or more days before the start of the rental, 75% of the full amount will be returned. Service fees are non-refundable.
Strict: Deposit (50%) is non-refundable. If the renter has paid in full and is canceling 14 or more days before the start of the rental, 50% of the full amount will be returned. Service fees are non-refundable.
What Credit Card Should You Use to Book With Outdoorsy?
If you're planning to book with Outdoorsy, you'll want to pay with a credit card that rewards you with points on travel purchases. These are some of the cards we recommend that reward cardholders with generous point earnings:
Outdoorsy Refer-A-Friend
You can share your love of Outdoorsy by referring a friend and earning yourself Outdoorsy credit to use on your next trip. When you refer a new renter, and they spend over $200, they'll receive $50 off their booking, and you'll receive $75 in Outdoorsy credit.
Hot Tip: Whether you're road-tripping to a U.S. national park or even the beaches of California, Florida, or Texas, our helpful guides detail the best sights to see along the way to make the most of your vacation!
Outdoorsy Discount Code
Outdoorsy occasionally features discount codes at the very top of its website. At the time of writing, it offered 10% off the nightly rate with the code SUMMER5. Various websites also offer Outdoorsy discount codes, such as hotdeals.com and couponcause.com, with either percentage or flat-rate discounts. You can input these into the promo code box when you checkout on the website.
Outdoorsy for RV Owners
How to List Your RV on Outdoorsy
If you're considering renting your RV, you can find out how much you could earn on Outdoorsy by selecting the vehicle type. This displays estimated earnings based on a 1- to 2-week rental.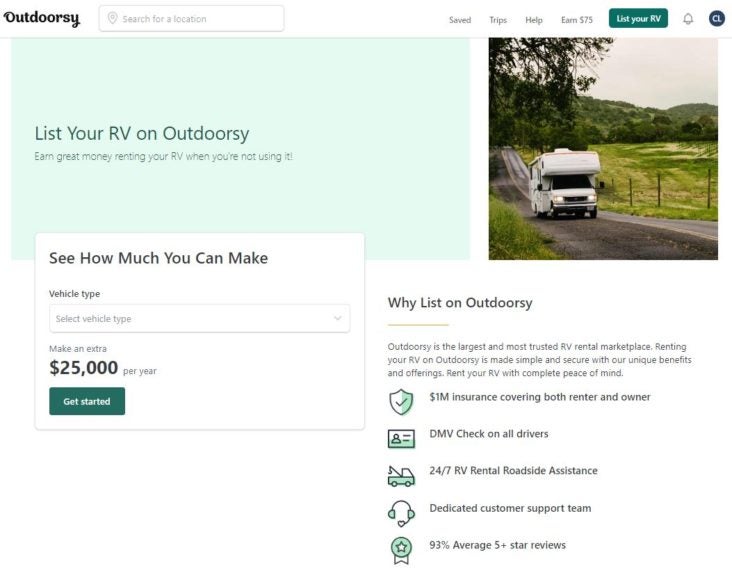 Outdoorsy has an easy step-by-step process to follow when registering your vehicle. You'll need to complete the vehicle's specification, amenities, rules, description, photos, location, pricing, and calendar availability.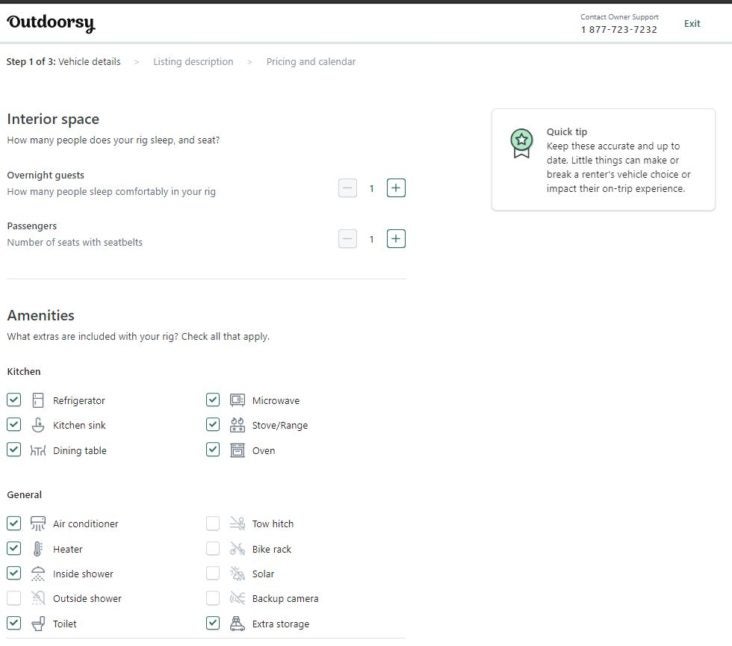 Outdoorsy verifies renters with a DMV check before they are permitted to make a booking. A suspended license, 2 or more speeding tickets in the past year, or a DUI may cause the renter not to be approved to rent through Outdoorsy.
With mandatory insurance and roadside assistance, RV owners can have peace of mind that their RV will be covered should an accident occur.
RV Owner Fees
It's free to register your RV with Outdoorsy, but you'll pay a fee for each rental.
Outdoorsy RV Owner Fees: 20% to 25% of the reservation
Security Deposit Claim Processing Fee: 2.95%
When a booking has been made, Outdoorsy transfers the payment to the RV owner's bank account 24 hours after the RV has been collected or delivered to the renter. You'll get the final say as to who can rent your RV so that you can approve or reject rental requests.
Comparing Outdoorsy to Other RV Rental Sites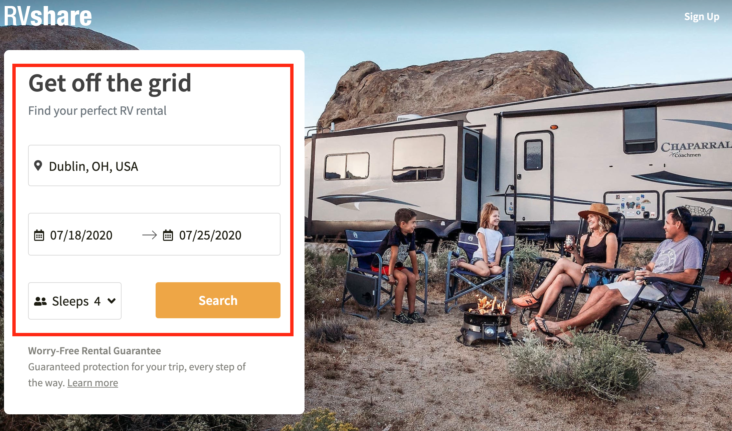 RVshare is a similar website to Outdoorsy in that it provides a platform for RV owners to rent their vehicles. When it comes to fees, Outdoorsy is fairly transparent and states that its service fees are up to 20%. However, after running various searches, we found consistent service fees of around 10%. RVshare doesn't disclose its service fees, but we found consistent fees of 9% to 10% of the subtotal.
RVshare's reward program offers 5% cash-back on every purchase that can be used on your next booking. Outdoorsy doesn't have a cash-back incentive, but it does offer a more generous referral program with the referral receiving $50 off their booking and the referee receiving $75. This is much higher than RVshare's $25 apiece.
For RV owners, Outdoorsy will take a 20% to 25% commission from the reservation subtotal. RVshare does not disclose its owner commission and says that it is negotiated by the rental team as it depends on many factors.
Outdoorsy vs. RVezy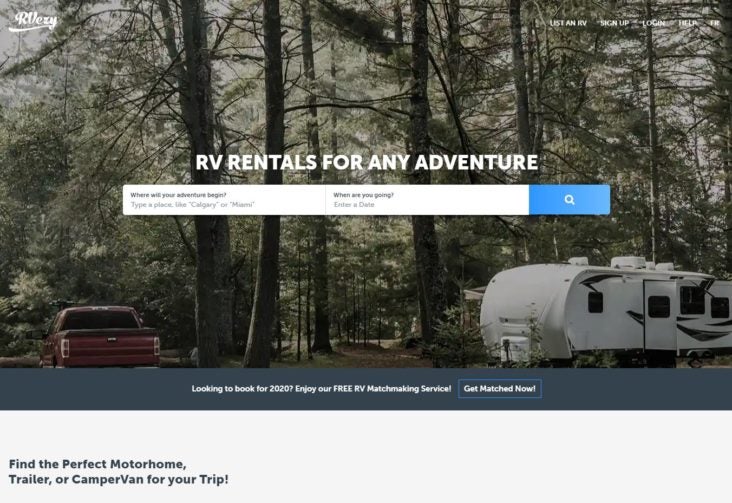 RVezy is a similar peer-to-peer rental site that offers RVs across Canada. Roadside assistance and a 24/7 telephone support are available as with Outdoorsy, but RVezy's insurance coverage is up to $2 million.
RVezy charges RV owners a 15% service fee for every booking. For example, if the owner sets the rental price to $1,000 per week, the owner would get $850, and RVezy would take $150. Renters are also charged a service fee of around 12% to 15% to cover the online platform and 24/7 bilingual call center.
The founders were featured on "Dragon's Den" — Canada's version of "Shark Tank" — and have since grown the company to be the largest RV rental marketplace in Canada.
Outdoorsy vs. Cruise America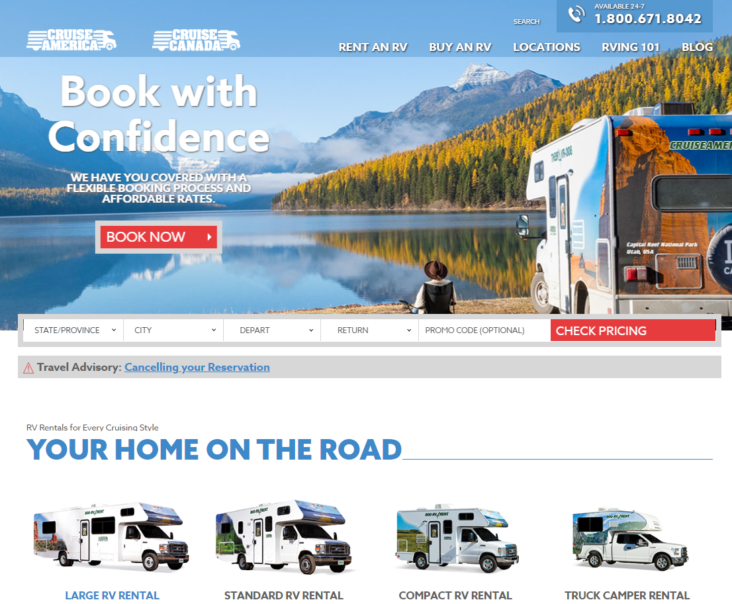 Cruise America is a different type of rental company compared to Outdoorsy, RVshare, and RVezy. It has more of a traditional rental setup, providing RVs from its 128 offices across the U.S. and Canada. Unlike Outdoorsy, where you have the choice of a wide variety of motorized and towable RVs, Cruise America offers just 4 types of motorhomes (large, standard, compact, and truck).
As with any rental provider, the cost varies depending on the type of RV and the time of year, but bookings require a $300 deposit with the final payment due when the RV is picked up.
Final Thoughts
Outdoorsy offers a wide range of RVs, and because they are used regularly by their owners, they are often well-maintained and homely. The number of vehicles available depends on where you're renting from, but cities like Los Angeles and San Diego have thousands of RVs to rent.
Similar to Airbnb, renters and owners are required to have a profile with a photo and brief description. It's worth making sure this has as much information as possible, as it encourages owners to approve rental requests and can make owners look more reputable to potential renters.