The 20 Best Beaches in Florida in 2021 [Atlantic and Gulf Coasts]
Alaska may hold the record for "longest state coastline" in the U.S., but Florida — second in line — has far better warm-weather beaches. The state's 1,350 miles of waterfront real estate stretches from the Gulf of Mexico to the Atlantic Ocean, much of it dominated by golden sands, historic sights, and year-round sunshine. No wonder this is where America goes on vacation.
Just because you've visited 1 Floridian beach doesn't mean you've seen them all. Each stretch of sand has its own kind of allure. Some feature jaw-dropping sunsets; others save the magic for sunrise. Some host award-winning hotels and restaurants; others remain relatively undiscovered. Some let you drive right onto the sand; others are accessible only by boat.
The best beaches in Florida run the gamut from windswept barrier isles to party-loving pads near major cities. Once you decide which coastline — Atlantic or Gulf — fits your preference, and it's time to pack your bags. Just don't forget that sunscreen.
The Best Beaches in North Florida
Amelia Island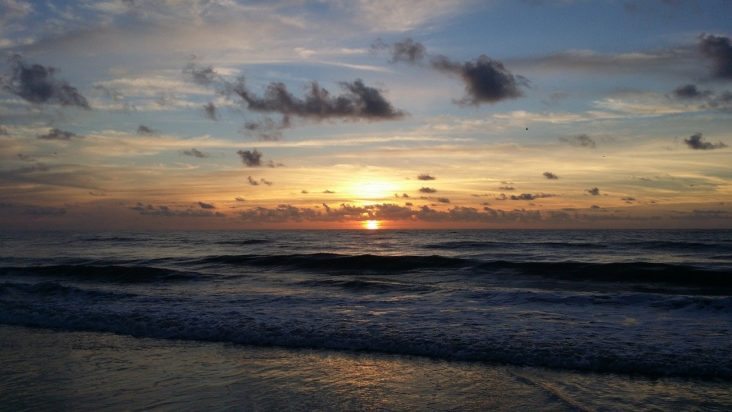 Southern Florida is spoiled with the Everglades and the Keys, but the north should not be overlooked. In fact, the first beach you'll hit once you leave Georgia along the northeastern coastline also happens to be one of Florida's best.
Charming little Amelia Island is a peaceful barrier isle and one of the state's most historic destinations, with beautiful Victorian architecture, 13 miles of sand, and Southern charm to spare. It's also the proud home of Florida's oldest lighthouse, as well as its oldest bar, the Palace Saloon.
Although Main Beach Park is more user-friendly with playgrounds, picnic tables, and volleyball courts, Amelia Island State Park is arguably prettier. There, you can spot oak trees draped in Spanish moss and take horseback rides along the beach. Stay close to Fernandina Beach by checking into Elizabeth Pointe Lodge, a 25-room inn that serves complimentary breakfast.
Destin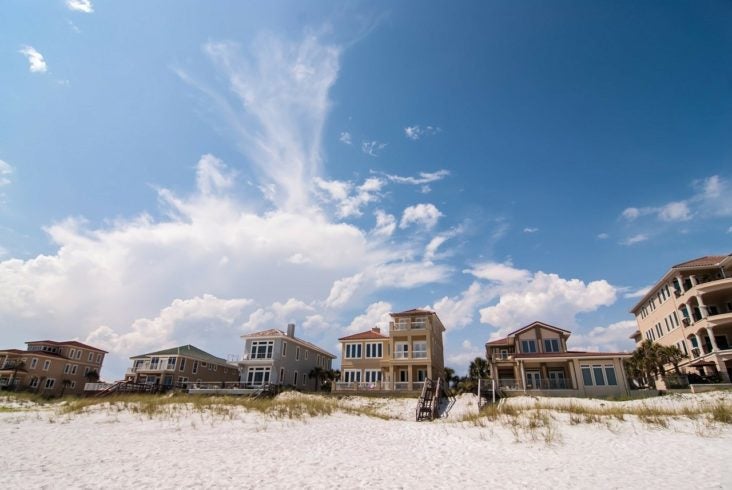 Despite its clear, calm Gulf waters and endless sunshine, this Florida Panhandle beach town still manages to fly off of tourists' radars, keeping it relatively affordable to visit right up until the peak summer season.
You'll find Destin's prettiest beach at Henderson Beach State Park and, best of all, it remains relatively crowd-free — in part because most of Destin's resorts and rental homes stay clustered around Crystal Beach and June White Decker Park.
Part of the Gulf Islands National Seashore, the sand at Henderson Beach is made up of powdery Appalachian quartz, which forms 30-foot dunes that sea turtles love to nest in. Nature trails are a fantastic way to take in the sights before retiring to The Henderson, a Salamander Resort, a 5-star hotel right in Destin with coastal-chic rooms, 2 outdoor pools, and a retro ice cream parlor.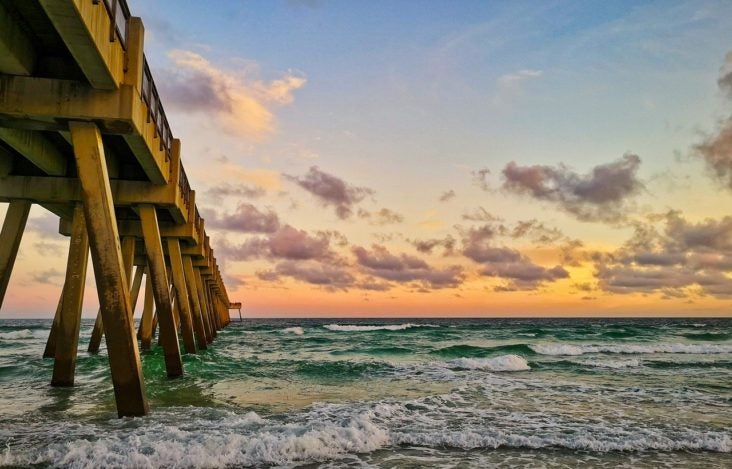 Sandwiched between the Gulf Islands National Seashore and Navarre Beach Marine Park, 12-mile-long Navarre Beach is as peaceful and pristine as beaches get in the Florida Panhandle.
Far fewer crowds make it here than its neighbors Destin and Pensacola. Because the beach is still largely undiscovered by the tourist circuit, there's not much to do in the way of activities — no major museums, no water parks, not even a boardwalk — but for many, that's exactly what they come to escape from.
Other than spending time relaxing on the sand or in the water, visitors can pack a picnic to enjoy in the local park or rent a bicycle from Sage Paddle Company and pedal down the scenic paved path that winds through town.
Panama City Beach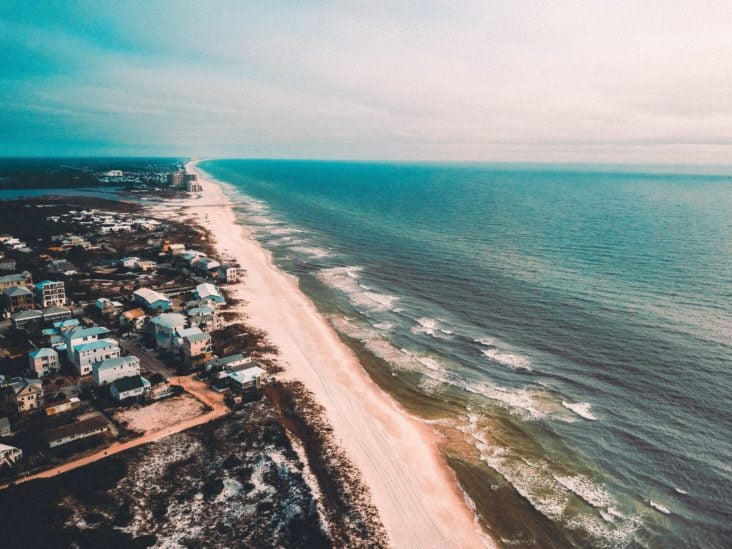 The 27 miles of sand that skirt Panama City Beach in the Florida Panhandle means there's plenty of room for variety. Can't wait to get in the water? Book a scuba diving or snorkeling tour to one of the area's artificial reefs. Looking for a party? Panama City Beach is a popular spring break destination, and alcoholic beverages are permitted on the sand every month except March.
If you're here with a group or a significant other, there are Jet Ski and paddle-board rentals, animal shows and exhibits at Gulf World Marine Park, free summer concerts at the Aaron Bessant Park amphitheater, and 2 state parks worthy of exploration including St. Andrews — a sandy peninsula at the beach's east end where you can go canoeing and pier fishing.
A seasonal boat shuttle is also available to whisk visitors to undeveloped Shell Island. You'll feel like a castaway while you tan and swim along its untouched white sands.
Hot Tip: While you're looking for the perfect Florida beach, don't forget to check out these great Florida beach resorts!
Pensacola Beach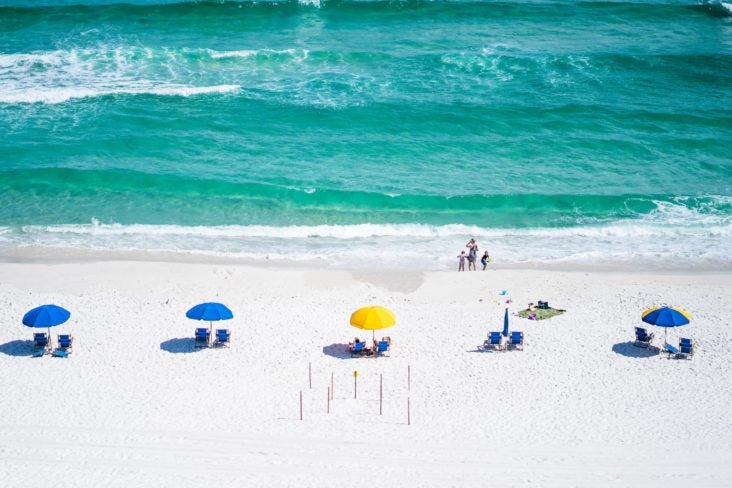 Yet another gorgeous destination along the Florida Panhandle, Pensacola is famous for 2 things — its Naval Air Station and picture-perfect public beach, whose calm, clear waters are a playground for dolphins, sea turtles, and beachgoers looking to cool off from the hot sand.
The beach is bookended by the Gulf Islands National Seashore, the longest protected seashore in the U.S., which means the powdery sands here stay pure and clean.
Don't forget to bring your camera: stretching an impressive 1,471 feet into the Gulf of Mexico, the Gulf Pier is the perfect spot to watch a sunrise or sunset. Come July, Pensacola Beach is also one of the best places to see Florida's annual air show featuring the U.S. Navy Blue Angels.
St. Augustine Beach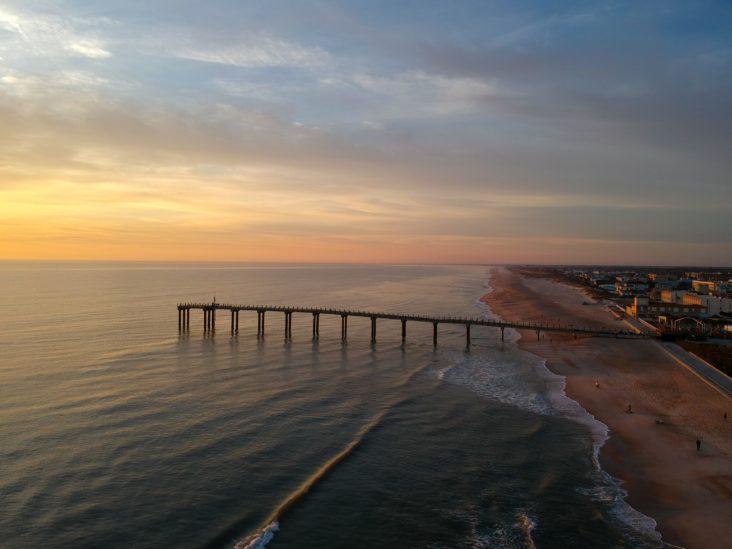 There's lots to occupy yourself with in historic St. Augustine, including centuries-old architecture and storied sites like the Castillo de San Marcos National Monument, but make sure to carve out some time to enjoy its 40 miles of coastline as well.
St. Augustine Beach, at the southern tip of Anastasia Island, is home to 2 miles of sand along with a large fishing pier, a splash park, a sand volleyball court, and a shady pavilion. Out on the water, waves large and small attract both surfers and skimboarders while the wide flat beach means you'll rarely have trouble finding a spot of your own.
After you've gotten your fill of the sun, retreat to Casa Monica Resort & Spa, Autograph Collection, a 19th-century Spanish Revival hotel right in Old Town whose architecture is a beautiful throwback to the city's Spanish roots. Rooms for this Category 7 Marriott Bonvoy property start at $185 or 50,000 Marriott points per night.
The Best Beaches in Central Florida
Clearwater Beach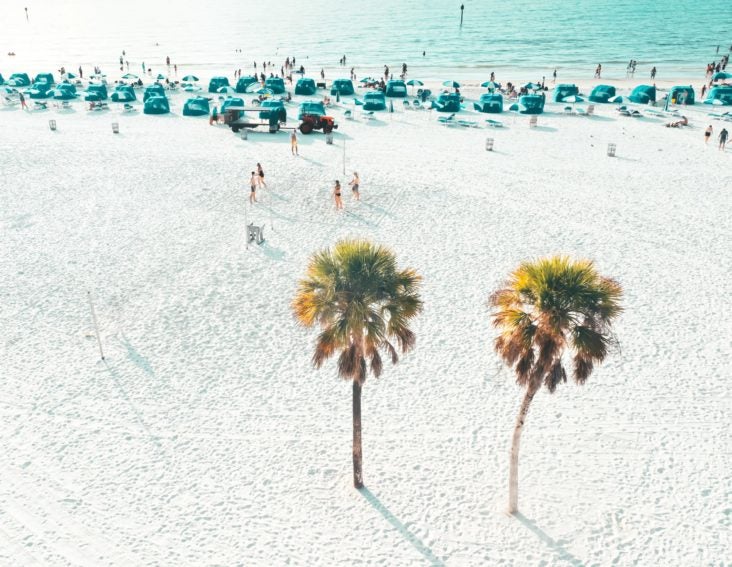 About 25 miles west of Tampa, Clearwater Beach consistently ranks as one of Florida's most beautiful beaches. The sand is sugary soft and the waters are calm and shallow — perfect conditions for swimming and wading in the Gulf.
Nearby, the Beach Walk promenade welcomes cyclists, rollerbladers, and anyone itching for a stroll. The variety of activities on offer, from beach volleyball to dolphin-watching cruises offshore, make Clearwater especially great for families.
If you have kids in tow, don't miss a visit to the Clearwater Marine Aquarium or Pier 60, where you'll spot fishermen and street performers doing their thing as the setting sun puts on a spectacular show.
Hot Tip: Consider timing your visit to Clearwater for April so you can catch the Pier 60 Sugar Sand Festival, one of the best sand sculpture festivals in Florida.
Cocoa Beach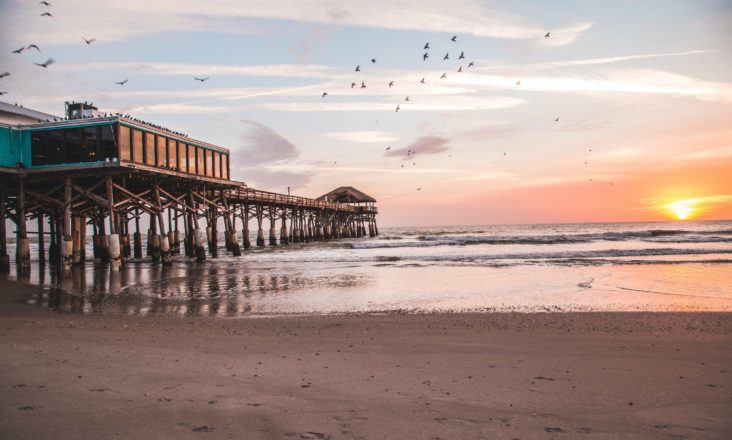 Great waves make laidback Cocoa Beach a surfing and parasailing paradise, but even landlubbers will find endless amounts of fun here. One of the best spots to watch Cocoa's surfing competitions is Westgate Cocoa Beach Pier before popping into the Ron Jon Surf Shop for a souvenir.
Big swells aside, what really sets Cocoa Beach apart is its covetable address near some of Florida's most iconic sights. The beach is just an hour's drive from Orlando, making it a great day trip for those staying near Walt Disney World and its surrounding attractions.
NASA's Kennedy Space Center Visitor Complex is even closer — just a 30-minute drive away — which means Cocoa Beach is also a great spot to view shuttle or rocket launches from Cape Canaveral.
Plus, kids won't be the only ones having fun here: alcoholic beverages are allowed on the sand year-round.
Hot Tip: Planning a trip to Walt Disney World? You might be interested in learning how to make it more affordable with points and miles.
Daytona Beach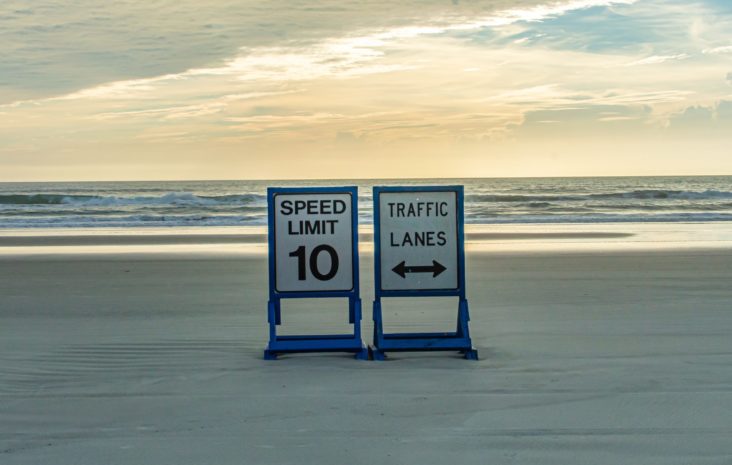 The sign outside Daytona reads, in huge red lettering, "World's Most Famous Beach." Whether or not that's true today, it was certainly plausible back during the 1920s, when spectators traveled from miles away to watch the car races held on Daytona's long, wide, hard-packed beach. The Daytona International Speedway still draws millions of tourists every year.
Aside from being among the best cheap beach vacation destinations in North America, Daytona is one of the few beaches that lets you drive and park right on the sand.
Beyond the beach, the area offers plenty of thrills at Marine Science Center, the Daytona Lagoon water park, and The Riverfront Shops downtown. On the iconic Daytona Beach Boardwalk and Pier, the Bandshell hosts free summer concerts and fireworks shows, and there's even more fun to be had at the arcade.
Siesta Key Beach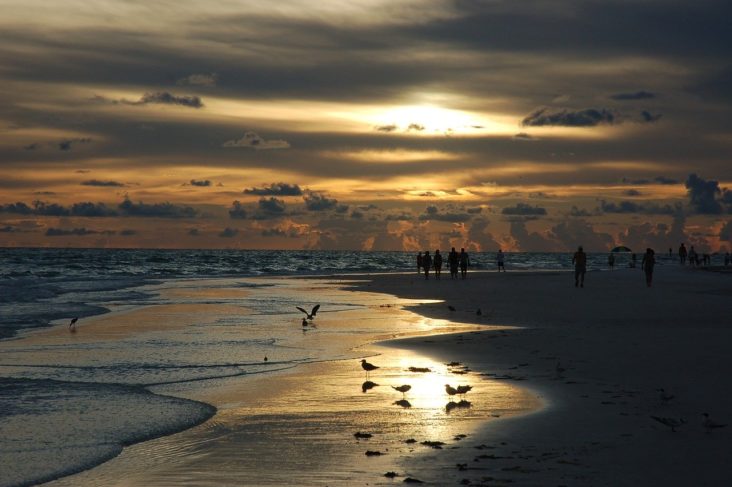 Siesta Key Beach nabbed first place in the 2020 Tripadvisor Travelers' Choice awards for Best U.S. Beach, and there is truly nowhere else in Florida like it. Made up of more than 99 percent pure quartz crystal, Siesta's silky sand never gets hot despite Florida's flaming summer temperatures.
In other words, no more mad dashes from your towel to the car. Instead, you'll find visitors strolling around barefoot during the heat of the day, hunting for seashells and burying their toes in the sand.
St. Pete Beach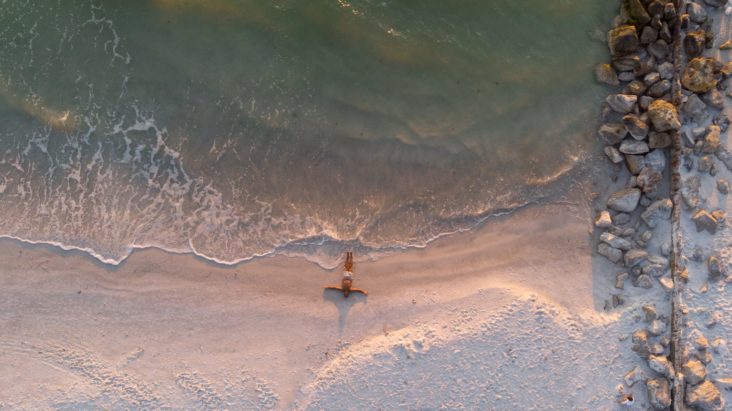 On a peninsula not far from St. Petersburg, St. Pete Beach holds a record for most consecutive days of sunshine in a calendar year — 361, on average — which gives vacationers plenty of daylight to booze and burn.
Although decidedly calmer than Miami Beach, St. Pete still knows how to have a good time. Restaurant menus are full of Gulf-to-grill seafood and beach bars like Jimmy B's pump out tropical music and Rum Runners around the clock.
No visit here would be complete without checking out The Don CeSar, a 1928 landmark hotel that's hosted the likes of F. Scott Fitzgerald and Al Capone. For something more modern, Hotel Zamora is a stylish 4-star boutique close to the beach with an outdoor pool, Mediterranean-style rooms, and a top-notch spa.
Vero Beach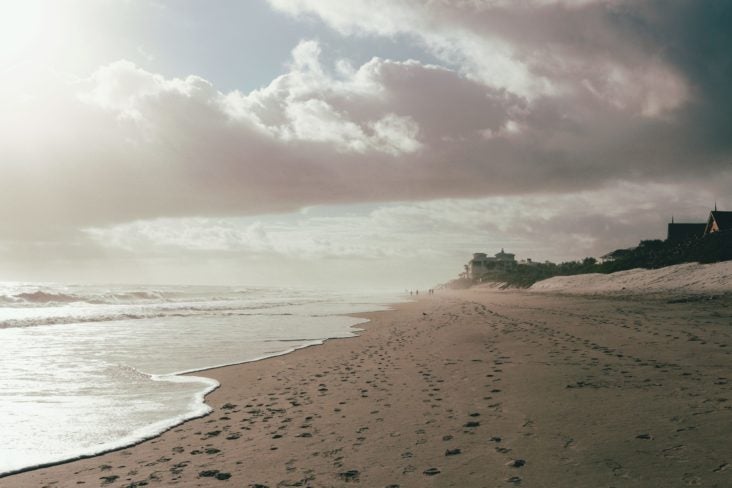 If Palm Beach is where Floridian billionaires go to flaunt their net worth, then Vero Beach is where they go to escape it. This small town has been called the Hamptons of Florida, but luckily, you don't have to be rich to enjoy the good life here.
Divided between the main town and a barrier isle, Vero Beach is chock-a-block with craft and sandwich shops, art galleries, and tour operators whose kayak and seaplane rentals get you out into nature. Book a room at celebrity-owned Costa d'Este Beach Resort & Spa to enjoy its celebrated Cuban restaurant and infinity pool.
Fun fact: A fleet of ships carrying actual treasure sunk off the coast here during the 18th century, which is why this region is also referred to as "The Treasure Coast." Beachcombers can try their luck digging for the Spanish galleons that are still unaccounted for.
The Best Beaches in South Florida
Fort Lauderdale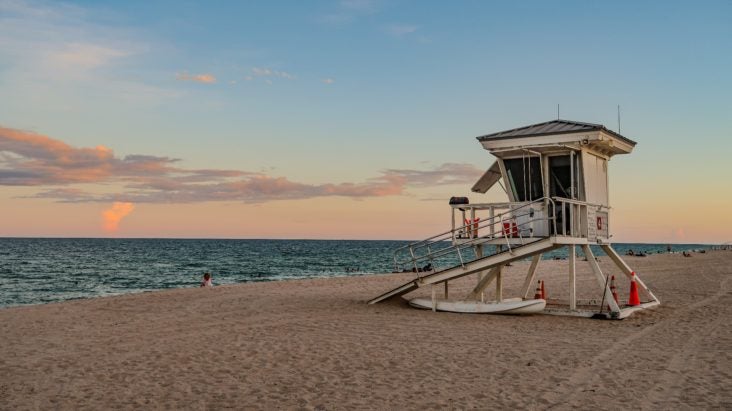 A mere 30 miles separate Fort Lauderdale from Miami, but this destination is well worth a visit on its own. Sure, you'll find similar 5-star hotels and museums, but Fort Lauderdale is much more down to earth than its flashy neighbor to the south.
There's a promenade lined with palm trees that separates the beach from waterfront residences, hotels, restaurants, and bars. Las Olas Boulevard is a favorite shopping destination, and there are endless family-friendly activities that get you out onto the area's sparkling blue waves.
In fact, the city has been named "the Venice of America" because of the many bridges that span its waterways that you can explore by gondola. Best of all, the Everglades is just an hour away by car.
Miami Beach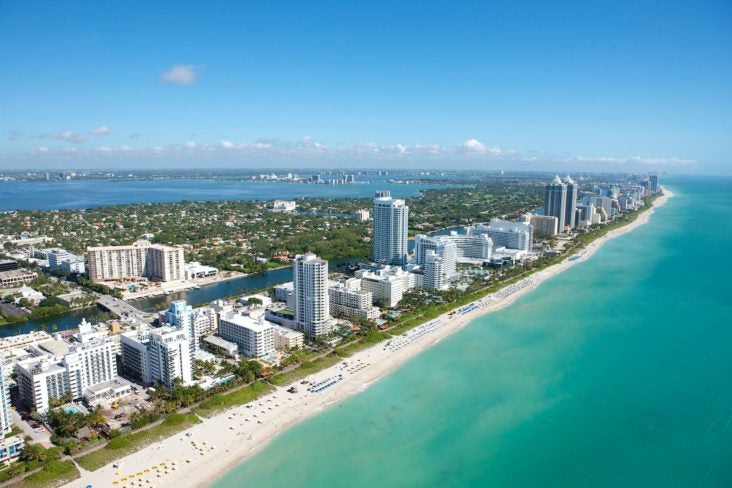 The crown jewel of Floridian beach towns is famous for a reason: it has everything. There are miles of beachfront, trendy hotels, award-winning restaurants, see-and-be-seen pool clubs and bars, thumping nightclubs, endless entertainment, and all the distractions of a legitimate metropolis just minutes away.
Miami Beach's tropical weather and style scene draw crowds year-round, but that just means fantastic people-watching, especially in party-loving South Beach. Miami's Art Deco district teems with neon lights, flashy cars, and sun-kissed revelers cat-walking down Ocean Drive.
Couples and families tend to stick around Mid-Beach, where it gets quieter. Vintage lifeguard towers break up clusters of colorful umbrellas, and a raised boardwalk separates the sand from Miami's endless strip of hotels — from the iconic Fontainebleau to more playful stays like The Confidante.
Hot Tip: Rates at The Confidante, a Category 4 Hyatt property, start from $199 or 15,000 World of Hyatt points per night. Consider a stay here when using your Hyatt Category 1-4 Free Night Certificate.
Naples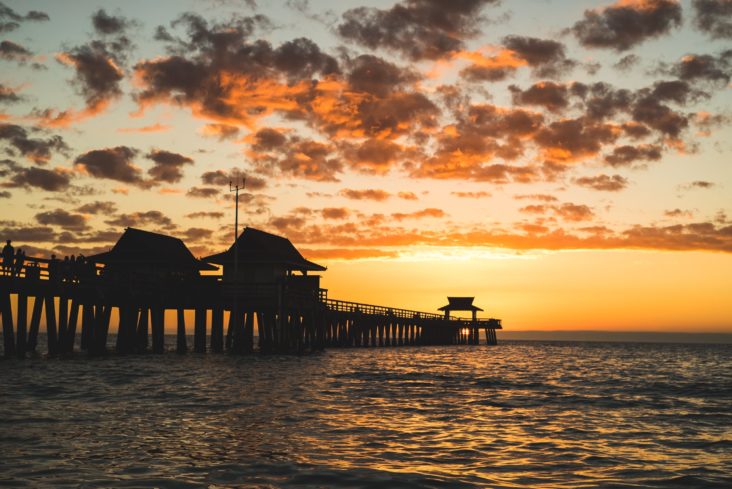 An hour south of Fort Myers, on Florida's southwest coast, Naples is an upscale getaway known for its golf courses, high-end boutiques, millionaire mansions, and luxury hotels. Luckily, the local beaches are free to the public, and their Gulf of Mexico sunsets are a sight to behold.
Unlike popular Vanderbilt Beach Park and Lowdermilk Beach, the beach at Naples Pier attracts minimal crowds and is just a short walk from the restaurants and shops of 3rd Street. The focal point is its long pier, which is popular with fishermen and hosts an annual Fourth of July fireworks show.
If you're looking for a place to stay, The Inn on Fifth is a 4-star property close to town with a stellar spa and a rooftop pool.
Palm Beach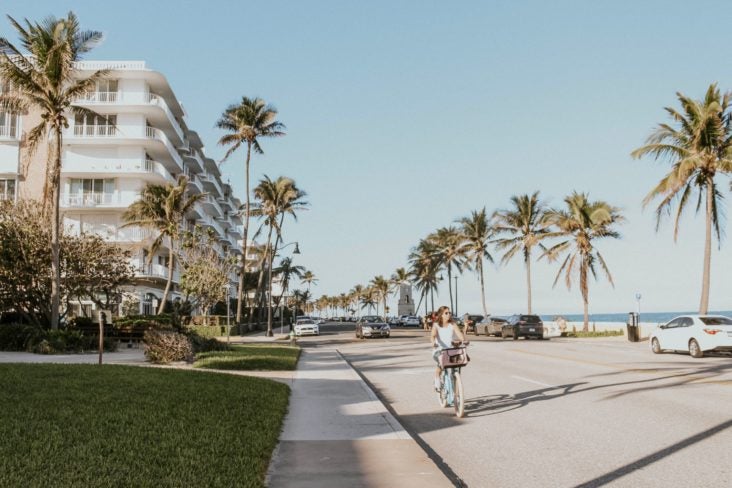 You could spend a pretty penny vacationing in this long-time playground for the rich and famous. A former stomping ground of the Vanderbilts and Rockefellers, the 16-mile-long barrier island is packed with couture shops (hello, Lilly Pulitzer!), celebrity-chef restaurants, moored yachts, and some of Florida's fanciest hotels.
The beach itself is beautiful, right next to the Gulf Stream. Alternatively, enjoy the sun during a spin around town on a rental from Palm Beach Bicycle.
During your tour, follow the lake trail to the Henry Morrison Flagler Museum, the railroad tycoon's Gilded Age mansion, then head across the island to The Breakers. The historic hotel, also built by Flagler, sits on 140 manicured acres and is still the heart of Palm Beach's social scene.
Sanibel Island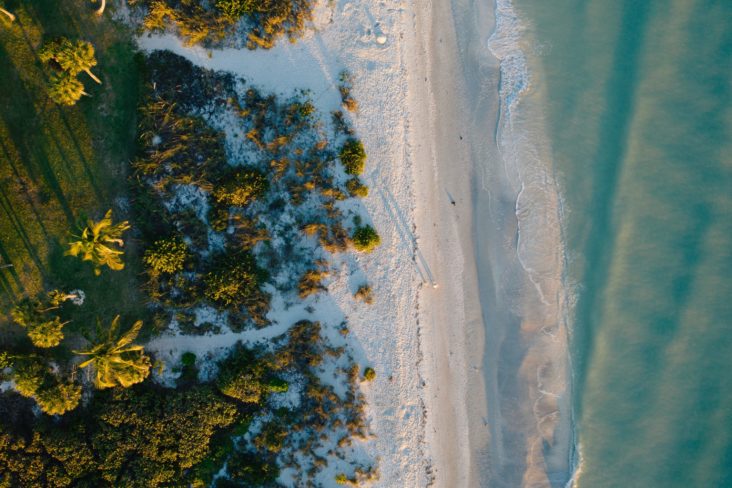 Serious beachcombers should make a beeline for Sanibel Island, a quick drive west from Fort Myers. Along with its sister island, Captiva, Sanibel's beaches are famously strewn with washed-up seashells — conches, cockles, sand dollars — that are so perfectly intact that the island is considered a top destination for shelling.
The "Sanibel Stoop" is now an official name for the way treasure hunters bend down to scoop up their finds. Of the island's 15 beaches, 2 of the best for shelling are quiet Bowman's Beach and Lighthouse Park Beach, which is known for its 19th-century iron lighthouse.
The Best Beaches in the Florida Keys
Bahia Honda State Park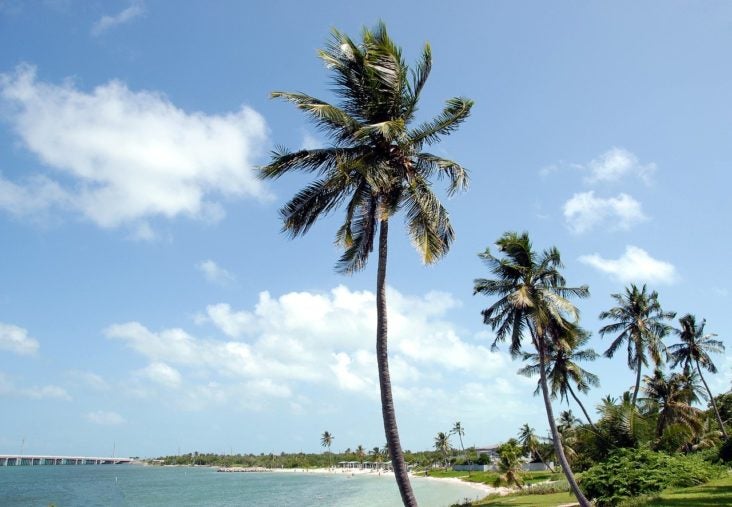 Just past Marathon, at mile marker 37 on US-1, hides one of the most beautiful beaches in the Keys. Bahia Honda is located on Big Pine Key and, because of its protected status as a state park, remains well-preserved.
Ocean-facing Sandspur Beach is the longer of the 2 beaches here and makes for a beautiful walk — especially at low tide. Calusa Beach, on the interior coast, is smaller and features views of Henry Flagler's old Overseas Railroad bridge.
Both are lined with swaying palm trees, sugar-white sand, and water so blue and clear you might mistake it for the Caribbean. Expectedly, the snorkeling conditions here are unrivaled.
Hot Tip: Camping sites are available at Bahia Honda State Park and are a solid option for travelers looking to break up their road trip between Miami and Key West.
Dry Tortugas National Park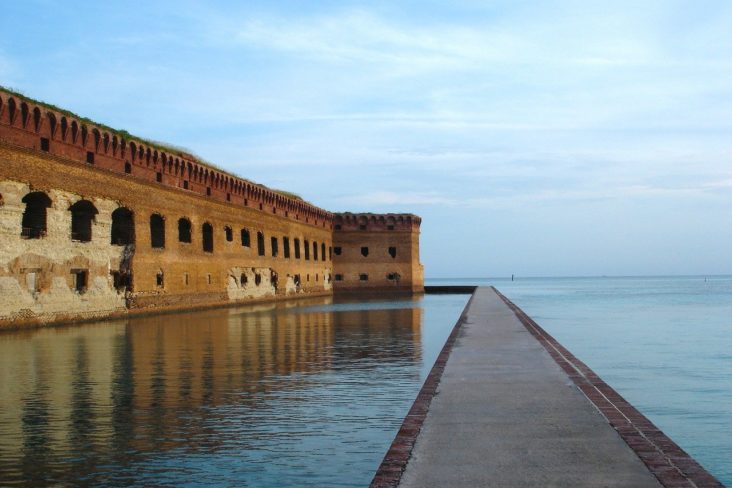 Located 70 miles off Key West and accessible only by boat or seaplane, Dry Tortugas is one of the more difficult national parks in America to reach — but the effort it takes to get there is worth the reward.
The remote main island houses an impressive 1846 coastal fort where you can take ranger-guided tours, and snorkelers who swim by the beach and moat wall have been known to spot tropical fish and nurse sharks swirling around colorful coral.
If 1 day of exploration isn't enough, a limited number of campsites are also available. Facilities are primitive: there are grills and picnic tables but campers must bring their own tents, water, food, fuel, and ice. Despite (or perhaps because of) these limitations, an overnight stay under the stars is a once-in-a-lifetime experience.
Key West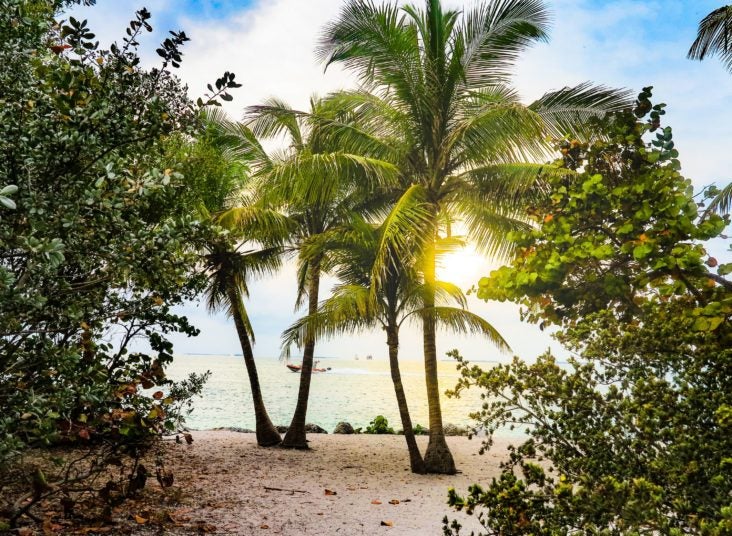 It's easy to get on island time in Key West, the furthest of the 1,700 islands that make up the Florida Keys. You won't find any wide beaches here — just tiny strips of sand, mostly imported from the Caribbean — but good things come in small packages.
The fun starts right at sunrise at popular Smathers Beach, a 2-mile stretch where food stalls, watersports rentals, showers, and picnic areas keep the energy high. Bonus: parking and entry are both free.
Alternatively, avoid the crowds by heading to Fort Zachary Taylor Historic State Park. Although sunbathing isn't ideal (you'll be laying on ground-up coral, not sand), you can still picnic, go snorkeling, or take a tour of the Civil War-era fort.
The Best Florida Beaches for Families
Amelia Island
Clearwater
Cocoa Beach
Daytona Beach
Fort Lauderdale
Panama City
Sanibel Island
All of these beaches offer a winning combination of great swimming conditions, well-maintained facilities, and endless activities for families to enjoy.
Near St. Petersburg, Fort De Soto Park is another family-friendly option to consider. Spread across 5 islands, it features lifeguard-manned beaches, playgrounds, nature trails, a historic fort, and ample opportunities to spot local wildlife including dolphins, shorebirds, and loggerhead turtles. There's even a designated area for off-leash dogs.
Young children will especially love Fort De Soto's North Beach, which has a large tidal pool where they can splash around and collect seashells.
Final Thoughts
No matter which shoreline you choose for your next trip, you truly can't go wrong. Florida isn't called "The Sunshine State" for nothing — its perpetually warm temperatures and sunny skies make for a great beach vacation no matter what month you choose to visit.
That said, weather can be a factor. Hurricane season generally starts in June and lasts through November, when tropical storms dump rain and wind across the state.
As with any trip, before you go, be sure to check local weather reports as well as parking (if you plan on driving) and available facilities so you can be as prepared as possible with what to bring. Above all, be smart, be safe, and most of all, have fun!