The 30 Best Things To Do in Orlando [Theme Parks & Other Activities]
Orlando is known for being the theme park capital of the world, but there is also so much more to the city than magical wonderlands and wacky waterparks. Venture into the Central Florida Everglades in search of alligators or roam the beautiful vineyards of a winery (with mandatory tastings, of course).
Spend an afternoon in one of the city's galleries or museums before raising the roof at an NBA game watching legendary Orlando Magic. Entertainment is everywhere in Orlando, in whatever form that takes for your perfect vacation.
Hot Tip: If you're flying into Orlando for your vacation, take a look at our terminal guide for Orlando International Airport (MCO).
Best Theme Parks in Orlando
1. Experience the Magic at Walt Disney World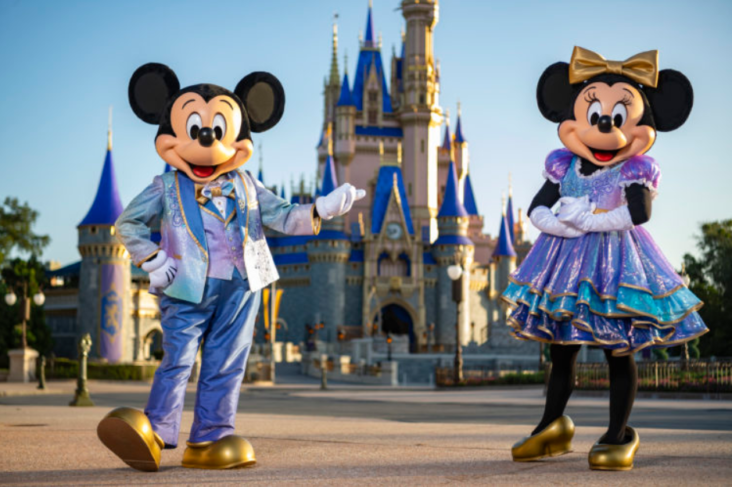 Walt Disney World was one of Orlando's original theme parks, having opened its first park in 1971. Comprised of 4 separate parks — Animal Kingdom, EPCOT, Hollywood Studios, and Magic Kingdom — you can purchase single or multi-day tickets to each theme park (or add Park Hopper to visit more than 1 park on the same day). Meet your favorite characters at Magic Kingdom, fly the Millennium Falcon at Hollywood Studios, or go on safari at Animal Kingdom.
We have plenty of guides to help sprinkle pixie dust on your next Disney vacation:
2. Ride Rapids & Roller Coasters at SeaWorld Orlando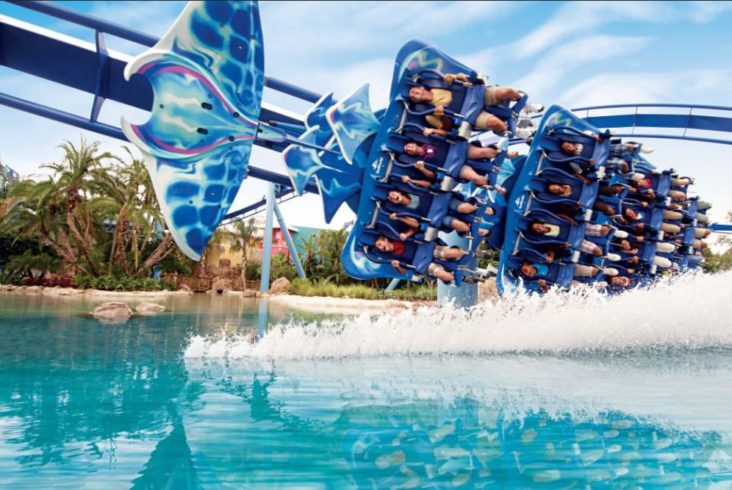 There are not many places where you can learn about marine conservation 1 minute and ride a roller coaster the next. SeaWorld Orlando is home to a range of animal ambassadors, including killer whales, sea lions, and dolphins that feature in a series of performances and experiences to educate visitors. In between animal encounters, take on the rapids of Infinity Falls, ride Orlando's tallest and fastest roller coaster (Mako), or splash around in the Rubber Duckie Water Works.
Hot Tip: Our guides to the most popular amusement parks and water parks to visit in North America include over 10 amazing options in the Orlando area!
3. Go Behind the Scenes at Universal Orlando Resort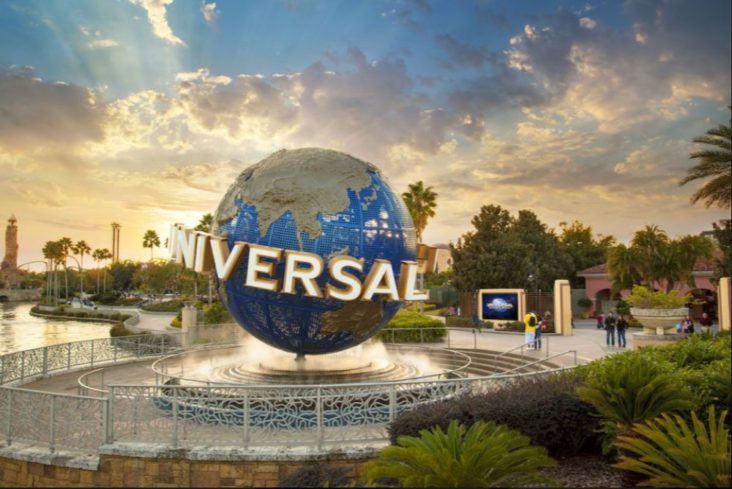 With the right ticket, you've got the choice of 3 incredible amusement parks at Universal Orlando Resort. You'll experience Jurassic Park, the Wizarding World of Harry Potter, and Marvel-themed attractions and rides at Universal's Islands of Adventure and get to go behind the scenes of some of your favorite movies at Universal Studios Florida — a real working film and TV studio. Bring your swimsuit to ride epic water slides and splash around in the wave pool at Universal's Volcano Bay Water Theme Park.
Book your multi-park ticket in advance with 24-hour cancellation and see what changes to expect with Universal Orlando Resort's reopening since COVID-19 in our helpful guide.
4. Shoot LEGO Skeletons at LEGOLAND Florida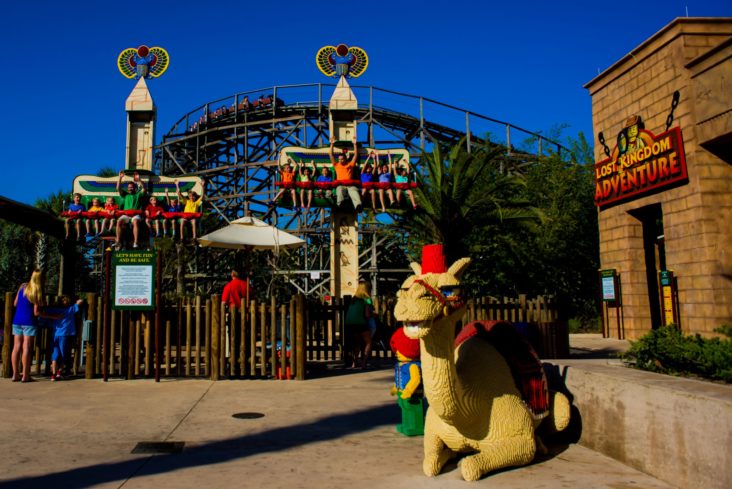 LEGOLAND Florida Theme Park is a great amusement park for the young or young at heart. 14 themed lands are packed full of exciting rides, playgrounds, and attractions to suit all ages. Shoot LEGO skeletons and mummies in the Lost Kingdom Adventure or ride a LEGO horse against jousting knights on the Royal Joust ride. Of course, if you just want to build as LEGO was intended, head to Rebuild the World where you can play with bricks to your heart's content.
Hot Tip: Purchase a combined pass and you can also access LEGOLAND Water Park. With a wave pool, water slides, and lazy river, it's a great place to cool off on a hot summer's day. 
5. Slide Past Dolphins at Aquatica Orlando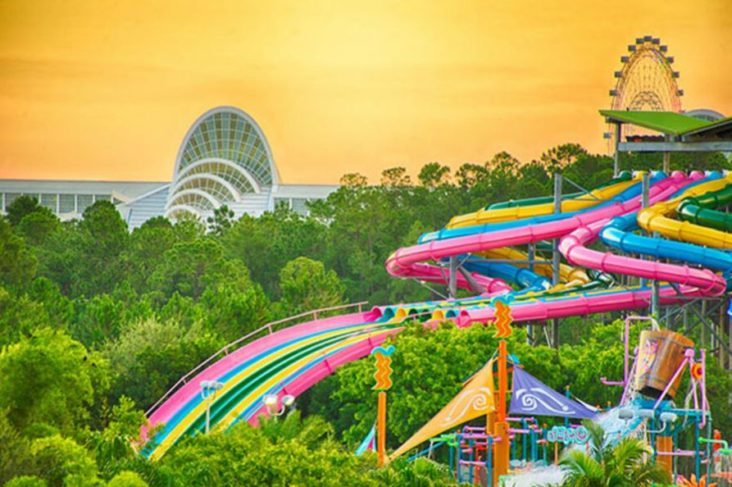 Aquatica Orlando is SeaWorld Orlando's water park for humans. The only exception is a pod of black-and-white Commerson's dolphins that watch as you slide right through their lagoon on the Dolphin Plunge ride. Thrill-seekers can feel weightless on the Karekare Curl, while those looking for relaxation can float down the lazy river or lounge in a beachfront cabana.
Book your ticket in advance with 24-hour cancellation.
Best Free Things To Do in Orlando
6. Go Wine Tasting at Lakeridge Winery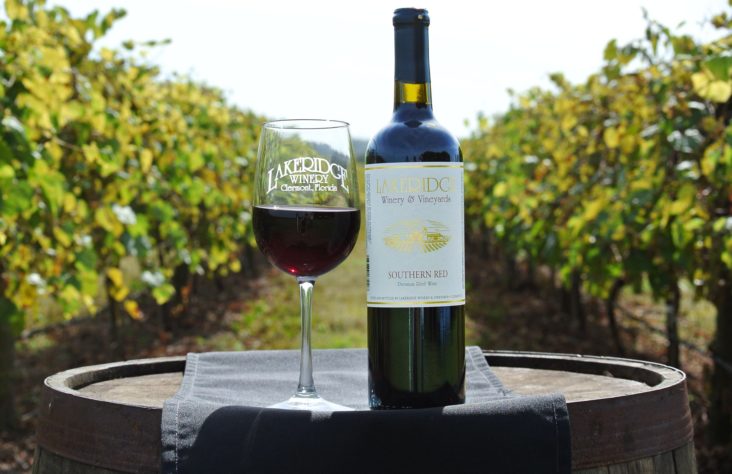 25 miles from Orlando, in an area that was once the focal point of Florida's grape industry, is the popular Lakeridge Winery. Stop in to admire the 127 acres of vineyards and rolling countryside and join one of the free wine tasting sessions held daily. If a particular wine takes your fancy, you can purchase a bottle or 2 from the retail area, along with assorted cheeses, olive oil, and salad dressings.
Hot Tip: Planning to explore further afield? Check out how to book cheap car rentals in Orlando, including the best places to rent and price comparisons. 
7. Listen to Opera With Musica Della Notte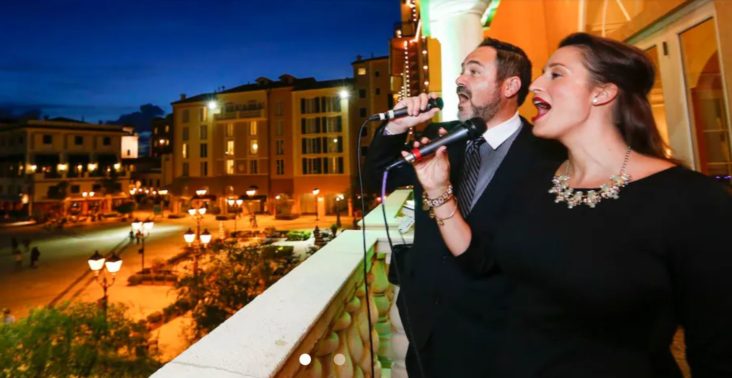 Relax with a glass of wine in the Harbor Piazza while you're serenaded during Musica della Notte. These free nightly performances begin at sunset, with classically trained singers taking to the balconies of the Loews Portofino Bay Hotel at Universal Orlando Resort. Listen to classic opera and modern "popera" pieces while you stroll hand-in-hand along the harbor or enjoy a meal under the stars. You'll feel like you're in Italy.
8. Admire European Old Masters at Cornell Fine Arts Museum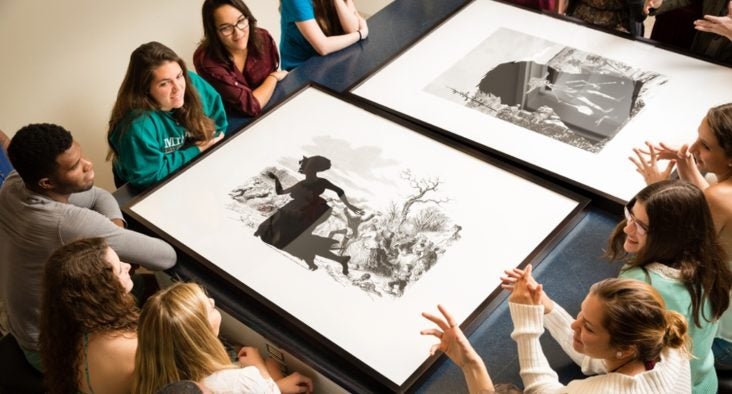 The Cornell Fine Arts Museum can be found on the Rollins College campus at Winter Park, offering free admission and free tours for all. A collection of over 5,000 pieces are permanently on display here, ranging from ancient to contemporary art. Check out Orlando's only European Old Master paintings or the museum's rotating exhibits, showcasing work from emerging artists.
9. Watch Street Performers at Disney Springs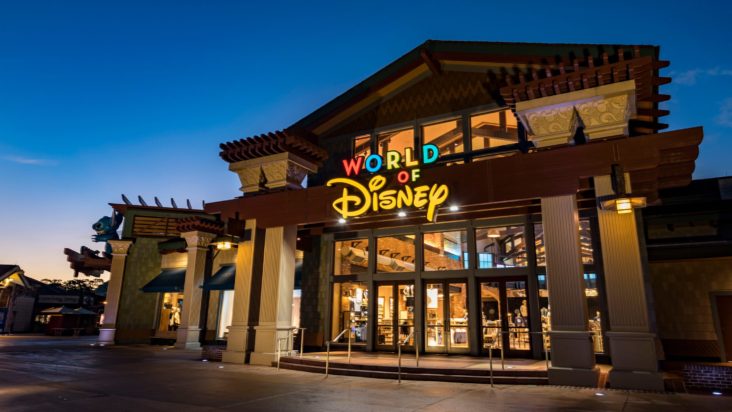 Entry and parking are free at Disney Springs, but there are many tempting shops, restaurants, and attractions that might have you reaching for your wallet. Still, there are free experiences to be enjoyed, such as daily and nightly live music at the AdventHealth Waterside Stage, late-night DJ dance parties at Waterview Park, and street performers at Riverboat Square.
Hot Tip: If you're looking for accommodation, check out the best places to stay in Orlando for your Disney vacation. 
10. Enjoy the Tranquility at Mead Botanical Garden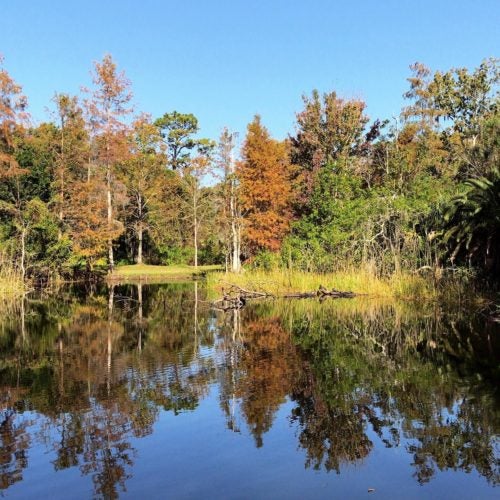 If you're looking to take a break from the theme parks and connect with nature, head to Mead Botanical Garden in Orange County. Stroll along the boardwalks and nature trails that meander through the forest wetlands. Visit one of the 2 butterfly gardens that are home to many beautiful flowers that attract pollinators such as butterflies, bees, and hummingbirds.
Hot Tip: If you're vacationing on a budget, we've also looked at the best cheap hotels in Orlando so that you have more money to spend having fun. 
Best Things To Do in Orlando With Kids
11. Pet a Starfish at the SEA LIFE Orlando Aquarium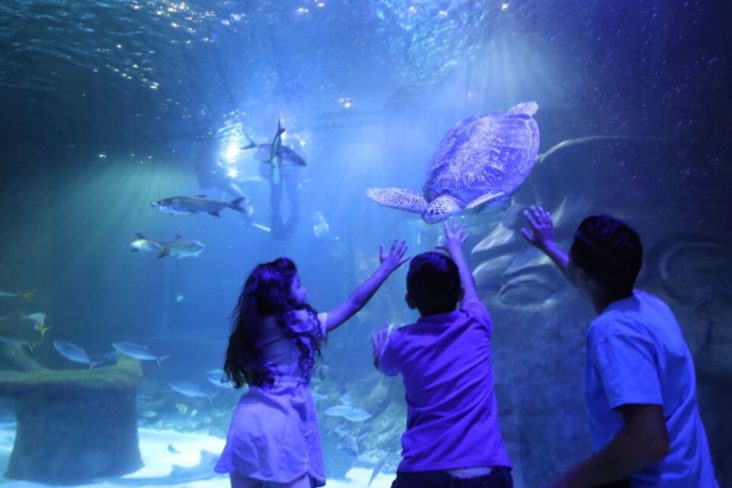 SEA LIFE Orlando Aquarium enables visitors to come face to face with both aquatic and land-based animals while learning about the important conservation projects the aquarium is involved with. Surround yourself with thousands of fish, turtles, rays, and sharks in the 360 Ocean Tunnel or be mesmerized by the color-changing Jelly Wall exhibit. Kids will love petting a starfish in the Coastal Rockpool or watching divers feeding marine life in the Indian Ocean exhibit.
Skip the queues by booking your ticket in advance.
12. Experience a Shuttle Launch at Kennedy Space Center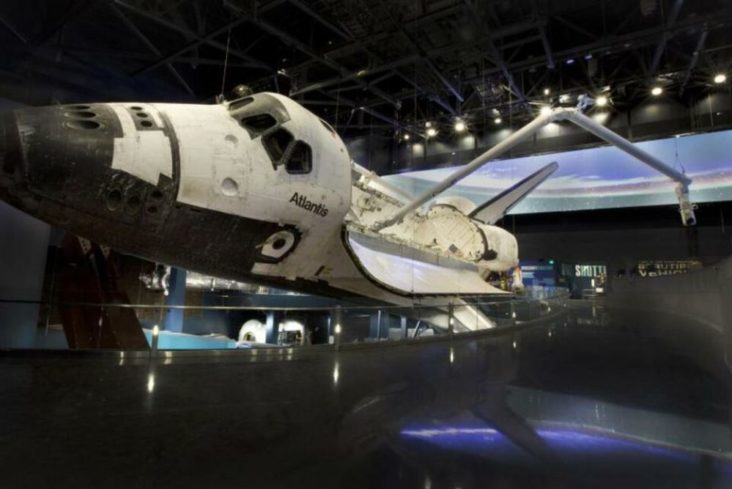 Take your aspiring astronauts to Kennedy Space Center — the launch site for the Apollo, Skylab, and Space Shuttle missions. Explore some of these early space programs and ongoing missions, and celebrate those involved in the Astronaut Hall of Fame exhibit. Stroll among real spacecraft in the Rocket Garden or take a behind-the-scenes bus tour to some of the historic launch sites.
Prebook your ticket to skip the line on arrival.
Hot Tip: Take a look at our tips for amazing family travel to avoid any stressful situations. 
13. Glide Through the Everglades on an Airboat Ride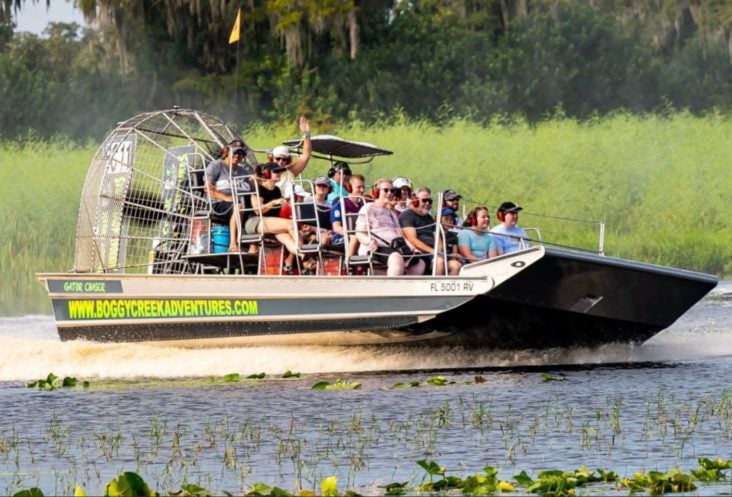 Take a ride through the Central Florida Everglades on board an airboat tour, and you'll cruise through the backwaters of the state's most beautiful and diverse landscape. Your guide will tell you all about the wildlife that inhabits these wetlands, from endangered birds to the American alligator and turtles to waterfowl.
13. Strike a Pose With a Superhero at Orlando Madame Tussauds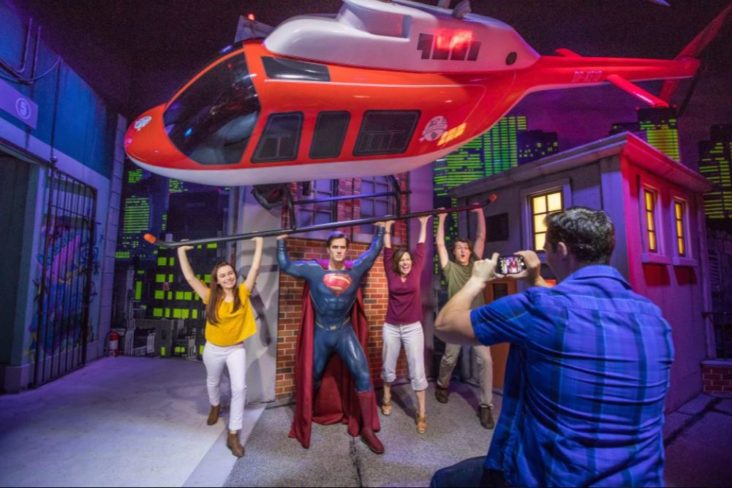 Rub shoulders with some of your favorite celebrities at Madame Tussauds Orlando, where you'll find the likes of Taylor Swift, Ryan Gosling, and even Kung Fu Panda. Snap a selfie to trick your friends or strike a pose with a superhero at the Justice League: A Call for Heroes exhibit. A variety of zones are categorized by music stars, history and leaders, sports, and more, and are home to life-like waxwork models that are waiting to meet you.
Book your ticket in advance with 24-hour cancellation.
14. Zipline Over a Lake of Crocodiles at Gatorland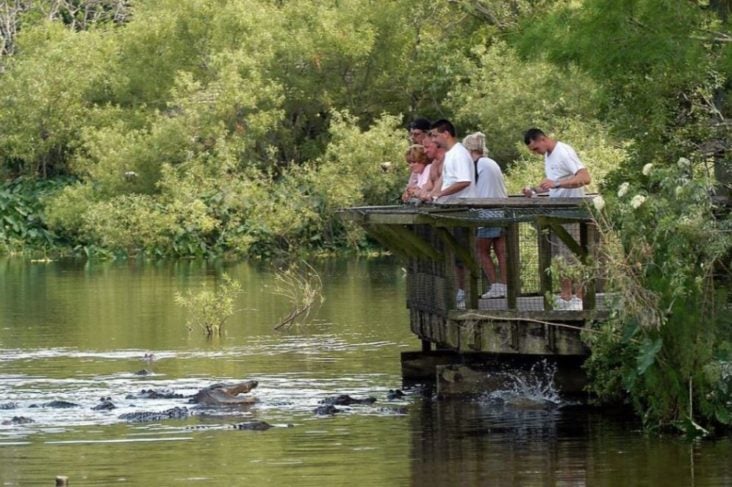 Gatorland is home to thousands of alligators and crocodiles ranging from tiny baby gators to extremely rare giant white alligators. Not one for the faint-hearted, but visitors can choose to zip-line across a croc-filled lake or take on the role of trainer for the day. You'll also find wildcats, snakes, and giant tortoises in the park and a free-flight aviary with hundreds of budgerigars.
Book your ticket in advance with 24-hour cancellation.
Best Things To Do in Orlando for Adults
15. Step Aboard the Titanic Artifact Exhibition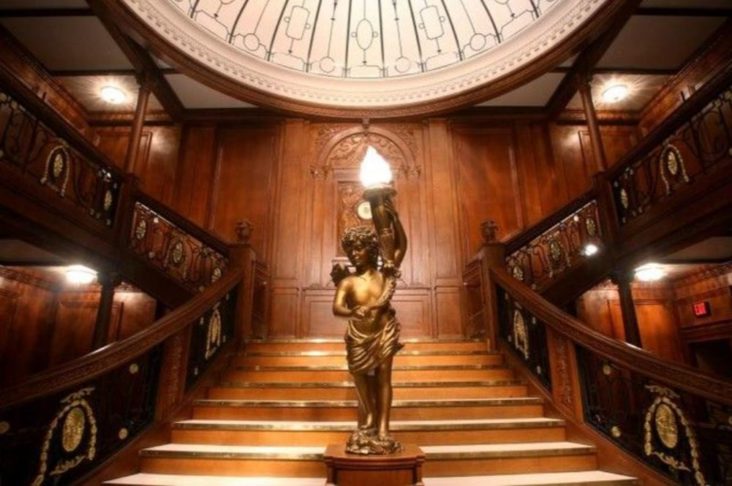 Travel back to April 1912 and see hundreds of artifacts recovered from the wreckage of the RMS Titanic's fateful voyage. Take a self-guided tour through the Titanic Artifact Exhibition where costumed actors portray the stories of notable passengers, including Captain Smith and Molly Brown. Walk down a full-scale replica of the grand staircase, feel the cool Atlantic air as you stroll on the promenade deck, and see a large part of the ship's hull that was recovered from the wreckage.
Book your ticket in advance with 24-hour cancellation.
Hot Tip: Save up to 50% on various tours and attractions, including the Titanic Artifact Exhibition, with an Orlando sightseeing flex pass.
16. Swim With Manatees at Crystal River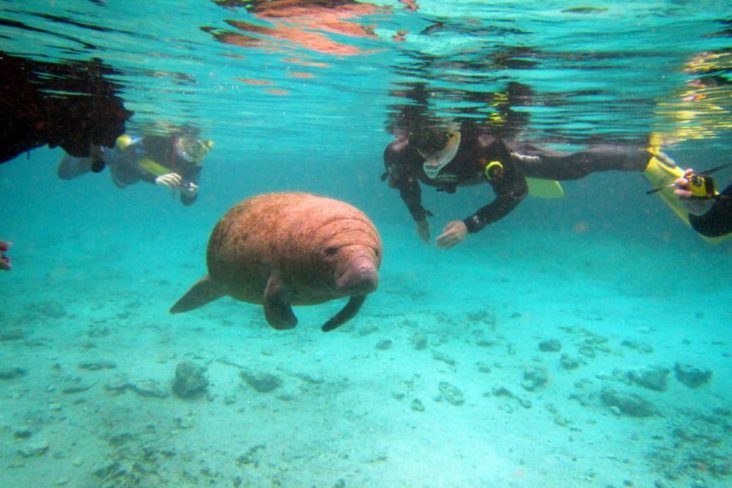 Manatees are aquatic mammals that migrate to the warmer rivers and estuaries of central Florida during winter. One spot these gentle giants congregate in is the beautiful Crystal River, around 1.5 hours to drive to from Orlando. Book a tour for an unforgettable experience swimming and snorkeling with manatees as you glide alongside these friendly creatures. You'll also visit Homosassa State Wildlife Park and enjoy a 30-minute airboat ride to see more wildlife.
17. Learn How Chocolate Is Made at Chocolate Kingdom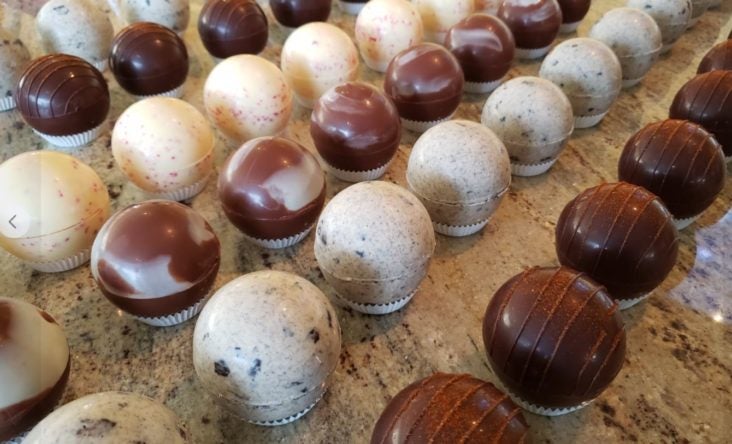 Chocoholics can learn all about what it takes to transform bean to bar during the Factory Adventure Tour at the Chocolate Kingdom. Your guide (accompanied by a prince and dragon) will take you through a cacao tree greenhouse, a river of chocolate, and the factory displaying historic machinery. Tours depart hourly, Tuesday through Sunday, and you have the option to create a customized chocolate bar of your own.
18. Kayak Along the Econlockhatchee River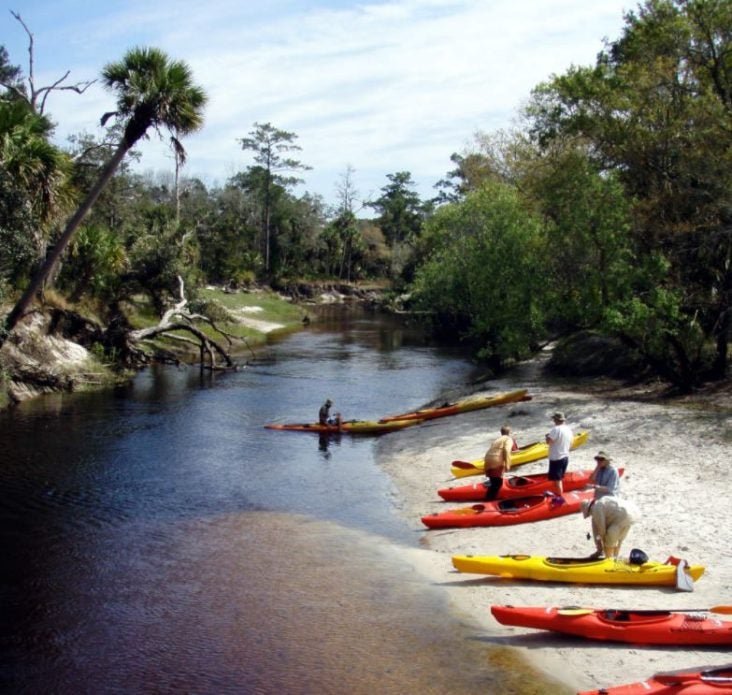 Explore the Little-Big Econ State Forest as you paddle along the Econlockhatchee River on a guided kayaking tour. Your 8-mile journey (downriver) will take you past forests full of cypress and palm trees, and you might spot wildlife such as wading birds, eagles, or alligators. Cool off and stretch your legs with intermittent breaks on the sandy river banks and enjoy a picnic lunch before being transported back to the meeting point by private van.
Hot Tip: There's always a chance you'll get wet when kayaking, so be prepared with the best water shoes for men and women. 
19. Capture Weird and Wonderful Photos at the Museum of Illusions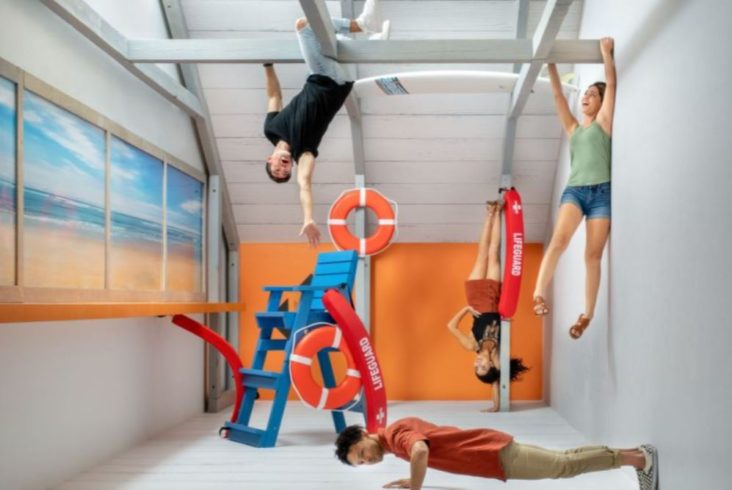 Play tricks on your brain with a visit to the Museum of Illusions, where you're able to capture weird and wonderful photos that are seemingly impossible. As well as being great fun, the museum will educate you on the art of illusion and perception, and you'll get to interact with some pretty unusual exhibits, including the Reversed Room, Clone Table, or Titled Room.
Book your ticket in advance with 24-hour cancellation.
Best Things To Do in Orlando at Night
20. Watch the Lake Eola Park Nightly Water Fountain Show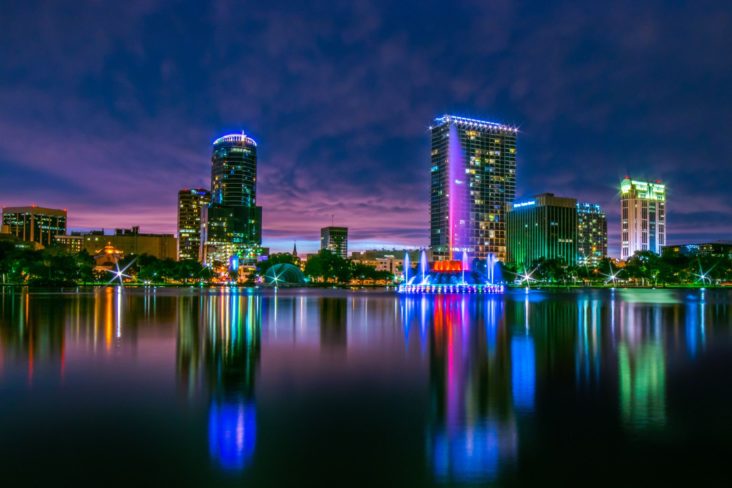 Lake Eola Park is located in downtown Orlando and is a fabulous location to relax and admire the city skyline. During the day, you can rent a swan boat to paddle around the lake or walk the mile-long footpath. Every night, the water fountain at the center of the lake performs a light and music show at 8 p.m. and 9 p.m.
Hot Tip: Keep your passport, credit cards, money, and documents all safe in 1 place with the best travel wallets and organizers. 
21. Admire Classic Cars at Orlando Old Town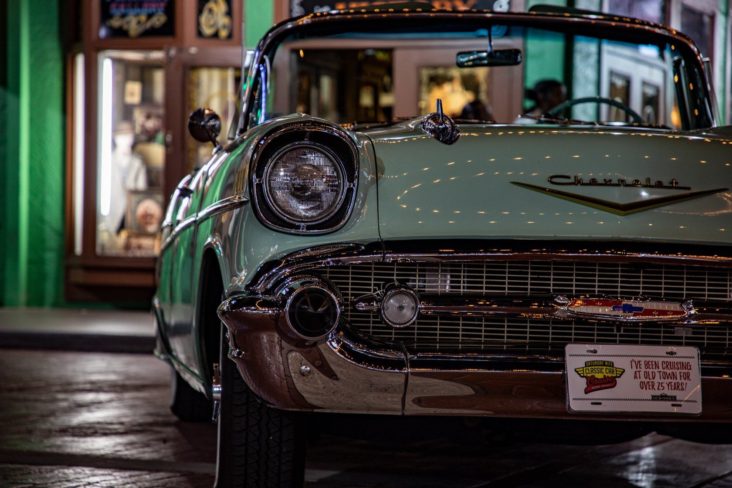 At Orlando Old Town, you'll get a feel for what an old-style Florida town was originally like offering classic American fun. Ride the Ferris wheel for fantastic views of Kissimmee and Orlando and enjoy various other fairground rides and attractions. Old Town is famous for its weekend nightly car shows, where spectators line Main Street to admire classic cars and trucks that parade through the street.
22. Listen to Live Music at Universal CityWalk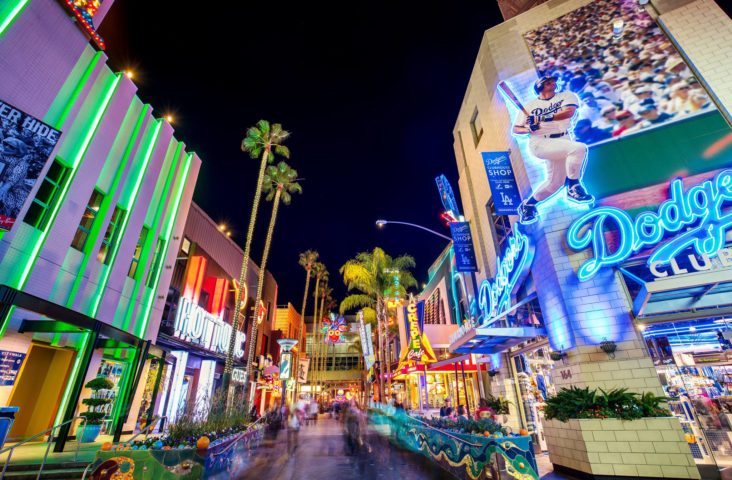 Universal CityWalk is an open-air shopping, dining, and entertainment complex that is buzzing day and night. Located near the entrance to Universal Studios and the Islands of Adventure, you can continue the fun long after the parks close.
There are many themed bars and restaurants to choose from, as well as live music, mini-golf, and much more. If you need to get to and from your accommodation, or you just fancy hopping on a boat ride, you can take one of the water taxis that operate regularly between Universal CityWalk and the Universal hotels.
Hot Tip: Save money or earn cash-back or points with these credit cards for Disney or Universal vacations.
23. Ride the Wheel at Icon Park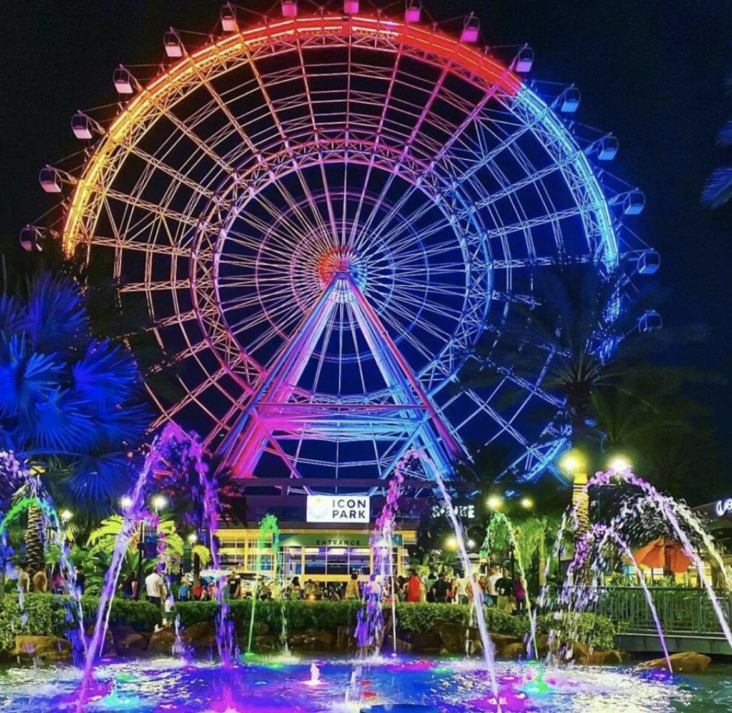 As the brightest beacon in the Orlando sky, you won't miss the Wheel at Icon Park. This 400-foot Ferris wheel is illuminated by night and has air-conditioned capsules to enjoy the 20-minute ride. Take a spin at night, and you might see a firework display from one of the nearby theme parks, and you have the choice to upgrade to a Sky Bar experience with a drink of your choice included.
Book your ticket in advance with 24-hour cancellation.
24. Watch an Orlando Magic Basketball Game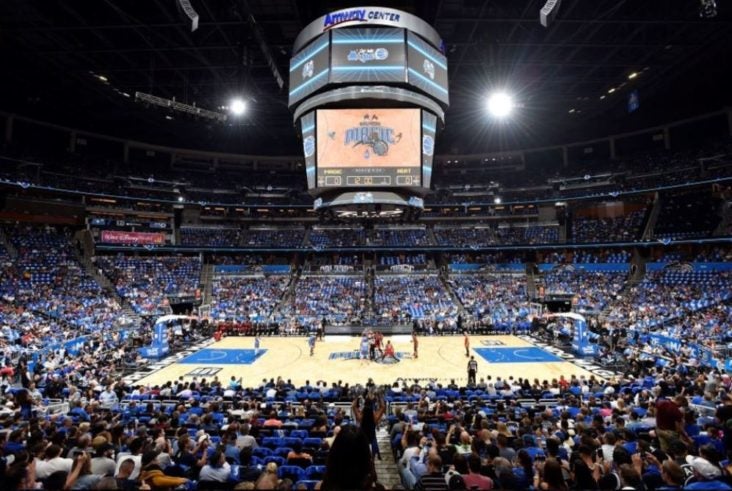 Whether you're into basketball or not, watching an NBA match at the Amway Center is an experience not to be missed. The atmosphere is exhilarating, with a pregame light and video show, halftime performances, and an enthusiastic mascot cheering throughout. You'll be on the edge of your seat as you watch Orlando Magic take on one of its rivals, like the New York Knicks or Los Angeles Lakers.
Best Events in Orlando
25. Enjoy Performances at the Orlando International Theatre Fringe Festival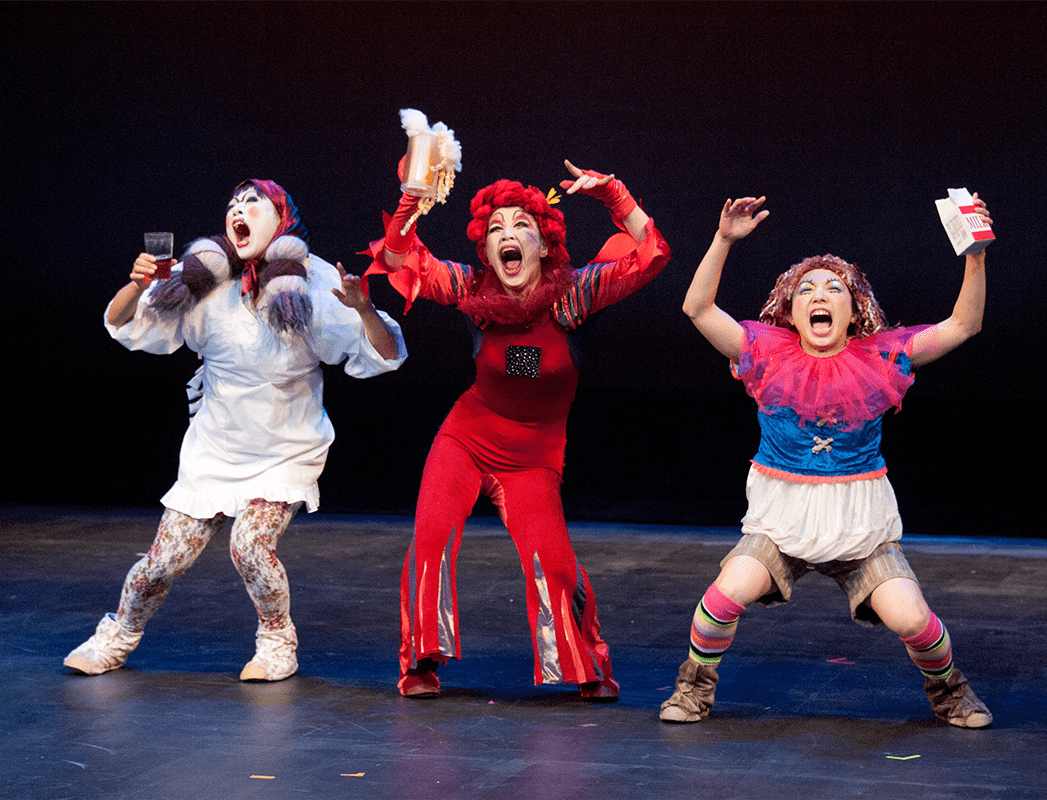 The Orlando International Theatre Fringe Festival is a 14-day event that takes place annually in May leading up to Memorial Day. This unique cultural festival features free outdoor music and 850 ticketed theater performances where artists are given complete freedom to perform uncensored and unjuried acts. Held in Loch Haven Park, the Fringe Lawn is the main hub of activity with an outdoor stage, bars, and food vendors. The festival is free to attend, with admission fees for some ticketed performances held across a variety of venues.
Hot Tip: Keep your valuables safe and within easy reach with these travel money belts. 
26. Face Your Nightmares at Universal's Halloween Horror Nights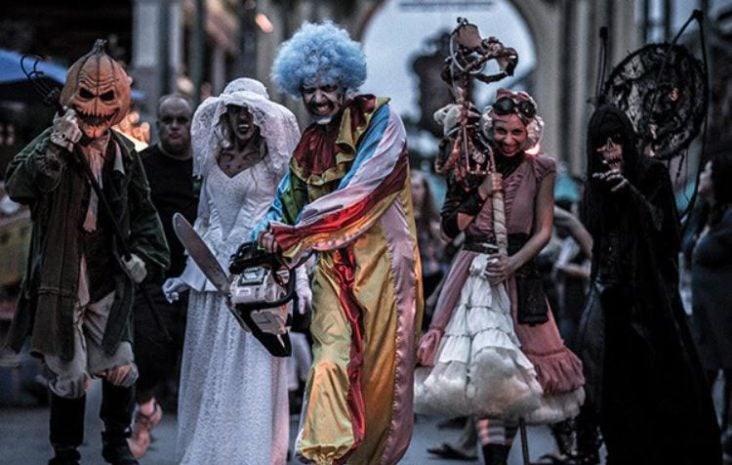 Not one for the faint-hearted, Halloween Horror Nights at Universal Orlando Resort brings nightmares to reality. These special themed events are held on selected dates in September and October and feature haunted houses and scare zones throughout the park. You'll encounter some of the terrifying characters from famous Halloween TV shows and films, witness extravagant live entertainment, and experience some of the rides that stay open late.
27. Cheer on Competitors at the Central Florida Scottish Highland Games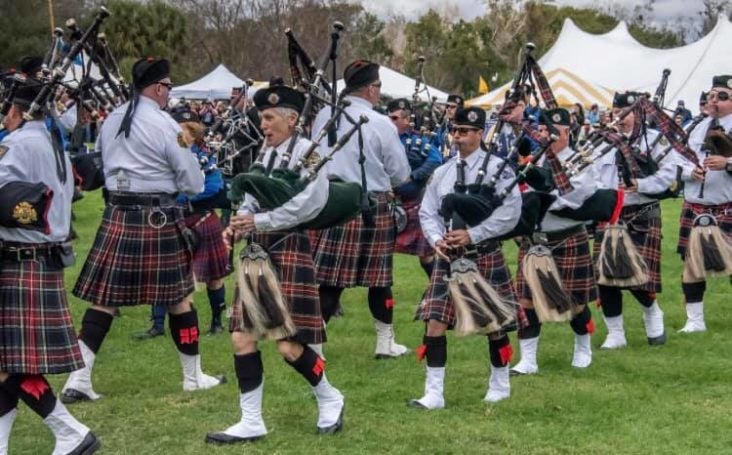 The Central Florida Scottish Highland Games is a celebration of Scottish heritage, where clans come together to partake in traditional highland athletics, such as the caber toss and hammer throw. Whether you've got Scottish roots or not, everyone is welcome to join the festivities, including Gaelic music, country dancing, whisky tasting, sheep herding competitions, and children's activities. The event is held in January at Central Winds Park, north of Orlando in Winter Springs.
28. Enjoy Arts, Crafts & Live Music at Fiesta in the Park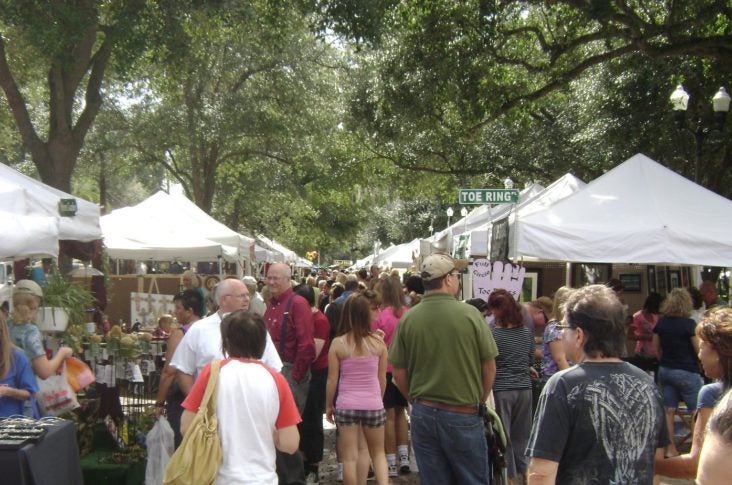 Fiesta in the Park is a twice-yearly event in spring (April) and fall (November) at Lake Eola Park. These 2-day family and pet-friendly festivals feature hundreds of artists showcasing their handcrafted pieces, such as jewelry, artwork, ceramics, and glassworks. Free live music occurs throughout the event, including a concert on Saturday night at the park's amphitheater.
29. Celebrate Mardi Gras at Universal Orlando Resort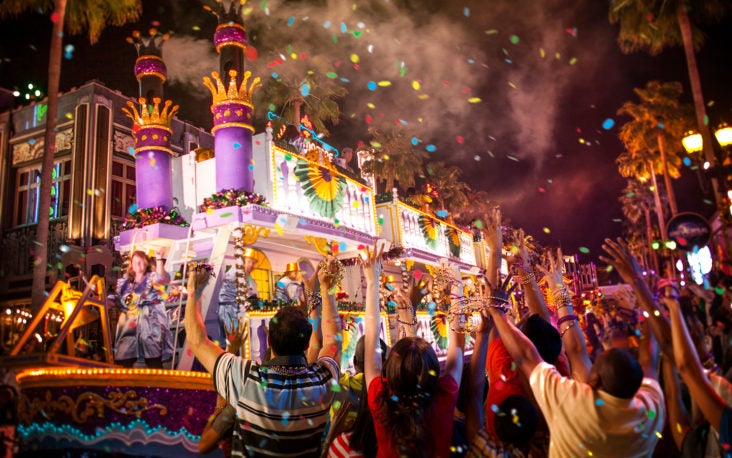 Bringing the Big Easy to Orlando, Universal hosts Mardi Gras with colorful parades, international flavors of Carnaval, and live music. Celebrations usually take place in February and March for the run-up to Fat Tuesday, and you can enjoy all the family-friendly festivities with regular admission to Universal Orlando Resort.
Hot Tip: With all the action, you won't want to miss a thing. Make sure you've got your camera at the ready with the best compact, DSLR, and mirrorless cameras for travel. 
Final Thoughts
Visiting Disney is a rite of passage for many kids (and big kids), so if it's next on your vacation list, you might want to check out our dedicated article on how to make your trip to Disney as stress-free as possible.
Magical memories are guaranteed to be made at Orlando's collection of theme parks, but be sure to allow some time to explore real Orlando as the city has much to offer.