How To Visit Disney World for Cheap by Using Points & Miles
If there is a single thing that kids and (most) adults can agree on, it's that a trip to Walt Disney World in Orlando, Florida is fun! Consistently one of the top destinations for families year after year, its no surprise that once you experience some of that Disney magic, you keep going back for more.
While the kids may love all of the rides, shows, characters, and ice cream, the adults are the ones who need to figure out how to pay for it all. With park tickets, hotels, flights, and food for a family, the total price for a week-long trip can easily reach thousands of dollars if you aren't careful.
After running the numbers, many families will realize they simply can't afford a trip to Disney or at least need to save up for a while before the trip. That is before they realize that many of these costs can be reduced or erased completely thanks to points and miles. And that's where we come in to help.
With some careful planning and strategic spending, you can find yourself on your way to Orlando with the family in tow without stressing about the fact that you are going to blow a mortgage payment to see a cartoon mouse.
Once you learn how to unlock the potential of points, miles, and cash-back, you may be planning your trip to Disney sooner than you thought! Let's see how!
Flights to Orlando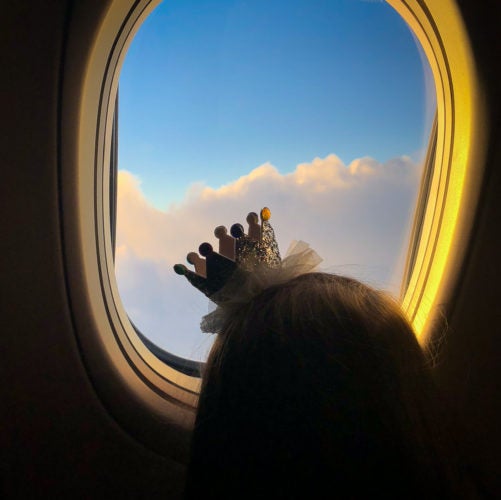 Unless you are within driving distance of Orlando, you will probably need to book a flight. Flying to Orlando International Airport (MCO) is becoming more and more convenient with essentially every U.S.-based airline offering daily flights to "The City Beautiful" and an increasing amount of foreign airlines flying direct as well. Heck, even Emirates offers a nonstop flight from Dubai!
With almost 50 airlines to choose from, booking a flight to MCO should provide you and your family with plenty of options for points, price, comfort, and schedule.
Of course, Disney and the surrounding theme parks, like Universal Studios, will get busy during holidays and school vacations and prices will jump accordingly — so be conscious of your timing.
That being said, with a little bit of planning and some extra points and miles knowledge, you can save yourself some serious cash. Let's take a look at some options below…
Award Flights
Award flights, for the unfamiliar, are flights paid for with airline miles or credit card points instead of cash. Ignoring the fact that it's often free to generate these miles and points, booking an award flight is often a much better value than paying cash, especially when flying in business or first class.
For a long time, most airlines relied on a fixed-price award chart based on some sort of combination of distance and region. Meaning you could expect to pay the same amount of miles for the same trip throughout the year. However, more and more airlines are shifting to a dynamically-priced system that will mirror the cost of a cash ticket, in theory.
While that may sound like award tickets will cost the same as a cash ticket (which is true in some cases), there is still a lot of value to be had by paying with points.
Here are some award flight examples to Orlando from popular airlines.
Hot Tip: If you are feeling lost with all of this points and miles talk, read The Ultimate Beginner's Guide to Points and Miles [Express Version].
Alaska Airlines

Unless you live on the West Coast, Alaska Airlines may not be the first airline that comes to mind when traveling to Florida. But since the airline has joined the Oneworld alliance and now has access to seats on American Airlines, there are options for travelers across the country.
However, if you are in the Seattle (SEA) region and are looking for a nonstop flight to Orlando, there aren't many options. Fortunately, Alaska does offer 1, but at a relatively steep price of 20,000 miles + $6 in taxes each way. There are cheaper options with connections for around 12,500 miles if you don't want to burn that many miles at once.
We are big fans of Alaska Airlines Mileage Plan miles around here, so we use them carefully!
American Airlines

American Airlines has a massive footprint and serves almost every major airport in the U.S. If you have some AAdvantage miles to burn, you should be able to find plenty of options near you.
In the example above, a direct flight in October from Chicago (ORD) to Orlando can be had for a low as 7,500 miles + $5.60 in taxes. American has shifted to a more dynamic price model, so prices can jump with demand.
With American Airlines AAdvantage miles being some of the easiest to earn, even without flying, you could earn enough for a free flight just from online shopping!
If you need to build up your point balance, here are our suggested ways to earn lots of American Airlines AAdvantage miles.
Delta Air Lines

Delta has been known to have some ridiculously high redemption rates when it comes to booking flights with miles. However, the airline often runs specials and there are plenty of routes that can be had for cheap. One of those routes is the quick flight from Atlanta (ATL).
If you live in the Atlanta area, you probably already have some Delta SkyMiles laying around, so using them to hop down to Orlando could represent a good value. A quick search found plenty of flights in economy for only 5,000 miles + $5.60 in taxes and then a bit more depending on how big of a seat you want.
With prices like these, boosting your balance is probably a good idea. Here are the best ways to earn lots of Delta SkyMiles.
Frontier Airlines

Frontier Airlines is a low-cost carrier that offers few frills, but pretty impressive prices. After revamping its loyalty program recently, there is a lot to like about flying with this company.
With one-way award tickets starting at 10,000 miles + $5.60 each way to and from anywhere in the U.S. and Puerto Rico, it is easy to sees how this airline can save you some serious cash on your next trip to Disney World.
Don't worry if you aren't a frequent flyer of Frontier Airlines, you can still earn those miles pretty easily. Here are the best ways to earn lots of Frontier miles.
JetBlue Airways

JetBlue is one of the most popular airlines in the U.S. thanks to its fair pricing, nice planes, and great service. With free Wi-Fi, unlimited snacks, and live TV, JetBlue is a great choice for families heading down to Florida on vacation.
When it comes to booking an award flight on JetBlue, it will be a little different than the competition. JetBlue uses a dynamic pricing model, so the price you pay in miles will be directly tied to the current cash price of a ticket. While that might mean that some sweet spots may be eliminated, it's not all bad news. JetBlue consistently has low prices compared to the (often inferior) competition and there are plenty of ways to earn TrueBlue points!
Southwest Airlines

Another family favorite thanks to its good prices, free snacks, generous change policy, family boarding process, Companion Pass, and 2 free checked bags is none other than the famous Southwest Airlines.
Just like JetBlue, Southwest uses a dynamic pricing model which is based on the price of a cash ticket. Since Southwest tickets are often relatively cheap, using points is still a good option.
The example shown above is from Nashville (BNA) to Orlando in August, which is peak vacation time and tickets are still available for less than 9,000 points. To help you earn enough Rapid Rewards for the whole family, we can show you how to earn a stack of Southwest points without even flying!
Spirit Airlines

Spirit Airlines can sometimes get a bad reputation because of its cheap flights and very limited onboard offerings. But, you get what you pay for. If you are looking for a cheap, no-frills flight to Orlando, Spirit is probably going to pop up on your radar — and you should take a look.
With the option to pay with points or points + cash, there are plenty of ways to get you and the family on a plane for cheap.
And, of course, if you need some extra points, here are ways to earn lots of Spirit Airlines Free Spirit points.
United Airlines

United is one of "The Big 3" airlines in the U.S. and therefore has a pretty big coverage map when it comes to domestic flights. Flights to Orlando are no exception, with multiple options daily that can fit most families' schedules.
Passengers can expect a nonstop flight in economy to start at 12,500 miles + $5.60, which is not bad for a 2+ hour flight. For anyone looking to boost their MileagePlus balance, here are the best ways to earn lots of United MileagePlus miles.
Bottom Line: No matter where you are in the U.S., there is an airline with a rewards program that can get you and your family to Orlando for a handful of miles. And if you need some more miles, we can show you how to get them! 
Transferable Points Programs & Their Travel Portals
If you don't like to stay tied down to 1 airline and its miles, keeping a balance of flexible points may be a better option for you.
Some of our favorite credit cards earn points that stay with the bank (Chase, Amex, etc.) until you are either ready to spend or transfer them. By earning flexible points, you can choose the airline with the best price and use your points as cash via a travel portal.
Below are some examples of transferable currencies and how to use travel portals (which are great for booking flights, hotels, and packages) from some of the most popular banks in the U.S.
Transferable Currencies
We can't talk about booking flights with points and miles without addressing transferable currencies!
The big attraction to points like American Express Membership Rewards, Chase Ultimate Rewards, Citi ThankYou Rewards, Capital One Miles, and Marriott Bonvoy is the fact that they are flexible. That means you can use them in many ways including cashing them in for statement credits, online shopping (not a good use), booking via their own travel portal, or transferring them to a hotel or airline partner.
By transferring to a partner airline, you can often get outsized value on your point redemption — often 2x or more if do a little research.
For more details, be sure to read the Ultimate Guide to Transferring Flexible Points to Other Accounts.
American Express Travel
American Express Travel is an online travel agency (OTA) that is available to everyone, including non-cardmembers.
Travelers can search for and book flights, hotels, cruises, and more online or over the phone. While the prices are usually the same or similar to what you would find on other sites or directly with the airline, there is often a small fee ($6.99 for domestic flights and $10.99 for international flights) for having the assistance of a customer service agent.
If you are a cardmember and have Membership Rewards points to use, you can redeem them at a rate of 1 cent each. That means if you find a flight for $300, you can redeem 30,000 points to cover the cost.
While this may not be the absolute best value when it comes to point redemptions (often transferring to an airline can be more beneficial), it is an easy and straightforward way to redeem your points.
Hot Tip: If you need to boost your point balance, read about the best ways to earn lots of American Express Membership Rewards points.
Capital One Miles
Capital One Miles has really stepped up its game when it comes to travel cards and services in the past few years. With some of the easiest to use and most rewarding credit cards, there is a lot to like about booking your trip to Disney with CapOne.
Just like the competition, Capital One has its own travel portal (which will be getting an upgrade thanks to Hopper later this year) where cardholders can book flights, hotels, rental cars, and more using their miles. The rate is a standard 1 cent per mile, so a $300 hotel room will cost 30,000 Capital One miles.
You can also transfer your miles to one of CapOne's airline or hotel partners, or alternatively, if you just decide to pay for your trip on your eligible Capital One card, you can use the Purchase Eraser tool to wipe any travel charge that hits your bill — assuming you have a sufficient amount of miles.
If you are interested in a CapOne card, we've put together a great list of the best Capital One credit cards for travel, cash back, and more.
Chase Ultimate Rewards
Chase is arguably the most popular card issuer at the moment thanks to the fact that points are easy to earn, it has plenty of transfer partners, and the Chase Ultimate Rewards travel portal is a great way to use your points.
Besides the fact that you can book everything including flights, hotels, cars, cruises, and vacation packages through the portal, you can do so at a great rate if you have the right Chase card.
Depending on which card you have, your redemption rate may vary — but never less than 1 cent per point. If you happen to have a Chase Sapphire Reserve® Card, you can redeem your points at a rate of 1.5 cents per point. That means the $300 hotel in the example above will only cost you 20,000 Ultimate Rewards points instead of 30,000.
For travelers who want to get great value from their points without having to deal with transferring to airline and hotel partners, Chase offers some great redemption opportunities.
Citi ThankYou Rewards
The Citi ThankYou Rewards program is an often overlooked way to earn and redeem points for some great travel. With premium travel credit cards like the Citi Prestige® Card that have some great spending bonuses, it is easy to build up a solid amount of points for a Disney vacation.
Once you have some ThankYou Points to spend, you can log into the Citi Travel Center and start searching for your flight as you would through any other online travel agency.
All Citi cards have a redemption rate of 1 cent per point, so a $300 charge will cost you 30,000 points.
If you are ready to start building your balance, don't miss the best ways to earn lots of Citi ThankYou Points!
Other OTAs
OTAs, or online travel agencies, are websites that gather most airline and hotel companies together and show them to the consumer right next to each other to make it easy to compare prices — just like the credit card travel portals listed above.
Some of the most popular sites include Expedia, Booking.com, Hotels.com, Priceline, and Orbitz and can offer great deals for travelers… but they aren't perfect. If you need to make any changes to your plans or have any issues, these third parties are notorious for being difficult to deal with.
Although these OTAs may have their own rewards programs, using your credit card points via one of the bank travel portals listed above will almost always represent a better value.
Cash Flights

Although we love to pay with points and miles whenever possible, sometimes it just makes sense to pay cash. That usually happens when either the redemption rates for those points are really high, or the cash price is really low.
What you may notice when searching for flights to Orlando is that if you are flexible with your dates, you can find some really cheap flights.
Thanks to the plethora of airlines servicing MCO, including some great low-cost carriers, booking your flight might be the cheapest part of your Disney vacation. In the screenshot above, we found a 1-way ticket from Austin (AUS) to Orlando for only $17!
Google Flights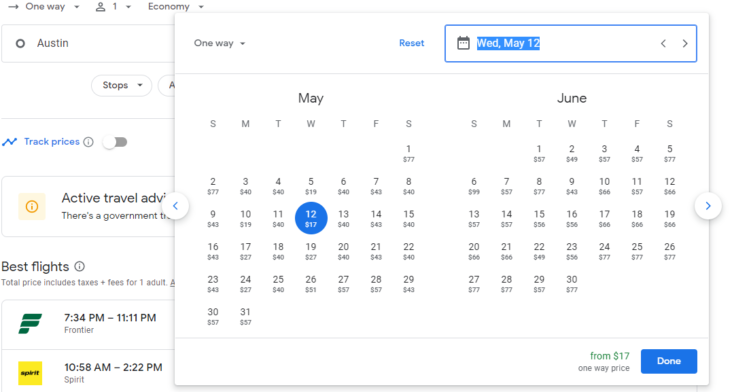 When searching for flights, one of the best and easiest tools to use is Google Flights.
Google Flights allows users to search for flights using plenty of filters including multiple airports, fare class, and preferred airlines and then displays the best fares on a calendar to make choosing your flight extra easy.
With just a few clicks you can have a really good idea of what prices are looking like and if they are likely to increase or decrease before your flight date.
For a full breakdown of this awesome service, read how to use Google Flights to find cheap flights.
Hot Tip: Before your trip, be sure to check out our best tips to make your trip to Disney as stress-free as possible.
Hotels in Orlando
Once you get your airfare all booked, one of the next steps in your vacation planning is deciding where to stay. This is where things can get overwhelming!
There are literally thousands of options when you start searching for hotels, motels, resorts, and rental homes in the Orlando area. To help keep things somewhat organized, we will focus on hotels that you can book with points and that are close to the parks.
If you are looking for rental homes or just a general overview of the lodging options in the Orange County area, we put together the best places to stay in Orlando, Florida for your Disney vacation (and a separate guide to the best cheap hotels in Orlando!).
The good news about having so many options to choose from is that there are tons of great hotel options that you can book with points — everything from a basic Holiday Inn to a Ritz-Carlton. If you've got the points, we can show you how to save. Let's take a look at some popular choices…
Disney Hotels & Resorts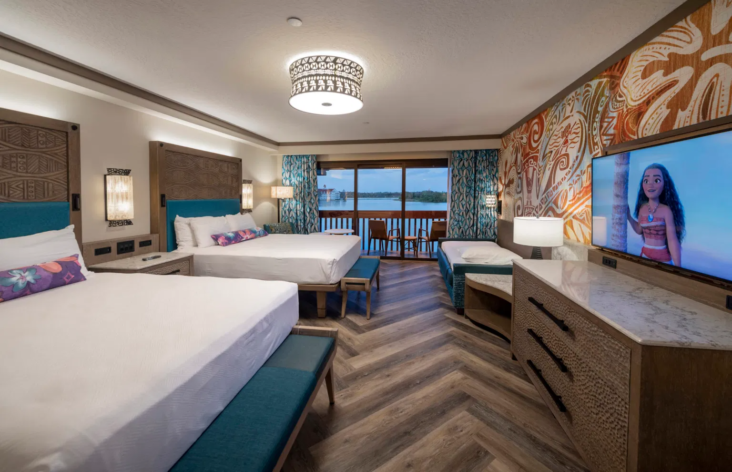 If you are looking to make your trip to Disney extra special, there is nothing quite like staying at an official Disney Hotel & Resort property. Disney has mastered the art of hospitality and entertainment and those skills translate perfectly from the park experience to the guest room.
With special character meals, themed rooms, and direct access to the parks, your stay will likely be remembered for a long time. The only problem is that most of the hotels are quite expensive compared to off-property options.
There are some budget options, like Disney's All-Star Movies Resort that starts around $100 per night, but some of the more popular options like Disney's Grand Floridian Resort & Spa start at over $500 per night. If you have some flexible points as we mentioned above from Amex, Chase, etc., you can try to book these hotels via the travel portals or use the Capital One Purchase Eraser after your stay.
But the real good news is there are actually 2 (and soon will be 3) hotels onsite that you can book using your Marriott Bonvoy points!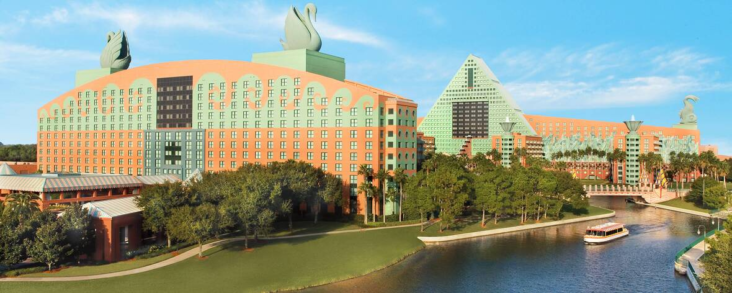 The Swan and Dolphin hotels are 2 of the most popular destinations because they are both within walking distance to the parks — and you can pay for them with points!
While they may not be the most iconic when it comes to themes and Disney magic, you can't beat the convenience and the price.
The Swan is actually branded as a Westin and the Dolphin as a Sheraton but they are both Category 6 properties, which means you can book a room for between 40,000 to 60,000 Marriott Bonvoy points per night.
Those with the Marriott Bonvoy Brilliant™ American Express® Card can redeem their annual free night to stay at Disney during off-peak and standard dates!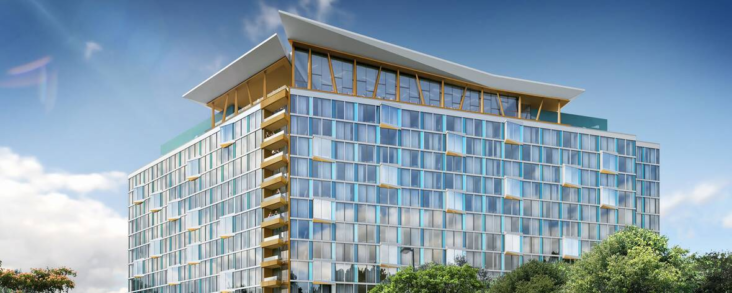 The Swan Reserve will be a new addition to the Disney hotel scene and a much welcomed third option for those of us who prefer to pay with points.
Scheduled to open in summer 2021, the Swan Reserve will be a luxury property and be a part of the Autograph Collection in the Marriott family. Just like its sister properties, it will also be a Category 6, so rooms will be just as affordable ranging between 40,000 and 60,000 Marriott Bonvoy points per night.
Disney Springs Resort-Area Hotels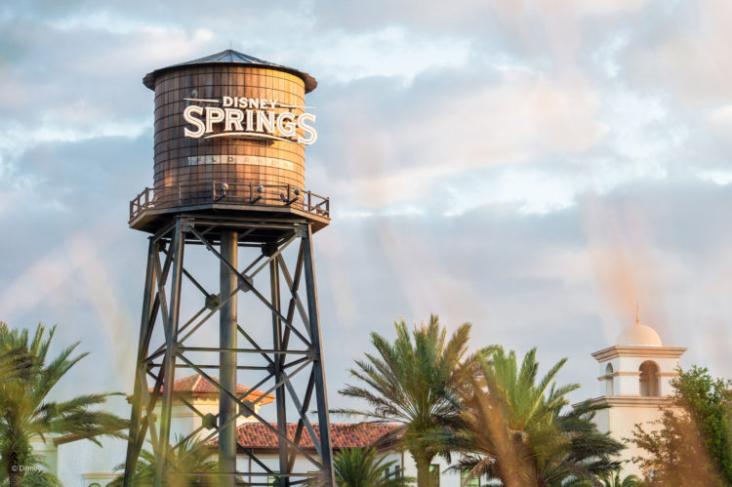 Disney Springs is an outdoor dining, shopping, and entertainment venue inside the massive Disney World Resort area in Lake Buena Vista, Florida. Part of this complex is a group of hotels that, while independent from Disney, receive official Disney perks for their guests.
Guests at these hotels will receive free shuttles to the parks, access to extended park hours, guaranteed park reservations, access to FastPass+ 60 days in advance (when available), and more!
The best part is that these hotels are run by major chains, which means they are bookable with points!
Some great Disney Springs hotels that you can book with points are: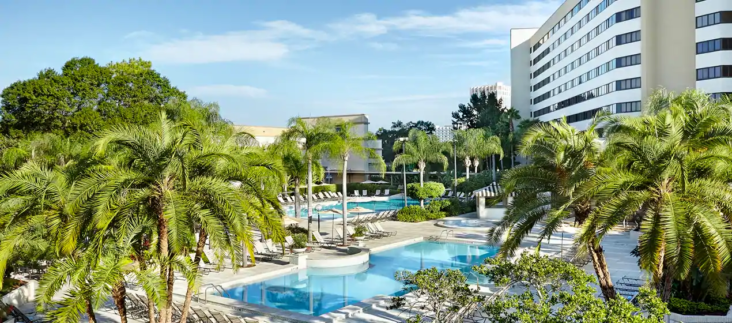 The Hilton Orlando Lake Buena Vista is an 814-room resort connected by a pedestrian bridge to Disney Springs.
With multiple heated pools, a kids' pool, and plenty of on-property dining, combined with the proximity to Disney Springs, there is plenty to keep you busy if you are not at the parks. The hotel offers shuttle service to all 4 Disney parks and plenty of extra Disney goodies.
Rooms can be booked for as few as 34,000 Hilton Honors points and the $35 resort fee is waived on award stays.

The Holiday Inn Orlando is the only IHG property inside of Walt Disney World.
This 323-room property is simple, but offers a pool, jacuzzi, on-site restaurant, and shuttles to the Disney parks. Parents will also love the fact that kids under 11 eat free at any time of the day at any open food outlet!
Rooms can be booked for as few as 27,500 IHG Rewards points, but the $35 resort fee is not waived on award stays.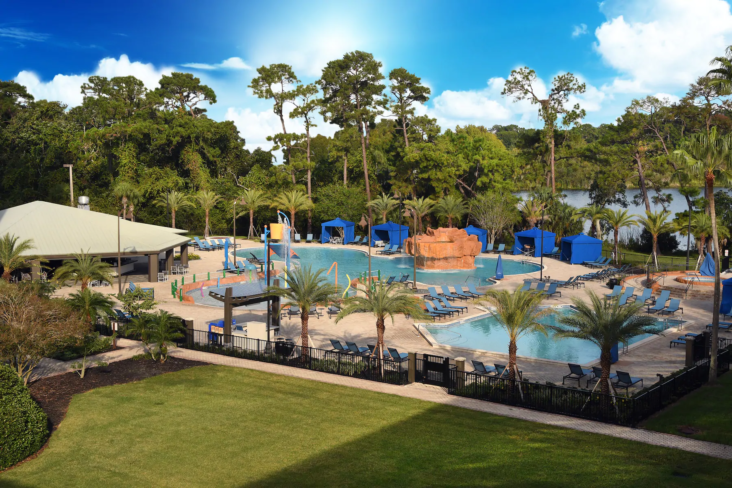 The Wyndham Garden Lake Buena Vista recently renovated its 394 rooms and sits right across the street from Disney Springs.
With a playground, arcade, great pools for kids and families, a pool deck for adults, plenty of recreational activities, and multiple options for food and beverage, this resort has a lot going for it. Add in the perks of being an Official Disney Hotel and this resort can become a really attractive option.
Rooms can be booked for 15,000 Wyndham Rewards points per night, but the $27 resort fee is not waived on award stays. 
Bonnet Creek-Area Hotels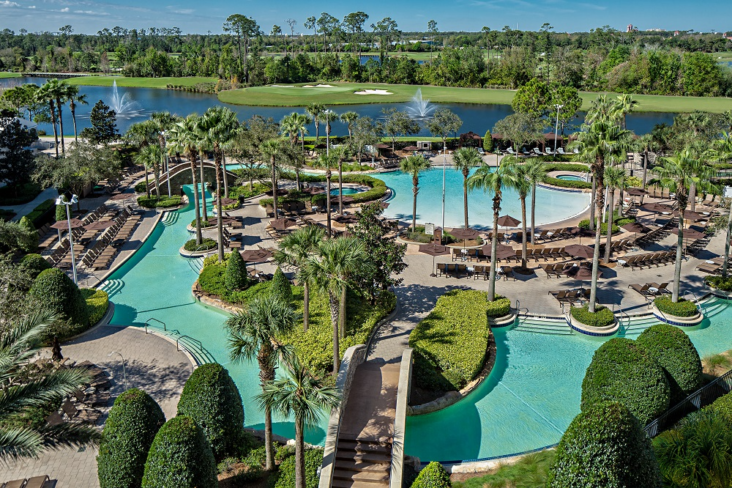 Just minutes from Disney Springs is 70 acres of land, surrounded on 3 sides by Walt Disney World property, called Bonnet Creek. This area is much less hectic than the Disney Springs scene and home to some great resorts which conveniently also get the badge of being an "Official Walt Disney World Hotel."
That means that guests will get all of the perks of the Disney Springs hotels, but in a calmer, more secluded area.
Again, these hotels are also bookable with points, so there are some great redemption opportunities to be had.
Some great Bonnet Creek hotels that you can book with points are: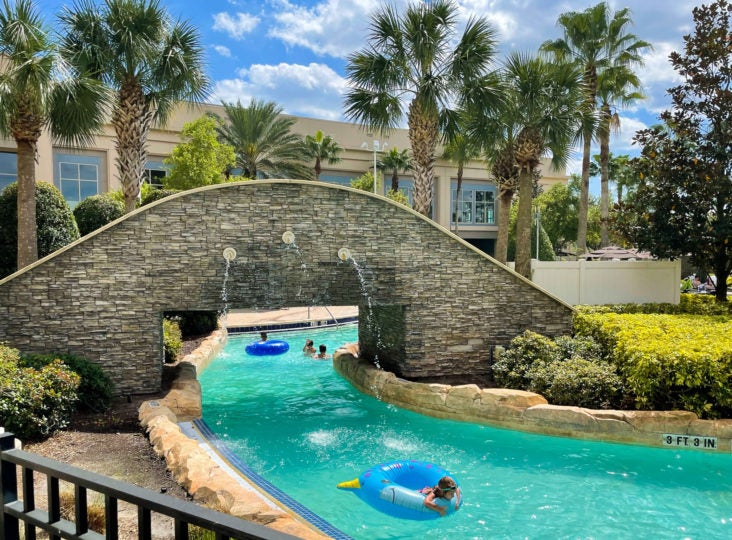 The Hilton Orlando Bonnet Creek is a massive resort that is connected to a convention center and also the Waldorf Astoria Orlando.
The Hilton offers a great pool and lazy river, a waterslide, cabanas, a golf course, multiple dining options, and more. If you're not going to the parks (via the free shuttle), there is plenty to do without leaving the property.
Hilton Honors Gold and Diamond members have plenty of perks as well, including free breakfast.
Rooms can be booked for as few as 50,000 Hilton Honors points per night and the $45 resort fee is waived on award stays.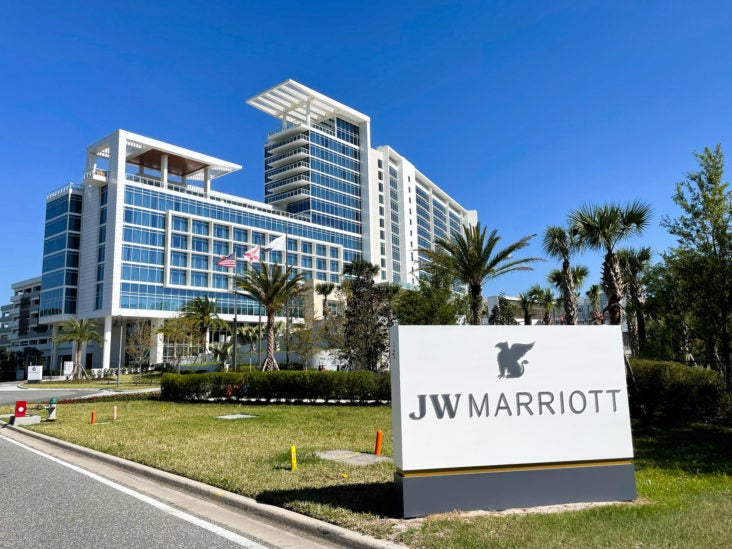 The JW Marriott Orlando Bonnet Creek is one of the newest hotels in the area, opening its doors in July 2020.
This upscale and modern property has 516 rooms, 2 pools (including an adults-only pool), cabanas, a splash pad for kids, and multiple dining options. There are multiple kids' rooms and activities including a rooftop mini-golf course with views of the fireworks at EPCOT. This Official Disney Hotel has all of the perks including its own coach bus to bring guests to the parks.
Marriott Bonvoy Platinum, Titanium, and Ambassador Elite members get free hot breakfast in the restaurant as well.
Rooms at this Category 6 property can be booked for as low as 40,000 during off-peak dates, but the $35 resort fee is not waived on award stays.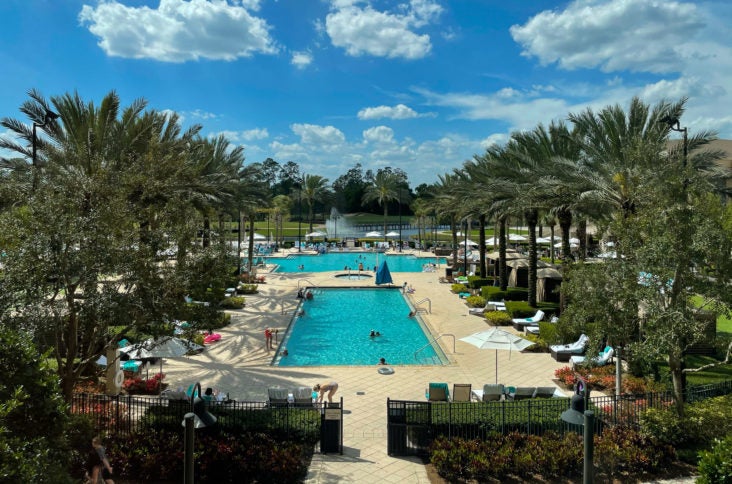 The Waldorf Astoria is connected to the Hilton we mentioned above by a large convention center, but besides that, they are very different resorts.
This more upscale and sophisticated property exudes luxury as soon as you walk in. With 2 pools, a jacuzzi, private cabanas, a spa, and a golf course, you can relax here all day. If you want a little more fun, you can just walk over to the Hilton to take a couple of laps in the lazy river.
One of the top-rated restaurants in Orlando (and the U.S.), The Bull and Bear, is one of the multiple dining options on property and guests can hop on the shuttle shared with the Hilton to head to and from the parks throughout the day.
Hilton Honors Gold and Diamond members have plenty of perks as well, including free breakfast.
Rooms can be booked for as few as 80,000 Hilton Honors points per night and the $45 resort fee is waived on award stays.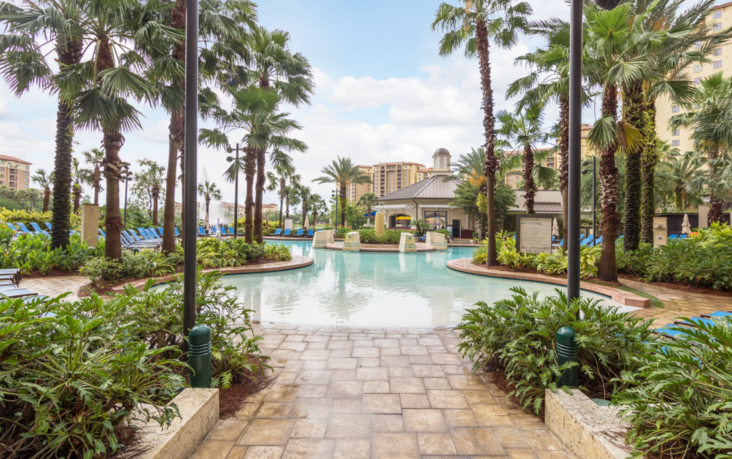 The Wyndham Grand is a massive resort and vacation club right at the entrance of Bonnet Creek.
This gorgeous Mediterranean-style property has 5 pools, 2 lazy rivers, 2 splash pads for kids, mini-golf, a spa, a multiple dining options. When you are ready to visit the parks, the house shuttle will drop you off and pick you up at the end of the day.
Rooms can be booked for 30,000 Wyndham Rewards points per night, but the $28 resort fee is not waived on award stays. 
Orlando-Area Points Hotels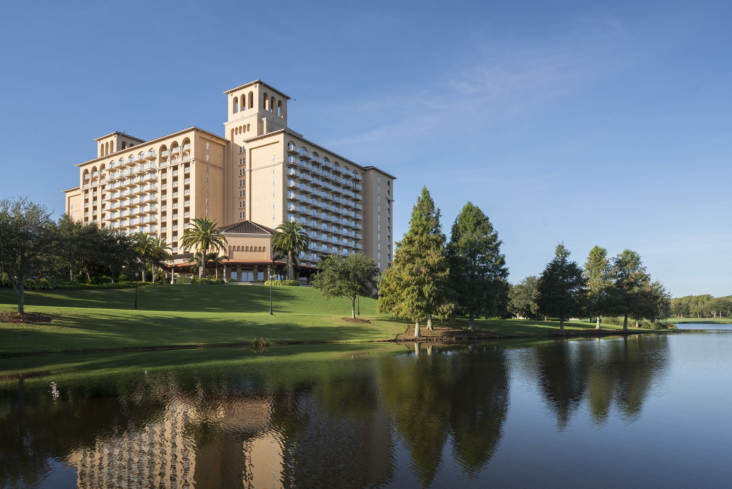 If you don't need to be that close to the theme parks and Disney Springs, you can save some points (as well as parking and resort fees) by staying at a hotel just a few minutes away.
Once you start exploring the area a bit, you will find hundreds of additional hotels and resorts that can be booked with points.
Here is a quick list that is broken down by loyalty program:
Hot Tip: Our ultimate Disney vacation packing list is full of tips and tricks to help you save time and money on your next trip to the Mouse!
Theme Park Tickets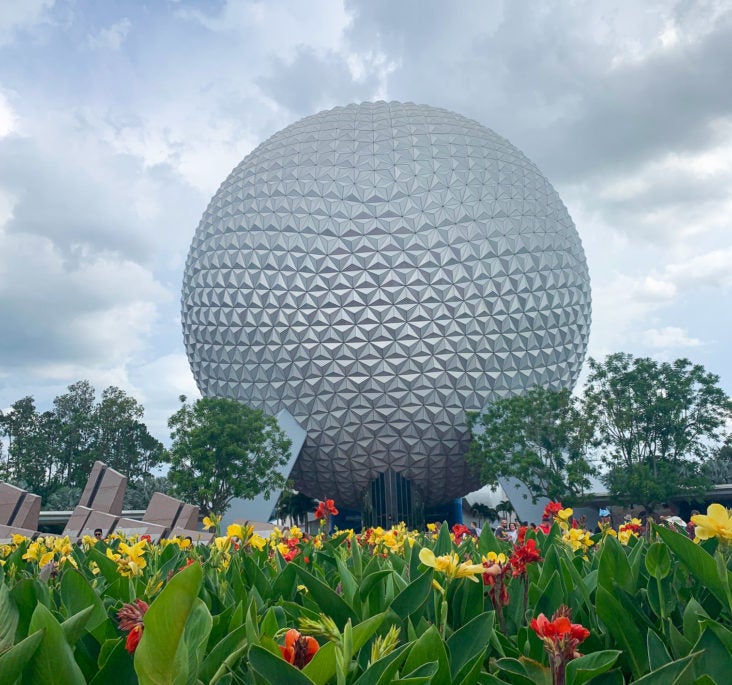 You've finally made it through all of the logistics and researched, booked, and paid for your flight and hotel with points — congratulations! If you are staying for a week as a family of 4, you could have easily saved thousands of dollars by booking those with points and miles instead of cash.
Now we get to the expensive part, where unfortunately using points may be difficult — paying for your theme park tickets!
Although Disney has its own credit cards, you would need to spend a lot of money on them in order to earn enough Disney Dollars for a family vacation. An alternative option would be to use a credit card where you can use your points to "erase" a travel transaction (in this case a theme park ticket), but that may not always be the best use of points.
Let's take a look at the options…
Pay With Points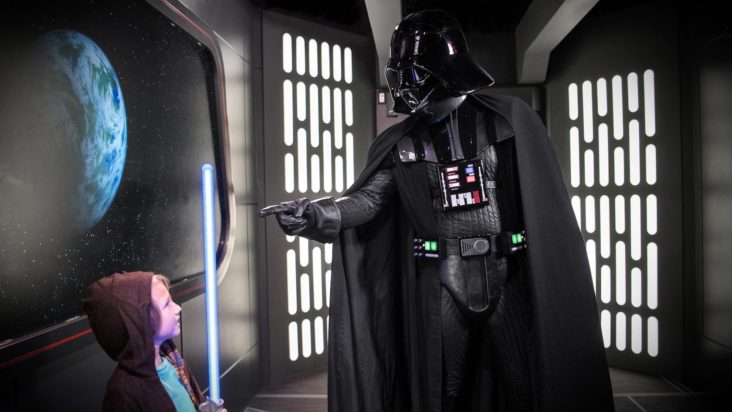 If you are dead set on paying for everything on your next Disney vacation with points and miles, we have a way for you to do so — even the park ticket.
One of our favorite credit cards comes with a welcome bonus that would be enough for 10 days worth of Disney World theme park tickets! 
Credit Card
Benefits & Info
Capital One Venture Rewards card


Learn More

(at our partner's secure site)

Earn 60,000 miles once you spend $3,000 on purchases within 3 months from account opening.
Earn unlimited 2X miles on every purchase, every day.
Miles won't expire for the life of the account and there's no limit to how many you can earn
Receive up to $100 credit for Global Entry or TSA PreCheck
No Foreign Transaction Fees
Excellent Credit Recommended (740-850)
Annual Fee: $95

Must Reads: For more info on the CapOne Venture card, see our thoughts on its benefits and our full review.
The CapOne Venture card is a great travel card because the miles are easy to use and never expire.
While you might be able to stretch the value of your miles by transferring them to an airline or hotel partner, you can't argue with simply being able to use the Purchase Eraser to remove any travel charge from your credit card bill.
That means with the welcome bonus alone, you could pay for a family of 4 to visit the parks for multiple days and then wipe out the charges when they hit at a rate of 1 cent per mile. Pretty cool, huh?
Hot Tip: Tickets purchased directly from Disney can sometimes post as Entertainment, but when you buy tickets via Undercover Tourist, it will code as Travel — which can be erased with the CapOne Venture card. 
CREDIT CARD
BENEFITS & INFO
Disney® Premier Visa® Card


Learn More

(at Chase's secure site)

Earn a $250 statement credit after you spend $500 on purchases in the first 3 months from account opening
Earn 2% in Disney Rewards Dollars on card purchases at gas stations, grocery stores, restaurants and most Disney locations. Earn 1% on all your other card purchases.
Cardmembers get 0% promo APR for 6 months on select Disney vacation packages from the date of purchase, after that a variable APR of 15.99%.
Annual Fee: $49






Disney offers 2 credit cards, and the Disney Premier card is the fastest way to earn Disney Dollars!
You can earn 2% back in Disney Dollars when you use your Disney Premier card at Disney locations, restaurants, grocery stores, and gas stations — and then 1% on everything else — all for a relatively small annual fee. By comparison, cardholders of the Disney card earn just 1% back on their purchases in exchange for having no annual fee. So even when you aren't in Orlando, you can be earning towards your next trip.
Hot Tip: Disney Dollars can be redeemed at Disney parks for tickets, shopping, dining, or hotel stays.
On top of that, cardholders get exclusive Disney perks like special Disney and Star Wars character meet and greets and discounts on guided park tours, Disney dining, and Disney shopping.
Earn Bonus Points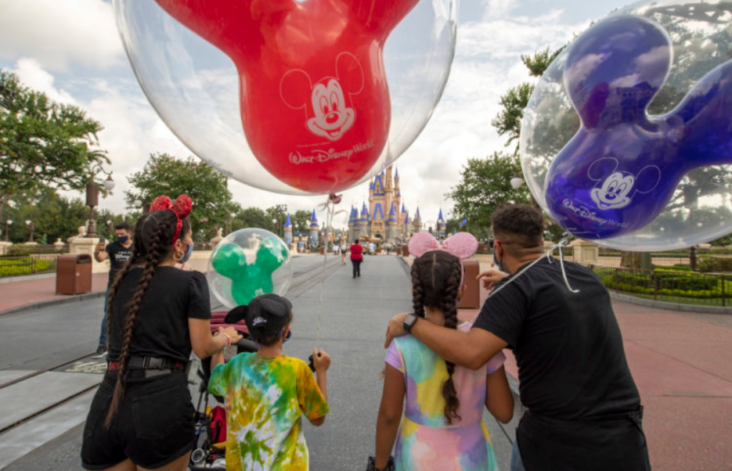 If you are determined to get more than 1 cent in value from your miles and points, you may end up deciding that paying for your theme park tickets is a better option for you.
Spending a couple of days at Disney as a family can get expensive quickly, so you might as well earn some bonus points while you're at it, right?
Is there a perfect card for Disney expenses? Maybe not, but we've found some pretty good options, including a long-time favorite…
Credit Card
Benefits & Info
Chase Sapphire Reserve®


Learn More

(at Chase's secure site)

Earn 60,000 bonus points after you spend $4,000 on purchases in the first 3 months from account opening.
$300 Annual Travel Credit as reimbursement for travel purchases charged to your card each account anniversary year. Through 12/31/21, gas station & grocery store purchases will also count towards earning your Travel Credit
Earn 5x total points on air travel and 10X total points on hotels and car rentals when you purchase travel through Chase Ultimate Rewards® immediately after the first $300 is spent on travel purchases annually. Earn 3x points on other travel and dining & 1 point per $1 spent on all other purchases
Get 50% more value when you redeem your points for travel through Chase Ultimate Rewards®. For example, 60,000 points are worth $900 toward travel
Access to 1,300+ airport lounges worldwide after an easy, one-time enrollment in Priority Pass™ Select and up to $100 application fee credit for Global Entry or TSA Pre✓®
Excellent Credit Recommended (740-850)
Annual Fee: $550

$1,200

Must Reads: For more on the Chase Sapphire Reserve, see our thoughts on its benefits, global airport lounge access, and travel insurance protection. Take a look here for our full review.
The Chase Sapphire Reserve card is a popular travel card for many reasons. Just looking at the chart above makes that pretty obvious. But when thinking about Disney and theme parks specifically, you can start to see some outsized value.
If you use your Chase Sapphire Reserve card to book Disney World theme park tickets via Undercover Tourist, the charge will code as Travel as opposed to Entertainment if you book directly with Disney. That means you will trigger the annual $300 credit and then earn 3x points on any additional charges!
That's a nice little discount plus you will earn some valuable Chase Ultimate Rewards points to redeem for future travel.
Hot Tip: Experience the best of Walt Disney World's 4 theme parks before you leave your couch! Take a tour with our guide to magical virtual Disney rides and attractions across the world.
Buy Discounted Gift Cards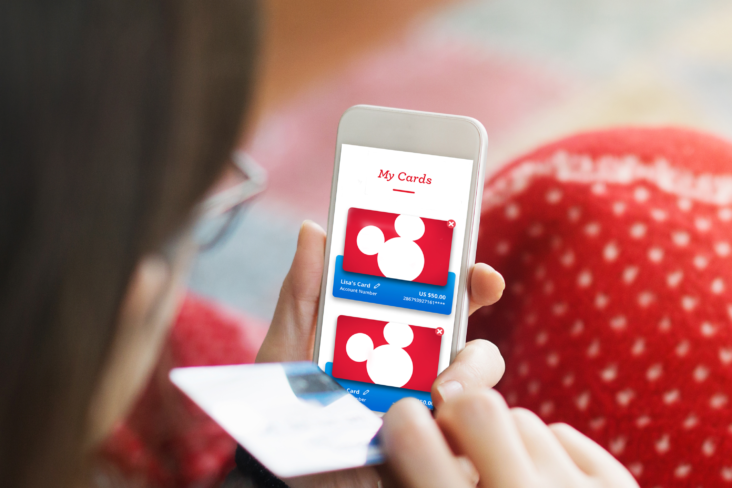 Disney does not discount its theme park tickets, so if you want to save money on your admission, you will need to get creative. And we are here to help you!
Although you can't directly buy a ticket with a discount, you can buy a Disney gift card with a discount. Target regularly sells Disney gift cards and if you have the Target RedCard™ you can get 5% off on most purchases.
If you buy a couple of gift cards each time you go to Target, before you know it you will have enough to get your family into Walt Disney World and you will have saved some cash!
Alternatively, if you wanted to earn bonus points, you can buy Disney gift cards at an office supply store with a card that gives you 5x points, like The Business Platinum Card® from American Express.
Bottom Line: There is no perfect option when it comes to redeeming or earning points for Disney World theme park tickets, but with a little planning, you can save some serious cash.
Ground Transportation
Getting around Orlando is relatively easy, but it will take some planning. Just to have an idea, Walt Disney World alone is over 40 square miles — that's the size of San Francisco!
Where you are staying is likely going to determine your best options when it comes to ground transportation. Do you rent a car? Call an Uber? Depend on hotel shuttles? Here is a quick overview of your options and what you can expect to spend.
Hotel Shuttles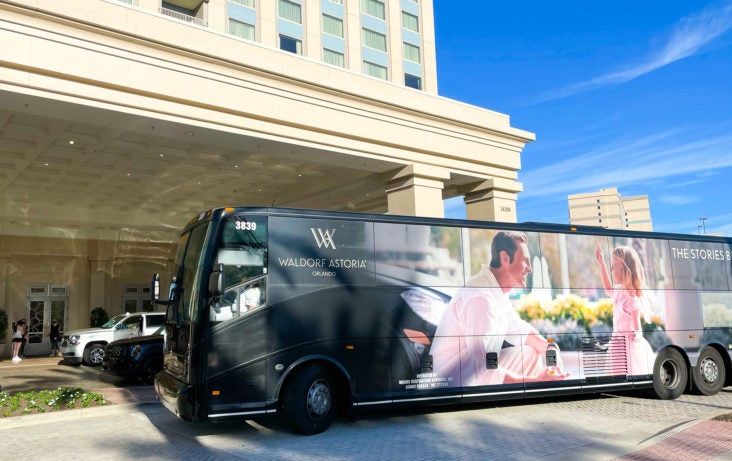 If you are flying into Orlando and have no interest in renting a car, it is totally feasible to get around without much hassle.
If you are staying at a Disney Resort hotel, you can take advantage of Disney's Magical Express service for airport transportation through the end of 2021 and then rely on the hotel's free transportation to the parks.
Many other hotels in the area offer free shuttles to the parks, so you would only need to worry about getting to and from the airport if you aren't going to be exploring the Orlando area.
Rental Cars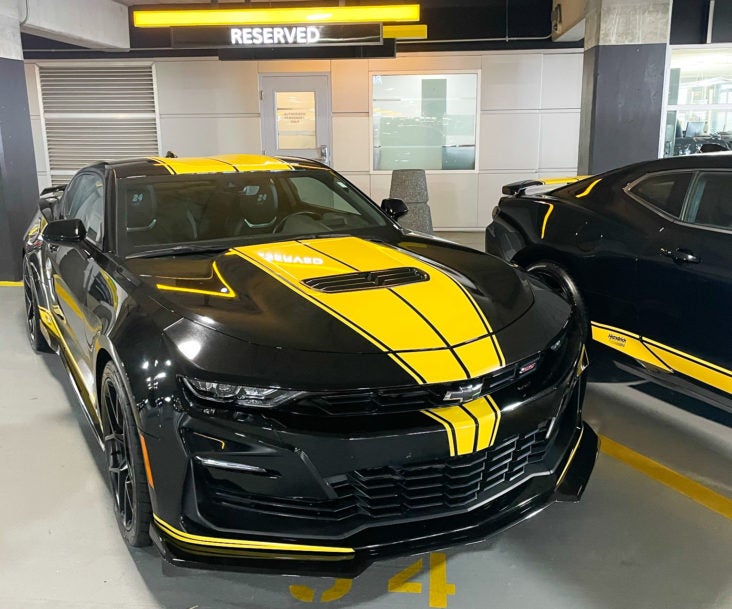 If you prefer to have a little more freedom, especially when hauling kids around, renting a car could be a better option for you.
All of the major chains have a location at Orlando International Airport (MCO), so you will have plenty of options to redeem any points and free rental days that you have been saving up.
While renting a car may help with logistics (especially if you want to do some shopping and dining outside the parks), be aware that many hotels close to the parks charge for parking and that parking at Disney World starts at $25 per day.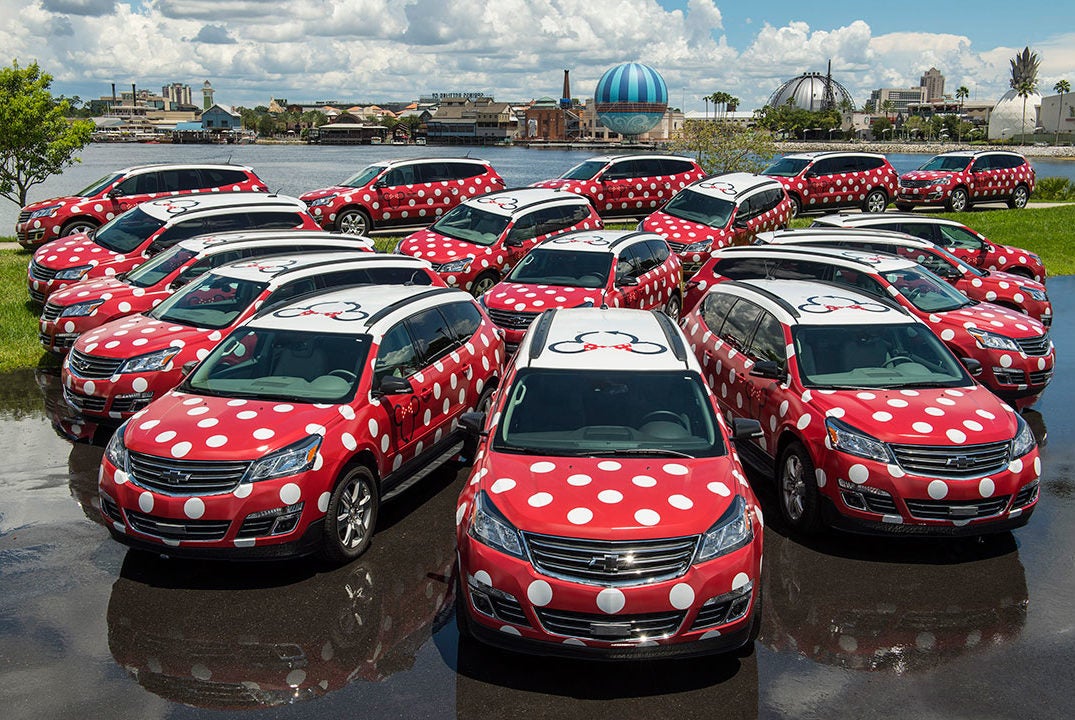 For those who don't want to deal with hotel shuttles or renting a car, whipping out your phone and calling an Uber or Lyft is a convenient alternative.
These rideshare apps (and taxis) are readily available to pick you up from the airport, bring you to the parks, out to dinner, and more. Of course, convenience comes with a cost, so be sure to factor that in.
For example, a one-way ride from the airport to the parks will cost about $40.
Hot Tip: The Platinum Card® from American Express comes with up to $200 of Uber Cash each year!
Dining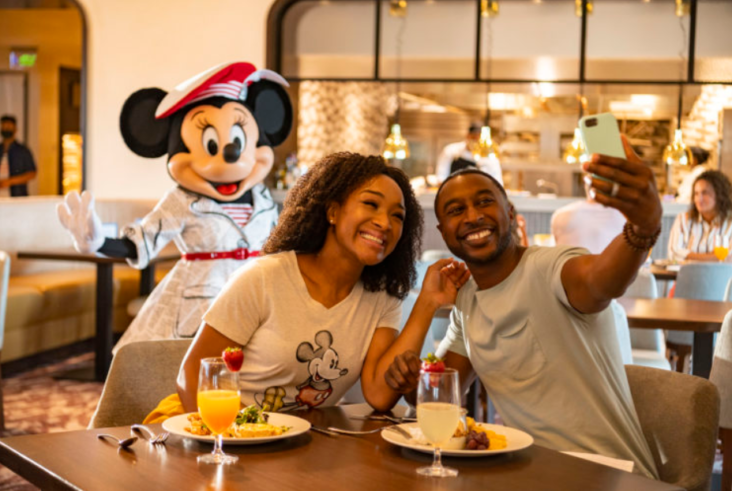 No matter where in the world you are with your family, you still need to feed them! At home, this tends to be cheaper because you can buy groceries in bulk and cook meals at home. Even if you do go out to eat, there is a good chance you will still eat at home for 1 or 2 other meals that day. When you're on vacation, that is not the case!
While it is certainly possible to stay at a hotel or rental home that offers a kitchen so you can prepare your own meals, the fact is that if you are out and about the entire day you are likely to indulge in a few snacks or meals along the way… especially a refreshing Dole Whip!
Here are a few tips to help reduce the cost of your meals on your Disney vacation and even pay for some with points!
Hot Tip: Park guests are allowed to bring their own food and non-alcoholic drinks to the park, which is a great way to save money on meals from the often overpriced dining options. 
Free Hotel Breakfast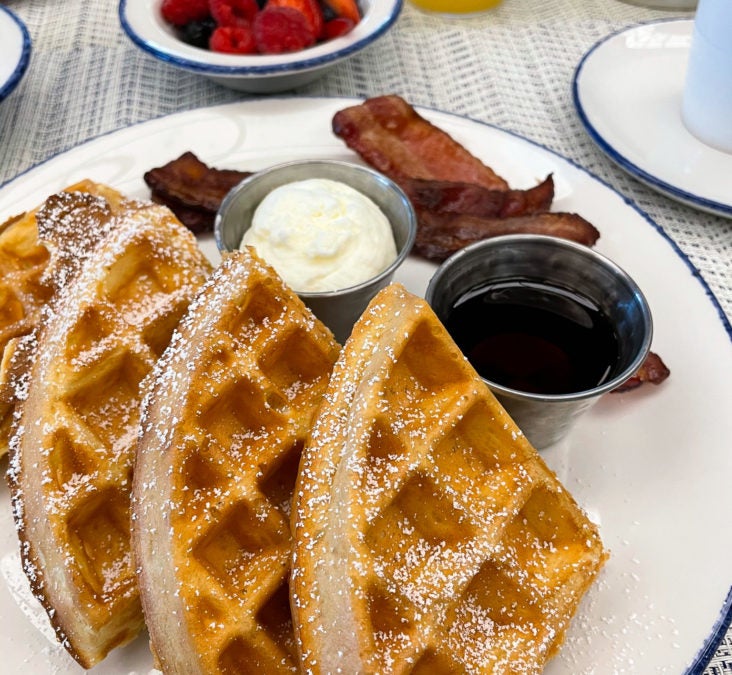 Choose your hotel wisely! Many family-friendly Orlando hotels offer free breakfast for all guests and those that don't often provide dining credits for elite members — like the hotels we mentioned earlier.
A free breakfast for a family of 4 not only gives you a filling (and convenient) start to the day, but it can save you some big bucks over the course of a week. If you paid for the hotel with points, even better!
Dining Credits From Credit Cards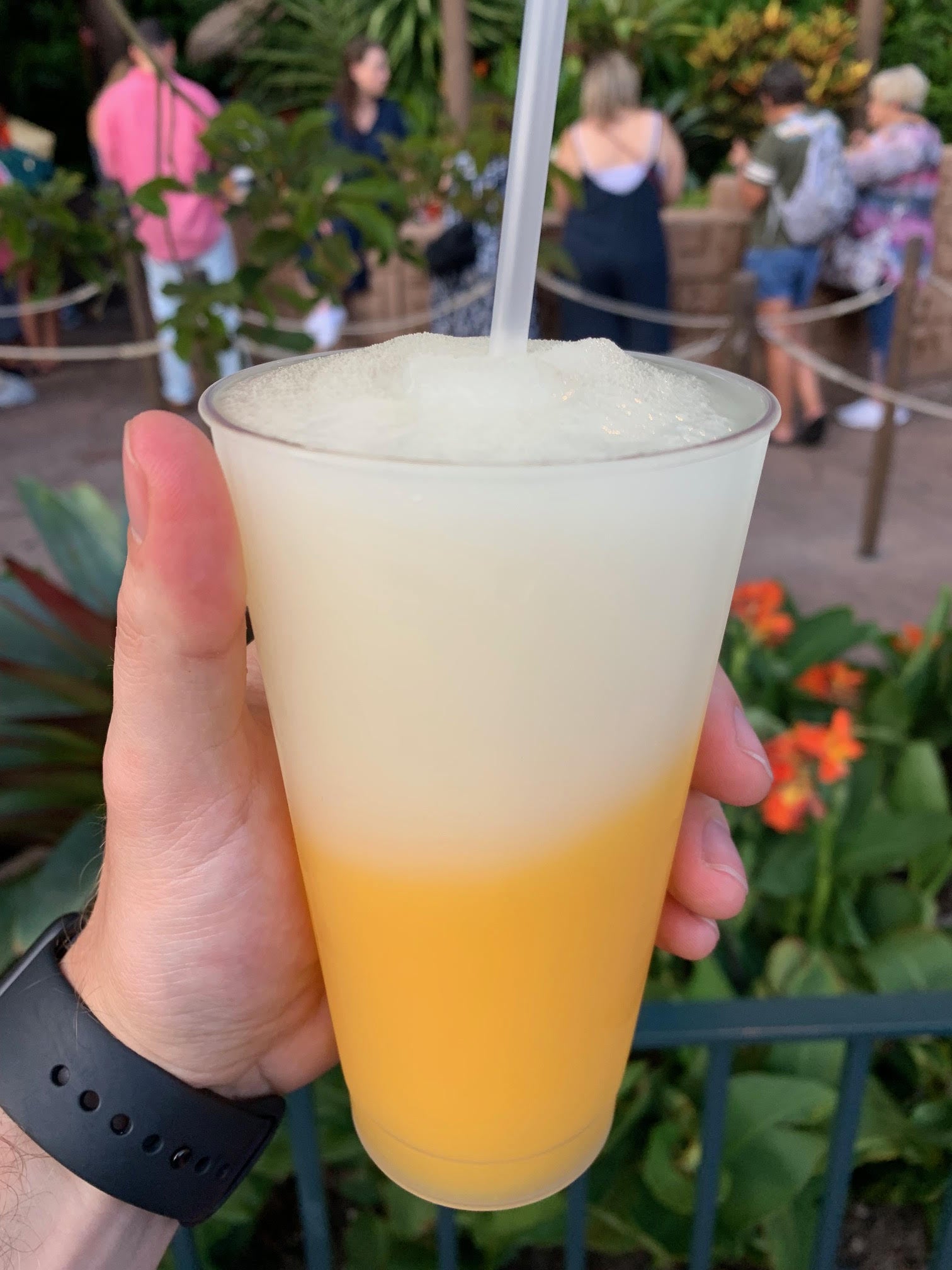 Once you leave for the theme parks, you are going to be on your own for food. If you are a good planner, you can pack essentially as many snacks and sandwiches as you can fit in your backpack. If you are traveling with young kids, you are probably going to do this anyways.
But sometimes a squished peanut butter and jelly sandwich just doesn't hit the spot when you are walking through the Mexico Pavilion at EPCOT and you are surrounded by tacos and margaritas.
Well, if you happen to have certain credit cards in your wallet, you can get your dining purchases reimbursed!
For example, in 2021 many American Express cards come with a monthly $10 or $20 dining credit. Simply charge a drink or meal to your eligible card (you must add this via Amex Offers) and you will be automatically reimbursed.
Additionally, if you have a Citi Prestige card, you can use your annual $250 travel credit towards dining and groceries in 2021 — that's a lot of Mickey Mouse ice cream!
Disney Dining Plans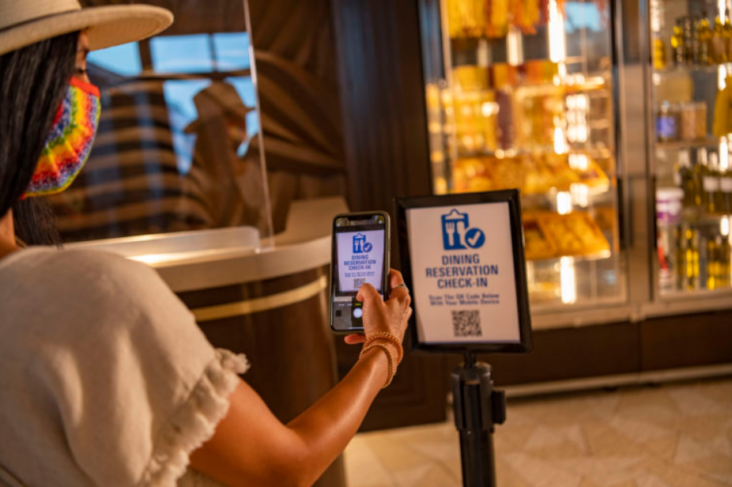 Disney Dining Plans (currently unavailable at Walt Disney World due to COVID-19) are prepaid meals and drinks in the parks and hotels that range between $50 to $80 per adult and $25 to $30 per child per day.
These plans can be great for convenience, but not necessarily for your budget. However, since these charges often get coded as Travel on your credit card, you can use your annual credits from cards like the Citi Prestige card and the Chase Sapphire Reserve card to cover them.
Hot Tip: Park guests can get free water and ice from quick-service restaurants.
Final Thoughts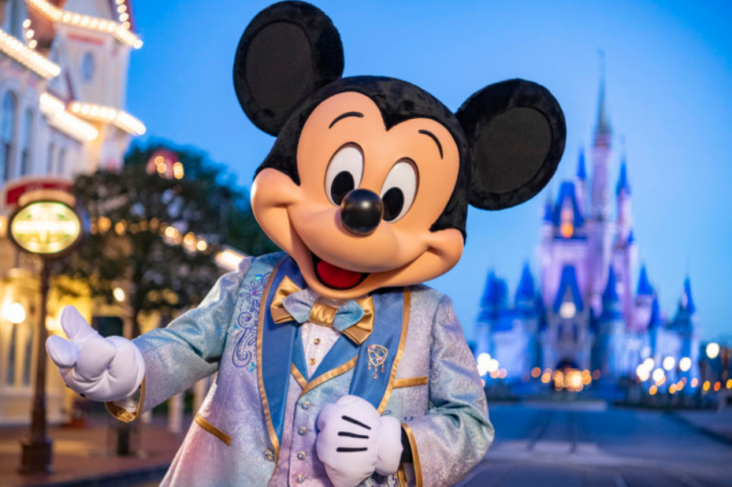 There is no getting around it, a trip to Walt Disney World can be very expensive — especially for a family. 
But when you start to break down all of the potential expenses, you start to realize that there plenty of opportunities to use your points and miles to either reduce or completely erase these costs.
With a little bit of planning, it is entirely feasible to pay for your flights and hotels in full with points. While it might be a little bit more difficult, theme park tickets and meals can also get wiped out with the right combination of credit cards and planning.
At the end of the day, taking your family to Walt Disney World is a magical experience that you all will probably (hopefully) remember for a lifetime. If you can figure out a way to make this type of trip more affordable, you may find yourself experiencing it more often!
If you have any questions about any of the topics addressed here, let us know in the comments, or join our private Facebook Group, Level UP Travel, to chat with other like-minded travelers!
---
The information regarding the Citi Prestige® Card, Capital One® Venture® Rewards Credit Card, Disney® Premier Visa® Card, Disney Rewards Visa Card, and Target RedCard™ was independently collected by Upgraded Points and not provided nor reviewed by the issuer.