Waldorf Astoria Orlando – Bonnet Creek [In-Depth Review]
Traveling to Orlando often means lots of planning and trying to find the right balance of theme parks, downtime by the pool with family, location, and price.
While the amount of time you decide to spend by the pool is up to you, once you take a look at the Waldorf Astoria Orlando you may end up wanting to spend some more time at the resort than you had originally planned.
I recently had 2 nights on my own in Orlando, and after booking the brand new JW Marriott Bonnet Creek Resort & Spa, I wanted to check out the competition. My criteria were pretty relaxed — all I was really looking for in a hotel was a luxury property that I could book with points.
Since I had a hefty Hilton Honors point balance and the Waldorf Astoria was just down the road from the JW Marriott, it was an easy choice to stay at the Waldorf.
Here is a review of my 1-night stay at this luxury resort near Walt Disney World and how I decided to pay for it.
Waldorf Astoria Orlando Location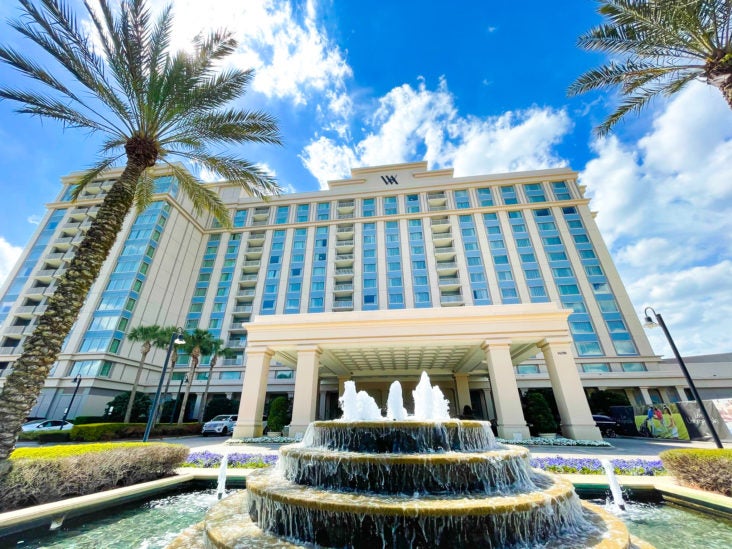 The 502-room Waldorf Astoria Orlando is a sprawling resort located in the Bonnet Creek area right next to Disney Springs.
The Bonnet Creek development is home to other resorts including the attached Signia by Hilton Orlando Bonnet Creek, Wyndham Grand Orlando Resort Bonnet Creek, and the new JW Marriott Bonnet Creek. This "neighborhood" is essentially on Disney property as it is surrounded by it on 3 sides which means it is a really quick ride to the parks or the shopping and dining at Disney Springs.
If you are worried about the hustle and bustle of the parks being so close, you can relax — the Waldorf (and other resorts) are tucked into cypress trees and you only realize you are close to the parks when you see the fireworks from your hotel room window.
Located just 22 miles from Orlando International Airport (MCO), getting to the resort should take less than 30 minutes if you don't get any traffic. Once you are at the hotel, the Walt Disney World park entrances are just 6 miles (about 15 minutes) away.
Bottom Line: The Waldorf Astoria Orlando is located in the Bonnet Creek development which is extremely convenient for guests who plan on visiting Disney Springs and Walt Disney World parks during their stay. The hotel shuttle transfers guests between these locations throughout the day for no additional cost as it is included in the resort fee. 
Booking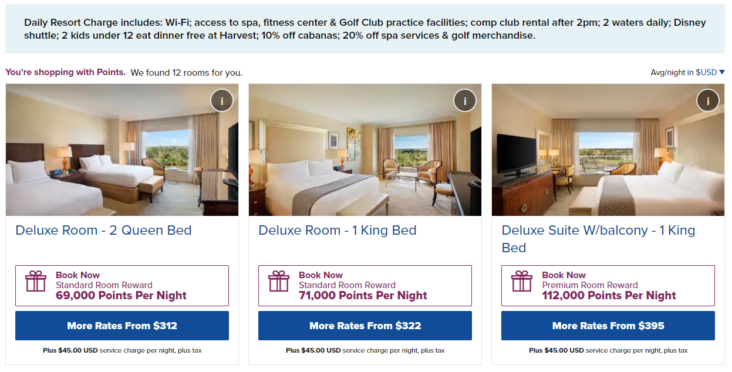 The Waldorf Astoria is a luxury brand that is part of the Hilton family. Although Hilton doesn't use categories for its hotels, we know that luxury properties like this will cap their standard rooms at 95,000 Hilton Honors points per night.
For the night I was looking at, rates started at $312 plus tax and resort fees, bringing the total for a 1-night stay to over $400.
I was already planning on using points, so I was happy to only pay 69,000 points per night because Hilton does not charge taxes or resort fees on award stays, which saved me about $90.
Here are the rest of the award rates for the same night:
Deluxe Room, 2 Queen Bed — 69,000 points per night (what I booked)
Deluxe Room, 1 King Bed — 71,000 points per night
Deluxe Suite w/ Balcony, 1 King Bed — 112,000 points per night
Golf View Deluxe Suite w/ Balcony, 1 King Bed — 118,000 points per night
Disney View Deluxe Suite w/ Balcony, 1 King Bed — 124,000 points per night
Deluxe Suite, 2 Queen Beds — 130,000 points per night
Corner Luxury Suite w/ Balcony, 1 King Bed — 151,000 points per night
Disney View Corner Waldorf Suite w/ Balcony, 1 King Bed — 185,000 points per night
2 Bedroom Governors Suite w/ Balcony, 1 King Bed — 696,000 points per night
As you can see, the rates can really jump up depending on the room type. I was happy to book the cheapest room as I was planning to spend most of my time by the pool and not in my room.
Hot Tip: Traveling soon? Be sure to read our guide on hotel elite status changes, extensions, and updates due to the coronavirus.
Checking In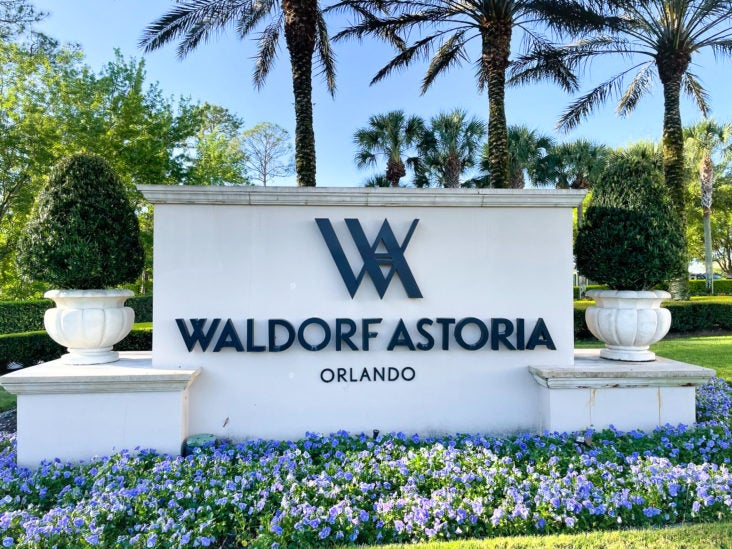 The Waldorf Astoria Orlando is located on Bonnet Creek Resort Lane, just past the Signia by Hilton Orlando Bonnet Creek and the garage that both hotels share. If you are arriving for the first time, be sure not to pull up to the Signia by Hilton by mistake as that seems to be a very common misstep.
Pulling up to the Waldorf is very impressive thanks to its lush gardens, tall palm trees, and flowing water fountain right outside of the main entrance.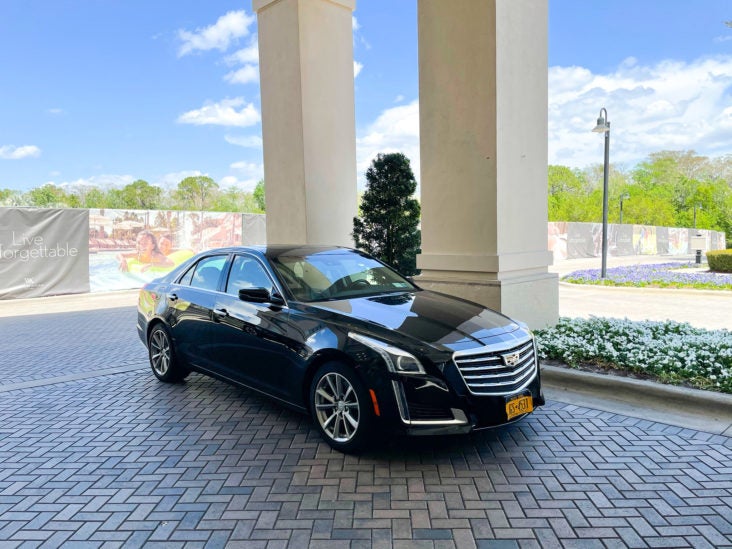 If you want to valet your car, you can pull right up to the port cochere and leave your car with the valet for $40 per night. I opted to self-park in the shared garage for $30 per night. Just note that it was a long (about 10 minutes) but nice walk back to the Waldorf as I had to enter via the Signia by Hilton due to some construction.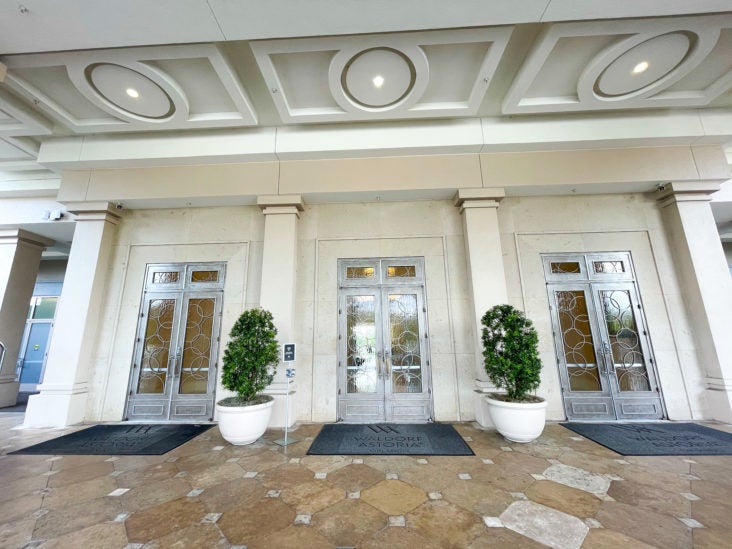 The design of the hotel was grand and classic, with a beautiful entrance and lobby covered in marble and unique artwork. Entering the round lobby from the front door, your eyes are immediately drawn to the giant clock and then the massive windows overlooking the pool and garden area. Both were very impressive.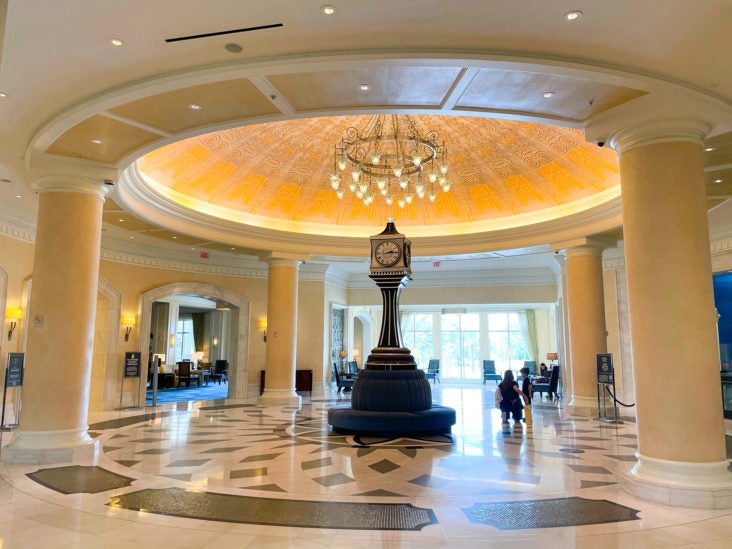 The lobby itself wasn't home to much besides a few front desk stations, but throughout the rotunda was a hallway to the guest rooms, a lobby bar (Peacock Alley), and a corridor that connected to the convention center and eventually the Hilton.
I arrived around 2 p.m. and the lobby was quiet but had a buzz about it with families passing through, either heading to the pools or the parks.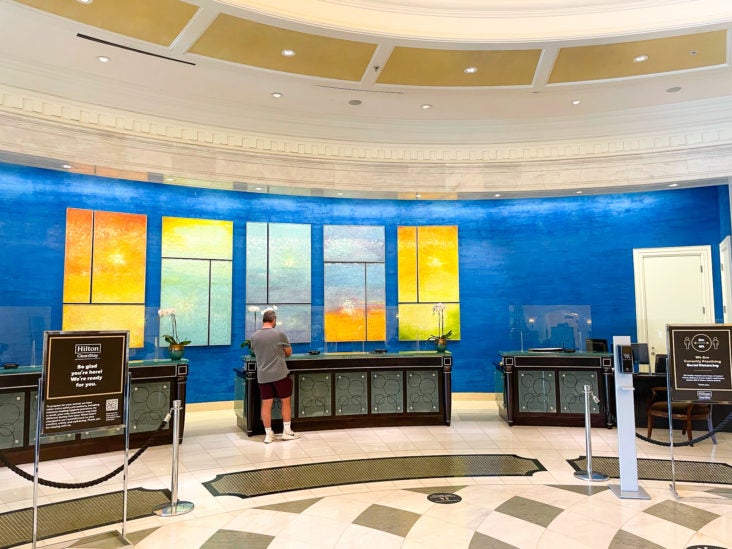 The check-in process was quick and efficient; the agent recognized my Diamond status, told me that my room had been upgraded to a high floor with a Disney view, and gave me the option of the 2 queen beds (which I booked because it was cheaper) or a king. I gladly took the king-sized bed.
After giving me a quick overview of the property and what was included for elite members, I was on my way to the room.
Hot Tip: Head to Orlando soon? We can show you how to visit Disney World for cheap by using points and miles! 
Elite Benefits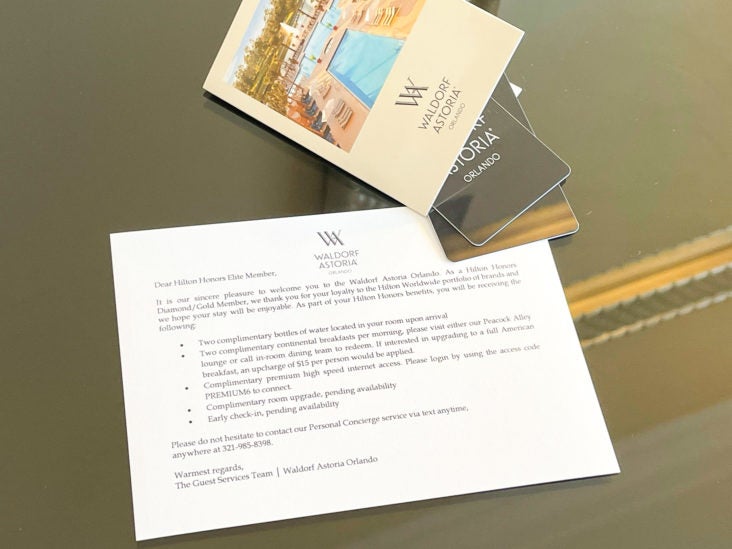 Hilton Honors Gold and Diamond members have some pretty good benefits at the Waldorf Astoria Orlando, but my favorite was not having to pay a $45 daily resort fee on award stays (but still receiving the perks!).
Gold and Diamond members can expect to receive:
2 complimentary bottles of water
2 complimentary continental breakfasts per morning with the option to upgrade to a full breakfast for $15
Complimentary high-speed internet
Room upgrade (subject to availability)
Early check-in (subject to availability)
While all of that is good, having no difference in benefits between Gold and Diamond members doesn't make much sense to me. The continental breakfast was pretty weak, so I think waiving the upcharge would be a nice touch for Diamond members.
Room Upgrade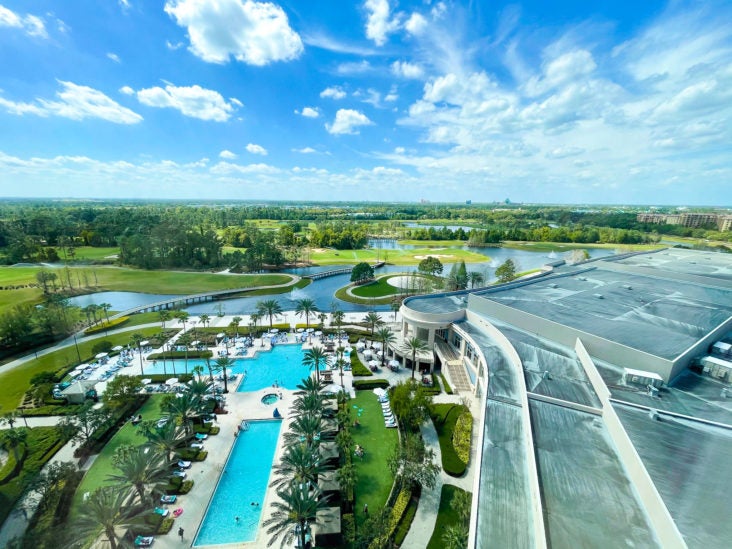 As I mentioned above, I was upgraded from a Deluxe Room with 2 Queen Beds to a Disney View Deluxe Room with a King Bed.
This was great for me because I didn't need the 2 beds, but the upgrade would have also been useful had I brought the family along because it came with a pullout sofa as well.
Resort Fee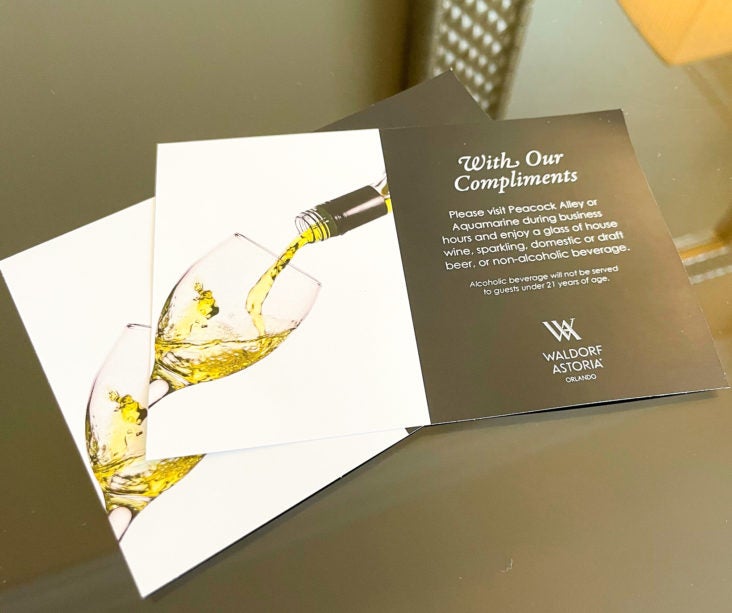 For guests that are paying cash or cash + points, there is a daily $45 resort fee that gets added to the bill. However, since I paid for my stay entirely with points, the resort fee was waived.
As part of the resort fee, guests receive:
High-speed wireless internet
Shuttle service to all of the Disney Parks and Disney Springs
2 welcome drinks at Peacock Alley (lobby bar) or Aquamarine (pool bar)
2 bottles of water daily
Access to the Waldorf Astoria Golf Club practice area with free club rentals after 2 p.m.
20% off merchandise at the Waldorf Astoria Pro Shop
Access to the Waldorf Astoria Fitness Center
10% off cabana rentals
Free in-room local and toll-free calls
20% off treatments at the Waldorf Astoria Spa
While some of those "perks" are silly and just seem to be added to make the list longer (free toll-free calls??) there certainly was some value to be had with the shuttle, free drinks, and golf perks.
Unfortunately, the only perk that I was able to enjoy was the 2 free drinks, which I enjoyed by the pool.
Late Checkout
During the check-in process, I was asked if I needed a late checkout and I said no because I thought I would be heading out early. But once I realized that wasn't the case, all I had to do what text the front desk and they moved my checkout time to noon.
Hot Tip: Guests at the Waldorf Astoria Orlando can text their requests to the front desk and concierge which makes things much easier for both guests and staff. 
Amenities
I chose this hotel because on paper it looked like it had everything. The pools, the restaurants, the spa… pretty much everything you could want for an "off-day" from the parks that were just steps away.
And since I was sort of scouting this hotel for a future family vacation, I wanted to see firsthand if it would be a good fit for my family (spoiler alert: it was).
Valet Parking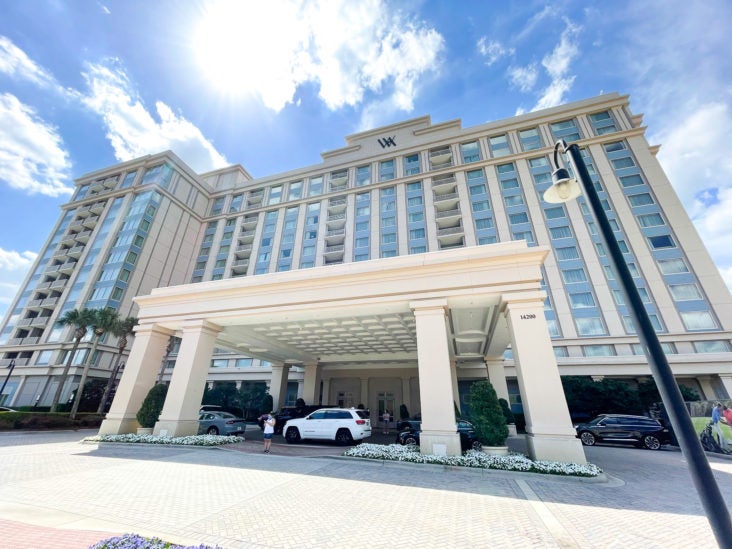 Guests arriving by car can choose to either valet or self-park their car. If you choose to self-park, you will use the garage that is shared with the Signia by Hilton and is located between the 2 buildings.
The parking fees are:
Self-parking: $30
Valet parking: $40
Wireless Internet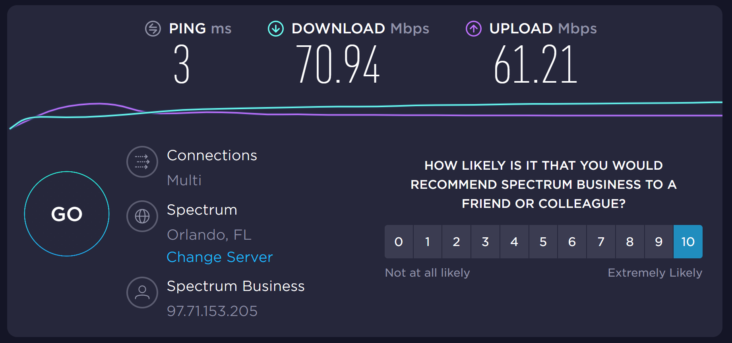 The wireless internet throughout the resort was strong and easy to connect to.
No matter if I was in my room, at the gym, or by the pool, I consistently had a fast connection.
Fitness Center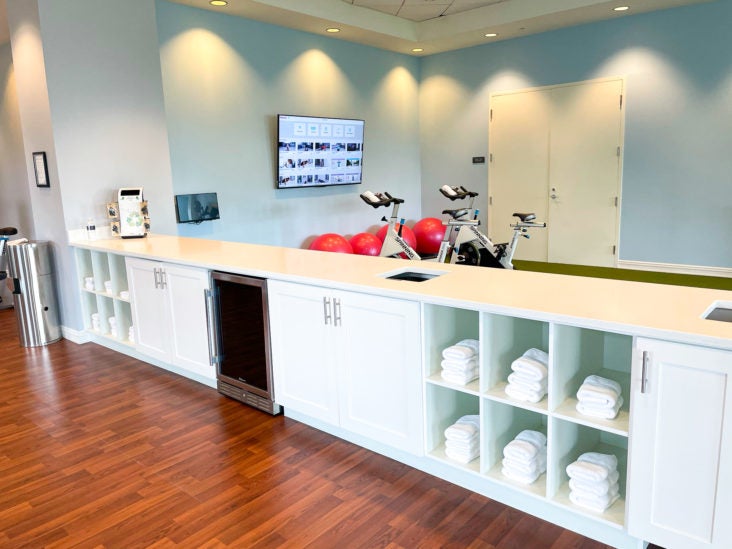 The fitness center at the Waldorf Astoria Orlando was extremely impressive and one of the nicest I have been to in recent memory.
With over 4,000 square feet and windows overlooking the garden area, it was a pleasure to burn off some calories there.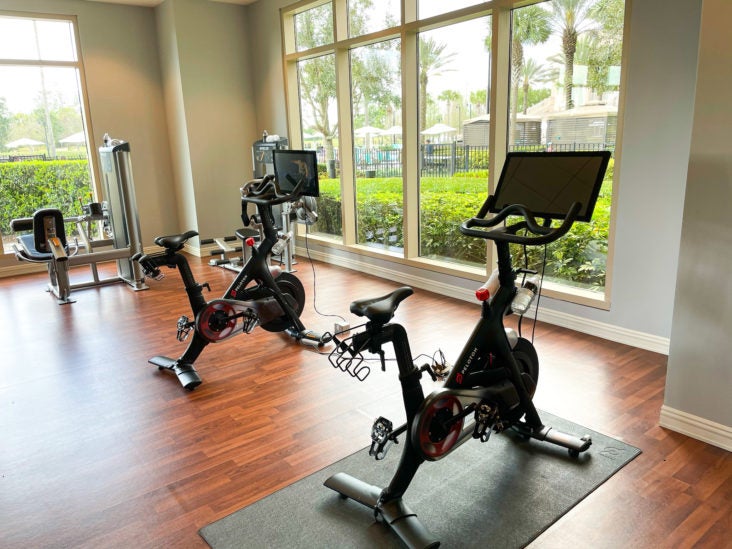 The gym had everything, including both Peloton and Precor bikes.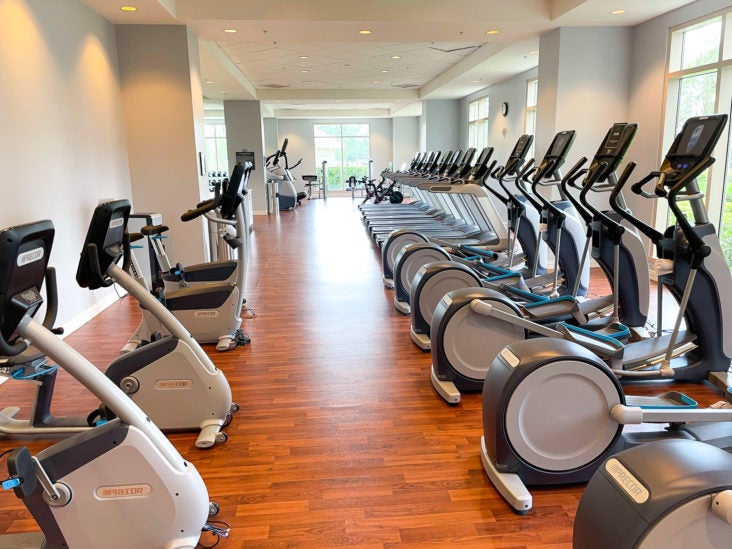 There were plenty of elliptical machines.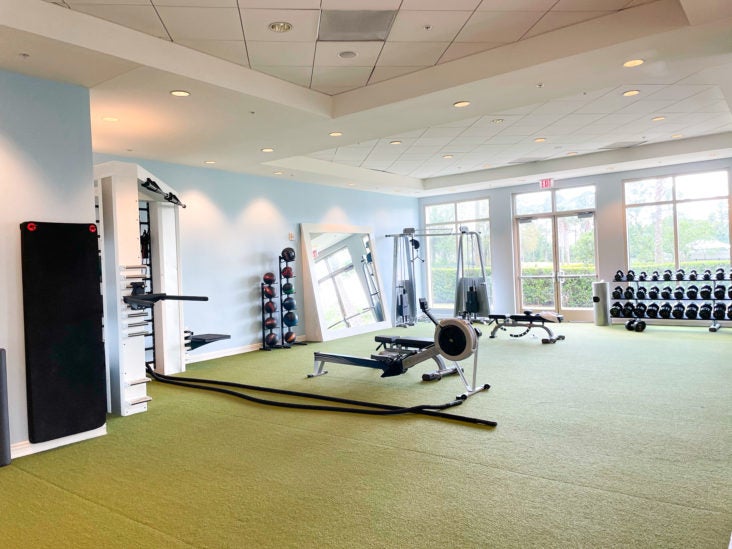 And the gym had a great free weight and stretching area.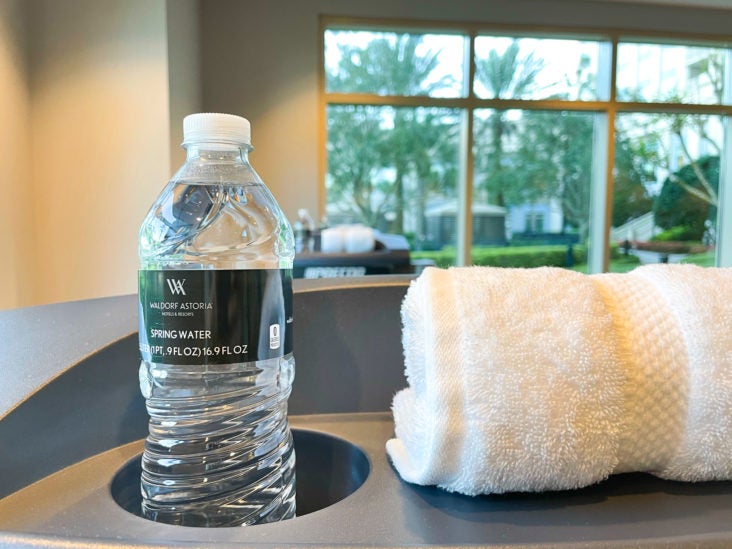 There was also plenty of free water and towels available on the machines and on display.
Kids' Room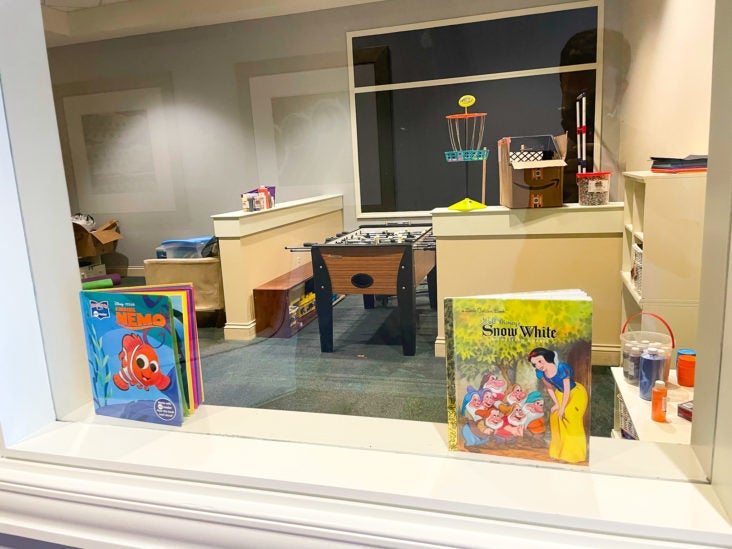 Unfortunately, while I was at the resort, the Kids' Room (which is actually located inside the fitness center) was closed.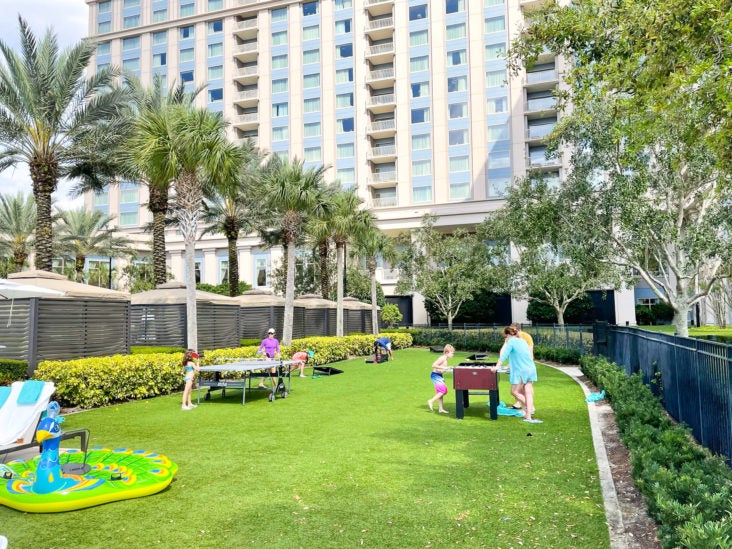 However, the outdoor garden area alongside the pool was open and full of games including cornhole, giant tic-tac-toe, ping pong, and foosball.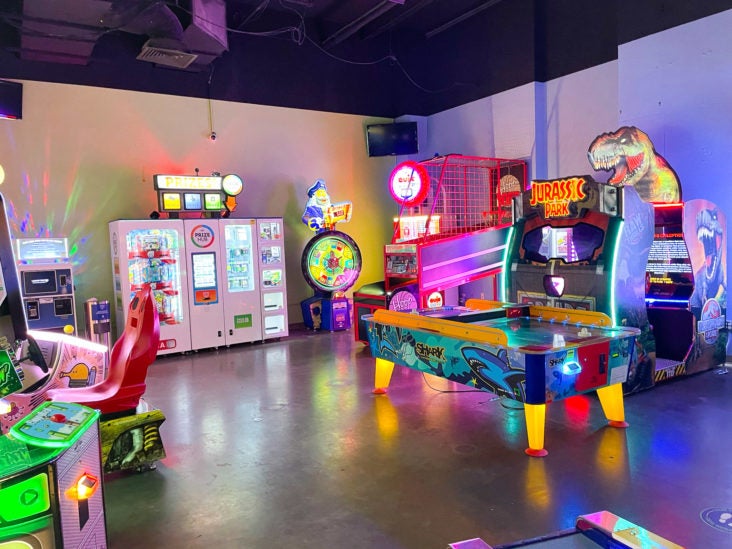 Additionally, next door at the Signia by Hilton was a complete video game arcade that was available to guests at both hotels.
Disney Shuttle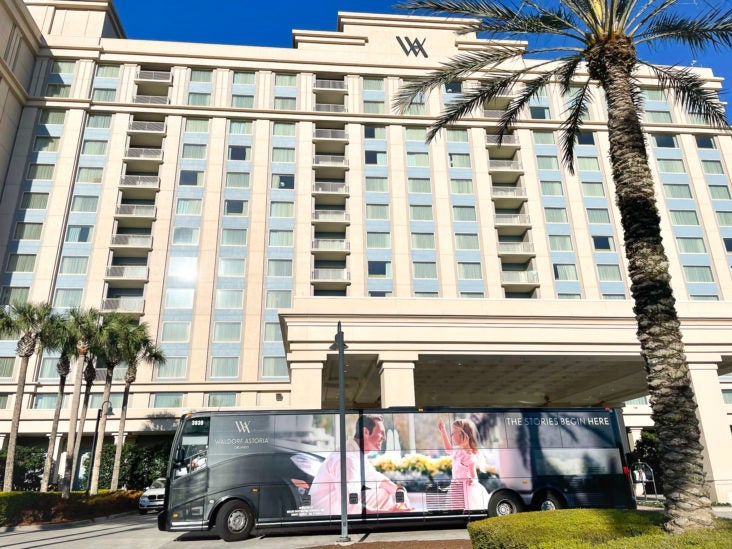 One of the amenities which many guests will find useful is the hotel shuttle that brings guests to and from the Disney parks and Disney Springs.
The coach bus, which is Waldorf Astoria-branded, pulls up right outside the hotel throughout the day and guests can grab a water bottle and head to the parks.
Hot Tip: If you are planning a trip to Disney soon, be sure to read how to make your next trip to Disney as "stress-free" as possible.
Pool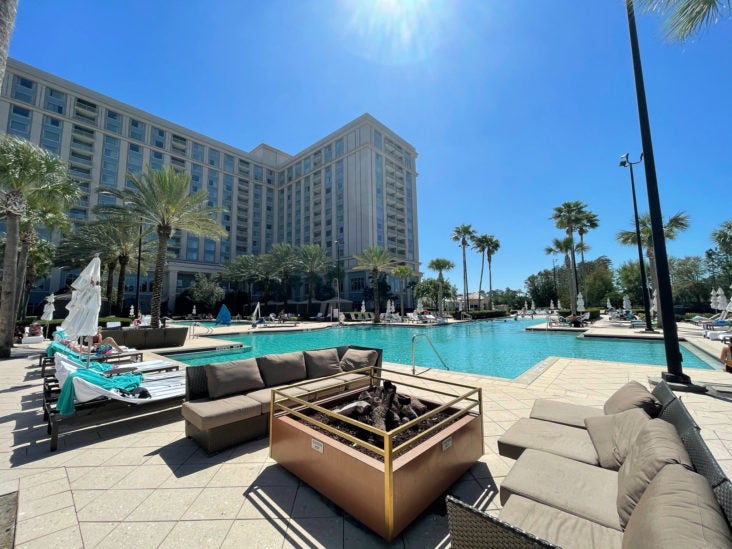 Probably the biggest selling point for me of the Waldorf Astoria Orlando was the pool area and the fact that guests could use the lazy river at the Signia by Hilton next door.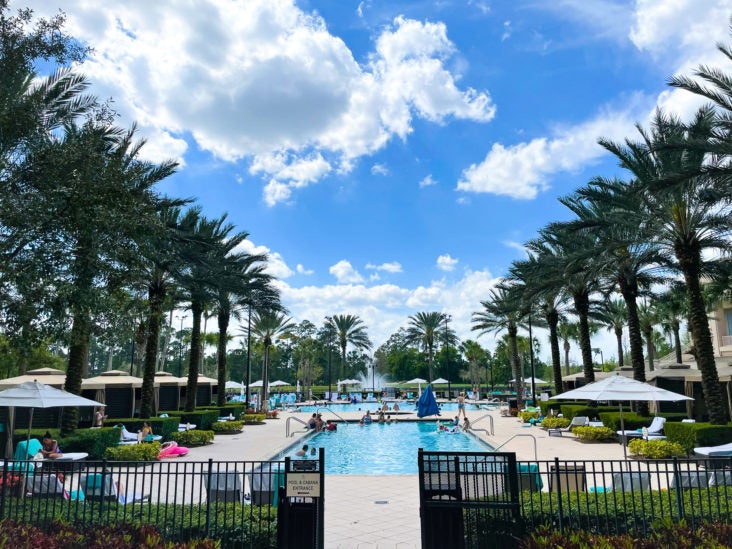 There were 2 pools at the Waldorf; 1 of them was long and narrow and sat in front of the cabanas — and it tended to be a little quieter throughout the day.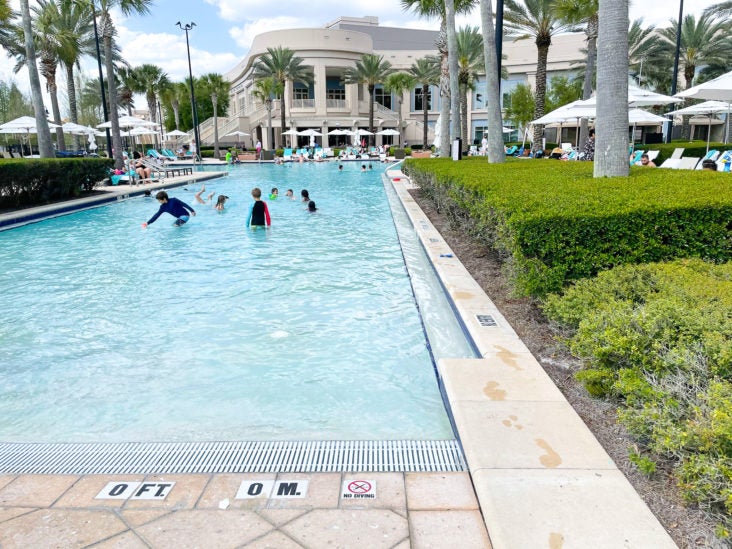 The other was the main pool that stretched the width of the pool area and had a zero-entry option which was great for kids.
Both pools were heated and separated by a Jacuzzi.
No matter where you decide to relax, there will be great views of the lake and golf course in the background.
Lazy River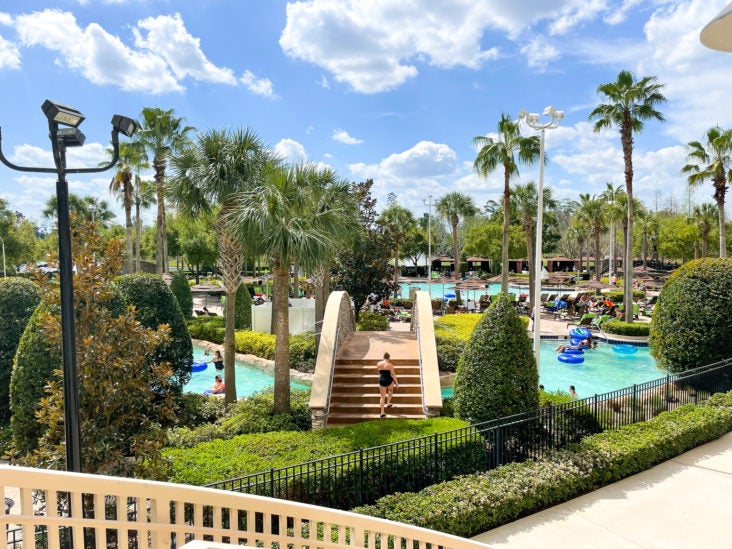 If you are looking for a little more entertainment, you can take a quick 5-minute walk along the lake and use your room key to enter the pool area at the Signia by Hilton.
In addition to a nice zero-entry pool and short waterslide, there was a great lazy river that takes you around in one of the hotel-provided tubes.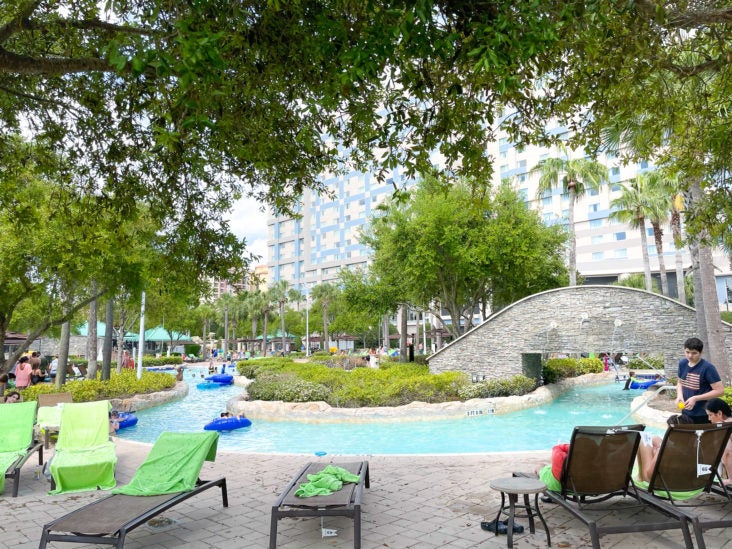 My family and I have stayed at the Signia by Hilton (when it was just a "Hilton") in the past and really enjoyed our time at the pool. Being able to use the Waldorf and Hilton facilities is the best of both worlds.
Cabanas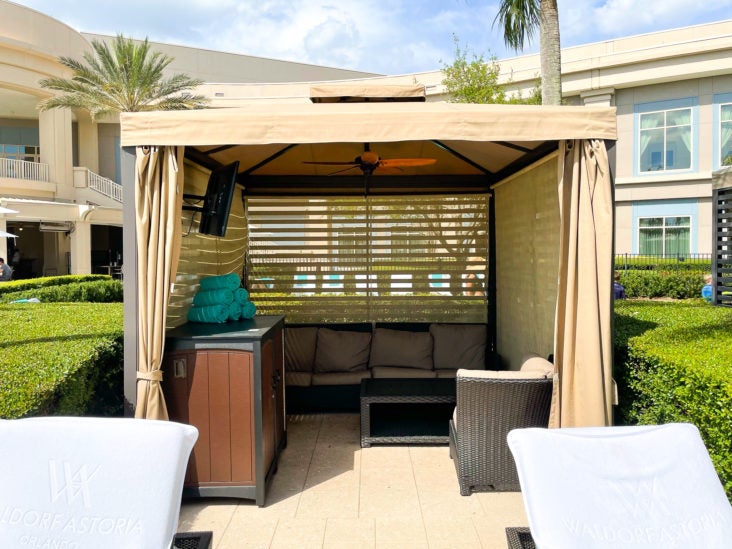 Back over by the pool at the Waldorf, you will find some private cabanas which can be rented for about $400 per day.
The cabanas can accommodate up to 8 people and include:
Complimentary soft drinks, water, and a fruit platter
Poolside service from Aquamarine
2 chaise lounges, a sofa, and a coffee table
Beverage refrigerator
High definition LCD television
Spa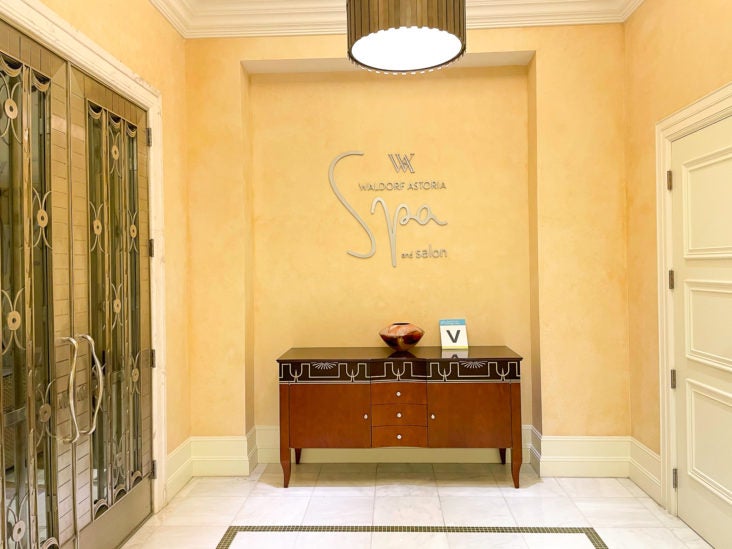 Guests looking for a little extra relaxation or a special treatment can visit the Waldorf Astoria Orlando Spa for everything from a facial to Himalayan salt therapy.
As usual, I didn't have enough time to enjoy the spa. If you want to start planning your next visit, check out the spa menu online.
Golf Course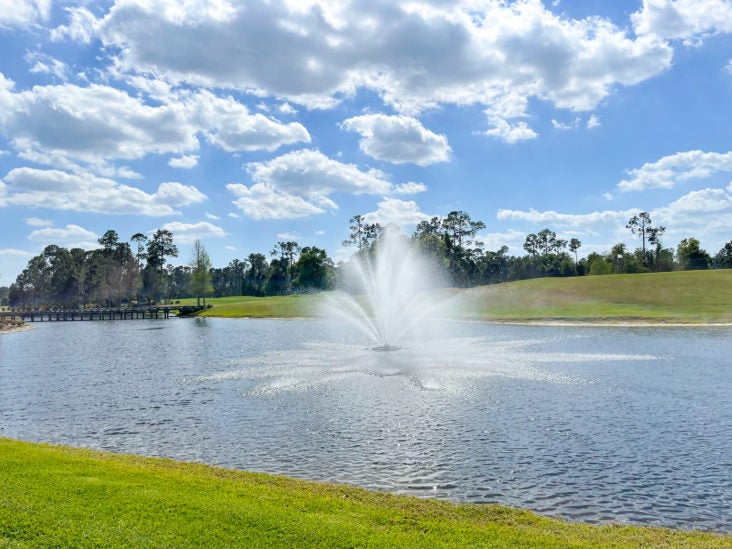 Another big attraction to the resort was the Waldorf Astoria Golf Club, an 18-hole golf course designed by Reese Jones that gets great reviews and is one of the "top courses you can play."
For more details and tee times, you can visit the Waldorf Astoria Golf Club website.
Pet Friendly
Unfortunately, pets are not allowed at the Waldorf Astoria Orlando.
COVID-19 Protocols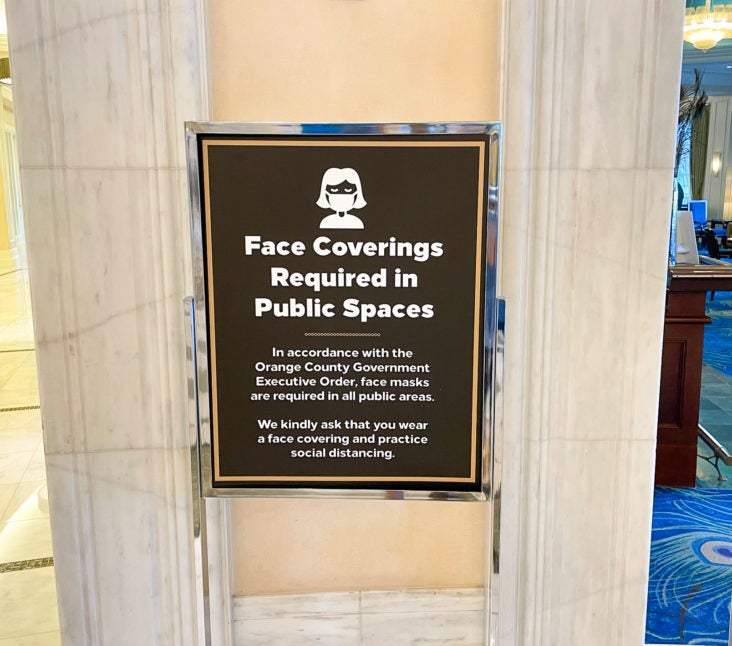 Before I even arrived at the hotel I had a pretty good idea of what to expect during my stay when it came to coronavirus prevention. About 2 days before my stay, I received an email highlighting the Hilton CleanStay program and what was being done to keep guests and staff safe.
During my stay, I was very impressed with how both guests and staff were using masks — especially since this was in Florida. The front desk even had a silver platter of face masks available in case anyone had forgotten theirs.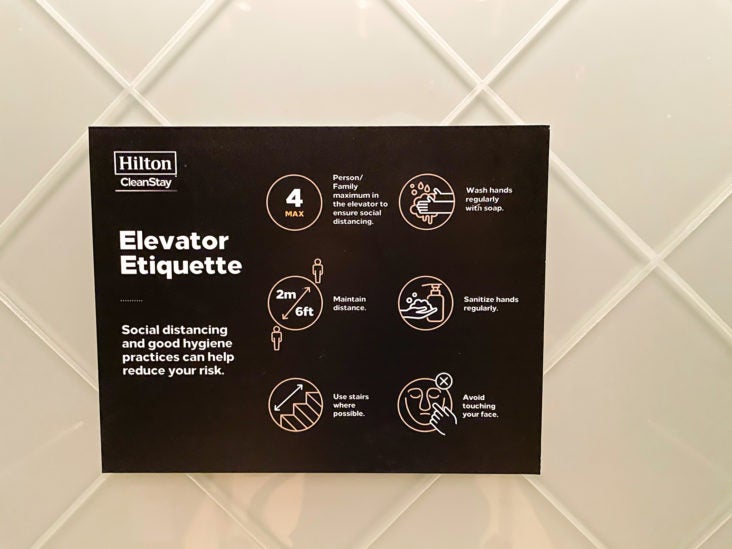 Throughout the resort were plenty of reminders about social distancing.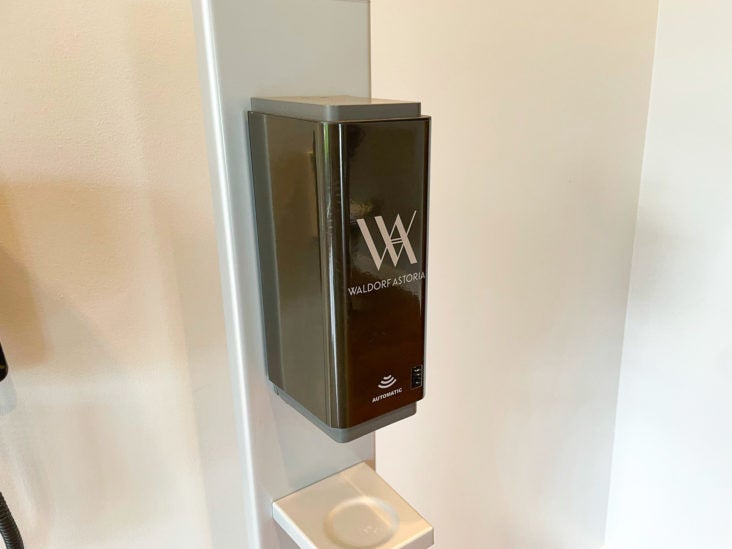 And hand sanitizing stations were always readily available.
The Room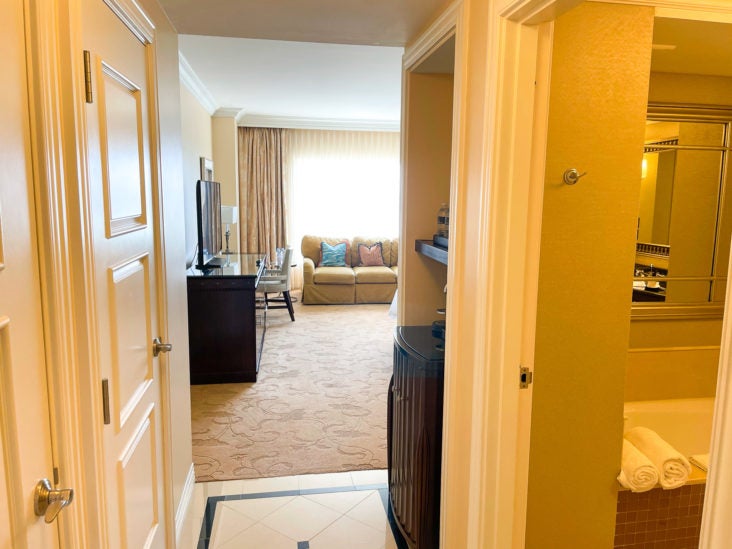 As I mentioned, I received an upgrade to a Disney View Deluxe Room with a King Bed. When I reserved my room, this room wasn't available to be booked with points, only cash. The cash rate was $346, so about $440 after taxes and resort fees. Not a crazy upgrade for a 1-night stay for a Diamond member, but I was certainly happy with it.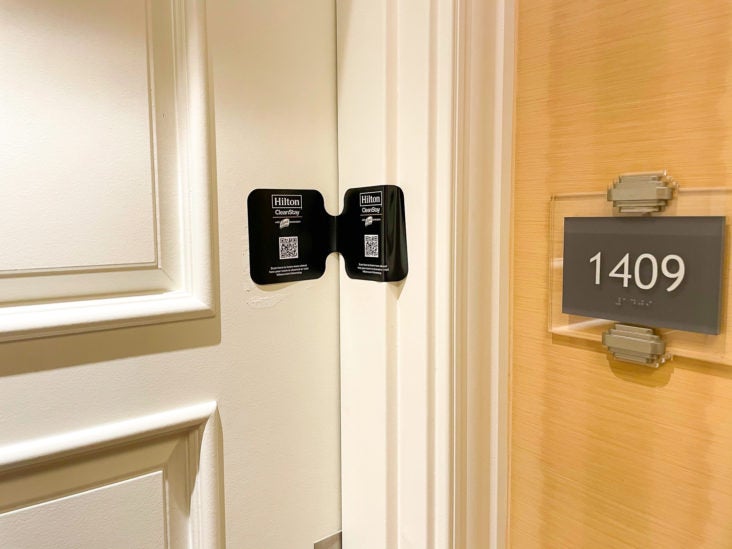 I was assigned room 1409 which had the Hilton CleanStay door seal on it.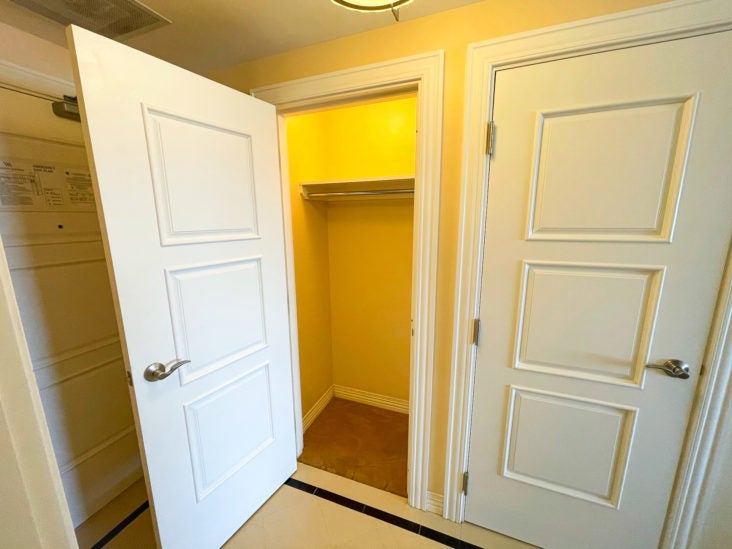 The room was listed at 448 square feet and it certainly felt quite spacious. After walking in, there was the bathroom on my right and 2 closets on my left.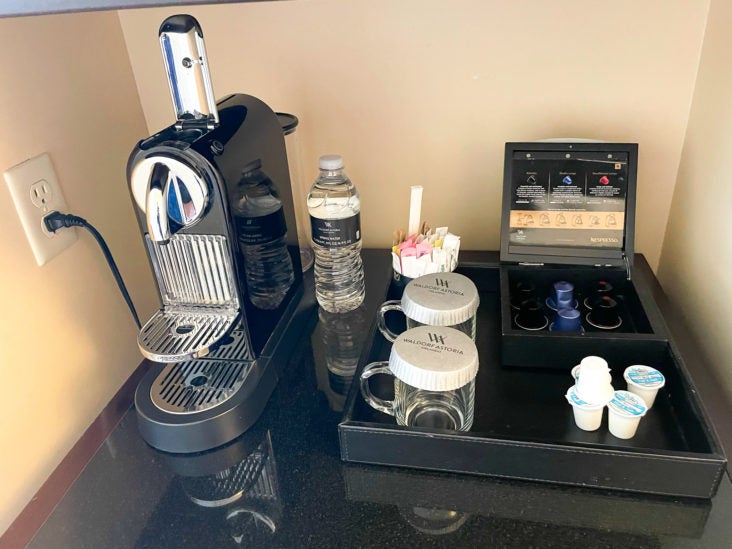 Before getting to the bedroom area there was a coffee and minibar station with a nice Nespresso machine and a shelf above it with 4 complimentary bottles of water waiting.
Bedroom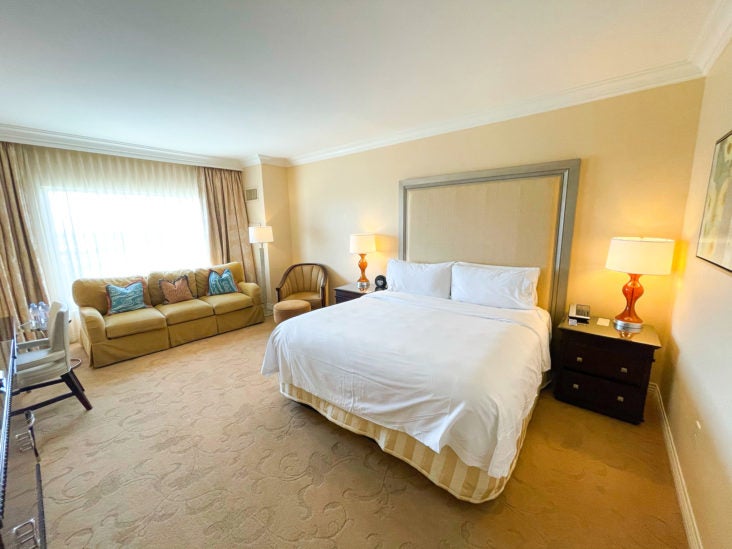 The decor of the room followed the rest of the hotel with a classic luxury feel: large, brown pieces of furniture with lots of yellows and golds throughout the soft furnishings. Sometimes rooms with this style tend to feel older/dirtier to me, but that was not the case here.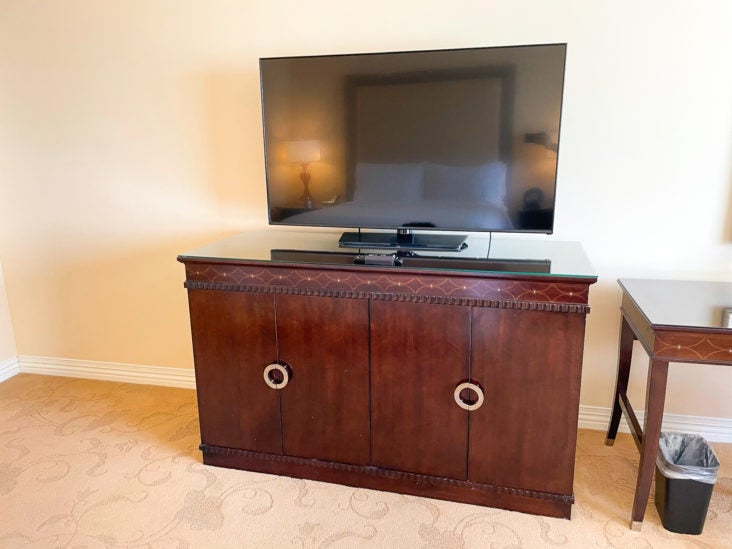 There was a large cabinet that housed a drawer, safe, and minibar, with a 55-inch TV on top.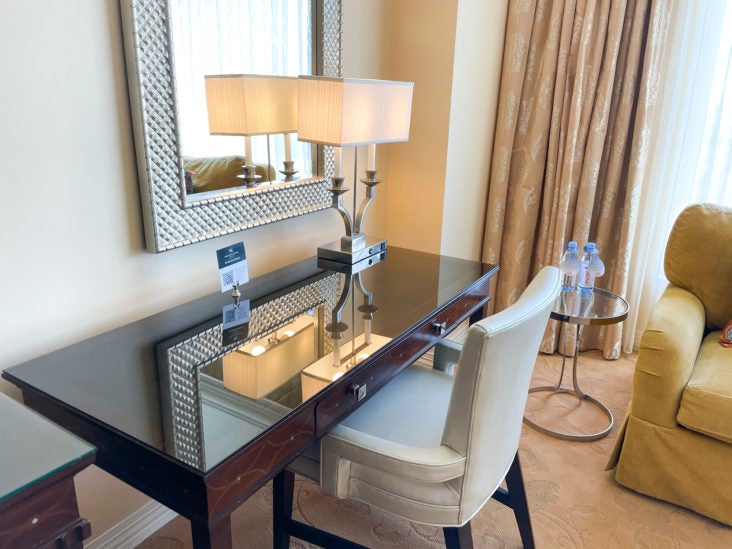 A full-sized desk and chair proved to be a comfortable place to get some work done.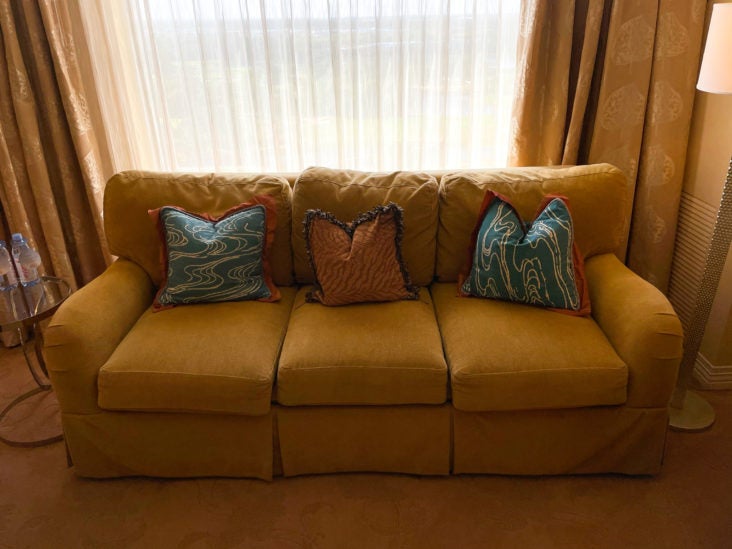 A pullout sofa bed was available that could have easily accommodated my 2 kids, so this room type would be a decent option for families.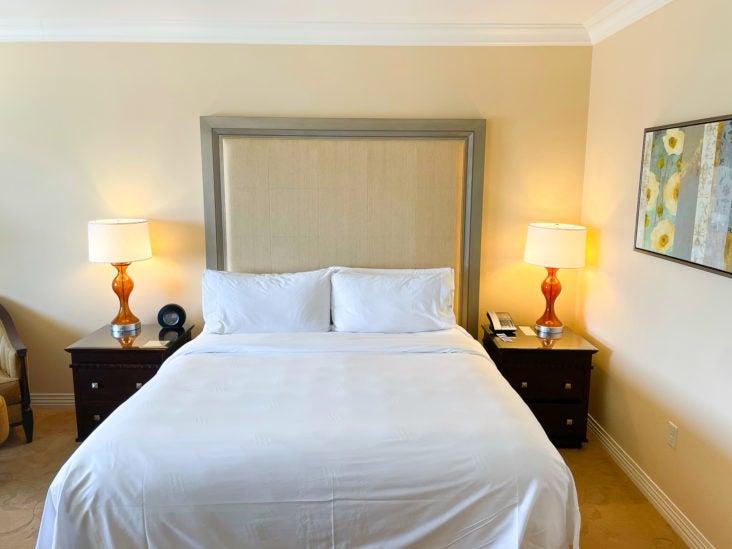 And finally, this king-sized bed was one of the most comfortable beds I had ever slept on.
Bathroom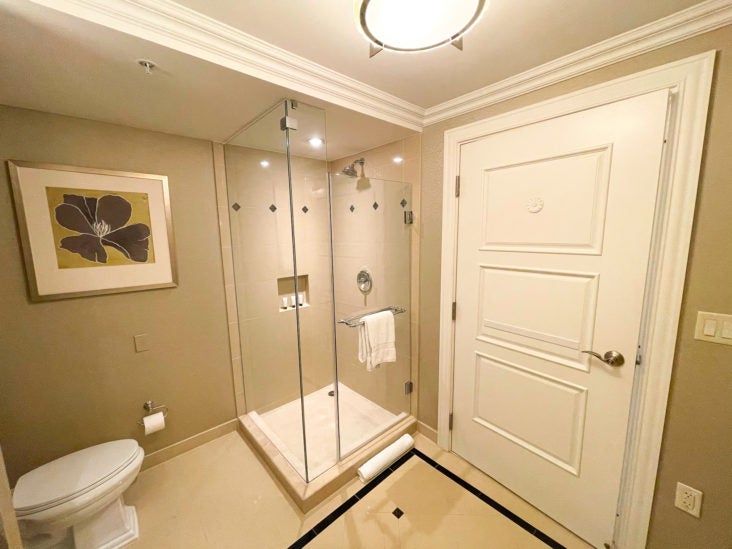 The bathroom was both classic and modern at the same time (if that makes sense). There was certainly plenty of heavy marble and dark wood, but the individual glass shower added a nice touch.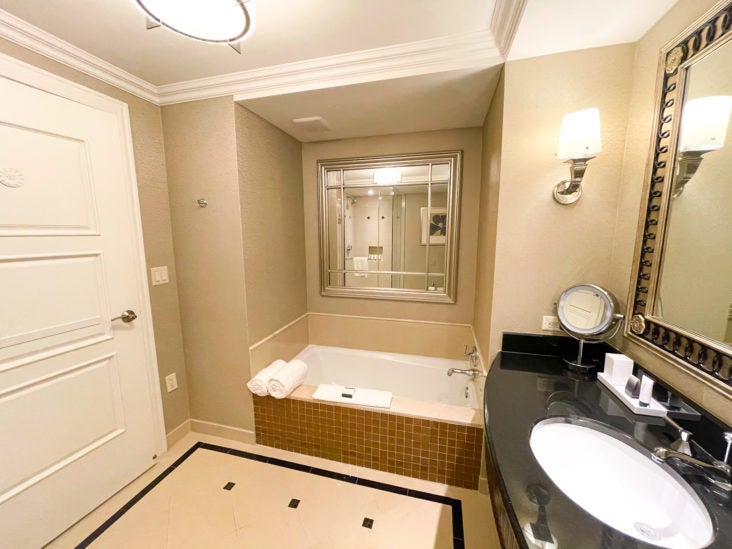 There was also a bathtub, which, as a parent, is a great option to have when you want to get the kids cleaned up in a hurry.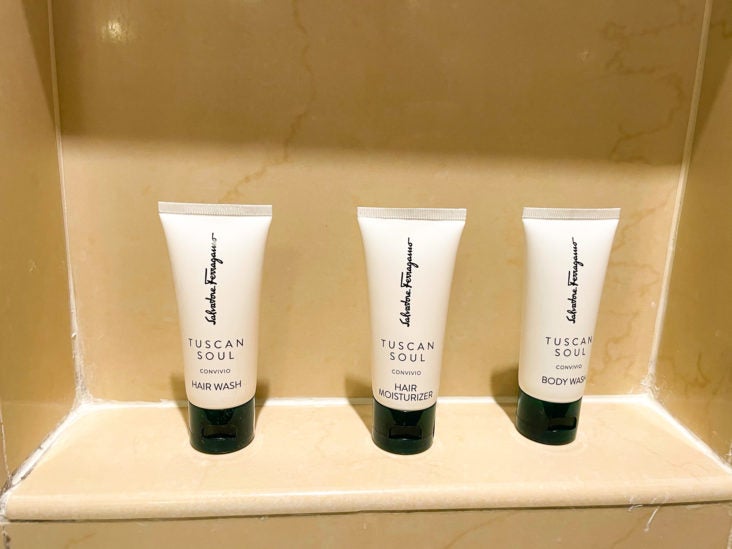 The shower amenities were by Salvatore Ferragamo.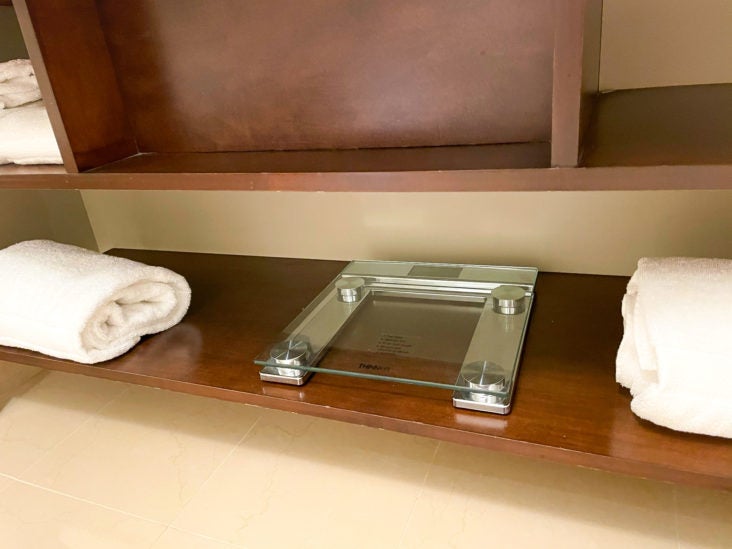 The bathroom also had a scale, which I don't recommend using after dining downstairs at the Bull & Bear.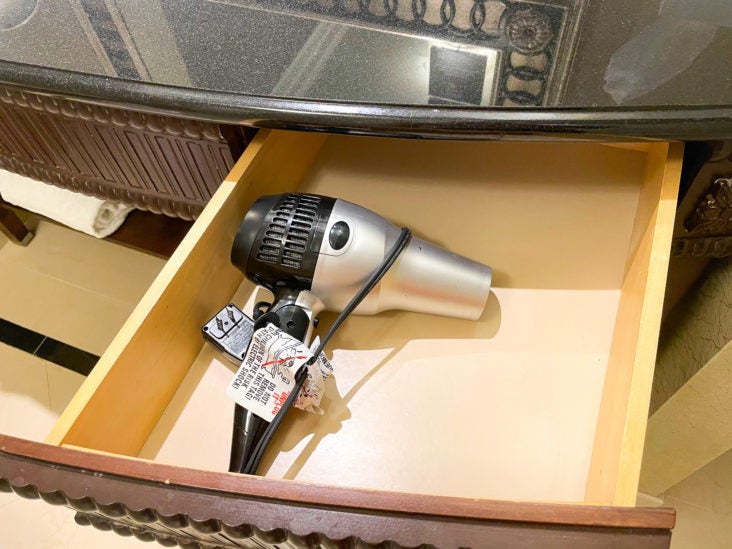 There was also a hairdryer.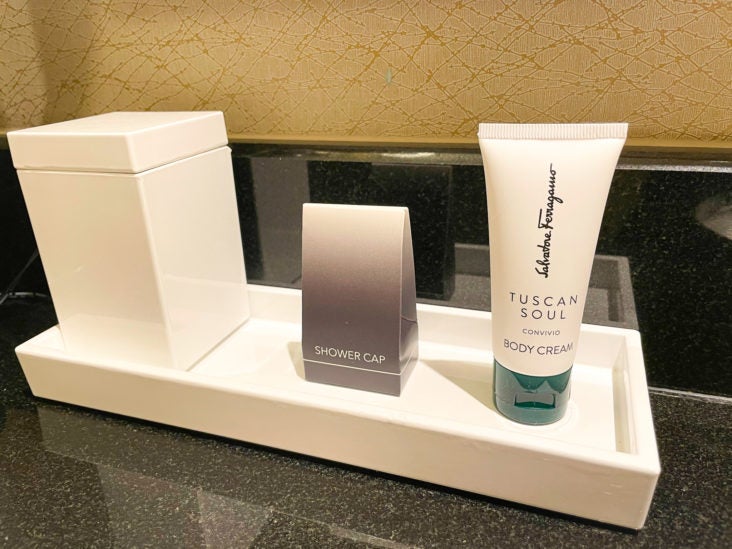 Some other standard amenities included Salvatore Ferragamo body cream, a shower cap, and cotton balls.
Bottom Line: The Disney View Deluxe Room with a King Bed was a very comfortable and well-appointed room. The room could comfortably fit a family of 4 if 2 kids didn't mind sharing the pullout sofa. The view of the Disney parks (and eventual fireworks) was an added bonus. 
Food & Beverage
When I think of Orlando, fine dining isn't the first thing that comes to mind. However, I had one of the best meals of my life at this hotel… and because of that, I can't wait to go back.
Bull & Bear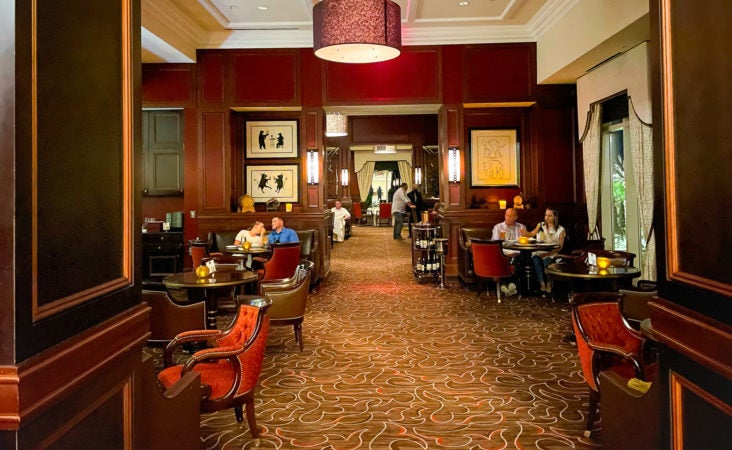 Bull & Bear is a "reimagined classic steakhouse" on the main floor of the Waldorf Astoria Orlando. It was named one of the top 100 restaurants in the U.S. by OpenTable and can be really hard to get a reservation at.
I'm no food critic, but I could probably write a full review on this 1 meal because I can't stop thinking about it because it was that good.
It was a steakhouse, so there was nothing crazy about the menu (besides the prices), but everything was just really good and really well done — especially the service.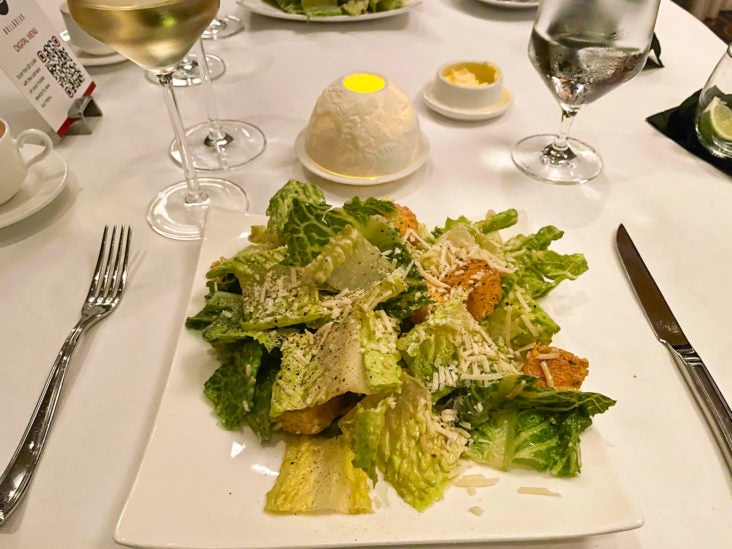 My friend came to join me for dinner so we ordered the Caesar salad which was prepared tableside and it was the best Caesar salad I have ever had.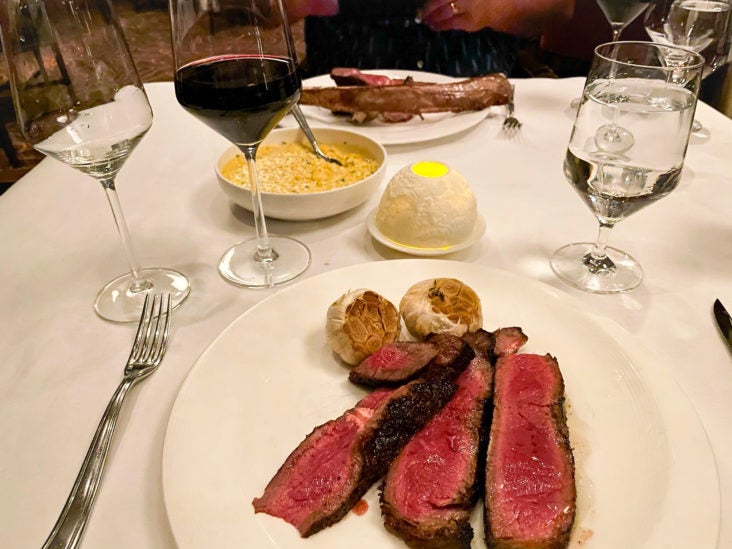 And then we ordered the massive tomahawk steak which was carved tableside and served with a bone marrow reduction. So good.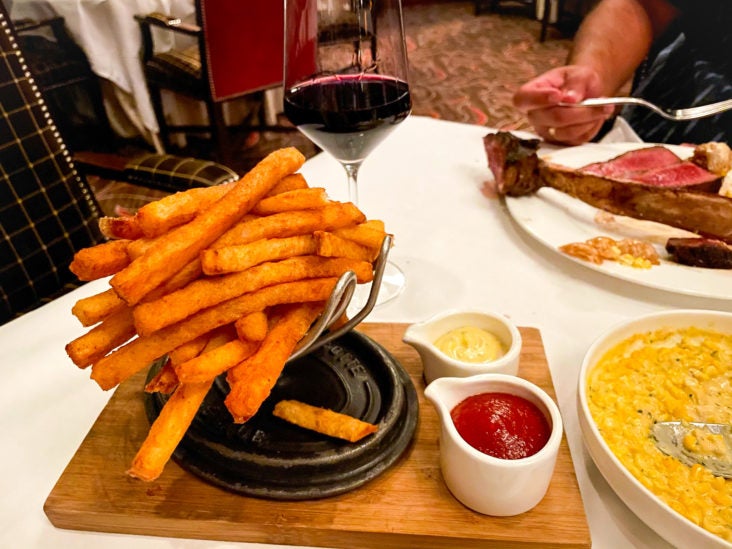 For sides, we ordered the fries that were brined in malt vinegar and fried in duck fat as well as the creamed corn. Both options were incredible.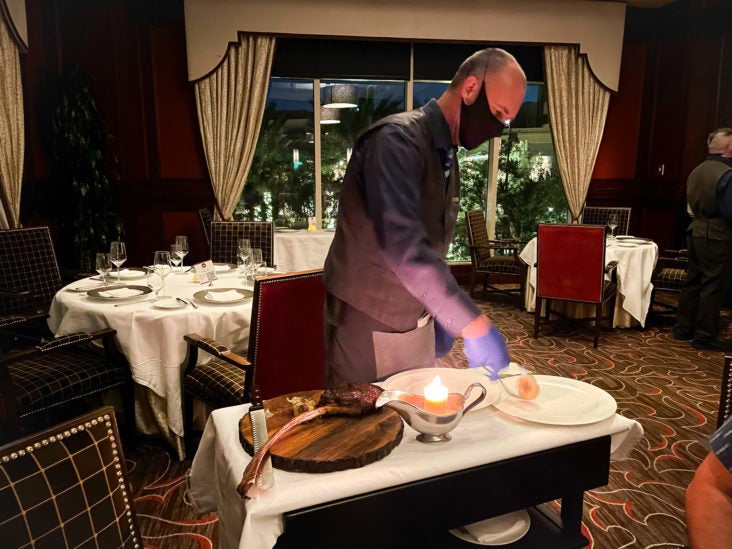 As I alluded to, prices were not cheap (check out the menu) but it was not a meal that I regret ordering. Especially because I used the $250 annual resort credit that comes with my Hilton Honors American Express Aspire Card. I just billed the meal to my room and when the charge hit my card, the credit was automatically applied. Plus, I earned 14x points on it!
Peacock Alley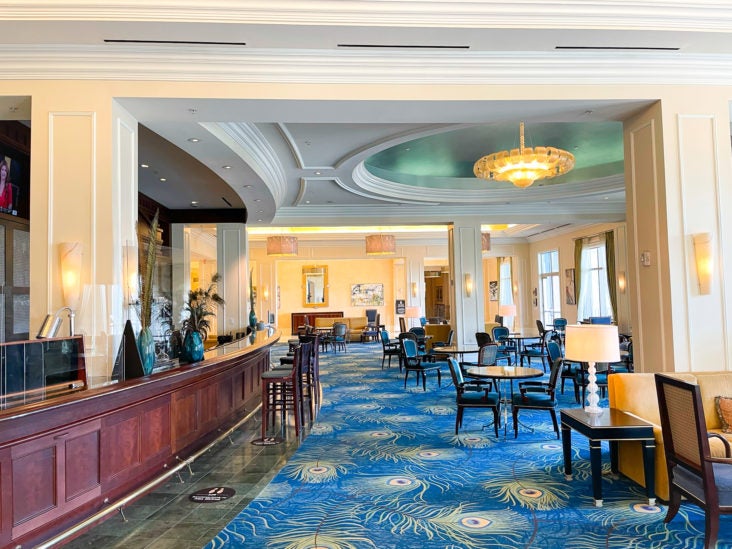 Peacock Alley is a bar/lounge just off of the lobby of the Waldorf Astoria Orlando.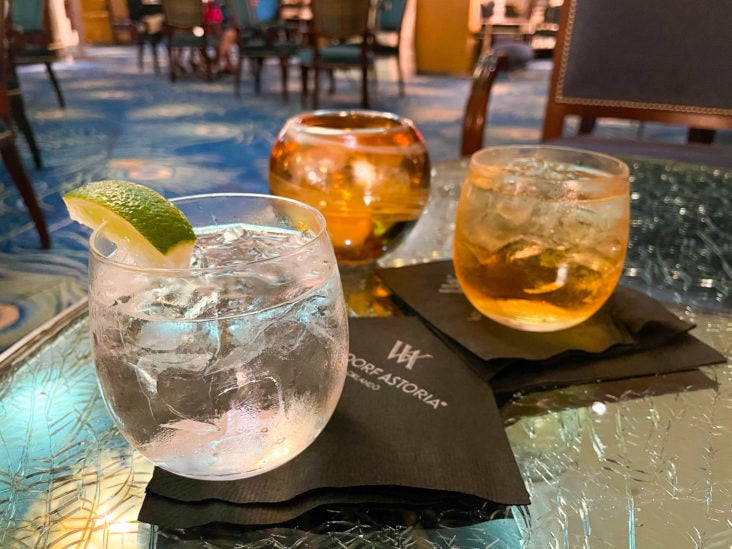 During the day (during my stay) it was closed, so people would just use it to sit and chat. But at night it was a nice cocktail bar with small plates, and in the morning this is where guests could grab breakfast to go.
Aquamarine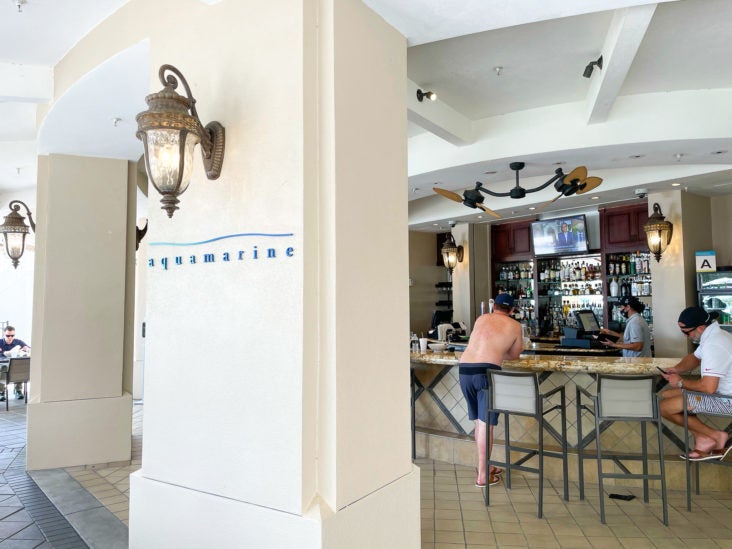 Aquamarine is the restaurant and bar that serves the pool at the Waldorf.
The menu is pretty casual, offering salads, sandwiches, pizza, and burgers. This is a good spot for the family to enjoy a meal while still enjoying the pool.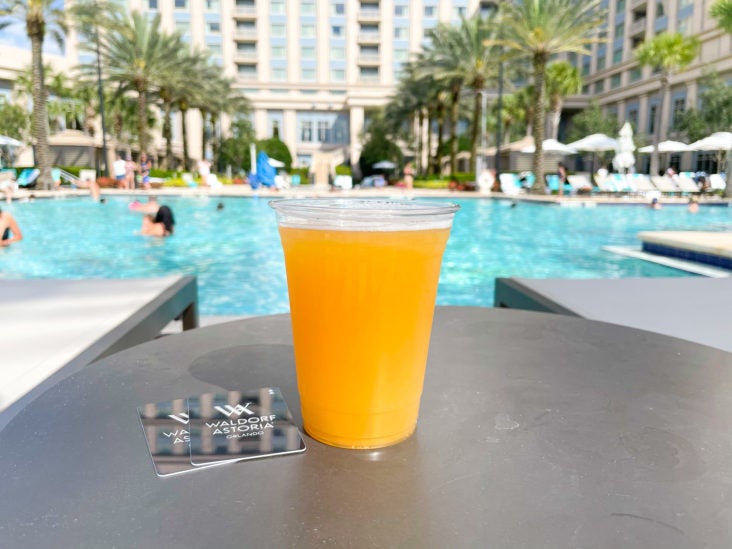 Guests can also use their welcome drink coupons here; I used mine to try a local IPA that was on tap.
Oscar's Brasserie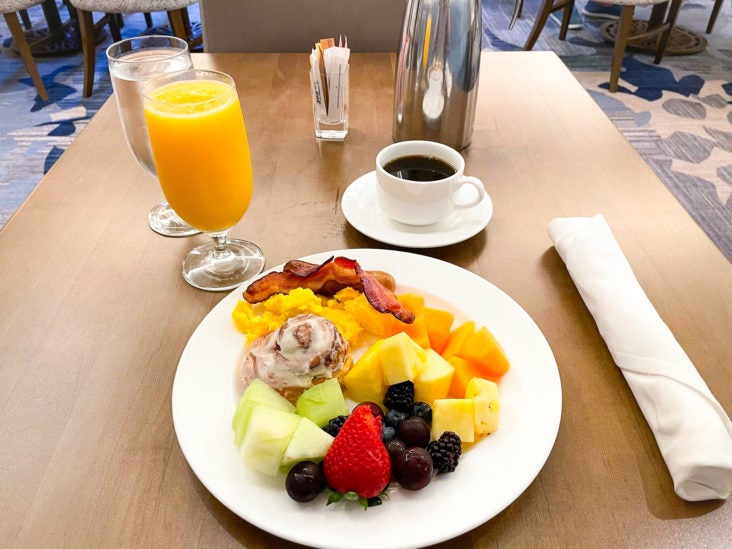 Oscar's Brasserie is where the main breakfast is served if you don't want grab-and-go from Peacock Alley.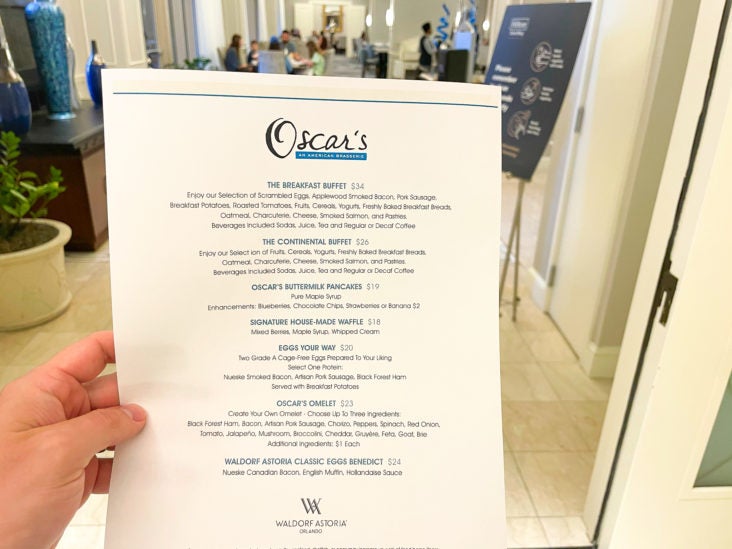 As a Diamond member, continental breakfast was complimentary. However, I forgot and grabbed some bacon and eggs which ended up costing me an extra $18… oops!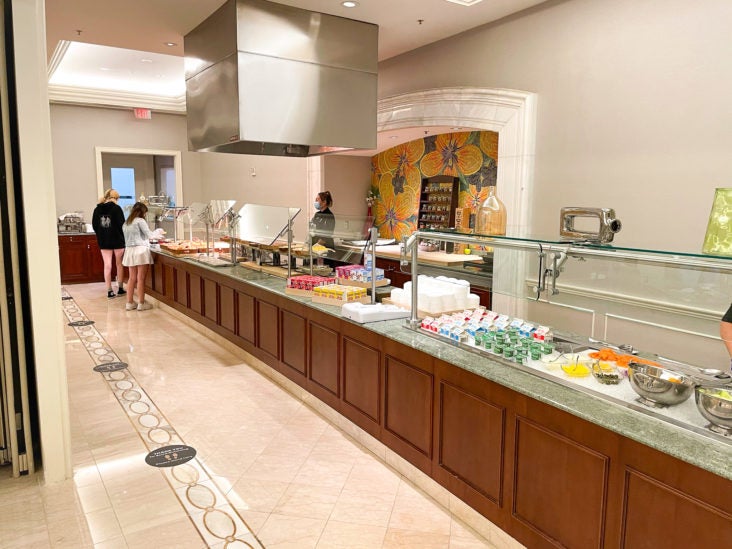 The breakfast buffet was pretty good, but nothing special.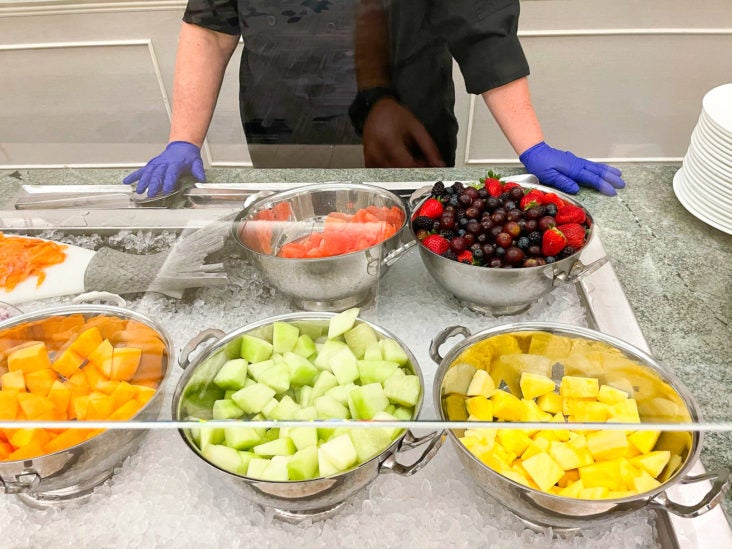 There was a nice selection of fruit, which was one of the few items that was served by the staff.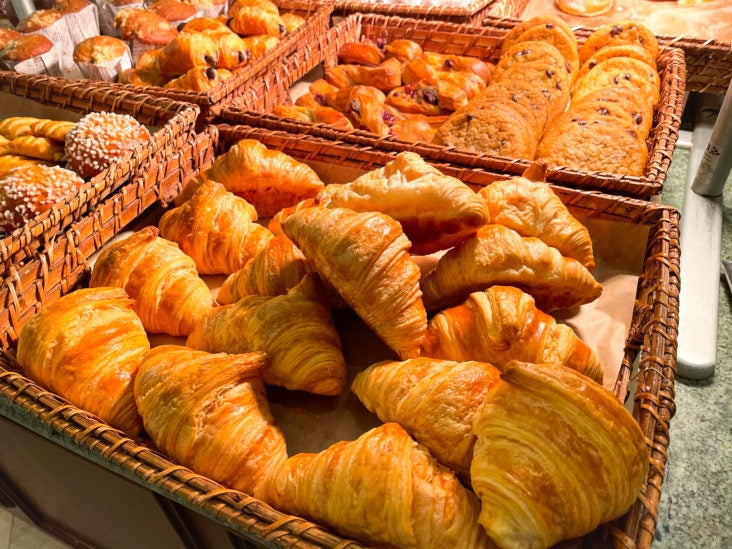 The pastries were dangerously good.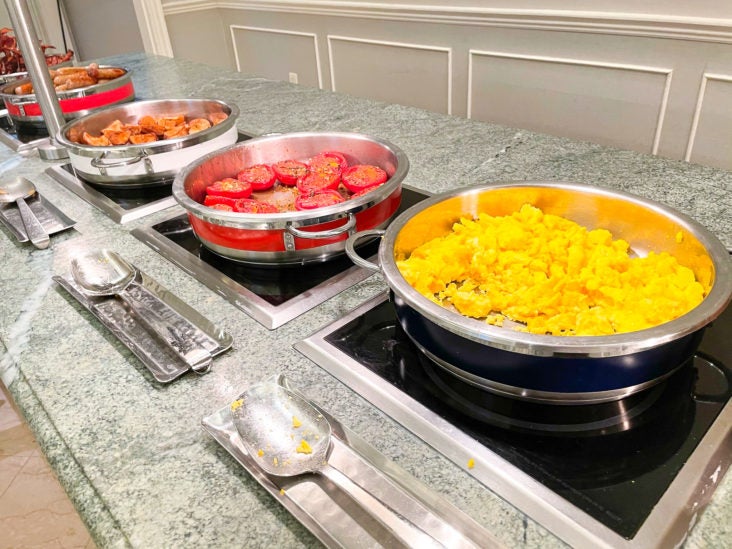 And there was a decent selection of hot items, but nothing to write home about and certainly not worth the $18 upcharge.
Clubhouse Grille
Clubhouse Grille is a 19th hole hangout that is part of the golf course. Currently, this little spot is only open on the weekends for lunch, so I didn't have a chance to check it out.
Additional Dining Options
The restaurants I listed are located on the Waldorf Astoria side of the resort, however, if you head over to the Hilton there are 6 other dining options for guests to enjoy.
With everything from sushi to Italian, there is something for everyone.
Service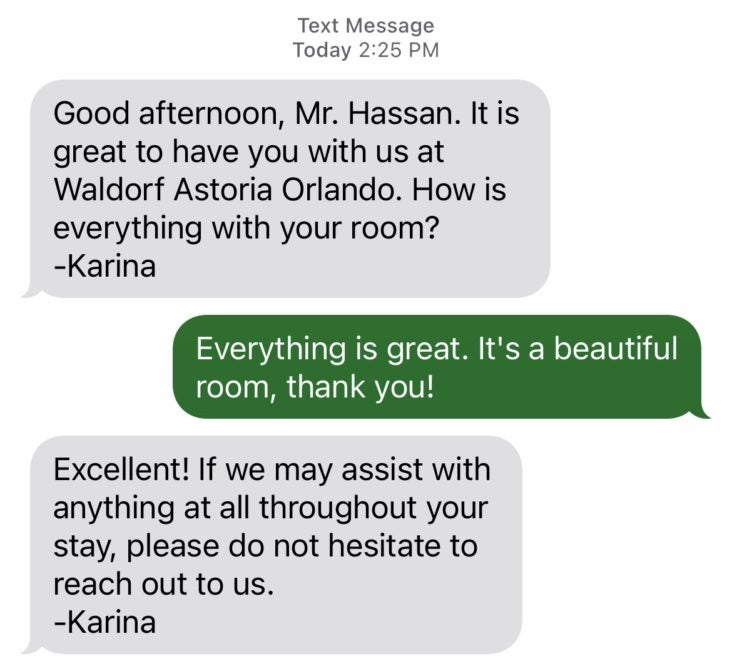 One of my favorite parts of staying at a luxury property is interacting with staff who are good at their job and really make you feel welcome. Each staff member that I talked with was both professional yet authentic at the same time, something that is very hard to do.
From the moment I arrived and received a text checking in to see if I liked my room, to the team of waiters that made my dinner one of the most memorable to date, I only have positive things to say.
Sometimes you stay somewhere and have certain expectations either due to price, brand, reputation, etc., and they fall short. It's natural, it just happens. Well, not at the Waldorf Astoria Orlando. I went in with high expectations, and they were all met and even exceeded.
Final Thoughts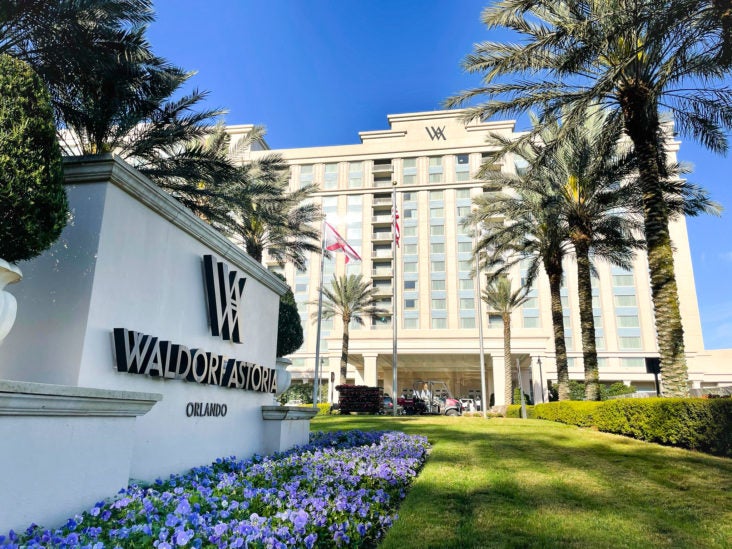 The Waldorf Astoria Orlando looks like an awesome hotel on paper, and I am happy to report that it delivered in person as well. This hotel has it all and I cannot wait to go back with my family.
The location is unbeatable unless you are actually staying on Disney property. Being able to get to the parks in just minutes via a free shuttle is a great perk, plus Disney Springs is even closer.
When you are ready to relax, the pools are top-notch, and the fact that you can use the lazy river at the Signia by Hilton next door makes that part of the equation a no-brainer.
If you have Hilton Honors points, cashing them in here is definitely worth it thanks to waived taxes and resort fees on award stays. And if you are a Hilton Aspire cardmember, this is a great location to use your annual $250 resort credit that can be used for anything that gets billed to your room — even a $165 steak.
While breakfast for elites could be improved, there are so many other positives that outweigh that 1 negative. If you are considering a stay at the Waldorf Astoria Orlando, I would certainly recommend it.
If you have any questions, leave them in the comments!
---
The information regarding the Hilton Honors American Express Aspire Card was independently collected by Upgraded Points and not provided nor reviewed by the issuer.