JW Marriott Orlando Bonnet Creek Resort & Spa [In-Depth Review]
If you have done any hotel research for an upcoming trip to Orlando recently, you have probably stumbled upon the JW Marriott Orlando Bonnet Creek Resort & Spa.
The JW Marriott Orlando Bonnet Creek is now the second JW in Orlando (the first, the JW Marriott Orlando, Grande Lakes, is next to the Ritz-Carlton Orlando, Grande Lakes) and one of the newest hotels around Walt Disney World, opening its doors in July 2020.
Being a brand-new luxury property minutes from Disney that you can book with points, you can be sure I had my eyes on this hotel. When I found myself in Orlando for 2 nights, I knew at least 1 of them needed to be at the new JW.
I had previously stayed at the Signia by Hilton Orlando Bonnet Creek on a family Disney vacation, and I like the area, so I took the opportunity to visit the "new kid on the block" to see if it would be a good fit for our next family getaway.
Let's take a look at how my 1-night stay went at this brand-new hotel and how I decided to pay for it.
Hotel Location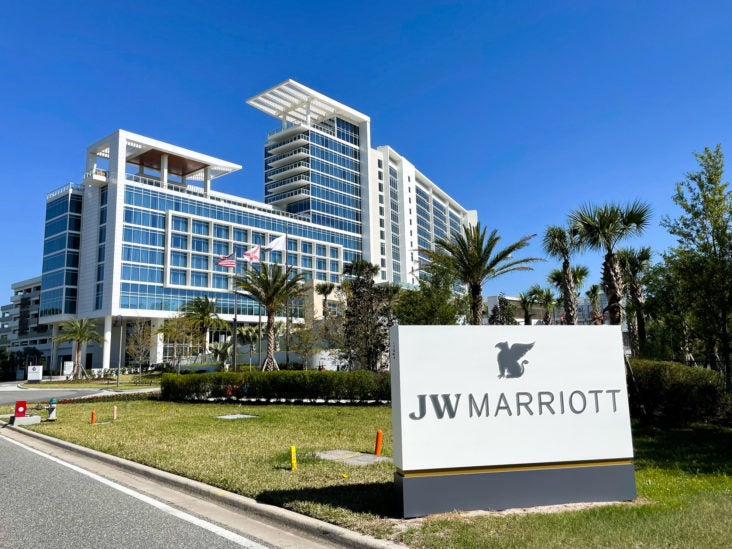 The 516-room JW Marriott Orlando Bonnet Creek Resort & Spa is located in the relatively new hotel development called, you guessed it, Bonnet Creek. Bonnet Creek is surrounded on 3 sides by Walt Disney World property and is just minutes from Disney Springs and the theme parks.
Bonnet Creek is home to some of the newer (and nicer) resorts in the Orlando area. Although there is only 1 main road, you will find a massive Wyndham Grand Orlando Resort Bonnet Creek, the Signia by Hilton Orlando Bonnet Creek, Waldorf Astoria Orlando, and at the very end of the development, the new JW Marriott.
The area is very lush and spread out, so despite being able to see the parks from the hotel, you are far enough removed from the chaos that it has a very calm and relaxing vibe.
The hotel is about 22 miles from Orlando International Airport (MCO), which should take just about 30 minutes by car without traffic. If you are heading to the Disney parks, you can use the "complimentary" hotel shuttle or drive the 6 miles in about 15 minutes.
Bottom Line: The hotel is located in Bonnet Creek, which is about as close as you can get to Walt Disney World and Disney Springs without technically being on the property. Guests can enjoy the convenience of the location without the chaos of the parks. 
Booking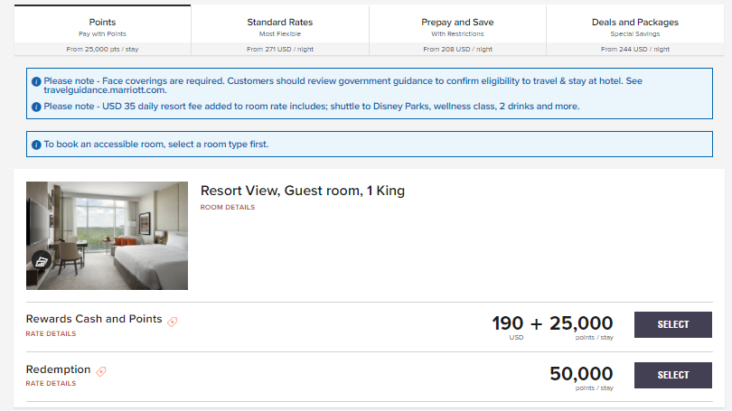 The JW Marriott Orlando Bonnet Creek Resort & Spa is a Category 6 property, which means that you expect to redeem between 40,000 to 60,000 Marriott Bonvoy points per night.
For the night I was in town, rates started at $208 but the best cash value was the Member Rate JW Getaway Package that included free valet parking and a $25 resort credit. Since valet parking is $37 ($29 for self-parking) that would bring the actual rate down to around $180 before taxes and resort fees — not bad.
However, since I had an expiring free night certificate for up to 50,000 points from my Marriott Bonvoy Brilliant™ American Express® Card that had already been extended (and another 1 on the way), I felt it was better to redeem it and save the cash.
Unfortunately, Marriott does not waive resort fees on award stays, so I was subject to the $35 addition to the bill.
Here are the rest of the award rates for the same time period:
Resort View, Guest room, 1 King — 50,000 points per night (what I booked)
Resort View, Guest room, 1 King — 25,000 points + $190 (Points + Cash)
Disney Springs View, Guest room, 1 King — 50,000 points per night
Disney Springs View, Guest room, 1 King — 25,000 points + $190 (Points + Cash)
Resort View, Guest room, 2 Queen — 50,000 points per night
Resort View, Guest room, 2 Queen — 25,000 points + $190 (Points + Cash)
Pool View, Guest room, 1 King, Sofa bed — 58,000 points per night
Pool View, Guest room, 1 King, Sofa bed — 50,000 points + $40 (Points + Cash)
1 Bedroom Executive Suite, 1 King, Sofa bed, Bathrooms: 1.5 — 90,000 points per night (what I was upgraded to)
1 Bedroom Executive Suite, 1 King, Sofa bed, Bathrooms: 1.5 — 50,000 points + $200 (Points + Cash)
Pool View, Guest room, 2 Queen — 60,000 points per night
Hot Tip: Check out our guide on hotel elite status changes, extensions, and updates due to the coronavirus. 
Checking In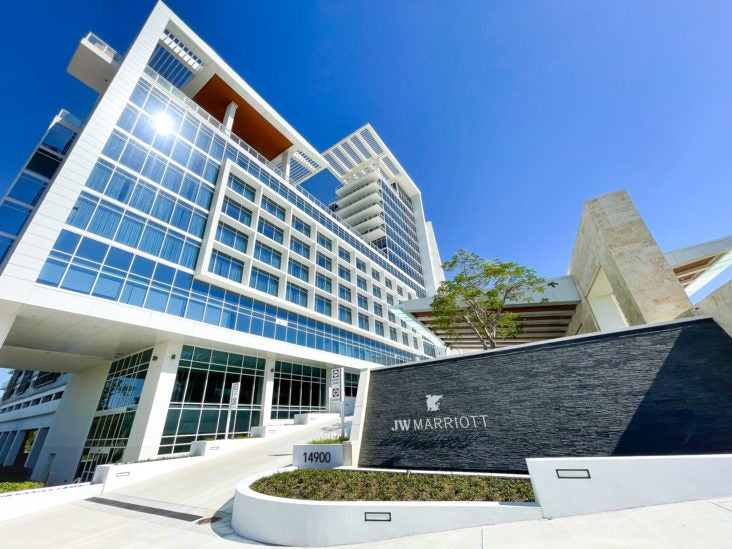 The hotel is located at the very end of Chelonia Parkway, which is the main road in Bonnet Creek that brings you to all of the neighboring hotels. Just keep driving straight and follow the signs to the JW.
The first thing you notice as you approach the hotel is that the design is quite stunning and unlike the other resorts in the area. The bright white and blue contrast of the modern design is both striking and understated at the same time. If I wasn't staying here, I would have at least gone in to check it out — that is how cool the building looks.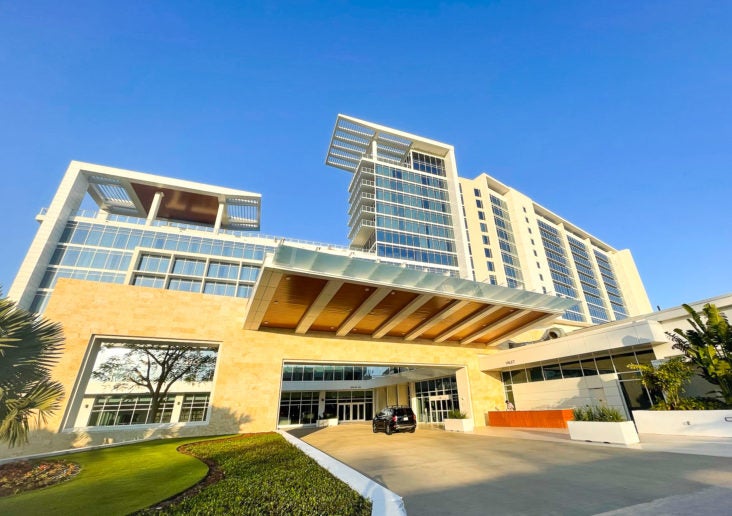 If you are driving, you have the option to pull up the driveway to the front door to drop your bags and valet your car, or you can continue past the hotel and park in the connected parking garage.
When I arrived, I didn't know the drill, so I dropped my bags with the bellmen and then parked my rental car in the garage.
The process of getting from the garage to the hotel lobby was very simple as the elevator brought me right up, so if you don't have a ton of bags, you can head straight to the garage if you are planning on self-parking.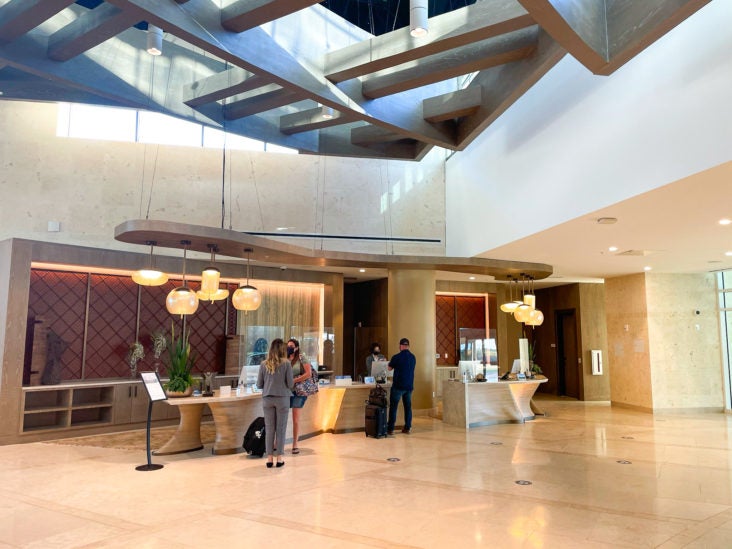 As you enter the hotel, either through the front door or the elevators from the parking garage, you are greeted with a massive lobby with towering ceilings, plenty of natural light, and dozens of seating options that I am sure will be full when the conference rooms are being used.
In the main part of the lobby were 2 bars (only 1 was operating while I was there), a restaurant, and a market. All of them were gorgeous with modern features — very Instagramable from the moment you arrive.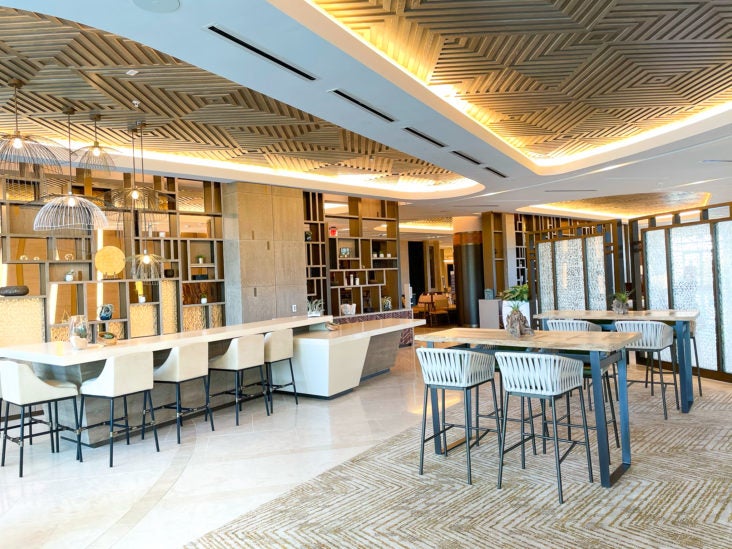 I arrived around 3 p.m. and the lobby was pretty quiet except for a couple of guests checking in and 1 person sitting at the lobby bar. I was quickly attended to and had one of the, if not the most, efficient check-in experiences in my recent travels.
After providing my name to the front desk agent, she thanked me for being a Platinum Elite member, quickly gave me an overview of the property, explained all of my Marriott Bonvoy benefits, and told me I had been upgraded in what felt like less than a minute.
Not that it felt rushed — it was very natural — but I was honestly shocked at how much information I had gathered so quickly and then I was off to my room. A far cry from some other check-in experiences where it feels like you are waiting at the front desk forever when all you want to do is go jump in the pool!
Hot Tip: If you are looking to book a family vacation to Orlando, you don't want to miss our tips on how to visit Disney World for cheap by using points and miles.
Elite Benefits
Marriott Bonvoy elite members have some decent benefits at the JW Bonnet Creek, although to be fair, the $35 resort fee kind of cancels them out.
As a Platinum Elite member, I was given the option of either 1,000 Marriott Bonvoy points, breakfast for up to 2 adults in the restaurant, or a $22 credit per adult for breakfast items at the JW Market in the lobby for the welcome amenity benefit. I chose breakfast in the restaurant.
Additionally, since the hotel charges a resort fee that includes Wi-Fi, elite members are entitled to an additional amenity/benefit of the hotel's choosing. I have never asked about this, and this was a first for me, but the front desk agent proactively told me that since I already get free Wi-Fi as a member, I could rent a movie in the room and the charge would be removed.
While I think the replacement amenity is absolutely useless, especially since you can stream Netflix and Amazon in the room, I appreciated the hotel telling me about it.
Room Upgrade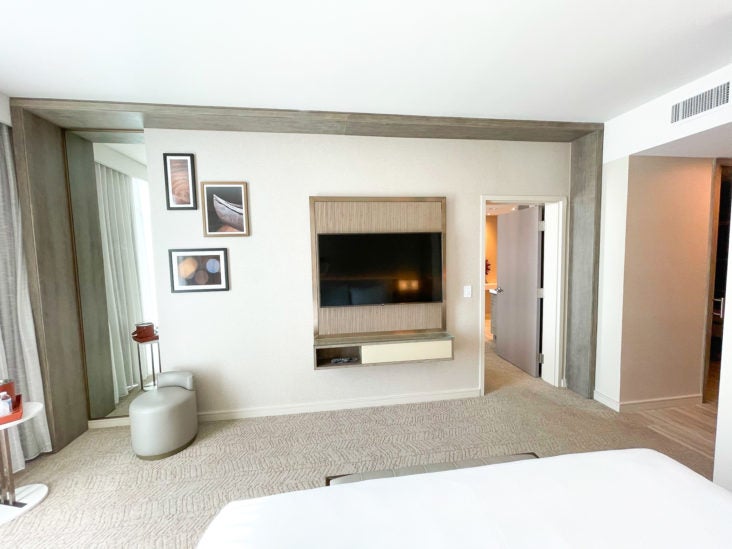 I had booked a standard room with a king bed as that was my only option if I wanted to use my 50k-point certificate. However, I was pleasantly surprised when I was told at check-in that I had been upgraded to an executive suite with 2 pullout sofas and 1.5 bathrooms — awesome!
Totally unnecessary for 1 adult for 1 night, but awesome!
Welcome Amenity & Resort Fee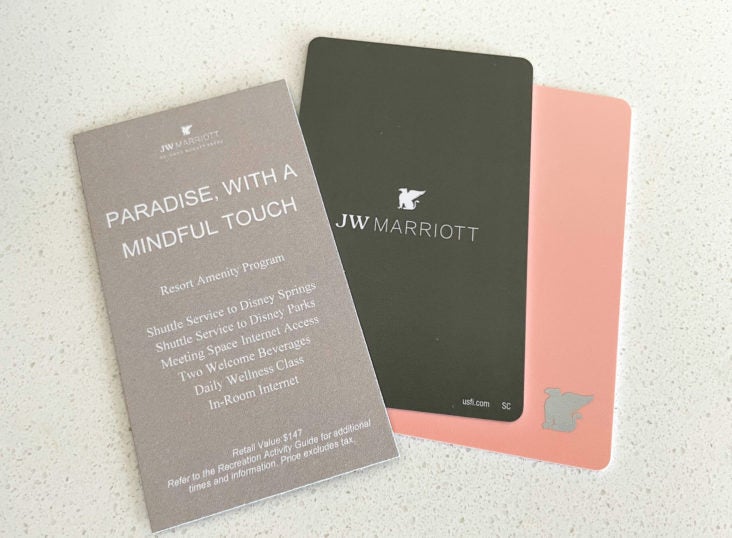 There was no additional welcome amenity in the room (like a fruit basket), only the elite benefits mentioned above, so let's address the resort fee instead. For only $35, guests can receive up to $147 worth of goods and services every day — plus parking!
As part of the resort fee (which, again, is not waived on award stays) guests can receive:
Shuttle service to Disney Springs
Shuttle service to Disney Parks
Meeting space internet access
2 welcome beverages
Daily wellness class
In-room internet
While I can certainly see the value in shuttles, I don't see why that couldn't be an upcharge for guests who want it. The rest is just silly. If I want a drink, I will buy one. If I want a wellness class, I will take one. And I already get free internet, so these resort fees do nothing but rub guests the wrong way.
I fully understand that the property itself has little say over these fees (especially when every hotel in the Bonnet Creek and Disney Springs area is doing the same thing), but maybe at least provide some flexibility. I would have loved to be able to swap a shuttle ride for an extra drink, for example.
Late Checkout
Another note about how impressed I was with the front desk agent and the check-in process overall: before I even was able to inquire, I was asked what time I would like my late checkout to be. Impressive!
Platinum Elites get until 4 p.m. at most properties, but I was happy with a 2 p.m. checkout so that I could swing by Disney Springs before my flight to grab some souvenirs for my kids.
Hot Tip: If you have a hotel stay coming up, be sure to read our guide to hotel policy changes related to COVID-19.
Amenities
I was really excited when I booked this hotel because it was brand-new, had some gorgeous pools, and the restaurants sounded delicious based on reading the menus online.
If you are looking for a place to enjoy an "off day" from the parks, this resort is a solid option.
Valet Parking
Guests arriving by car have the option to either valet or self-park in the attached parking garage.
The parking fees are:
Self-parking: $29
Valet parking: $37
Hot Tip: If you are paying cash for your room, there are some great package rates that include parking. 
Wireless Internet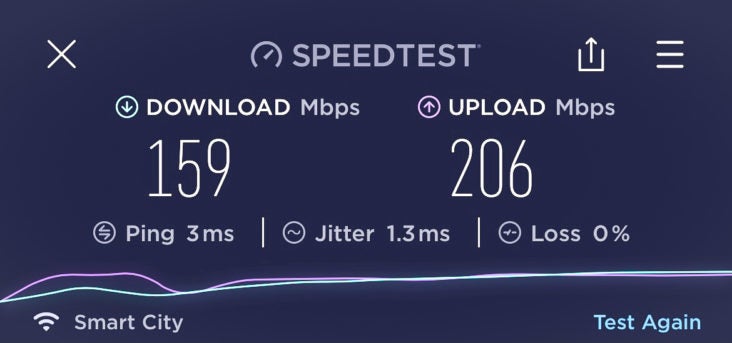 The internet throughout the property was strong and shockingly fast.
No matter if I was in my room, the restaurant, or by the pool, I never had an issue with my Wi-Fi connection. I can imagine that the internet service is quite robust for such a big hotel that is prepared to handle large meetings and conventions.
Since the hotel was quite empty — I had all of the bandwidth to myself!
Meeting Space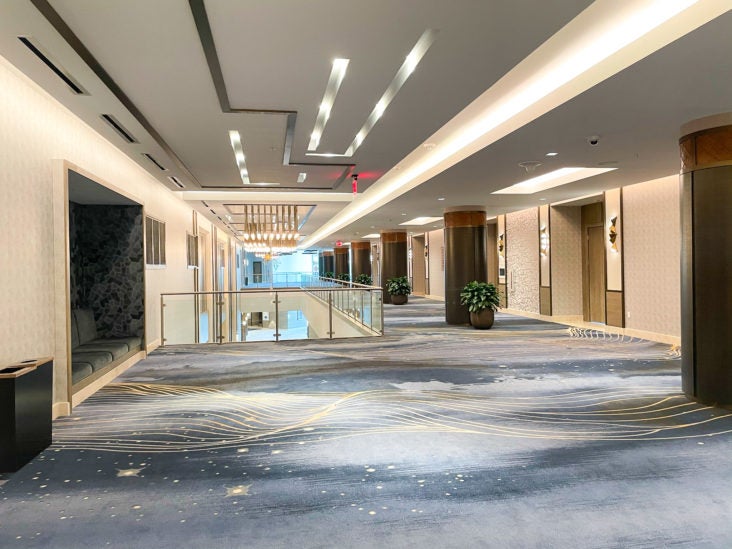 Although you might think this hotel is designed for vacationers visiting the Disney parks, the real money comes from the meeting space.
With 19 meeting rooms and over 50,000 square feet of meeting space, when things get back to normal, this hotel is going to get busy!
Fitness Center
The fitness center at the JW is (obviously) brand-new and had plenty of options and high-end equipment — but no Peloton bike.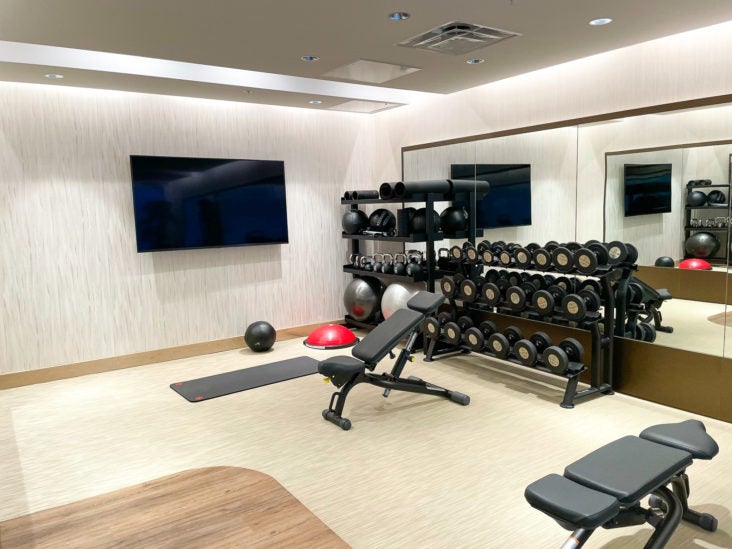 Overall, the gym felt small, especially compared to the size of the hotel. There was a section with free weights, which was plenty for me, but I could see this space getting busy when the hotel is full.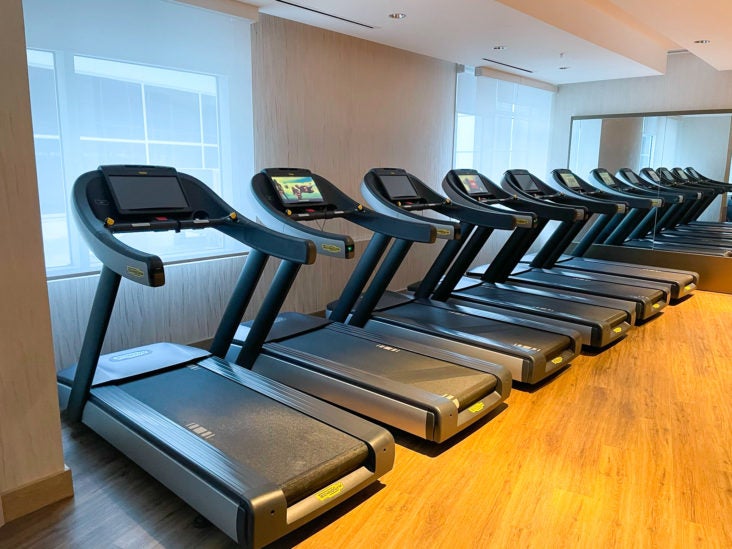 There were treadmills, ellipticals, and stationary bikes along the window.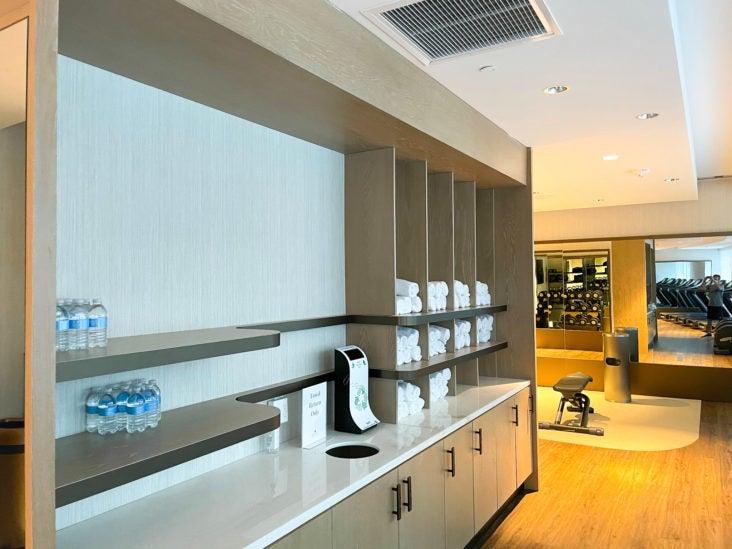 Some storage with water and towels.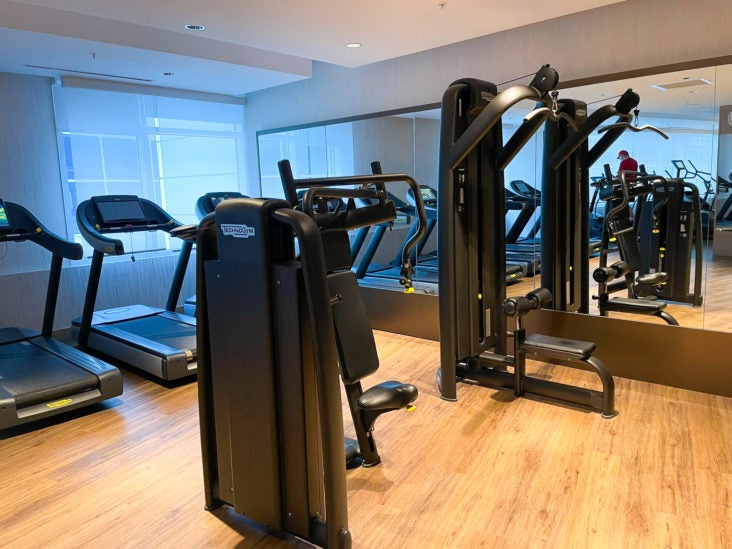 And finally some Technogym all-in-1 equipment.
Overall, a very solid gym, but it could get a little cozy when occupancy starts to pick up.
Kids' Room
One of the coolest parts of this hotel (as a dad) was all of the activities available for kids. While there were currently 2 options on the sixth floor for kids to enjoy (the Activity Garden and Kids Conservatory Lounge), there will be a third kids' room opening up in mid-2021.
These activities are free for guests to enjoy.
Activity Garden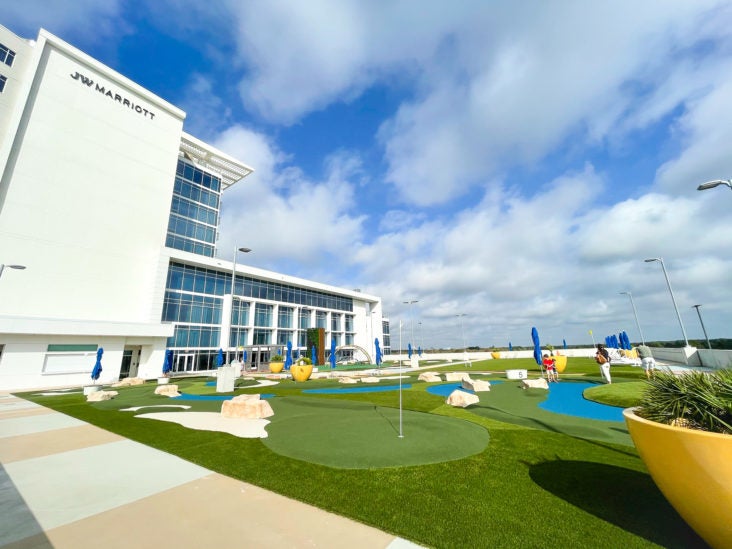 Located on the sixth-floor roof deck is an awesome 9-hole mini-golf course with views of EPCOT and the fireworks shows (whenever that comes back).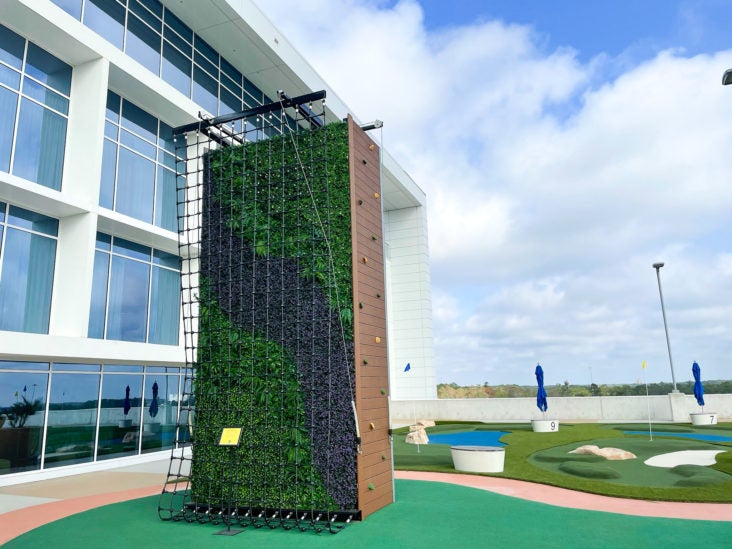 There is also a challenging net and rock climbing wall.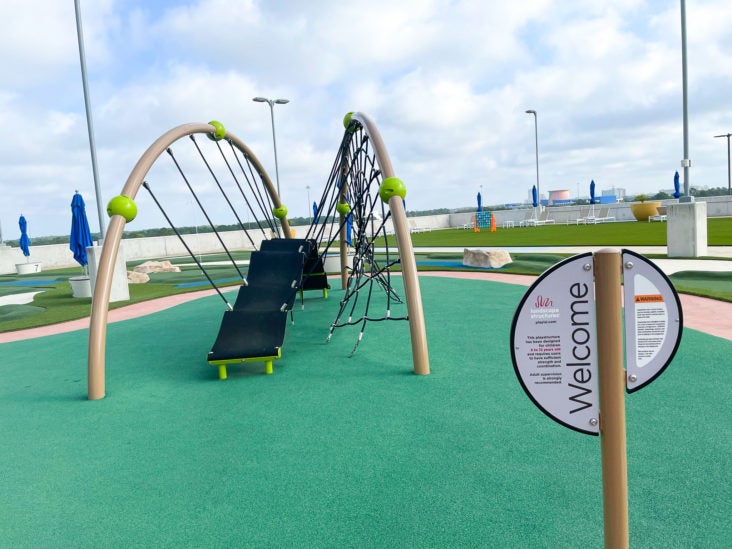 As well as a funky climbing structure that I know my kids would love.
Kids Conservatory Lounge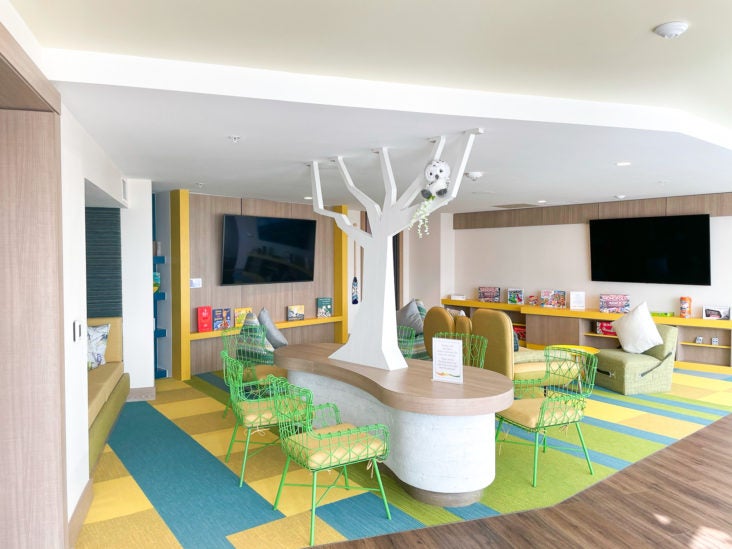 When you go back inside, kids can relax a bit, do some reading, coloring, or play a board game at the Kids Conservatory Lounge.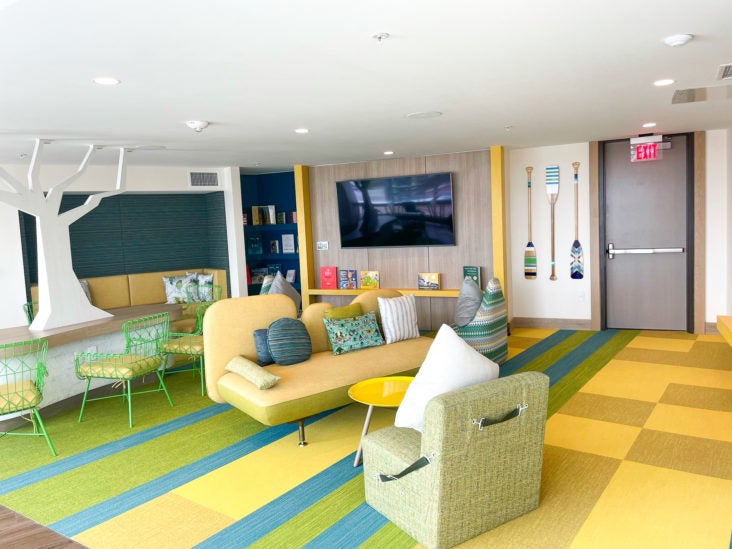 With all of the chaos and stimulation of running around theme parks, having a relaxing day in the lounge is great for kids.
Disney Shuttle
As part of the $35 resort fee, guests can use the hotel shuttle to get to and from Disney Springs as well as the Walt Disney World parks.
Pool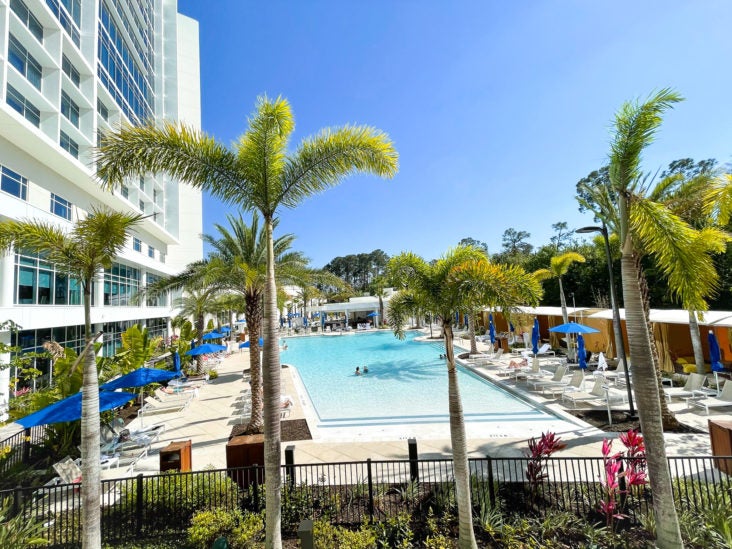 If you have seen any pictures of the JW Marriott Orlando Bonnet Creek Resort & Spa, you have probably seen the pool. While it wasn't the biggest or the fanciest, it was still really nice and a great place to spend a day.
Family Pool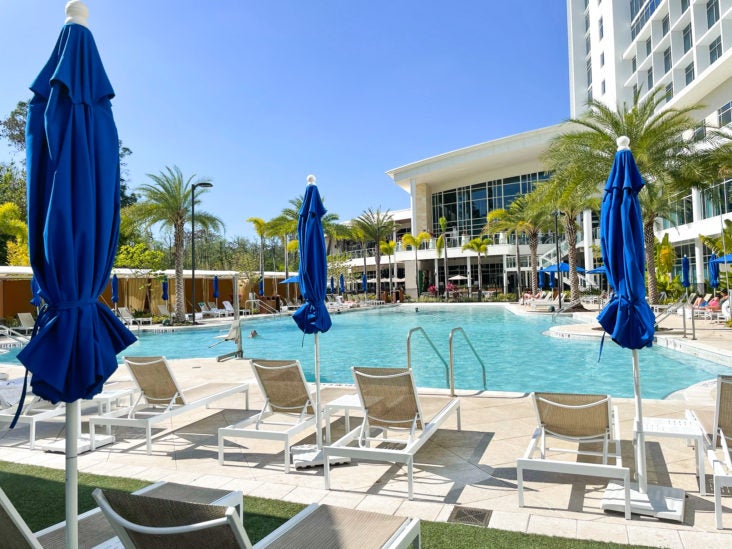 The main pool was referred to as the family pool because kids were not allowed in the adult pool or the jacuzzi. As a parent, I have no problem with this.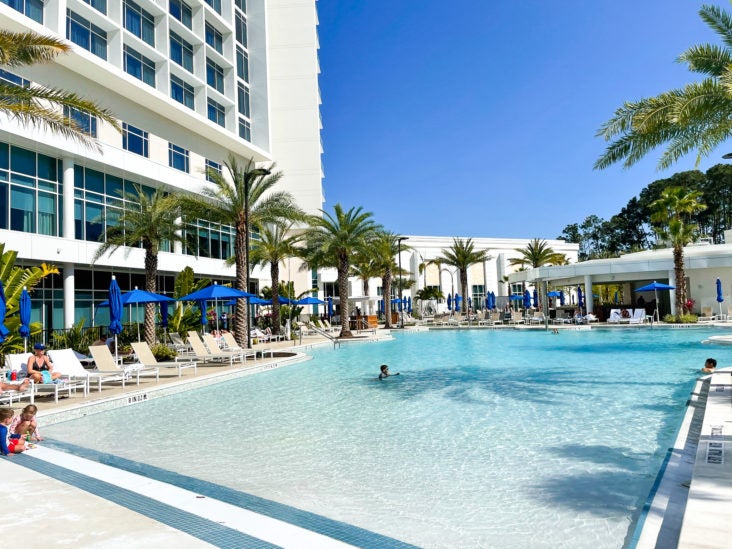 The family pool had an excellent zero-entry side and was surrounded by palm trees, lounge chairs, and cabanas.
Adult Pool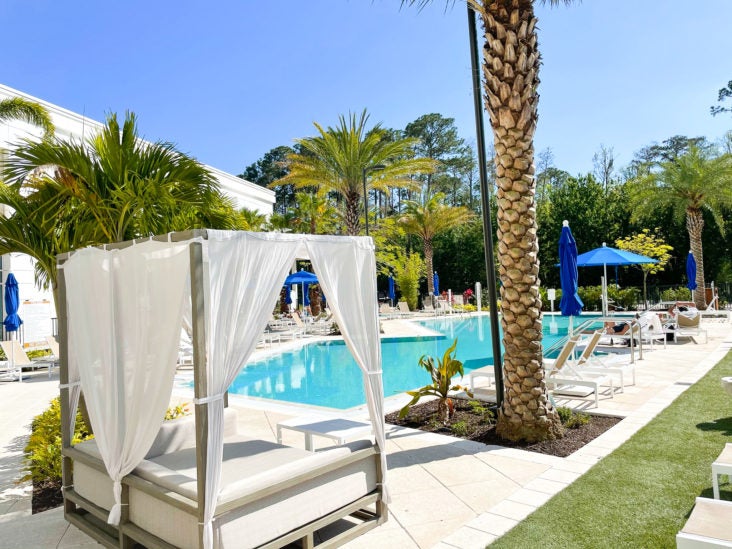 The adult pool was tucked behind the main pool and was much smaller and quieter.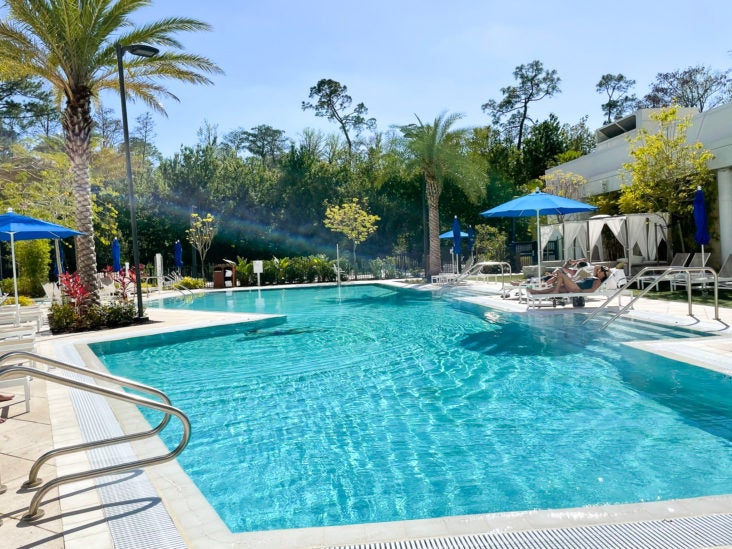 Jacuzzi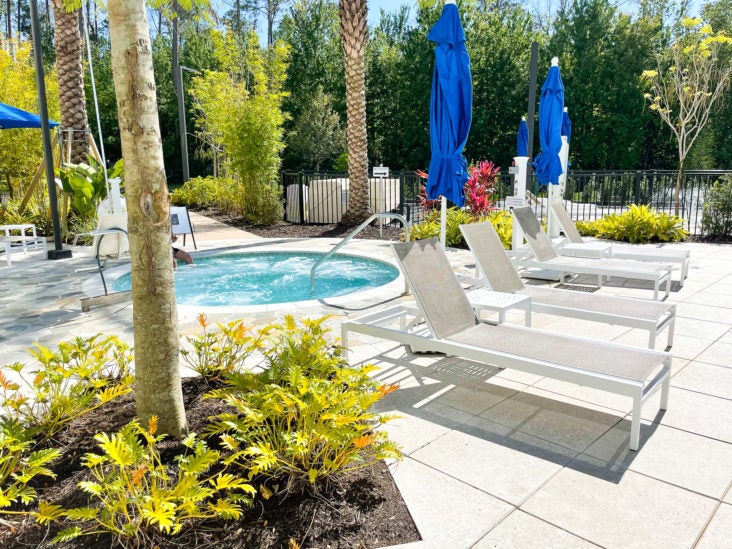 Tucked even further back behind the adults-only pool was a small but comfortable jacuzzi.
Splash Pad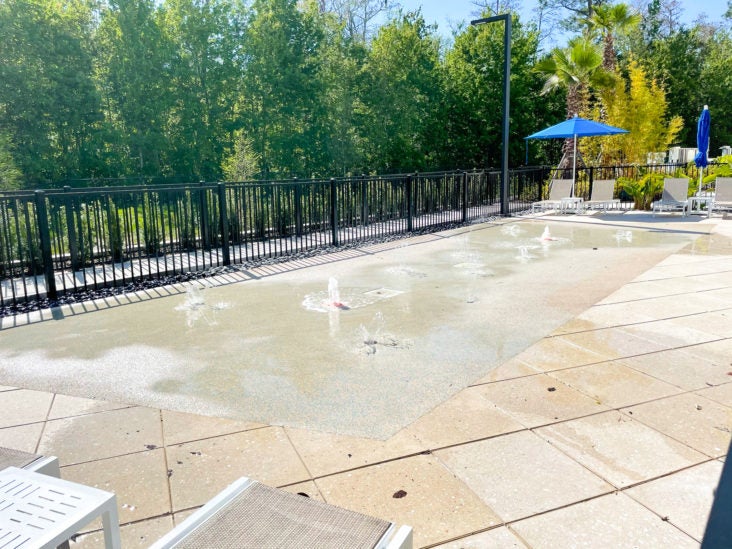 In perhaps the most awkward location, there was a kids' splash pad area directly between the adults-only pool and jacuzzi.
I can only imagine that some people may not enjoy kids screaming while they are trying to relax in their cabanas.
Cabanas and Day Beds
Around the pools, guests could rent cabanas and day beds. The cabanas were located near the main pool while the day beds were located by the adult's pool.
Guests could rent a cabana for $200 per day, including fruit and water.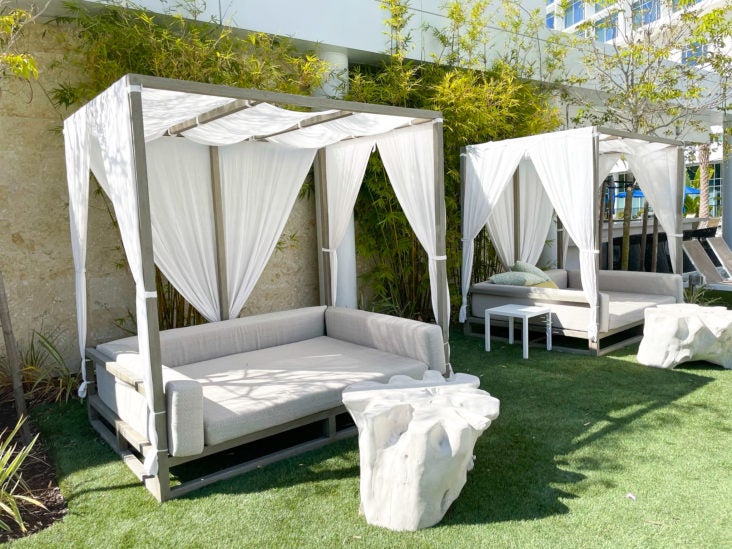 Guests could rent a day bed for $75, but they only included water.
JW Spa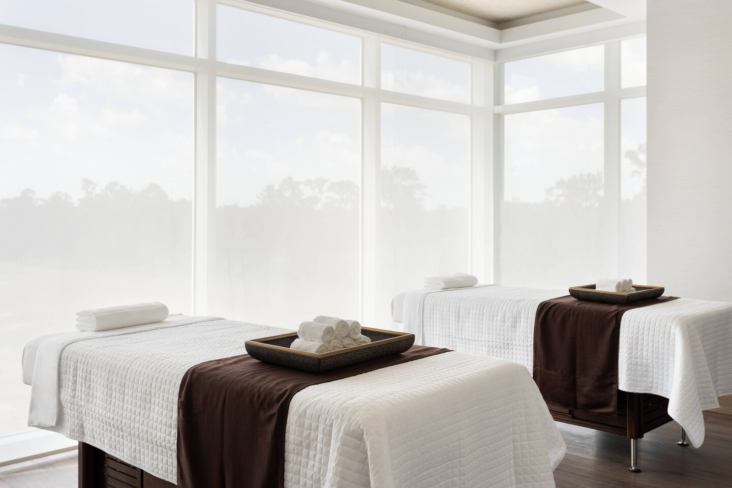 The new JW Marriott mission is all about wellness and nourishing your soul and body, so a brand-new property couldn't be without a fancy spa.
Unfortunately, I didn't have time for a treatment, but the JW Spa menu is available online.
COVID-19 Protocols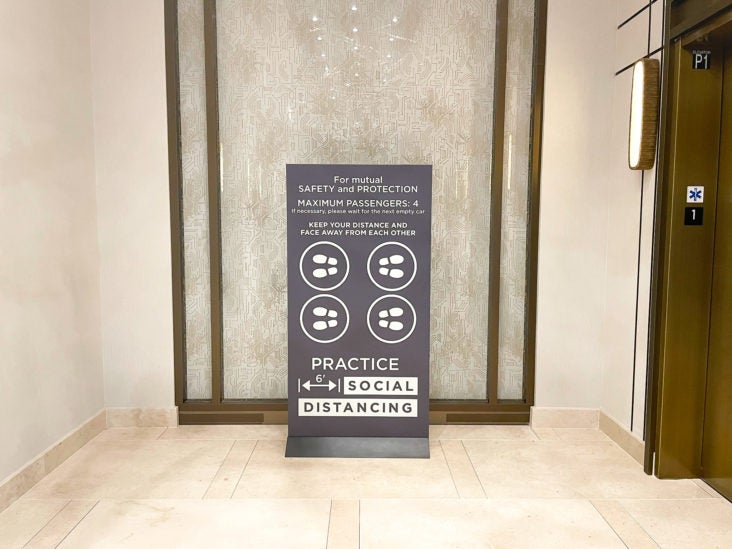 Even before I arrived, I had a pretty good idea of what to expect on-property. 2 days prior to check-in I received an email highlighting what to expect in regards to cleanliness and COVID-19 protocols during my stay.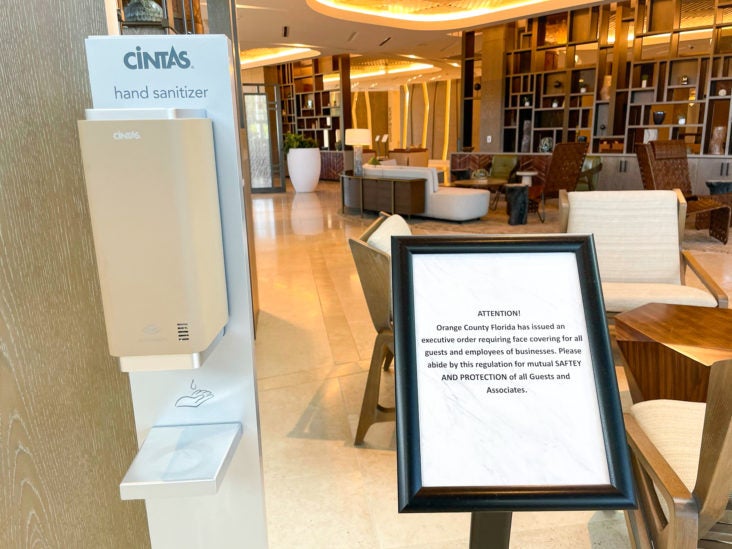 Throughout the property was plenty of hand sanitizer and reminders about face coverings and social distancing.
Mask usage was excellent by the staff, and overall pretty impressive for guests, as well — assuming you weren't in the pool or eating or drinking.
Hot Tip: For families visiting Orlando, our article How to Make Your Next Trip to Disney as "Stress-Free" as Possible is a must-read. 
The Room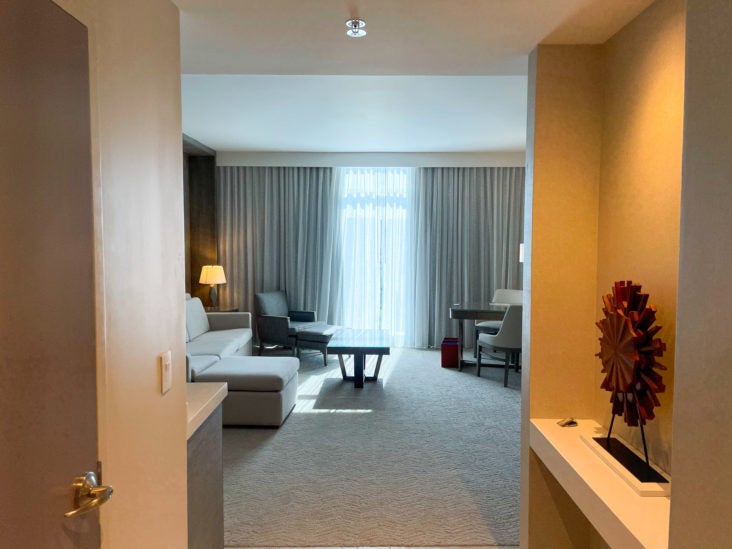 As I mentioned earlier, I was upgraded to an Executive Suite which normally would have cost 90,000 points instead of the 50,000 that I had spent, so I was pretty excited.
Unfortunately, the room I was given was dirty. After a quick call to the front desk, they sent a member from housekeeping up to take a look and determined it was probably better to just give me a different room.
However, there were no other suites available and they didn't want to have to downgrade me, so they offered to clean the room right then and give me a $50 credit for my trouble. I happily accepted. You don't have to twist my arm to get me to sit by the pool enjoying free drinks!
After years of working in hotels, I know all too well that these things can happen. With a new hotel (that was clearly understaffed) I am surprised and impressed that this was the only issue I encountered.
But the bottom line is not necessarily what the problem was, it was how the hotel remedied it.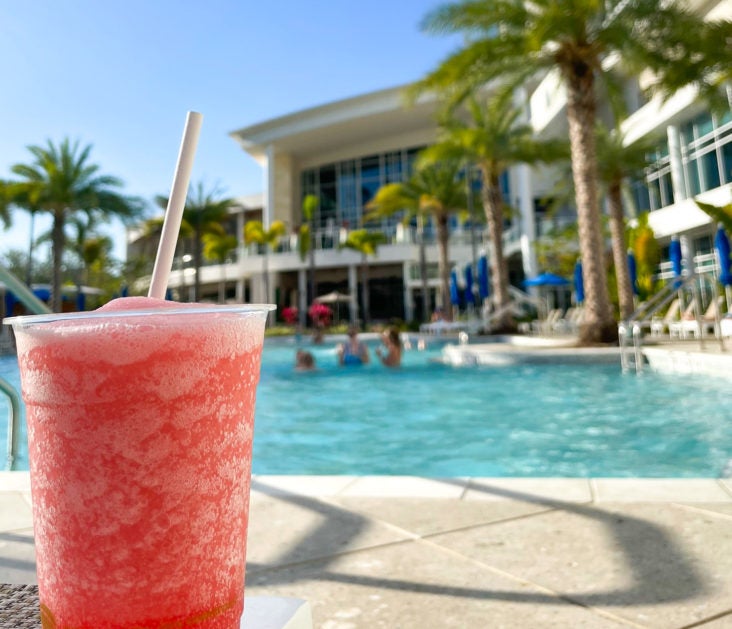 Service recovery is what the guest remembers, not the original issue. In the grand scheme of things, a dirty carpet is something that will fade from my memory. However, drinking a (free) frosé, poolside, at one of the nicest hotels in town will stick with me.
Now, let's take a look at the (now very clean) suite!
Living Room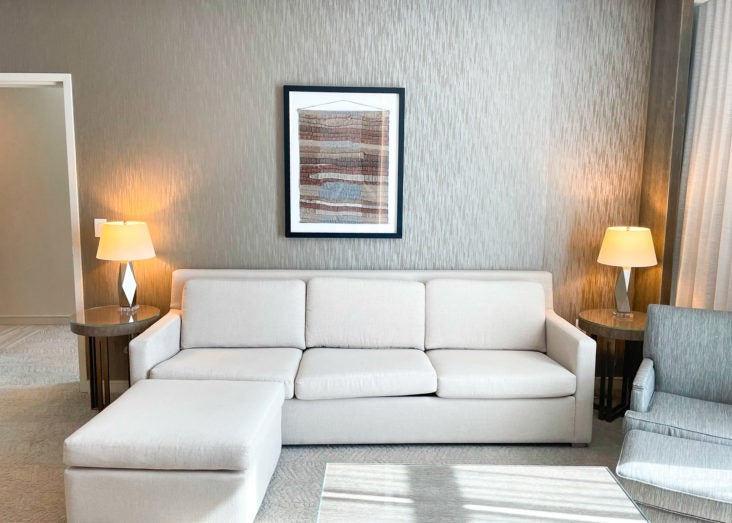 After walking through the small entryway (pictured above), with a half bath on your left and a small shelf with art on the right, was the living room.
The living room had a pullout sofa, chair, and coffee table in front of a 55-inch smart TV.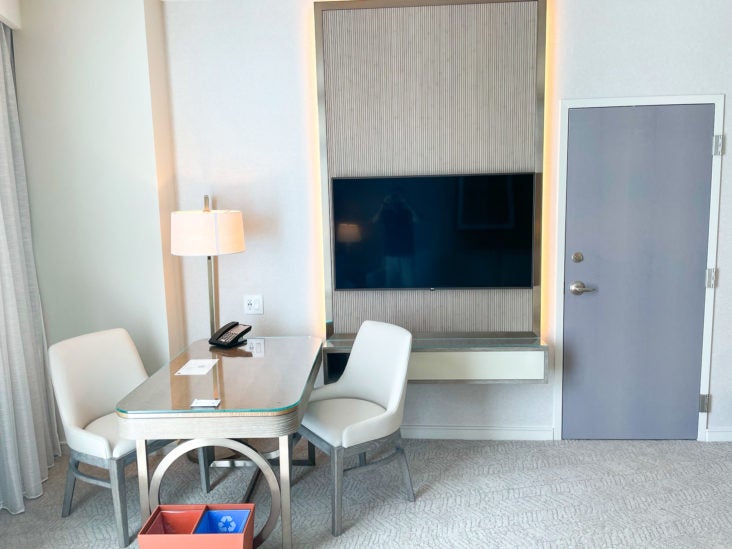 There was also a full-size desk and 2 chairs if you needed to get some work done.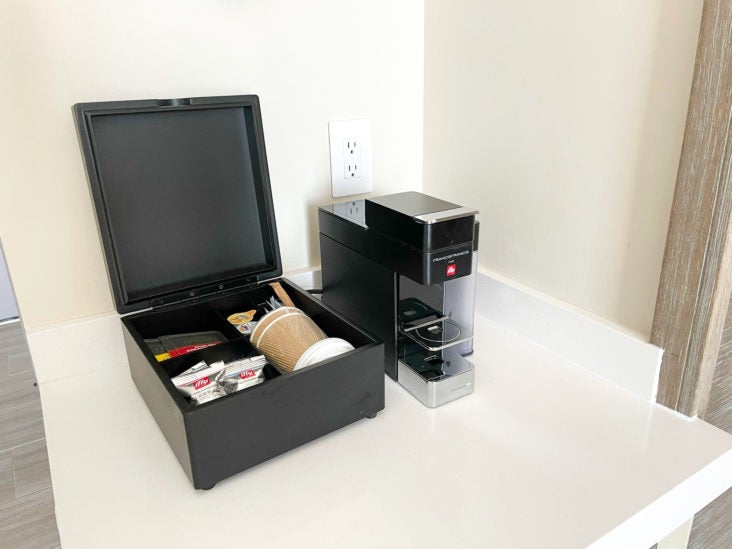 Off to the side was an Illy coffee maker on top of an empty minibar.
Bedroom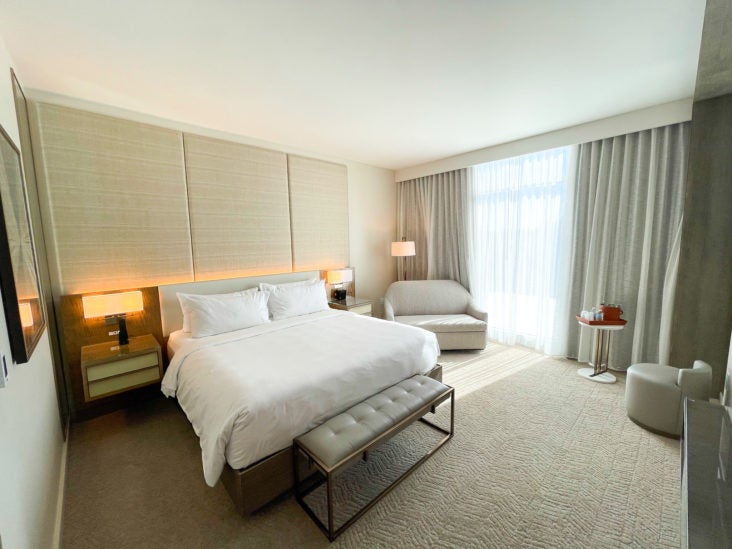 Walking through the living room doorway will bring you to the bedroom where there was a king bed, another 55-inch smart TV, and an additional (but smaller) pullout sofa, which would be great for kids.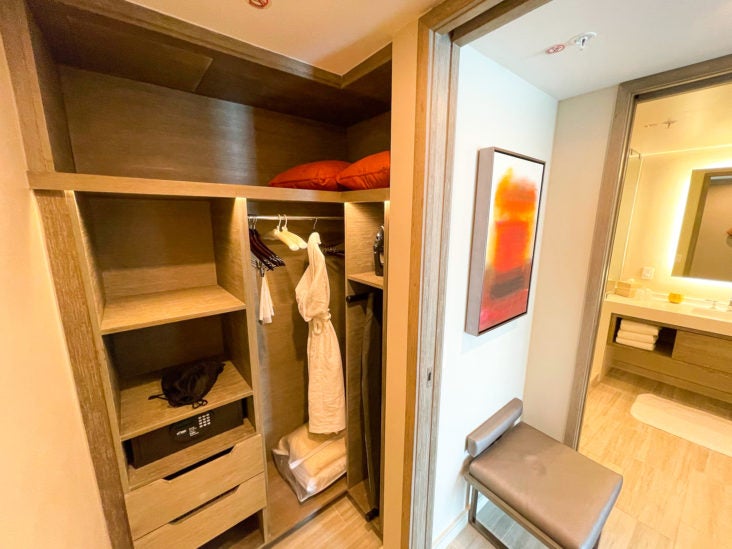 If you take a left after walking into the bedroom you will find a walk-in closet and the master bathroom.
Bathrooms
The Executive Suites have 1.5 bathrooms — a decent-sized half bath at the entryway and a full master bathroom in the bedroom area.
Half Bath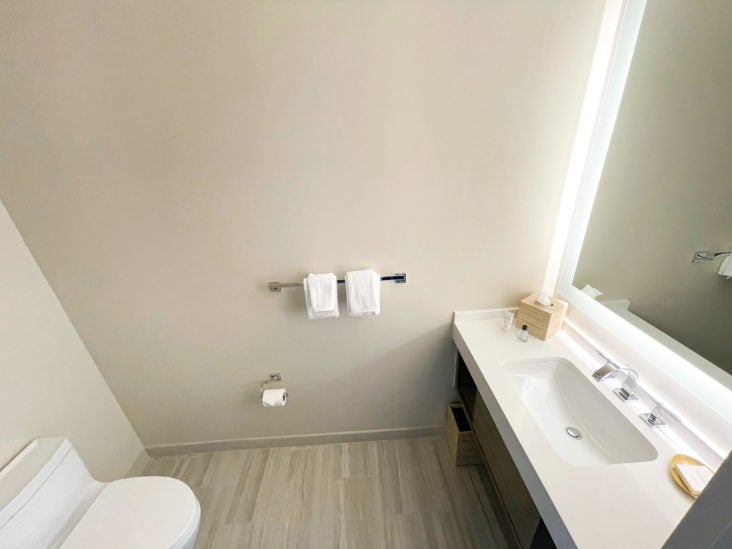 The half bath was impressive in size and certainly convenient for families or if you have guests in your suite.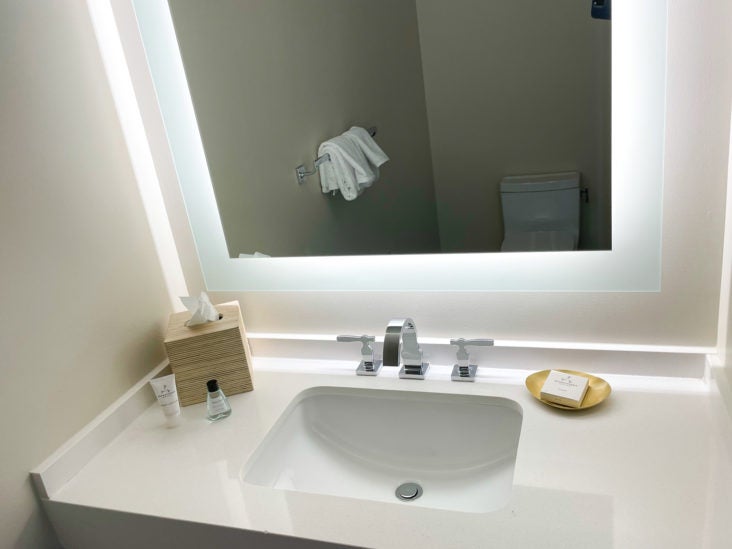 Master Bath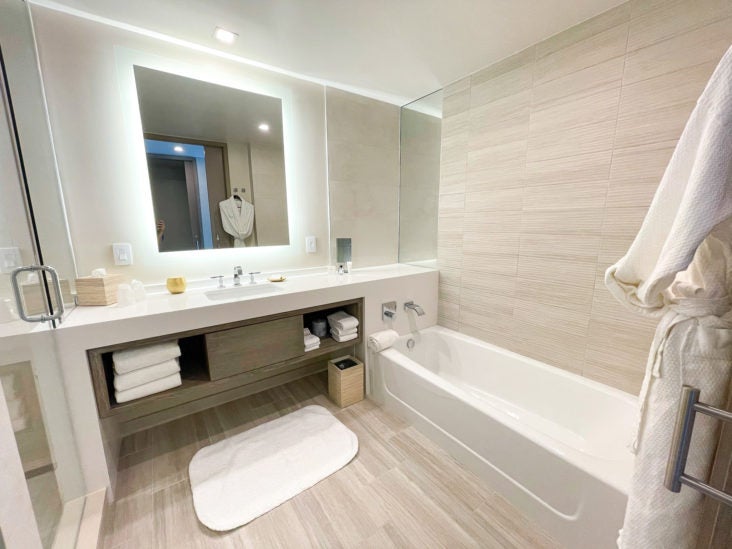 The master bath was not only spacious, but it was also gorgeous.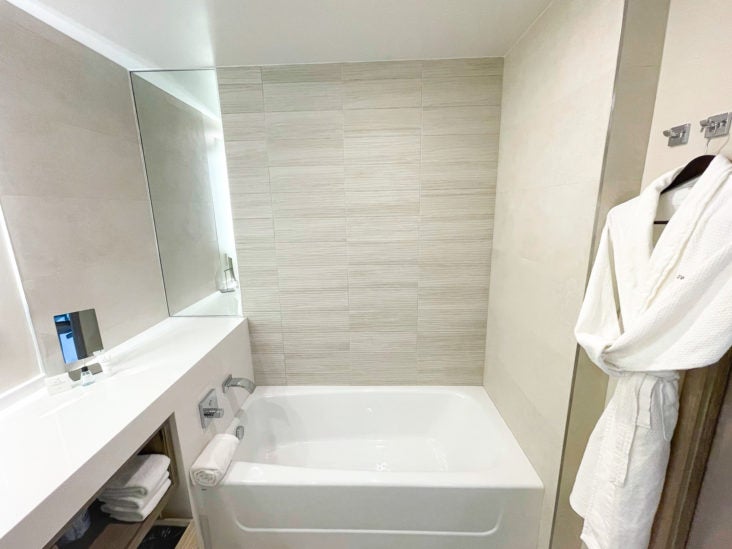 On the right-hand side of the bathroom was a full-sized bathtub.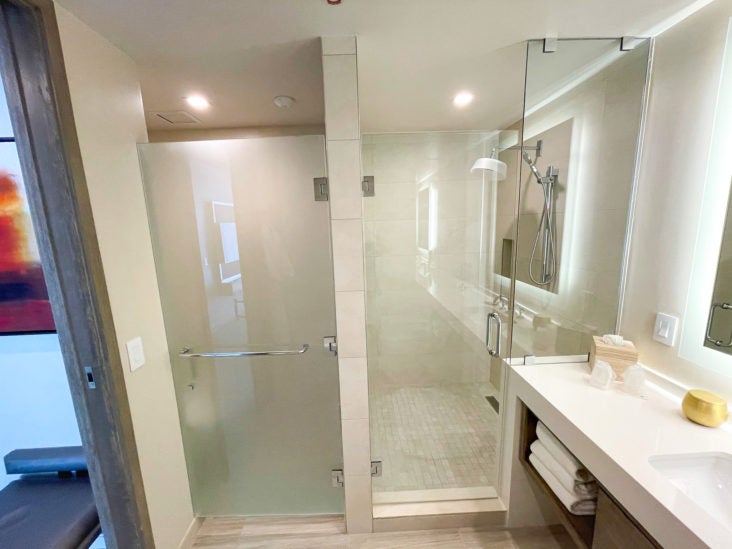 And on the left side was the toilet and shower.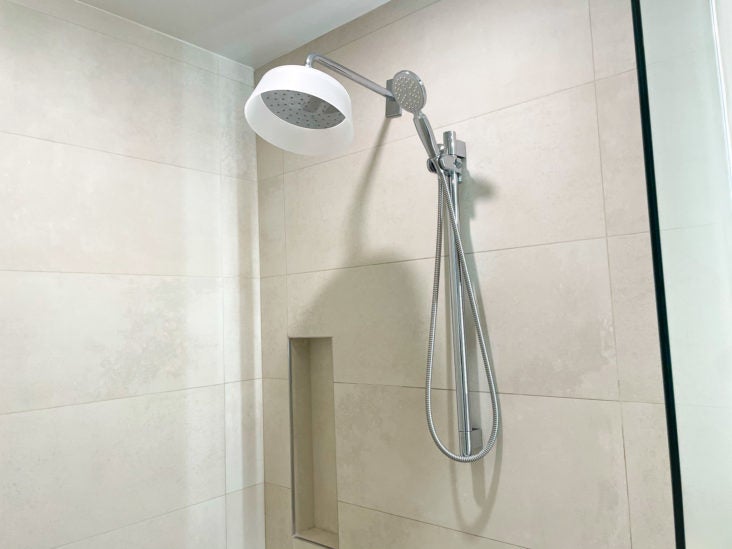 The shower had 2 shower heads and the water pressure and temperature were excellent, regardless of if you were using just 1 or both.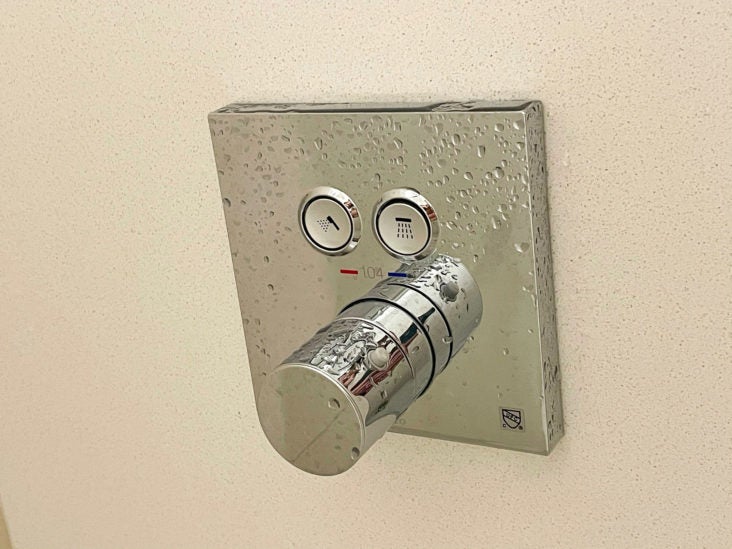 Another nice feature of the shower was temperature and water controls. You could leave it on your preferred setting and simply turn on and off the water as needed. This is great for travelers who are tired of always trying to figure out each hotel's different shower controls.
Once you find a setup you like during your stay, all you have to do is press a button and it will be exactly how you left it.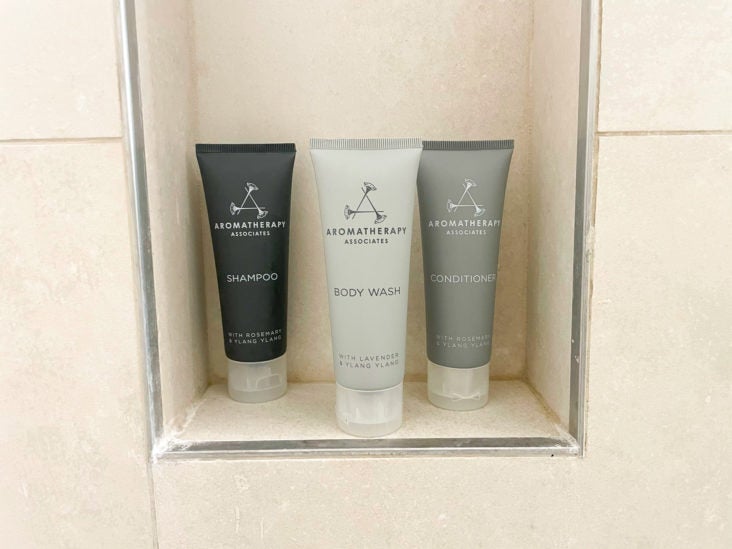 Single-use shower amenities were by Aromatherapy Associates.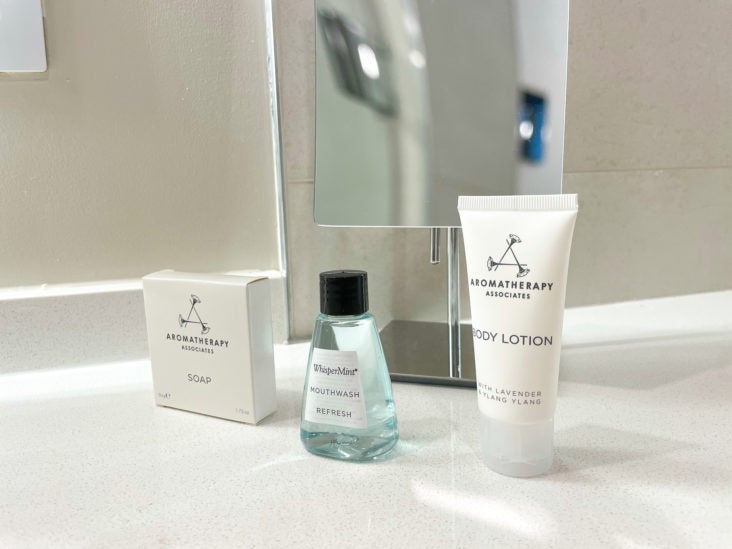 The Aromatherapy Associates amenities were excellent.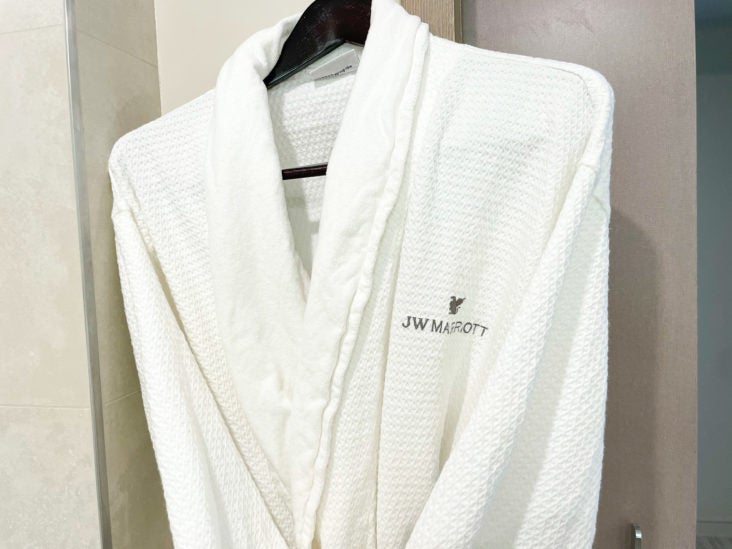 A JW Marriott waffle bathrobe was available.
Food & Beverage
If you are looking for a good meal, you won't be disappointed at the JW Marriott Orlando Bonnet Creek Resort & Spa. Although some food and beverage outlets have had to delay their openings, there were still some excellent options for both kids and adults.
Sear + Sea Woodfire Grill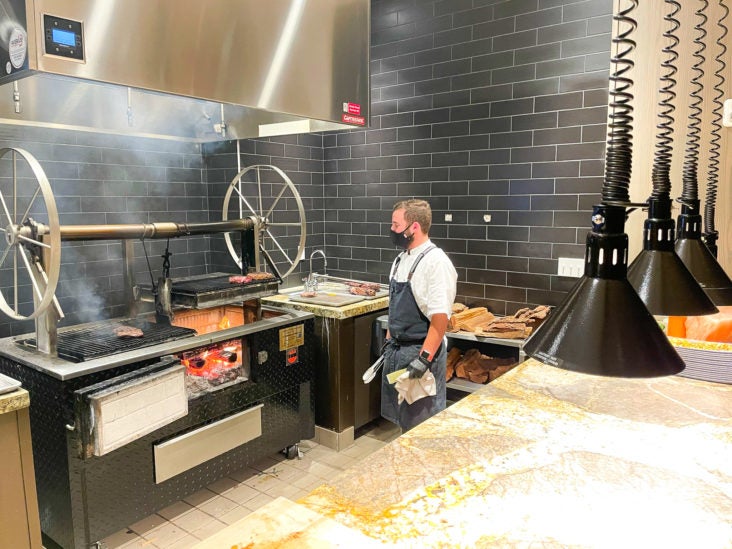 The Sear + Sea Woodfire Grill is the hotel's signature restaurant located just off the lobby serving Prime Angus beef, fresh fish, and craft cocktails.
Although I didn't eat at the restaurant, I did eat at the bar which had a very similar menu, but with cheaper prices.
The Sear + Sea Woodfire Grill was open Thursday through Sunday from 6:00 p.m. until 10:00 p.m and a digital menu was available.
Sear + Sea Bar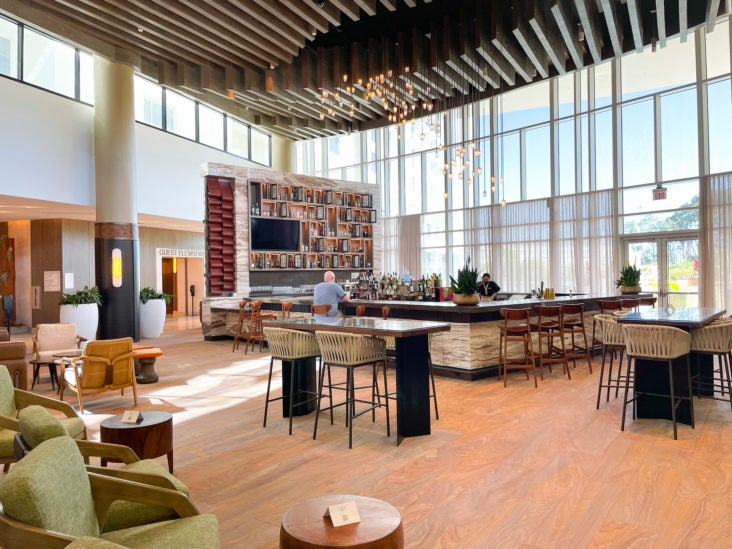 The Sear + Sea Bar was located in the lobby of the hotel, directly outside the main restaurant. As you might imagine, the food comes from the same kitchen, so eating at the bar is a great option if you want to save a few bucks and don't need the full sit-down experience.
I ordered the steak frites with the flat iron steak and both were delicious.
The Sear + Sea Bar was open daily from 4:00 p.m. until 11:00 p.m. and there was a digital menu available.
Unreserved Food Bazaar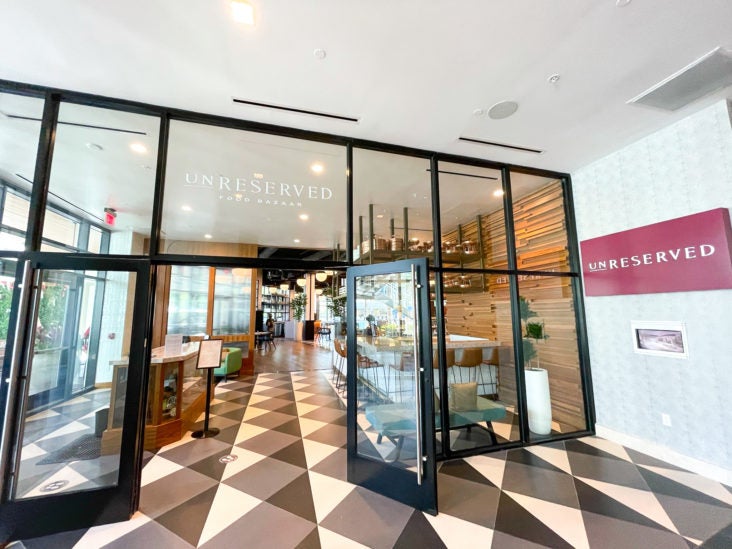 Downstairs on the pool level was the Unreserved Food Bazaar restaurant which was only open for breakfast.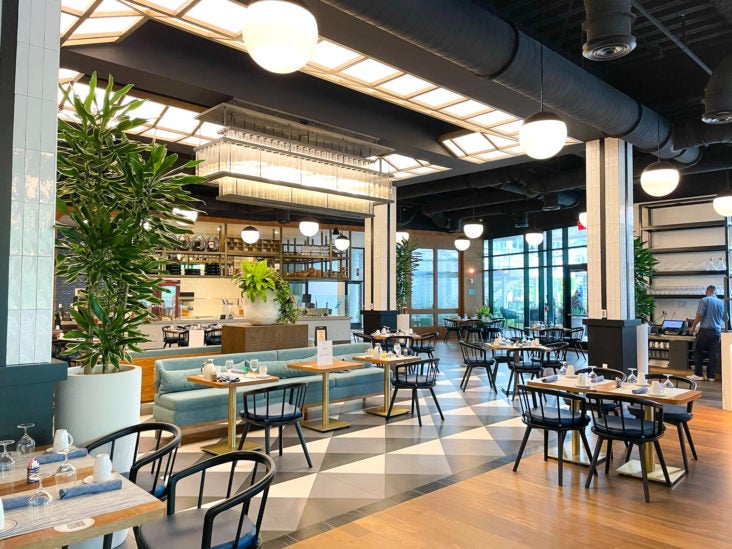 The layout and décor were very open and comfortable.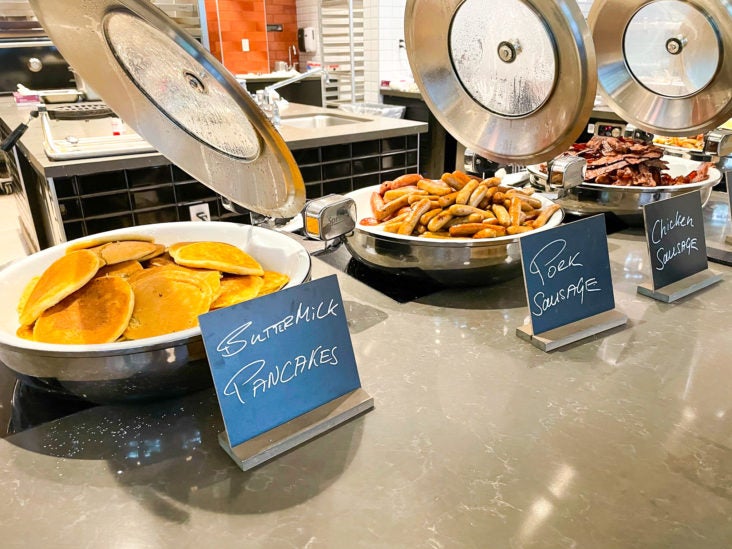 There was no upcharge for hot breakfast for elite members, so I was able to eat whatever was available… and I did.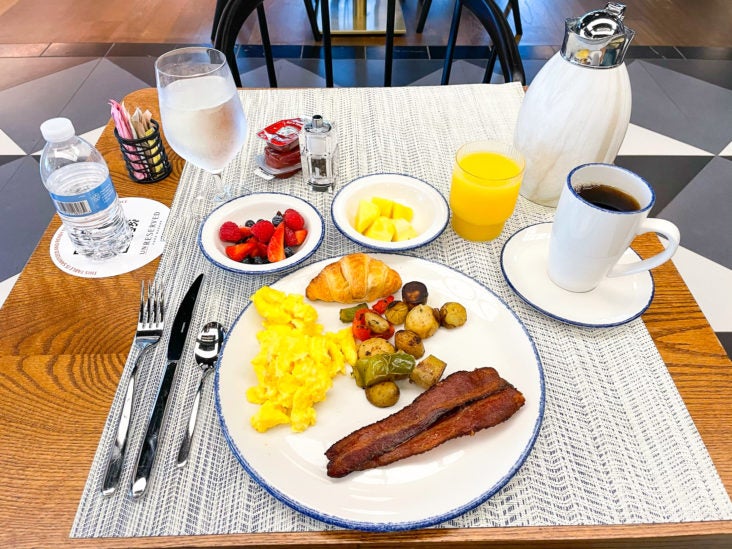 While I thought I would be satisfied with bacon, eggs, potatoes, fruit, a croissant, and more… once I saw another guest get some fresh Belgian waffles, I had to try them.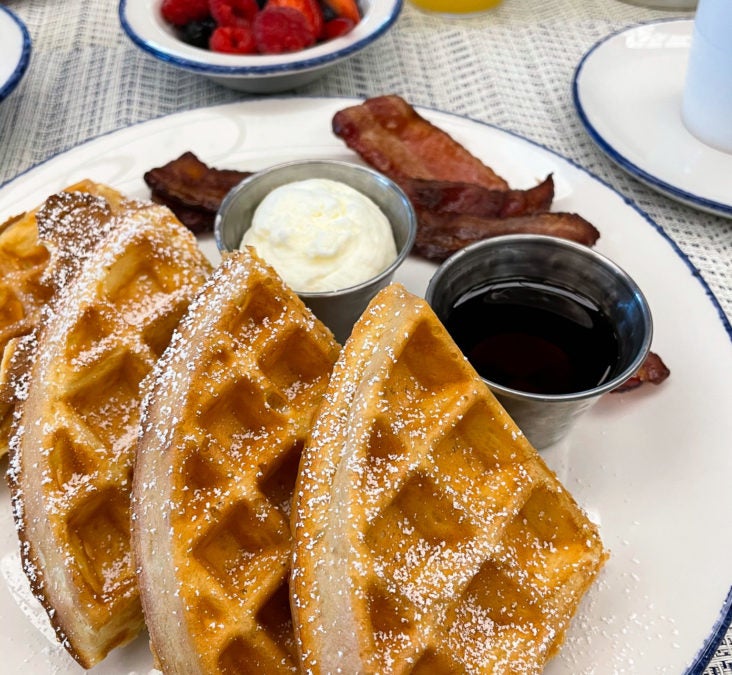 The waffles were worth it. So good.
Overall it was one of the better free breakfasts that I have had, and perfect for filling up the family before heading to the theme parks.
Unreserved Food Bazaar was open daily from 7:00 a.m. until 10:30 a.m. and a digital menu was available.
Unreserved Beer Garden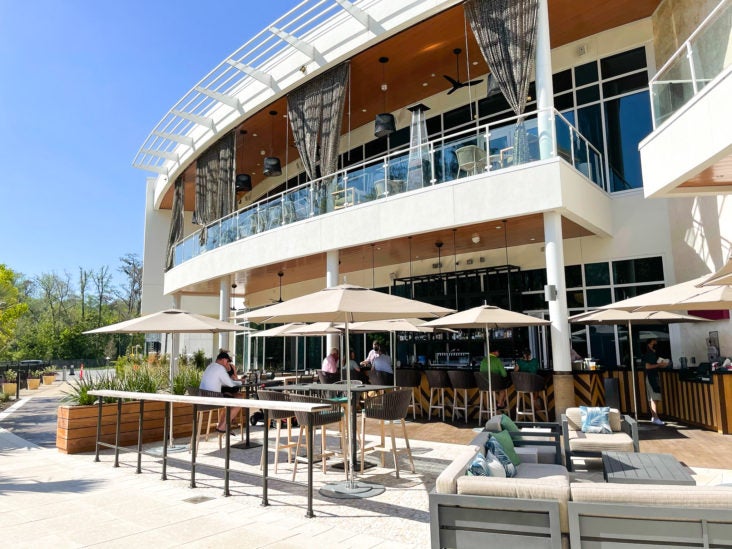 Just outside the main restaurant was Unreserved Beer Garden — is a nice little bar that was also serving the pool area as well.
With some small bar snacks and draft beers, this was a nice spot to enjoy an afternoon.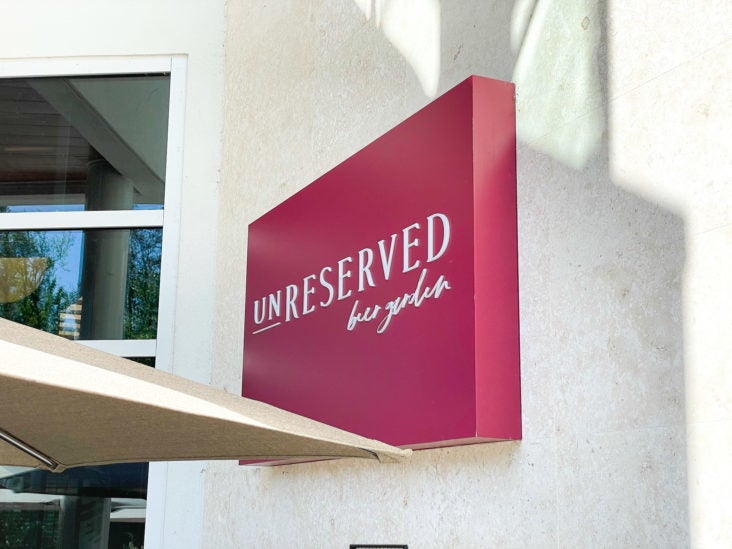 Unreserved Beer Garden was open daily from 11:00 a.m. until 7:00 p.m. and there was a digital menu available.
illume
illume is a contemporary Japanese restaurant scheduled to open in Spring 2021.
The restaurant will be located on the ninth-floor roof deck with views of the nightly Disney fireworks.
JW Market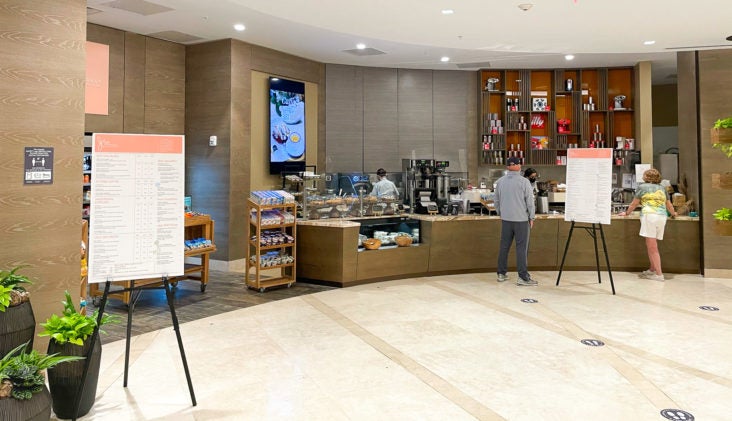 In the lobby of the hotel was the JW Market which had a little bit of everything. During my stay it was only actively open for breakfast, however, the front desk said that if I needed anything they would be able to get it from the market upon request.
If you wanted to use your elite breakfast credit at the JW Market, this was the digital menu.
Palm Cove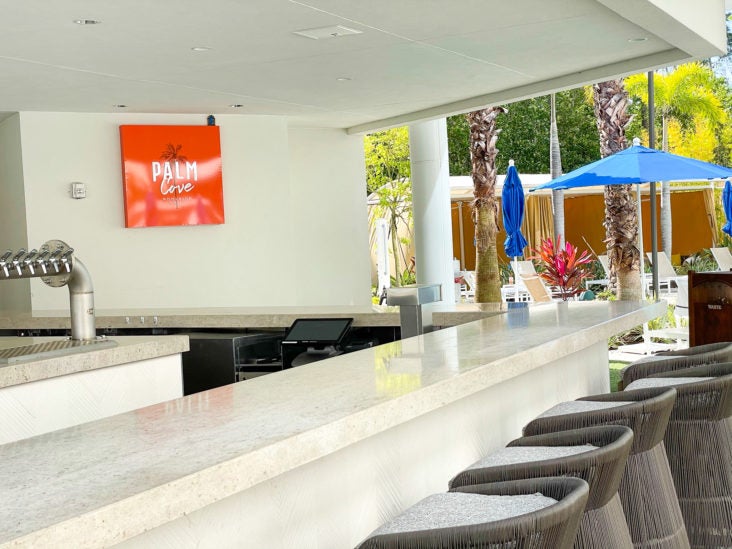 Palm Cove was a pool bar located in between the main pool and the adult pool. During my stay, the bar was not operating yet, but will likely begin soon.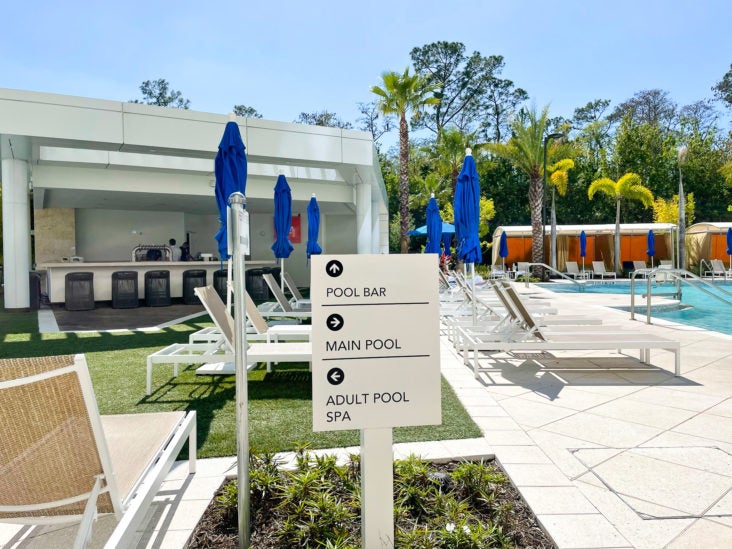 Service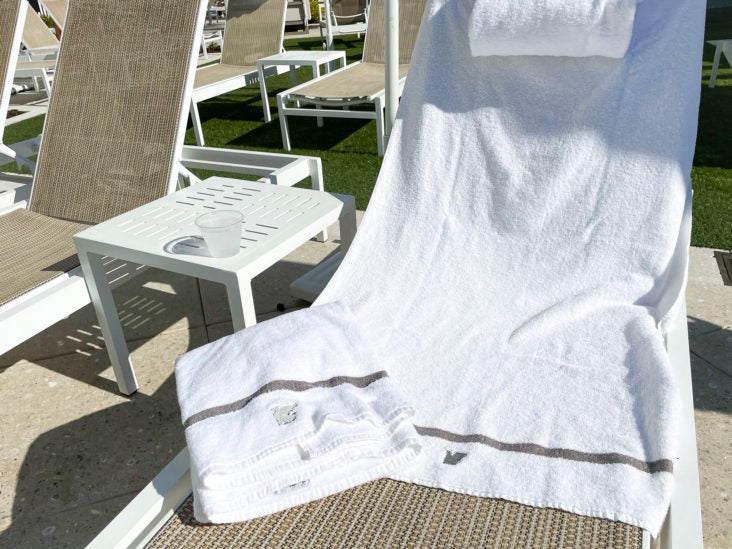 It is easy to be impressed with a brand-new, gorgeous hotel like this, but I was just as impressed with the service from the staff as well.
Every staff member that I encountered — from the front desk agent who checked me in, to the housekeeper who turned a negative situation into a positive, to the bartender who I still remember his name because he was so good (Hey, Abel!) — was outstanding.
Sure, every JW should have this level of service, but we know that isn't the case. Every interaction I had was professional but never scripted — everything felt authentic and welcoming.
I even saw multiple employees working back-to-back shifts (staffing is hard at the moment, apparently) from when I had dinner and then breakfast the next morning. All of them had a smile on their face and still made each guest feel special.
Final Thoughts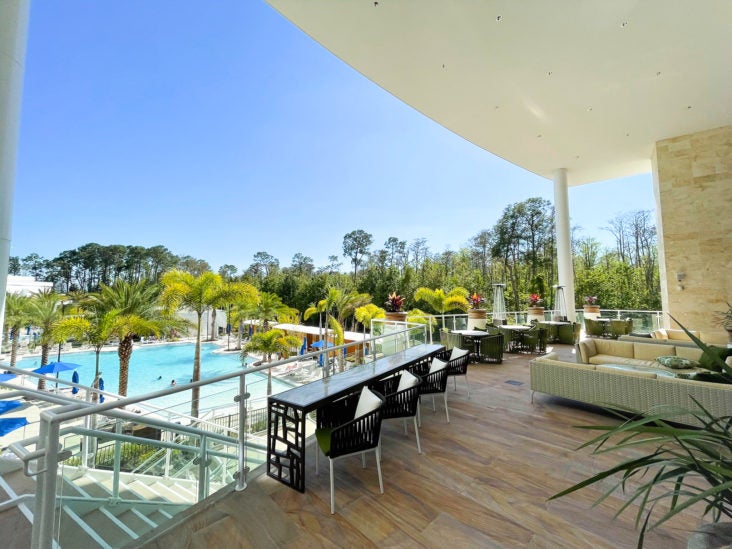 Overall, I really enjoyed my stay at the new JW Marriott Orlando Bonnet Creek Resort & Spa and I can't wait to go back.
The property itself is gorgeous and I could easily spend my off days from the parks here, no problem. If I bring my family along with me, I am sure they will love it as well. My kids will go crazy for all of those activities on the sixth-floor roof deck and my wife will have no complaints hanging by the pool and enjoying the restaurants.
Combine all of those hard products with excellent service and you've got a great hotel. This was certainly a solid use of Marriott Bonvoy points, especially if you have a 50k certificate available.
The only thing that kept this from being a perfect stay was the parking and resort fees. I would really like to see Marriott follow Hyatt's lead and waive resort fees on award stays, but until then I will just need to enjoy the welcome drinks that come with it!
If you find yourself in Orlando, it is definitely worth checking out the JW Marriott Orlando Bonnet Creek Resort & Spa. If you have any questions, leave them in the comments!