How to Book Cheap Car Rentals in Orlando [Price Comparisons]
Attracting over 75 million tourists annually, Orlando is the top tourist destination in the U.S. and is also the largest car rental market in the world. Taxis around the city can be expensive, and hotel shuttles to major attractions can be jam-packed, so renting a car for your visit is recommended.
Rental cars give you the option to pack as much as you need for your day trips (picnics, swimming towels, etc.) and also give you the freedom to venture out of the city to the Atlantic and Gulf Coast beaches.
You'll find many major car rental companies at Orlando International Airport (MCO) and plenty of city and neighborhood locations, in case you look to rent part-way through your trip.
Orlando International Airport Car Rentals

Orlando International Airport Car Rental Center
At Orlando International Airport, there are 11 rental companies on airport property. Logistically, these are the most convenient companies to rent with, as there is no need to catch a shuttle bus to your vehicle.
The convenience of being on-site commands a higher rate, and you'll find that companies off-airport property, such as SIXT or Fox Rent A Car, are quite a bit cheaper.
Renting from an off-airport company doesn't mean you have to travel a million miles to pick-up your car. Companies are a few miles from the terminal, just outside of the airport perimeter, and all provide courtesy shuttle buses to and from the terminal. So if you're able to compromise on convenience, you can bag yourself a deal.
We looked at the most popular location for car rentals in Orlando — Orlando International Airport — and compared quotes for the major rental companies based on- and off-airport property. Prices were obtained directly from each rental company and were based on a 6-day rental of a standard vehicle (such as a Volkswagen Jetta).
Price Comparison for On-Airport Property Car Rentals
Budget lives up to its name, offering the most competitive rates when renting on-airport property. Some rental companies don't allow you to prepay or provide the same rates for doing so, but Budget has significant savings when prepaying your booking.
Price Comparison for Off-Airport Property Car Rentals
| | | |
| --- | --- | --- |
| Rental Company | Prepay Rate | Pay on Arrival Rate |
| ACE Rent A Car | N/A | $199 |
| Clubs Car Rental | N/A | $176.10 |
| Easirent Car Rental | $113.88 | $123.10 |
| Flex Rent-a-Car | N/A | $209.93 |
| Fox Rent A Car | $167.49 | $201.43 |
| SIXT Rent a Car | $222.04 | $232.7 |
It's clear from the price comparisons that off-airport rental agencies provide much cheaper rentals. They are also usually smaller agencies that have less brand credibility than their long-standing, world-renowned competitors such as Enterprise or Avis.
Orlando Neighborhood Car Rentals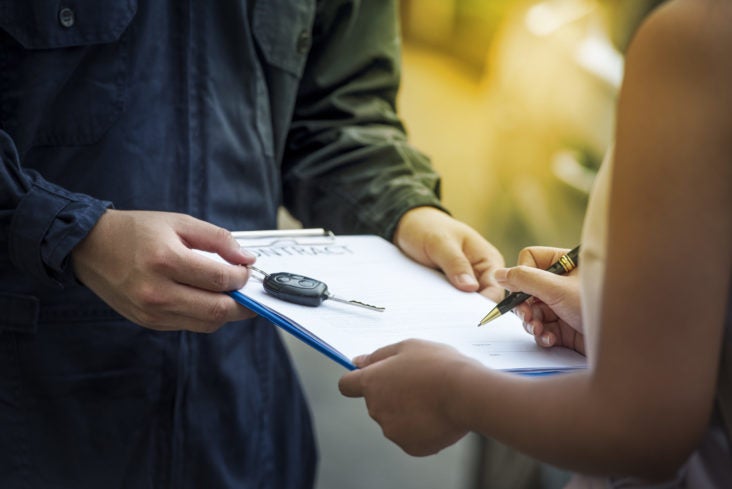 You may not be flying into Orlando, so the airport will not always be the most convenient rental office for you. Or you might only require a rental car for part of your vacation. Clusters of car rental offices can be found in neighborhood locations such as downtown Orlando and along International Drive close to many of the major theme parks, including Walt Disney World.
Hot Tip: Learn how to use free rental days from a rental car loyalty program to get around Orlando on your own for less. We'll teach you how to visit Disney World for cheap by using points and miles!
Price Comparisons for Neighborhood Car Rentals
Neighborhood locations are often cheaper than renting from an airport, due to increased taxes and fees charged by airport branches. If you compare the below costs to those of the on-airport price table, you'll notice that the fees are significantly cheaper.
Avis, Budget, and Enterprise are around $100 cheaper to rent from a neighborhood location, while Hertz is a whopping $294 less! The criteria used for these neighborhood rental quotes actually included an extra day, as many neighborhood offices are closed on Sundays. This can be the downside of renting away from the airport, as you'll need to consider whether you can pick up and return the vehicle during the less accessible opening hours.
Book Direct With the Car Rental Company
Although you may not always get the cheapest rate booking direct with a car rental company, it is worth it if you're a regular renter to benefit from long-term savings. Registering for an online membership can save you 5% on every booking with Alamo, and Dollar gives customers 15% off a rental when signing up to receive its email newsletter.
Those who book direct can also benefit from loyalty programs where customers can earn points with every booking to redeem against free rental days. Members of Dollar's Express Rewards can earn 1 point per dollar spent, with favorable redemptions starting from just 500 points (most companies start from 700 points).
Hot Tip: Many loyalty programs have elite tiers that customers can work up to and receive membership perks. The Advantage Express program rewards Gold and Platinum members with the choice of a free GPS, toll pass, or car seat for the duration of their rentals.
Book With an Online Travel Agent
Rental costs can vary depending on the location you rent from (airport vs. neighborhood) and if you rent directly from the rental company or via an online travel agent. Sometimes, online travel agents and brokers will offer more competitive rates than booking direct, or rental agencies will hold specific promotions or deals when booking through that website.
These are 5 of the most popular sites for booking a rental car.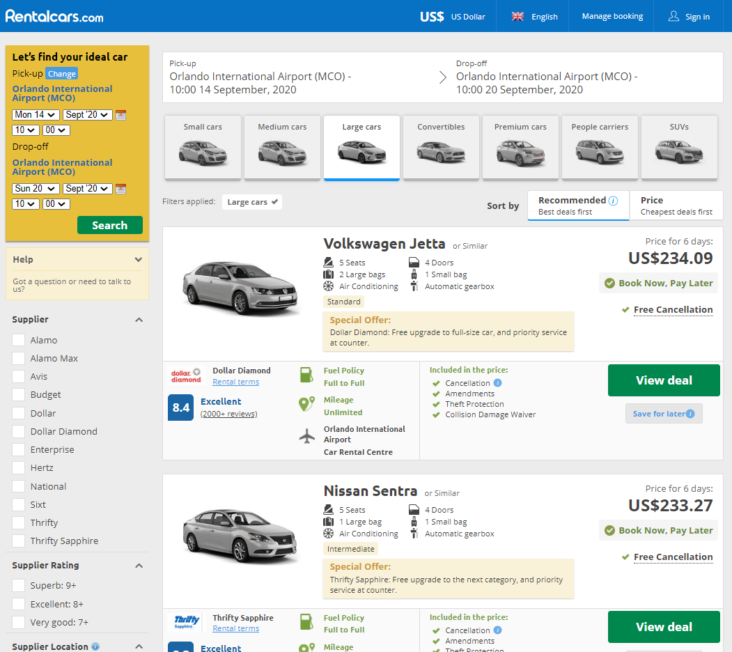 RentalCars.com is a car rental broker, so they display offers from many car rental companies and make the booking on your behalf. Although for some rental companies, such as SIXT, the price was the same on RentalCars.com as it was going direct. This wasn't the case for Dollar and Thrifty, where a standard car was almost half the price of booking with RentalCars.com, and you received a free upgrade to the next category.
When searching for a vehicle, you can filter your results by:
Car rental company
Customer review rating
Supplier location (on-site or by shuttle bus)
Fuel policy
Car specifications
Number of seats
Damage excess
Deposit at pick-up
Mileage included
RentalCars.com has a policy that allows customers to cancel up to 48-hours before they are due to collect the vehicle. All rates are also on a "book now, pay later" basis, but you will need a credit or debit card to make the booking. Once you've booked, you'll receive an e-voucher that you can display at the rental car counter.
Hot Tip: Utilize rebate websites like Rakuten to earn cash-back for your car rental at sites like Orbitz, Expedia, and Hotwire, just by starting your reservation at its portal.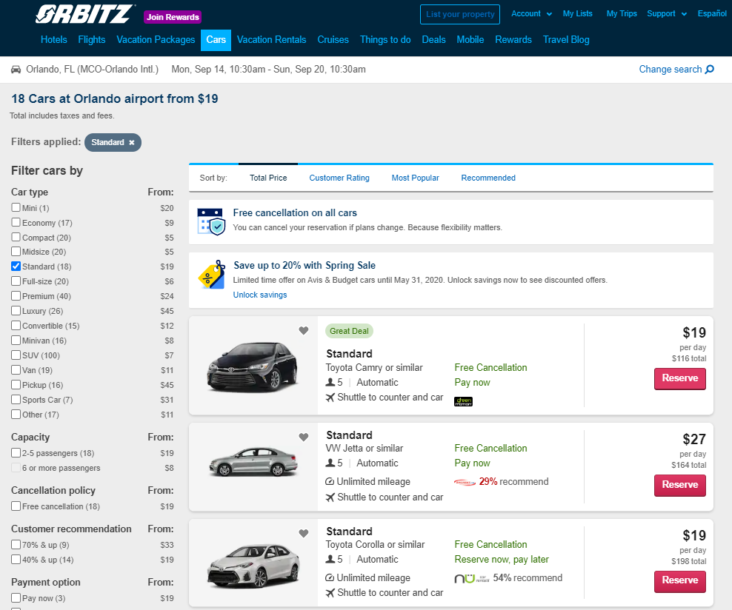 Orbitz is an online travel agent that can be used to book car hire, as well as flights, hotels, and vacation packages. Registration is free for Orbitz Rewards, and members can receive special insider prices that are highlighted in blue on the search results page.
Search results can be filtered by car type, capacity, customer recommendations, price, and payment options, and occasional promotions will be featured above the results list that requires "unlocking," which is as simple as a click of a button. At the time of writing, 20% savings were available with Avis and Budget.
Using the same search criteria from Orlando International Airport, the cheapest standard car was for $116 with Green Motion, an off-airport car rental company. Booking direct with Green Motion was a little cheaper in this instance.

The downside of using Orbitz is that you don't have initial visibility of the rental package in your search results, such as deposit amounts and excess liability. There's no way of filtering for the best packages as you can with RentalCars.com.
When visiting GreenMotion.com directly, you can see that the lowest price is the basic package with high excess liability, so it would be wise to upgrade to limit your liability or purchase separate excess insurance.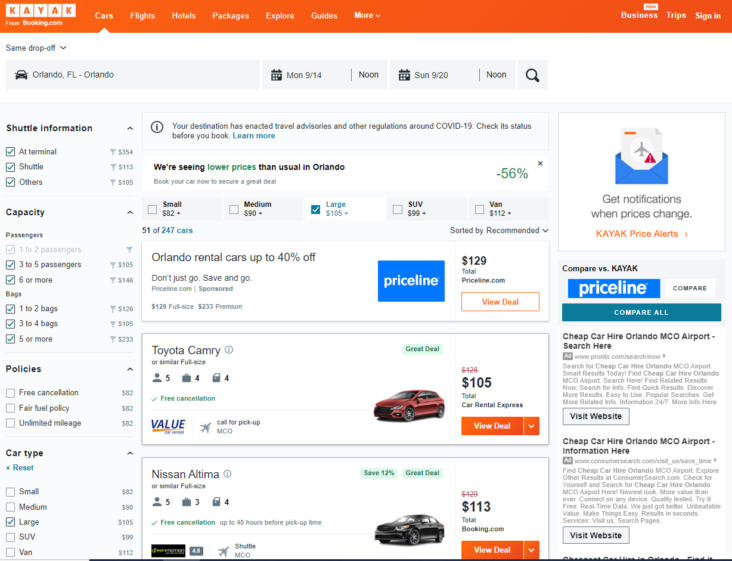 Kayak is a metasearch engine that searches and displays prices from hundreds of car rental sites. As with the other websites, you can refine your search using the filter options, but the difference with Kayak is that when click to view the deal, you're redirected to the supplier's website to book.
Value Car Rental was offering a discount when we searched, with the cheapest rate we've seen for our search criteria at $105. If you're booking well in advance, it's worth signing up to Kayak Price Alerts to receive email notifications when prices change (increasing or decreasing), so you can take advantage of a limited-time promotion or get moving on booking if you see prices start to rise.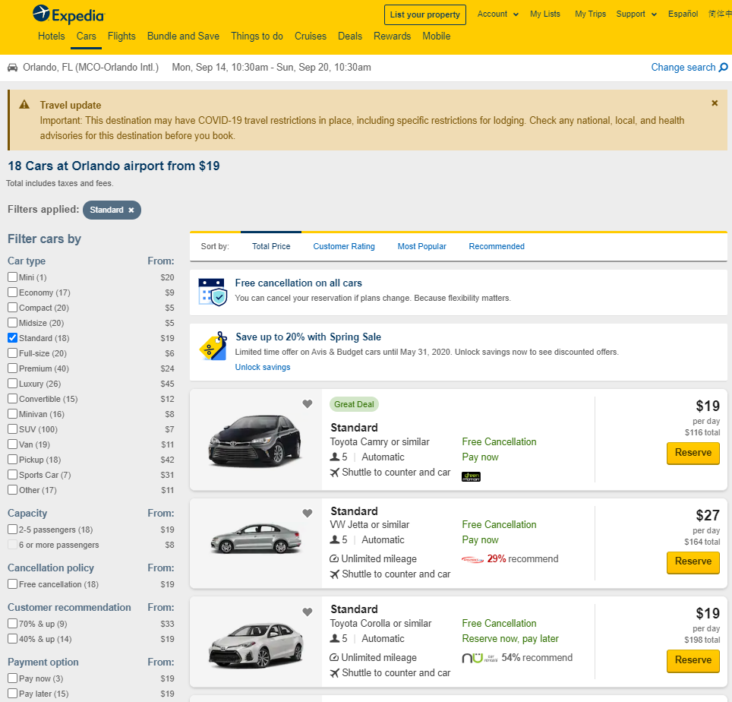 Expedia is one of the most established online travel agents, enabling visitors to book flights, hotels, vacations, packages, car rentals, and more. As the Expedia Group owns both Orbitz and Expedia, you'll often get the same pricing across both websites and the same booking experience.
The big difference is in the Expedia Rewards program, where members receive 2 points per dollar spent and double the points when you book on the Expedia app. It's free to join, and members can redeem their points against free hotel stays, flights, and car rentals.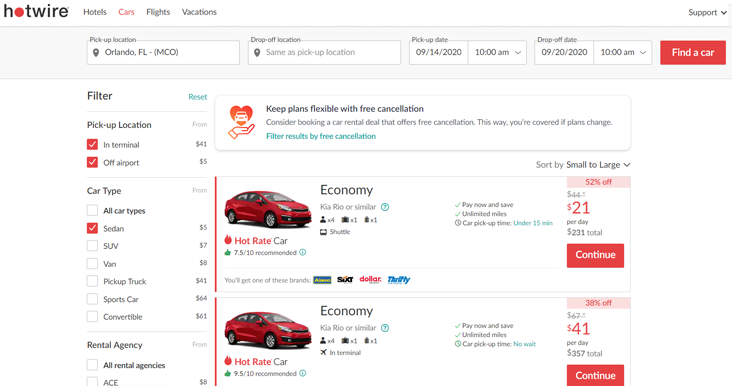 Hotwire is another travel site owned by Expedia Group, but the website booking experience and offers differ from Orbitz and Expedia.
Search filters are not quite as extensive as its sister companies, but Hotwire does feature special offers displayed as "Hot Rate Cars." These opaque offers don't disclose the rental company until after you check out, but it will be one of several companies featured on the listing.
Hotwire didn't present the cheapest rates we've seen (starting at $180 for a standard car), however, some deals for Hot Rate Cars were significantly cheaper than booking direct, and some were more expensive, so be sure to compare before you go ahead and book.
Set up a Hotwire Price Alert to be the first to hear when the pricing changes for your dates.
Hot Tip: For more suggestions on where to search for cheap deals, read our dedicated article on the best websites for finding cheap car rentals. 
Price Comparisons for Online Travel Agents
Final Thoughts
Booking cheap car rentals in Orlando doesn't have to be a chore with so many websites that will do the hard work for you. Input your requirements into a few different sites, and once you've found a deal, check it against the rate for booking directly with the rental company.
If you're just looking for the absolute cheapest rate, you'll probably find one of the lesser-known companies to be your best bet. Some might not have the best reputation with customer service, so be sure to check customer reviews. You might think you're getting a bargain, but final rates can add-up once taxes, fees, and optional extras are taken into account.
Try to rent away from the airport as these locations always come at a premium. If you're saving hundreds of dollars by renting from a neighborhood office, then it would be worth your while even after paying for return transportation back to the airport.