The Complete Guide to Booking Travel and Finding Great Deals on Hotwire
I'm guessing you've heard of Hotwire, the Online Travel Agency (OTA) that's been around for quite a while as one of the go-to sites for online travel searches.
But how does Hotwire really work, and are you getting the best travel deal by booking through them?
I've gone through this site with a fine-tooth comb to figure out what Hotwire has to offer, and if it can save you money when booking your next trip.
Hotwire Hotels
The first thing you might notice about Hotwire is the relatively simple home page. To start your hotel search, just input your location, dates, number of guests, and number of rooms in the search box. Then click the red "Find a Hotel" box. This is where things get a little more interesting!
You can narrow your search with the drop down boxes at the top of the page, using filters for:
Price (high to low or low to high)
Hotel rate type (Hot Rate or standard rate)
Price range
Star rating
Amenities (like free breakfast or free parking)
Location
Popularity
Trip Advisor ratings
To the left of the screen you will see a list of hotels, including some marked as Hot Rate and 1 marked as "Today's top deal." To the right you'll see a map with green shaded areas. When you hover over each section, you can see the area's name, which corresponds to each hotel listing. This is a great tool to help narrow your hotel search to a specific area of town.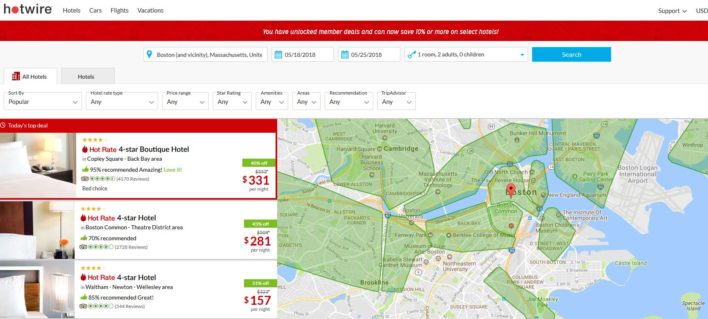 Once you select your hotel, click through for more information. Then click the red "buy now" button at the right of your screen to enter your traveler information, payment information, and any promo code you may have.
Price Comparisons
So how do Hotwire prices compare to other OTAs and travel search sites? To check, I searched for a 7-night stay in Honolulu and compared prices to many popular sites. For comparison, I priced out a city view room at the Waikiki Marriott Resort and Spa.
Here's how Hotwire stacked up:
| | | | | |
| --- | --- | --- | --- | --- |
| | Price Per Night | Taxes Per Night | Resort Fee Per Night | Total Price For 7-Night Stay |
| Hotwire | $269.05 | $40.26 | $38.47 | $2,436.35 |
| Marriott.com (Regular rate) | $269.05 | $45.78 | Included in Price | $2,462.49 |
| Marriott.com (Member rate) | $261.71* | $44.69 | Included in price | $2,403.86 |
| Hotels.com | $269.05 | $40.26 | $38.47 | $2,436.35 |
| Priceline | $269.00 | $37.78 | $38.74 | $2,435.86 |
| Orbitz | $269.05 | $40.26 | $38.47 | $2,436.35 |
*Marriott member rate was advertised as $256, but the price increased halfway through the stay, making the average price for the week $261.71.
Hotwire's pricing was right in line with many other OTAs for this hotel, and it even beats the hotel's website for the regular rate. However, the hotel's website offers a member rate that is the winner in this example. It's free to join a hotel's loyalty program, so this is worth it just to get access to the member rates — even if you have no intention of collecting points or earning status.
Hot Tip: Large hotel chains like Marriott or Hyatt usually offer member rates that can save you money! These rates are not available on Hotwire.
Hot Rate Hotel
Hot Rate hotel deals are sort of like old-school Priceline deals, where you don't actually know the specific hotel until your booking is complete. What you do know is the hotel's star rating, neighborhood, Trip Advisor rating, and amenities. You can sometimes also see the specific hotel that was last booked with this rate.

In this example, I searched again for a 7-night stay in Honolulu. This Hot Rate is for a 4.5-star boutique hotel in the Ala Moana area of the city, and the last person who booked this deal ended up with the Modern Honolulu. I searched rates for the Modern Honolulu to see how this Hot Rate deal might stack up:
| | | | | |
| --- | --- | --- | --- | --- |
| | Price Per Night | Room Rate For 7 Nights | Taxes For 7 Nights | Total Price For 7 Nights (Not Including resort fee of $30 per night) |
| Hotwire Hot Rate – undisclosed hotel | $178 | $1,246 | $317.84 | $1,563.84 |
| Hotel's Website – Modern Honolulu | $265.30 | $1,857.10 | $277.83 | $2,134.93 |
| Travelocity – Modern Honolulu | $208.45 | $1,459.15 | $218.26 | $1,677.41 |
| Hotels.com – Modern Honolulu | $208.48 | $1,459.36 | $218.26 | $1,677.62 |
| Priceline – Modern Honolulu | $265.30 | $1,857.10 | $557.64 | $2,414.74 |
| Orbitz – Modern Honolulu | $208.45 | $1,459.15 | $218.26 | $1,677.41 |
As you can see, the Hot Rate price seems to be a good deal. If the Modern Honolulu were indeed the hotel you got, you would be saving $113.57 compared to the next lowest price (through Travelocity or Orbitz).
However, these price comparisons are for a possible hotel — you still won't know the exact hotel you booked until the transaction is complete.
If you're flexible and aren't particular about specifics, a Hotwire Hot Rate deal could save you some money.
Bottom Line: Hotwire Hot Rates are hotel deals that can offer great pricing, but you won't know the specific hotel until your booking is complete.
Hotwire Cars
Searching for a rental car on Hotwire is a simple and straightforward process. Input your basic requirements in the search box including location, dates, and times; then hit the red "Find a car" button to search. You can filter and sort your search with the options at the left and top of your screen.
Hot Rates
Just as with hotels, you will see regular rates and Hot Rates. When booking a Hot Rate car, the rental agency won't be revealed until after your booking is complete.
For this example, I searched for a midsize car rental for a week from Miami International Airport. As you can see from the sample prices below, the Hotwire Hot Rate offers significant savings over other websites.
Bottom Line: If you aren't particular about the car rental agency you use, Hotwire Hot Rate car rentals can definitely save you some cash!
Standard Rates
You will notice that most of the car rentals offered through Hotwire are Hot Rates, but you can also find some standard rate rentals. I found a week's rental for a full-size car from Thrifty listed for $370.17. While this is the same price listed on the Thrifty website, they also offer another option by booking directly: you can choose to pay at the time of booking for a $13.22 discount.
Price Alerts
If you'd like to keep tabs on pricing for a specific itinerary, you can set up a price alert. After inputting your search criteria, scroll to the bottom left side of the screen. Here you will see a box where you can input your email address to receive notifications about the specifics you searched for.
Hot Tip: When booking, be sure to use a credit card that includes basic car rental insurance, like the Chase Sapphire Preferred® Card does with its premium rental coverage.
Hotwire Flights
To start your search for a flight on Hotwire, click on the "flights" tab at the top of the screen or in the main search box. Select "round-trip" or "one-way," then input your origin city, destination, dates, and number of passengers. Click the red "find a flight" button to search; on the next page you can narrow your results by the following criteria:
Number of stops
Airline
Departure time of outgoing flight
Arrival time of outgoing flight
Hot Tip: The main search results page only shows outgoing flights — you need to click through each one separately to see return flight options.
The list of search results is fairly standard. You will immediately be able to see the basics: airline, departure times, arrival times, flight duration, and price. At the bottom left side of each search result, you'll see the words "Details & baggage fees" in blue writing with a drop down arrow. Click on this arrow to see more information about the flight, including information like baggage fees and seat availability.
To change the way the search results are sorted, click on the drop down menu to the top right of the list. You can choose to sort by:
Price
Trip duration
Departure time
Arrival time
Purchasing a Flight on Hotwire
Once you find the outbound flight you want to purchase, click on the red "select" button. This will bring up the options for return flights, which can be filtered just as you did for the outbound flight.
Hot Tip: When searching for a flight, pay attention to the return flights! Usually the first result is included in the price shown, so you'll see a +$0. However, most other options will have a small upcharge.
Once you've chosen your return flight, click the red "select" button. You will then see a pop up that tells you how much money you can save by booking your flight along with a hotel.
So, is this a good deal? I found that generally, yes, booking a hotel and flight together on Hotwire will save you money. (Scroll down to the "Book a flight and hotel together" section for details.)
If you choose to continue your purchase with just the flight, click "no thanks" to go straight to review your trip. Once you have double-checked your flight information, you might notice an area at the bottom of the page where you can upgrade your flight.
At first glance, it might appear that you can upgrade for a nominal fee. But once you click on the blue "show upgrades" drop down, you'll see this advertised price is only to upgrade to economy from basic economy. Any significant upgrade will still have a hefty price tag attached to it!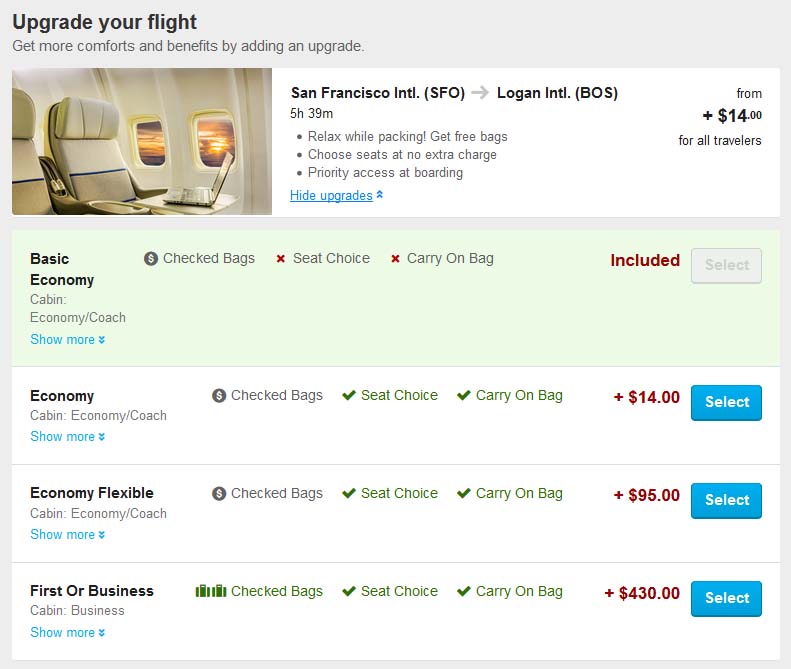 Hot Tip: The price shown for a flight is usually basic economy, which generally excludes the ability to choose your seat — and sometimes even prohibits carry-on luggage. You'll need to upgrade to economy to have these "perks" included.
To complete your purchase, scroll to the bottom of the page and click the red "continue booking" button. From here you can fill out your traveler details and payment information; then click the red "complete booking" button to finalize your purchase, and you will be on your way!
Hot Tip: Pay attention to the price breakdown for your trip — Hotwire sometimes charges a booking fee, so take this into account if you're comparison shopping.
Book a Flight and Hotel Together
At the top of the list of search results is a blue box inviting you to book a hotel and airline together to save money. In addition, when you try to book a flight on Hotwire, you will see a pop up box advertising savings when booking a hotel with your flight (strangely, it always displays the same "up to $603" savings). I wanted to see if this actually offered good savings, so I did a little digging.

To start, I searched for a flight from San Francisco to Boston. Once I selected my flight and clicked the "add hotel now" button, I got the pop up.
Then I added a 7-night stay at The Langham in Boston. The price for the package came out to $3,324.31 for 2 people, but booking this package separately through the airline and hotel's websites would cost a grand total of $3,726.14. That means booking this hotel and flight together on Hotwire would have saved $401.81!
Hot Tip: Before you complete your purchase, check out the best credit cards for vacation package purchases.
Trip Insurance
Between the traveler details and payment section, you will have the option to purchase trip insurance. The instances you might need trip insurance are pretty rare, but this could be worth it to some people.
One thing to remember is that many credit cards include trip cancellation and interruption insurance (along with other great perks and points-earning capabilities), so you can most likely skip this section.
Here are just a few of the cards that offer trip insurance:
Bottom Line: If you pay for your flight with the right credit card, there's no need to purchase extra trip insurance.
Hot Rate Flights
Hot Rate flights are available for some itineraries. These are flight deals where the exact times, number of stops, and carrier are all hidden until after purchase.
I found the price difference between some Hot Rate flights and a traditional purchase to be as low as $20. So unless you're extremely flexible and on a super tight budget, these fares might not be worth the risk.
Bottom Line: Hot Rate flight offerings are fairly sparse, and might not offer huge savings over traditionally booked fares.
24-hour Cancellation Policy
Flight prices can change often no matter where you're booking. While researching this article, I searched for a flight from San Francisco to Boston, only to find the same exact flight went from $356 to $611 to $400 less than 30 minutes! While this could be a fluke, it's a good idea to complete your booking asap once you find a flight that works for you.
Another way to get a little comfort when booking is Hotwire's 24-hour cancellation policy. You might know that any flight booked with a U.S.-based carrier at least 1 week prior to departure can be canceled up to 24 hours after booking without penalty. (Note that American Airlines' policy only allows you to hold a flight for up to 24 hours without payment.)
(You can also read our guide on airline change and cancellation fees for more info on this.)
However, Hotwire's policy seems to be a little more inclusive. I searched for flights on American Airlines, flights less than 7 days away, and flights with non-U.S.-based airlines…all of them included Hotwire's 24-hour cancellation policy.
Bottom Line: Hotwire offers a 24-hour cancellation policy on most bookings. However, the fine print still states that some flights are nonrefundable, so be sure to check your specific flight's policy.
Hotwire Low Price Guarantee
Hotwire's low price guarantee states that if you find a lower rate on the same booking within 24 hours, they will pay you the difference in price. A few things to keep in mind about this guarantee:
Lower rate must be identical to your booking
Guarantee applies to Hotwire hotels, Hot Rate hotels, Hotwire cars, Hot Rate cars, flights, and Hotwire vacations.
Lower rate must be available to the general public (no corporate rates or discount codes)
Lower rate must be in the same currency
For vacation packages, each part of the package booked must match each part of the package found at the lower rate
Hotwire Vacations
Hotwire vacations allow you to bundle 2 or more aspects of your trip into 1 package. Choose between:
Flight + hotel
Flight + car
Hotel + car
Flight + hotel + car
Again, I wanted to see if these package deals really offered savings, so I tested them out. I chose to start by searching for a week-long flight and hotel package from San Francisco to Boston.
After inputting the trip details, just click on the red "find a vacation" button. This will first bring up the hotel results, with all your filter options on the left (just like when searching for a hotel separately).
Hot Tip: When searching for a package that includes a flight, all prices are listed as per-person (even the hotel price).
I chose to check out the daily deal, which happened to be The Langham in Boston. The price shown was $1,778 per person ($3,556 total for 2 people.) If you like the hotel, click on the red "reserve" button to continue, or scroll to the bottom to upgrade your hotel room selection.
Next, you'll be able to choose your flights.
From here you can filter your search with the options on the left, and each search result will display the price difference at the right side. Some options even offer a price reduction! Keep in mind these prices are still per person.
The strange thing was that when I clicked on the first flight option with a $43 per person reduction, the "bundled savings" number went from $162.78 down to $2. The final package price was $86 lower, but the "bundled savings" listed tanked to just about nothing.

To make a fair comparison to the Hotwire deal, I priced out each of these components on their respective websites:
| | |
| --- | --- |
| | Package Total: Flight and 7-night hotel stay for 2 people |
| Hotwire vacation package | $3,469.43 |
| Hotel and flight booked separately | $3,726.12 |
| Total savings from Hotwire vacation package | $256.69 |
You can see that this package deal is actually saving $256.69 over booking the hotel and flight separately! I couldn't make any sense of where they're getting the "bundled savings" number from, but the important thing is that these vacation packages can save you money.
The strange thing to note is that this is the exact same package I tested when adding a hotel to a flight. Booking that way cost $3,324.31…$145.12 cheaper than the exact same thing booked through Hotwire vacations!
However, this price discrepancy could be a glitch or just a fluke. To test, I checked pricing for a different hotel and flight bundle, and here's what I found:
| | |
| --- | --- |
| | Total Cost of Flight + Hotel for 2 people |
| Booked through Hotwire Vacations | $2,666.39 |
| Booked through "Add a Hotel" popup | $2,666.39 |
| Booked separately through hotel and airline's websites | $3,184.54 |
In this instance, the price for the hotel and flight package was the same no matter how I booked it on Hotwire. The important thing is that the package deals always seem to be lower than booking the hotel and flight separately. In this example, booking on Hotwire saved $518.15!
Bottom Line: When booking a hotel and flight together, using Hotwire can save you big bucks like in our example above!
Hotwire Bundles
Hotwire bundles are exactly the same thing as Hotwire vacations. On the home page of Hotwire, you can find Hotwire vacations in the top search bar and Hotwire bundles on the last tab of the main search box. Each one takes you to the same interface and produces the same results.
Hotwire Promo Codes and Discounts
Hotwire Promo Codes
Sometimes you get lucky and have an easy coupon code waiting for you just when you're ready to book. Sometimes, you have to do a little digging!
There are a lot of websites where you can find coupon codes. Often these sites just list a deal that's already available on a particular website, or they have generic wording that takes you to the site. My search for Hotwire coupon codes was no exception.
I was only able to find valid coupon codes above and beyond those available directly on Hotwire on the following sites:
Create an Account
Hotwire advertises "exclusive travel deals" for their members, so by creating an account you may receive better pricing. After I created an account, I received an email stating that I would get exclusive perks like "an extra 10% or more off select standard rate hotels."
Bottom Line: Creating an account on Hotwire is free and can unlock lower pricing.
I did a quick search for a hotel in Miami, and I did indeed find lower rates available. Member rates are easy to spot: just look for the price highlighted in yellow.
If you hover over this price you'll see a pop up that tells you the base rate and your member discount. This can very misleading, so it's not really worth paying attention to.
In this example, the pop up shows that I'm saving 20% off the base rate of $333 — but you could book this same hotel as a non-member on Hotwire for $283 per night, making my actual discount closer to 5.5%
Final Thoughts
Generally, I found Hotwire to be a very user-friendly website. If you have some flexibility, Hot Rate deals can be a good way to save money.
Similarly, if you have specific travel details and are looking to book some combination of flight, hotel, and car, Hotwire's vacation packages can be a great option. On every search I did, they proved to show a discount over booking these items separately!
You can find even more information on other helpful OTAs in our post on the Best Websites For Booking Flights at The Cheapest Prices.
---
Like this post? Pin it on Pinterest!