The 15 Best Cheap Hotels in Miami and Miami Beach [2021]
With its white sandy beaches, brightly-colored Art Deco buildings, and a reputation for being home to some of the best nightlife in the world, Miami has also been a popular location for those looking to let their hair down. Great weather, fresh seafood, welcoming locals, and cocktails on ice await in the liveliest city in South Florida.
If you think Miami is purely a playground for the rich and famous, think again, as there are plenty of boutique hotels and guesthouses ready to welcome visitors on a budget.
Best Cheap Hotels in Miami, Florida
Price per Night: From $123
Situated in a quieter area of the world-famous Miami Beach, this hotel is within easy reach of the ocean and less than a 5-minute walk from North Shore Park.
Offering quaint, motel-style accommodation, visitors here love being able to relax away from the bustling streets of South Beach while being close enough to take advantage of the bars, restaurants, and shopping that the area offers. A large, heated outdoor pool is the perfect place to soak up the Florida sun, while bedrooms are cool, clean, and spacious.
With a friendly atmosphere, gourmet coffee, and a public computer, the lobby serves as a meeting place for guests staying at the Beach Place Hotel, and free parking makes this hotel more accessible and convenient than hotels in some of the busier parts of town.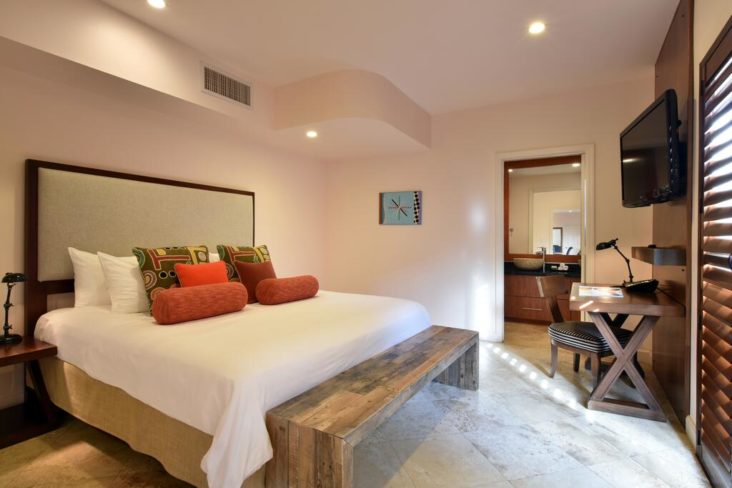 Price per Night: From $118
Located just shy of the beautiful Art Deco Historic District, on the legendary Española Way, this is a charming, European-style boutique hotel tucked away from the busy streets of South Beach. Guest rooms are spacious and well-appointed with nice design touches, while the bathrooms come with walk-in showers and upscale toiletries.
The Casa Victoria Orchid South Beach is just over a 5-minute walk from the beach and is surrounded by a varied selection of bars, restaurants, and night clubs.
For hungry guests looking for a pit stop, there is a Happy Place Donuts on-site, and guests are invited to take advantage of the pool and fitness center at the hotel's sister property.
Hot Tip: If you're looking for things to do in Miami, why not check out one of these great tours: Everglades National Park Airboat Tour, Sightseeing Speedboat Tour, or The Original Millionaire's Row Cruise.
Price per Night: From $128
This gorgeous little boutique hotel is situated close to the ocean in the up and coming area of Mid Beach. Full of fun, brightly-colored interiors with free Wi-Fi and flat-screen TVs in every room, you can relax in comfort.
With an outdoor swimming pool and a courtyard garden, the Circa 39 Hotel Miami Beach has a truly tropical feel, and guests will love the Jules Kitchen that serves up small plates of cleverly curated breakfast, lunch, and dinner.
There is also an on-site bar that offers creative cocktails in a fun, laid-back environment, a small fitness center, laundry, and spa services.
Hot Tip: Bringing the whole family? Check out our guide to visiting Miami and Miami Beach with kids.
Price per Night: From $149
This budget-friendly hotel offers spacious rooms with beautiful balconies, tucked away in a stunning Mediterranean revival-style building located in the historic district of Española Way. What this little hotel lacks in facilities, it more than makes up for in charm.
Bedrooms are brought to life with colorful throws and decorations, while the oceanfront artwork calls the sea in. At the El Paseo Hotel, guests are welcome to enjoy free coffee in the morning, and being so close to South Beach, there are lots of lively local eateries to keep you going throughout the day.
Without a swimming pool to lounge around, guests may worry about keeping cool, but the dedicated beach club complete with chairs and towels offers guests a taste of upscale luxury at an affordable price.
Price per Night: From $140
Just 5 minutes from the beach and less than a mile from the nightlife of South Beach, this hip, hostel-style hotel offers both private and shared rooms in trendy surroundings.
Housed in an original Art Deco building, visitors will love the quirky interiors, secure lockers, and bright and airy shared bathrooms. While the accommodation may not be 5-star, the facilities almost are.
Home to one of Miami's most popular cocktail bars, The Broken Shaker, Freehand Miami also boasts a beautiful outdoor pool, an expansive courtyard, and the popular 27 Restaurant & Bar that serves up a wide array of Miami flavors.
Price per Night: From $266
Located close to Lincoln Road, at the heart of South Beach's famous nightlife, this hotel may not offer direct access to the beach, but guests can still enjoy gorgeous views out across the ocean.
Vintage-style interiors draw on the golden Deco days of Miami, and the place is packed with photos of Miami Beach during its illustrious heyday. Bedrooms are spacious and well-appointed, and there is also a gorgeous rooftop infinity pool for lazy days.
Gale South Beach is legendary among locals as the home to the much loved Regent Cocktail Club, and there is also a 1970s-inspired basement lounge rec room, an Italian restaurant, and access to the water via the use of the sister hotel, the Shelborne Beach Club.
Hot Tip: The Overseas Highway from Miami to Key West is one of our top recommended road trips in the U.S. Check out our guide for suggested stops along the way!
Price per Night: From $129
Housed in a unique Art Deco building at the heart of Miami Beach, this historic hotel has been part of the local scenery since 1929. Close to numerous bars and restaurants as well as the popular Lummus Beach Park, this hotel offers well-appointed guest rooms with hardwood furniture and a cozy shared lounge and tennis courts.
Hotel La Flora Miami Beach is also home to the on-site Spiga restaurant that serves up homemade Italian food, as well as a 24-hour bar that offers ice-cold beverages and cocktails when the Miami nightlife heats up.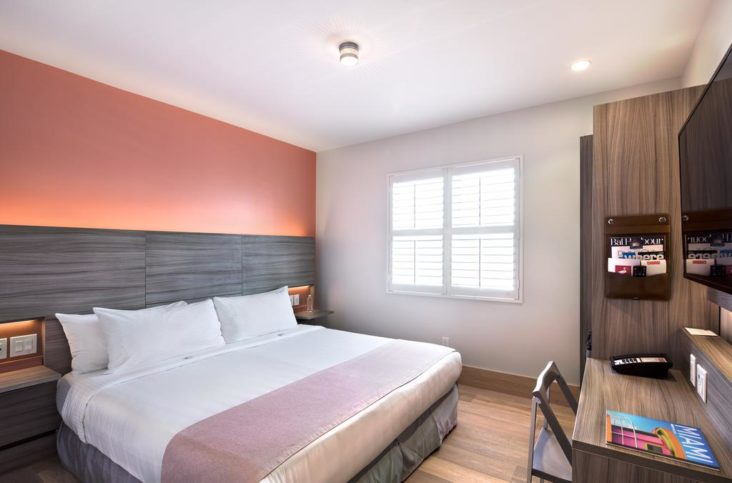 Price per Night: From $129
This relaxed, adults-only hotel can be found in the laid back South of Fifth District and is surrounded by lots of popular bars, restaurants, and nightclubs. Bedrooms are smart and well-designed, and the hotel is packed full of mid-century-style charm and Cuban design touches.
Guests who stay at The Julia will be able to enjoy a complimentary continental breakfast, but there is no restaurant on site. Being just a few minute's walk from both Ocean Drive and Lummus Park, though, there are plenty of excellent eateries to be found close by.
Bottom Line: Housed in a beautiful Art Deco building and packed full of Miami charm, The Julia is a great base for grown-ups looking to taste the real Miami.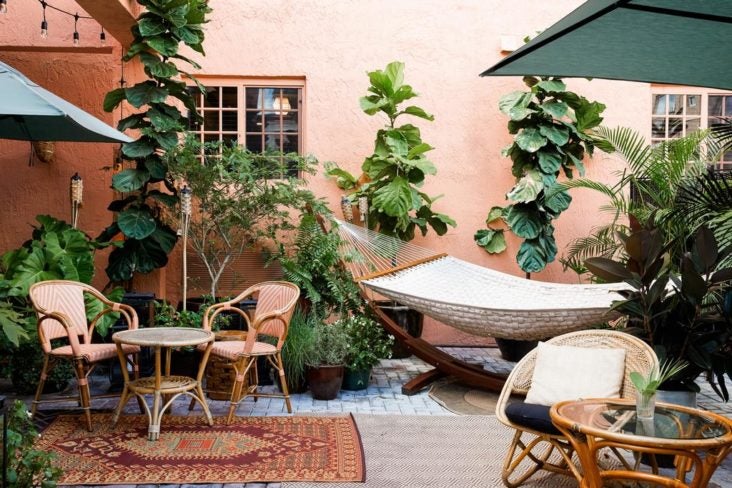 Price per Night: From $312
Located at the heart of the Little Havana district, this hip little hotel offers retro style interiors and plenty of charm. Housed in a traditional style heritage home, guests will love the dark wood floors, shuttered windows, and welcoming lobby.
The bedrooms are crisp and clean and come complete with private bathrooms and useful touches, including well-stocked Galanz fridges and impressive Marshall Bluetooth speakers.
The Life House is situated just a couple of blocks from the famous Calle Ocho with its Cuban restaurants, ventanitas, bakeries, and nightlife, and although there is no eatery on-site, there is a useful coffee station conveniently located by the stunning atrium in the lobby.
Price per Night: From $168
Just a block away from the sandy shorelines of South Beach, this hotel is housed in an Art Deco building and offers refined yet casual accommodation on a budget. Offering classy, European-style decor throughout and bright, spacious bedrooms, visitors will love the laid back ambiance of this boutique-style hotel.
Recently renovated, the President Hotel Miami Beach now boasts a rooftop pool with sun loungers and views out across the famous Collins Avenue, while the Green Bar and Restaurant serves delicious breakfasts in the morning and holds a popular cocktail happy hour later in the day.
Hot Tip: The facilities at the nearby Penguin Hotel are also available for guests to enjoy, including a lobby restaurant that serves breakfast, lunch, and dinner.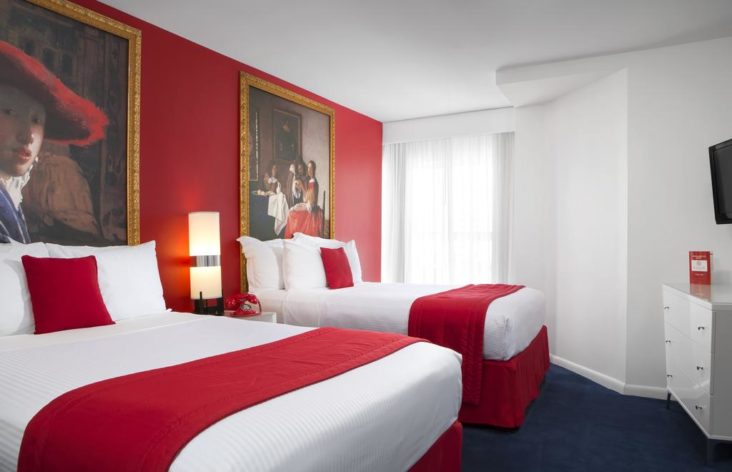 Price per Night: From $115
This chic hotel is located just half a block from the ocean and close to downtown Miami, and it still manages to ooze style and sophistication, even on a budget.
Fresh white interiors are enhanced with flashes of red and baroque elements, while bedrooms are spacious yet quirky. Red South Beach Hotel is also home to a good size outdoor swimming pool and sun deck, and guests can enjoy an eclectic menu and cool beverages from Barok, the on-site bar and restaurant.
With a friendly atmosphere and excellent service, this hotel doesn't skimp on customer satisfaction with high-speed Wi-Fi, loanable laptops, Starbucks, and a concierge service also available.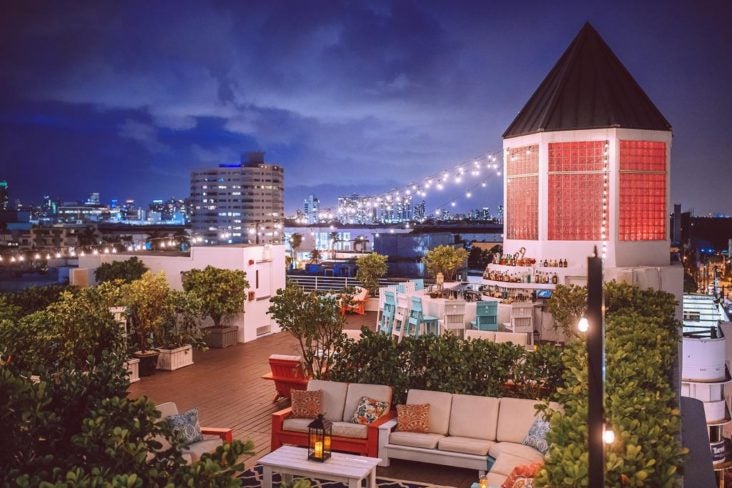 Price per Night: From $137
This hip and friendly hotel is tucked away in an Art Deco building in South Beach. It offers retro style interiors and oozes modern-day Miami charm.
Bedrooms are minimalist in design with funky interior touches, while the on-site K.Ramen.Burger.Beer restaurant serves up a playful menu and Japanese beer. Guests will also love the Cape Bar situated on the roof of the building with its delicious cocktails, and the continental breakfast in the lobby area.
While there is no pool at the Townhouse Miami Beach, there is beach service, and guests have access to the pool, fitness center, and trendy eateries at the nearby SLS South Beach and The Redbury hotels.
Price per Night: From $219
Offering chic, retro-style boutique accommodation, this gorgeous hotel is tucked away on a tree-lined avenue in the residential South of Fifth neighborhood. Housed in a historic Art Deco building, guests will love the small but perfectly formed plunge pool and decking area, which offers a casual space to soak up the Miami sun.
With eclectic interiors and bright, funky bedrooms, Urbanica The Meridian Hotel is perfect for visitors looking for a good night's sleep, while the "chill-out room" cabana with a projection screen, Atari gaming system, and cozy couches is perfect for evenings spent in the company of fellow travelers.
Price per Night: From $146
Just on the outskirts of town, this stunning 1950s style hotel was once a favorite haunt of the famous Rat Pack, but it now offers its accommodations to travelers looking for a quiet spot from which to enjoy the delights that Miami has to offer.
Just a short drive from the Design District, Wynwood, and Midtown, guests can while away the day sprawled out around the pool on vintage loungers, while admiring the restored iconic mosaics in the water. Bedrooms are beautifully styled with geometric shapes and splashes of color, and there is also an on-site fitness center.
The Vagabond Hotel offers live music around the pool while guests sip on handcrafted cocktails, and the Vagabond Restaurant combines Asian fusion cuisine with Latin American culture.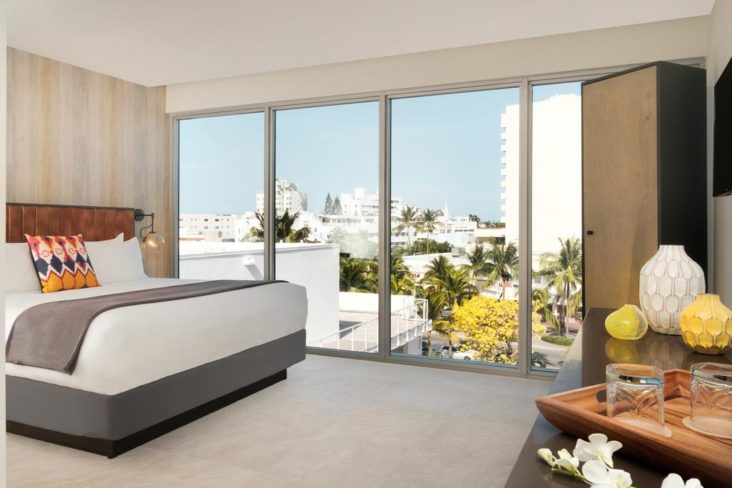 Price per Night: From $105
Bringing a taste of New York to the sun-drenched streets of Miami, this hip yet affordable hotel is housed in an Art Deco building in the heart of South Beach.
Retro-style interiors offer charming bedrooms and bathrooms with glass-enclosed rainfall showers, and the kidney-shaped swimming pools offer respite from the Miami sun. The Washington Park Hotel South Beach is also home to the Swizzle bar and a front yard with games like giant Jenga, as well as retro video games and a small gym.
The popular Employees Only (EO) cocktail bar and bistro serves up New York-style cocktails and Modern American cuisine, giving guests a whole lot of hotel for not a lot of money.
Final Thoughts
Whether you want to party the night away or spend lazy days in the sun, Miami is a city that can offer you the best of both worlds. Beautiful architecture, vibrant nightlife, world-class shopping, and a wealth of restaurants and bars to suit every budget can all be found here.