The 24 Best Things To Do in Miami & Miami Beach With Kids [2021]
Miami is one of the most popular tourist destinations in the country (and the world) for good reason. This major city sits on the Atlantic coast in Southeast Florida, providing warm weather and plenty of outdoor activities for visitors and residents year-round.
Famous for its beaches, nightlife, and high-end bars and restaurants, Miami might not immediately jump to mind as a family-friendly destination, but as diverse as its population is, so are the attractions.
Miami is also relatively easy to get to, regardless of where you are traveling from. With almost every major airline in the world flying into Miami International Airport (MIA), catching a flight to South Beach is just a few clicks away. And if you want to save a few bucks, you could even consider flying into Fort Lauderdale-Hollywood International Airport (FLL), which is just 30 miles away.
With everything from beach days to watersports to parks and museums, a trip to Miami will quickly show you how kid-friendly this popular destination can be. The city has so much to offer for so many different interests, so this list will be far from complete, but there is certainly enough to keep you and the little ones busy for at least a week in Southern Florida.
Let's take a look at what you can do in Miami with kids!
The Best Activities in Miami and Miami Beach With Kids
1. Relax on the Beach
A trip to Miami is incomplete without spending some time at the beach. With miles of oceanfront just steps away from the popular attractions, not only is a visit to the beach fun, but it's also convenient.
While South Beach is far and away the most well-known and popular, there are plenty of other beaches nearby that provide different experiences. Whether you prefer the hustle and bustle of South Beach or are looking for something a little more laid back, Miami has options for you.
Families should consider checking out Surfside or North Beach Oceanside Park that both offer white-sand beaches, walking paths, and amenities for kids and adults.
2. Explore the Everglades at an Alligator Farm
Florida is known for many things, and one of them is the Everglades National Park, a 1.5-million-acre wetlands preserve. One of the best ways to experience this natural wonder is by flying across it on an airboat!
At Everglades Alligator Farm not only can you go for an airboat ride, but you can also get up close and personal with real, live alligators.
With daily shows, encounters, and VIP tours, your kids will love this exciting and educational Florida experience.
3. Entertain the Family at FunDimension
For anyone looking to beat the heat and have some indoor fun, look no further than FunDimension.
Located in Wynwood, a popular district in greater Miami, FunDimension is an all-in-one, state-of-the-art entertainment center that can keep kids and adults busy for hours! With over 15,000 square feet of attractions, including a restaurant with craft beer and wine for adults, this family-friendly destination is guaranteed fun.
Kids can run around playing laser tag, win some tickets in the video arcade, feel the excitement in a 7D theater, go rock climbing, and more! There is even a multi-level playground available for toddlers, as well!
4. Feel the Cuban Culture in Little Havana
Little Havana is a charming neighborhood in Miami that is home to many Cuban exiles and gets its name from the capital of Cuba, Havana.
Full of culture, coffee, music, and Instagram-worthy streets and murals, spending some time here with the kids will be a unique experience. Whether you choose to go on a guided walking tour, or just explore on your own this gem on your own, this lively neighborhood won't disappoint.
The kids will love the fruit stands and bakeries, while the adults might be more interested in the rum bars and art galleries. And don't forget to grab a Cuban sandwich for lunch!
Hot Tip: If you are flying in and out of MIA, here is a full list of lounges at Miami International Airport (MIA). Don't miss the American Express Centurion Lounge!
5. Take a Rainforest Tour at Monkey Jungle
If you are looking for a unique way to see your favorite jungle primates, take a tour at Monkey Jungle.
This 30-acre zoo is different because it is actually the humans that are caged and it's the monkeys that can roam free. This fun experience allows kids to see monkeys, sloths, and other animals in a semi-natural habitat.
With shows and private tours, if your little one is a fan of monkeys, this is a cool place to bring them.
6. People Watch Along Ocean Drive and South Beach
Anyone doing research for a trip to Miami, or has seen a movie based in Miami, has certainly seen shots of Ocean Drive along South Beach.
This famous street is known for its Art Deco hotels, popular bars and restaurants, and iconic beach views. While the street might not be very family-friendly when the nightlife kicks in, it is a fun spot to walk around during the day with kids.
The beautiful architecture and beach make for a great backdrop for an alfresco lunch with the family.
7. Go Sightseeing With Thriller Miami Speedboat Adventure
Getting out on the water while in Miami is a must-do, and adding a little adrenaline to the mix will probably add some extra smiles along the way.
Go on a ride with Thriller Miami Speedboat Adventures for a 45-minute sightseeing tour while strapped into the Thriller or Thriller Hurricane Jetboat to experience Miami in real "Miami Vice" style. This highspeed boat will shoot you around the stunning coastline providing you and your family unique views of the skyline, famous mansions on Star Island, and plenty of other popular attractions.
Not only is this speedboat ride a great way to see the city, but it's also a great way to get out on the water without having to charter a boat — and you're not committed for an entire day. With the pickup location in downtown Miami, it's also a pretty convenient option for families!
8. Swim Back in Time at the Venetian Pool
Miami can get hot, so spending some time by a pool is always a good idea. When it comes time to choose that pool, look no further than the historic Venetian Pool.
Located in Coral Gables, the Venetian Pool was built in a former rock quarry back in 1924 and was heavily influenced by Mediterranean architecture. This aquatic oasis offers waterfalls and caves to explore and is surrounded by swaying palm trees.
With 820,000 gallons of water pumped in each day, this is the largest freshwater pool in the U.S.
This gem is open to the public and kids ages 3 and up are welcome to enjoy it for an admission fee of $15 per kid and $20 per adult.
9. Admire the Art at The Wynwood Walls
Miami is a bright and colorful city, and that is thanks to the people that visit and call it home, especially artists. For families who want to walk amongst some stunning artwork and murals, be sure to visit The Wynwood Walls.
The artsy neighborhood of Wynwood is just minutes from downtown Miami and is a haven for artists and painters. The centerpiece of this funky neighborhood is known as The Wynwood Walls which features giant walls on the side of 6 buildings that have become a blank canvas for artists from around the world.
This pedestrian-friendly area is great for kids who want to see some larger-than-life paintings and parents who want to see some famous artwork in person. If you are in town on the second Saturday of the month, look out for Wynwood Art Walk which brings food trucks, live music, and extra hours to the art galleries and streets.
Hot Tip: Miami doesn't have to be expensive — here are the best cheap hotels in Miami and Miami Beach.
The Best Museums in Miami With Kids
10. HistoryMiami Museum
Miami may feel like a party all the time, but there are plenty of museums and institutions around to give the kids a bit of education on your trip. The HistoryMiami Museum is the largest history museum in Florida and is conveniently located in downtown Miami — and it is definitely worth checking out.
This Smithsonian Affiliate is home to some great local exhibits including the "Miami International Airport: A Hub for History," "Tropical Dream: A People's History of South Florida," and more.
With free family fun days every month full of activities and experiences, adding HistoryMiami Museum to your itinerary could be a popular decision.
11. Institute of Contemporary Art
Art lovers won't want to skip a visit to the Institute of Contemporary Art (ICA) in Miami.
This free museum is located in the Miami Design District and is focused on fostering the exchange of art and ideas through the Miami region and beyond. With exhibitions from local, emerging, and under-recognized artists, this is the place to visit if you want to support the arts.
The ICA has multiple art programs for schools, kids, and families, so stopping by to check out some exhibits and have the kids participate in some hands-on workshops will be a great way to introduce the little ones to the art scene.
12. Miami Children's Museum
There is nothing like a good children's museum, and the Miami Children's Museum is a great example of that.
Located on Watson Island in Miami, families can run around and explore this 56,000+ square foot museum for hours and never get bored. Kids can play, learn, create, and imagine in the 14 interactive (and bilingual!) exhibits.
The goal of the museum is to take the formal learnings of the classroom and turn them into real and lasting experiences. Exhibits cover everything from art and finance to construction and health. Of course, there are plenty of playgrounds, music, and sensory exhibits to really complete the experience.
No matter the age of the kids (or adults), everyone in the family will get a lot out of a visit to the Miami Children's Museum.
13. Phillip and Patricia Frost Museum of Science
When you talk about groundbreaking museums, not only in Miami but throughout the country, you can't leave out the Phillip and Patricia Frost Museum of Science.
This state-of-the-art museum is one of the only institutions in the world that has both an aquarium and a planetarium — both of which are among the best.
Opened in 2017, this 250,000+ square-foot museum is conveniently located in downtown Miami overlooking Biscayne Bay. Families can spend the day exploring the stunning 500,000-gallon aquarium full of sharks and then head up to the planetarium and rooftop telescope to do some stargazing at night.
Exhibitions highlight physics, aviation, the human body, the local biodiversity and so much more. Kids and adults will be in awe from the moment they enter until the moment they leave as everything at the Phillip and Patricia Frost Museum of Science is so well done.
14. Tidal Cove
Kids and parents are guaranteed to have blast at Tidal Cove in Aventura, Florida. Just 30 minutes from Miami, this award-winning water park has everything you could want for an aquatic adventure.
Whether you want to relax in the lazy river or a private cabana, go on a gravity-defying raft ride, or just play around in the Kids Cove, spending a day here may not be enough time!
The kids will love the 4,000 square foot aquatic playscape inspired by emojis, and parents will love the fact that Tidal Cove is actually located at the JW Marriott Miami Turnberry Resort & Spa, which means that you can stay the night starting at only 40,000 Marriott Bonvoy points!
Hot Tip: Need some more points? Be sure to read about the best ways to earn lots of Marriott Bonvoy points.
15. Zoo Miami
Families won't want to miss out on the only sub-tropical zoo in the continental U.S. Located just south of the popular Miami spots, Zoo Miami (also known as The Miami-Dade Zoological Park and Gardens) is the largest and oldest zoological garden in Florida.
The unique climate of South Florida allows for a great mix of species from all over the world, with open-air exhibits that replicate the animals' natural habitats.
With over 3,000 animals across 750 acres and 100 exhibits, kids and adults will love getting up close at this world-class zoo.
The Best Sports in Miami With Kids
16. FTX Arena (Miami Heat, NBA)
Formerly known as the American Airlines Arena, the FTX Arena is home to the Miami Heat basketball team as well as serving as a venue for various shows and events.
With almost 20,000 seats, this is a popular and fun spot to watch an NBA game while in Miami.
Located along Biscayne Bay with easy access thanks to public transportation, everyone in the family will enjoy a visit to this famous spot.
17. GeckoParx
For parents who are looking to get their kids to burn some (or a lot) of energy, consider letting them loose at GeckoParx, located just north of Miami.
With over 40,000 square feet of trampolines, parkour, dodgeball courts, ropes courses, and rock climbing, parents may find themselves wanting to jump into the action, too!
For little kids, there is a soft play area to run around and play without having to worry about the big kids jumping around. Add in an arcade and a cafe, and you have found a great family outing option if the weather isn't great outside.
Hot Tip: If you need to get to Ft. Lauderdale, consider a ride on the Brightline train. 
18. Hard Rock Stadium (Miami Dolphins, NFL)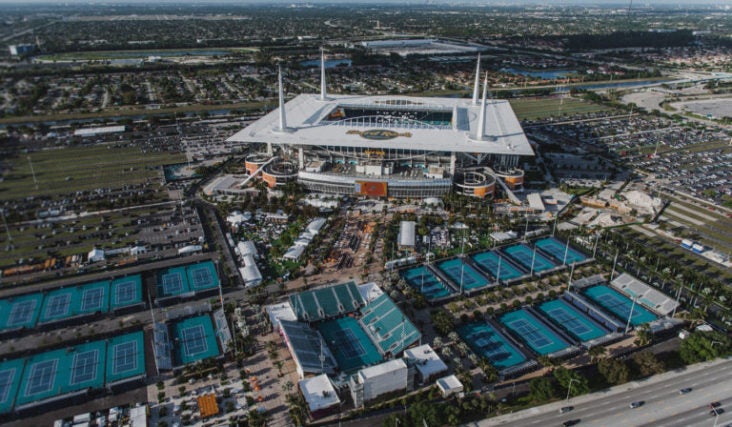 Football fans are surely familiar with Hard Rock Stadium, home to the NFL's Miami Dolphins.
Located just north of the city in Miami Gardens, this impressive stadium is pretty easy to get to regardless of where you are staying.
While the Miami Dolphins are the most famous tenants, the University of Miami Hurricanes football team, as well as countless events and shows, take place at the stadium as well.
With 65,000 seats, including luxury pods with sofas and TVs, no matter where you sit, it should be a fun family experience.
19. loanDepot Park (Miami Marlins, MLB)
If you are in Miami and want to catch a baseball game, head over to the brand new loanDepot park in Little Havana.
Home to MLB's Miami Marlins, this relatively small and new park features a retractable roof and one of the most modern designs in all of Major League Baseball.
The park can hold over 36,000 fans, has great views of downtown Miami, and even has massive fish tanks along the backstop that remind you exactly what city you are in.
Watching a baseball game is always a fun family activity, but doing so in Miami will be extra memorable!
Hot Tip: Did you know that you can take an Amtrak sleeper train up the East Coast from Miami?
The Best Parks in Miami and Miami Beach With Kids
20. Bayfront Park
Perfect for families with kids looking for some outdoor fun, Bayfront Park has plenty of activities for all ages.
Originally built back in 1896 and known as Royal Palm Park, this park has grown from a small patch of grass to gather on to more than 32 acres of playgrounds, beaches, walkways, gardens, and a waterfall.
With other attractions like a pirate ship playground and multiple performance venues, there is always something going on.
Add in the fact that is it adjacent to plenty of shopping and dining in downtown Miami, stopping by Bayfront Park is a great idea on its own or as part of a tour through the neighborhood.
21. Bill Baggs Cape Florida State Park
Beaches, bike trails, hiking, and shower facilities, the Bill Baggs Cape Florida State Park is a great option for families looking to escape into nature but still have some amenities available.
Go fishing with the kids, climb the lighthouse, and then grab a Cuban sandwich at one of the cafes for a great day on Key Biscayne.
With one of the top ranks beaches in the country, this park gets busy, so be sure to arrive early as admission can be limited.
22. Marjory Stoneman Douglas Biscayne Nature Center
If your family wants to learn more about nature and get hands-on in one of the most beautiful habitats around, be sure to visit the Marjory Stoneman Douglas Biscayne Nature Center in Key Biscayne.
This coastal ecosystem includes tidal pools, mangroves, fossils, and Native American artifacts, which will be fun and educational for kids of all ages.
With a goal to connect the community through nature and arts, a family field trip to this nature center will be beneficial to both the program and the little visitors.
23. Flamingo Park
Families staying near the South Beach area will be sure to want to check out the popular Flamingo Park.
This 36-acre park has activities for all ages including a playground, a dog park, walking trails, and a pool and water park.
To get an idea of how big this area really is, there are also 17 tennis courts, a baseball stadium, multiple fields and courts, and a running track — all surrounded by lush tropical landscaping.
Whether you are looking for somewhere free to bring the kids or just a place to cool off, Flamingo Park is a great option in Miami.
24. Oleta River State Park
Parents and kids looking for a bit of tranquility to escape the sounds and lights of Miami will be in paradise when they arrive at Oleta River State Park.
Just 30 minutes from downtown Miami, Oleta River State Park is an oasis for exploration. Whether by foot, bike, kayak, or standup paddleboard, families can poke around the famous mangroves and get up close and personal to Florida's stunning wildlife.
There are over 1,000 acres to explore and even campgrounds if you want to extend your stay!
Final Thoughts
Miami is one of the most famous and exciting cities in the world, and not just for adults.
With beaches, parks, museums, and more, there is something for everyone — regardless of age.
Although clubs and high-end restaurants may not make it into your family itinerary, the easy-to-access city of Miami still provides tons of value for a vacation with the kids.
The great food, diverse culture, and stunning natural beauty will have your kids wanting to go back to Miami for years to come!
If we left something off the list, be sure to let us know in the comments or come join our Facebook Group, Level UP Travel, to chat about your trip with fellow travelers.