The 15 Best Beach Umbrellas & Tents for Adults & Kids [2021]
Soaking up the sun while listening to the sounds of the ocean is an awesome way to spend the day. While the beach is a great place to enjoy time with friends and family, it can also be very exposed and open, making it hard to find any natural shade.
Portable beach umbrellas and tents are quick and easy to set up and will provide you with your very own shady spot, as well as offering much-needed protection from the UV rays of the sun.
From single umbrellas to family-size tents, every kind of beach lover will benefit from a beach tent or umbrella that offers the protection and privacy you need even on the busiest of beaches.
Things To Consider With Beach Umbrellas and Tents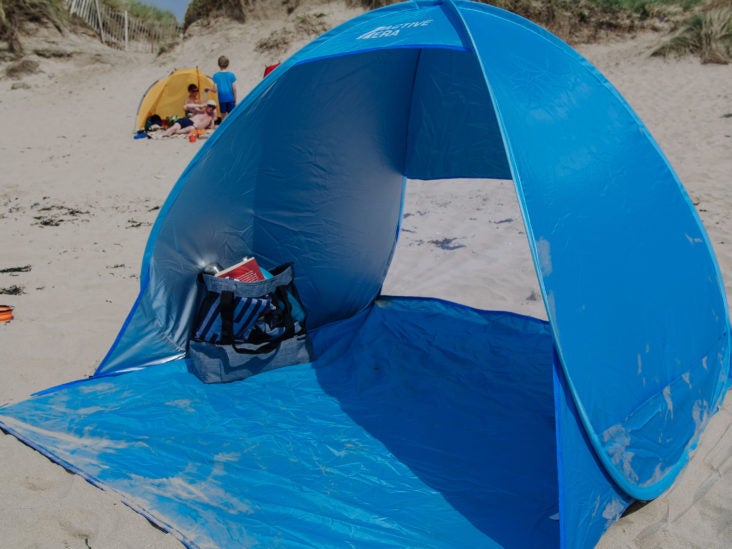 Whether you are just looking for a simple beach umbrella to clip onto your camping chair or a full-size shelter that offers shade for the whole family, consider the following before you commit:
Weight and Portability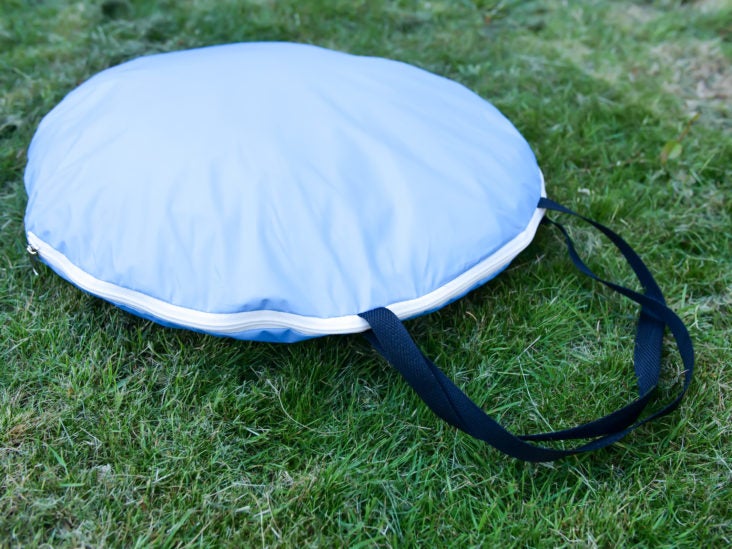 Beach tents and umbrellas are lightweight and portable by design. The larger and more complex the style and setup, the more likely it is to feel heavier over longer distances.
Most parasol-style sunshades will fold up like an umbrella that is easy enough, but the extendable poles will add extra dimensions and weight. Many come in 2 or 3 pieces that fit into each other, meaning they come apart to fold up into a long, thin torpedo shape, making them highly portable and easy to carry over your shoulder.
With more sizable shades such as tents and sails, you will need to consider how much weight, if any, the additional poles, stakes, and material will add to the folded package overall.
Bottom Line: Whether you choose a tent or an umbrella, be sure to opt for a model that is able to fold up small and comes with its own carry bag, making it super easy to transport and store when not in use.
Protection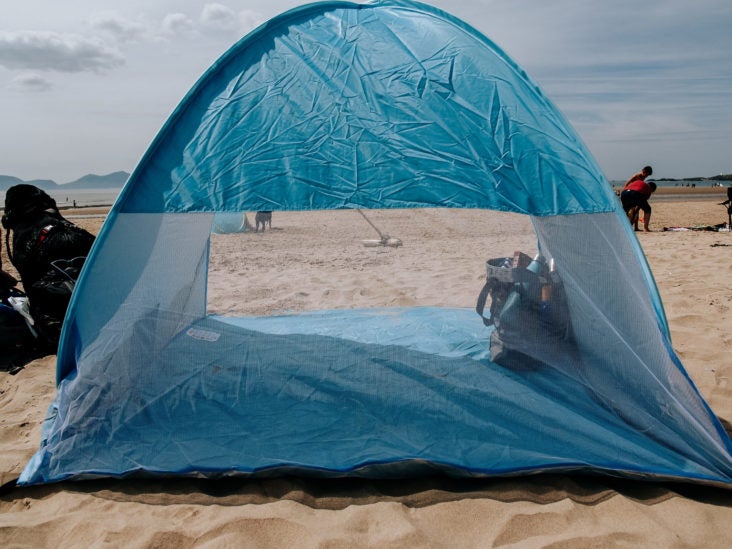 The primary function of your beach tent or umbrella is to offer shade and protection from the harmful rays of the sun.
Extended exposure can not only burn your skin or make you feel unwell — it can also cause long-term damage and even certain types of skin cancer. Always choose a model that offers 50+ UPF protection, at the very least, to ensure that you really are well-protected, even on the sunniest of days.
It is also worth noting that these portable beach shades can also offer protection against water, are sturdy enough to withstand stronger winds, and may even be weatherproof enough to keep you dry should it start to rain.
Material and Durability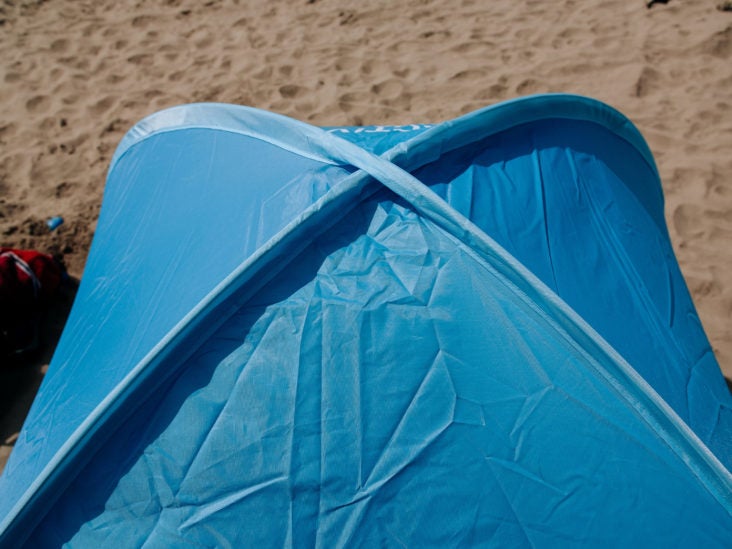 If you want to get many years of use out of your beach tent or umbrella, you will need one that has been built to withstand regular exposure to the elements. As they are likely to be in close proximity to sand and saltwater, a tent or umbrella made with rustproof construction is a must.
Aluminum and steel poles and ribs will remain durable and sturdy while still being lightweight enough to carry around with you. Synthetic materials like nylon are tear- and water-resistant. They are often backed with silver fabric or coated to offer enhanced UPF protection.
Tents should feature mesh windows or panels to ensure increased ventilation that will help you stay cool and prevent the tent from becoming super hot.
Ease of Use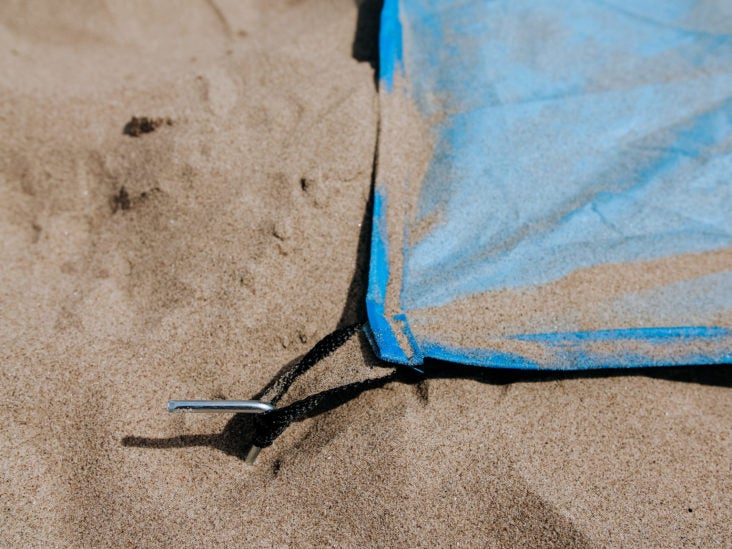 A quick trip to the beach should be spent having fun in the sun and not spending hours putting up tents or sunshades.
All of the models we have listed offer superfast setup in a matter of minutes or even seconds and come with quick-fix solutions such as push-button tilt action with 360-degree maneuverability, pop-up frames, and pointed poles that can quickly be anchored in the sand.
Extra Features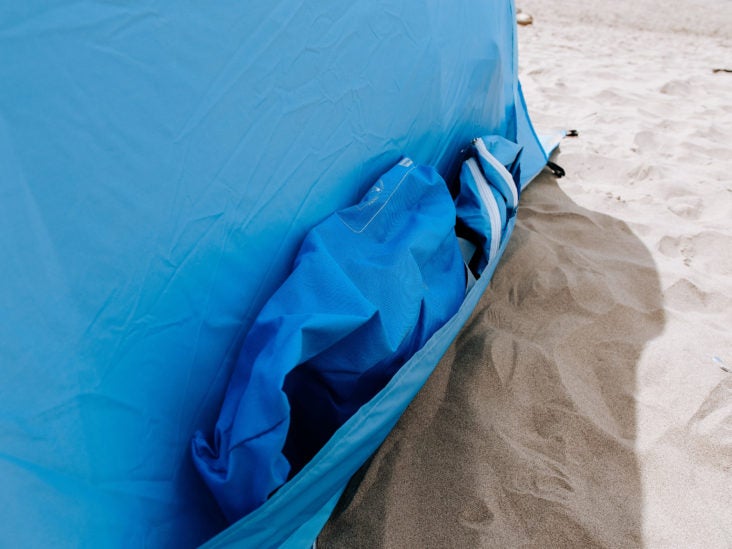 While a basic model will offer you the shade you are looking for, there are lots of extra features that can make your stay on the beach incredibly comfortable. Umbrellas with built-in drinks holders or hooks help to keep your beverage within easy reach and your towels and wet swimsuits up off of the sand.
Tilt functions allow you to angle your parasol as the sun moves around, and the universal clamps found on smaller models make it easy to secure your umbrella to your chair, sun lounger, or even your stroller.
Tents with tie-back doors can be fastened to provide a private area for changing or napping and are also very handy for keeping the bugs at bay.
Hot Tip: Extended floor mats are great for keeping the sand out of your sandwiches when you sit down to eat, and a matching carry bag is a must to keep your tent and accessories all together in 1 place.
The Best Beach Umbrellas
Beach umbrellas can be stuck straight into the sand next to your towel, chair, or lounger and offer much-needed shade as the sun gets hotter. Easy to set up and fold away again, these are a highly portable way to keep you protected and comfortable wherever you are headed.
Beach Umbrella With Universal Clasp Attachment
Sport-Brella Versa-Brella SPF 50+ Adjustable Umbrella
Available in a wide range of colors to suit every type of patio décor, this adjustable umbrella comes with a universal clamp making it easy to attach to your existing furniture. Made from heavy-duty material that won't rip or tear, this parasol can quickly be clamped to your beach chair or sun lounger and is so lightweight and portable it could be used on your stroller or golf bag, too.
Offering impressive UPF 50+ protection, this umbrella will keep you cool while protecting you from the harmful rays of the sun. Wide enough to offer a substantial amount of shading, it has a 4-way, 360-degree swivel function and 2 push button hinges that make it easy to adjust to any angle to help block out the sun.
Complete with its own compact carrying case, this 40 x 42-inch sunshade weighs in at just 1.8 pounds and can be folded up small enough to carry around with you. Super easy to set up in an instant, this model also comes in an XL size to offer even greater protection and increased shade even on the hottest of days.
What We Like
Easy to clamp onto a chair or other surfaces
What We Don't Like
Can move around in light wind
Sunshade With Cup Holders and Towel Hooks
Wondershade Ultimate Portable Sun Shade Umbrella
This awesome little number is a stand-alone sun parasol that comes complete with cup holders and towel hooks to offer the ultimate protection against the sun. Made from super-durable UVA-blocking material and standing between 3 and 8 feet tall on a sturdy tripod base, this parasol will see you beach-ready in an instant.
Offering everything you could need for a day in the sun, the pole can be completely removed from the base to reveal a sand screw that allows the umbrella to stay upright even in the softest of sand.
Offering an impressive 60 inches of shade and protection, this parasol has an easy-to-use tilt feature to help you find the perfect angle, and the high-tech fabric has been designed to block out up to 98% of harmful UV rays from the sun.
Easy to carry, set up, and take back down again, it is highly portable and incredibly lightweight when folded, and with 2 useful cupholders and utility hooks to keep your towels and clothing away from the wet sand, this is an awesome beach shade that will make you the envy of your fellow sunbathers.
What We Like
Handy cup holders and towel hooks
What We Don't Like
Fabric may rip with heavy handling
Beach Umbrella for Cool Customers
AMMSUN 6.5-Foot Beach Umbrella
This folded beach umbrella comes in a choice of 3 super-cool colors and features a high-grade zinc tilt to give you an increased level of shade. With an air-vented 6.5-foot diameter canopy, it offers excellent airflow and protection from the sun. The polyester fabric comes with a special silver-coated lining designed to block up to 99.99% of UV rays from the sun.
Waterproof enough to be used in all weathers, it will also keep you dry in the event of a sudden downpour, and the classic parasol design will add an upscale look to your patio or camping spot, or even just on the beach. Supported by 8 fiberglass ribs, this parasol is sturdy enough to cope with waterfront breezes, and the strong aluminum pole can be adjusted from 5 to 6 feet to suit your personal requirements.
The 3-pole sections can be folded up small enough to fit into a 29.5-inch carry bag, and with a built-in strap, you can easily throw this beach umbrella over your shoulder to make light work of long walks to the beach.
With a sand screw at the bottom to help it remain stable in even the softest of sandy beaches, this parasol would make an excellent addition to your everyday beach kit.
What We Like
Suitable for protection against rain or sunshine
What We Don't Like
Fiberglass ribs can break with gusts of wind
Best 2-Seater With Cooler Box and Sunshade
Best Choice Products Picnic Double Folding Chair With Umbrella
Take a seat in the shade with this innovative folding chair set that comes complete with its very own cooler compartment and built-in sunshade. Perfect for lazy days on the beach, at the park, or outside your trailer, the eye-catching blue color and super-portable design make this a firm favorite with sun worshippers who enjoy a bit of comfort.
Both seat units are made from strong and durable nylon fabric, and the secure steel frames are supportive enough to hold the weight of 2 full-sized adults weighing up to 250 pounds.
With an insulated cooler compartment in the middle storage section, you can keep your drinks and snacks fresh on the go, and the cup holder in each of the armrests will ensure that you are only a sip away from your favorite beverage on the beach.
The adjustable umbrella can be opened in an instant to offer you shade from the harmful rays of the sun, and should the weather change, it can be fully removed in an instant, too. Just as suitable for picnics, tailgates, or camping trips as it is for use on the beach, this is a highly portable and practical beach chair combo that provides your own personal shady spot for just the 2 of you.
What We Like
Great value combo kit with chairs, umbrella, and cooler
What We Don't Like
Chairs are not the comfiest to sit in for long durations
Beach Umbrella With a Super-Wide Clamp
AMMSUN Beach Chair Umbrella
Compact and highly portable, this brilliant little beach chair umbrella comes with a universal clamp making it easy to attach to your chair, lounger, or table in seconds. Made from UPF 50+ oxford silver cloth fabric, this clever little umbrella will keep your skin safe from 99.5% of UVA/UVB rays, and with a span of 9.6 square feet when fully open, it offers a substantial amount of protection.
With 8 incredibly strong steel ribs and a sturdy steel pole, this parasol can cope with windy weather and is designed to stay fully open without ever closing in on you. With a 180-degree adjustment, it can be angled to provide maximum sun protection in any direction.
Weighing just 1.5 pounds when folded, it can be slipped into its matching carry bag for easy transportation, and with a large clamping diameter of 1.38 inches, it can easily be attached to almost anything.
What We Like
Incredibly lightweight to carry
What We Don't Like
180-degree swivel only rather than 360 degrees
Best Way To Personalize Your Sunbathing Spot
Sol Coastal 6-Foot Rainbow Beach Umbrella
This brilliant beach umbrella is brightly colored and large enough to provide 6 feet of shade and protection. Made from tough and weatherproof polyester, it is hardy enough to remain upright even on windy days, and the lightweight foldable design makes it easy to take everywhere with you.
With a 2-piece pole for extra portability, you can easily adjust the height of the umbrella from 54 inches up to 81.5 inches, and the point on the bottom of the pole can be inserted directly into the sand for a quick and easy setup on the beach.
Lock and unlock the pole to change the height and position in an instant, and when not in use, it comes with its very own brightly colored carry bag that can be thrown over your shoulder for long walks on the beach or for storage back at home. With a rustproof pole made from durable ABS plastic, this is an incredibly lightweight and highly portable umbrella shade that is perfect for use in a wide variety of settings.
What We Like
Height is adjustable depending on your needs
What We Don't Like
Plastic poles can be less durable than metal
Hot Tip: Planning to vacation at one of the amazing West Coast or East Coast beaches? Check out our ultimate beach vacation packing checklist before you go!
The Best Beach Tents
A pop-up beach tent offers excellent protection from the sun, as well as offering you a place to change out of your wet swimsuits and a private space to snooze, read, and eat, even on a crowded beach.
Beach Tent for Larger Family Gatherings
SUN NINJA Pop Up Beach Tent Sun Shelter
This brilliant all-purpose pop-up beach tent is easy to set up and provides excellent shelter from the sun's harmful rays. Made from finely crafted water-resistant fabric and offering UPF 50+ sun protection, this awesome sun shelter is a highly portable way to stay safe on the beach.
Available in a choice of contemporary colors, the shelter pops up in an instant, and the durable poles and anchors are suitable for use on sandy beaches, grassy areas, or even on rocky camping spots.
With the smallest model offering enough protection to cover up to 4 sunbathers, there is also a choice of 6- or 8-person models available, making this the perfect pop-up protection for you and your friends and family to enjoy on your next beach adventure.
Easy to set up when you get there, you can use sand or poles to secure the sail, and just as easy to take down when it's home time, this awesome sunshade comes complete with its own carry bag for easy transportation.
What We Like
Can be set up on sand or grass
What We Don't Like
Can be tricky to get the tension and weight right when setting up
Best Beach Tent To Keep the Bugs at Bay
Gorich UV Sun Shelter
Made with a silver-coated fabric to offer UV 50+ protection from the sun, this beach tent offers full coverage to help keep you safe in the sun. Easy to fold and quick to set up, this beach tent can be set up in just a few minutes, and the sturdy construction is hardy enough to remain upright even when the wind picks up.
With 3 insect screen layers and a mesh D-door, this tent offers excellent airflow and ventilation to help you stay cool and keep unwanted bugs at bay. With an additional privacy curtain, you can get changed in comfort, and with the 4 strong tent pegs and 2 additional large sandbags, this tent will stay exactly where you put it all day long.
Easy to take on adventurers with you, this tent comes with its very own carry bag that makes light work of long walks across the beach, and with the additional stakes included, it is just as suitable for use in the park or your own backyard as it is on the beach.
What We Like
What We Don't Like
A bit on the small side for 4 people
Best Sail-Style Beach Tent
Neso Tents Beach Tent With Sand Anchor
Available in a selection of bright and beautiful designs, this simple but effective beach sail will keep you cool and protected from the heat of the sun. Offering SPF 50+ coverage, this tent is water-resistant and incredibly durable and is an excellent sunshade for use on the beach, at the park, at festivals and sporting events, and even back at home.
Made from high-quality nylon and Lycra material, this shelter is extremely lightweight, and with its very own carry bag, it is incredibly portable. With the ability to protect you from 98% of the sun's harmful rays, the 7 x 7-foot coverage is extensive enough for you to sit under with your friends or family close by.
This innovative shelter can be anchored using natural resources such as rocks or sand, and with the ability to set up and take down in just a few minutes, it is an excellent way to provide your own bit of shade on even the hottest of days.
What We Like
Withstands wind really well
What We Don't Like
Setup must be pretty perfect to stay up in the wind
Sunshade for Family-Sized Protection
Red Suricata Family Beach Sunshade
This super-sized sunshade is large enough to protect you and your family from the sun while still being super easy to set up. Made from UPF 50+ rated stretchable fabric, this model comes in a choice of medium and large sizes, and the water-repellent coating also offers some protection from splashes and sudden downpours.
With 4 tall poles included in the design, this innovative sunshade is like a private canopy for your own personal use. Pointed stakes make it easy to anchor in the sand, and the rustproof and foldable design makes it suitable for use close to the water while being lightweight enough to carry with you across the sand.
When erected, the structure is strong and solid and able to withstand stronger winds, and when used with the pole anchors included, you can add an additional 4 inches in height, making this suitable for adults of all sizes.
Weighing just 7.5 pounds when folded, this sun shelter comes with a waterproof carry bag, making it a highly portable and incredibly practical sunshade for family days on the beach.
What We Like
Secure 4 pole structure rather than the standard 2
What We Don't Like
Requires more than 1 person to set up
Beach Tent for Snoozing
Sport-Brella Vented SPF 50+ Sun and Rain Canopy Umbrella
This roomy sun tent has an 8-foot wide body making it large enough to easily cover 2 beach chairs or 3 to 4 people when seated on the floor. Perfect for use on the beach, on camping trips, and at sporting events and festivals, the innovative design provides shelter while not obstructing your view.
The Sport-Brella provides SPF/UPF 50+ protection from the sun's harmful rays and is also waterproof if you're caught in the rain. A heavy-duty telescoping pole provides stability, along with 4.5-millimeter steel ribs to support the large canopy. Flaps can be folded down to protect from sideways wind and rain while also making it easier to anchor the Sport-Brella into sand, grass, or even rocky terrain using the ground stakes.
As well as providing plenty of shade, the Sport-Brella has side zippered windows and top wind vents to allow excellent ventilation and a much-needed cool breeze to circulate. Weighing in at 7 pounds, it's not the lightest beach tent but offers exceptional protection from the sun.
What We Like
Can be used as a beach tent or umbrella
What We Don't Like
Doesn't hold up well in windy conditions
Beach Tents for Kids
Beach Tent for Your Little Ones
Sunba Youth Beach Shade
With no assembly required, this child-size beach shade is perfect for keeping your little one well-protected in the sun. Made from a silver-coated fabric, it offers a UV rating of UPF 50+, and the pop-up design means it can be set up and ready to go in an instant.
Large enough to shade 2 to 3 children at a time, it comes with an extended floor to the front that acts as a play mat in the sand and has 2 tie-back door panels that can be zipped together to provide a private space for your little one to get changed or nap in.
Wind-resistant and well-ventilated, this pop-up beach tent will keep your littlest adventurers cool and well-protected against the elements on the beach, at the park, or even back at home.
With a heavy-duty and highly durable frame, this tent is incredibly strong and reliable. The metal ground stakes will keep it held firmly in place, even on a windy day, and with a folded weight of just 2.2 pounds, it is compact and lightweight enough to take with you in its very own carry bag.
What We Like
Pops up for quick and easy assembly
What We Don't Like
Can be tricky to fold back up
Best Playpen With UPF50+ Protection
Bend River Portable Baby Beach Tent
This supercute, child-size play tent can be used as a safe space to keep your child close to you on the beach, a quiet space for midday naps, and a protective place from the dangerous rays of the sun. Offering a UPF50+ canopy, this beach tent will help to ensure that your little one is never exposed to the harmful rays of the sun.
Quick to set up, it can transform into an instant playpen that can be packed away just as quickly when the fun is done. With 6 pegs to keep it securely fixed into the ground, it offers reliable protection for your children, even in windy weather. With mesh walls for increased ventilation and a screen door that can be fastened securely to keep bugs at bay, this pop-up play tent is the perfect choice for families.
Lightweight and easy to carry, this little beauty weighs just 2.65 pounds when folded; when fully open, it is spacious enough to give your little one their very own space in which to sleep or play even when you are away from home.
What We Like
Mesh door to protect from bugs
What We Don't Like
The base is very thin, so you'll need a blanket or extra mat
Most Fun Beach Tent You'll Ever See
TURNMEON Baby Beach Tent With Pool
Featuring a super-fun design, your little one can splash around safely in their very own mini-pool, while you can rest assured that they are safely protected from the sun. With an automatic pop-up design, it can be set up and packed away quickly and can be used with or without water in the 27 x 21-inch pool.
With a large front opening for easy access and a back flap for increased ventilation, this kid-friendly beach tent will help to keep you cool when the temperature rises. Made from a polyester silver-coated fabric that provides 50+ SPF protection, the water- and wind-resistant design makes it suitable to use even when the weather changes.
With a versatile yet sturdy design that includes fiberglass poles and premium polyester fabric, this tent is stable enough to stand on its own and will retain its shape even after many different outings. Compact and lightweight when folded, this is an awesome bit of portable beach gear that your kids will love to play, rest, eat and sleep in.
What We Like
Has a small pool to keep kids cool
What We Don't Like
Can be tricky to fold back inside the bag
Best Beach Tent for Babies
MyBABYSOFT Baby Beach Tent
Made from 100% eco-friendly recyclable material, this cute little baby sunshade can be set up in under 10 seconds. The pop-up design makes it a practical choice for parents who need to hold their infant in 1 hand while setting up camp with the other, and the baby-proof design is free from sharp edges, loose ties, and anything that your little one might try to reach for.
With breathable nylon skin, this tent offers excellent ventilation to help keep your baby safe and cool, and the waterproof and heat-absorbing fabric offers powerful 50+ UPF protection against the harmful rays of the sun.
With zippered flaps that can be left open to let you see what your baby is up to or fastened shut when it's time for sleep, this tent offers a cool, safe sleep space for babies on the beach. The flaps also act as an extra layer of protection against unwanted mosquitos and insects, allowing you to enjoy your day at the beach knowing that your baby is happy, cool, and comfortable in their protective little pop-up.
What We Like
Well-ventilated to keep babies cool
What We Don't Like
Doesn't hold up against the wind that well
Final Thoughts
Practice safe sun with a portable pop-up beach tent or an adjustable sunshade to ensure that you and your friends and family can stay in the sun all day while still being protected from harmful UV rays.
From large canopies for all of the family and beach shelters for kids to cozy beach tents for 2 and portable umbrellas, you'll find all sorts of designs and at various price points to suit your needs.
---
All information and content provided by Upgraded Points is intended as general information and for educational purposes only and should not be interpreted as medical advice or legal advice. For more information, see our Medical & Legal Disclaimers.