The 20 Best East and West Coast Beaches in the U.S. [2021]
The U.S. is very fortunate to have some of the most impressive coastlines in the world, with beaches ranging from soft and sandy to wild and rugged. Calm waters, lifeguard patrols, and showers are useful for families looking to set up camp for the day, and those looking to escape the crowds will often journey off-the-beaten-track to reach remote, unspoiled beaches.
We've looked at 10 of the best beaches on the East Coast and 10 of the best on the West Coast, so whether you're flying in for your next beach vacation or taking a road trip with the kids, there will be the perfect beach for you.
Don't forget to check out our beach vacation packing list which include our best tips to ensure you have everything you need!
Map Locations
The Best East Coast Beaches in the U.S.
Block Island, Rhode Island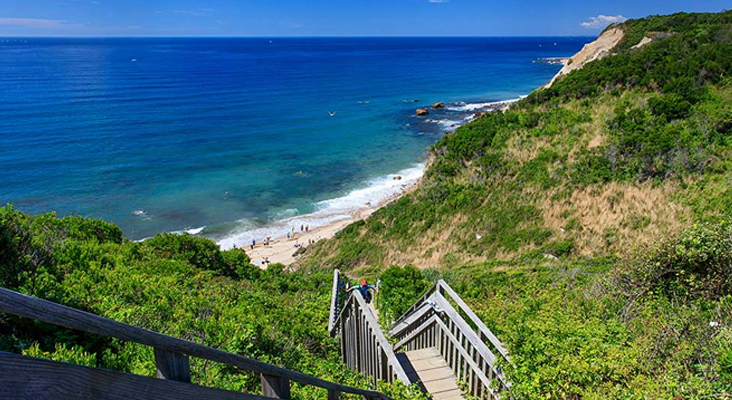 At only 7 miles long and 3 miles wide, Block Island is small enough to explore all 15 of its glorious beaches. Located around 12 miles from Rhode Island's coastline, most visitors arrive by foot via the passenger ferry, and mopeds and bicycles are available to rent from the ferry port.
Every beach offers something different, from Fred Benson Town Beach with lifeguards, showers, and a concession stand, to the more rugged and rocky Vail Beach with its secluded coves.
Where to Stay
Hot Tip: Baby Beach is a great spot for families with children as the water is calm and shallow compared to other beaches on the island.
Cooper's Beach, New York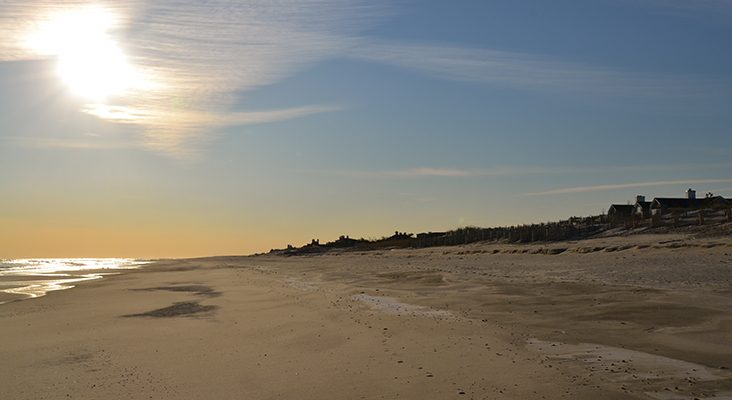 Cooper's Beach is at the southeast end of Long Island, forming part of The Hamptons — a popular summer retreat for New York City residents.
Visitors can rent chairs and umbrellas and relax on the rolling dunes, admiring the spectacular beachfront mansions. Bring a travel cooler with a picnic or head to Cooper's Beach Cafe to cool off with ice cream.
Where to Stay
Hot Tip: Parking is costly at Cooper's Beach, so if you're looking to save a buck, cycle in from Southampton, located just a couple of miles away. 
Driftwood Beach, Jekyll Island, Georgia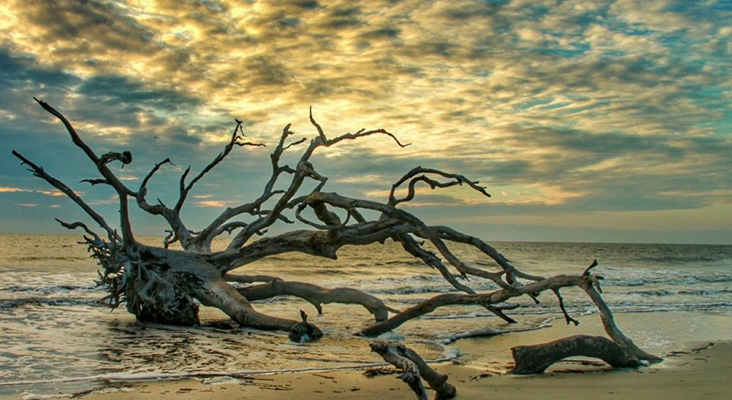 Driftwood Beach is eerily beautiful, with sun-bleached trees forming natural sculptures scattered across the beach. Decades of erosion has caused the uprooting of the trees, and the spot is now a favorite with couples looking to tie the knot with a unique backdrop for photographs.
Driftwood Beach is just a short walk from the Jekyll Island Campground, or if you're looking for a more comfortable stay, we've suggested some hotels below. Parking near the beach is free, however, there is a $6 entry fee for the island.
Where to Stay
Hot Tip: Access to Driftwood Beach is dependent on the tides, so check the tide table before visiting. Where possible, you'll want to aim for low tide to see the beach in all of its glory.
Hollywood Beach

, Florida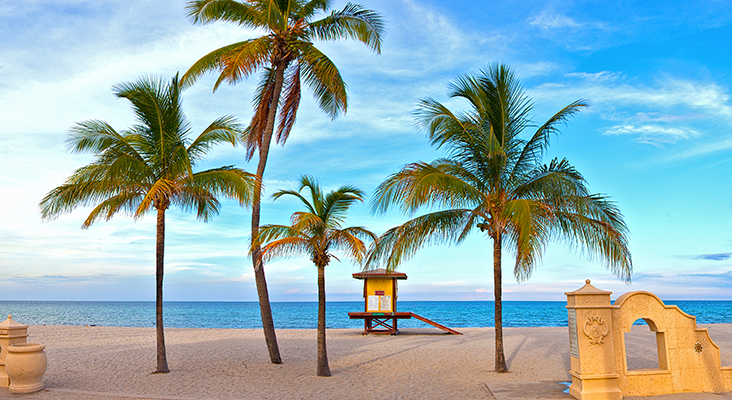 Hollywood Beach is designated a blue wave beach — an accreditation for its cleanliness and safety. The 2.5-mile boardwalk is packed full of attractions, hotels, and restaurants, meaning you don't have to leave the beach for a second (if you don't want to).
Beyond the beach, visitors can ride the free Sun Shuttle to and from downtown Hollywood, or down the full length of the beach for those who forgot to pack their rollerblades.
Where to Stay
Hot Tip: If you're planning to spend the day by the water, don't forget to bring a beach umbrella or tent to protect you from the sun.
Kiawah Island, South Carolina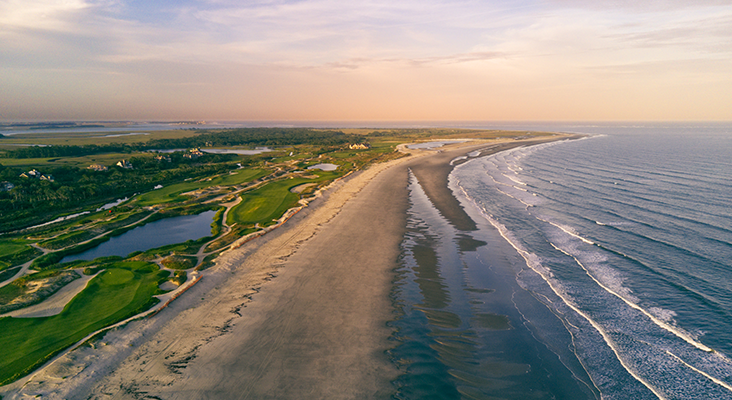 Kiawah Island is a golfing paradise, with 7 golf courses accounting for much of the island's 13-square miles. With 10 miles of beautiful coastline, visitors are only permitted access to Kiawah Beachwalker Park, located at the west end of the island. The rest are private beaches for residents only.
Year-round, the beach is equipped with restrooms and a picnic area, and seasonally, lifeguard patrols, a snack bar, and outdoor showers are available. Admission to Kiawah Beachwalker Park for standard vehicles is $5 to $10, depending on the time of year.
Where to Stay
Hot Tip: Keep your eyes peeled for wildlife that inhabits Kiawah Island, including bobcats, deer, river otters, and ospreys. 
Kure Beach, North Carolina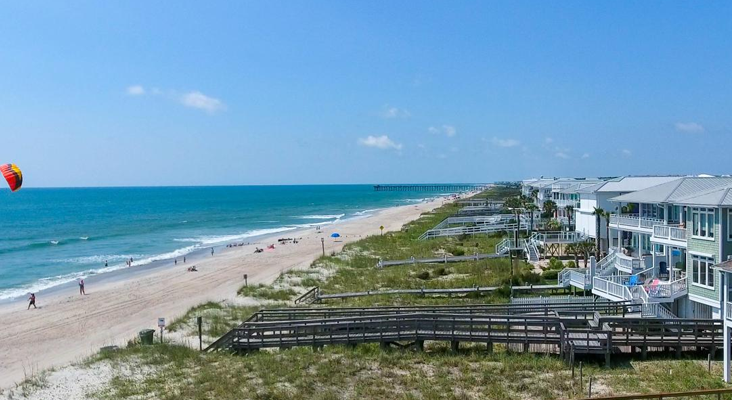 A cute seaside town, Kure Beach is about 19 miles south of Wilmington. Take a stroll along the oldest fishing pier on the Atlantic Coast to admire the miles of coastline and encounter cheeky pelicans.
Kure Beach is home to the most visited historic site in the state — Fort Fisher State Historic Site and Museum — located at the southern end of the beach. The kids will love a visit to the aquarium at Fort Fisher or a kayaking trip to Zeke's Island Reserve to see a variety of birds.
Where to Stay
Martha's Vineyard, Massachusetts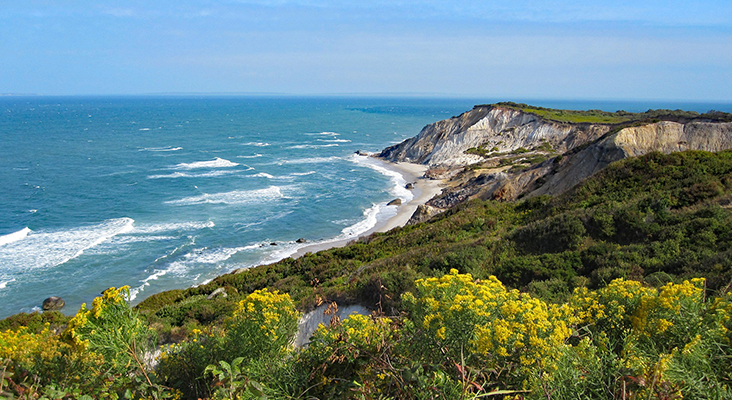 Being an island, Martha's Vineyard has 19 beaches ranging from shallow, clear-water bays, to wild and rugged beaches with breaking surf. Not all beaches are open to the public, with some restricted to residents only or those that have obtained a pass from a local town hall.
Aquinnah Public Beach (south) is open to anyone, and visitors can admire the magnificent and endangered Gay Head Cliffs. There are restrooms at the parking lot, and during the summer, visitors must pay to park. Oak Bluffs Town Beach is in the north, with calm, shallow water and facilities perfect for families.
Where to Stay
Ogunquit Beach

, Maine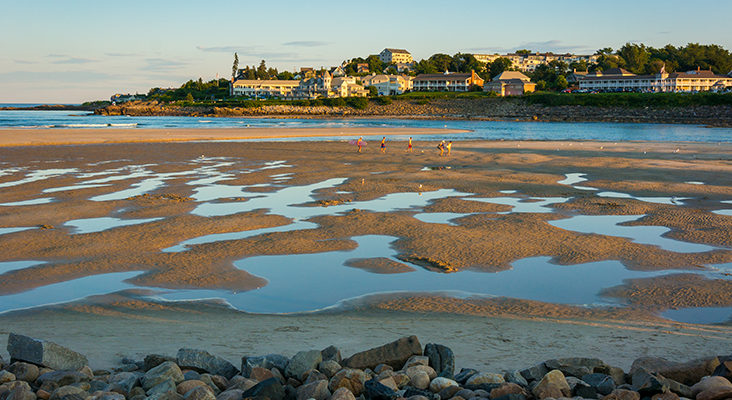 Ogunquit means "beautiful place by the sea" in the indigenous Abenaki language, and that's exactly what it is. At high tide, the beach is surrounded by water, with the Ogunquit River on 1 side and the Atlantic Ocean on the other. When the tide is out, it's possible to walk across the river bed to access the beach without using the bridge crossing.
The beach is known for its exceptionally soft sand and excellent kite surfing conditions.
Where to Stay
Hot Tip: During the summer months, an inexpensive and fun trolley bus transports visitors between the major hotels and popular spots around Ogunquit (including the beach).
Saint Augustine Beach,

Florida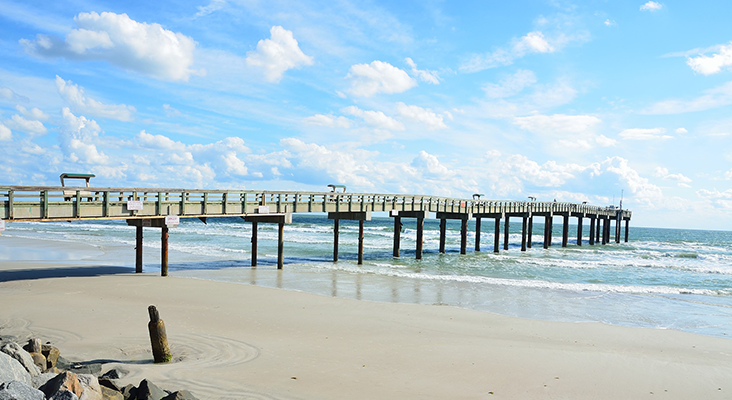 The small city of Saint Augustine Beach is located on Anastasia Island and has miles of wide sandy beaches and a beachfront park. Anastasia State Park is just minutes from downtown Saint Augustine, with nature trails, kayaking, camping, horse riding, and many more activities on offer.
The beach is patrolled by lifeguards during peak season, and restrooms with outdoor showers are free to use.
Where to Stay
Sandbridge Beach and Virginia Beach, Virginia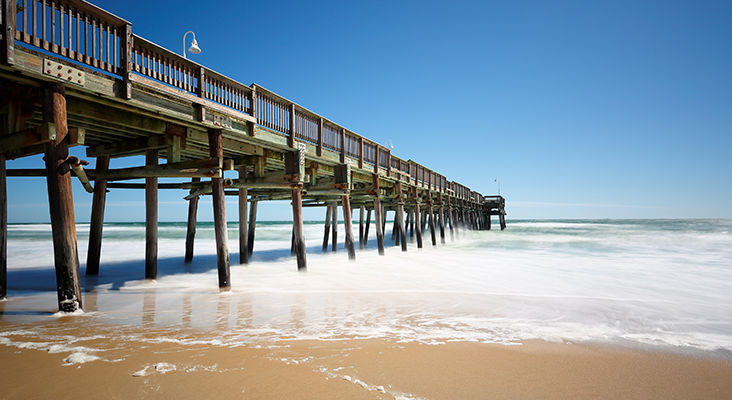 Sandbridge Beach has a much slower pace than the bustling northern Virginia beaches, with 5 miles of secluded sand dunes and wide-open beaches. The Back Bay National Wildlife Refuge sits below and behind Sandbridge Beach and provides even more outdoor pursuits for visitors such as cycling, canoeing, and bird watching.
Both beaches have gentle waves perfect for swimming and boogie boarding, and Virginia Beach has a livelier atmosphere. Watch the sunset before venturing out in Virginia Beach to enjoy some incredible seafood or sample a pineapple IPA during a visit to a brewery.
Where to Stay
The Best West Coast Beaches in the U.S.
Cannon Beach, Oregon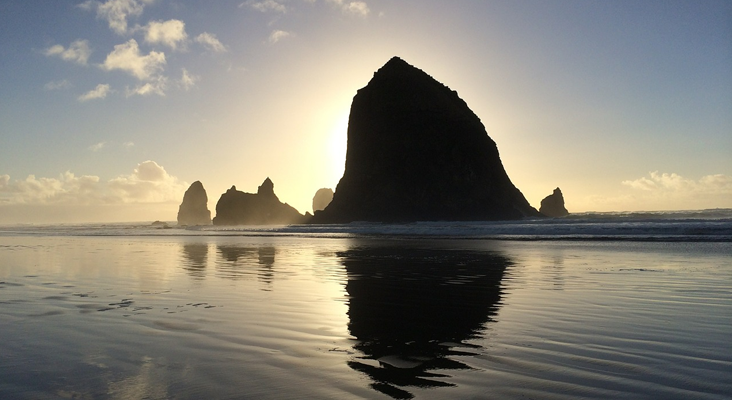 Cannon Beach is a scenic coastal town in northwest Oregon, home to the iconic Haystack Rock and other impressive sea stacks. In spring and summer, Tufted Puffins can be seen on Haystack Rock along with various other species of birds, and grey whales can be seen migrating through spring and winter.
The town itself has a vibrant art scene with numerous art galleries and live glassblowing demonstrations.
Where to Stay
Hot Tip: Winter is an extraordinary time to visit Cannon Beach with uncrowded beaches, dramatic waves, and a better chance of seeing shy Roosevelt Elk grazing in the local parks.   
Coronado Beach

, California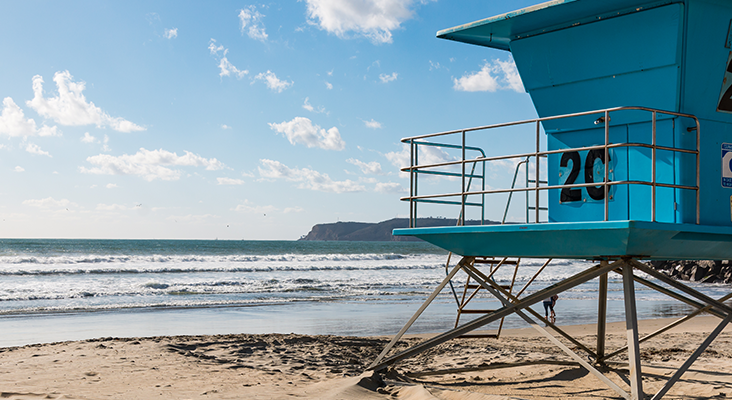 Set on a peninsula within San Diego Bay, Coronado Beach is a popular escape from the city, with easy access via the Coronado Bridge or by ferry from downtown. The north end of the beach is dog-friendly, and the south end is home to the Hotel del Coronado with its distinctive red roof.
The flat, sandy beach, calm waters, and lifeguard patrols are ideal for families, and facilities include restrooms, shower facilities, and volleyball courts.
Where to Stay
El Matador State Beach, California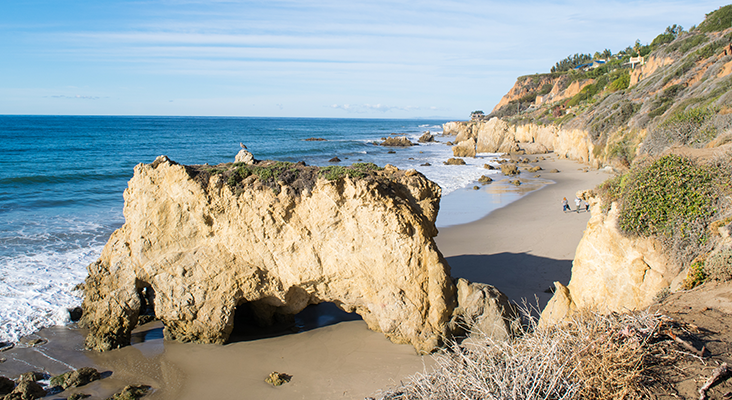 El Matador State Beach is around 6 miles from Malibu and is one of the 3 beaches that make up Robert H. Meyer Memorial State Beach. It's one of the best beaches in California with spectacular rock formations, archways, and hidden caves that are great fun to explore and make beautiful subjects for those who have their camera handy at sunset.
With hidden rocks and choppy waters, the beach isn't ideal for swimming, and there's no lifeguard patrol, so any fun in the water would be at your own risk.
Where to Stay
Hot Tip: Parking for El Matador State Beach is charged at the beach parking lot and is extremely limited. An alternative is to park on the Pacific Coast Highway outside of the no-parking zones.  
Glass Beach, California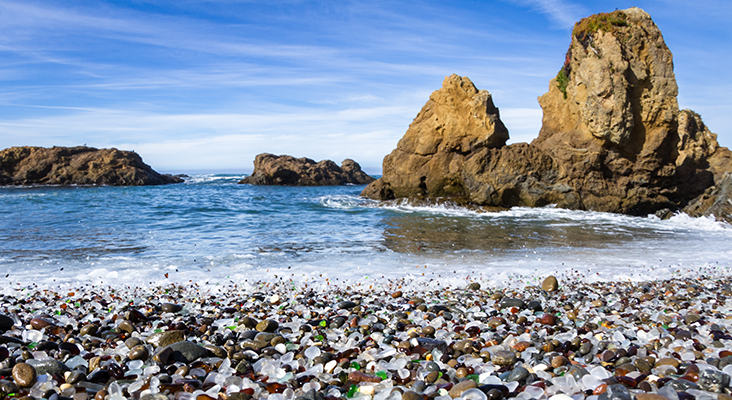 Glass Beach in Fort Bragg is an example of nature's way of turning trash into treasure. In the early to mid-1900s, the beach was a dumping site for residents, and decades of ocean power has transformed the discarded glass into smooth pebbles.
The variety of colors create beautiful photographs with the ocean in the background. Although it is illegal to remove the glass from the beach, it can be fun to find the different colored pieces (before throwing them back).
Where to Stay
La Jolla, California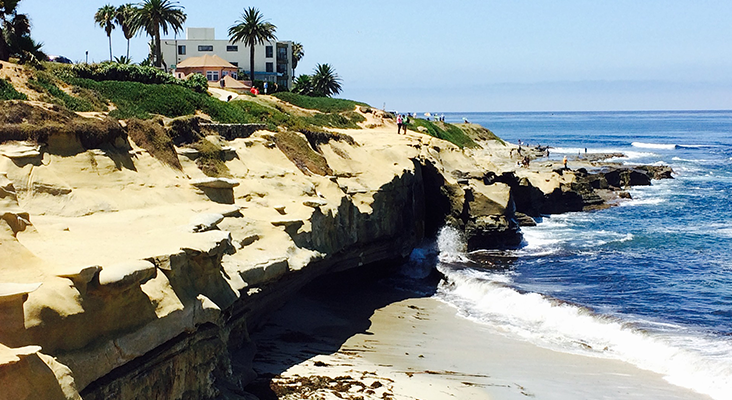 La Jolla is a beautiful seaside town in San Diego with some fabulous beaches and rugged coastal views. Head to Children's Pool to see harbor seals lounging around on Seal Rock, or La Jolla Cove, where sea lions can often be seen hanging out. La Jolla Cove is protected by rocks, so it is a popular spot for swimming and snorkeling and further north is La Jolla Shores for a wider, family-friendly beach.
La Jolla itself is a wonderful place to spend the day or vacation, with great walking trails, shopping, restaurants, and kids entertainment.
Where to Stay
Long Beach, Washington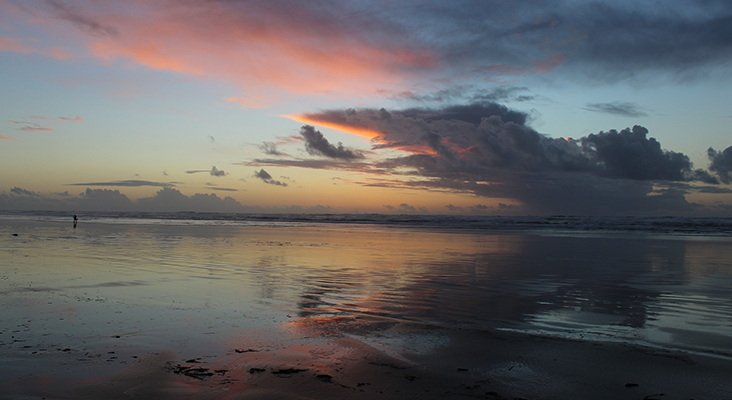 The city of Long Beach sits along the 28-mile Long Beach peninsula. You can appreciate the sheer length of the beach from Bell's View in Cape Disappointment State Park, offering fantastic views as far as the eye can see.
Every August, the sky is littered with colorful shapes as the beach hosts the International Kite Festival, with choreographed displays and kite battles. The beach is wide and remote with no restaurants or shops, but these are not too far away in downtown Long Beach.
Where to Stay
Hot Tip: If your visit to Long Beach doesn't coincide with the International Kite Festival, you can visit the World Kite Museum or give it a go by purchasing your own. 
Mission Beach, California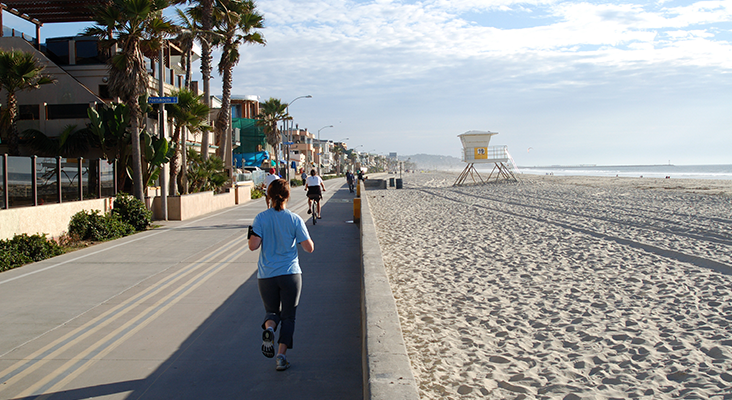 Mission Beach is a 2-mile long beach with the Pacific Ocean on 1 side and beautiful Mission Bay on the other. The boardwalk is a bustling promenade that runs along both the beach and bayside and is perfect for walking, cycling, or rollerblading (although it can get very busy).
Mission Beach has a vibrant atmosphere, so if you're looking for isolation, this isn't the beach for you. Lots of shops, restaurants, and bars line the boardwalk, and Belmont Park is a popular spot for families with arcade games, a roller coaster, and many more attractions.
Where to Stay
Rialto Beach, Washington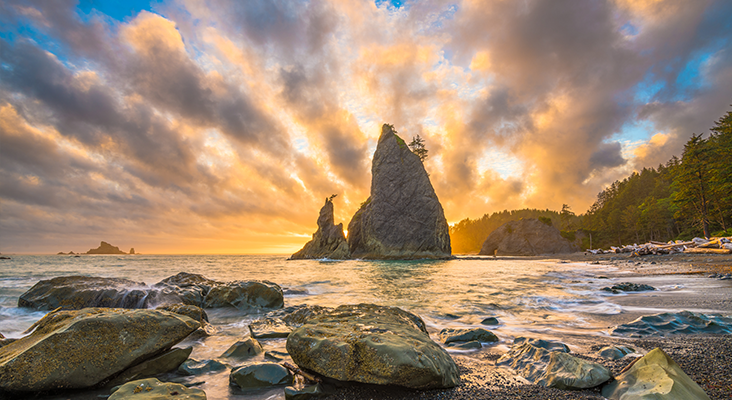 Rialto Beach is part of the wild Pacific coastline of Olympic National Park and is known for its sun-bleached driftwood, coastal forest, and sea stacks. It's a breathtakingly beautiful place, whatever the weather, and visitors often hike the popular Hole-in-the-Wall Trail.
The Olympic National Park is teeming with wildlife, and visitors might spot residents such as bald eagles, sea lions, or grey whales.
Where to Stay
Hot Tip: Visitors need to purchase a National Park Pass to visit Rialto Beach. This can be purchased at a local ranger station or online.
Rockaway Beach, Oregon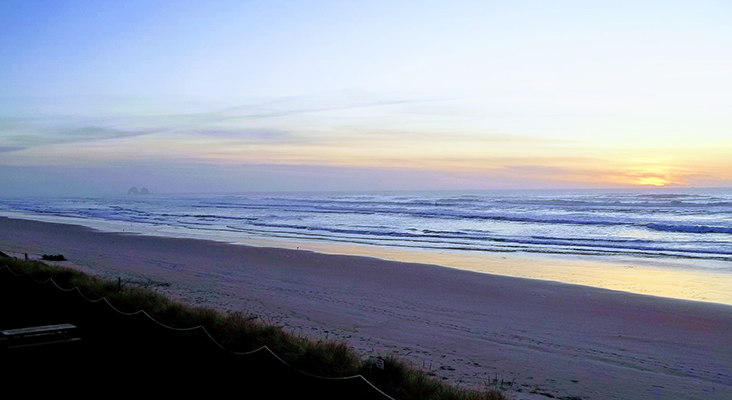 Rockaway Beach consists of 7 miles of flat sandy shoreline and a seaside city of antique and souvenir stores, ice cream parlors, and restaurants.
Stroll along the beach and watch the sunset behind the majestic Twin Rocks or jump on board the Oregon Coast Scenic Railroad that runs daily between Rockaway Beach and Garibaldi.
Where to Stay
Thousand Steps Beach, California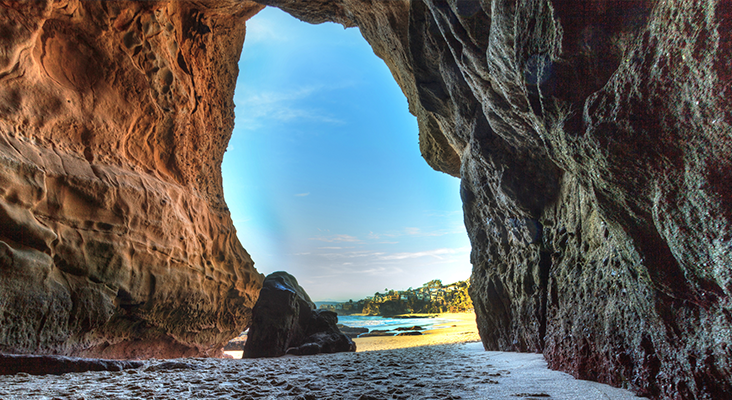 Thousand Steps Beach isn't quite as accessible as others located along Laguna Beach, but it's well worth the journey, and don't worry — it doesn't take 1,000 steps to get there — more like a couple of hundred. It's a gorgeous beach overlooked by clifftop mansions, and it doesn't get too crowded as many avoid hauling their umbrellas and chairs up and down the stairs.
When the tide is out, enjoy exploring the tide pools and sea cave at the southern end of the beach — take a picnic as there are no cafes or restaurants on the beach.
Where to Stay
Final Thoughts
Every beach throughout the U.S. is different. Some have heaps of parking while others have excellent transport links from nearby cities. Be sure to check what facilities (if any) are available, so you can plan what you need to bring to make your visit more enjoyable.
Check weather reports and look out for beach safety flags for swimming conditions. If you're visiting a remote cove, check tidal reports to avoid getting stuck in a sticky situation.
Watersports such as boogie boarding or surfing can be great fun for all ages, and seaside towns and cities are excellent places to vacation.