The 20 Best Beaches in California in 2021 [Northern, Central, and Southern Coasts]
Whether you heard it from the Beach Boys, the Mamas and the Papas, Weezer, or Phantom Planet, the songs are true: California's beauty stays with you long after you've left. It helps that over 840 miles of the state's border face the Pacific Ocean, stretching from its windswept northern coast all the way to Mexico in the south.
Owing to California's size, the number of beaches to choose from is vast and overwhelming. Do you prefer the wild, untamed shores of Big Sur or the sun-drenched sands and surf of Southern California? Are you dreaming of an island getaway like Catalina or a simple beach break close to the city?
Whether you're a beach bum, a surfer, a family of 4, or a couple seeking romance, California offers something for everyone. From San Francisco to Los Angeles to San Diego, these are the 20 best beaches in the Golden State.
The Best Beaches in Northern California
Baker Beach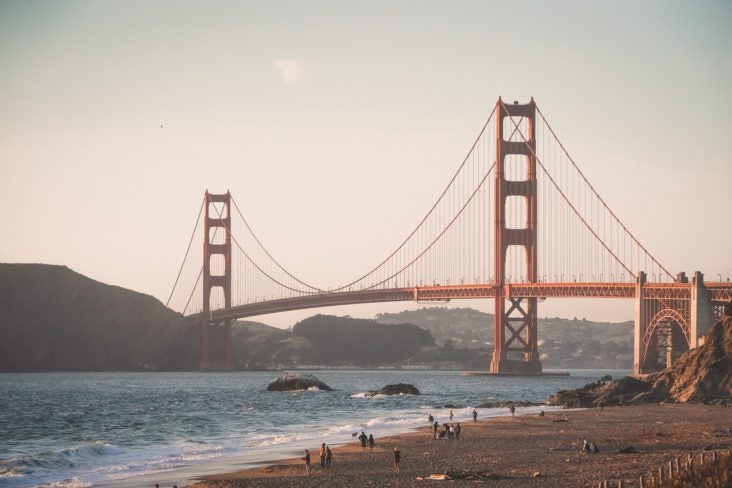 While San Francisco offers multiple viewpoints where you can snap a postcard-perfect picture of the city's iconic Golden Gate Bridge, few can top the vantage point you get at Baker Beach. In addition to staggering bridge views, visitors get to dig their toes in the dunes and feel the rush of the wind that blows in from the Marin Headlands.
While swimming is not encouraged due to rip tides (it also gets cold here, especially when the fog rolls in), picnicking, fishing, and hiking are all popular. On good-weather days, sunset is an especially beautiful time to visit, when the bridge takes on its signature golden glow.
Be aware that North Baker Beach is a nude beach, so avoid the sand closest to the bridge if that bothers you. Instead, pay a visit to Battery Chamberlin, home to the last 6-inch "disappearing gun" on the west coast.
Hot Tip: Flying through SFO? Get up to speed with our ultimate terminal guide to San Francisco's International Airport.
Drakes Beach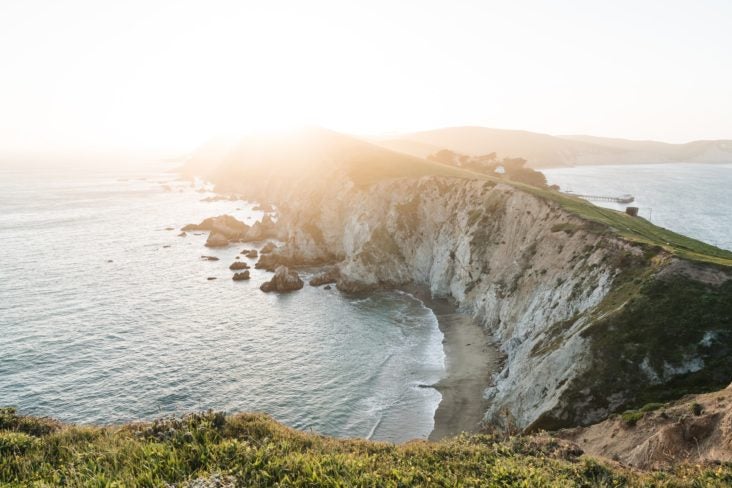 Families adore Drakes Beach at Point Reyes National Seashore, 30 miles north of San Francisco. The beach's sheltered position in a cove, backed by sandstone cliffs, means waves are calm and the area remains relatively free of wind and fog.
It's also the most accessible beach in Point Reyes. There's a parking lot and visitor's center on-site and, unlike other nearby beaches (which require some sort of schlep), Drakes allows cars to drive right up to the sand.
Look for the path that leads up to the Peter Behr Overlook for views over the bay. From Drakes, it's only a 20-minute drive further to the Point Reyes Lighthouse.
Glass Beach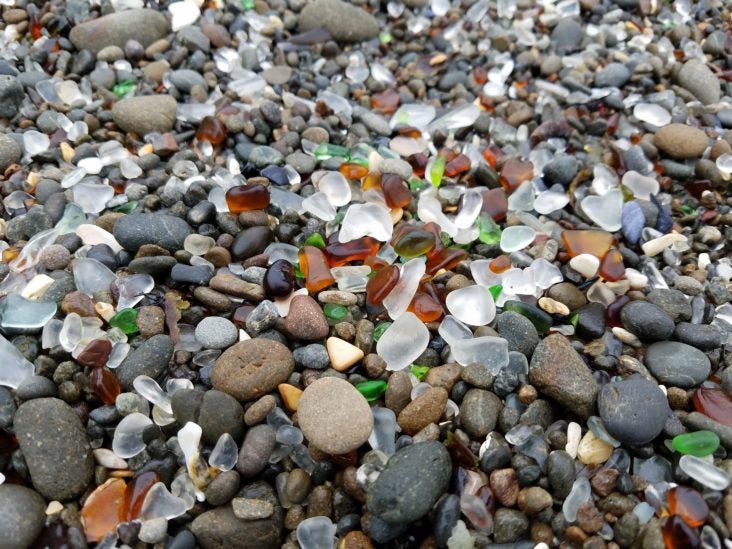 True to its name, Glass Beach — one of California's most unique beaches — is covered in tiny, rounded bits of sea glass, smoothed over the many years they spent tossing in the waves after being dumped over nearby cliffs into the ocean (as was common practice for getting rid of coastal city waste during the early 20th century).
While technically trash, there's beauty to be found in the vibrant green, white, and soda-bottle-brown shards that sprinkle the coves, some dating as far back as the 1800s.
The scenic Noyo Headlands Coastal Trail passes Glass Beach's 3 separate beaches. Keep your eyes peeled for rare red and blue pieces — fragments of broken tail lights and old medicine bottles.
The best place for a picnic is on the cliff overlooking beach number 3, located in MacKerricher State Park. Removal of the glass is illegal, so take as many pictures as you'd like but leave the beach as you found it.
Hot Tip: Glass Beach made our list of the best East and West Coast beaches in the U.S. If you're planning your next beach vacation or road trip beyond California, start your research here!
Natural Bridges State Beach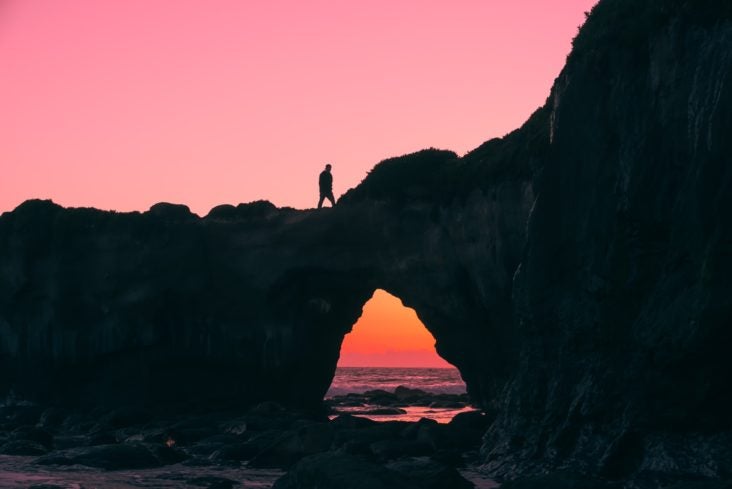 Mother Nature puts on a spectacular show at Natural Bridges State Beach, just a 10-minute drive from Santa Cruz. The beach is home to an iconic arch rock that rises from the ocean — all that's left of a rocky peninsula that's since succumbed to the sea.
The local tide pools are known to collect sea stars and hermit crabs, whales and seals are often spotted offshore, and, if you linger long enough, you might even catch one of California's best sunsets.
What's more, a kaleidoscope of Monarch butterflies migrate here every fall, numbering in the thousands. Come between November and February to see them feast on milkweed and take shelter in eucalyptus trees at the Monarch grove.
Ocean Beach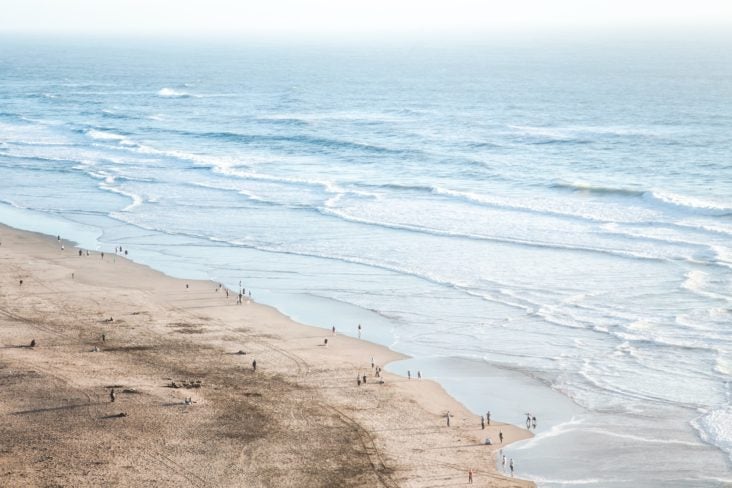 When San Franciscans want to escape city life, they head to Ocean Beach. The beach sits on San Francisco's west coast, and its proximity to Golden Gate Park makes it easily accessible by car, bike, bus, and streetcar.
Advanced surfers love the strong currents here, but few tourists prioritize a visit because of the cold, rough waters that prevent swimming, meaning the beach stays relatively uncrowded. Instead, you're more likely to find locals flying kites, building sandcastles, watching waves crash ashore, and strolling along the esplanade that follows the 3 miles of sand.
There's also a hidden attraction worth exploring at the far end of the beach — the eerie remains of a former indoor swimming pool complex known as the Sutro Baths.
Santa Cruz Beach and Boardwalk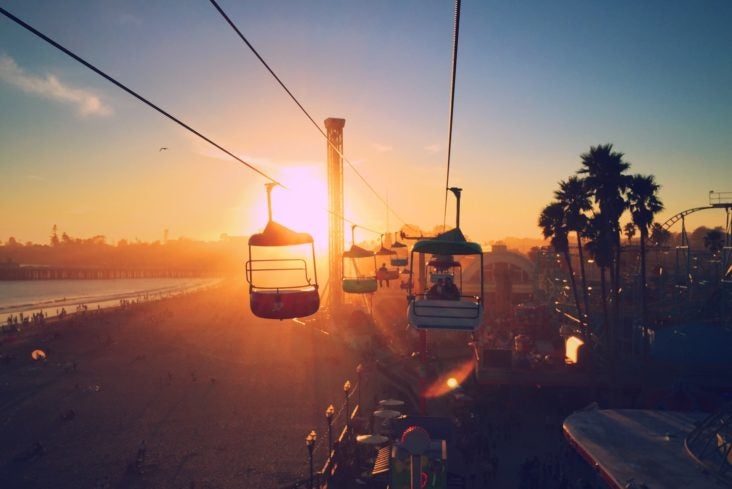 Think of Santa Cruz as the Coney Island of California — an aging, but still iconic beachside boardwalk that's been entertaining visitors young and old since 1865.
There are more than 40 attractions at the old-school amusement park including a wooden roller coaster, a hand-carved carousel, and a "Sky Glider" that gives guests a bird's-eye view of town as they're transported from one end of the park to the other. Under the covered arcade, you'll find ice cream parlors, mini-golf, and souvenir shops galore.
Beyond the rides, visitors spend time catching rays on the beach, surfing, and browsing the seafood restaurants and outdoor aquariums lining Santa Cruz Wharf. Stay close by at the Dream Inn, where guest rooms echo the area's retro vibes and feature Monterey Bay and Wharf views.
Hot Tip: Heading south from Santa Cruz to Monterey? We highlight suggested stops on the scenic Pacific Coast Highway, from San Francisco to San Diego, on our list of the best road trips in the U.S.!
The Best Beaches in Central California
Carmel Beach
The intense waves and colder water temperatures you'll typically find at Carmel Beach keep all but the most experienced surfers on land, but it's still considered one of central California's most beautiful and iconic beaches.
The almost-white sand is soft and clean, the Scenic Bluff Path lets you explore the cypress-covered cliffs, and taking in that clear, blue water is just as enjoyable from afar. No wonder so many weddings take place here.
The beach earns bonus points for minimal crowds and relaxed rules: dogs and alcoholic drinks are allowed on the sand, and volleyball nets and fire rings for bonfires are available. You're also within walking distance of Carmel and its cafés, breweries, restaurants, and hotels, including the charmingly intimate Hotel Carmel.
Pfeiffer Beach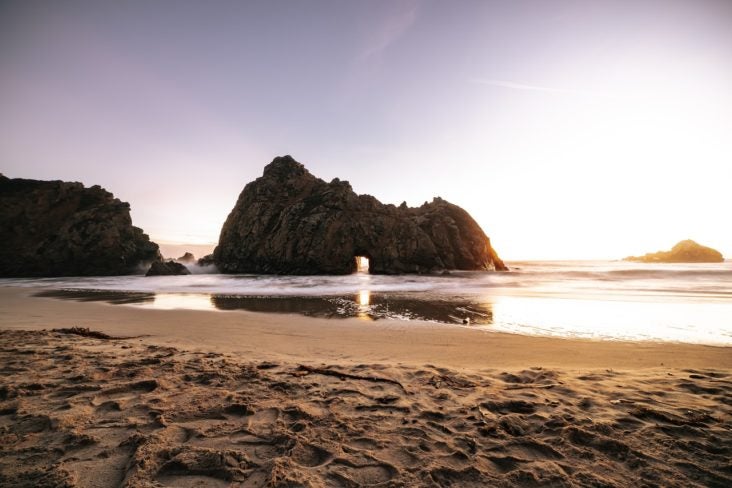 Road trips through picture-perfect Big Sur top many bucket lists, but because of the area's rugged terrain, much of its sands are off-limits. Pfeiffer is one of the few Big Sur beaches you can drive to via Highway 1, just a mile south of the entrance to Pfeiffer Big Sur State Park.
The $10 entry fee is but a small price to pay to be able to bury your toes in its purple sand and snap pictures of Keyhole Rock, especially come sunset. Just don't forget a jacket — it gets cold here, even in the summer.
Hoping to stay awhile? Book one of the standalone cottages at Glen Oaks Big Sur, a refurbished 1950s motor lodge surrounded by nature just 15 minutes from Pfeiffer Beach.
Hot Tip: While you're in the area, don't miss a visit to Nepenthe restaurant, beloved for its California cuisine and jaw-dropping views of the Pacific Ocean.
The Best Beaches in Southern California
Santa Catalina Island
Santa Catalina Island, often referred to as Catalina Island or simply Catalina, lies 22 miles off the coast of southern California and is a true hidden gem. Part of the Channel Islands archipelago, Catalina is especially known for its unique plants and wildlife, both above and below the water's surface.
Every city here is as charming as it is picturesque. From Los Angeles, take the Catalina Express ($74.50 per adult round-trip; $59 per child under 11 round-trip) to Avalon, which is home to independent shops, restaurants, and beautiful Crescent Beach. Throughout the year, Californians come here to snorkel, sunbathe, and launch their paddleboards and kayaks, which can be rented in town.
Coronado Beach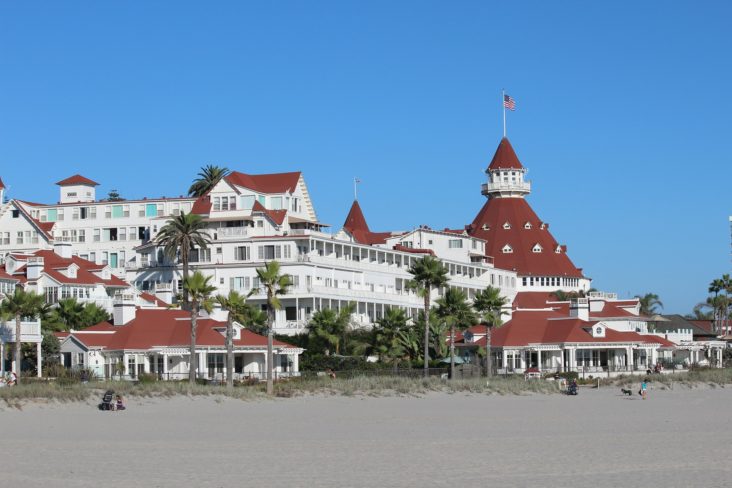 Coronado's famously wide, flat, sparkling sand — the abundance of mica gives it a silvery hue — is a particular favorite for couples and families who love the warm and gentle waves, attentive lifeguards, and charming surrounding neighborhood.
Sea-facing mansions and hotels line Ocean Boulevard, but none are as impressive (or iconic) as Hotel del Coronado, a sprawling Victorian hotel at the far end of the beach and a National Historic Landmark. Even if you don't book a room, enjoying a meal here is one of the top-rated activities in the area.
The beach features free parking and well-maintained facilities (including outdoor showers), so you can kick up as much sand as you want while using the volleyball courts, picking up skills at the Coronado Surfing Academy, or letting Fido run off-leash in the dog-friendly section. The San Diego-Coronado Bridge nearby also means you're minutes from downtown San Diego.
Hot Tip: Rates at Hotel del Coronado start from $350 or 95,000 Hilton Honors points per night.
Crystal Cove State Park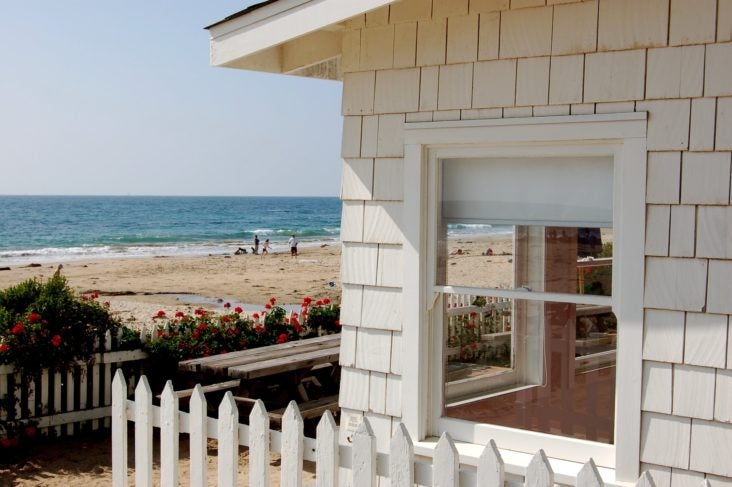 You'll count 4 separate beaches inside Crystal Cove State Park, off the Pacific Coast Highway, and all of them are stunning. As one of the largest natural seashores this side of California, the park's coastlines are rugged and pristine, perfect for sight-seeing.
Go paddleboarding or kayaking at Moro Beach or explore tide pools at Pelican Point. Campsites are available at Moro Campground, which feature picnic tables and shared restrooms. If you're planning a longer visit, dedicate plenty of time to hiking the 18 miles of trails that wind through the 2,400-acre wilderness.
The Historic District features cottages from the 1930s and 1940s, some of which are rentable. If you can't manage to score one (or want something a bit more upscale), book a room at The Resort at Pelican Hill, a Mediterranean villa-style resort with a 5-star spa and swimming pool.
El Matador State Beach
One of the most beautiful places in all of Malibu makes you work for it. You have to follow a steep staircase down the sharp incline of craggy rocks that rise from the shore. There are also no facilities available to visitors, but that just preserves the area's wild, natural appeal.
At water level, rock clusters form crystal-clear tide pools and tiny coves, while the views from the cliffs above make for dazzling sunset viewings. Consequently, this a popular spot for photographers.
The beach's close proximity to the Pacific Coast Highway and unique rock formations draws crowds year-round, especially during the summer. If that's not your scene, take a quick detour to one of Robert H. Meyer Memorial State Beach's other 2 beaches, which see far less foot traffic.
Hermosa Beach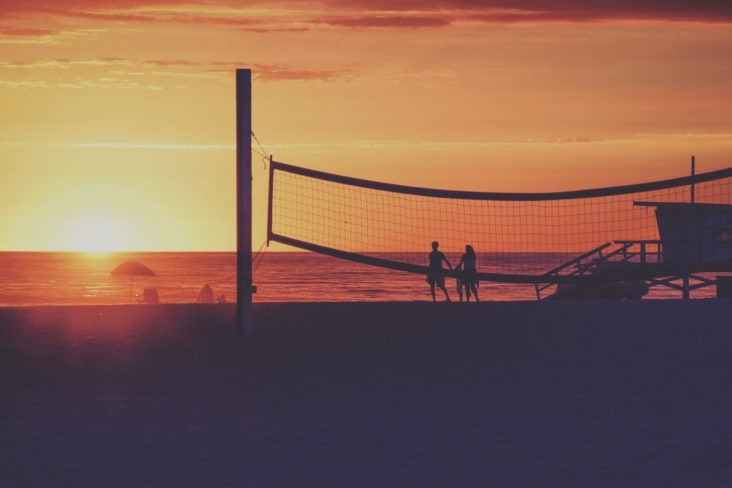 California's fun-loving beautiful people congregate on Hermosa Beach for sun, sand, and good old-fashioned debauchery. By day, the beach swarms with bronzed surfers and toned sunbathers. By night, the energy moves over to The Strand, a paved path lined with bars and restaurants that stay open until the wee hours.
Singles love it, but so do couples and anyone looking to have a good time. The Marvin Braude Bike Trail (the Strand's official name) is a popular spot with joggers, bikers, and rollerbladers, and is a fun excuse to get the heart pumping between dips.
Huntington Beach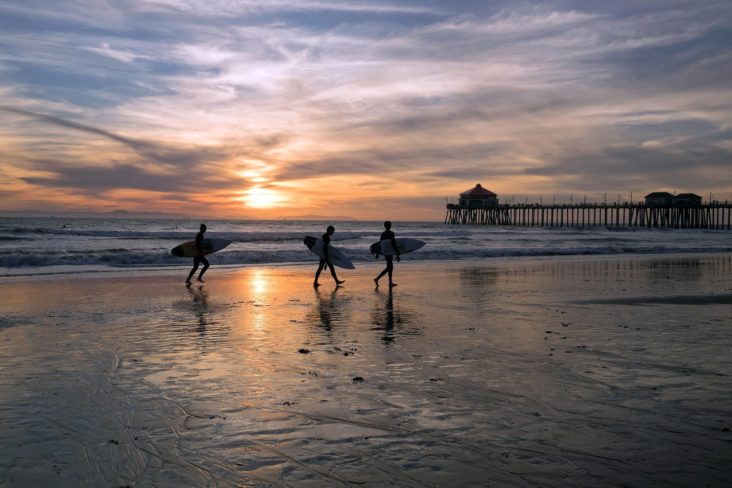 When you picture what a quintessential SoCal beach scene looks like, you're probably thinking of Orange County's Huntington Beach. In fact, summer never seems to end in "Surf City, USA."
The breezy 3.5-mile shoreline is famous for its excellent and consistent surfing conditions. This is also the home of the International Surfing Museum, the Surfing Walk of Fame, and a solid beach culture that's as laid-back as it gets.
Even if you don't surf, the beach is set up for day-long fun. There's a classic boardwalk, the wooden pier is one of the longest on the West Coast, and, along with 20 volleyball courts, you'll find a 12-mile bike path that connects to Newport, an area for dogs, and 200 cookout-ready fire rings that visitors use right up until the 10 p.m. curfew. Parking is $15 a day.
La Jolla Cove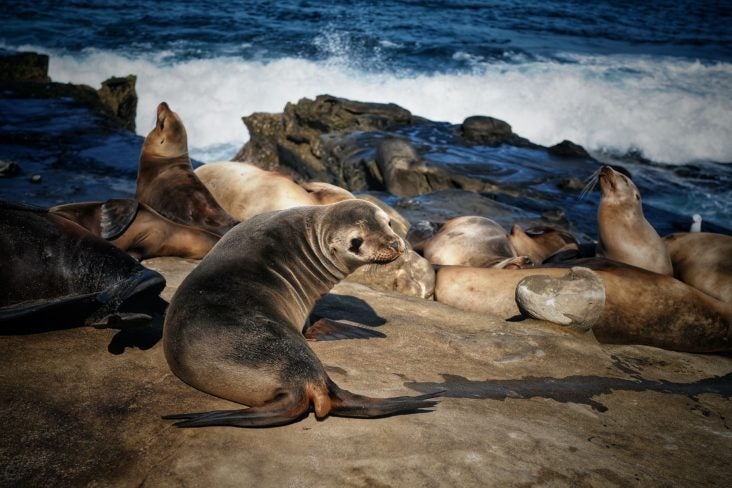 Despite its small size (just a single mile of sand), La Jolla Cove manages to squeeze its way in among California's best beaches.
Located 20 minutes from downtown San Diego, the cove is sandwiched between cliffs of sandstone and is a perpetual photography hot spot due to the population of seals and sea lions that laze in the sun on its sand and offshore on Seal Rock.
Along with up-close wildlife encounters, La Jolla Cove's warm, clear water is also known for being one of the state's best spots to snorkel and scuba dive.
Hot Tip: Visit La Jolla Cove between December and May to witness "pupping season," when baby seals are born and weaned. A kayak tour is a great way to safely see them up-close.
Manhattan Beach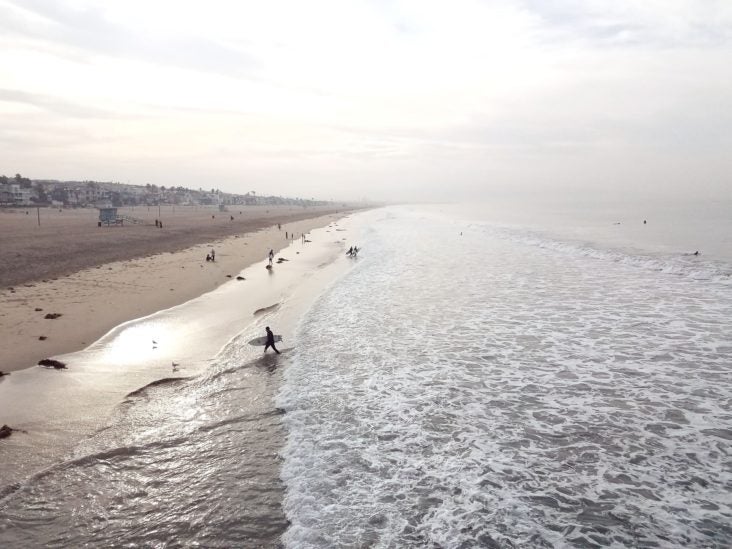 Located 20 miles south of Los Angeles, low-key Manhattan Beach is the beach to go for a chilled-out getaway. While beach volleyball put Manhattan on the map (this is where the annual AVP Manhattan Beach Open takes place), you'll find that the scene here is much quieter than neighboring Santa Monica or Venice Beach.
Body-surfing, kayaking, paddleboarding, beach volleyball, surfing, and sunbathing are all popular activities year-round, but another local pastime is to rent a cruiser bicycle and pedal down the 22-mile bike path, which passes the area's many mansions.
Manhattan Beach wouldn't be Manhattan Beach without Manhattan Beach Pier, where you'll find a free-to-enter aquarium as well as views that stretch all the way to the Palos Verdes Peninsula.
Newport Beach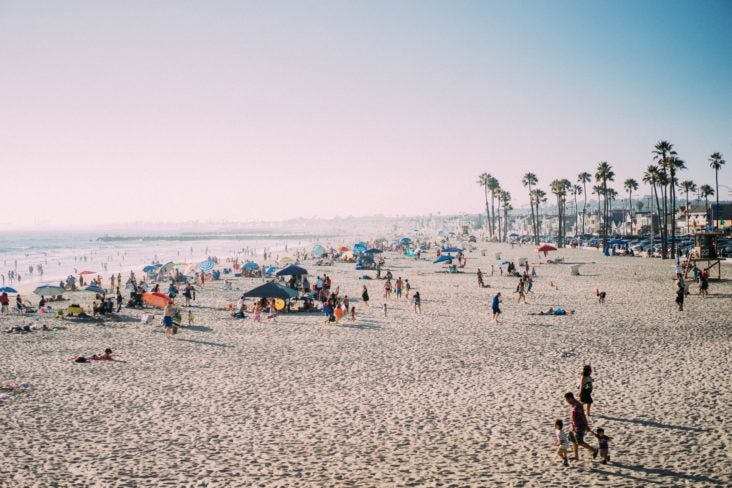 Another one of Orange County's most well-known, and well-loved, stretches of sand is just a 15-minute drive from Huntington Beach.
Newport Beach has it all — there are 2 piers, a bike trail, 5 miles of beachfront, and all amounts of trendy shops, cafés, restaurants, and museums, including the Orange Country Museum of Art. The Balboa Peninsula, where Balboa Pier is located, is another local attraction.
Hot Tip: From Balboa Peninsula, you can hop a ferry ($1.25 per adult; $0.50 per child 11 and under) to Balboa Island for a taste of its famous frozen bananas, made famous by the TV show Arrested Development.
Santa Monica Beach and Pier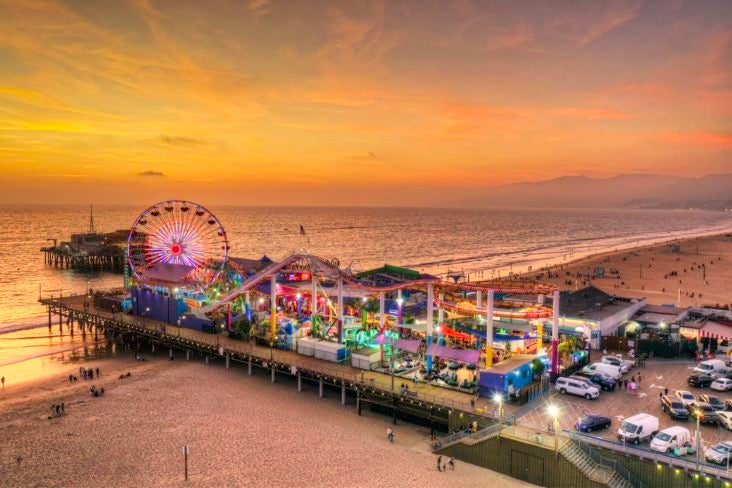 Arguably California's most famous beach, Santa Monica features 3.5 miles of sand, stunning sunsets, and mountain views. The 1,600-foot Santa Monica Pier is an icon all its own.
Home to an aquarium and an amusement park that includes the Pooff Hippodrome Carousel and solar-powered Ferris wheel, the pier has been featured in countless movies and shows and is a playground for all ages.
Although the beach extends out from the pier on both sides, families favor the south section because of its playgrounds. Road traffic is notoriously bad around the area, but once you arrive, parking is plentiful (though fees vary).
Hot Tip: Shutters on the Beach, near the pier, is one of the area's best hotels, with an iconic shingled façade and a beachfront café that is the epitome of SoCal chic. An American Express Fine Hotels & Resorts property, cardholders of The Platinum Card® from American Express can receive a host of unique benefits, like room upgrades (when available) and daily breakfast.
Venice Beach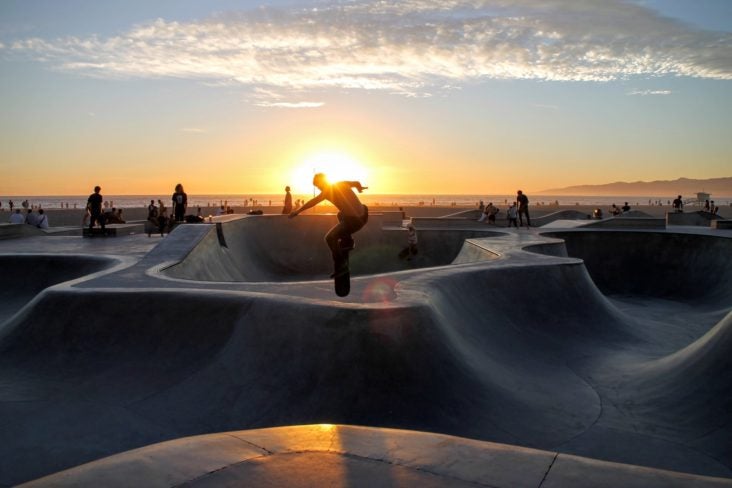 If you could pinpoint the place where people-watching was invented, it would probably be Venice Beach. From the skateboarders and vein-popping bodybuilders to the jugglers and snake-charmers performing along the boardwalk, this iconic stretch of sand gives off serious circus vibes.
While certainly quirky, Venice's eclectic crowd just adds to the fun, and the beach itself is fantastic. Shopping for tchotchkes and browsing mural art along the promenade always makes for a good afternoon.
For a bit of history, stop by Hinano Café — Jim Morrison's bar of choice back in the day — before bedding down at The Rose Hotel, a stylish boutique owned by 2 photographers, just a half block from the beach.
Zuma Beach
At the half-moon-shaped Zuma Beach, about 45 minutes north of Santa Monica and right off Highway 1, there's plenty of parking, plenty of beach space, plenty of dolphin sightings, and plenty of waves to catch for both beginner and intermediate surfers (Malibu's other beaches might better suit those seeking bigger swells).
Hot days are the busiest, when umbrellas clog the sand and the chilly waters become more tolerable. For families, there's a small playground for kids while seasonal lifeguards stand watch.
For surfers, there are board shops nearby to rent gear. Alternatively, lessons with Malibu Makos Surf Club will provide everything you need. Afterward, refuel with a basket of fried shrimp at Neptune's Net, a local institution.
The Best Beaches in California for Families
Coronado Beach
Crystal Cove State Park
Drakes Beach
La Jolla Cove
Santa Cruz Beach and Boardwalk
Santa Monica Beach
Zuma Beach
Every one of these beaches features manageable waves, ample facilities, and family-friendly activities that will keep the whole gang happy.
The Best Beaches in California for Singles
Hermosa Beach
Huntington Beach
Laguna Beach
Manhattan Beach
Venice Beach
Although every beach in California has meeting-people potential, these options beat out all of the rest thanks to their fun-loving crowds, roster of activities, restaurant and bar scenes, and nightlife.
Final Thoughts
Sandy or rocky, crowded or deserted, California beaches could not be more different, though each is as deserving of a vacation as any other. If you're truly at a loss with where to go, narrow it down according to the city you're flying into — Los Angeles, San Diego, or San Francisco — and go from there. California is a giant state, so minimizing drive time is in your best interest.
Otherwise, if you're in an area like SoCal where beaches run into one another (like Huntington, Newport, Crystal Cove, and Laguna), why not hop around and see which one you love best?
Either way, you'll be California dreamin' in no time. Pack up those swimsuits, towels, and surf gear and hit the road.