62 Virtual Tours of Iconic National Parks Around the U.S. [2021]
With many of us still stuck at home due to the coronavirus (COVID-19), we have found ourselves picking up new hobbies, watching a lot of Netflix, and promising that we will never again take for granted the simple act of just spending time with friends.
Well, just because you can't physically get out and go for a hike doesn't mean that you can't still explore some natural beauty. There are some excellent (and free) virtual tours of our incredible national parks just a click away!
We have put together an exhaustive list of the most famous and beautiful national parks that offer free virtual tours. So get comfy, pretend to lace up your hiking boots (or really put them on), and start exploring some of the most incredible natural resources on the planet!
U.S. National Parks with Virtual Tours
The U.S. has 62 officially protected areas designated as national parks. Since they are spread across the country, it would be very difficult to visit them all in person (especially since some of them don't even have access roads).
So why not take advantage of some downtime and start exploring them from home? Check out these incredible virtual tours without leaving your couch!
Acadia National Park, also known as the Crown Jewel of the North Atlantic Coast, is a 47,000-acre recreation area in Maine. Attracting over 3.5 million visitors a year, it's one of the top 10 most-visited national parks in the U.S. With more than 90% of the park located on coastal islands, exploring Acadia's resources by water is a must-do.
Immerse yourself in the sights and sounds of this New England resource and go on a virtual eCruise.
Arches National Park is a 73,000+ acre marvel of eroded sandstone with over 2,000 natural stone arches located just northwest of Moab, Utah.
Discover this red-rock wonderland with these 360-degree photos.
244,000 acres of canyons, rock formations, bison, sheep, and prairie dogs are also home to one of the world's richest fossil beds. Badlands National Park was once home to many ancient mammals, including the saber-toothed cat.
"Walk" through this breathtaking park from home, featuring overlooks, fossil replicas, and wild prairie dogs, thanks to this Google Earth virtual tour.
Big Bend National Park is a sprawling wildlife sanctuary in southwestern Texas along the border of Mexico.
Home to over 1,200 species of plants, 450 species of birds, 56 species of reptiles, and 75 species of mammals, this 800,000+ acre national park is as big as it is gorgeous.
Reach the park's tallest peak, trek through the wilderness, and journey along a canyon river on a private virtual tour, thanks to Google Earth.
Just a blink away from downtown Miami, Biscayne National Park is home to the world's third longest coral reef tract and countless activities for outdoor enthusiasts.
From exploring shipwrecks to boating, snorkeling, fishing, and more, there is something to keep every visitor busy.
Experience a variety of water sports and witness spectacular coral reefs via this video tour.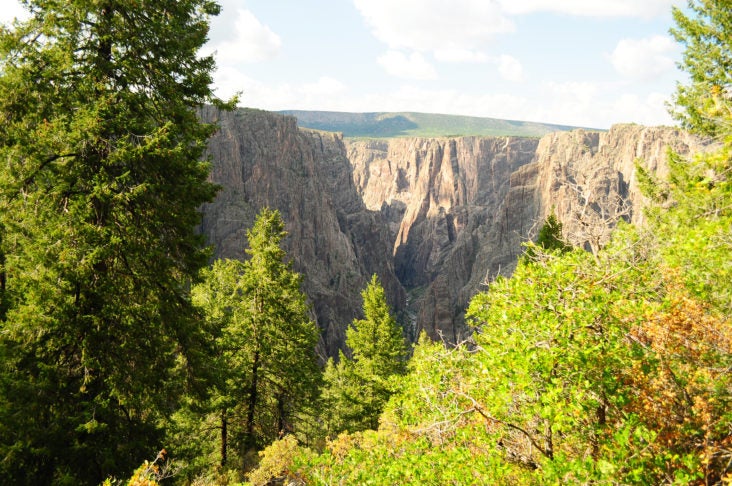 Packed with steep cliffs and craggy spires, the Black Canyon of the Gunnison National Park is a sight to see in Colorado.
Over 2 million years, the Gunnison River has sculpted its way through the rough terrain, leaving behind a breathtaking combination of water, rock, and sky.
You don't have to wait that long to enjoy the beauty of various trails and overlooks — go on a Google Earth virtual tour!
Located in southwestern Utah, this park is famous for its iconic red rocks, natural amphitheaters, and the largest concentration of hoodoos (irregular columns of rock) on Earth.
With an elevation of up to 9,000 feet, there is plenty to do, including multiple winter sports like snowshoeing and cross-country skiing.
Take an in-depth virtual tour with videos and 360-degree photos, thanks to Google Arts & Culture.
Canyonlands National Park is a dramatic desert in southeastern Utah with a landscape carved by the winds and the Colorado River.
Nature has created a stunning wilderness of countless canyons and "fantastically formed buttes" just waiting to be explored.
"Drop" in and explore red rock canyons, the Colorado River, and Mesa Arch via an enhanced Google Earth Street View.
Capitol Reef National Park is home to the Waterpocket Fold, a geologic monocline (a wrinkle on the earth) extending almost 100 miles. If that doesn't interest you, maybe the golden sandstone, canyons, and striking rock formations will.
Drop-in on the live Capitol Reef Field Station webcam.
Hot Tip: Like what you see? Well, once travel resumes again, you can go glamping wowCapitol Reef Resort!
Located in the Guadalupe Mountains of southeastern New Mexico, Carlsbad Caverns National Park is a lush desert landscape above ground, but the real show lies beneath the surface of the Chihuahuan Desert.
Thanks to Google Arts & Culture, you can explore these caves (even from a bat's perspective) via video and 360-degree photos.
Channel Islands National Park is made up of 5 of the 8 Channel Islands off the coast of California. The islands represent a wide variety of significant natural and cultural resources thanks to thousands of years of isolation. This relatively untouched area has created unique animals, plants, and archaeological resources found nowhere else on Earth.
Don't worry if you can't get to California any time soon, you can take a virtual tour of each island via Google Street View.
Congaree National Park is a wilderness paradise located in South Carolina. Massive trees have created one of the highest temperate deciduous forest canopies remaining in the world and it is now designated as a UNESCO biosphere reserve.
The Congaree River flows through the park which has created ideal hiking, canoeing, kayaking, and bird-watching opportunities.
To really get a feel of this park from home, you can watch a canoe ride through this incredible wilderness.
Crater Lake is located in south-central Oregon and is quite simply awe-inspiring. Formed from a volcanic eruption 7,500 years ago, this lake is not fed by rivers or streams, but only by rain and melted snow.
The lake is the deepest in the U.S. and one of the cleanest and clearest in the world. It is no surprise that the area is extremely popular amongst outdoor enthusiasts year-round.
Take a 360-degree virtual video tour of this gem with country music singer/songwriter Dierks Bentley.
Cuyahoga Valley National Park is a relatively small 32,000-acre park, just a short distance from the urban areas of Cleveland and Akron, Ohio.
The park offers a refuge for city dwellers with outdoor options for everyone including hiking, golfing, historic train rides, and kayaking to snowshoeing and cross-country skiing.
Explore this unique national park via a special Google Earth virtual tour that highlights a 19th-century bridge, a marsh boardwalk, and amazing waterfalls.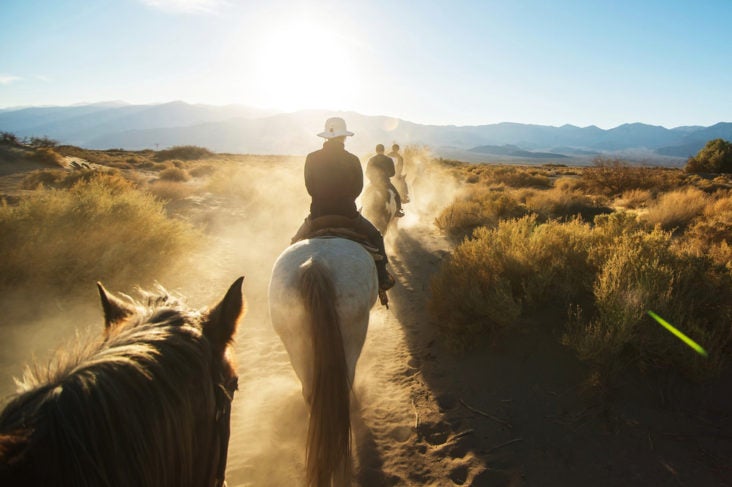 Perhaps the most famous, at least by name, Death Valley National Park is the hottest, driest, and lowest national park. Despite its morbid name, this national park shows a great diversity of life when rainstorms bring vast fields of wildflowers and lush oases harbor tiny fish and other wildlife.
Death Valley straddles the California-Nevada border and is the largest U.S. national park outside of Alaska at 3.4 million acres.
Start exploring this massive park thanks to this special Google Earth virtual tour. Highlights include the Rhyolite Ghost Town, Devil's Golf Course, and spectacular dunes and canyons.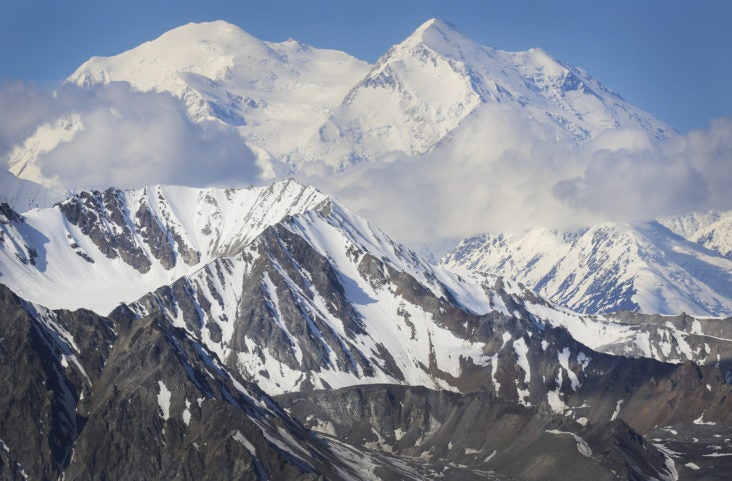 Located in the center of Alaska on Mt. Denali, the highest mountain in North America, Denali National Park is a mix of forest at low elevations and snow and glaciers at higher elevations.
There is only 1 road that cuts through the 6 million-acre preserve where large wild animals roam free and adventurists explore the many outdoor activities.
Can't make it to Alaska any time soon? Try exploring the tundra, glaciers, and Denali vistas via a Google Earth virtual tour.
Dry Tortugas National Park is located in the Gulf of Mexico, about 68 miles off the coast of Key West. The park is comprised of Fort Jefferson, a historic 19th-century fort, and the 7 Dry Tortugas islands.
Reachable only by seaplane or boat, this national park has become a sanctuary for coral reefs and marine life.
Google Arts & Culture has put together an in-depth virtual tour full of 360-degree photos and videos.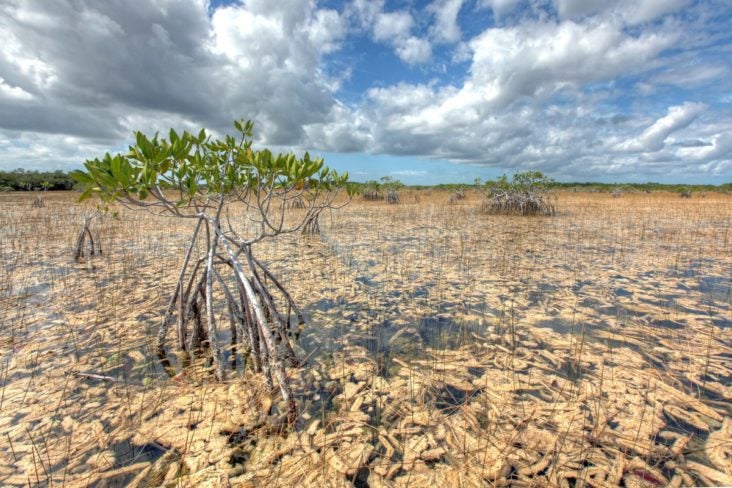 The Everglades National Park is located in Florida and is known as the largest subtropical wilderness in the U.S. Besides being a national park, the Everglades are also listed as a World Heritage Site and Wetlands of International Importance — 1 of only 3 locations in the world to be named to all 3.
The Everglades are a network of wetlands and forests that are home to multiple rare and endangered species like the manatee, American crocodile, and the elusive Florida panther.
Additionally, the wetlands are an essential habitat to over 350 species of birds, 300 species of fresh and saltwater fish, 40 species of mammals, and 50 species of reptiles.
See what wildlife you can spot on this virtual tour of the Everglades via Google Earth.
The Gates of the Arctic National Park is the northernmost national park in the U.S., located entirely north of the Arctic Circle in Alaska.
With an average of only 10,000 visitors per year (the Grand Canyon gets 6 million+, for comparison), the Gates of the Arctic is the least visited national park in the country.
The lack of visitors and the absence of any roads or trails make this park a virtually untouched ecosystem where rivers carve through glaciers and animals like caribou migrate along age-old trails.
To get a feel for how special this park is, without having to travel to the Arctic Circle, watch this video.
The Gateway Arch National Park (formerly known as the Jefferson National Expansion Memorial) located in St. Louis, Missouri is a memorial to Thomas Jefferson's role in opening the West, to the pioneers who helped shape its history, and to the monumental Dred Scott slavery case.
The national park consists of the Gateway Arch (a St. Louis icon) and its 140,000 square foot museum, a 91-acre park along the Mississippi River, the Old Courthouse, and a former state and federal courthouse where the Dred Scott case originated.
To "stand" underneath the Gateway Arch and get a feel for how big it really is, check out this 360-degree photo.
Glacier Bay National Park is 3.3 million acres of rugged mountains, glaciers, temperate rainforest, wild coastlines, and deep sheltered fjords in southeast Alaska.
Most visitors arrive by cruise ship, but many others come for overnight camping, hiking, mountaineering, kayaking, rafting, fishing, and bird-watching.
No need to start packing — you can get lost in the incredible photographs available online or check in on one of the many live webcams set up across the park.
Not to be confused with Glacier Bay National Park, Glacier National Park is located in Montana on the U.S.-Canada border and is much more easily accessible.
The 1 million-acre park offers over 700 miles of trails along over 130 named lakes that are home to more than 1,000 different species of plants and hundreds of species of animals.
Now, you can enjoy the pristine forests, alpine meadows, rugged mountains, and spectacular lakes from the comfort of your own home.
The Google Earth virtual tour features scenic alpine lakes, trails with panoramic views, and waterfalls.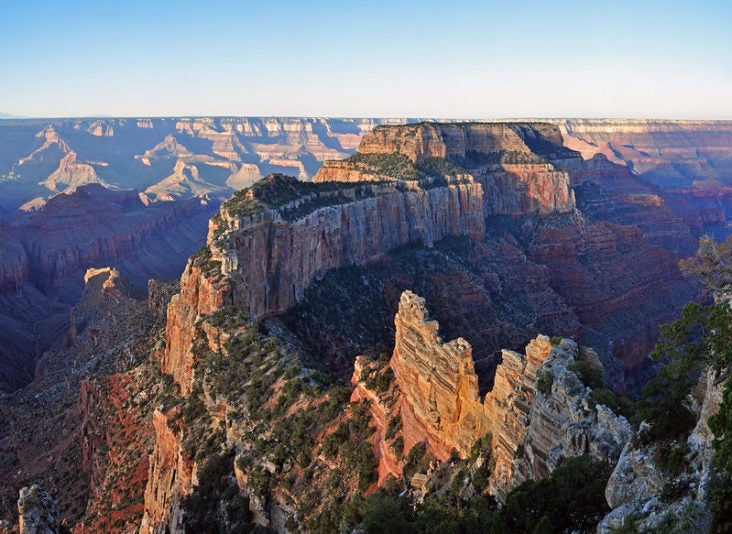 Perhaps the most well-known of them all, the Grand Canyon National Park in Arizona is a stunning 277-mile steep-sided canyon carved by the Colorado River.
Aside from the popular helicopter tours (and other tours from nearby Las Vegas), visitors can also enjoy rafting, hiking, running, and camping along the North and South Rim.
Ready to go on a hair-raising virtual hike? Check out this awesome virtual tour by Google Earth.
Grand Teton National Park is a 310,000-acre park in northwestern Wyoming, home to major mountain peaks including the Teton Peaks and valleys including Jackson Hole.
The pristine ecosystem and the same species of flora and fauna that have existed since prehistoric times can still be found there. Over 1,000 species of plants, dozens of species of mammals, 300 species of birds, and more than a dozen fish species call this park home.
Visitors can explore over 200 miles of trails, float the Snake River, and enjoy the serenity of this remarkable place.
To get a glimpse of that glory, you can take a Google Earth Street View virtual tour or go on an "eClimb" with the National Park Service.
Located in northeast Nevada near the Utah border, Great Basin National Park has something to offer visitors during all 4 seasons.
With everything from the Lehman Caves to over 800 different species of plants and a forest full of animals, there is plenty to explore in this 77,000-acre wilderness.
Get to know Great Basin National Park better with this video.
Great Sand Dunes National Park and Preserve is a conservation of very large sand dunes (up to 750 feet tall) in south-central Colorado.
The tallest sand dunes in North America cover about 30 square miles and provide 24 hour and year-round recreational entertainment. Camping, hiking, sandboarding, and walking the dunes underneath the moonlight are all popular activities at the park.
Want a better look? Check out the park's YouTube channel.
The Great Smoky Mountains National Park stretches into parts of Tennessee and North Carolina and straddles the ridgeline of the Great Smoky Mountains which is part of the larger Appalachian Mountain chain.
The Great Smoky Mountains National Park is the most popular national park in the country and hosts over 10-million visitors each year — that is more than the Grand Canyon, Yosemite, and Yellowstone combined!
Camping, hiking to waterfalls, admiring the diverse plant and animal life, as well as the remnants of Southern Appalachian mountain culture all help make this national park so popular.
To learn more, you can take a private virtual tour via Google Earth Steet View or check out these videos.
Just east of El Paso, Texas, Guadalupe Mountains National Park is home to the 4 highest peaks in Texas and so much more.
86,000 acres of forests, deserts, and dunes protect the world's most extensive Permian fossil reef which was on the floor of the Delaware Sea 260 to 265 million years ago.
Put on your virtual hiking boots and take a Google Earth Street View virtual tour of various trails, a 1930s cabin, and stalactites.
Haleakalā National Park is a 33,000-acre park on a dormant volcano on the Hawaiian island of Maui.
The park is home to incredible views, culture, tropical plants, and endangered species — some of which are not found anywhere else in the world.
Take a virtual drive and explore this beautiful park via this 4k video.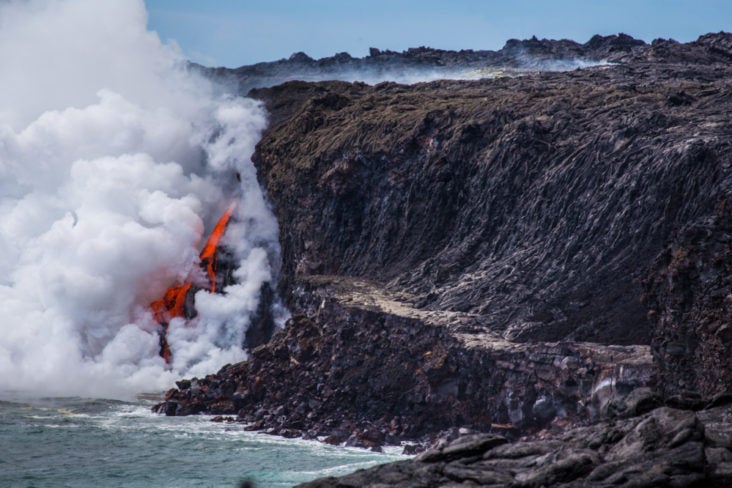 The Hawai'i Volcanoes National Park is located on the main island of Hawaii and rests on top of 2 active volcanoes: Kīlauea, one of the world's most active volcanoes, and Mauna Loa, the world's most massive shield volcano.
The park is home to some of the most unique geological, biological, and cultural landscapes in the world. Visitors come to learn about history, culture, volcanoes, and the incredible biodiversity of the island.
Thanks to Google Arts & Culture, you can immerse yourself in one of the most complete virtual tours of any park available.
The hot springs in Hot Springs National Park have been drawing crowds for over 20o years to Arkansas. Many believed that the springs held medicinal purposes which helped turn this area into a "spa town" in the 1800s.
Today visitors can come and explore on hikes or visit bathhouses for a traditional bath or soak in a common pool with water from the hot springs.
Take a virtual tour of Hot Springs National Park's waterfalls, bubbly springs and fountains, and historic buildings with this video.
Located in northwestern Indiana, the Indiana Dunes National Park runs about 25 miles along the southern shore of Lake Michigan.
With over 50,000 acres, visitors can enjoy the beach's rugged dunes, mysterious wetlands, sunny prairies, meandering rivers, and peaceful forests.
Learn more about the park via videos directly from park rangers.
Isle Royale National Park consists of hundreds of neighboring islands, as well as the surrounding waters of Lake Superior, in the state of Michigan.
Although it is one of the least visited of all the national parks, the park has the most repeat visitors. Isle Royale offers unparalleled solitude and adventures for hikers, boaters, kayakers, and even scuba divers.
Want to know what a 4-day backcountry hike is like in the park? Watch this video.
Located in southern California, near Palm Springs, Joshua Tree National Park is named for the Joshua trees which can be found in the Mojave Desert.
The 790,000-acre park includes 2 deserts (Mojave and Colorado) and each one of them has its own ecosystem due to differences in elevation.
Thanks to a unique variety of plants and animals, a rich cultural history, and surreal geologic features, it is no surprise this is a popular park.
Want to see for yourself? Take an in-depth Google Earth virtual tour, passing scenic landscape, Arch Rock, a cholla cactus garden, and oases.
Located in southern Alaska, the 4-million acre Katmai National Park is mostly designated as a wilderness area, meaning that hunting is banned.
The park is named after Mount Katmai, its famous stratovolcano. The national park is also known for its thousands of brown bears and the Valley of Ten Thousand Smokes.
Keep up with all of the wildlife with the park's extensive network of webcams.
Some of the most striking visuals you can imagine can be found at Kenai Fjords National Park in Alaska. The park is named for the numerous fjords carved by the glaciers that have moved down the mountains from the ice field.
Nearly 40 glaciers flow from the Harding Icefield where wildlife thrives in and on the water and lush forest surrounds the sea.
Immerse yourself in an extremely interactive virtual tour by Google Arts & Culture and truly get a feel of this magnificent place.
Located in the Arctic region of northwestern Alaska, the 1.7 million-acre Kobuk Valley National Park is home to the Great Kobuk Sand Dunes and the famous caribou migration routes.
With no trails or access roads to the park, visitors must arrive by air taxi and bring all of their own gear for any backcountry camping, hiking, backpacking, boating, or dog sledding.
If you don't plan on chartering your own plane to explore this beautiful park, you can watch some videos about the park.
Lake Clark National Park and Preserve is a 4 million acre park about 100 miles southwest of Anchorage, Alaska.
Turquoise lakes make way for volcano steam, while bears wait for the salmon run, all with a dramatic mountainous background.
Open year-round, but with no trails or roads, visitors must arrive by float or wheeled planes to start exploring.
Learn more about this special park with this introductory video.
Home to the largest plug dome volcano in the world, Lassen Volcanic National Park in northeastern California is famous for its steaming sulfur vents, splattering mud pots, and boiling springs.
Visitors can swim and kayak in the spring-fed lakes, drive the Lassen Volcanic National Park Highway, and camp at one of the 8 onsite campgrounds.
Don't wait to start exploring, check out this awesome collection of 360-degree photos of hydrothermal areas, trails, and winter scenes.
Clocking in at over 400 miles, Mammoth Cave National Park in central Kentucky has the longest known cave system on the planet. Combined with 53,000+ acres of lush forest above ground, visitors can explore 2 very different worlds in 1 stop.
Whether camping, hiking, or just exploring, Mammoth Cave National Park has enough to keep most adventure seekers entertained.
Go on an above or below ground virtual video tour.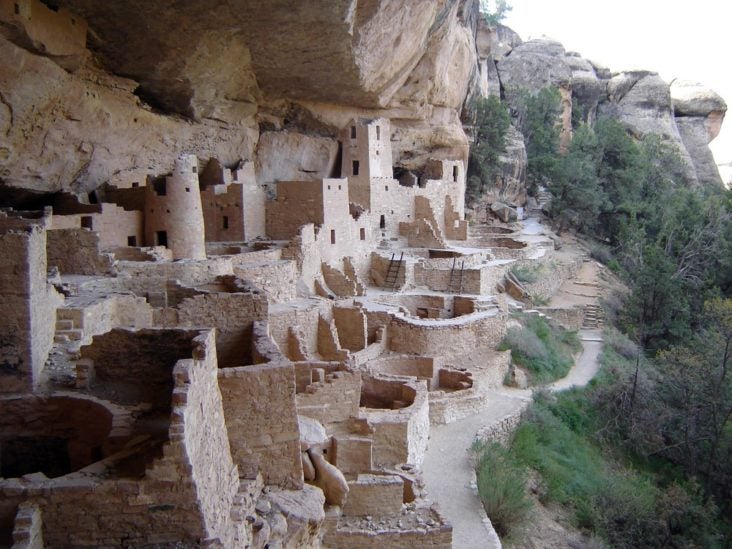 An American national park and UNESCO World Heritage Site, Mesa Verde National Park is home to some of the best-preserved Ancestral Puebloan archaeological sites in the U.S.
Located in Montezuma County, Colorado, and serviced by 40 miles of roads, visitors can enjoy 5,000 archeological sites, including 600 cliff dwellings dating back from 600 to 1300 A.D.
Explore cliff and cave dwellings, sandstone ruins, the Sun Temple, rock petroglyphs, and more thanks to an in-depth virtual tour via Google Earth.
An icon standing 14,410 feet above sea level, Mount Rainier, a stratovolcano, is the centerpiece of this Washington state park.
Surrounded by valleys, rivers, meadows, and waterfalls, there are 91,000 acres for visitors to explore year-round.
Explore the marshland and ancient cedar forests of this beautiful national park from the comfort of your own home thanks to this Google Earth virtual tour.
The National Park of American Samoa is spread across 3 islands in the South Pacific — Tutuila, Ofu, and Ta'ū.
These "Islands of Sacred Earth" are home to stunning coral reefs, vast rain forests, the famous Samoan fruit bat, and of course the Samoan culture.
Grab your VR goggles and check out 360-degree photos of corals and sea life, including the negative effects of rising water temperatures, from the virtual dive gallery of National Marine Sanctuary of American Samoa.
Less than 3 hours from Seattle, this 500,000-acre park in Washington is home to more than 300 glaciers and countless waterfalls.
Visitors can "hear the Cascades calling" through forested valleys and numerous waterways.
Are you ready to relax in the Cascades? Check out this stunning 4k video featuring gorgeous fall colors and nature sounds.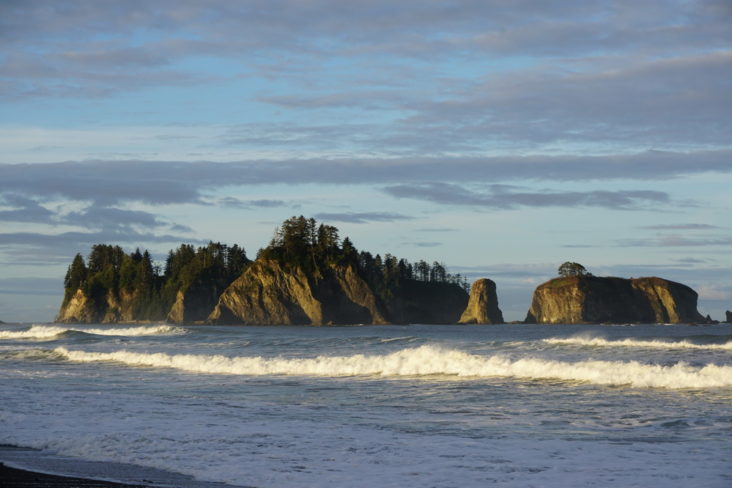 With almost 1 million acres of wilderness and 70 miles of coastline, the Olympic National Park in Washington is an incredible example of diverse wildlife.
The park is home to several distinct ecosystems, temperate rain forests, and even glacier-capped mountains.
Start exploring beaches, rock faces, lakes, and forests from home thanks to this excellent virtual tour from Google Earth.
This relatively small national park only overs about 230 square miles in Arizona and is named for its large deposits of petrified wood.
Whether you are driving through for a backcountry hike or want to learn more about the woods, Petrified Forest National Park has plenty of exhibits that can bring stories to life.
Be sure to check out the webcam at the Painted Desert Inn Historic Landmark at Petrified Forest National Park, looking out over the colorful Painted Desert.
Pinnacles National Park is located in southcentral California on the site of what was a volcano some 23 million years ago.
Today, visitors marvel in the unique landscape which includes oak woodlands, canyon bottoms, towering rock spires, and unusual talus caves that house at least 13 species of bats.
Nature lovers will not want to miss this stunning 4k video timelapse of the park.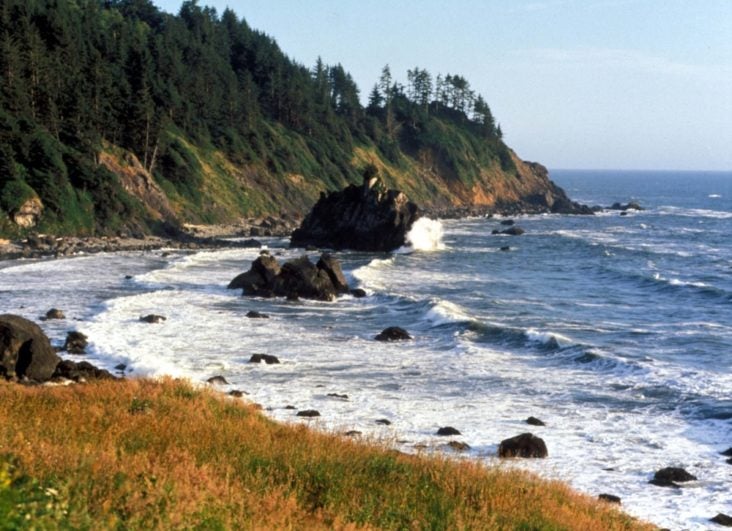 Along the rugged coast of northern California, you will find 40 miles dedicated to the Redwood National Park.
The Redwood trees are the tallest trees on earth, but this 39,000-acre national park is also home to vast prairies, oak woodlands, and wild river-ways.
Start exploring this natural gem's redwood groves, including a drive through the Klamath Tour Thru Tree, thanks to this Google Earth Street View virtual tour.
Just northwest of Denver, Colorado you will find a spectacular mountain paradise formally known as Rocky Mountain National Park.
With over 415 square miles of mountain environments, including 300 miles of hiking trails, wildlife, and wildflowers, visitors have plenty to enjoy when the park is open.
No need to wait for the perfect day or time to visit — you can enjoy an in-depth virtual tour of amazing peaks, alpine lakes, and expansive views from Google Earth.
The Saguaro National Park is a 92,000-acre park in Arizona that consists of 2 separate areas, the Tucson Mountain District and the Rincon Mountain District. Both parks preserve a delicate desert landscape with plenty of wildlife as well as the famous giant saguaro cacti.
With 165 miles of trails, hiking, biking, and horseback riding are all popular activities.
Immerse yourself in the fascinating cacti and wildlife with this incredible video tour.
Located in the Sierra Nevada mountain range in the central valley of California, these 2 national parks host over 2 million visitors per year.
Kings Canyon got its name thanks to a giant glacier that carved its way through the valley at more than 1-mile deep.
Sequoia National Park is in reference to the world's largest stands of giant sequoia trees which tower over the valley.
Check out this virtual tour by Google Earth. Highlights include the ~275-foot-tall General Sherman Tree, a tunnel log, Moro Rock, and Crystal Cave.
Located in Virginia, the Shenandoah National Park is just a 75-mile drive from downtown Washington, D.C. The long and narrow park has its valley and rolling hills split down the middle by the scenic Skyline Drive.
With more than 200,000 acres of protected lands, visitors are likely to see waterfalls, deer, songbirds, black bears, and more.
Take a virtual tour of hiking trails, waterfalls, and vistas via Google Earth or visit Shenandoah's own virtual tour of its historic buildings.
Named after the former president, Theodore Roosevelt National Park's 70,000 acres of badlands are split across 3 sections in Noth Dakota.
Spectacular multicolored rock formations, dramatic canyons, and sweeping plains are home to elk, prairie dogs, and about 500 bison.
About 750,000 annual visitors come for wildlife spotting, birdwatching, hiking, horseback riding, stargazing, and scenic drives.
Take a peek at what is going on via the park's webcam of Painted Canyon, a virtual tour of Maltese Cross Cabin, or the park's multimedia content.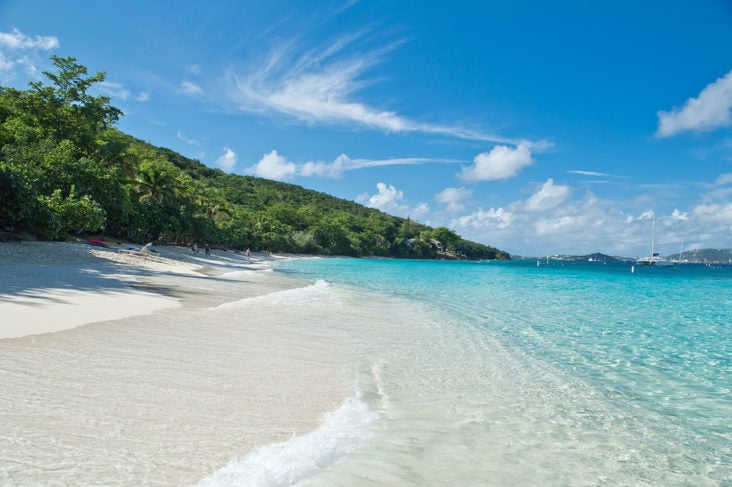 Known as "America's Paradise," the Virgin Islands National Park preserves about 60% of the island of St. John, about 5,000 acres of ocean, and almost all of Hassel Island.
Besides the beautiful beaches and pristine snorkeling, the park attracts visitors for its history of sugar plantations and ancient petroglyphs carved by the Taino Indians.
Explore this island's tropical forests, petroglyphs, ruins of a 1700's Danish sugar plantation, and white sand beaches via a Google Earth virtual tour.
Located in northern Minnesota, Voyageurs National Park is 218,000 acres of outstanding water resources.
Known for its maze of interconnected water highways, it is no surprise that this is a popular spot for fishing, canoeing, kayaking, and boating.
In the winter, visitors can still access this national park by snowmobile, ski, or snowshoe.
If you are interested in this park, you won't want to miss this stunning timelapse video.
Inside this 145,000 acre park in New Mexico, visitors will find 275 square miles of white sand dunes composed of gypsum crystals. This gypsum dunefield is the largest of its kind on Earth.
Famous among sledders and photographers, White Sands National Park received about 600,000 visitors per year, which is the most of any national park in New Mexico.
If you would like to learn more about this incredible national park, check out these videos made by park rangers.
Wind Cave National Park in western South Dakota is home to one of the longest caves in the world, measuring in at over 149 miles having been explored so far. The Wind Cave is notable for its calcite formations known as boxwork, which make up for about 95% of the world's known boxwork formations.
Above ground is pretty interesting as well, with the forested hillside and rolling prairie grasslands making a nice home for bison, elk, and other wildlife.
Go on a Google Earth virtual tour of scenic grasslands and ponderosa pine forest without leaving your couch.
Wrangell-St. Elias National Park is located in south-central Alaska and is, by far, America's largest national park measuring in at over 13 million acres.
With everything from wildlife, to volcanoes, to glaciers, this national park has something for every outdoor enthusiast.
Take yourself on a "1-day visit" video tour of this unique piece of the American landscape.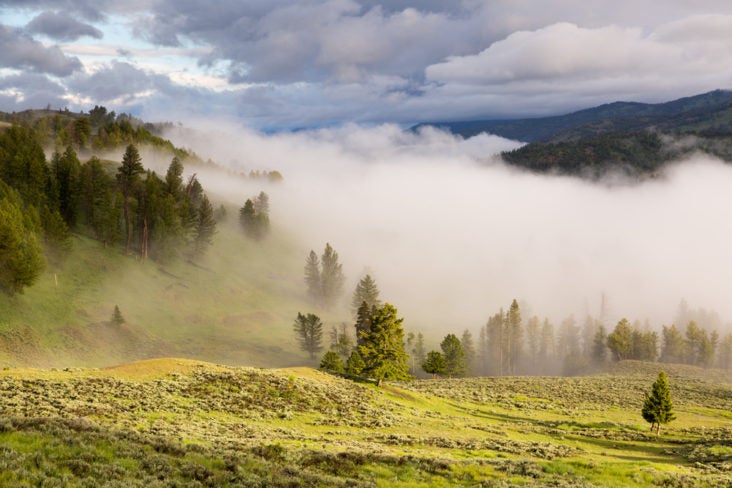 Yellowstone National Park was the very first national park and stretches across 3 U.S. states including Wyoming, Montana, and Idaho. The park is centered over the Yellowstone Caldera lake, the largest supervolcano on the continent.
One of the lesser threatening attractions is Old Faithful Geyser, known for its regularity of eruptions.
Visitors come to enjoy the thousands of other hot springs, geysers, and mud pots that dot the wild landscape each year.
Take a private Google Earth virtual tour of this famous national park — featuring geysers, waterfalls, springs, and more — from the comfort of your own home.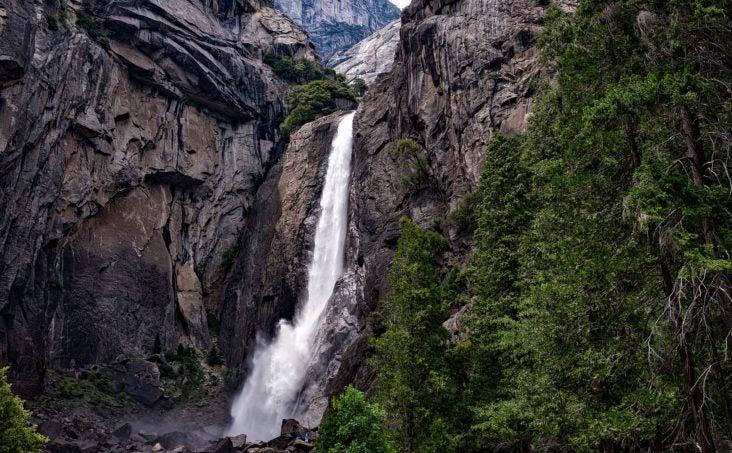 Located in the Sierra Nevada of central California, Yosemite National Park covers an area of 748,000 acres and receives an average of 4 million visitors per year.
Yosemite is internationally recognized for many of its features including its granite cliffs, waterfalls, clear streams, giant sequoia groves, lakes, mountains, meadows, glaciers, and its incredible biological diversity.
Start exploring this park, including the iconic Half Dome and El Capitan, thanks to Google Earth's virtual tour.
Zion National Park was Utah's first national park and is relatively small compared to other parks, measuring in at only 229 square miles.
But that small size doesn't mean there is any less to explore. Massive, red, sandstone cliffs create canyons that traverse for miles and create a special ecosystem for native plants and animals.
Explore this gem, including Court of the Patriarchs, Temple of Sinawava, and Kanarraville Falls, on a virtual tour by Google Earth.
Final Thoughts
There are so many incredibly beautiful and educational national parks that it could take a lifetime to see them all. Fortunately, with the help of technology, we can enjoy these natural wonders from the comfort of home, safely.
Use these online resources to scratch that travel itch, gain some extra wanderlust, and start planning your next trip to one of these national parks.