The Best Times to Visit Yellowstone National Park [by Seasons and Interests]
America's first national park, established in 1872 by President Ulysses S. Grant, marked the beginning of one of the country's greatest endeavors — protecting and preserving its most important natural landscapes. If any U.S. destination could be considered a "trip of a lifetime," Yellowstone National Park would surely top them all.
Straddling the borders of Idaho, Montana, and Wyoming, the 2.2 million acres within Yellowstone's borders attract upwards of 4 million visitors a year who journey from around the world to see its unique wonders, including active geysers, thundering waterfalls, steaming hot springs, and incredible (and abundant) native wildlife, such as herds of American bison.
Is there really a bad time to visit this bucket-list destination? Of course not. The best time to go is when you can. However, there are ideal windows to visit if you're searching for something specific — say, fewer crowds, lower rates, or better weather.
To that end, the weather in Yellowstone can be difficult to predict. The park's high elevation means temperatures can soar or plummet dramatically within a single season. To make planning easier, we spell out what you can expect during each month of the year. Whatever you decide — the winds of winter or the summer sun — just don't forget to charge your camera.
Editor's Note: Yellowstone National Park is slowly beginning to reopen since it shuttered in the wake of the COVID-19 pandemic. As of reporting, 2 of 5 entrances are open as part of Phase 1 of a 3-phase plan, as well as resumed road access, approved tours, public restrooms, and gas stations. Phase 2, now underway, includes reopening campgrounds, gift shops, and takeout food service. Phase 3, which involves hotels, restaurants, and ranger-led programs, will take effect as health conditions allow. Please refer to the park's COVID-19 Reopening Plan for further updates.
The Best Time to Visit Yellowstone, by Season
Spring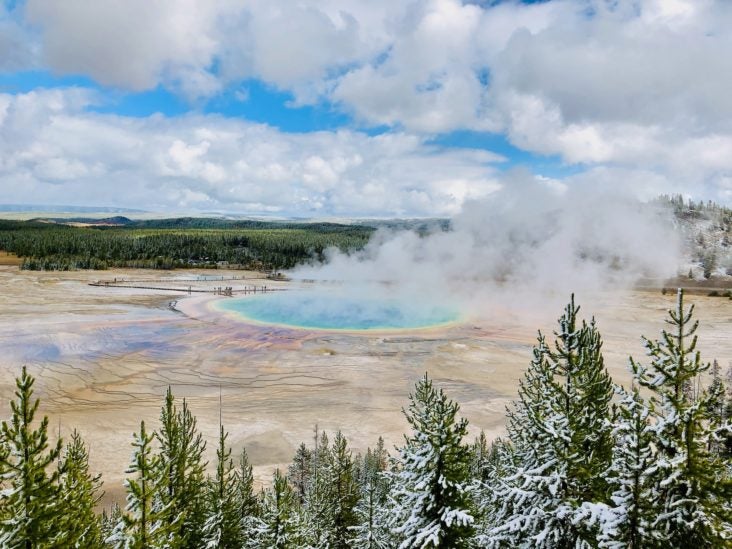 Some may be surprised to learn that spring in Yellowstone National Park is not the mild season you'd typically expect elsewhere in the U.S. In actuality, spring in Yellowstone can be downright unforgiving, chilly, and snowy right up until May.
Once temperatures rise above freezing, thawing snow leaves trails and roads slick and slushy — if roads are open at all. Delays and construction are common as the park recovers from winter and prepares for summer, and many lodges and restaurants still remain closed. A warm jacket and waterproof walking shoes are essential for weathering spring's wet, cold conditions.
Unlike the otherworldly beauty of a Yellowstone winter, spring is arguably the least scenic time to visit, so crowds are minimal. Still, despite these challenges — closed facilities, swampy hiking conditions, limited open roads — there are a few upsides to visiting at this time of year.
You'll bear witness to a snowy wonderland slowly melt away into green as well as signs of life emerging from their long winter's slumber. Animals begin to stir out of hibernation and newborn babies make their first appearances. Despite road access limitations, lack of crowds means your chances of scoring a front-row seat to the action are quite good.
Hot Tip: Yellowstone's lodges, shops, and campgrounds reopen in spring on a staggered schedule, so keep that in mind as you plan out your itinerary.
April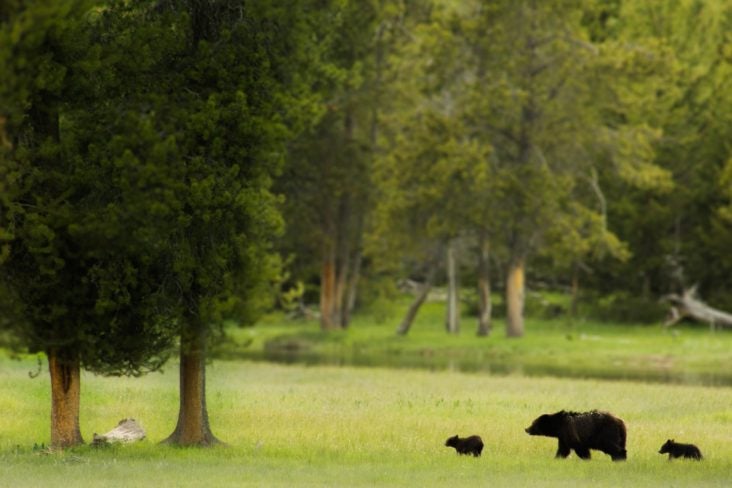 While March is still considered winter in this part of the country, April starts to show true signs of spring.
Bears and wolves awaken from hibernation — particularly grizzlies around Lamar Valley — and can be seen exploring the grounds with newborns in tow. Elk and bison shed off their long winter coats and tend to their calves, who are still shaky on their feet, and the first of Yellowstone's wildflowers begin to bloom.
Most major park roads begin to reopen at the end of the month. Temperatures are still brisk — highs only reach the mid-40s, with lows in the 20s — which keeps crowds at bay. If wearing extra layers doesn't bother you, April can be a nice time to go. You'll enjoy both affordable rates and near-empty viewing platforms, around even the most popular attractions like Old Faithful.
May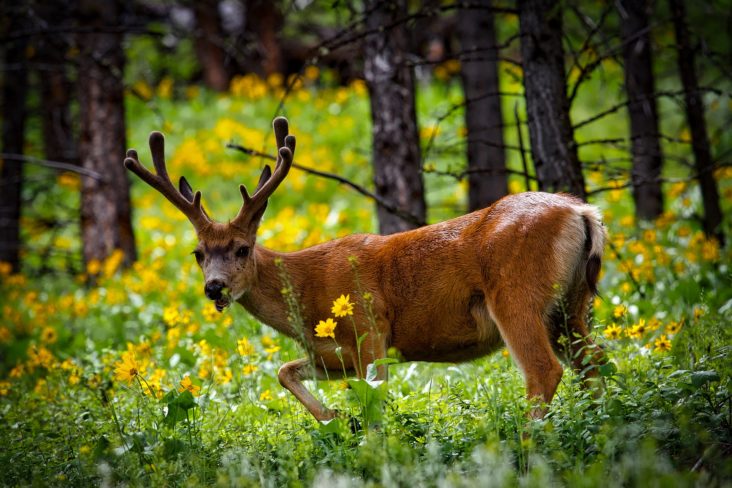 By May, snowfall has usually concluded for the season, and temperatures begin to rise into the 50s. Most, if not all, major park roads are now open for public use, making even Yellowstone's most remote corners accessible once more.
Baby season is still in full swing, when bison and elk calves, wolf pups, and bear cubs can be easily spotted playing behind their parents. The wildflowers that begin to open in April grow even more vibrant in May, transforming the park's open meadows into a riot of color.
By Memorial Day weekend, warmer temperatures and brighter days really hit their stride and last all the way through September, causing visitor numbers to swell late in the month. Despite how great the conditions seem, it would still be wise to pack a raincoat and hiking boots that can handle the mud, in case snow and rain linger longer than expected.
Summer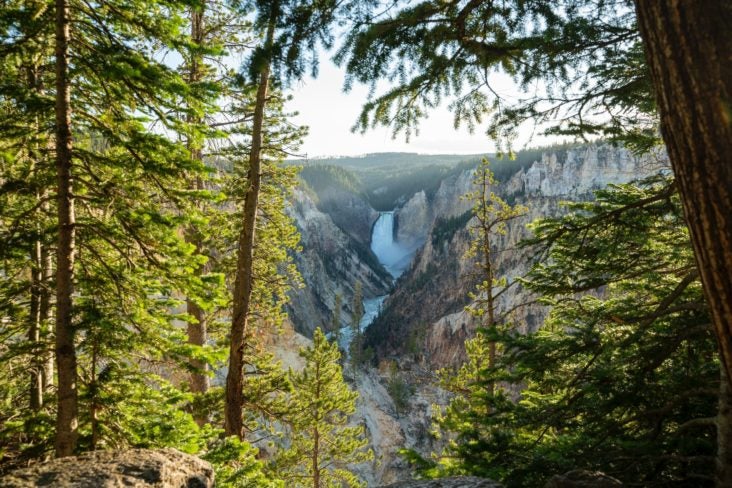 Ah, summer. Once school is out for the season, park visitors at Yellowstone hit record numbers as families, campers, and road-trippers all make their way inside America's sixth most visited national park.
In fact, 3 out of the 4 million tourists Yellowstone welcomes all year — that's 75 percent — arrive during the summer months. It's hard to blame them: The weather is consistently sunny and warm, roads, trails, and facilities are all completely open, and seasonal activities allow tourists to enjoy Yellowstone to its fullest potential.
Those hoping to avoid crowds would do better coming in early June or later in September. Otherwise, you might have to contend with mobbed boardwalks and platforms around attractions and traffic jams — especially if a slow-moving bison herd decides to cross the road.
Hot Tip: Are you interested in renting a camper or RV for a trip to Yellowstone, but you're not sure where to start your research? Our guide walks you through the various types of vehicles and trailers, as well as several websites to search for cheap rentals!
June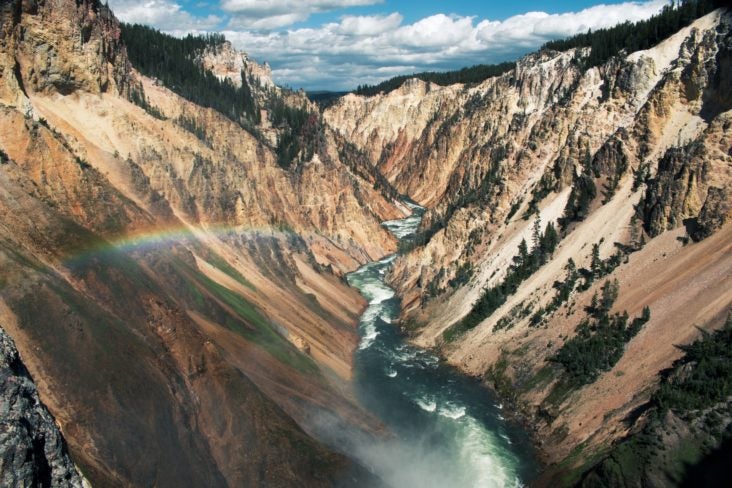 Crowds become an increasing nuisance as June progresses. After the school year concludes, families take time off and pack up the kids to enjoy summer's improving weather. In June, temperatures in Yellowstone hover in the high 60s with minimal chance of rainfall.
June marks the start of seasonal activities, including guided hikes and rafting down the Yellowstone River. Clear skies and minimal humidity also mean you can enjoy incredible views of the park's snow-capped mountains. Blooming wildflowers reach their peak in June and last until mid-July.
By now, park wildlife can be seen throughout the long, daylight hours, and their playful babies, now stronger and more footsure, are a joy to watch. Dawn and dusk are especially good times for photography and wildlife-spotting (particularly in Lamar Valley and Hayden Valley) when animals are most active.
Just be wary about packing too light: while June can be warm in the lower valleys, higher elevations still experience some light snow. Be prepared for anything by packing layers for all seasons, no matter where in the park you plan to roam — you'll thank yourself later.
July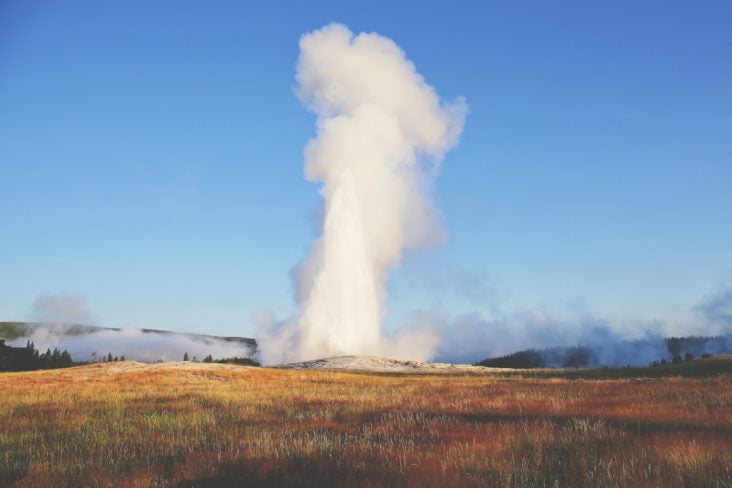 July is the hottest month by far in Yellowstone National Park, with temperatures peaking in the 80s. That said, humidity is never an issue due to lack of rainfall and the thin, high-altitude atmosphere. Nights cool down considerably, dipping into the 40s.
Together with August, July is also Yellowstone's most crowded month. You'll have to stake out room if you want a front-row seat to see Old Faithful erupt on schedule or the Grand Prismatic Spring, whose colors are brightest in the summer. The park's vivid wildflowers that cover the hillsides typically last until mid-July.
However, it's worth noting that because of Yellowstone's massive size — it's larger than Delaware and Rhode Island combined — you'll find that the rest of the park can be much quieter and emptier than the numbers let on. In other words, it is possible to enjoy the park's natural wonders without feeling claustrophobic, so long as you avoid spending too much time near popular attractions.
Hot Tip: Yellowstone's wildfire season starts around the end of July, when park rangers safely ignite designated areas of the park to promote habitat diversity. Before your visit, check park listings to see which sections are off-limits to visitors.
August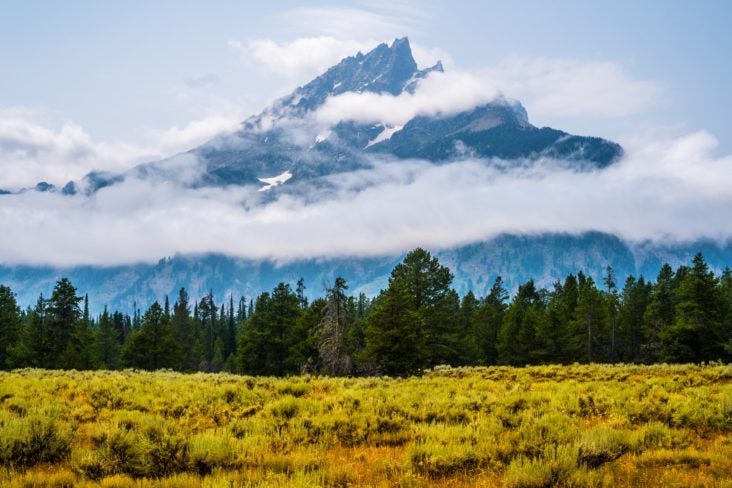 Visitor numbers are still peaking in August, when endless summer activities keep guests busy from sun up to sundown. Camping is especially popular as summer's high temperatures drop back into the 70s, with cooler nights. Reservations are essential if you plan to camp or lodge this month, as rooms and sites can be booked as far as a full year ahead of time.
From early to mid-August, large numbers of bison gather in the Hayden and Lamar Valleys to begin the bison breeding season, or what is also known as "the rut." Even from a distance, you can hear bulls emitting guttural roars as they try to attract females and strut their stuff to ward off challengers.
Keep in kind that wildfire season is also still in effect, which may affect air quality.
Fall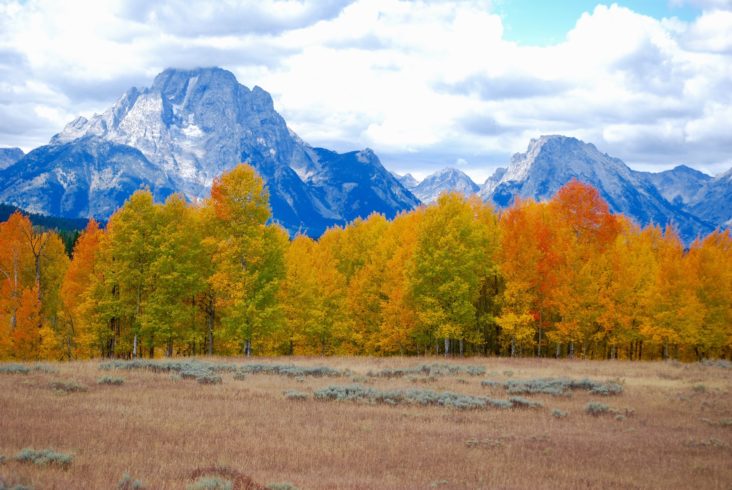 If we had to settle on the best time of year to experience Yellowstone, fall wins with flying colors — both figuratively and literally. As soon as September hits, crowds begin to disperse as families flee to send their kids back to school and campers head back to work, opening up the park's once-clogged roads, trails, and restaurants.
Wildlife, healthy and happy after a long summer of feasting and frolicking, are out and about and preparing for winter. An even more glorious sight? Yellowstone's aspen and cottonwood trees turn brilliant shades of gold before shedding their leaves.
Fall isn't all rosy, however. The days grow shorter and colder, requiring more than just a light jacket. By November, snow appears in the forecast, especially near the mountains, and doesn't let up until March. Fall's beauty isn't exactly a secret, either. Limited availability at both hotels and campgrounds often forces travelers to preplan months — even a year — in advance.
September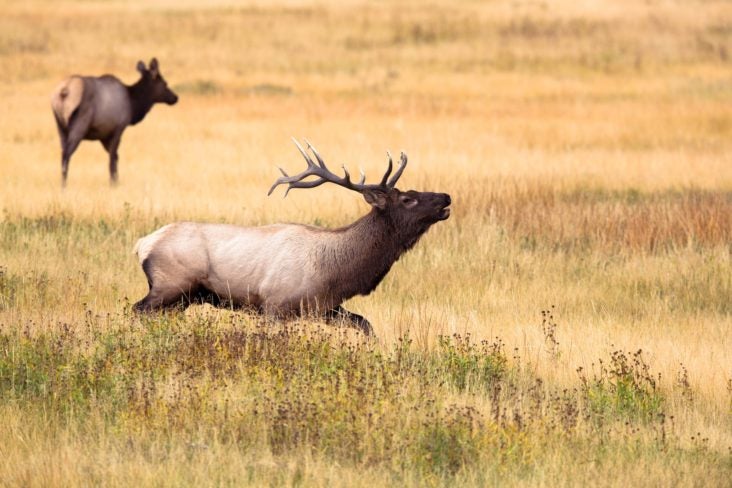 A hush falls over Yellowstone in September, especially after Labor Day, as the start of the school year lures reluctant kids and their families back home. Temperatures hover around the mid-60s, though cooler nights signal a change of seasons is approaching.
September in Yellowstone is particularly thrilling. Following in the bison's footsteps, this is when elk reach their "rut," particularly around Mammoth Hot Springs. Throughout the day and night, bull elks emit both low- and high-pitched bugles and fight other males with their now-fully-grown antlers to assert dominance (or newfound dominance) over a herd.
The excitement culminates in the last week of September, Yellowstone's "golden season," when its aspen trees (especially in the northern reaches of the park) begin to change color.
While the majority of roads remain open through the end of the month, an early snowfall can cause unexpected closures. Campgrounds shut down throughout September, and lodges begin to lock their doors. If your itinerary includes staying the night, be sure to check with the venue ahead of time.
Hot Tip: Yellowstone's fall foliage can be tricky to catch, as the color change comes and goes extremely quickly. If seeing this phenomenon is important to you, research weather patterns and peak estimations to make sure you don't miss it.  
October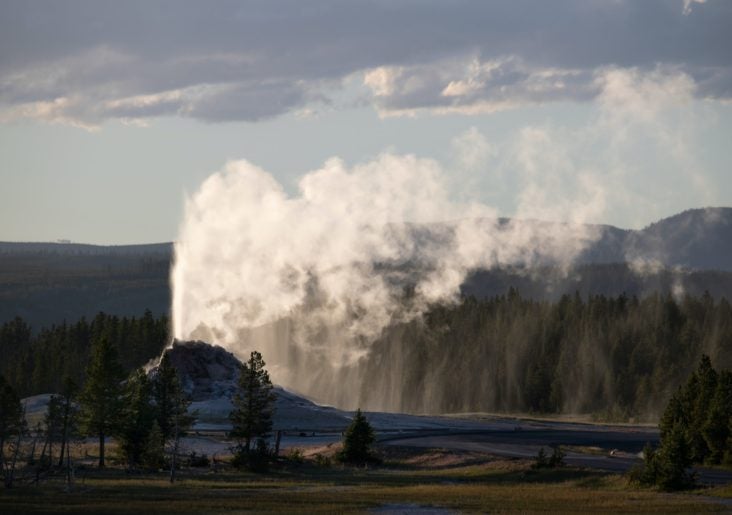 Like September, October in Yellowstone National Park is glorious. Summer crowds have long since left, leaving the roadways and hotels refreshingly vacant. The first week of the month sees the last of the season's changing colors. Temperatures continue to drop into the lower 50s, and nights are even chillier in the low 20s.
Snow starts to become a factor in October, though its 4-inch average means there shouldn't be too much to worry about until late in the month. Even so, most roads and facilities start to close during the second week of October in preparation for winter.
Hot Tip: If you're taking planning a road trip into the park near the end of the year, make sure your drive begins and ends at Yellowstone's North Entrance — the only entrance that remains open year-round because of its low elevation. 
November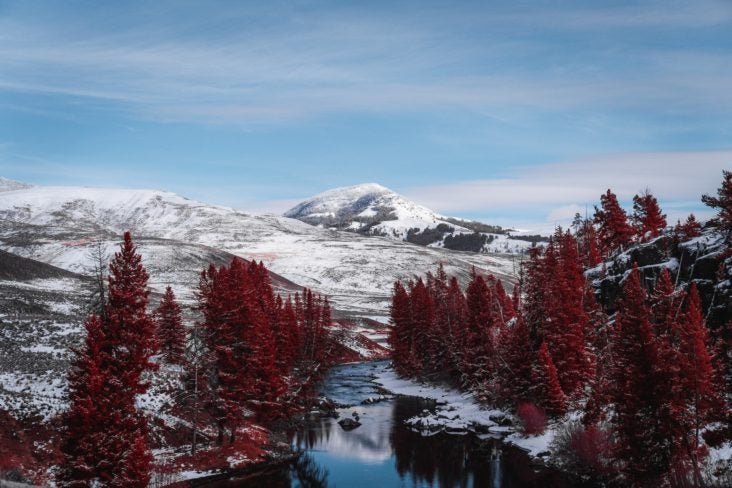 Road closures seal off most of Yellowstone by early November, and tours are all but over. Between October and November, a drastic drop in temperature signals that winter is nearly here. November's monthly high is only 34 degrees Fahrenheit, with a low of 12 degrees.
Perhaps because the amount of snowfall also doubles, with a monthly average of 9 inches, both the grizzly bears and black bears begin to hibernate at the end of the month and do not remerge from their dens until March.
Winter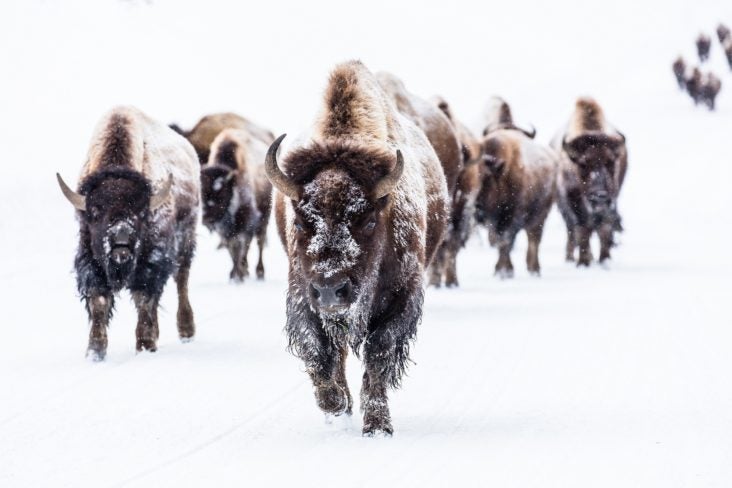 Winter is long and harsh in Yellowstone, making it the least popular season to visit. Freezing temperatures, frequent snowfall, hibernating wildlife, and road and facility closures that render much of the park off-limits can be difficult to contend with for all but the most dedicated travelers.
That said, winter in Yellowstone can be undeniably beautiful, especially if you're trying to avoid crowds. Forests and mountains become blanketed in powdery snow, frost from steaming hot springs materializes like tiny crystals on nearby trees, and, when it's cold enough, water droplets from erupting geysers freeze in mid-air, putting on a show.
During the winter, animals including wolves, bighorn sheep, and bison migrate to the lower valleys where it is warmer, making them easier to spot. These wildlife sightings, along with the season's unique white landscapes, make winter a dream for photographers.
December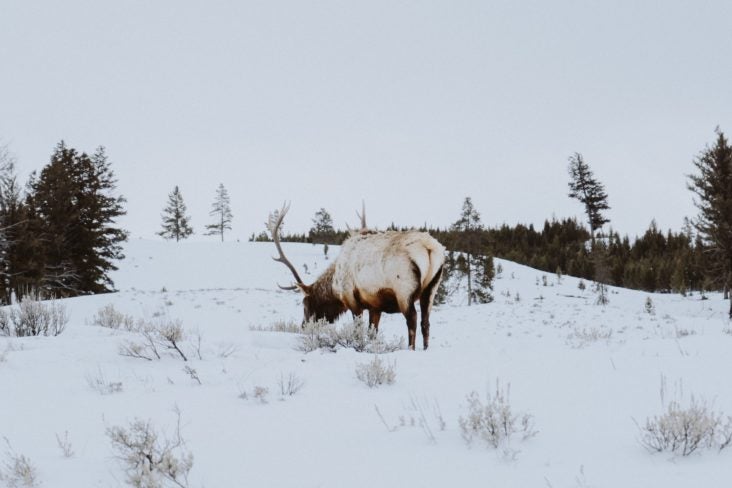 If you're worried about the snow conditions and icy temperatures of November, just wait until December rolls around. This month delivers a wallop to Yellowstone: monthly snowfall averages an incredible 72 inches, with an additional 15 inches of rain on top of that. The thermometer rarely reads above freezing, and subzero temperatures are common at night.
Because such a monumental amount of snow means roads are near-impossible to keep clear, snowplows sit in their sheds until March, letting winter do its work. Instead, beginning in mid-December, snowmobiles and snow coaches become the popular ways of getting around.
Without summer's endless crowds to contend with, those that brave winter's elements might also discover the only ones they have to share Yellowstone with are the non-hibernating wildlife.
Hot Tip: Although most park lodges close their doors to the cold, there are exceptions. Both Old Faithful Snow Lodge & Cabins and Mammoth Hot Springs Hotel & Cabins (reachable via the North Entrance access road) open for business in mid-December and remain so through February.
January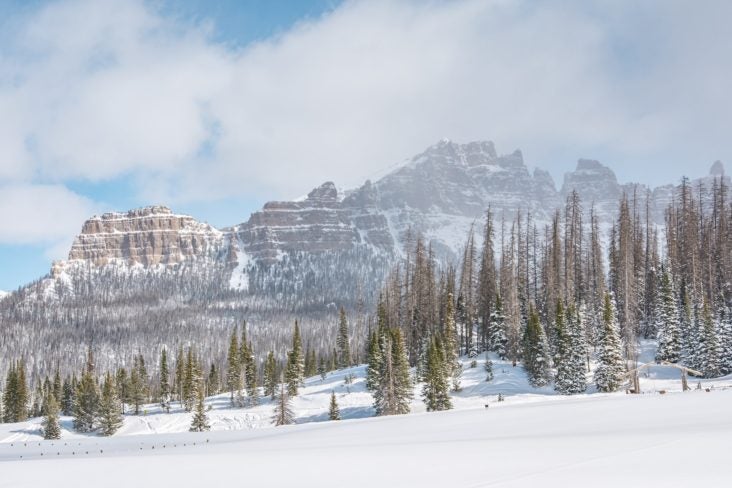 As frigid as it can get in December, the amount of snowfall comes back down considerably come January, whose monthly average is around 15 inches. This might be an opportune time to try out one of Yellowstone's adrenaline-packed winter activities like cross-country skiing, snow-shoeing, or ice-climbing frozen waterfalls — unique experiences you can only get this time of year.
That said, travel within the park is still challenging, as snow-packed roads prevent cars from venturing too far in, and snowmobiles or snow coaches are still required to reach big-name attractions like Old Faithful and the Grand Canyon of the Yellowstone.
February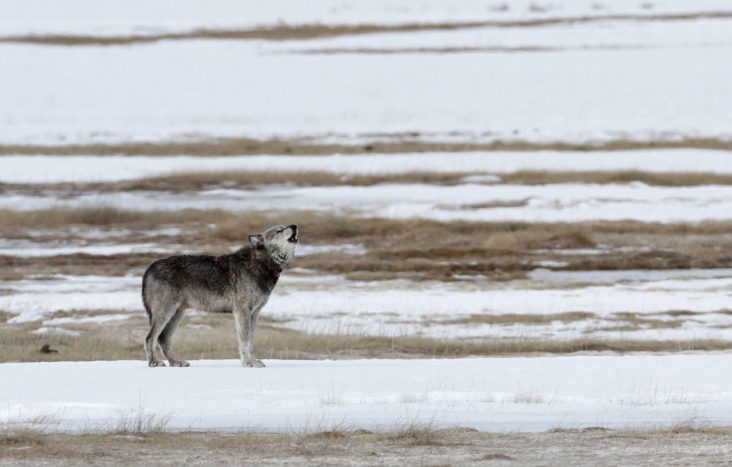 Wildlife viewing and winter activities, including snowshoeing and cross-country skiing are still popular in February, when the park is still closed to car traffic and most lodges and tours remain closed. Daily temperatures reach into the 30s, and 10 inches of average snowfall is easier to contend with than earlier in the winter.
Wildlife enthusiasts and photographers particularly like February because it marks the start of mating season for the wolves, when they become much more active and easier to spot against Yellowstone's stark white landscape.
March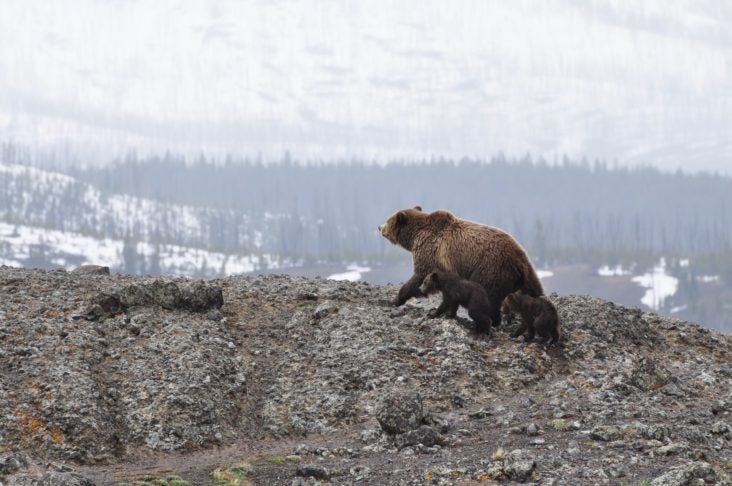 Surprisingly, March in Yellowstone tends to receive more snow on average than February. Thankfully, this month also sees the snowplows emerge, which begin to clear the roads for the first time since the beginning of winter. Still, major roadways (like Mammoth-Old Faithful and Norris-Canyon) won't be fully open to vehicles until late April.
Grizzly bears reappear this month and are easily spotted while hunting for food with their newborn cubs.
The Best Time to Visit Yellowstone, by Interest
The Best Time to Visit Yellowstone for Fall Colors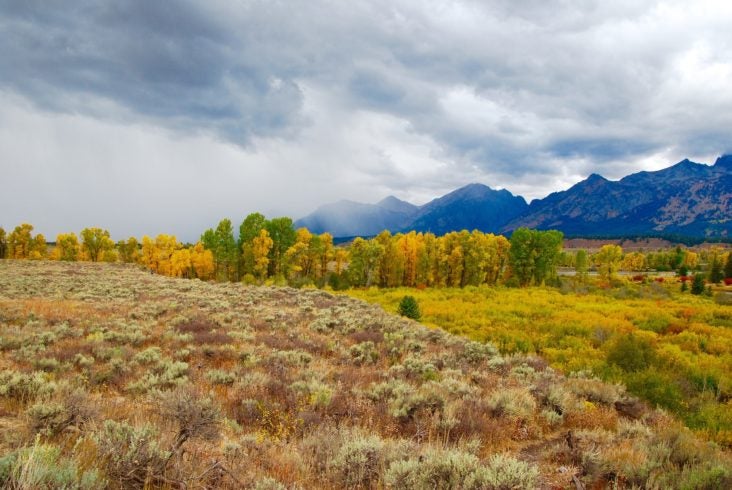 Yellowstone's aspen and cottonwood trees experience an incredibly brief but spectacular change of color during the fall, which typically occurs between the last week of September and the first week of October.
The Best Time to Visit Yellowstone to See Wildlife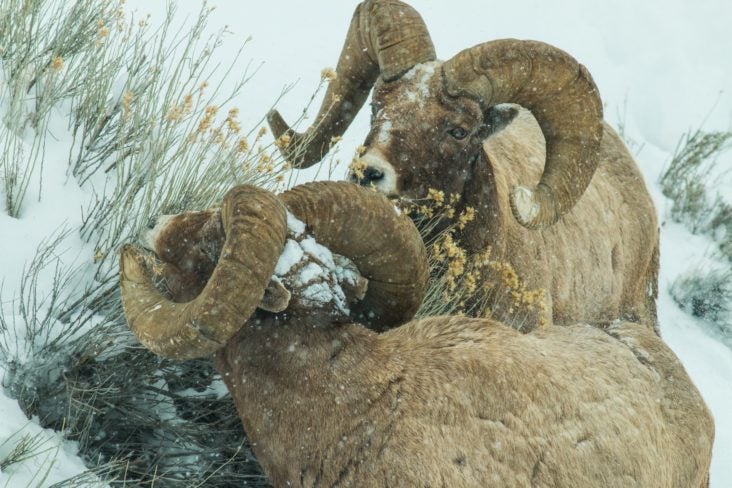 Hardy species like bison and elk are not shy of visitors, nor do they hibernate, which means spotting them in Yellowstone National Park is pretty much guaranteed throughout the year. Bears, moose, wolves, and coyotes are also popular sightings, if a bit rarer since they tend to steer clear of noise and commotion.
Although dawn and dusk present your best chances at wildlife sightings, when animals are usually the most active, the frequency and specificity of sightings vary with the seasons:
Spring is the best time to spot bears, who emerge from hibernation both curious and hungry, and bison during bison calving season
Summer is the best time to see big-horned mammals, including bison, elk, moose, and mountain goats
Fall is another great time to see bears, who often forage for food near the roads in preparation for winter, along with elk and birds of prey (including hawks and eagles)
Winter is the best time to spot bighorn sheep and wolves
When viewing any kind of animal in the wild, be sure to keep a safe distance and do not approach them for any reason.
The Best Time to Visit Yellowstone to Avoid Crowds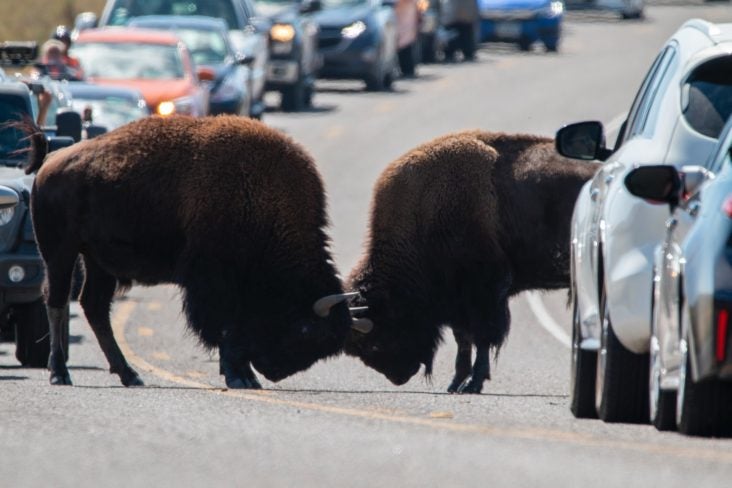 Spring (April and May until Memorial Day) and fall (after Labor Day and through October) are the 2 windows when visitors can enjoy Yellowstone's mild weather while steering clear of the mobs. Spring tends to see more rain than the fall, though fall tends to be a bit busier.
If crowds are your nightmare, avoid July and August at all costs — the 2 busiest months of the year when families are off for the summer and stellar camping conditions attract an overwhelming number of road-trippers and outdoorsy types.
The Best Time to Visit Yellowstone to Save Money
Like most other destinations, the cheapest time to visit Yellowstone National Park is when demand for hotels, restaurants, and flights is at its lowest. In this case, travel anytime in winter (between October and February) and early spring to snag the best rates.
Although park lodges remain closed for the winter season, you can find some great deals at less commercialized accommodations in nearby towns like Gardiner and Jackson. Once Memorial Day weekend hits, rates to begin to rise and don't come back down until the end of the fall.
How Much Does It Cost to Go to Yellowstone National Park?
There is a flat $35 entry fee for all non-commercial vehicles entering Yellowstone National Park, which is valid for 7 days and also grants access to Grand Teton National Park just 31 miles away, if you are considering visiting both. Motorcycles and snowmobiles are $30, and anyone entering on foot or by bicycle or skis must pay $20 each.
Hot Tip: Explore the beauty of Yellowstone National Park or Grand Teton National Park anywhere, anytime with our guide to virtual tours of iconic national parks around the U.S.!
Beyond that, the biggest expenses you will incur are gas and hotel or campsite nightly fees. Yellowstone does not offer regular shuttle or train service, so unless you sign up for a bus tour, cars are the main mode of transport here.
Gas can run you into the hundreds of dollars depending on where you're coming from and how much you anticipate moving around. The park is vast, sometimes requiring more than an hour's drive to get between sights, so plan out your itinerary ahead of time to anticipate costs.
As for accommodation, Yellowstone offers 12 campsites and a host of lodges with varying nightly fees. Campsites charge $15 to $32 per night, excluding taxes. You can also save by staying in basic cabin lodging. Fancier hotels, like the legendary Old Faithful Inn, can see room rates exceed $500. If you're not here to splurge, most hotels land in the $150 to $300 range.
Factor in food, gear, tours, and souvenirs, and a trip to Yellowstone can get pretty pricey — or not. In fact, you might be surprised how affordable a visit can be if you stick to campsites, avoid expensive tours, and bring your own food.
Where to Stay Inside Yellowstone National Park
Bedding down inside Yellowstone can be expensive or relatively affordable, depending on your choice of venue and the time of year you choose to visit. Here are a few recommendations if you want to stay close to popular attractions:
Where to Stay Near Old Faithful and the Grand Prismatic Spring
Where to Stay Near Mammoth Hot Springs
Where to Stay Near the Grand Canyon of the Yellowstone and Lamar Valley
Where to Stay Near Yellowstone Lake
Final Thoughts
Whether you are seduced by the endless sun and fun of summer, fall's changing leaves and active wildlife, the ethereal, snowy landscapes of winter, or the cold, quiet months of spring, there is truly no wrong time to visit Yellowstone. Some visitors even make it a point to experience it in every season.
Whenever it is that you choose to visit America's first national park, the consensus is universal: stay as long as you can, and appreciate every second. Be it a 2-day jaunt or a 12-day odyssey, you're guaranteed to leave with memories that will last a lifetime.