The 16 Best Beach Chairs in 2021 [With Canopies & Loungers]
Upgrade your beach day with a portable chair that offers a far higher level of comfort than a towel in the sand could ever do.
From basic beach mats with frames for your back through to sun loungers on wheels and zero gravity sky gazers, there are some amazing beach chairs out there that are lightweight and portable enough to take virtually anywhere with you.
Things To Consider With Beach Chairs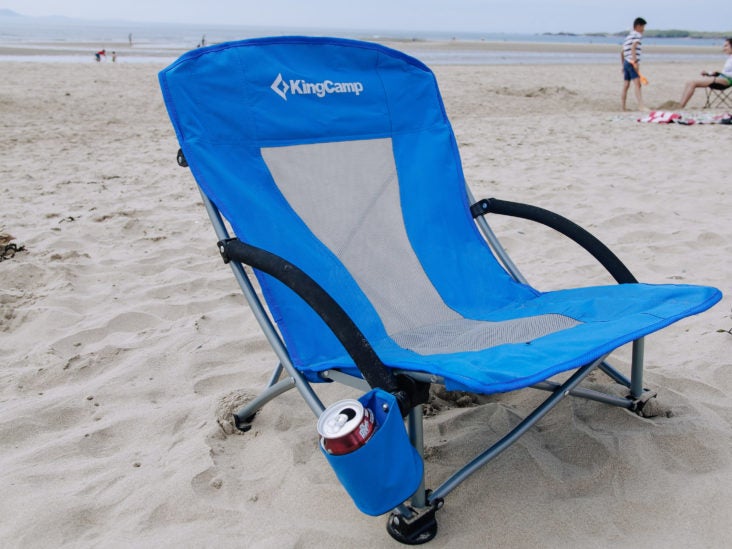 Designed to be suitable for use on the beach, on a camping trip, and even to stake out your spot at a music festival, beach chairs offer effortless comfort wherever you are headed. Before you choose the best portable seating for your next adventure, consider the following:
Weight and Portability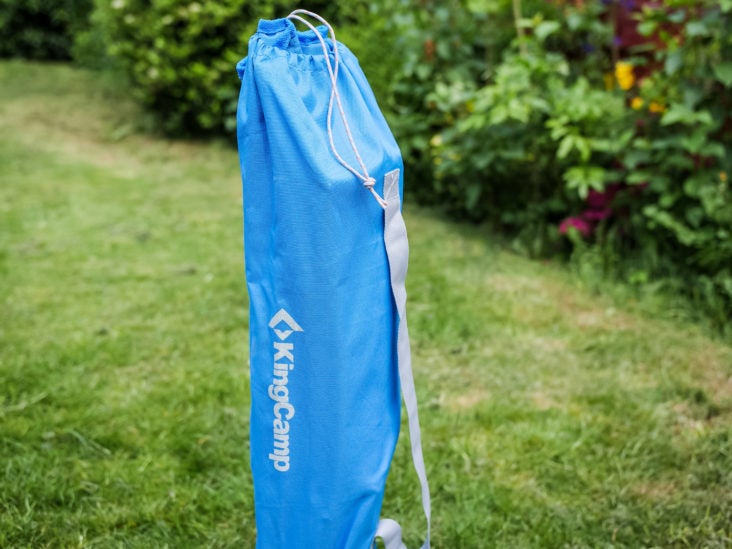 Your new beach chair will need to be sturdy enough to support you comfortably while still being lightweight enough to transport with you. Even the most lightweight of chairs can start to feel heavy if you need to carry it over longer distances, so if you are planning on kicking back and relaxing a long way from your parking spot, look for the most lightweight and compact model you can find.
When it is folded, the physical dimensions of the chair will also make a big difference as to how portable it is. While some models fold completely flat, which is useful for storage back at home, they can be a bit too wide to carry comfortably over your shoulder.
These types of chairs are often carried using the frame as a handle, with some more upscale models coming with backpack straps that let you haul them on your back.
For the ultimate in lightweight portability, look for a chair that folds in on itself, resulting in a sort of torpedo shape that fits nicely into its very own carry bag.
Bottom Line: While some carry bags can be thrown directly over your shoulders, others have incredibly compact folded dimensions that make them small enough to be carried in your rucksack or oversized beach bag.
Stability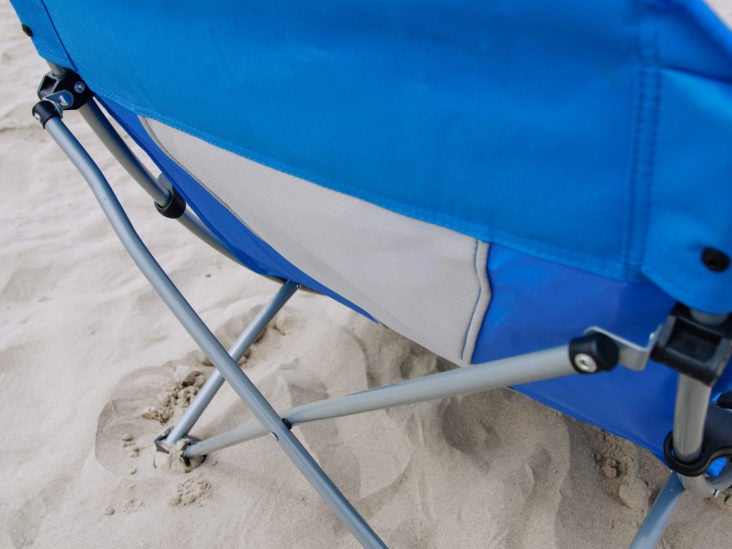 A chair with wonky legs that is likely to tip over is not what you need when you are out adventuring. The legs' design and style dictate how stable a chair will be, and traditional camping-style chairs offer incredible stability on almost any terrain.
Ultralight models are easy to carry, but they are more prone to tipping backward if you lean too far on their super-thin legs. On the other hand, low-profile beach chairs have a wide base that should offer excellent stability in theory, but one lean too far on either side, and you could be face down in the sand before you know it.
To ensure that your backside stays firmly rooted to the seat and doesn't hit the floor, consider the weight capacity of the chair (some can hold individuals weighing up to as much as 350 pounds) and the design of the legs before you buy.
Comfort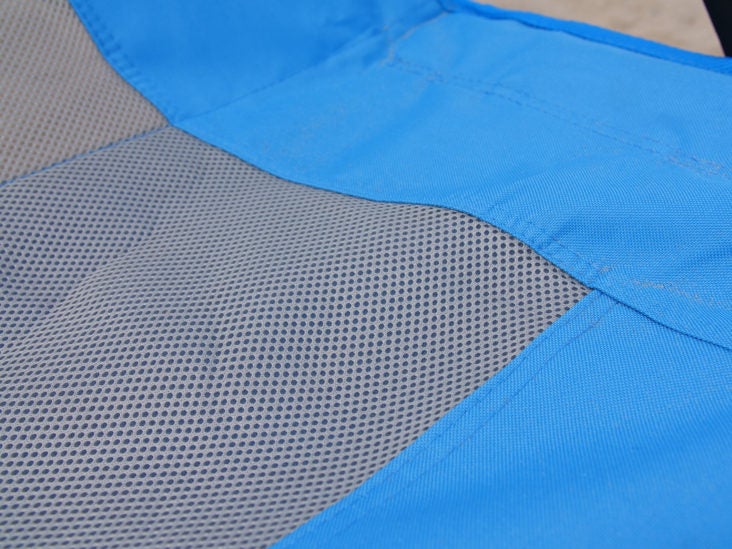 The paper-thin canvas camping chairs of old are long gone, replaced by soft yet strong synthetic materials that offer surprising levels of comfort, even on the most basic of models. Some chairs feature breathable mesh panels to prevent the build-up of sweat, even on the hottest of days, and others come with padded armrests or built-in head and neck pillows to offer exceptional comfort.
Wider seat sections and higher back panels offer more support than smaller models, and with a variety of different profiles and designs to choose from, you should easily be able to find a beach chair that is comfortable enough to let you snooze without compromising on portability.
Material and Durability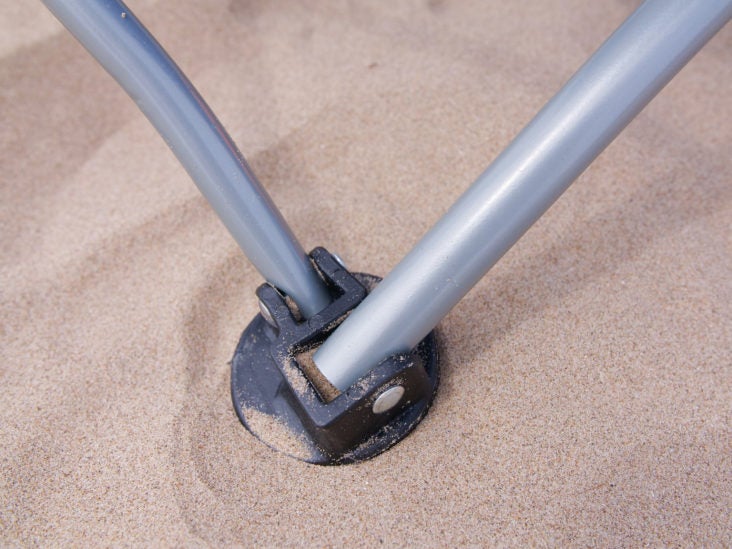 Beach chairs can be constructed from a range of different materials, all of which have their own distinct benefits.
Aluminum is usually the material of choice for most super-lightweight beach chairs, as it weighs next to nothing even when folded. While the dynamic construction of aluminum chairs makes them easy to carry, they can be more prone to dents and scratches than those made with heavier metals.
Steel chairs offer a far higher level of durability than their aluminum counterparts, but this is often reflected in their higher price tags.
Hot Tip: Steel components are also less likely to rust if left out in all weathers but can also be heavier to carry, making them better suited to camping trips and backyards than technical hikes and picnics in remote locations.
Extra Features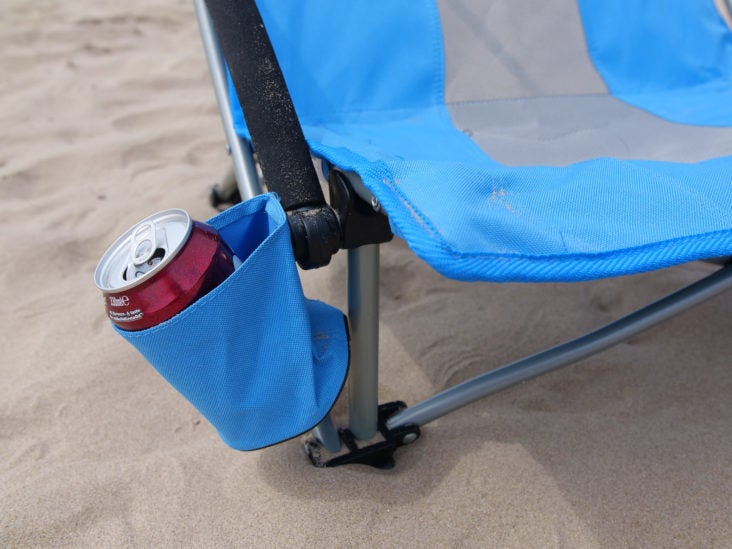 If you want your chair to offer more than just a seat on the beach, you won't have to look very far to find one packed full of useful extras. Even the most basic of beach chairs usually come with built-in cup holders to keep your drinks close at hand, and more upscale models may even offer added insulation to ensure that your beverage of choice stays cool whatever the weather.
With additional pouches and panels to hold your books, magazines, and cell phone, built-in neck rests and head pillows, and even multi-position reclining back panels, you would be amazed just how luxurious and comfortable a folding chair can be.
With some chairs even designed to lie completely flat to allow you to snooze in style, and others coming with their own individual canopies to protect you from the dangerous rays of the sun, your beach chair can be so much more than just a folding chair.
The Best Beach Chairs
From low-profile beach chairs that let you stretch your legs out to deluxe loungers that offer 5-star comfort even on the remotest of locations, all of these beach chairs are lightweight, easy to carry, and incredibly comfy.
Lightweight, Stripy Leg Stretcher
Rio Beach Wave Beach Folding Sand Chair
This fabulous low-profile beach chair comes in a variety of brightly colored stripy designs and offers all the comfort of a deck chair without the hassle of carrying one around with you. Made of rugged 600 denier polyester, the suspended seat is spacious and comfortable, and the unique design allows you to stretch your legs out in front of you for ultimate comfort on the sand.
With a super-sturdy powder-coated steel frame, this fixed position chair can hold adults of all sizes, and the durable fabric is easy to brush the sand off of while also being resistant to heat to ensure that it never feels too hot to sit on.
Weighing in at just 5 pounds, this awesome little beach chair is light enough to carry around with you, and with a seat height of 5.5 inches, you can easily dip your toes in the water with this rust-proof and water-resistant design.
What We Like
Quick and easy to fold and unfold
What We Don't Like
Doesn't come with a carry strap
Beach Chair With a Built-in Towel Bar
Tommy Bahama 5-Position Beach Chair
This unique and incredibly functional little beach chair is the perfect accessory for lazy days on the beach. Thoughtfully designed, it comes complete with a reclining seat, a towel bar, and even a bottle opener to ensure that you can be all set up and ready to sunbathe in an instant.
With a durable rust-proof aluminum frame, this beach chair is strong and durable while still only weighing in at 7.5 pounds, making it easy to transport, too. The 5-position easy-adjust recline feature can be activated in seconds, and the safe-adjust technology ensures that you never get your fingers trapped in the bracket.
With a towel bar on the back and a mesh pouch on the side of the chair, you can keep your towel away from the sand and your cell phone close at hand, while the insulated cup holder will ensure that your drink stays cooler for longer.
With the ability to fold completely flat, this awesome little beach chair can be carried like a rucksack, making this a brilliant choice for those who like to find a quiet and secluded spot away from the busier beaches.
What We Like
Backpack straps for easy carrying
What We Don't Like
Can slip out of the reclining position easily
Best for Easy-Going Outdoor Gatherings
Nice C Low Beach Camping Folding Chair
This stunning mesh beach chair is available in a beautiful aqua blue colorway and is comfy to sit in and lightweight enough to carry around with you. Perfect for use on the beach, at the park, or even at a music festival, this chair comes with its very own carry case for easy transportation.
Made with a heavy-duty steel frame and industrial-grade oxford 1000D polyester mesh, this super-little chair is strong enough to hold adults weighing up to 300 pounds and breathable enough to keep you comfortable, even when the mercury rises. With a low-profile seating design and anti-sink legs, it can rest easily on the sand while allowing you to stretch out and relax.
Cushioned armrests add extra comfort, and the cute little cup holder will keep your can or water bottle away from the hot sand. Quick and easy to set up and put away, you can wipe the sand off with just a damp cloth, and the polyester mesh remains well-ventilated to ensure that this chair never gets too hot for you to sit on.
What We Like
What We Don't Like
Will sit too low to the ground for some people
Taller and Wider Beach Chair
KingCamp Low Seat Beach Chair
This low-profile beach chair sits just a few inches off the ground, and with a 33.5-inch back panel and a 23.2-inch seating area, it is noticeably higher and wider than its competitors. Designed to comfortably hold adults of all sizes, the ergonomic design allows you to stretch your legs out on the sand while still feeling well-supported and incredibly comfortable.
Cleverly designed to offer everything you need on your next beach day, this chair comes with a neck pillow pouch that can be puffed up using the carry bag, and the cup holder and mesh pocket make light work of keeping your drinks, snacks, and other essentials close at hand.
Easy to set up in an instant without any assembly required, the heavy-duty steel frame weighs just 7 pounds and can support up to 300 pounds of weight, while the breathable mesh material will help to keep you feeling cool even in the hot sand.
With a packed size of just 30.7 x 7.9 x 5 inches and a carry bag with a handle, this little beach chair is easy to take with you and neat enough to store in your trunk after a busy day of doing nothing at the beach.
What We Like
Mesh backing to stop you from sweating
What We Don't Like
Compact Folding Camping Chair
MARCHWAY Ultralight Folding Camping Chair
Available in a choice of colorways, this super-cool little beach chair weighs just 2 pounds when folded and comes with its very own compact carry case that can easily fit into your rucksack.
Easy to set up, the ultra-lightweight aluminum pole with a shock-cord structure can be opened and closed in an instant. The Velcro strap holds the frame together for additional stability, and the ergonomic seat design ensures increased comfort even on sandy terrain.
The breathable seat fabric will keep you cool even in hot weather, and the ripstop nylon combined with an aircraft-grade aluminum frame gives this awesome little chair the strength it needs to hold individuals weighing up to 250 pounds.
With reinforced corners, high-strength plastic connectors, and a stable 4-legged design, this beach chair offers excellent support for anyone looking to lay back and enjoy the great outdoors.
Perfect for camping, parties, BBQs, road trips, and even for use back at home, this low-profile folding chair sits slightly higher above the ground than some of the others, making it more suitable for anyone who struggles to lift themselves off the ground.
What We Like
Super lightweight for comfortable carrying
What We Don't Like
Low back with no neck support
The Best-Looking, Low-Slung Beach Chair
HITORHIKE Low Sling Beach Chair
This sleek-looking black beach chair is made from skin-friendly nylon mesh that is strong enough to support adults weighing up to 300 pounds. Designed specifically for use in all weathers, the ergonomic seat will dry quickly should it get wet, and the suspended seat won't puddle water if you happen to get caught out in the rain.
Perfect for use at the beach, at music festivals, sporting events, BBQs and so much more, this awesome chair even comes complete with 2 useful storage pockets for your books, cell phone, magazines, and water bottle, and the well-thought-out suspension seat offers maximum support, even on uneven terrain.
The sturdy steel frame can be unfolded super quickly, and with its very own carry bag, the compact folded dimensions make this easy to store in your car while also being lightweight enough to carry over your shoulder, no matter how far you are traveling.
What We Like
Handy pockets for storing small items
What We Don't Like
Bag handle is very short for carrying over your shoulder
The Best Lounge Beach Chairs
Deluxe Sun Lounger and Storage Cart Combo
Mac Sports 2-in-1 Beach Day Folding Lounge Chair+Cargo Cart
This rather fabulous portable lounge chair offers you the ultimate in relaxation. With a unique 2-in-1 design, this super-comfortable beach lounger doubles as a pull cart wagon, making it easy to transport your cooler, sunshade, and other essential equipment with you for an awesome day at the beach.
Made from powder-coated aluminum, this lounger is tough and sturdy, and the 600D fabric is resistant to tears and fading and is incredibly easy to clean. With a built-in pillow headrest and a 4-position recline, you can enjoy long days lounging in the sun, and the mesh pocket on the back of the chair makes it easy to keep your drinks, books, and magazines close by at all times.
Designed to make light work of long hauls across the sand, this innovative lounger has wide tread wheels that will roll smoothly over grass or sand, and the large capacity mesh basket can be set up in seconds. Take more of what you need for even bigger adventures on the beach with this brilliant sun lounger and beach cart combination.
What We Like
Very durable and spacious when using as a cargo cart
What We Don't Like
A little hard to pull on soft sand
Zero Gravity Sun Lounger
AmazonBasics Outdoor Zero Gravity Lounge Folding Chair
This brilliant basic zero gravity sun lounger is perfect for use at home, on the beach, or even when camping. Designed to provide stress-free, easily adjustable reclining, this lounger has a weightless feel for optimal relaxation in the sun. Available in a choice of 4 stylish colorways, these simple yet effective sun loungers are lightweight, affordable, and easy to take with you.
With a powder-coated steel frame for solid strength and stability, individuals weighing up to 200 pounds can enjoy all the benefits this lounger has to offer. With a padded headrest and gently contoured armrests, you can find a comfortable position in no time at all, and the double bungee support system will ensure that you stay well-supported while you sunbathe.
Easy to clean and weather-resistant, this chair can be left out in the open in between uses, and with an easy folding mechanism, it also folds flat to be stored away during the winter. Lightweight enough to be carried to and from the trunk of your car, these zero gravity sun loungers are a popular choice with sun worshippers everywhere.
What We Like
Zero gravity recline for comfortable lounging
What We Don't Like
Affordable Lie-Flat Lounger for Lazy Days in the Sun
AmazonBasics Padded Zero Gravity Patio Chair
With a striking design and well-padded seat, this deluxe sun lounger is lightweight, practical, and incredibly comfortable to sit or lie in. With a removable headrest pillow, you can close your eyes and soak up the sun, and the stunning striped design is handsome enough to look gorgeous in your garden or draw envious looks when you are sunbathing on the beach.
With sturdy steel construction, this lounger is strong enough to hold full-size adults, and the oxford cotton fabric is tear- and fade-resistant and easy to wipe clean in between uses. The built-in cup holder will ensure that you can always keep a nice cold drink close at hand, and the easy recline function lets you change your position in an instant.
With the ability to fold up almost flat, this chair weighs a respectable 20.5 pounds in its closed position, and the strong steel frame serves as an excellent carry handle to help you transport it from the trunk of the car to your camping spot.
Available in a choice of 4 colorways and with a high-quality look and feel, this beach chair will let you lounge in style on the beach, at the park, or even back home on your patio.
What We Like
Built-in cup holder to keep a cool drink at hand
What We Don't Like
Recline locking mechanism sometimes doesn't hold
The Best Larger-Size Sun Lounger
KingCamp 4-Fold Oversize Folding Chaise Lounge
Lay back and soak up the sun with this brilliant full-length, folding sun lounger. Measuring almost 10 centimeters longer and wider than many of its contemporaries, this sleek-looking beach chaise offers supreme comfort and incredible slumbering space, while the highly supportive double bungee design makes it suitable for individuals measuring up to 300 pounds in weight.
The sturdy aluminum frame is designed to remain stable, even on uneven terrain, and the powder-coated finish helps to protect against rust and water damage should it get left out in the rain. The 1.5-centimeter thick 600D oxford fabric feels soft against your skin, and being resistant to fading, sun damage, water, and oil, it is also easy to wipe clean in between uses.
With a triangle locking system that allows you to choose different positions, this bed offers personalized levels of comfort, and with a built-in pillow headrest, this lounger is ideal for lazy days in the sun.
Easy to set up and fold away again, this is the perfect choice for throwing in the trunk of your car on camping trips and beach days while also being stylish and supportive enough for use at home in your own backyard.
What We Like
Comfortable and long enough for tall people
What We Don't Like
Color can fade in the sun
2-Piece, Lightweight Beach Chair Set
Beach Chairs for Adults Folding Lightweight
Spend time in the sun with your best friend on these awesome portable beach loungers. Easy to use with no assembly required, you can both be catching some rays in no time at all.
As a practical combination of lounging chair and beach mat, these sit straight on top of the sand, making them super easy to take anywhere with you, and the comfortable and adjustable backrest allows your head to remain upright and your back fully supported at all times.
Made from easy to clean, heat-resistant material with a sturdy yet lightweight metal half-frame, you can set the bed up super quickly and roll it away again when it's time to move out of the sun.
Easy to fold up into a compact carry size, these loungers come with a strap that you can throw over your shoulder or use to hang the bed over a chair when it's time for lunch. Innovative and easy to use, this set of 2 pop-up loungers is an excellent choice for use on the beach with your buddies.
What We Like
Really lightweight to carry to the beach
What We Don't Like
Backrest and mat are a little narrow, so may not suit everyone
Awesome Inflatable Outdoor Sofa
FREE TREE Inflatable Lounger Air Sofa Hammock
This great, fun portable sofa can be inflated in an instant and is super easy to pack away to carry around with you. Made from double-layered parachute material, this inflatable air lounger is far stronger than some of the others on the market, and with anti-leak technology and military-grade rip-stop nylon, this awesome sofa will see you through many adventures to come.
Available in a wide selection of funky colors, this model is designed to be like an ergonomic wave, with a headrest that offers heightened stability and increased comfort for your neck, shoulders, and back. Large enough to lay on, or for 2 of you to sit side by side, all you need to do is open the seal and move the lounger around for super-quick inflation.
Perfect for use on the beach, in the park, or at a music festival, this lounger comes complete with 2 large mesh pockets for keeping your book, water bottle, or cell phone in, a securing stake to stop it from blowing away, and its very own carry case for easy transportation.
Designed to stay inflated for up to 5 to 6 hours on just a few scoops of air, this is a fun and practical alternative to folding sun loungers.
What We Like
Can be used to lounge on land or water
What We Don't Like
Not the easiest method to inflate
The Best Beach Chairs With Canopies
2-Seater Travel Sofa With Storage
Best Choice Products Double Folding Chair With Umbrella Canopy
Set yourself up with everything you need on this clever 2-seater chair set that comes complete with center storage and its very own matching umbrella. Perfect for camping, picnics, festivals, beach trips, and so much more, this is a portable seating solution for just the 2 of you.
Made from superstrong nylon fabric and tough steel frames, these seats can hold full-sized adults with ease, and the attractive blue colorway will help your seating spot to stand out from the crowd. With a cooler compartment between the 2 seats, you can keep your drinks and snacks nice and cold, and with each seat featuring its own cup holder, you can sit and sip for hours on end.
Portable and lightweight to carry, this chair set is easy to set up and quick to pack away, and with a storage bag included, you can take it virtually anywhere with you. Designed for use in all weathers, the collapsible umbrella will help to keep you shaded from the sun and protected from the rain, and the unique design allows you to stay together wherever you are headed.
What We Like
Great value combo kit with chairs, umbrella, and cooler
What We Don't Like
Chairs are not the comfiest for long durations
Oversized Sun Lounger With Its Very Own Sun Canopy
ALPHA CAMP Heavy Duty Lounge Chair With Sunshade
Oversized and incredibly comfortable, this awesome folding beach chair comes complete with its very own sunshade. Made from high-quality rip-proof fabric, the seat has a reinforced mesh back that allows the air to breathe around you, and the moisture-resistant fabric helps to prevent the build-up of sweat.
With a heavy-duty, powder-coated steel frame and extra supportive tubes in the legs, this chair can comfortably accommodate full-sized adults, and the canopy is sizable enough to protect you from the rays of the sun while being discreet enough to not impact your viewing pleasure.
Perfect for enjoying long days in the park, on the beach, or at outdoor festivals, the built-in cup holder is large enough to accommodate 33-ounce drinks, and the smart storage compartment allows you to keep your cell phone close at hand while you chill out.
What We Like
Provides a 50+ UPF sun protection shade
What We Don't Like
Hard to get back in the carrying bag after use
Classic-Looking Canopy Camping Chair
Goplus Outdoor Canopy Chair
This super-foldable camping chair comes with an individual-sized sun canopy and an upright seated position that is comfortable enough to spend all day in. Made from high-quality 600D PVC fabric, it will resist tears, rips, and fading, and the foldable design allows it to be set up and put back down in an instant.
The upright canopy offers cool shade on hot summer days, and the padded armrests with built-in cup holders allow you to keep a cold drink close at hand to keep you refreshed. With extra-strong supporting steel tubes in the legs and high-quality construction, this chair is a reliable and durable portable seating option for individuals weighing up to 265 pounds.
Available in a stunning navy blue color, this chair comes with a matching carry bag that it will slide into when folded, and the lightweight design makes it perfect for use in a variety of settings.
What We Like
What We Don't Like
Heavier than it looks to carry
Lawn Chair for Use Both at Home and Away
BESTHLS Portable Quad Lawn Chair
Sling the carry bag across your shoulder and get ready to go with this awesome lawn chair and personal canopy. With a stable steel construction that is rust-proof and reliable, this chair has the capacity to support up to 400 pounds in weight, and the easy to clean rip-proof fabric is firmly attached to the frame to ensure many years of extended use.
The easy-to-use canopy offers 50+ UPF sun protection and will provide a cool breeze on hot sunny days, while the padded armrests and oversized seats make it a pleasure to sit in at the beach, in the park, or anywhere else you choose to take it. With a cup holder in each arm, you can ensure that you always stay well-hydrated, and the padded carry bag with strap makes it easy to move around with you.
With no assembly required, this chair is ready to use from the outset, and the quick folding mechanism makes this an excellent choice for use both on the go and back at home.
What We Like
What We Don't Like
Plastic parts on the legs can sometimes break
Final Thoughts
From lightweight folding chairs to full-size loungers, built-in coolers, and individual canopies, these beach chairs are all comfortable, portable, and generally awesome. Whether you just want to read a book in the park or spend the day sunbathing at the beach, there are lots of different options to choose from.
Easy to set up and quick to pack away when it's time to go home, a portable foldable beach chair will transform your enjoyment of the great outdoors in an instant.